This adorable white wooden cart is a favorite party piece to style. For my Easter in Wonderland party, I wanted to dress up this wood cart with some garden elements, and use it to serve up a welcome treat for my guests to enjoy when they arrived. This white cart is from Portofino International, and they've sponsored the items in this post for me to bring you this cute idea!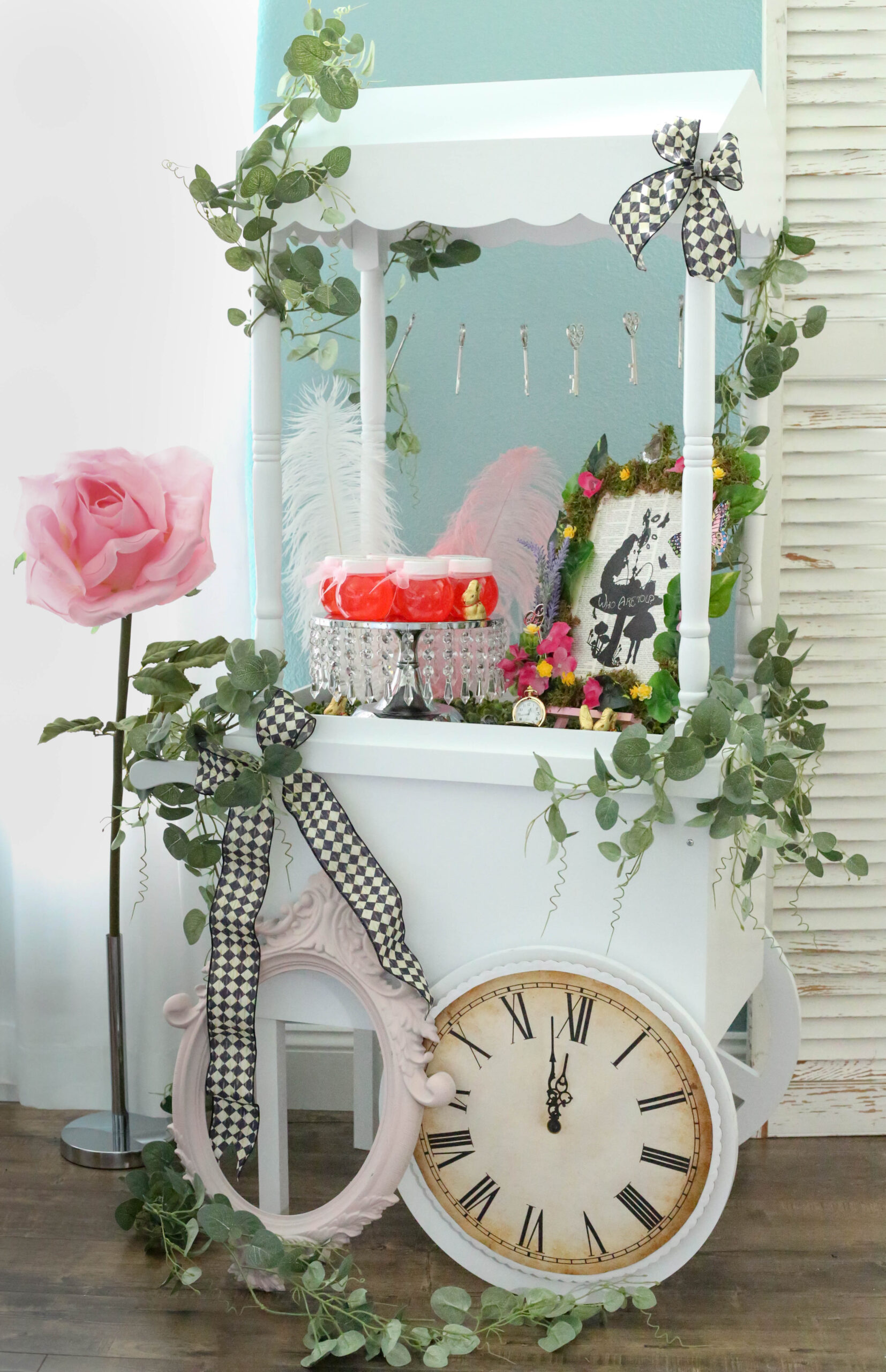 This white wood cart is one of the most versatile pieces in my collection of party props. In fact, I'd consider this a must-have item in any entertainer's arsenal of party pieces! It's been dressed for  holidays and birthday parties, and even styled as a tea cart for a Chinese New Year party.
Designing for Your Theme
For this Easter in Wonderland theme, a garden party was on my mind in the planning stages. I'd designed a darling outdoor croquet station for the kids, and now it was time for the cart. The cart was draped with long garlands of gorgeous eucalyptus greenery. It looks very organic and wild, which is exactly the vibe I was going for. Using clear line, I suspended ornate silver keys from the back of the cart, which remind me of the keys Alice used to go through many strange doors in the classic story. You may be surprised to learn that these pretty dangling keys are actually bottle openers that can be taken home as party favors! What a delightful surprise for guests that is right on theme.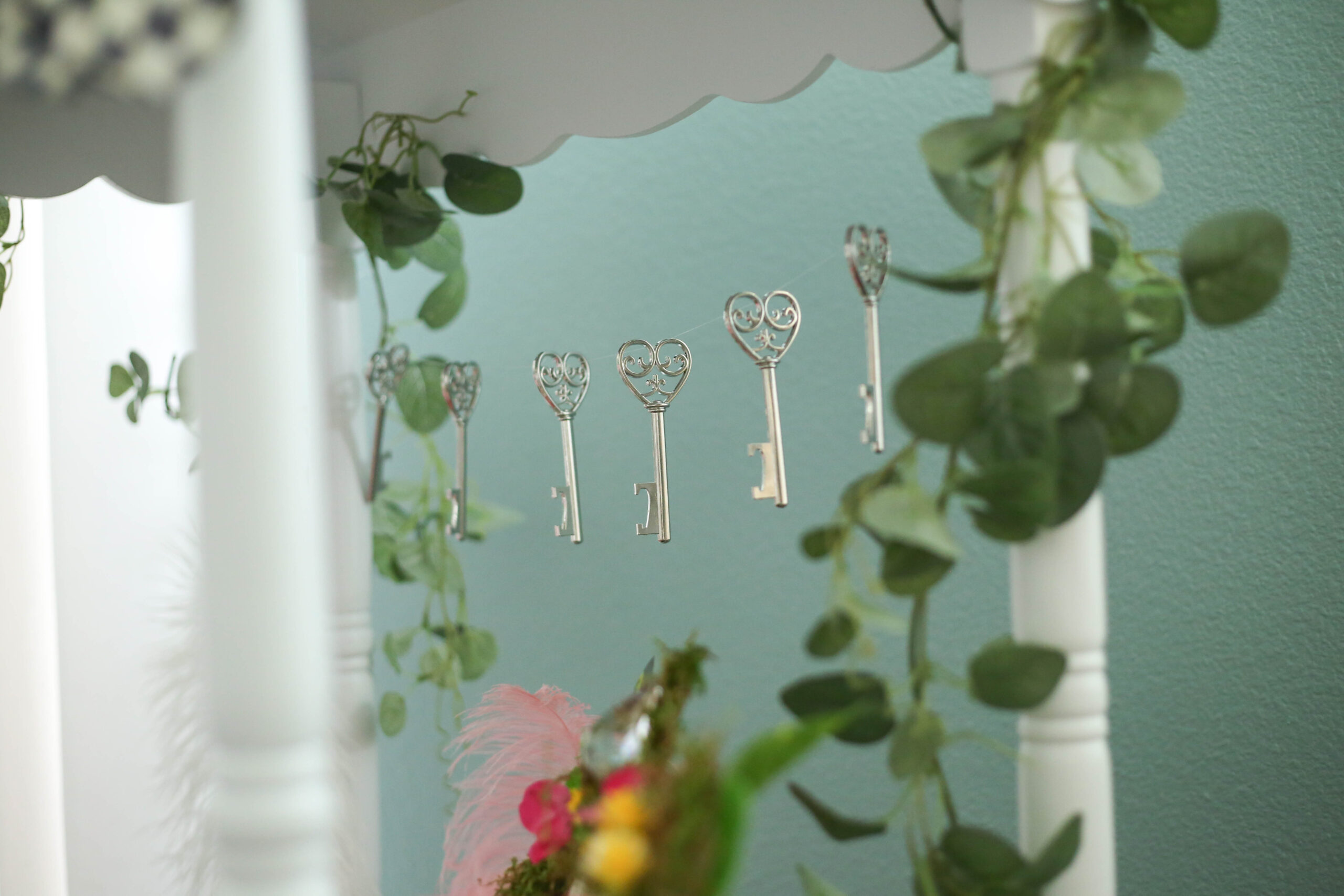 Setting up with Style
The cart was laid with a boxwood mat, then a silver cake stand hung with sparkling crystals was added. I can't begin to explain the rainbows that were thrown off the crystals on the cake stand; just dazzling! Some fun favors were displayed; they're round bottles that I filled with delicious cherry lemonade, before adding the twist on lids. I created custom sized printable "Drink Me" labels and added them to each bottle, along with a pink bow. Don't they look cute sitting on the crystal cake stand? Fluffy pink and white ostrich feathers make a nice backdrop for the delectable drinks. The drama they add is perfect for a Wonderland theme.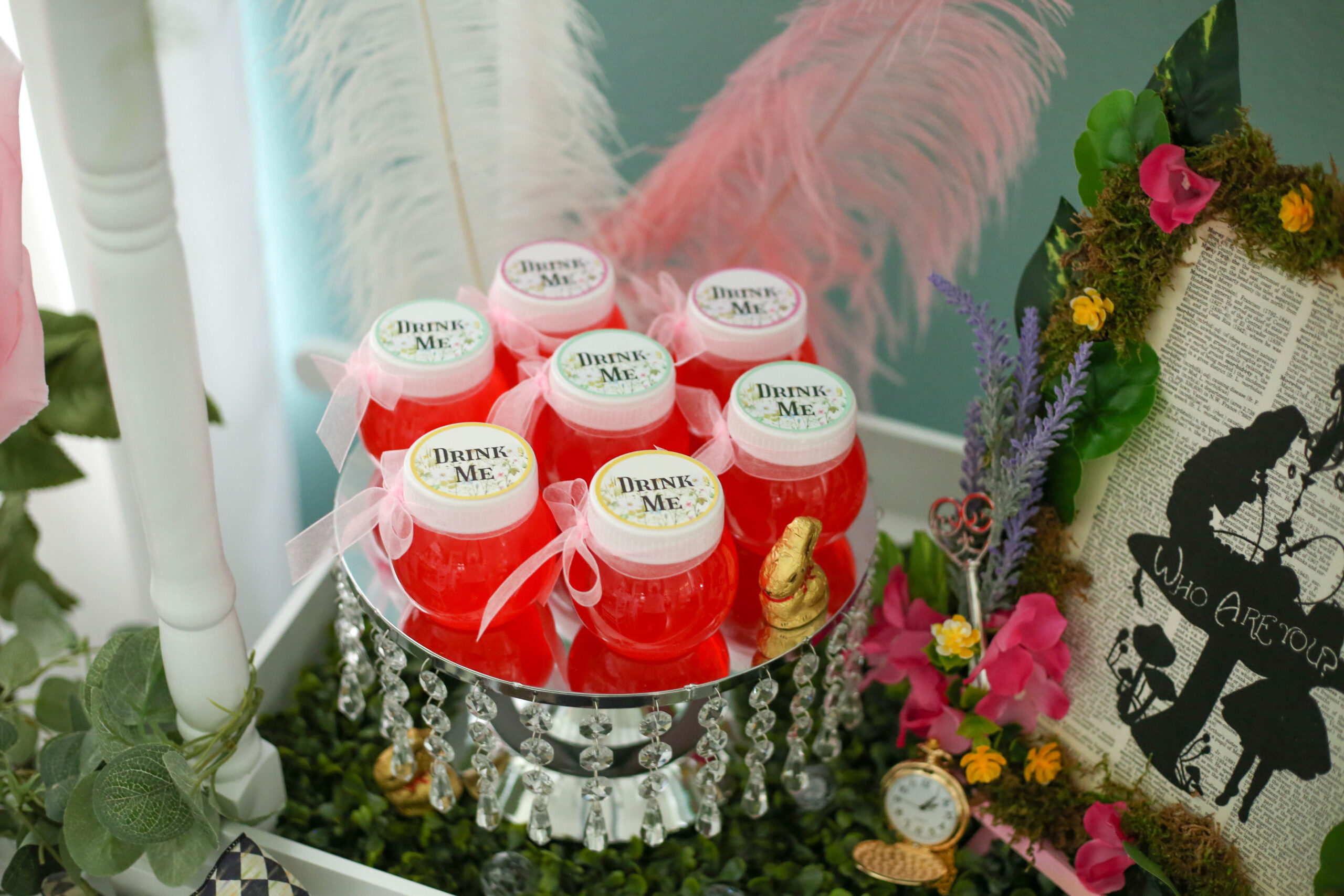 The Hunt is On
Try to spy all of the little golden chocolate bunnies, if you can. There are a couple hiding beneath a mossy floral sign that reads, "Who Are You?". I have to admit, I have so much fun adding little details to be discovered.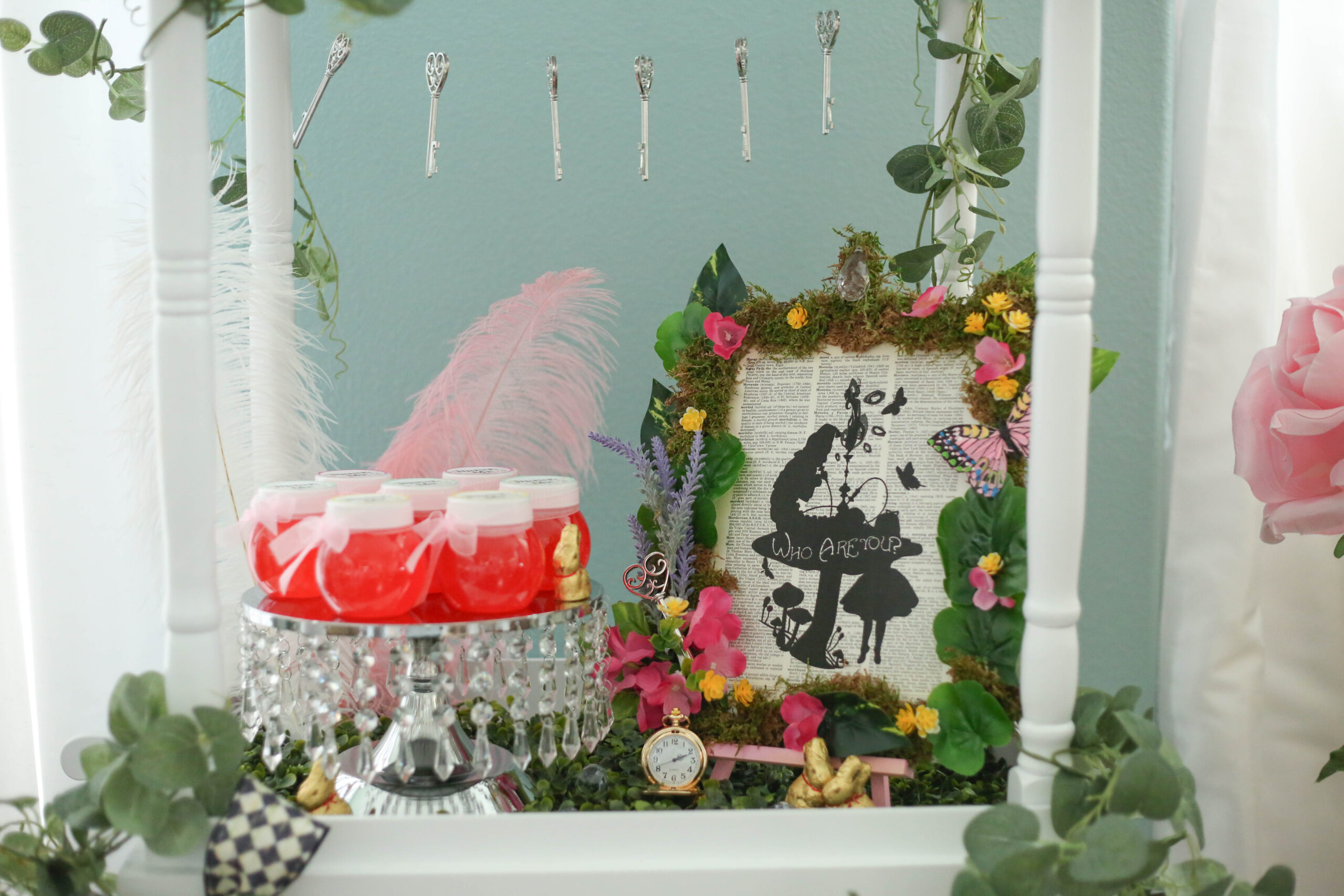 Details, details, details
Another fun detail was the addition of a shiny gold pocket watch. It's a little nod to the white rabbit, who, as we know, is nearly always running late. Acrylic crystal drops were placed point side down into the boxwood mat here and there, and looked like glittering eggs.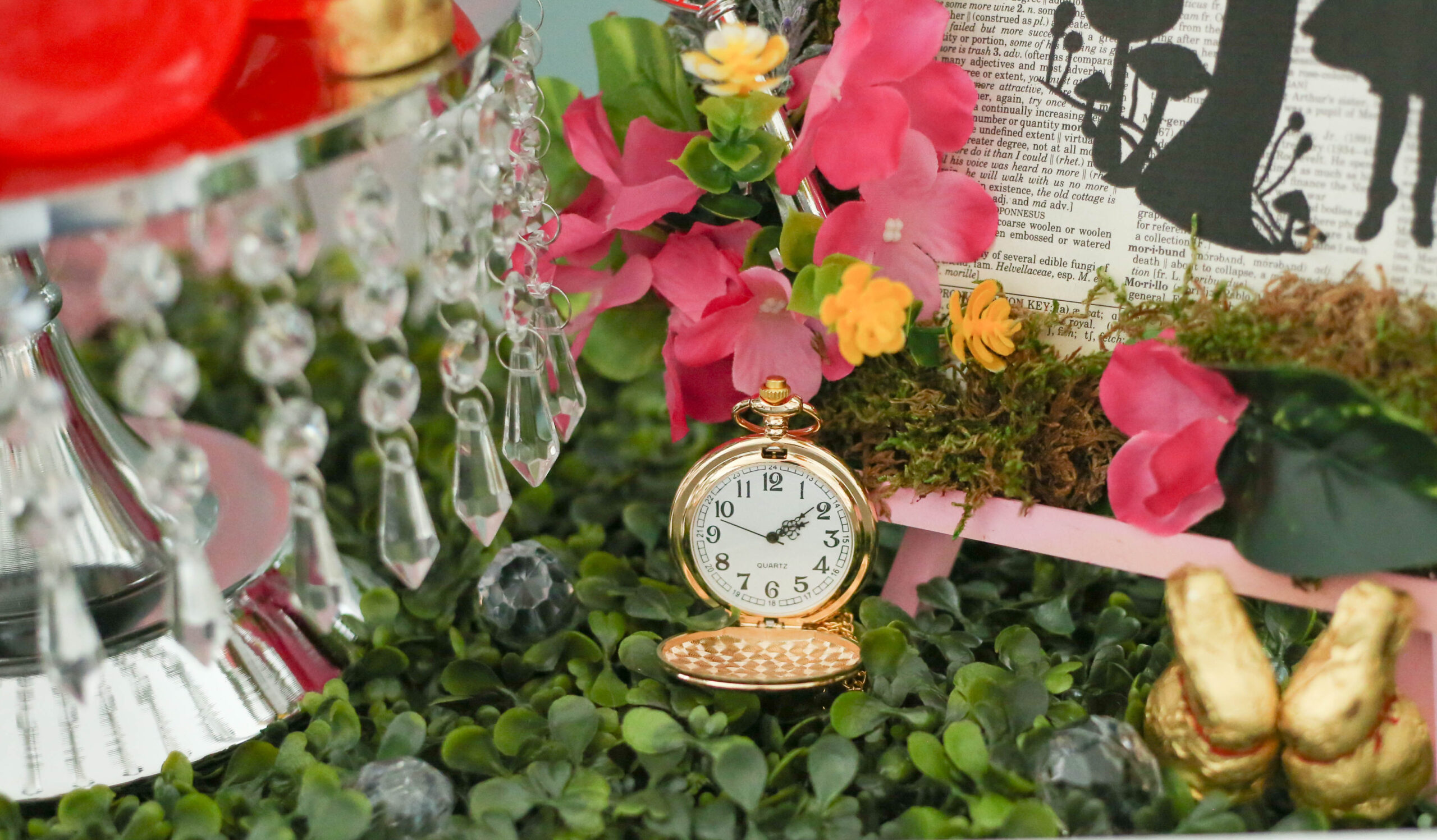 Design Down to the Ground
An ornate frame was painted in a soft shade of blush pink, and leaned against the wood cart. Then, the wheel was embellished with a vintage clock face, created by mounting a printable clock face to a white scalloped cake board and affixing to the wheel of the cart. Last, more silvery green eucalyptus was trailed onto the ground in front of the cart, and a vintage harlequin ribbon added to accent the handle. The harlequin pattern really carries the Wonderland theme so well.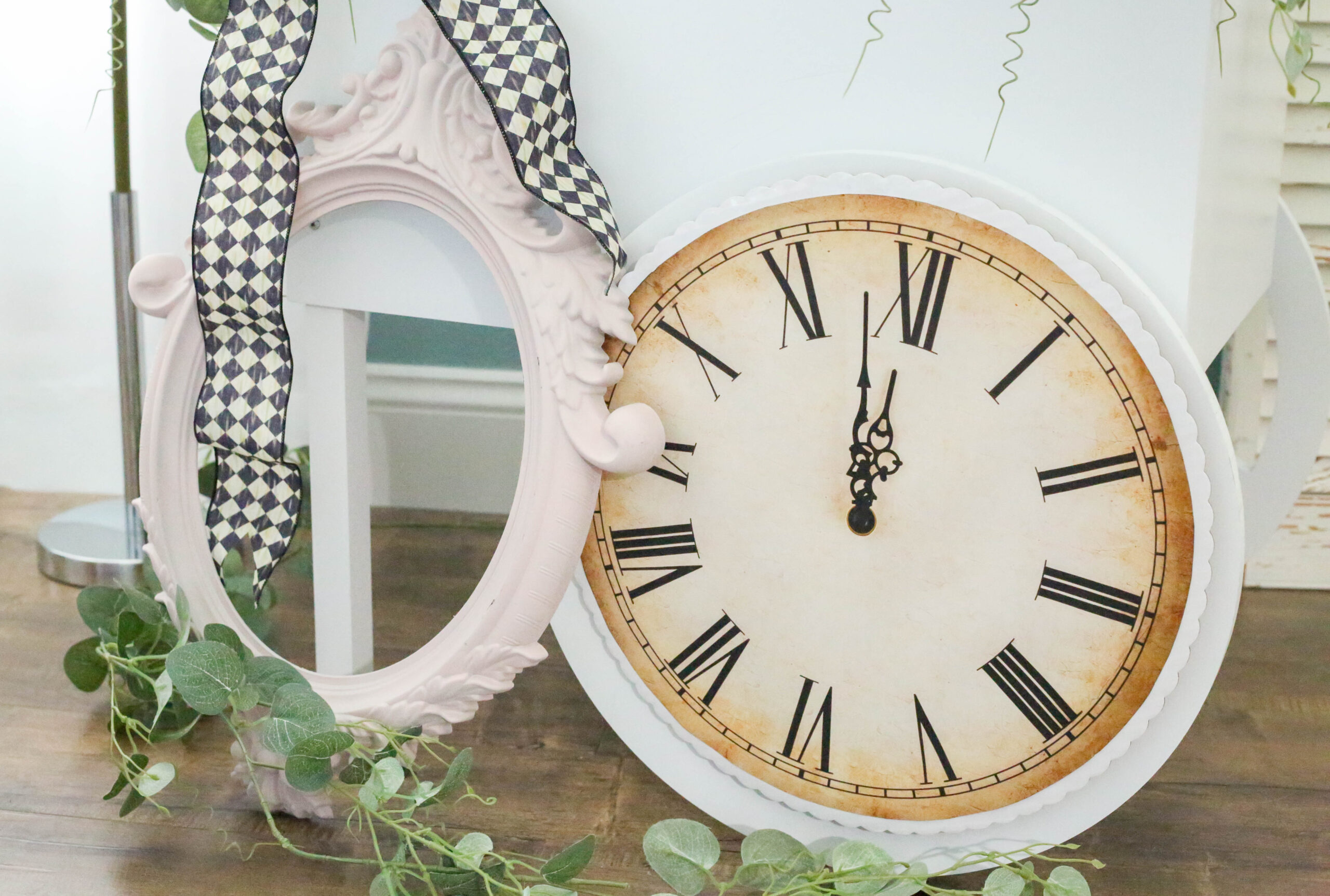 There's Even More of this Wonderland to See
Be sure to catch all the details of the full Easter in Wonderland party, it's a very important date!