This spring, host an Easter in Wonderland party, themed on an enchanted garden with tea party decor and of course, white rabbits!
Designate a Party Space with a Paneled Wall
This outdoor scene is set for an afternoon of sipping tea and tasting scrumptious sweets with friends and family. A wood paneled fence with scrollwork detail is the perfect solution for designating a party space, as well as concealing areas you don't want to use. Two armchairs were brought out from the inside, their chenille yellow pattern is perfect for a wild and whimsical Easter tea party like this. Shop around your own home, and look for fun ways to use your furnishings and belongings in your parties. Believe it or not, these chairs were pulled from my own front room!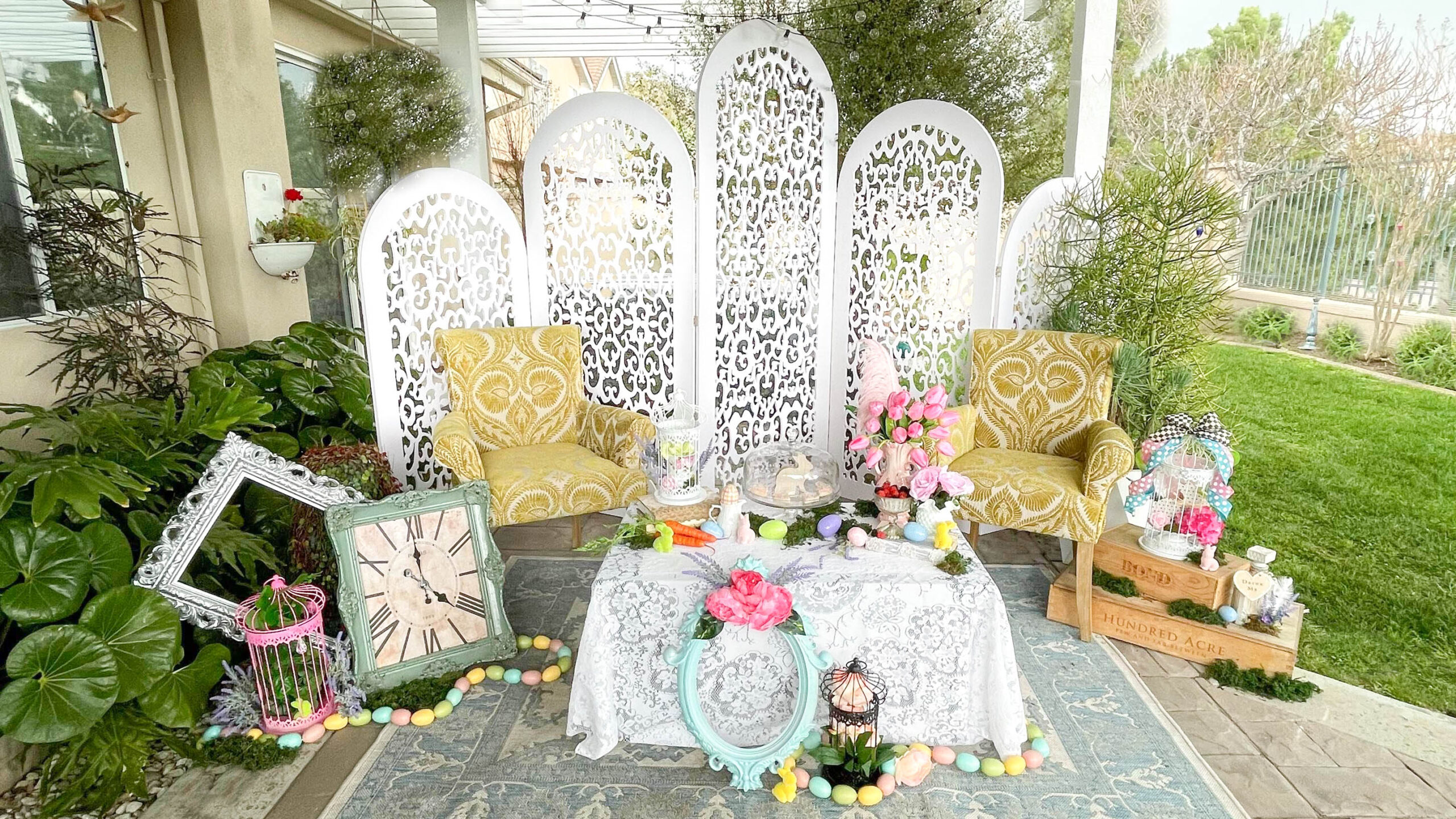 Paint Up Some Fun Frames and Bird Cages
Ornate frames were painted in vivid shades of teal, lavender, black and pink. Then, they were adorned with fluffy coral ostrich feathers, faux flowers like cabbage roses and lavender. Wired ribbon in harlequin and bold, springy patterns was added and imparts an especially festive look. Some of the frames are leaned against the seating area with clocks and colorfully painted bird cages filled with flowers. These can be used interactively by guests, to pose for fun photos. Surround them with handfuls of preserved moss to create the appearance that they are growing out of the garden floor.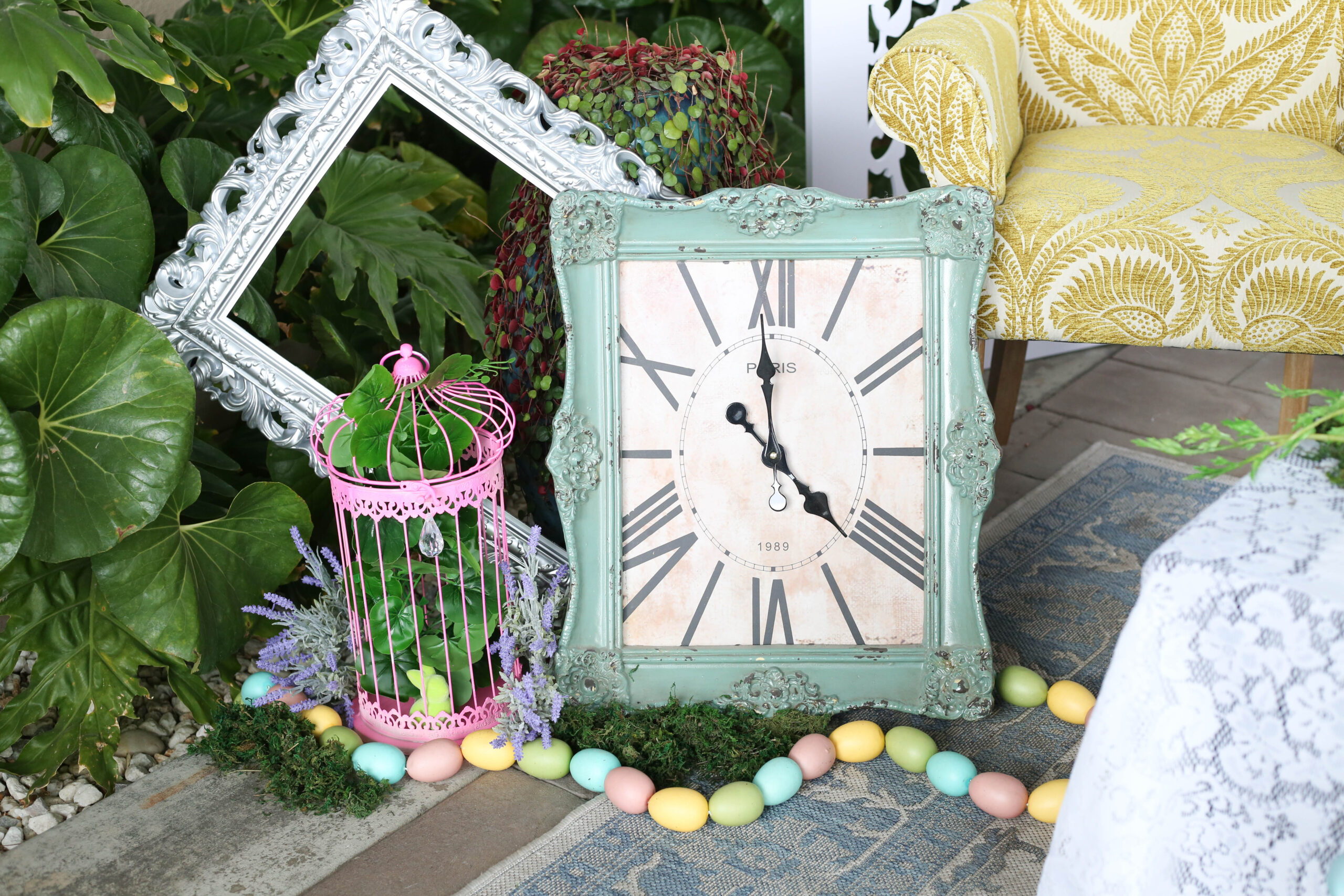 Other decorated frames are suspended from the trees, along with a printable clock, acrylic crystal drops, silver keys and plastic heart containers filled with a surprise. The hearts are painted in spring colors, then coated with iridescent glitter inside.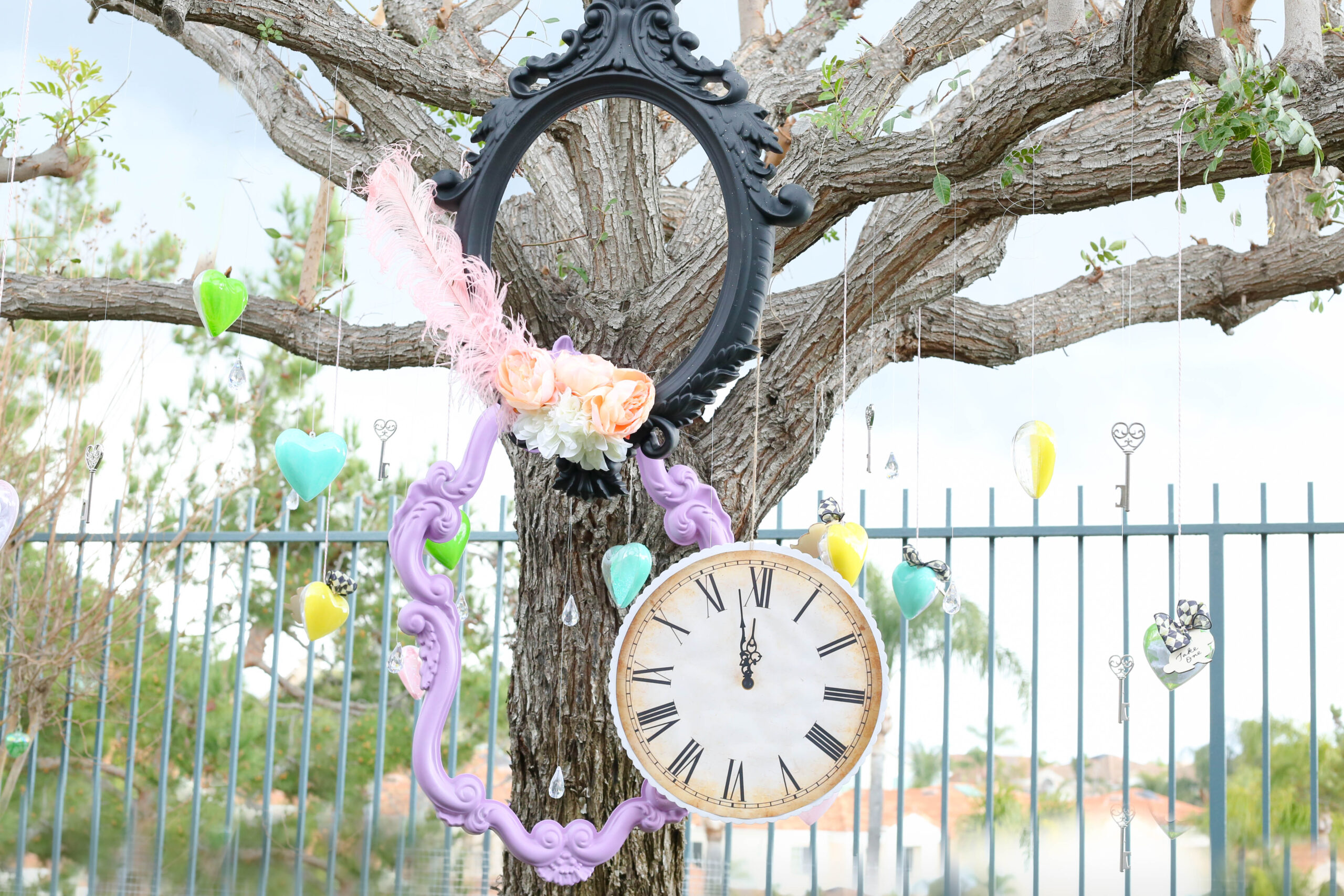 Inside the plastic heart containers, (modeled after the Queen of Hearts, of course), is a special treat; a pair of lace gloves to wear to the party.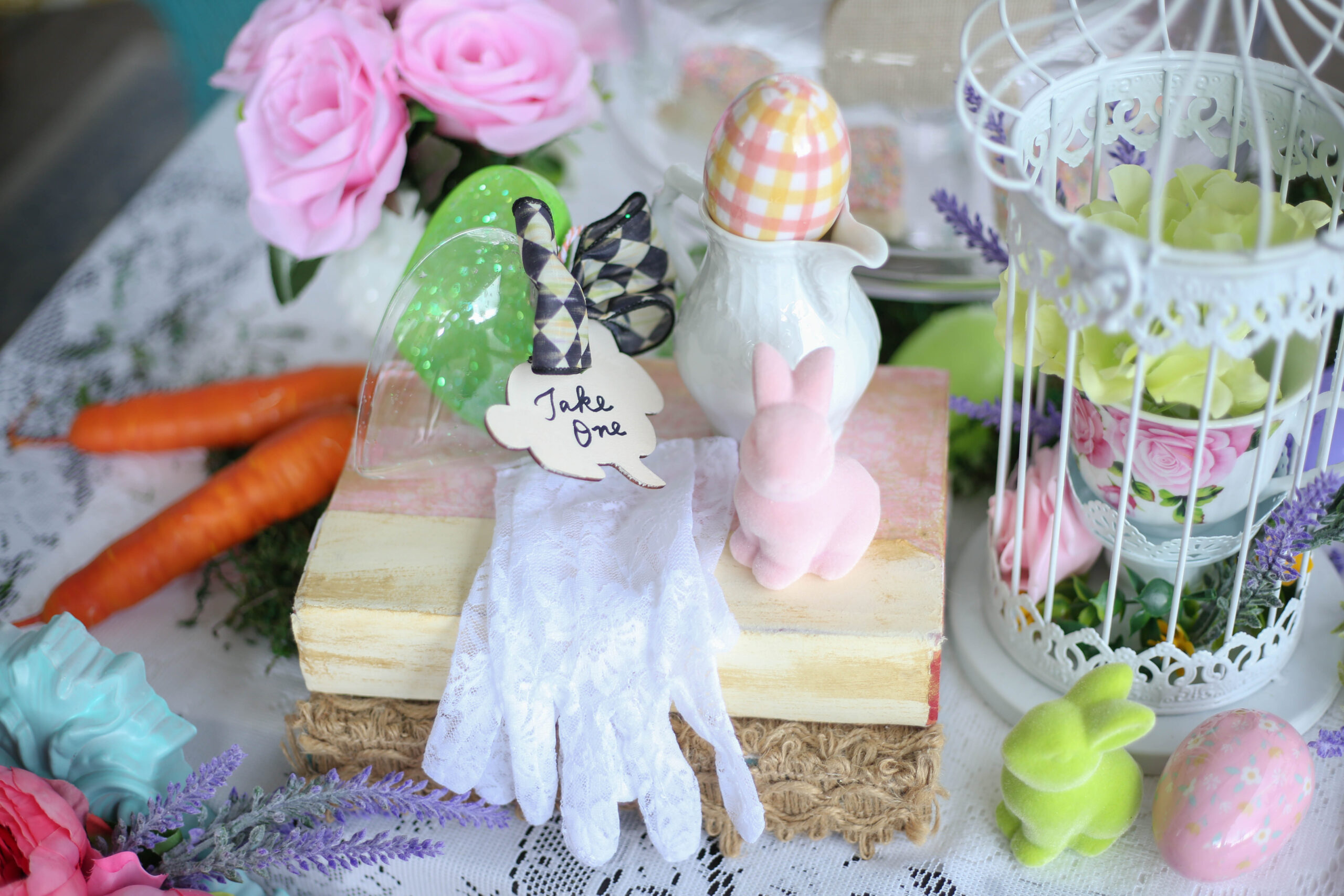 Tables of Treats and Tea Party Touches
A small table is laid with a lace cloth, and treats are offered beneath a beautiful clear domed glass cake stand. They're tasty little Queen of Heart's shaped cakes with pastel nonpareil sprinkles.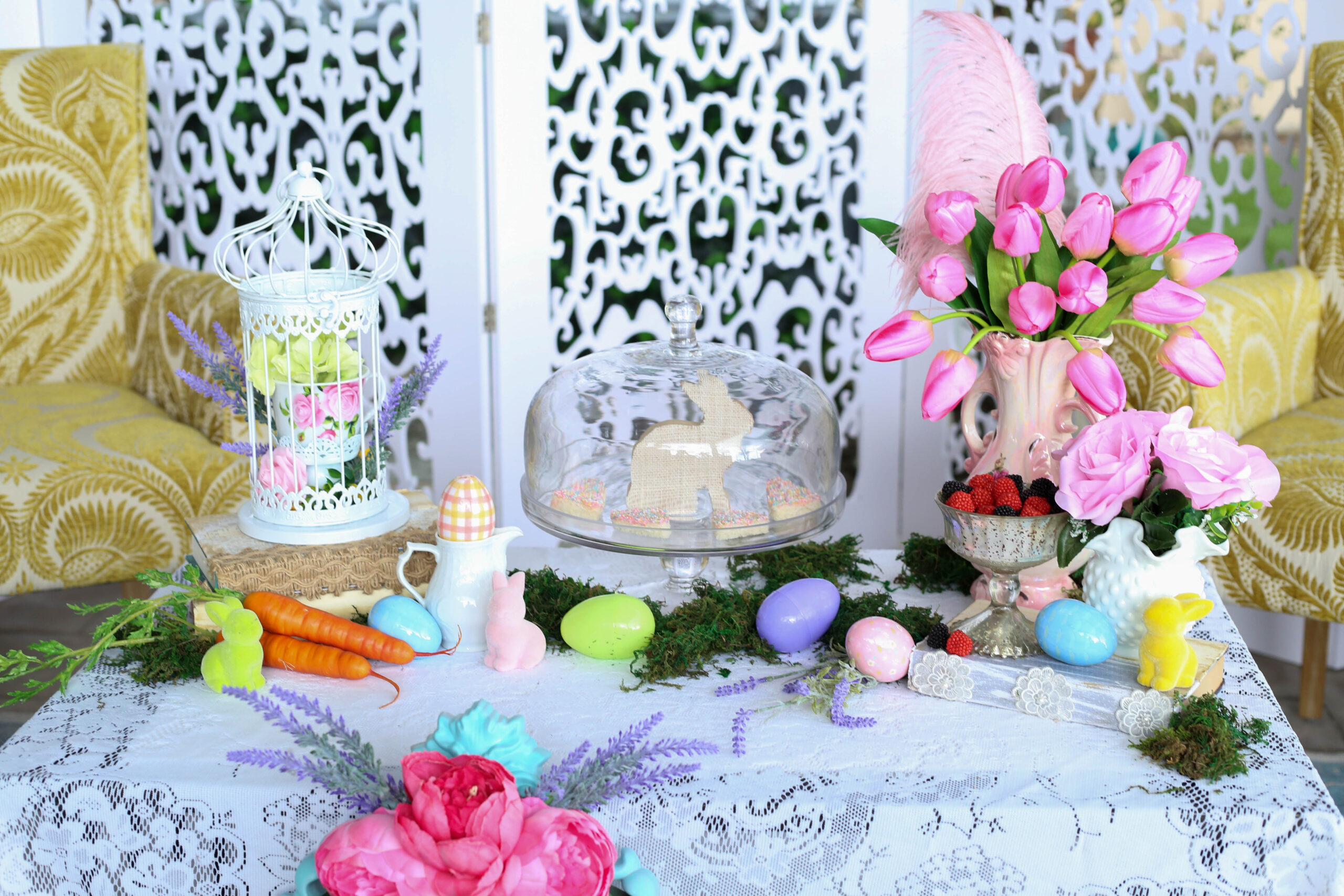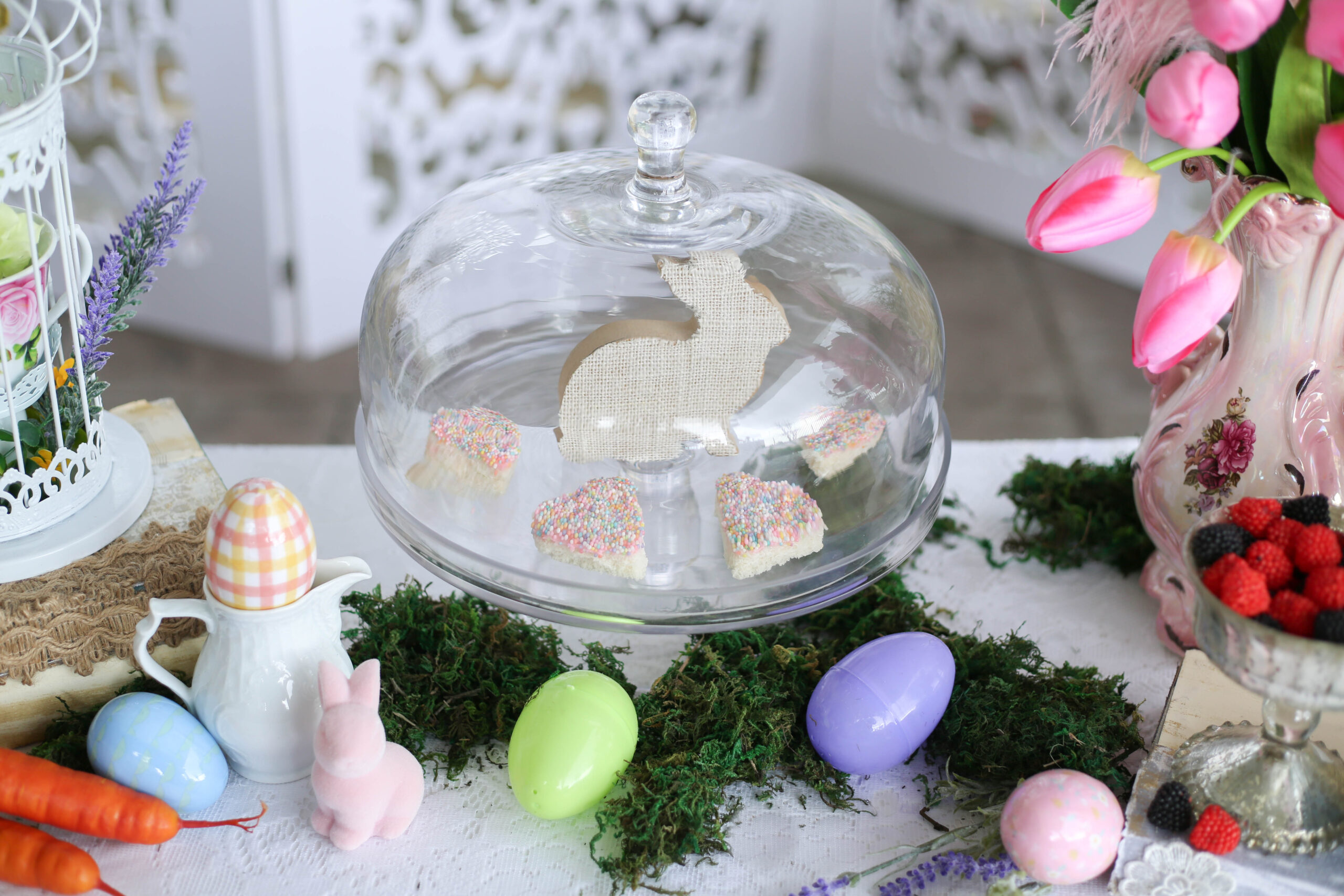 Fancy birdcages house vintage teacups and bright flowers, while a pearlescent pink vase is filled with springy pink tulips and another fluffy ostrich feather.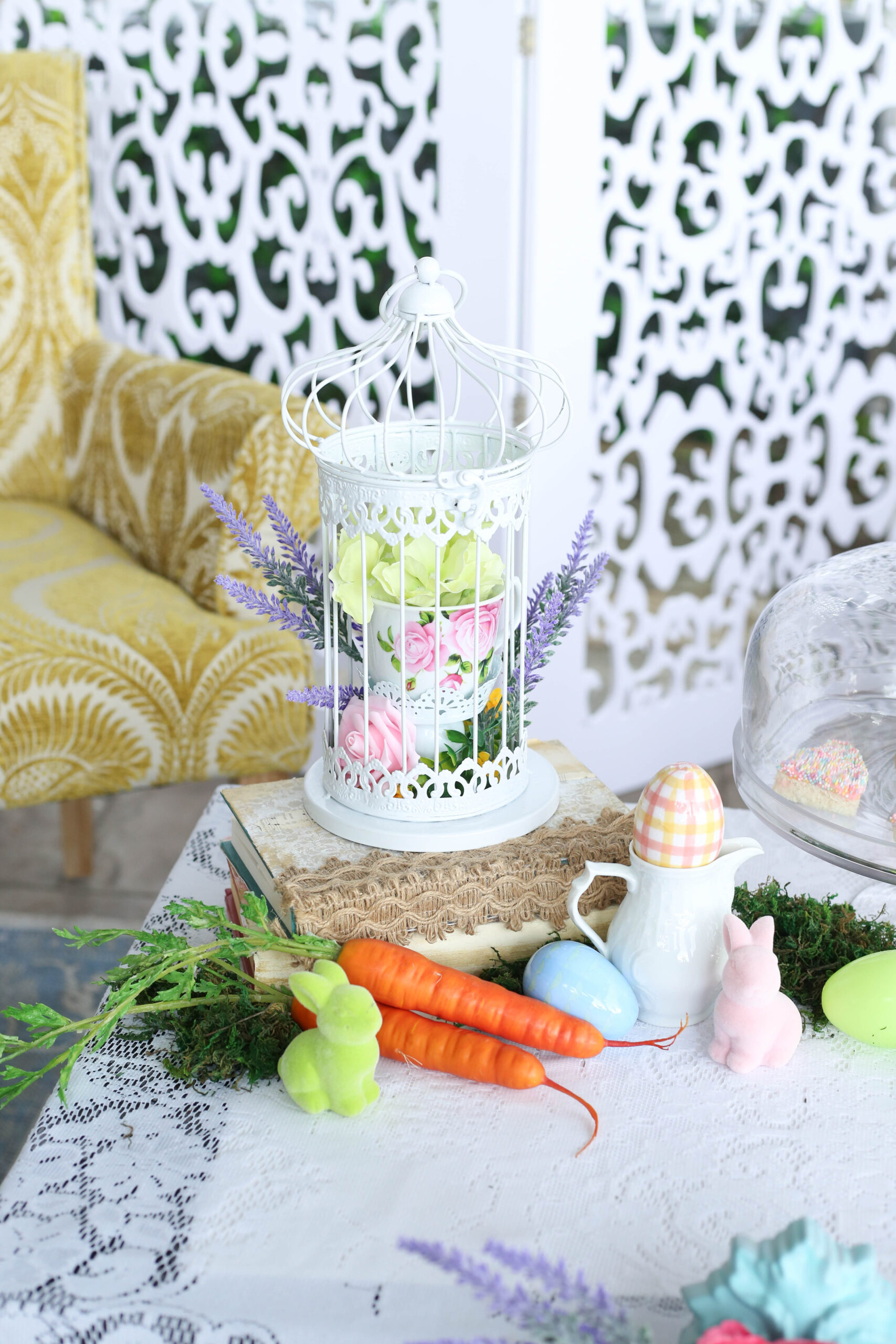 Nearby, a dish is filled to overfull with raspberry and blackberry candies. Easter eggs are filled with hidden surprises, and are also placed around the yard for the children to find.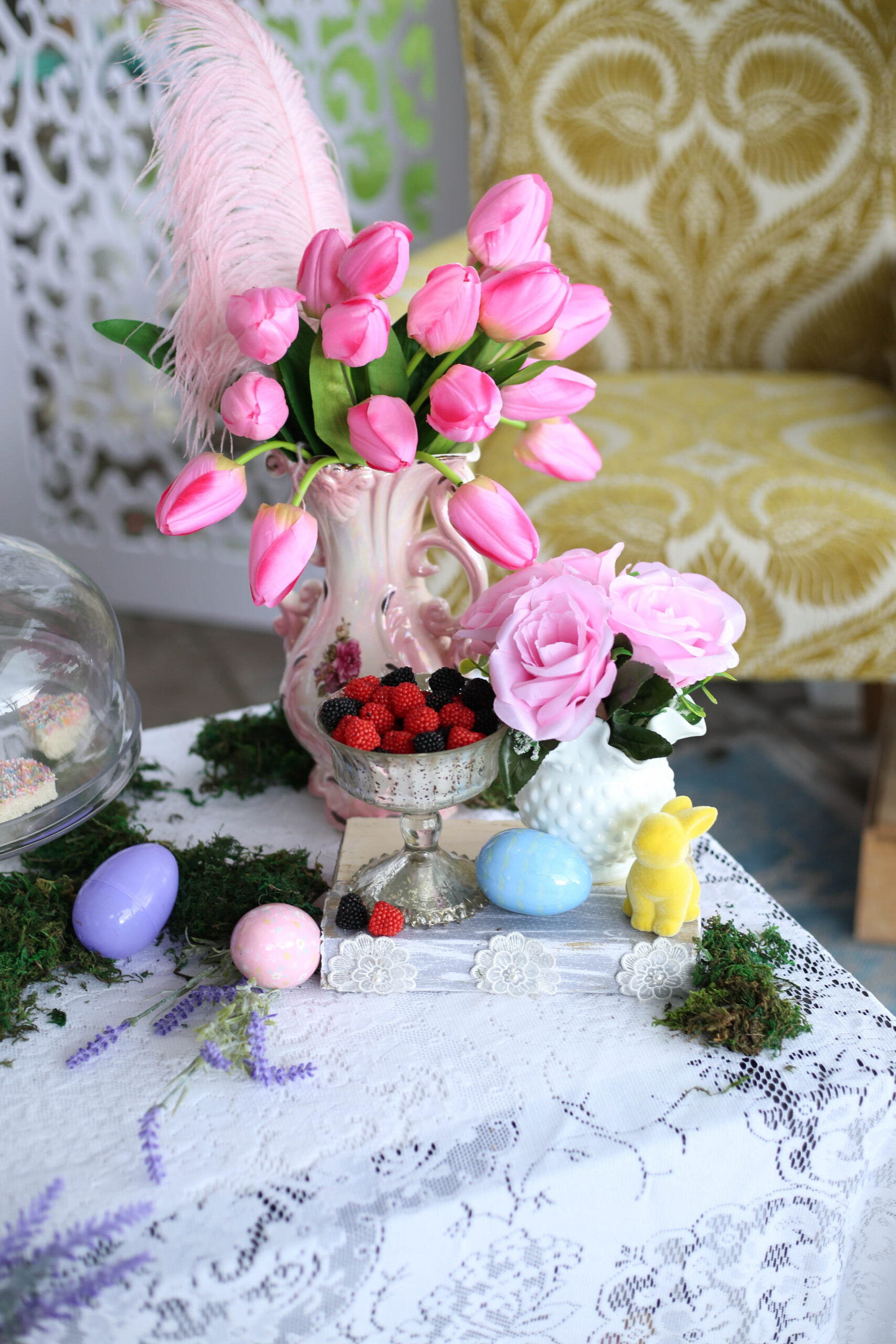 Next to the seating area, some wine boxes from my own decorating stash were stacked up and dressed with another of those incredible bird cages. Inside this one I was able to fit a small pedestal stand, and placed a wood cut bunny on top. Faux flowers are vibrant, and so easy to work with; just pile them into the birdcage around the small scene until they're arranged to perfection. Top it off with swirls of spring ribbons.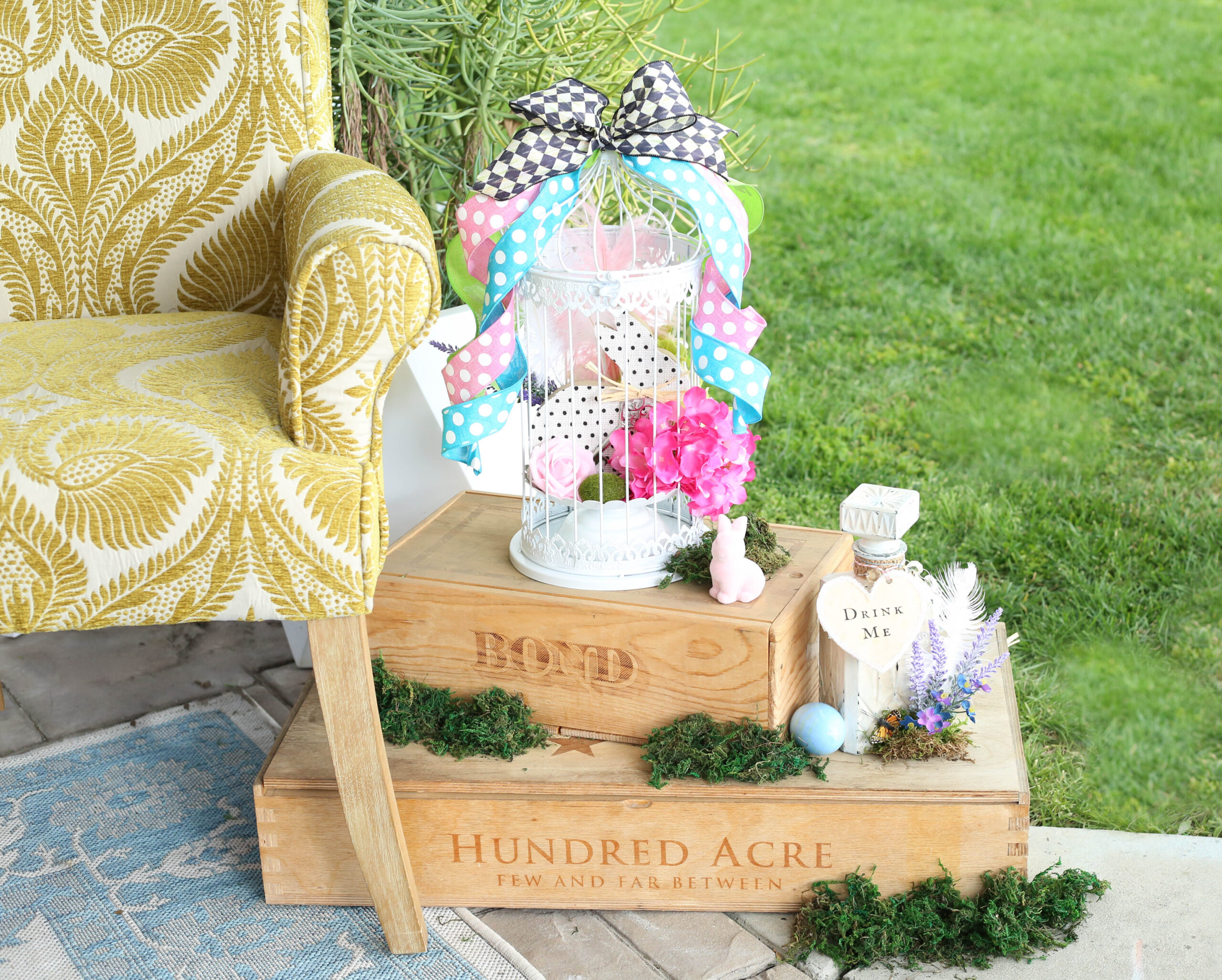 DIY Your Decor
Did you happen to spot another fun piece of wonderland decor? Creating beautiful upcycled bottles is a favorite pastime of mine, and it was such a treat to make this one in a favorite fairy tale theme. This bottle is painted with FolkArt chalk paint and aged with antiquing wax, then embellished with moss, chandelier crystals, trims and flowers. A printable paper tag that says, "Drink Me" is affixed to the neck of the bottle. Since this bottle is actually made from a brand new beverage safe decanter, you can fill it with any beverage you'd like and serve it at your Easter in Wonderland. Guaranteed, this will wow your guests.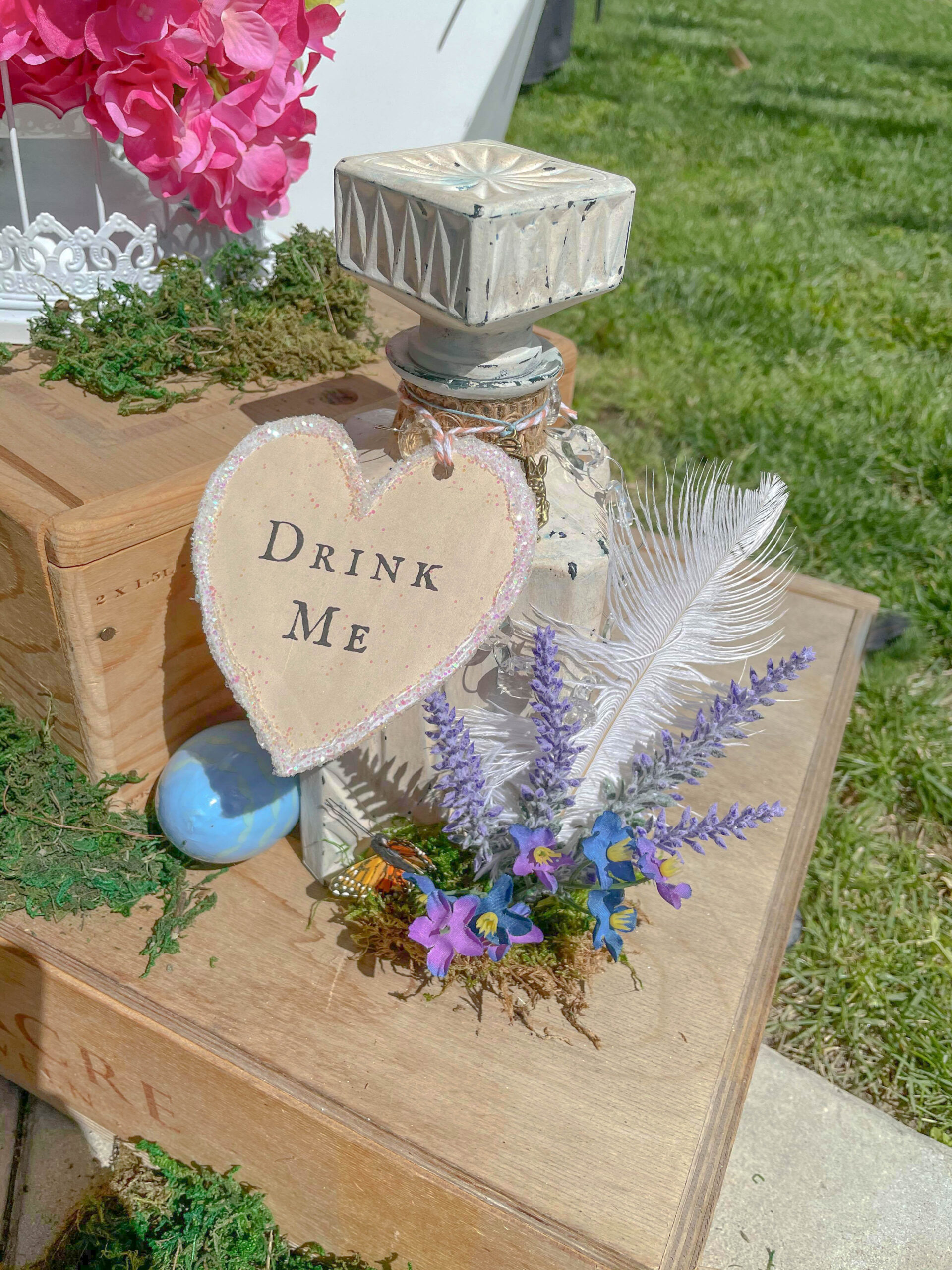 Do You Play…Croquet?
Little party goers at your Easter in Wonderland party won't need to change size like Alice to enjoy a diminutive sized game of croquet. That's right, this little croquet set is sized just for tiny tots! The free printable sign reading, "Do You Play Croquet?",  fits perfectly in an ornate frame that's been given the full decorative treatment with a vibrant shade of shocking pink paint, and some ribbon and flowers. Did someone call for more ostrich feathers? Oh yes, that was me.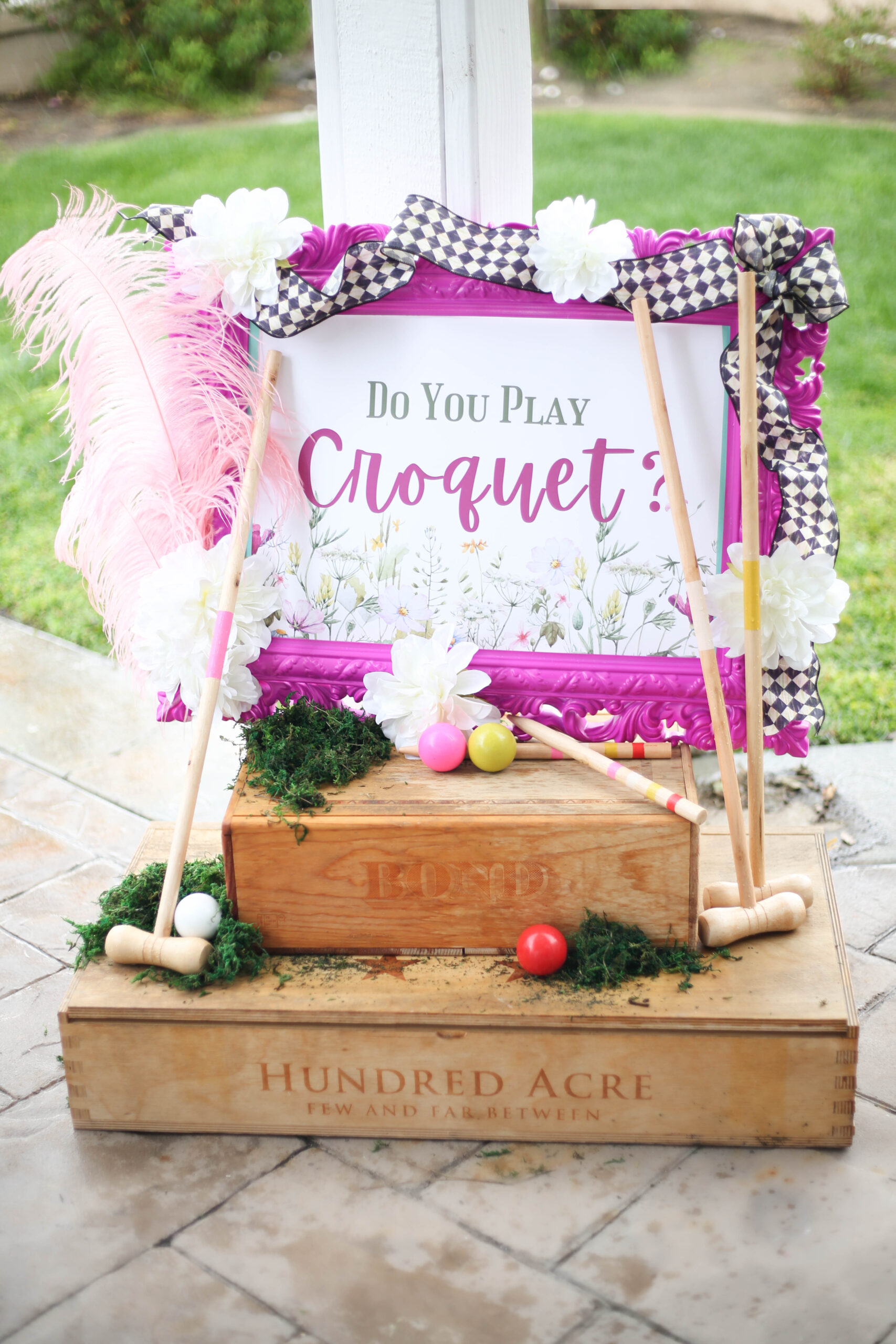 Enjoy creating your own Easter in Wonderland party. You'll love "going down the rabbit hole" as you devote your attention to all the unique party details that create special memories.