Never fear, you're just in time, and not at all "late for this very important date"! Your visual tour through this whimsical and creative Easter in Wonderland party awaits. I'll be your tour guide for this versatile soiree. (It's just as lovely when modified to be a spring party or bridal shower, as well as a birthday theme!)
This post was created in partnership with Portofino International and is sponsored content. The ideas and designs are, as always, my own.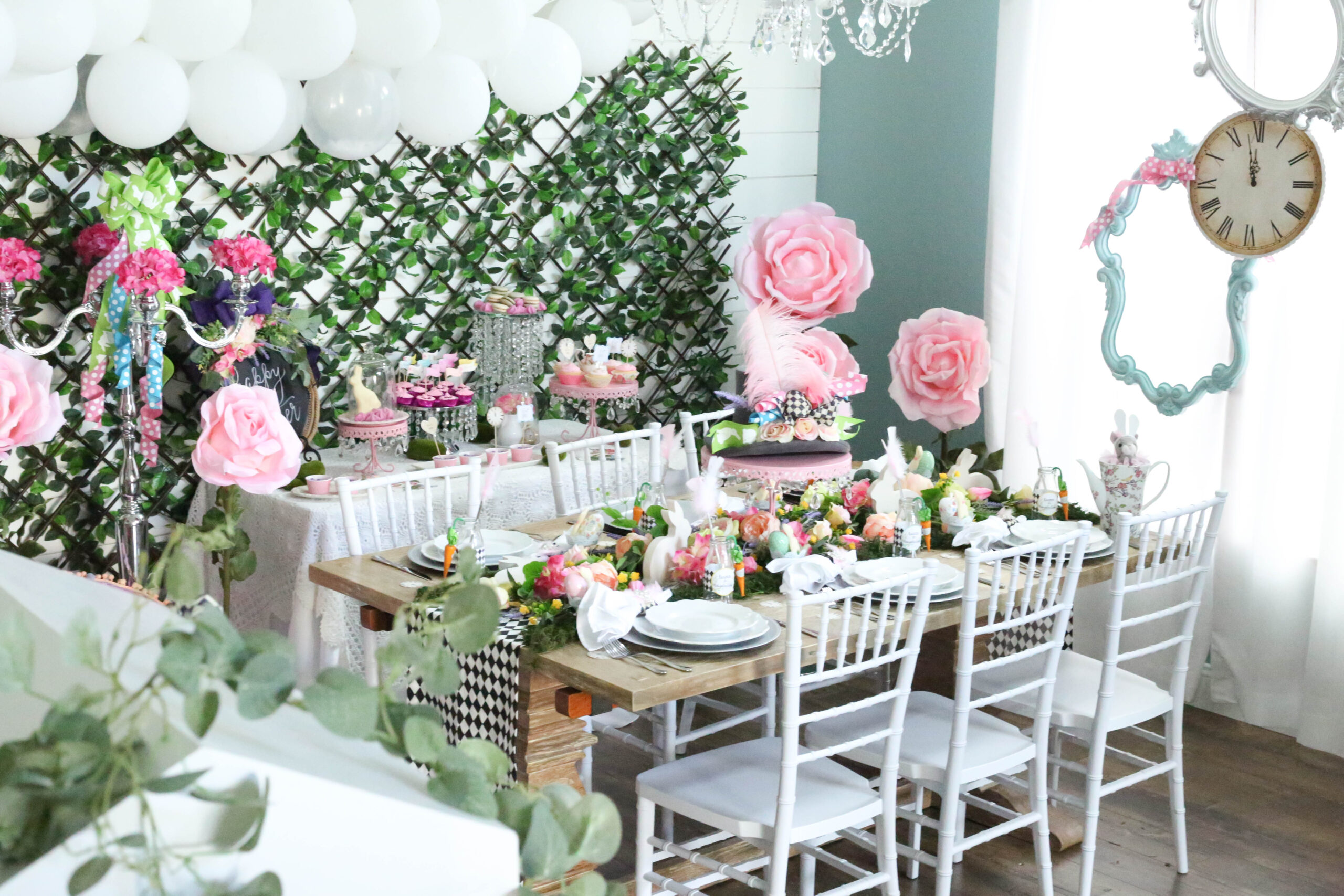 A Formal Invitation Sets the Mood for a Lively Affair
Creative invitations are such fun to give and receive. These are created using round plastic boxes with lids. The printable for the lid as well as the invitation can be found in the Easter Printable Package I created for you to download, free! Inside, a wood rabbit with a raffia bow and a silver key are surrounded by faux flowers. Of course, I had to put a sweet bite in there too; it's a chocolate carrot that I think my family will really enjoy.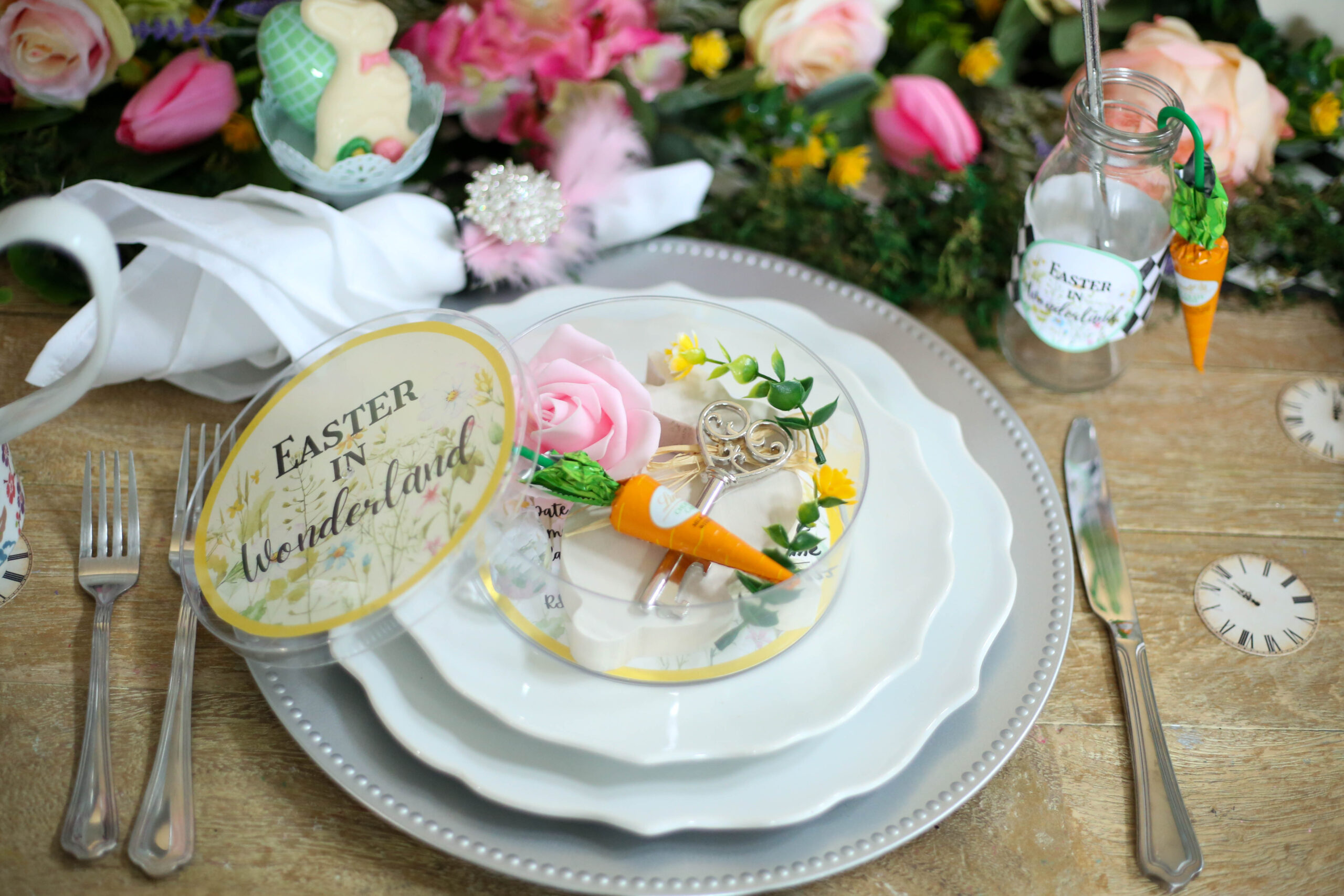 A Tablescape Straight From a Fairytale
The light barnwood trestle table was left bare instead of using a linen, so as to enjoy the look of the wood grain with all the colors being used. The table was laid with a cotton table runner in a black and white harlequin pattern. This pattern really evokes the Wonderland theme, and mixes well with the abundant florals that are laid down its entire length. White Chiavari chairs surround the table and add a nice light and airy feel.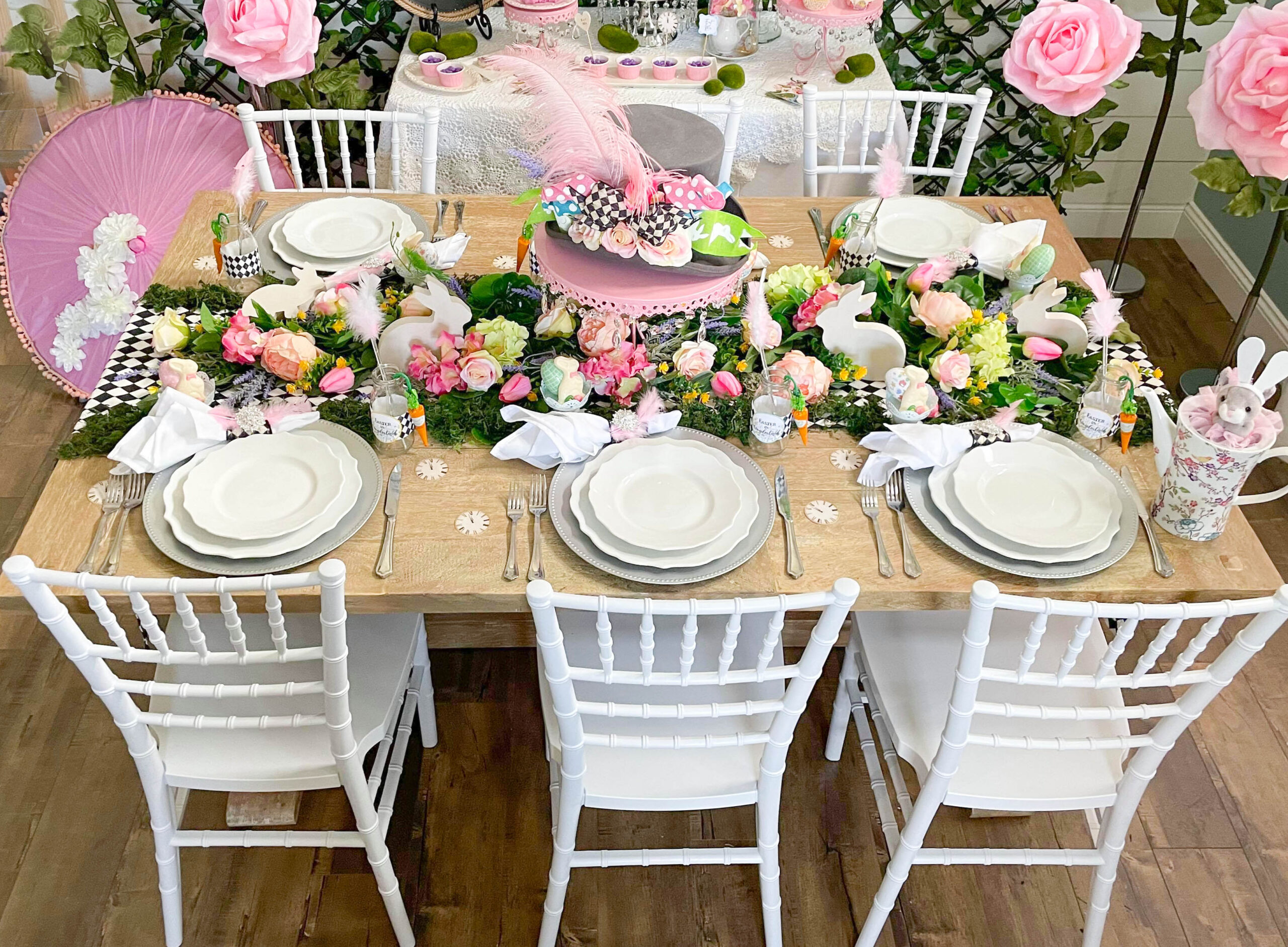 Cabbage roses, hydrangea, tulips, roses and lavender are just some of the beautiful spring blooms present within these stunning Easter decorating ideas.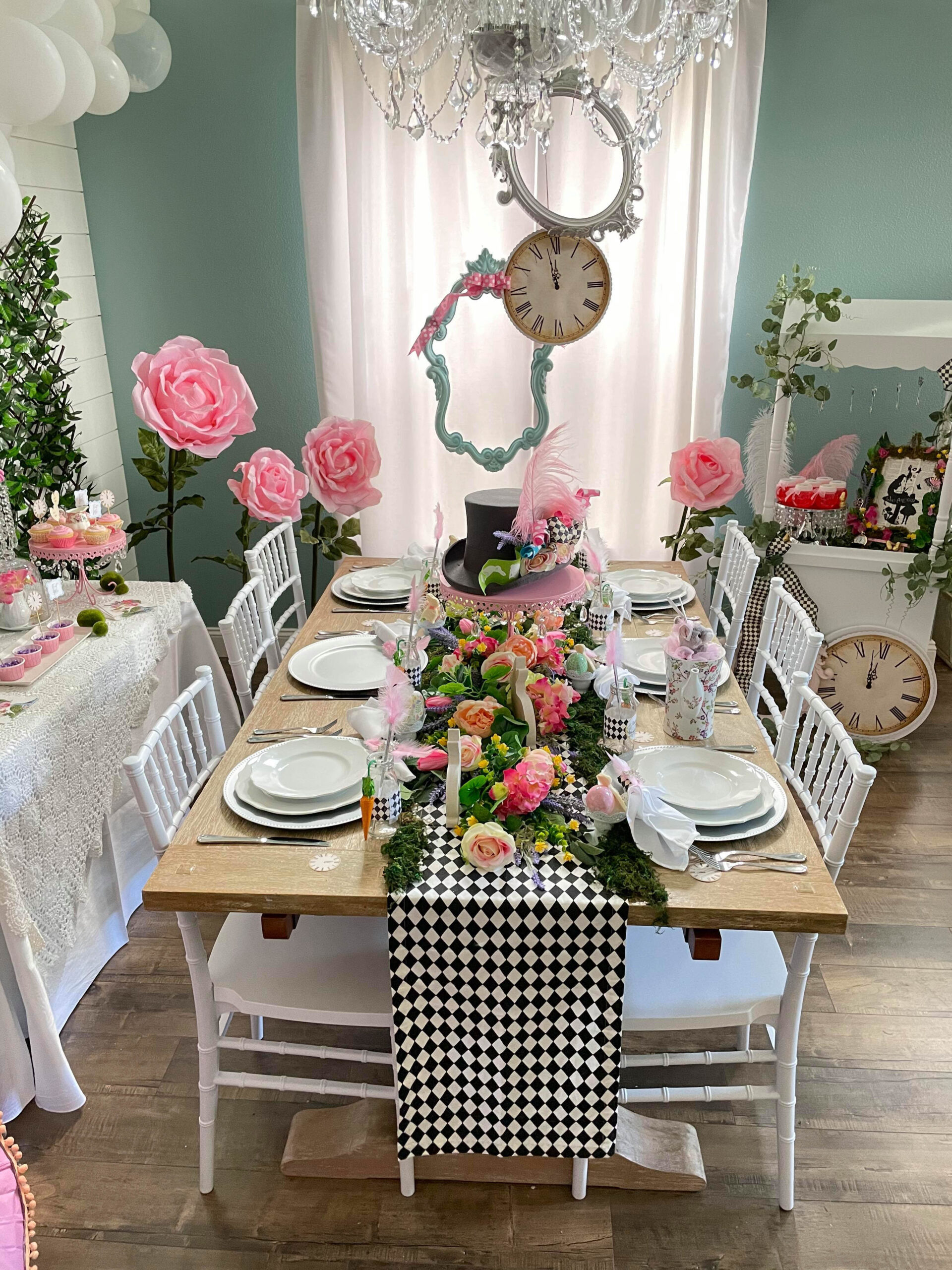 Preserved moss and white rabbit shapes are also added to the beautiful, garden themed Easter table.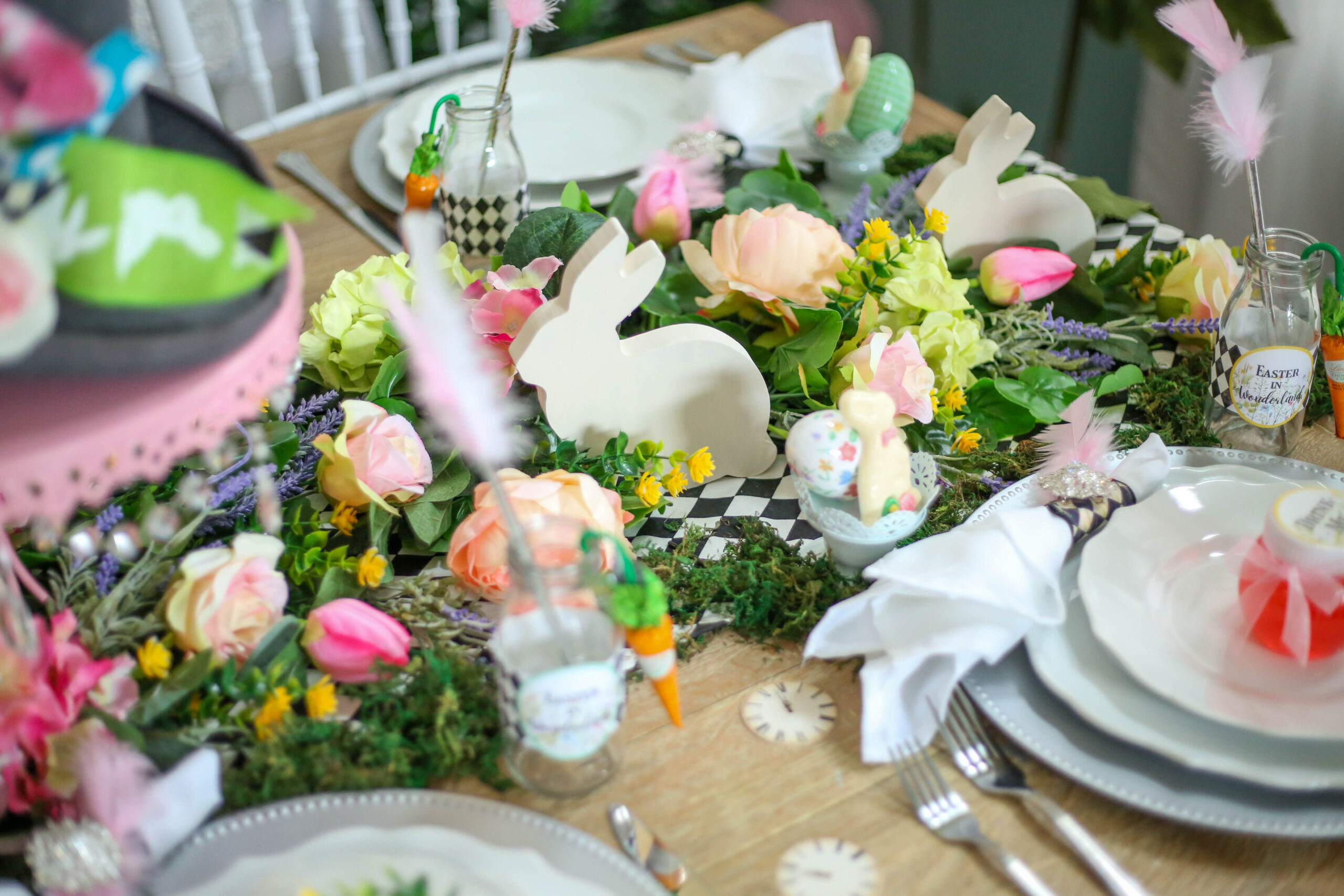 Hang Some Fun from the Window Tops
Above the head of the table, ornate frames were painted in colors to coordinate with this fun Easter theme, then suspended by clear line. I created the vintage clock face by mounting a free printable clock face to a sixteen inch cake circle with hot glue. So simple! I promise, creating striking party decor doesn't have to cost a lot of money!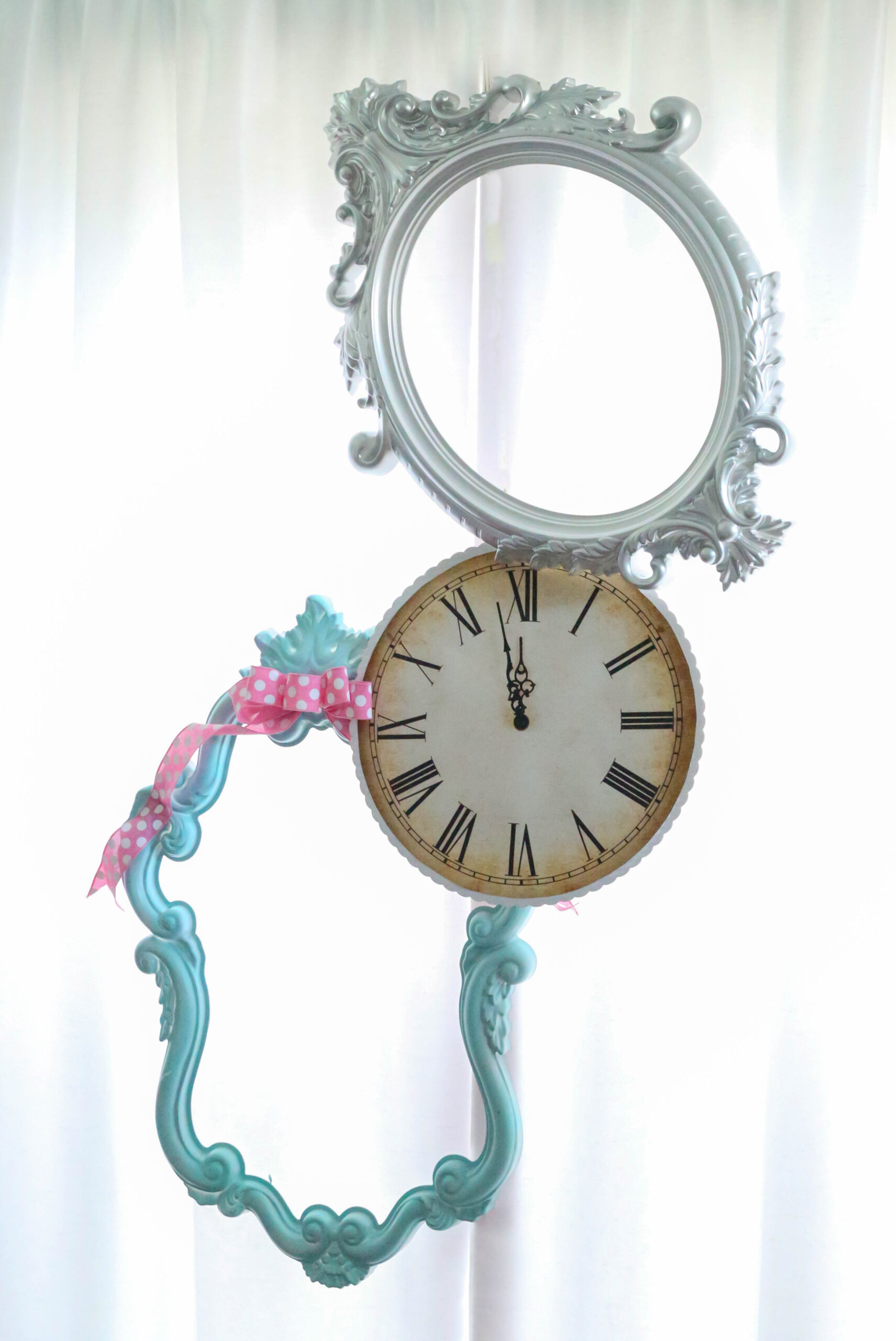 In the center, of the table, a pink cake stand is hung with dazzling, prismatic crystals. The cake stand is the base for a grand grey felt top hat. I'm pretty obsessed with the hat. It's just so much fun! The show stopping centerpiece hat is a wearable piece of art. The grey top hat is bedecked with piles of spring ribbon, silk roses and lavender sprigs, and voluminous ostrich feathers.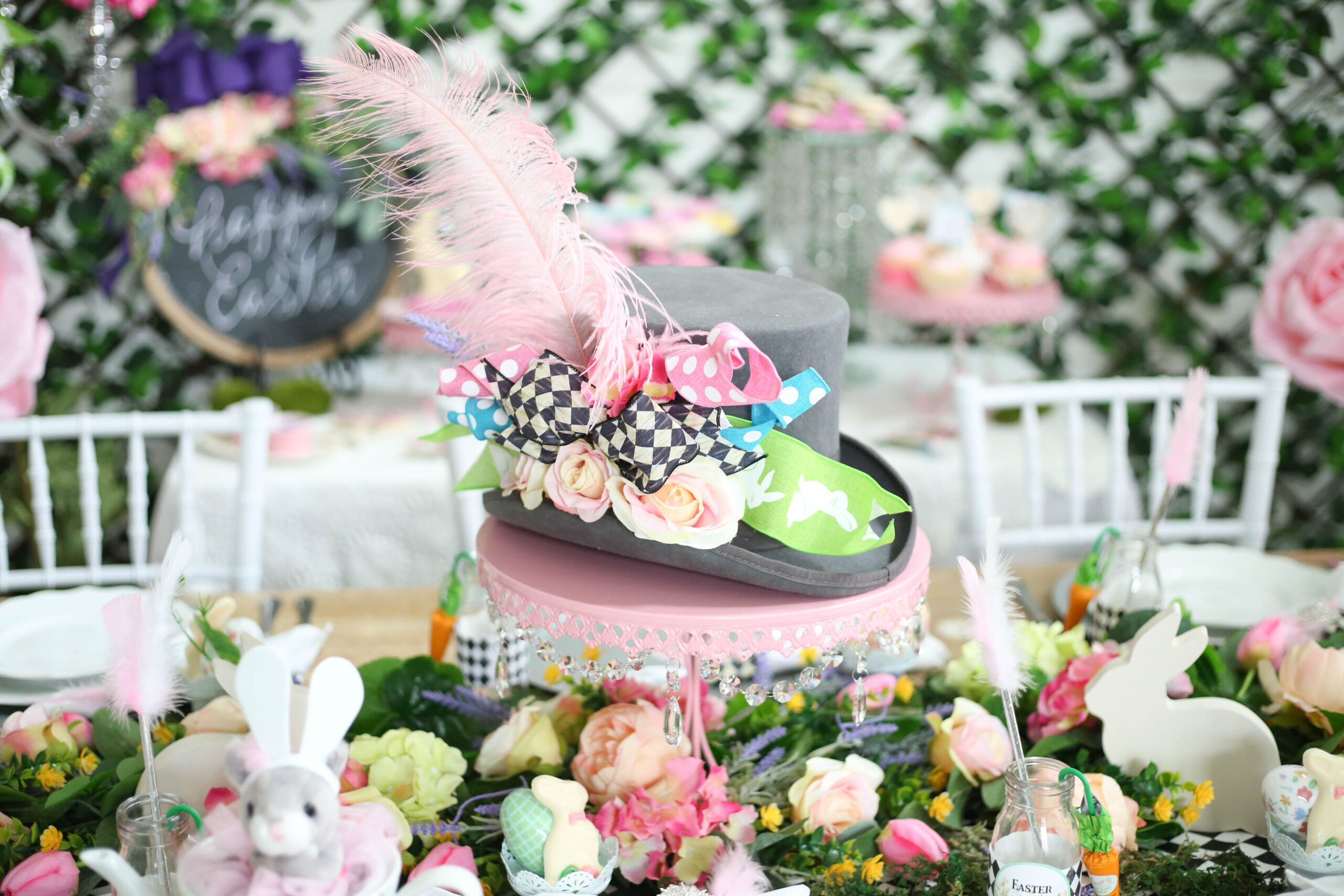 Place Settings Filled With Magic and Wonder
The place settings for this enchanted Easter scene are just as lovely, featuring beaded silver chargers and white scalloped plates. White linen napkins are held by harlequin ribbon, fastened with a sparkling rhinestone brooch. To liven things up a bit, I added a long, fluffy pink feather to each one. I love how this little touch added some needed color to the place setting.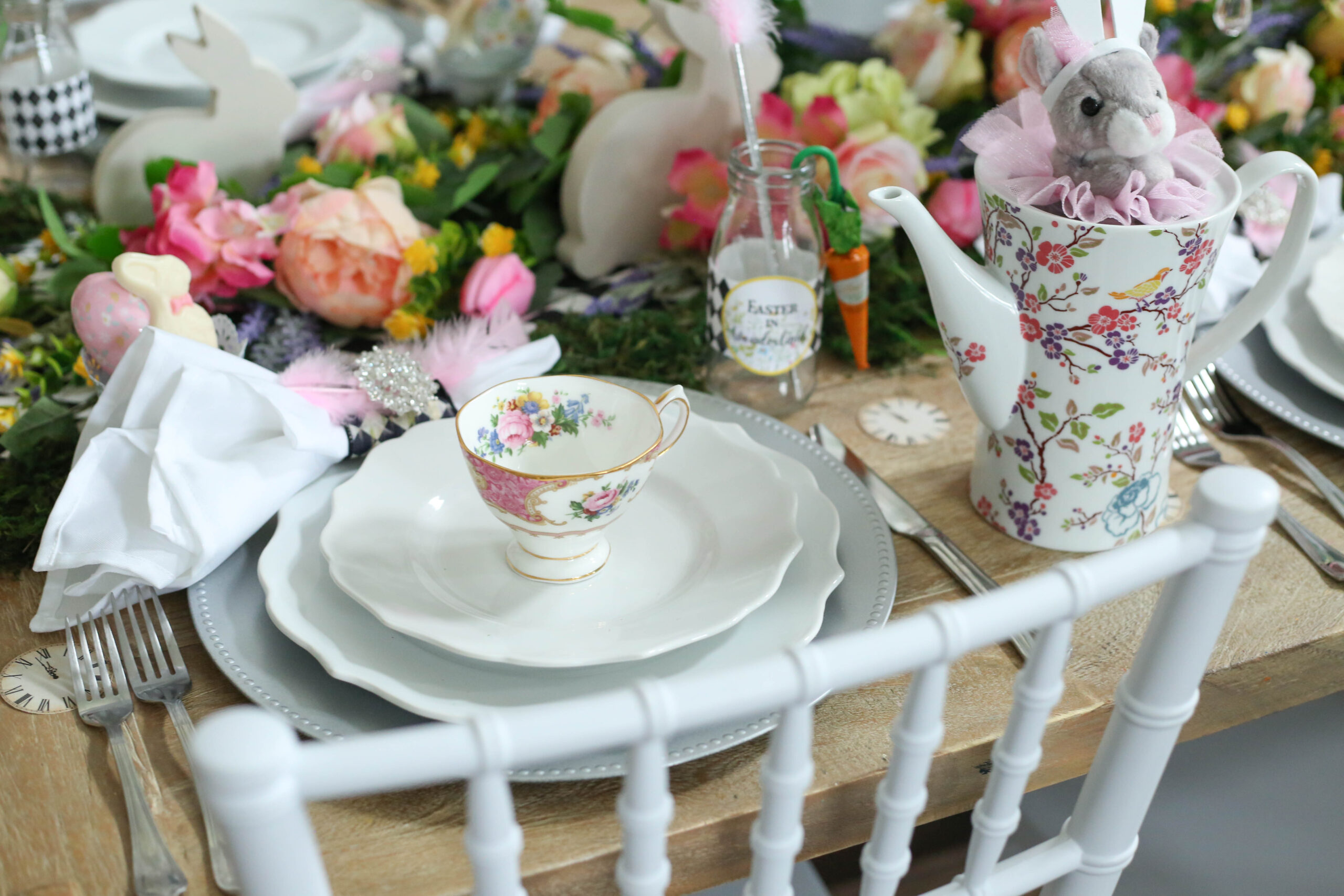 Each place setting is also bestowed with a white chocolate Easter bunny and an Easter egg, filled with a special Easter surprise. They're held well up off the table in a beautiful metal white filigree cupcake stand.
Fancy a Spot of Tea with a Mouse?
Have you spied the tiny Dormouse? She's all dressed for tea in her ruffled pink tulle skirt, and I've even added a small headband with bunny ears for her. Do pass her a crumpet, please. The poor dear can't reach a thing from her spot in the teapot!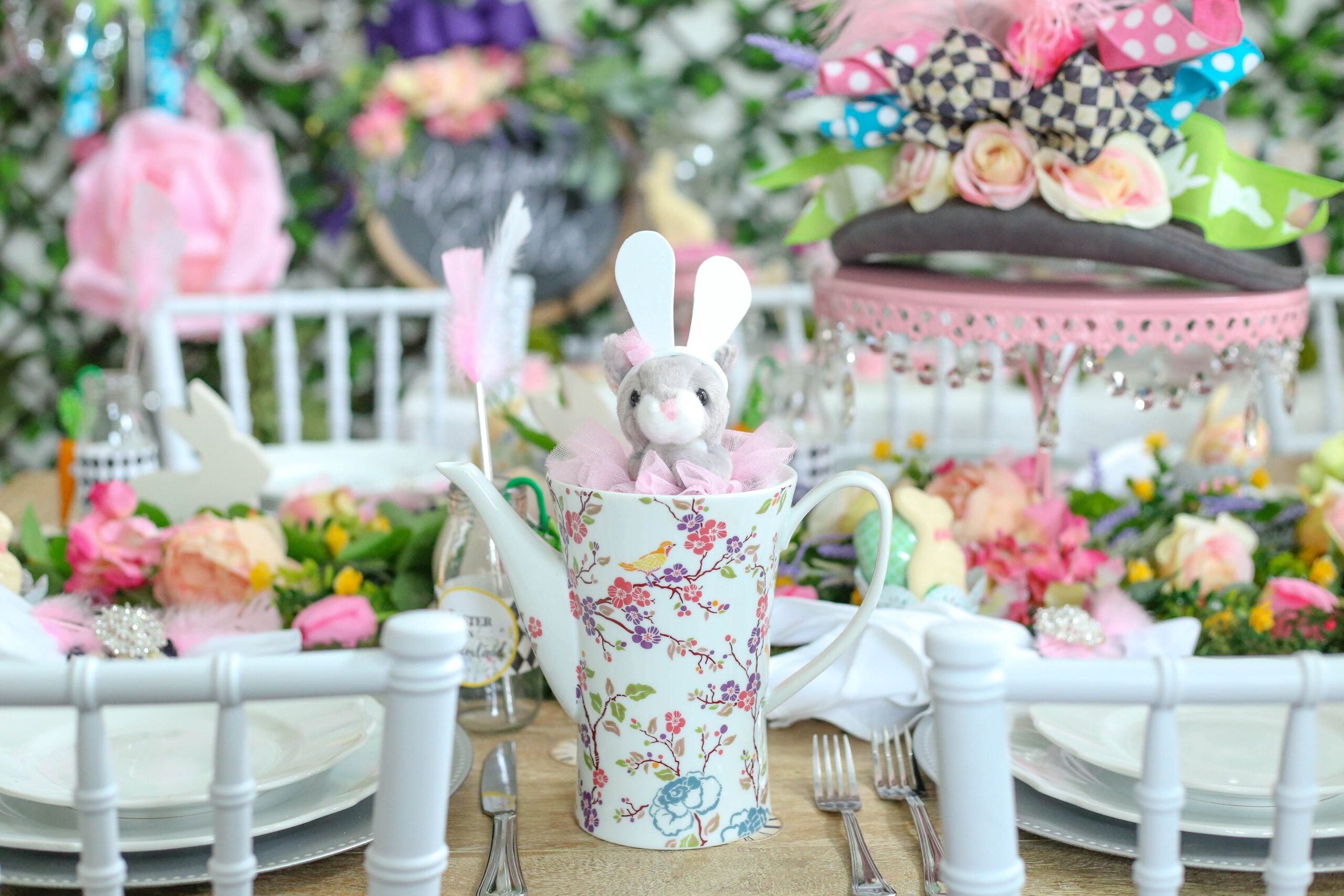 Unique Beverage Containers Add Charm
Beverages can be stationed or served, and these glass milk bottles are the perfect vessels to carry the whimsical, vintage feel of this design. Metallic silver paper straws explode into a magical puff of feathers, making a very fetching stir stick for tea or libations. Such a simple craft, and adds so much to the table. Chocolate carrots hung off the side of the milk bottles are charming, and delicious. The bottle wraps are included in the free Easter Printable Package that goes with this party!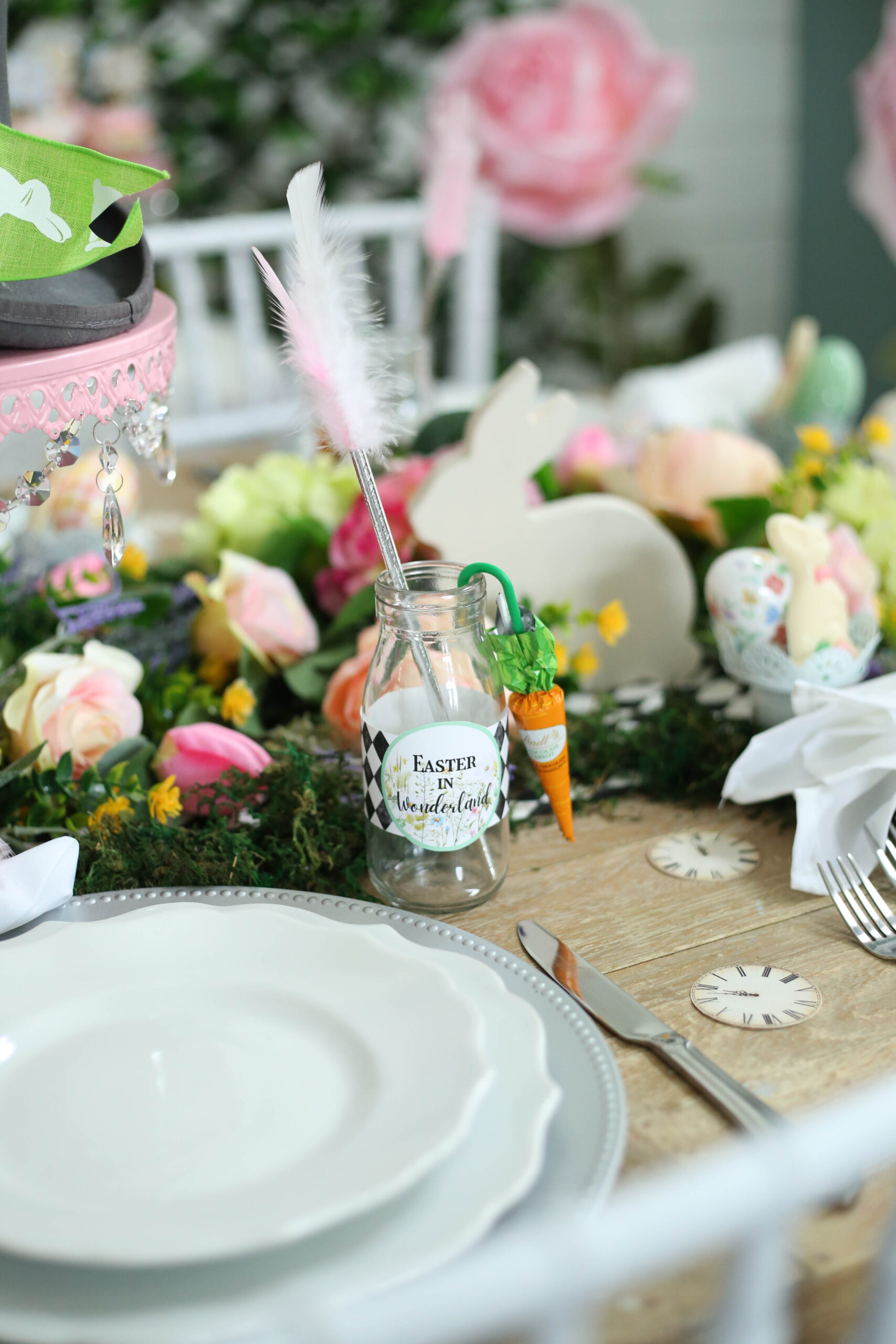 Style a Well Appointed Cart with More Surprises
This white cart is one of my favorite party pieces to style, and so of course I came up with a fun design to dress it for this Easter in Wonderland. It has so many fun touches, I gave it its own post, click here to see all the dazzling details. (Those little round bottles are one of my favorite parts. They're filled with cherry lemonade and bear an adorable and familiar message on top!)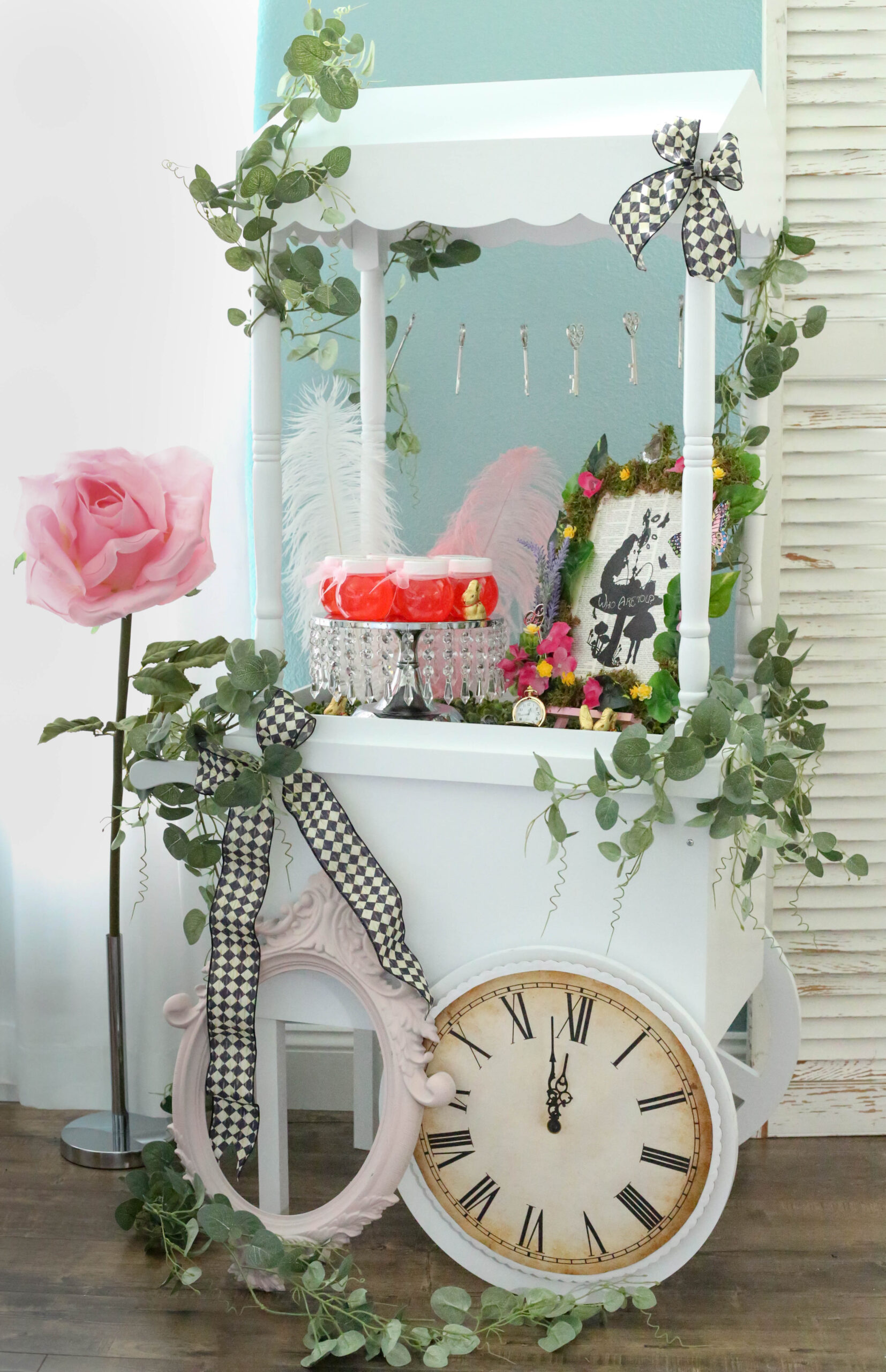 Desserts Fit for the Queen of Hearts
The dessert table is as sumptuous and decadent as one would expect in a place called Wonderland. Crystal cake stands and glass cloches over white chocolate bunnies cover the vintage crocheted lace tablecloth. One on end, a hand made wreath is laden with spring flowers and bears a Happy Easter greeting, hand scripted with a pale pink chalk pen.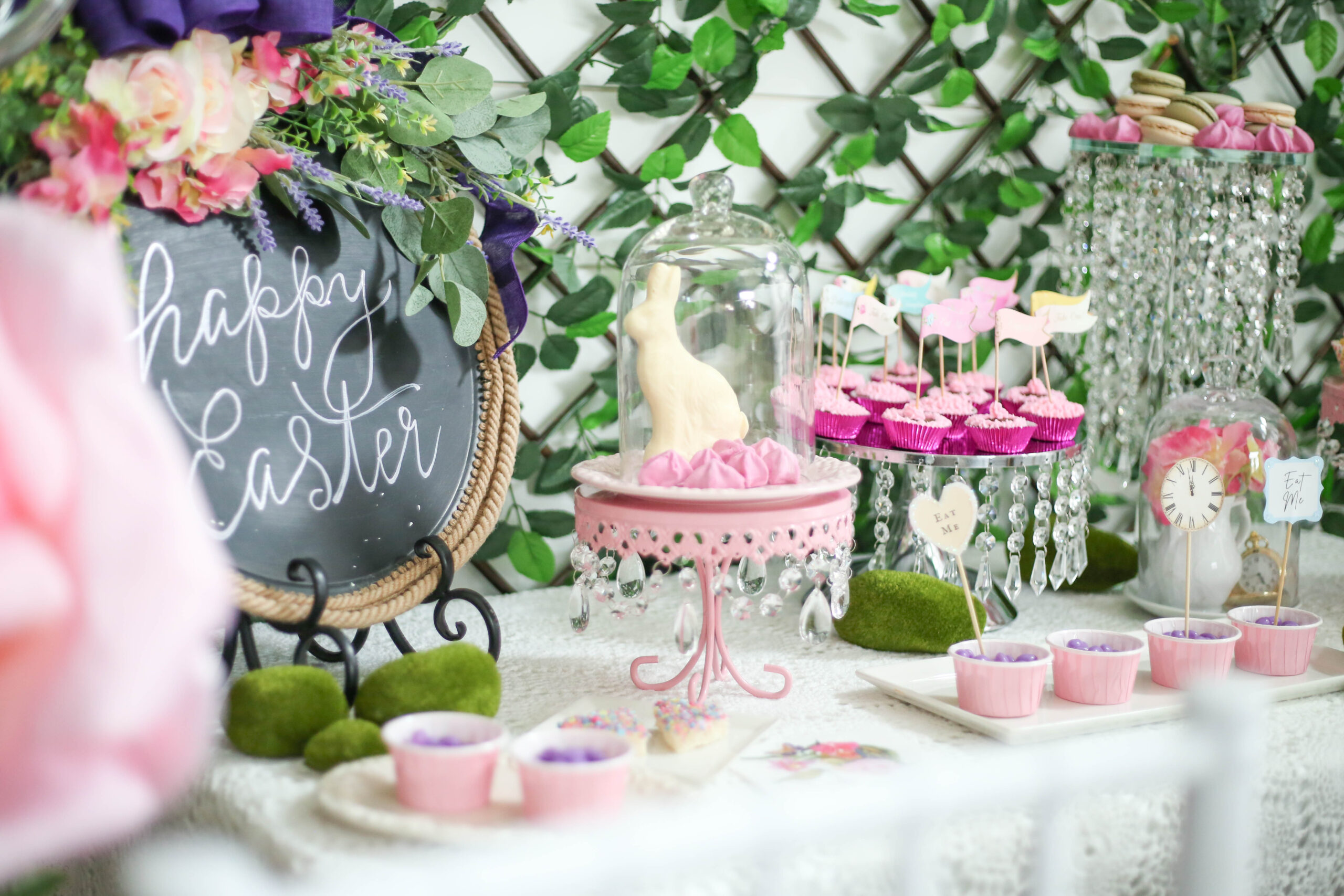 Delicious vanilla cupcakes with creamy pink buttercream are decorated with pastel sprinkles and topped with free printable cupcake toppers. A little glitter was added to make them sparkle, and I just love how it looks! They're like tiny princesses, sitting atop a stunning filigree pink cake stand with crystals.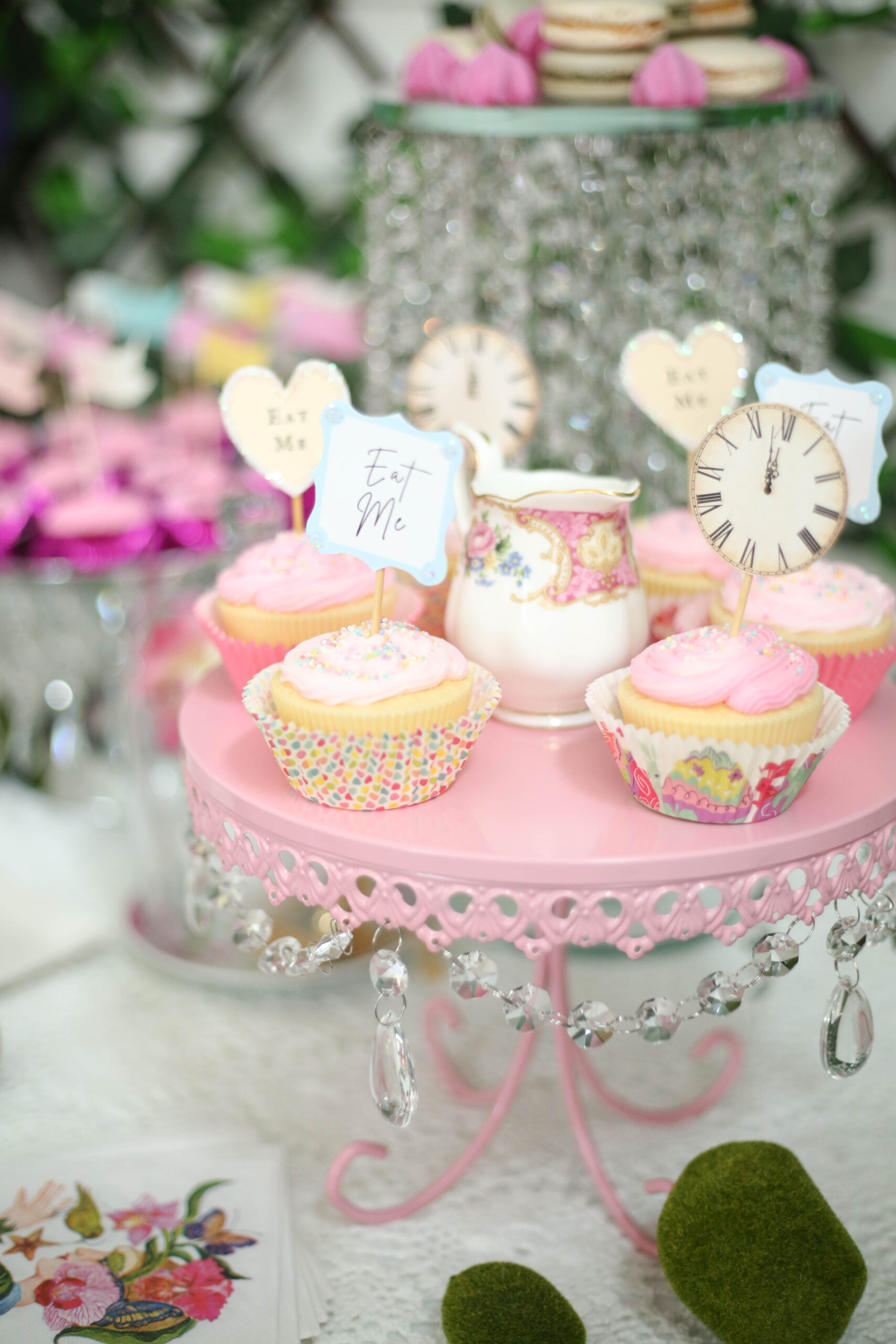 Brownie morsels with icing bear sweet messages and are placed on a gleaming crystal cake stand. The dripping crystals catch the light and throw prisms around the room. Jelly beans in small pink paper cups are a perfect treat for Easter, too.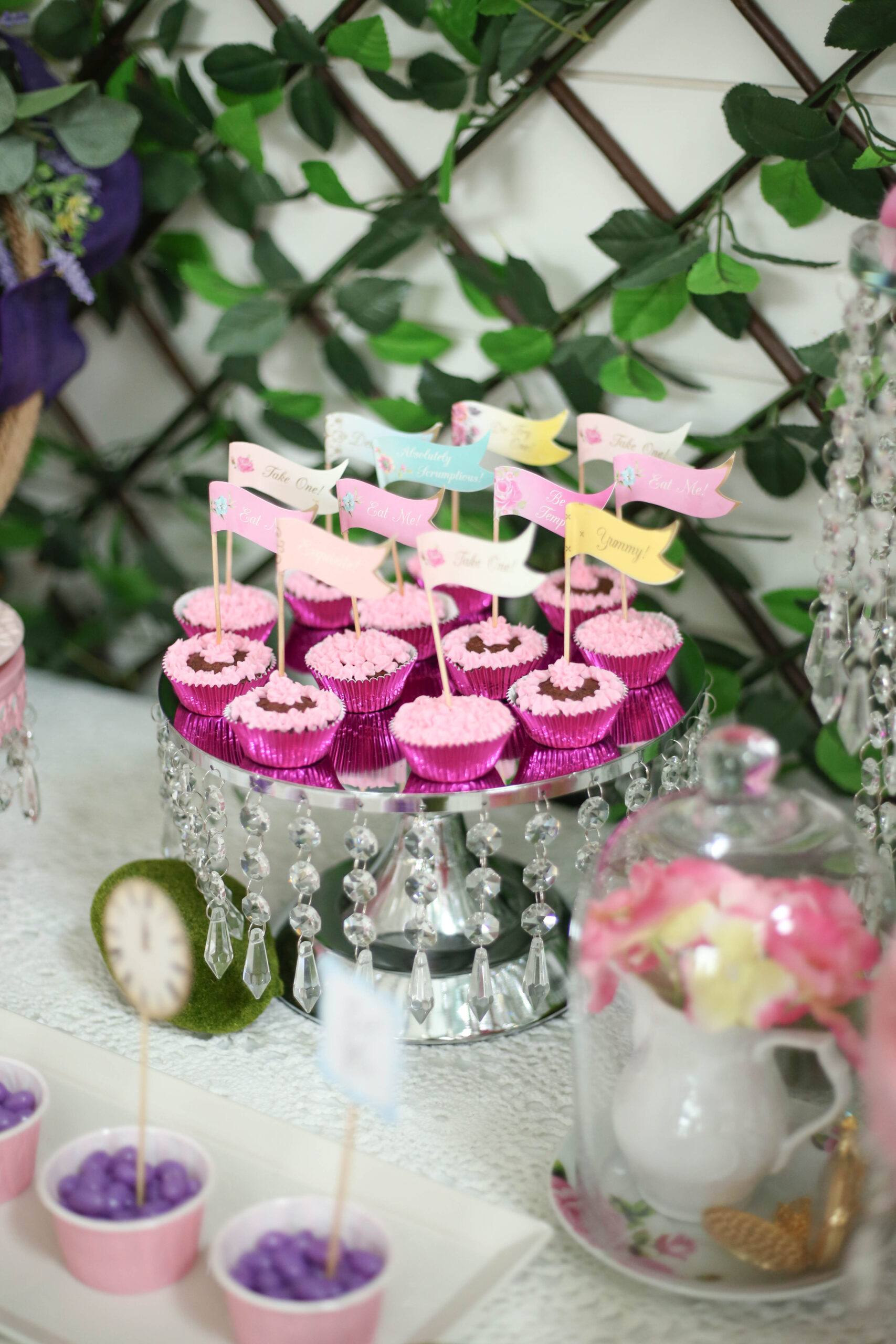 A pile of earl grey and peach macarons, and vibrant pink strawberry meringues are piled atop a dazzling crystal cake stand. This cake stand is absolutely beautiful, and has two layers of crystals that create sparkling rainbows when the light hits. It's truly magical how it makes anything that is placed on it instantly fancier.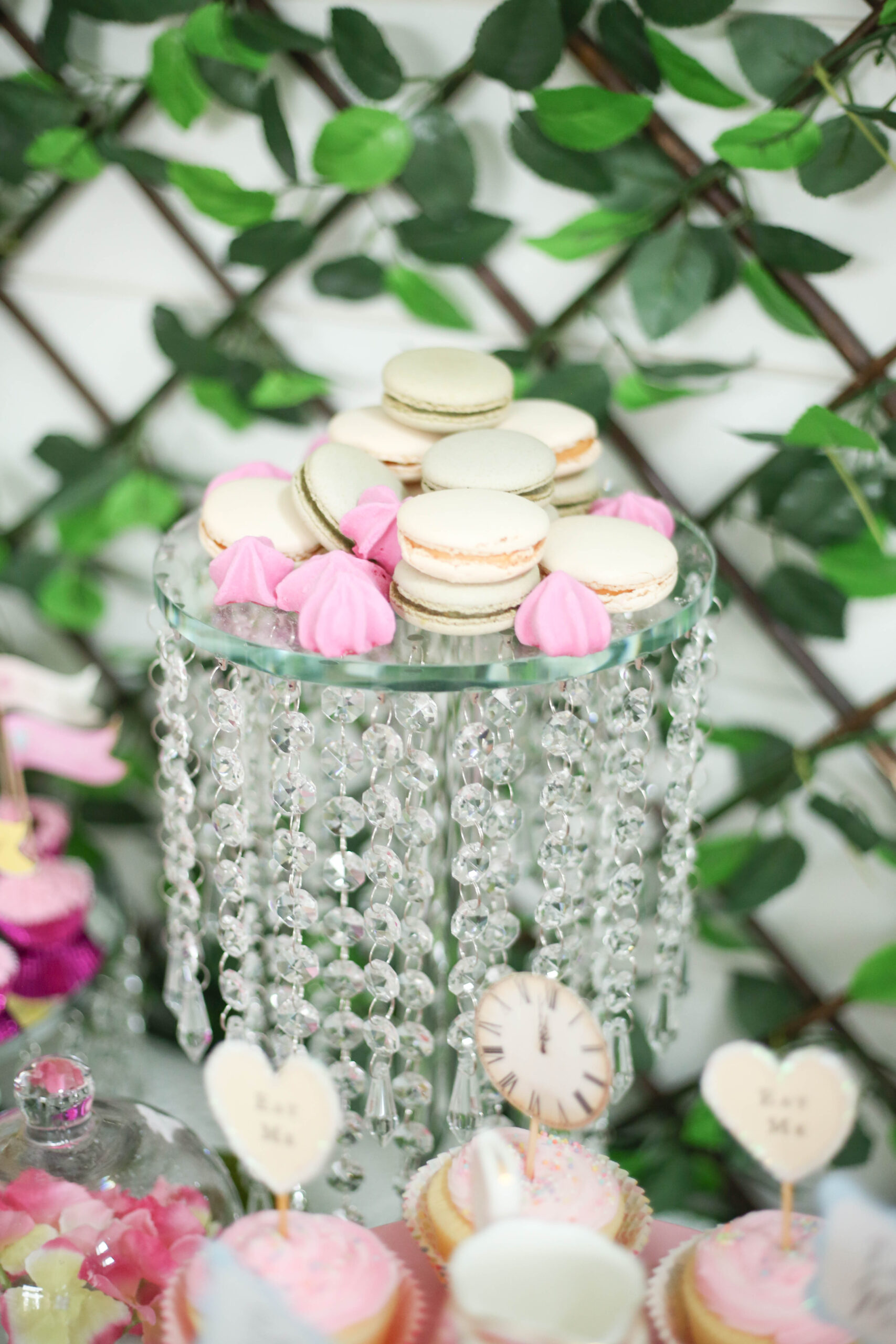 Add Decor to Your Dessert Spread
A well appointed dessert table also needs a few pops of decor, and it was simple to create small pieces like this saucer topped with a glass cloche. A tiny pitcher for cream is instead filled with flowers, and accented with a tiny gold pocket watch. Where is that rabbit, anyway?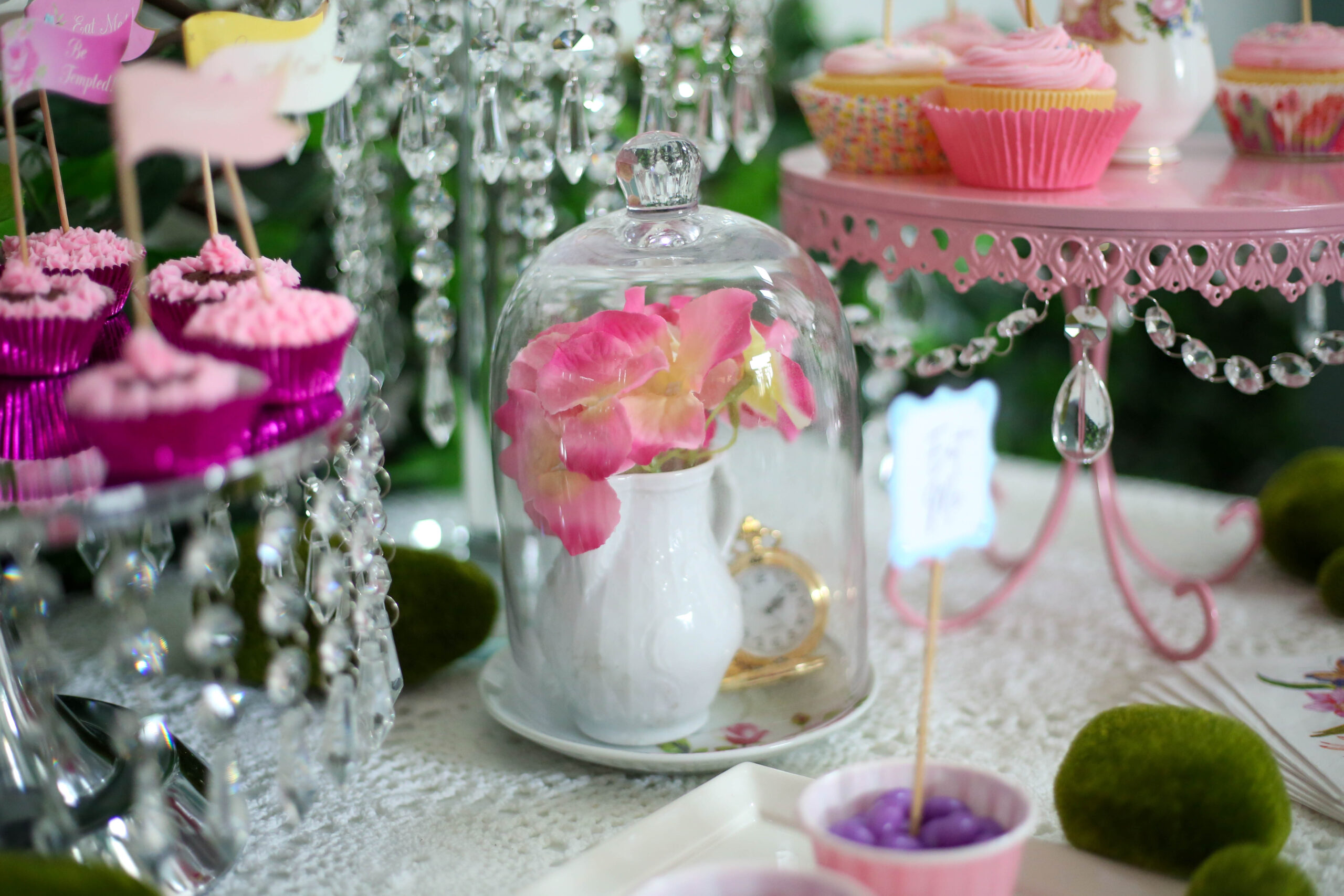 Moss stones carry the garden theme and can be used again and again for different themes. I like to scatter these all around the base of the cake stands.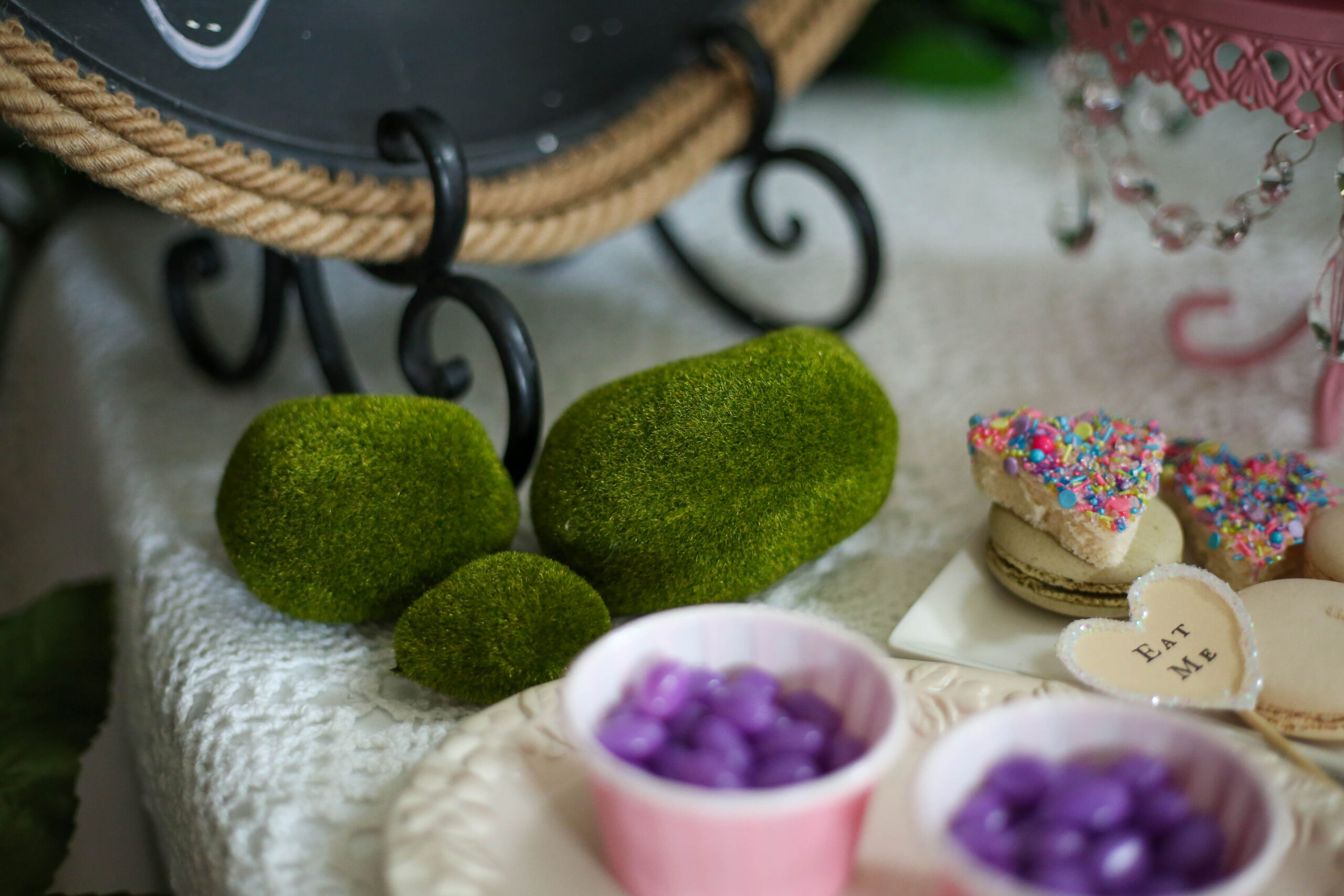 Wonderland is best known for its incredible sights, including these gigantic roses! These add such a fun and charming appeal to the party design. They assemble in a snap, and can be stood up using metal stanchions. The wall is covered in three expandable ivy fences, and really creates the feeling of being in a garden, covered in leafy ivy vines.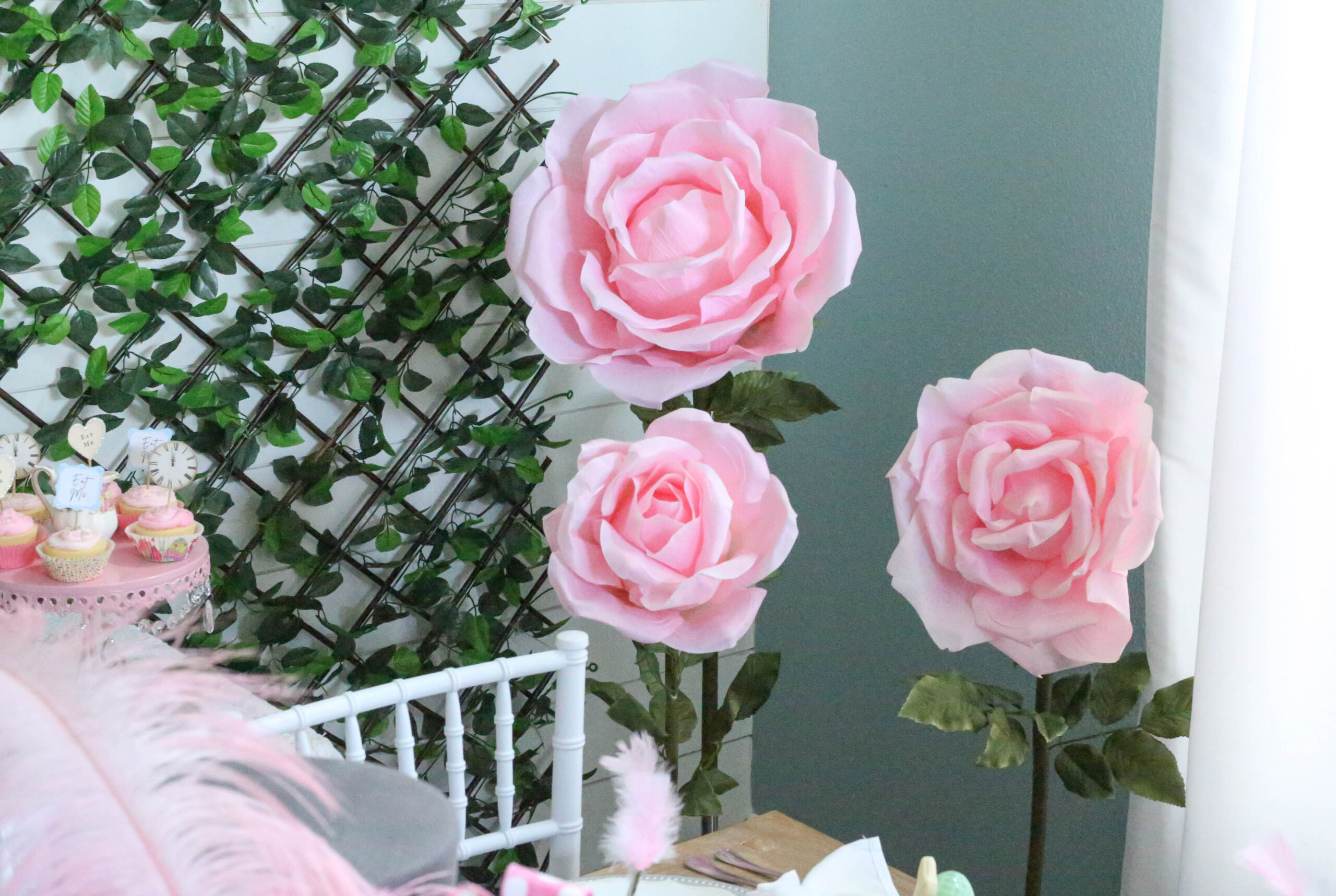 Spread the Decor to the Outdoors
If you're loving this Wonderland theme,  you will definitely want to click here to take a step outside into the garden for even more Wonderland delights! Even more whimsical decor, treats and a game of croquet await you.