For a sweet celebration filled with whimsy and charm with a gumball on top, look no further than this decadently appointed Sweet Rainbow Candy Land theme party, created in partnership with Portofino International. Items in this post were provided to me so that I could bring you this delightfully unique birthday party inspiration. The design and opinions expressed are, as always, my own.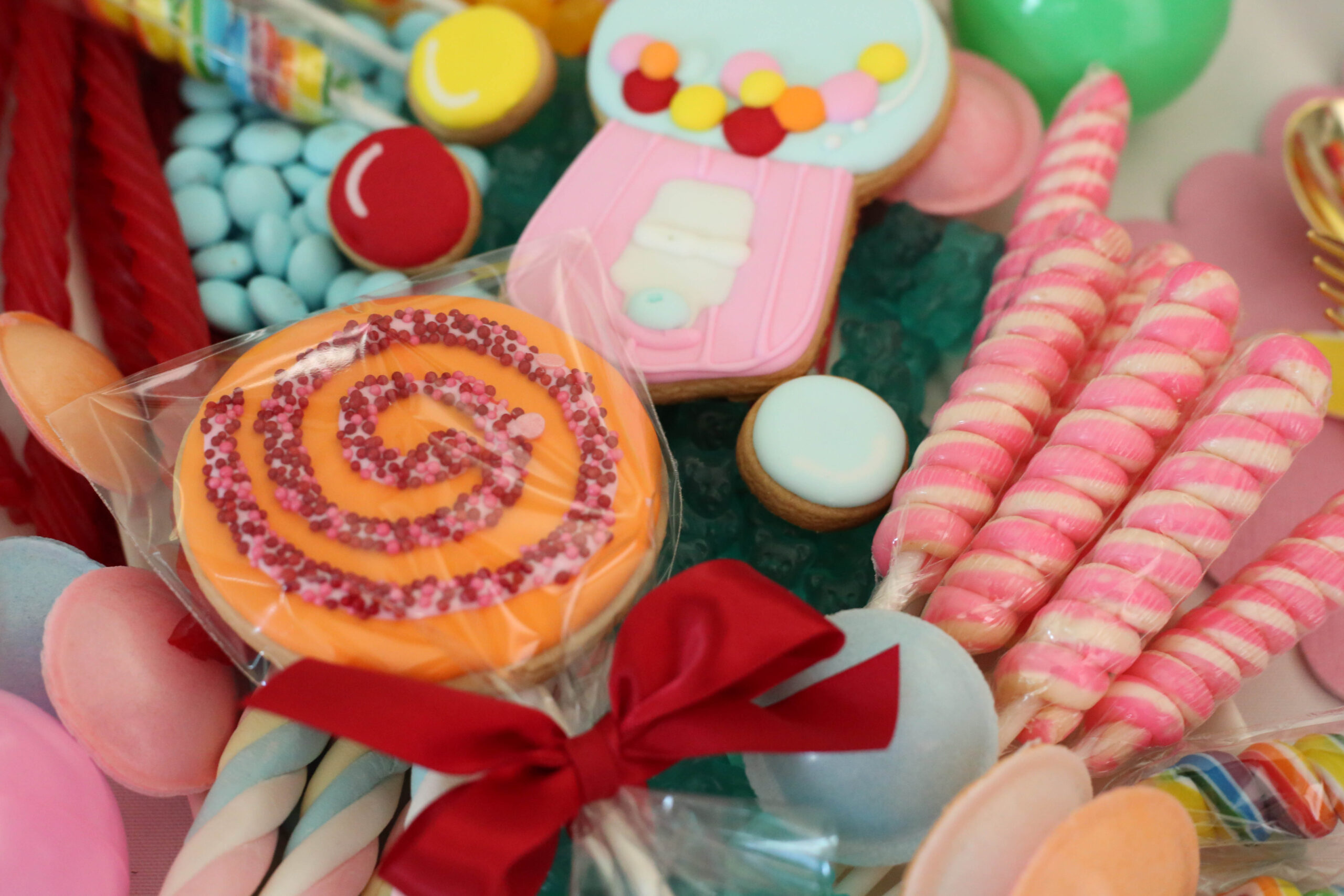 Climb aboard a magical cotton candy cloud, and float to just over the rainbow. There, you'll find your seat at this magically delectable party, bursting with cheerful colors, and charmingly sweet details.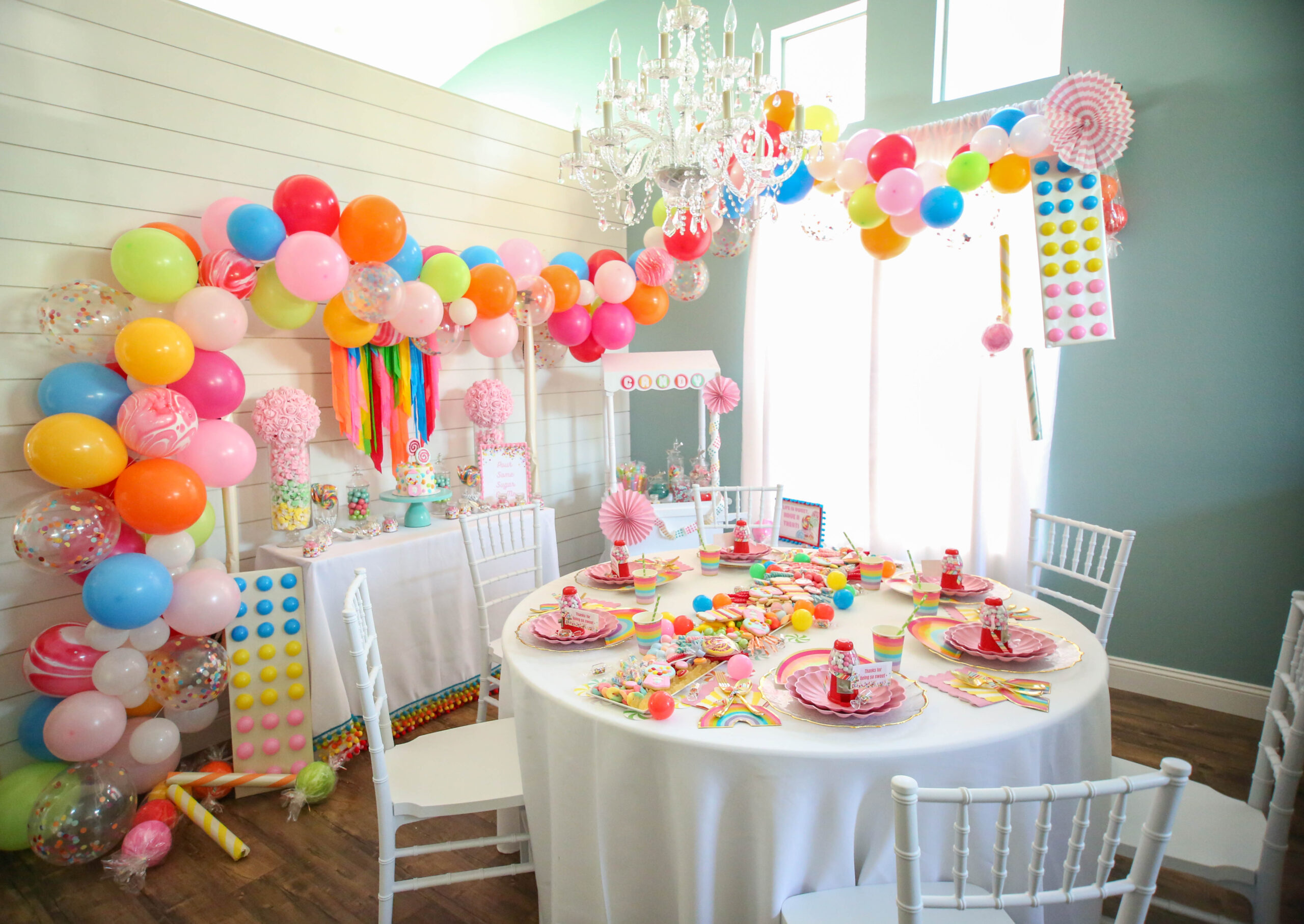 Create a Sugary Sweet Tablescape
The round table is set with a crisp white floor length linen, then topped with ornate glass chargers, edged in gleaming gold. Scalloped plates in a soft shade of candy pink are placed atop the chargers and topped off with a rainbow plate, edged in gold. White Chiavari chairs are placed around the perimeter of the table, giving each guest a special place to sit.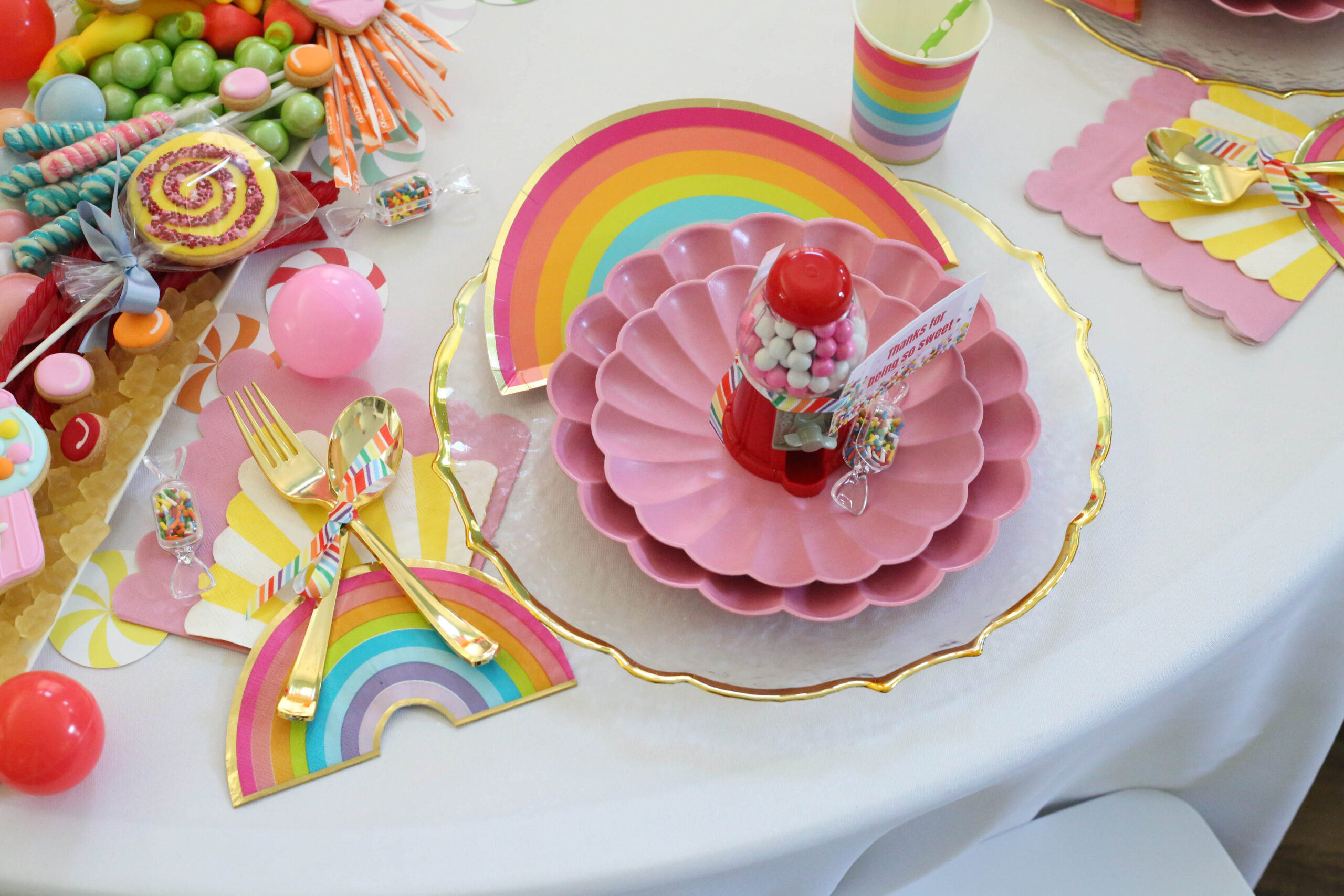 At each candy themed place setting, a functional miniature gumball machine is filled with tasty chocolate candies and tied up with a printable thank you tag, attached with rainbow ribbon. A clear acrylic candy container is filled with rainbow sprinkles for a quick shot of sugar, in case of emergency!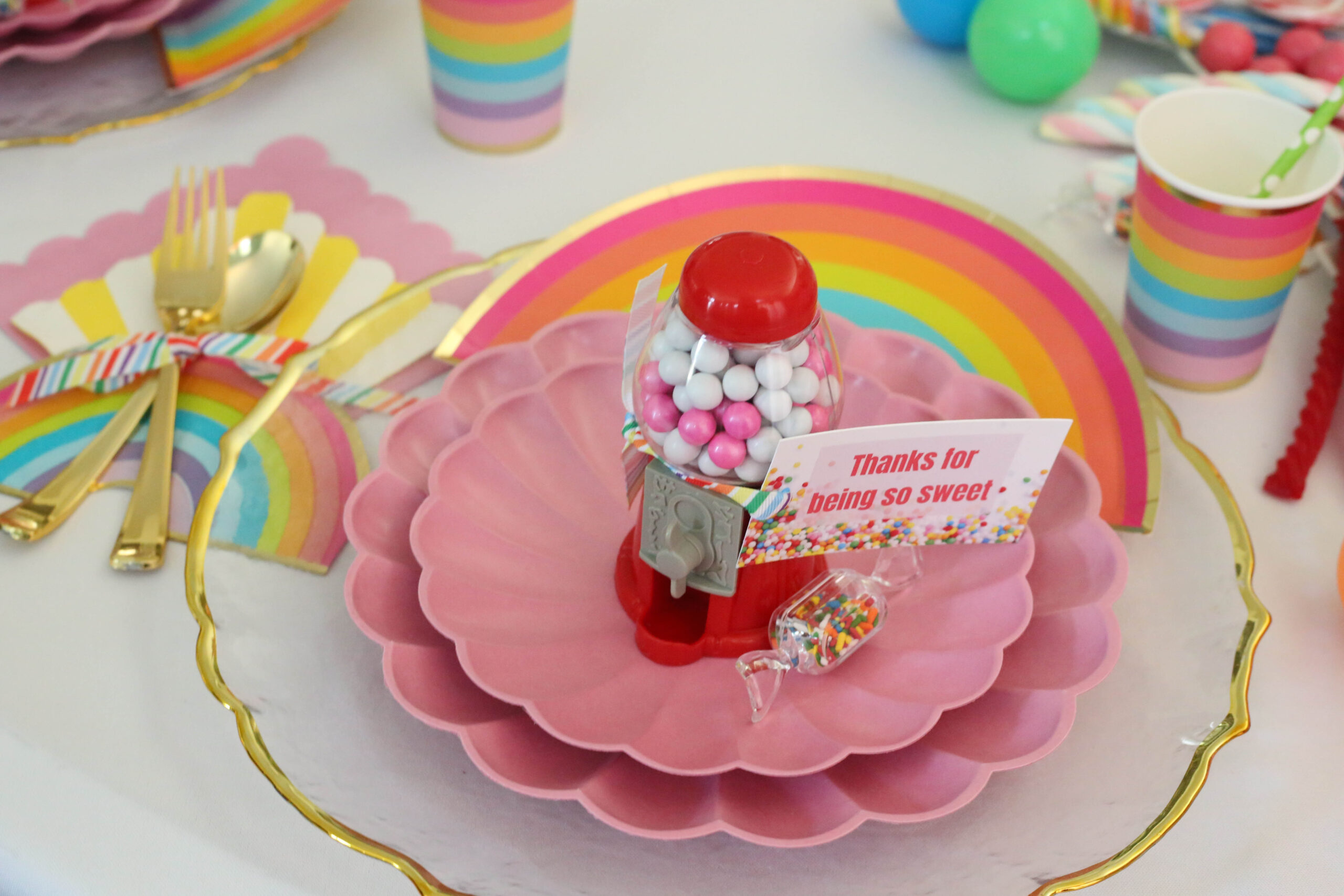 Metallic gold flatware is tied with a length of rainbow grosgrain ribbon, then laid atop a trio of napkins that coordinate with the plates. The gleaming finish catches the light beautifully and adds elegance to this birthday party theme.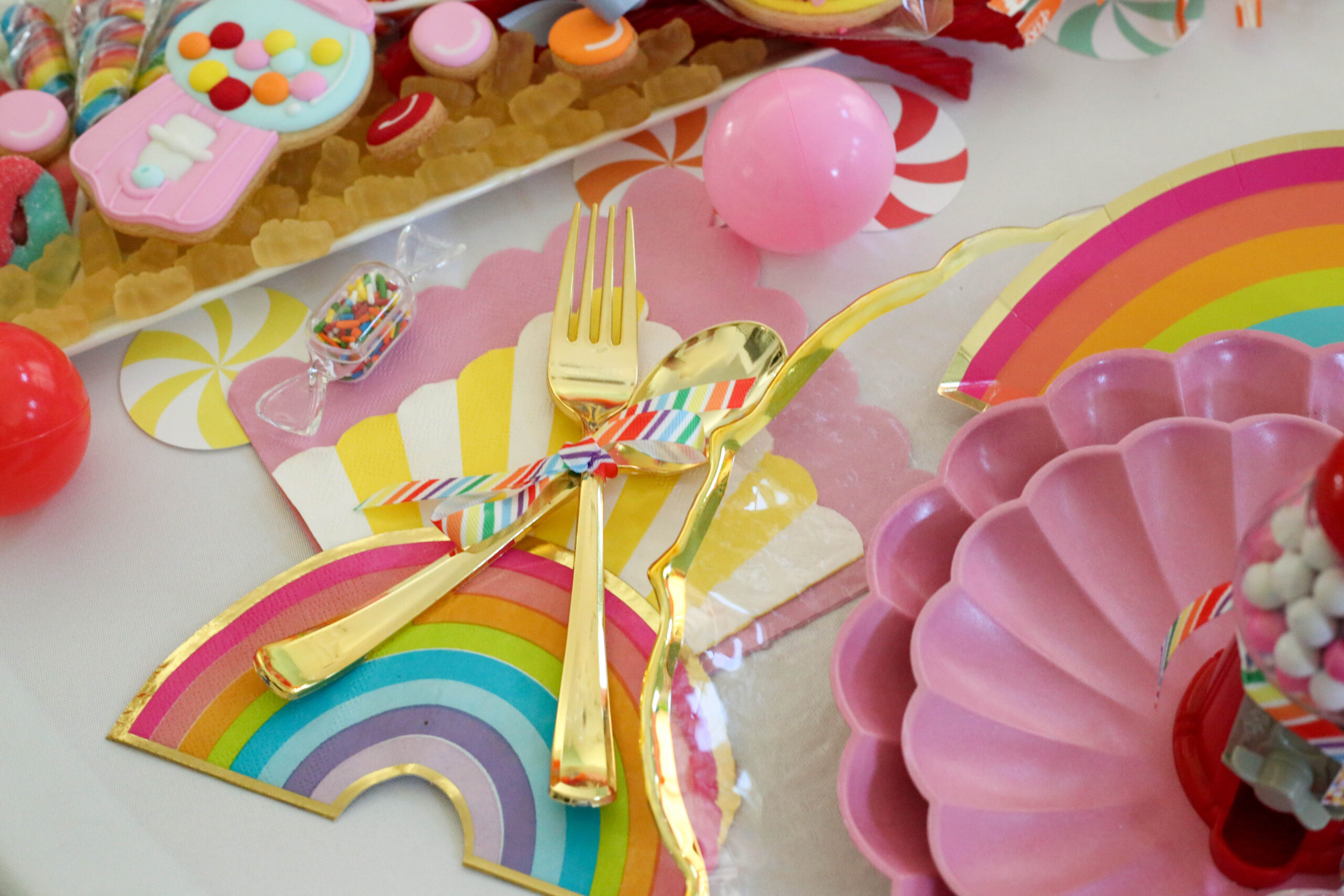 Rainbow cups are each adorned with a lime green polka dotted straw, perfect for sipping fruit punch, lemonade, or a fun candy themed mocktail. I am absolutely sugar-crushing on this cute party theme!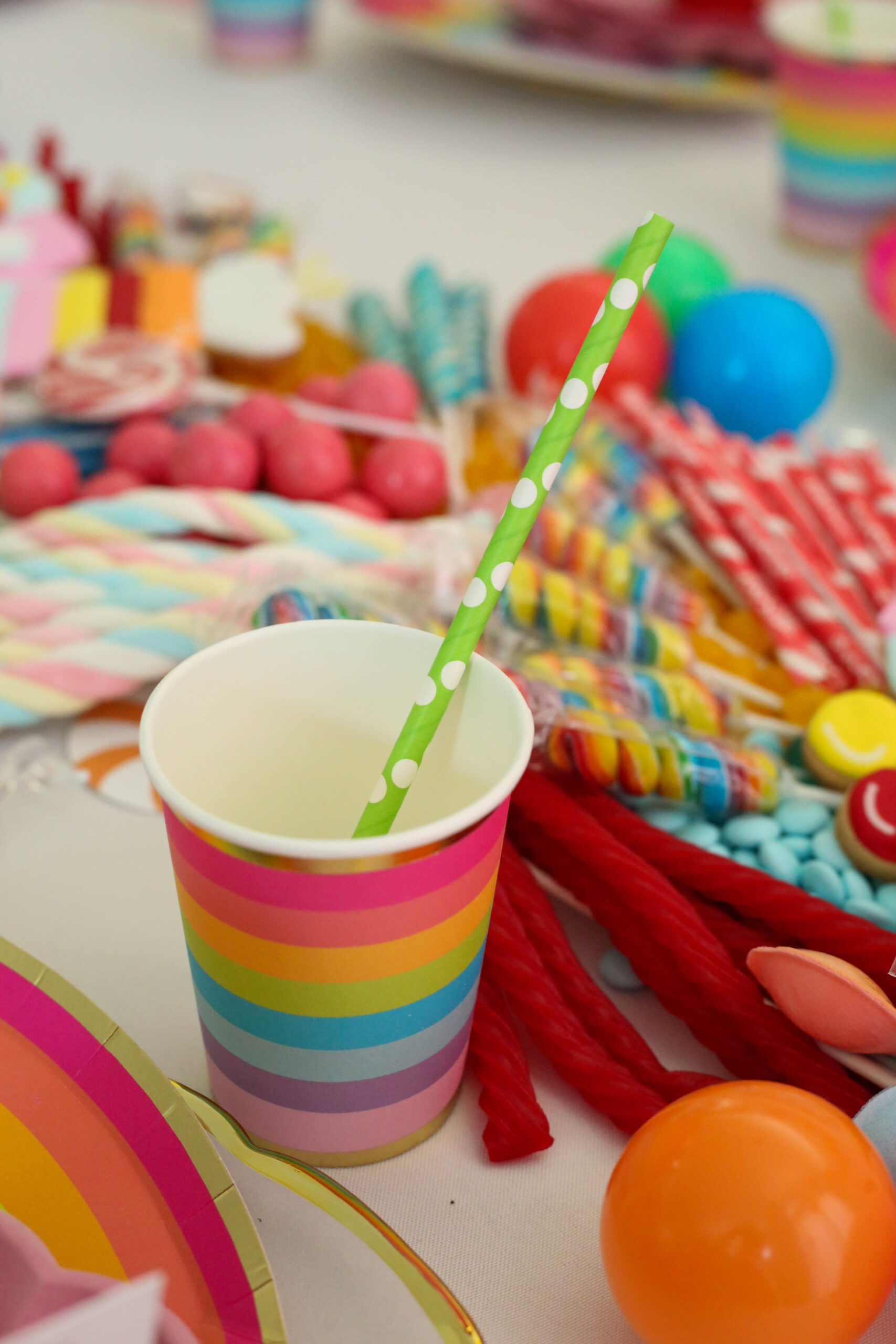 The Goal: Total Sugar Overload
In lieu of a centerpiece, an over-the-top, four foot long candy charcuterie board is stationed down the center of the table. It's loaded to overflowing with sweets like licorice whips, marshmallow twists, cookies, gumballs, lollies, gummies and much more! Life-sized candy ball props and swirl candy printable confetti are placed down the sides of the decadent treat board, brimming over with sweet selections.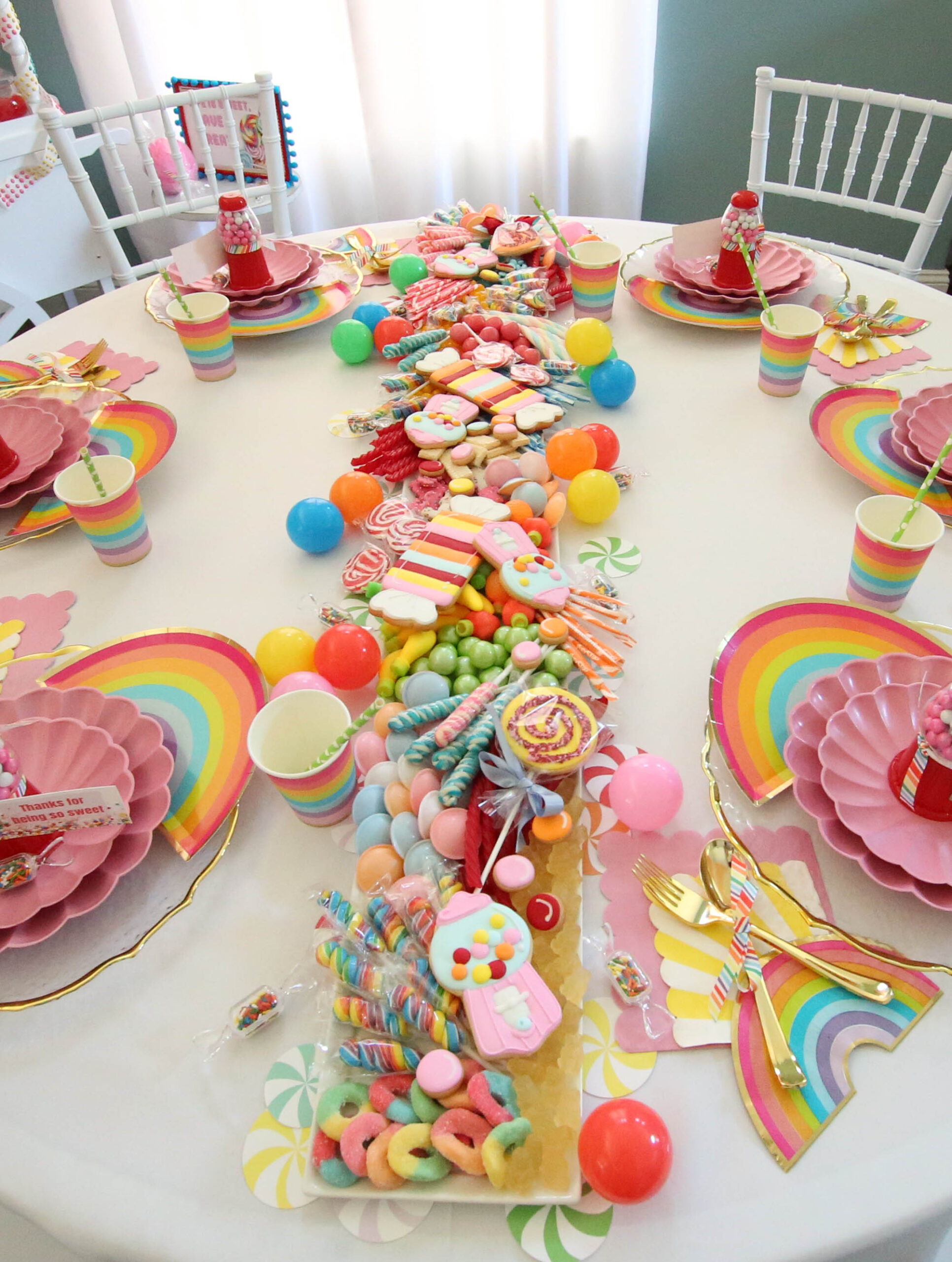 Designer iced cookies by Roni Sugar Creations are nestled into the candy display, and are a lovely takeaway treat. The soft pink of the gumball machine with the bright primary colors is a fun departure from traditional candy party color palettes. One bite of these tempting cookies and you'll be hooked!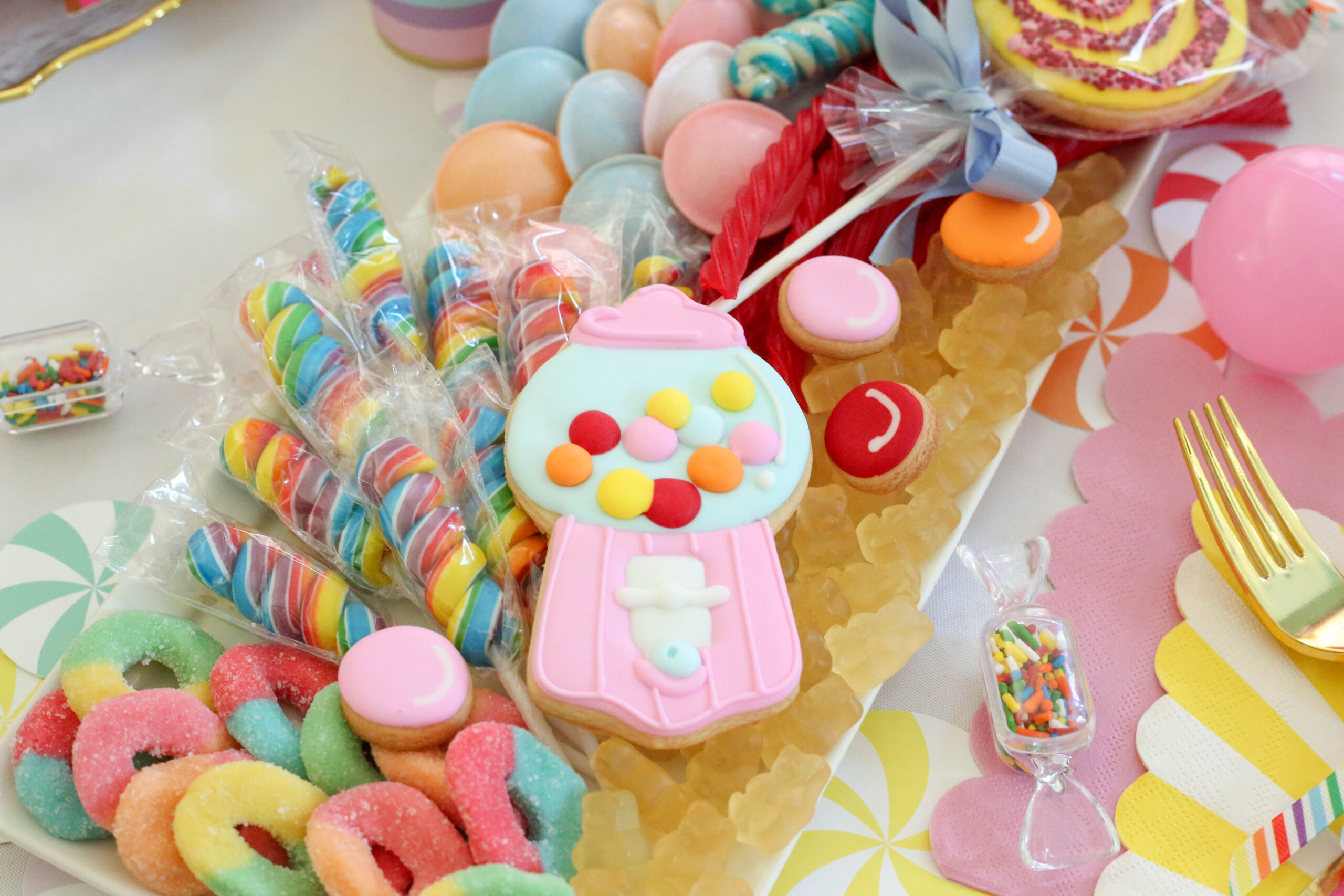 Go Big, or Go Home!
Life sized candy decor was created and placed at the base of the dessert table. The large scale adds whimsy and delight to the display. Foam balls were painted in colors to coordinate with the party palette, then wrapped in clear cellophane and tied with rainbow ribbon. They look just like delicious, giant-sized candy balls! Candy buttons were crafted from plastic ball pit balls and white paper over foam core, and candy sticks are made from cardboard cylinders wrapped in paper and embellished with colorful, wide washi tapes.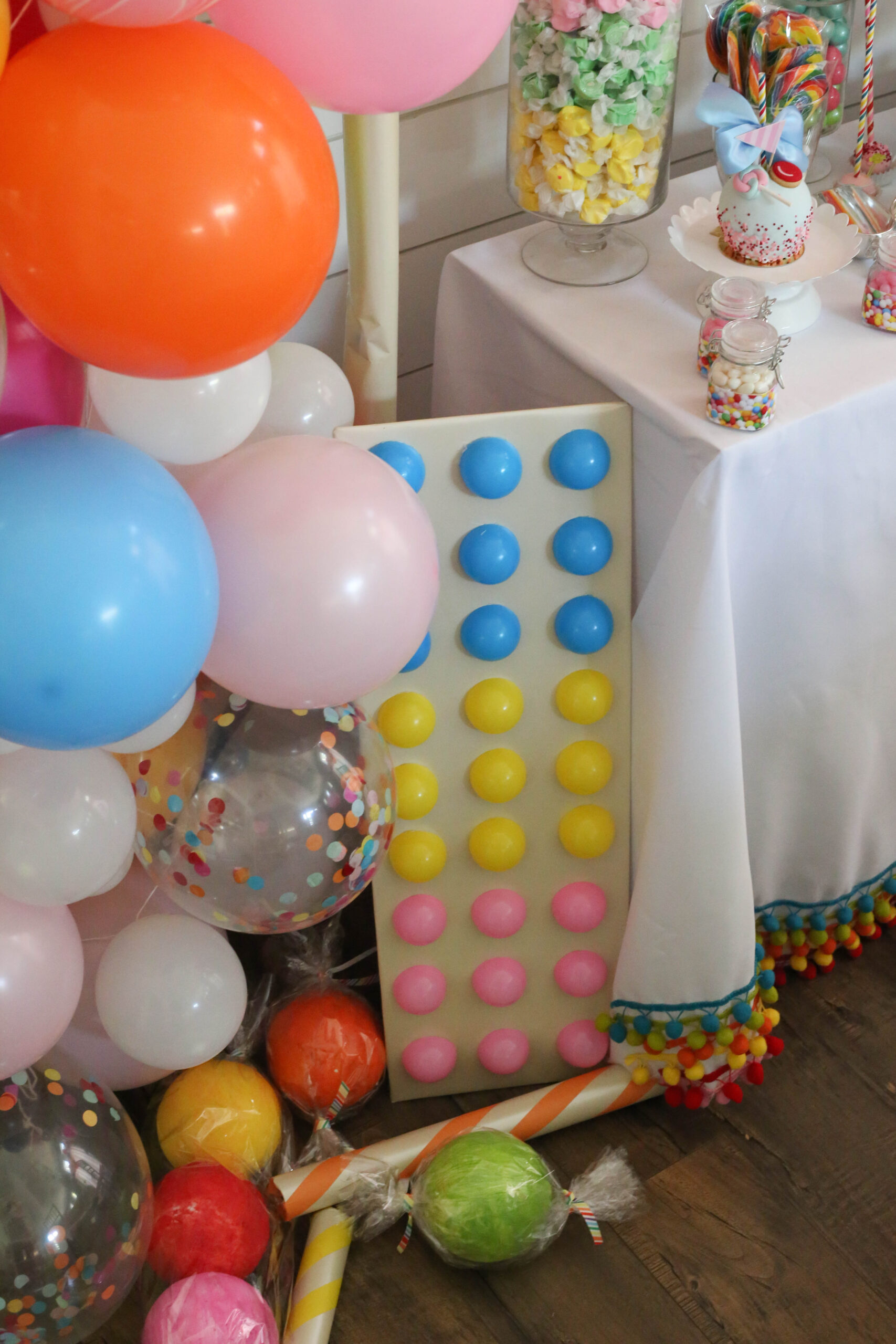 To coordinate with the bright and colorful candy theme colors, an extravagant balloon garland was created using colorful solid latex balloons, blended with confetti balloons and red marbled balloons that reminded me of sweet peppermints. The extra long balloon garland serpentines across a window, extending over a heart-melting candy cart, and makes its way across the stunning dessert table.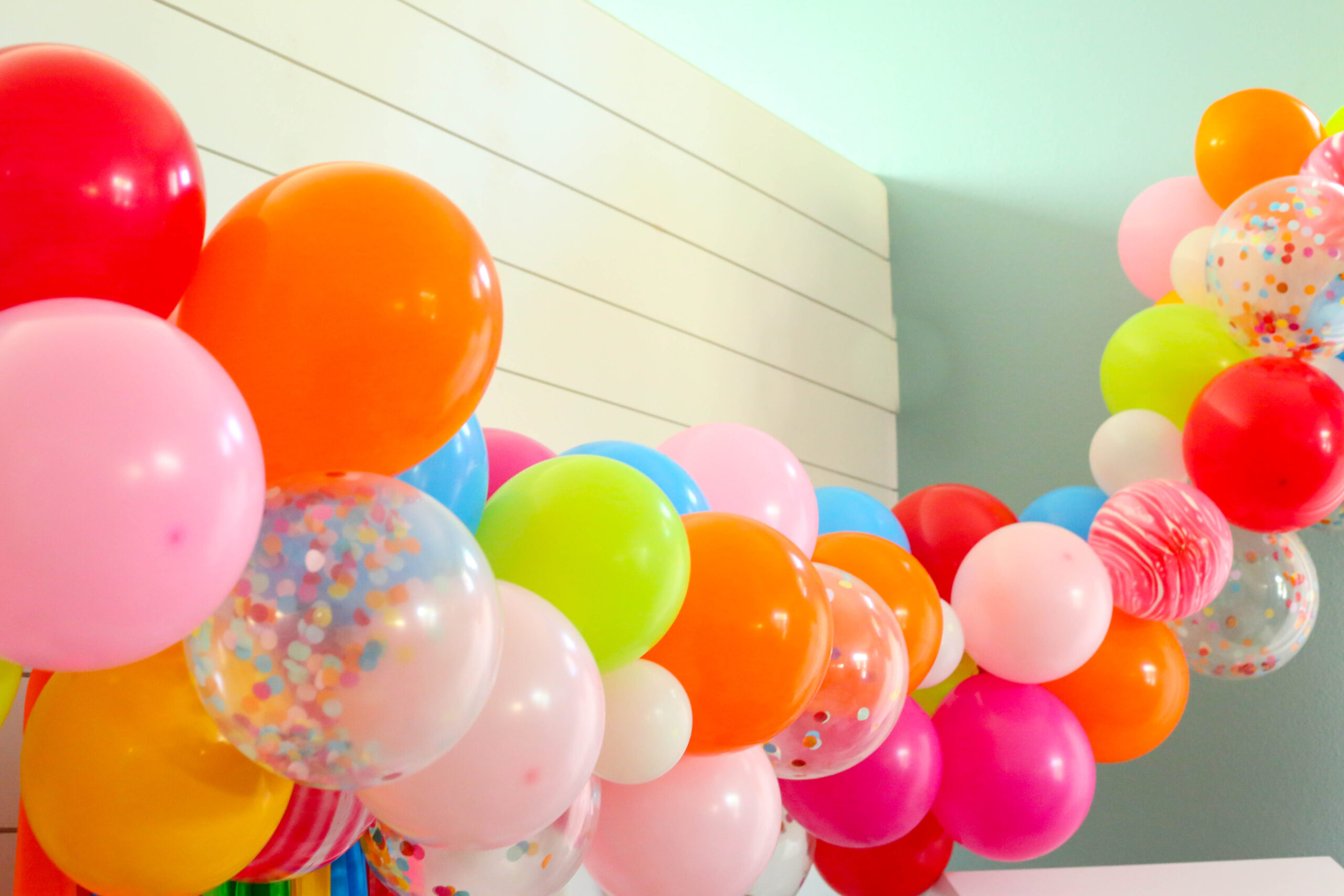 The Sweetest Dessert Display This Side of the Rainbow
The dessert display is a delight to behold, featuring a sweet cake created by Whisk Taker Bakery. It's perched atop a pretty aqua cake stand, and is flanked by extra large jars of taffy in strawberry, banana and tangy green apple, topped with rose balls that resemble nostalgic buttercream flowers from my childhood. A colorful flag tape banner is cut into a layered "V" and frames the cake. Cookies and cake pops from Roni Sugar Creations are added to the cake and add fun pops of color.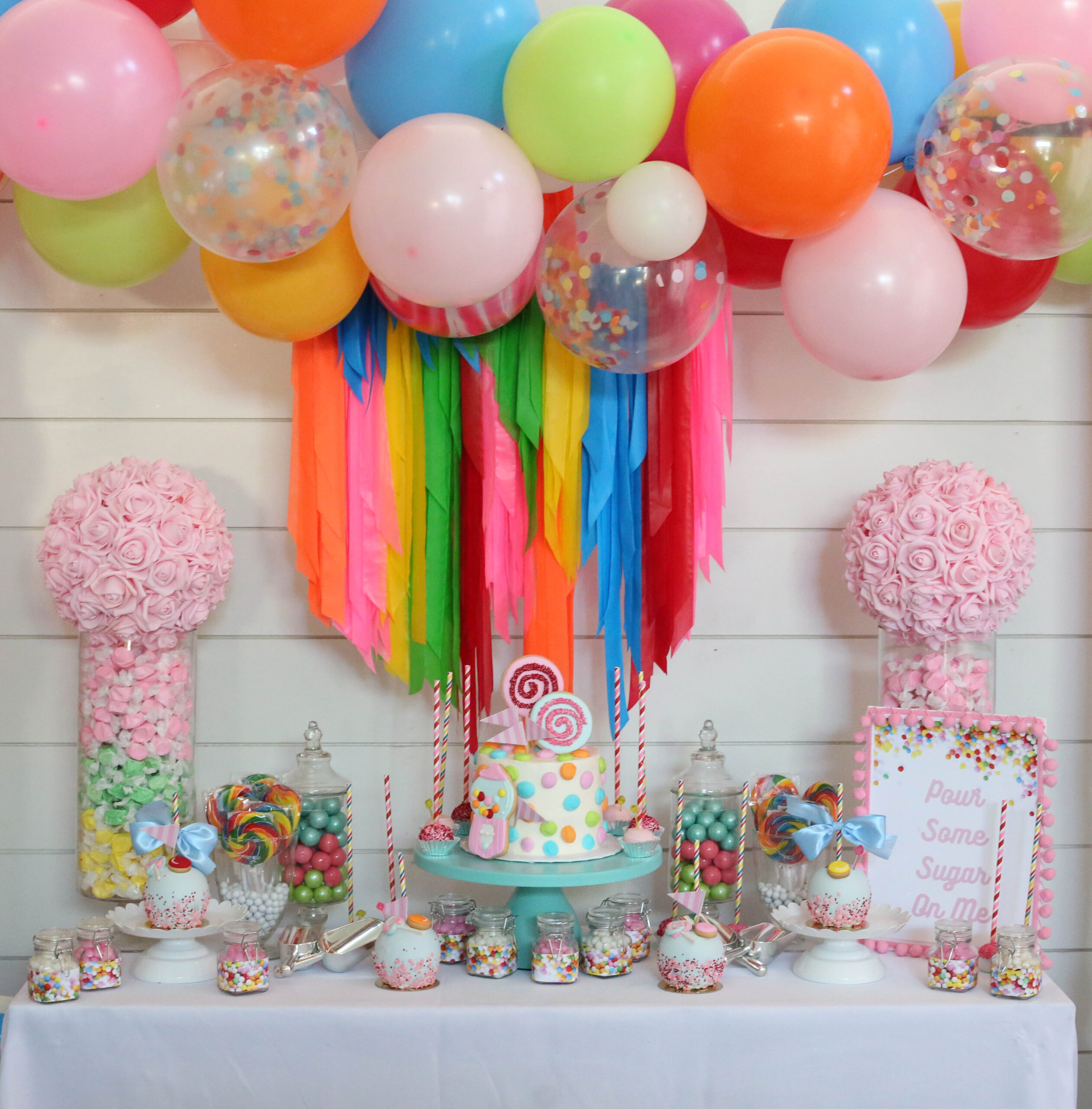 Jars of colorful, shimmering gumballs and rainbow colored swirl lollipops add brilliant pops of color and texture to the table. Silvertone scoops are provided for easy dishing.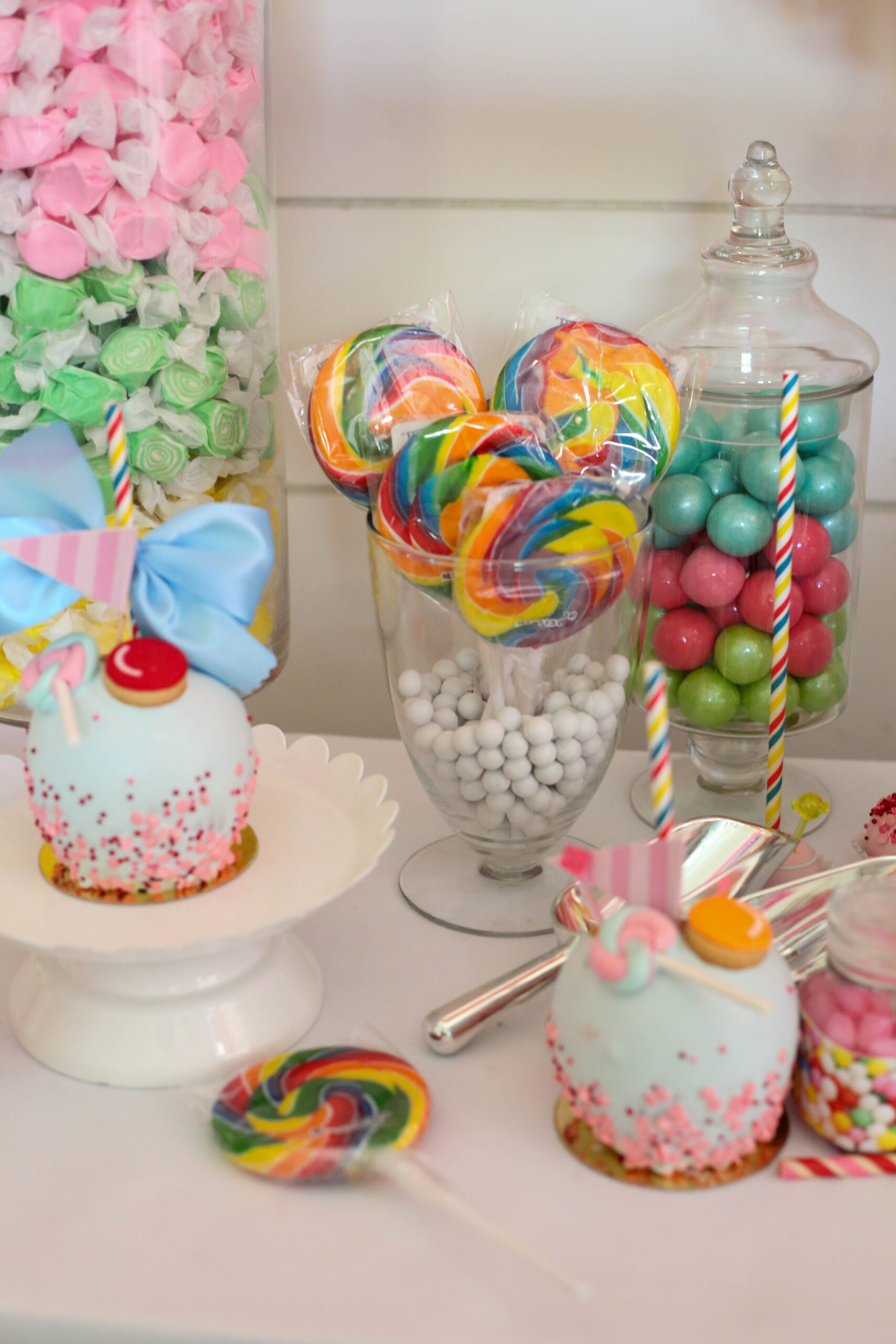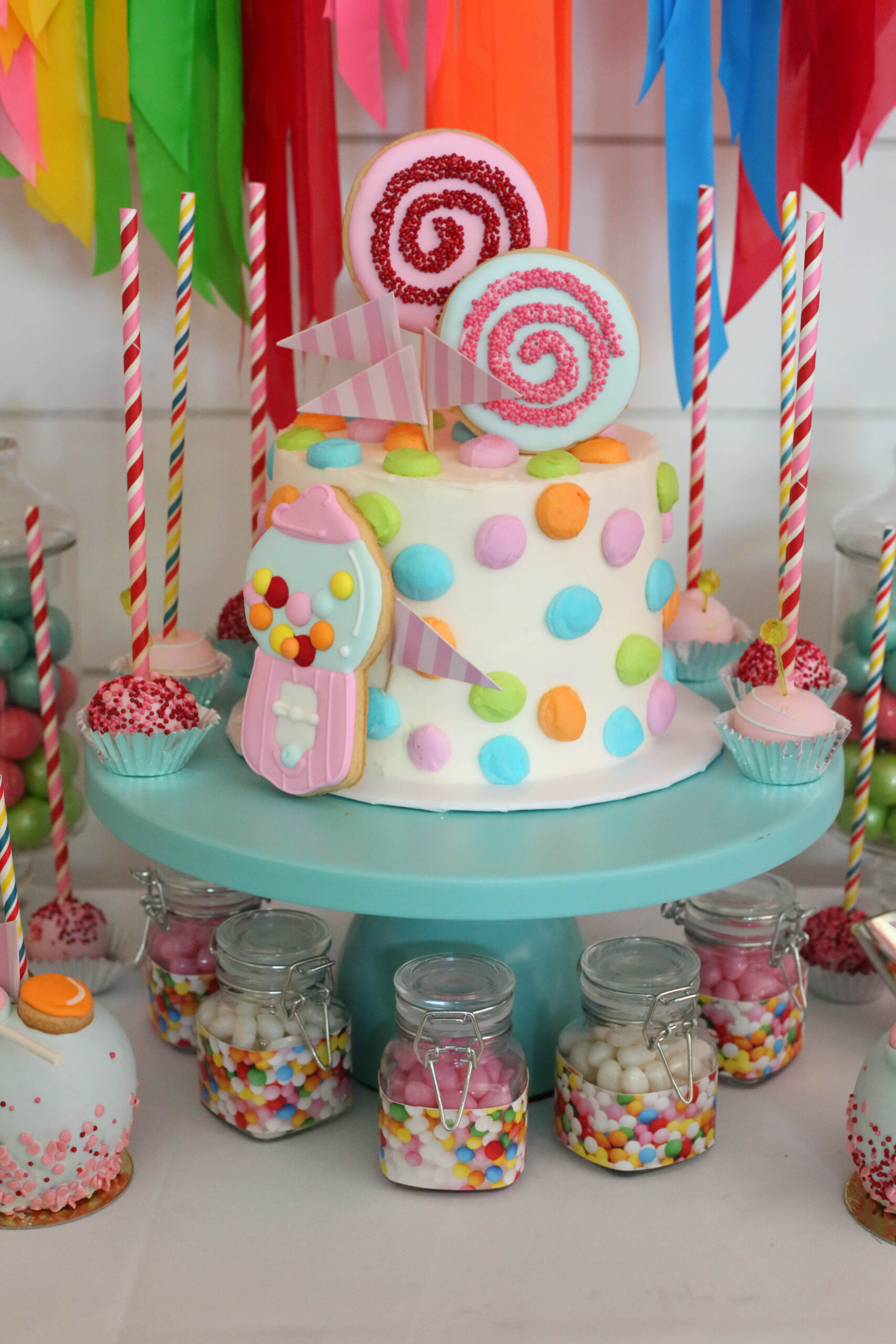 Candy themed caramel apples, also by Roni Sugar Creations, are also added to the display. I'm smitten with the tiny cookie gumball and gem pick that she added to these adorable custom apples.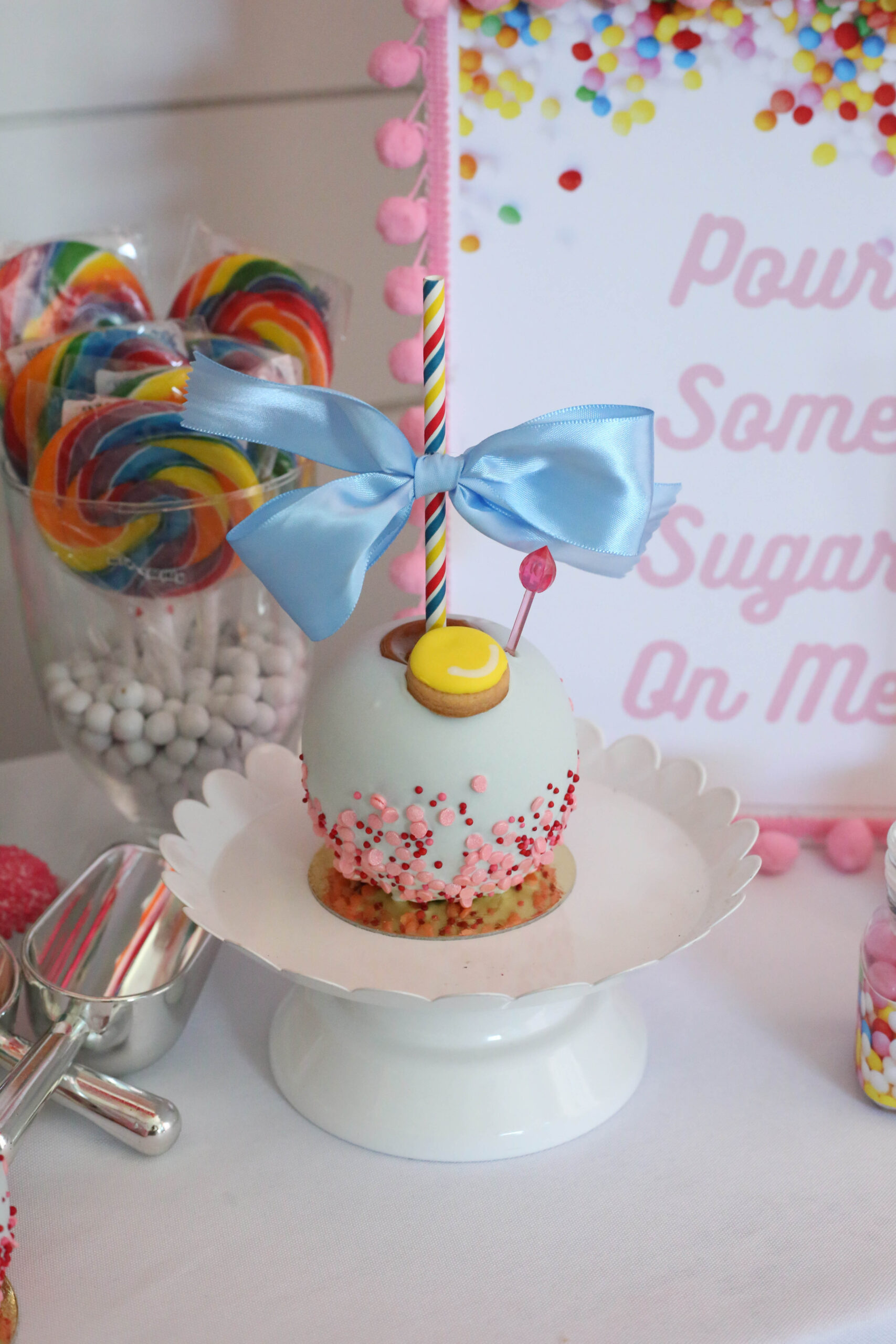 Pour Some Sugar On Me
A white candy cart is embellished with custom printable letters that spell out candy. Candy button "Ribbon" cascades down one side of the candy cart. The corners are embellished with pink paper fans.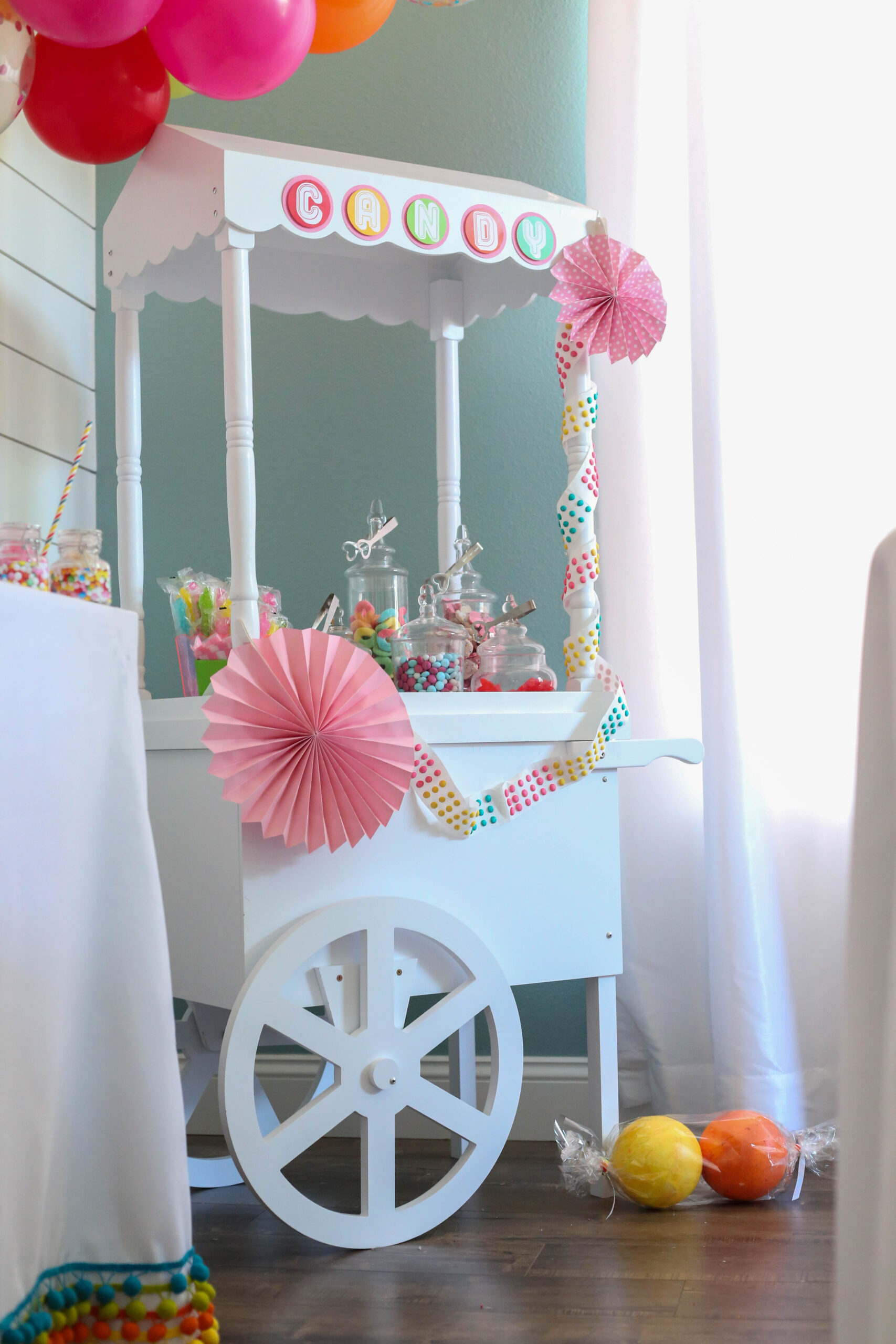 Elegant glass jars are filled with more colorful candies. A bright pink scalloped container holds rock candy sticks in assorted colors, and a green party bucket is filled with pink striped treat bags, ready to be filled to the top with sweet treats.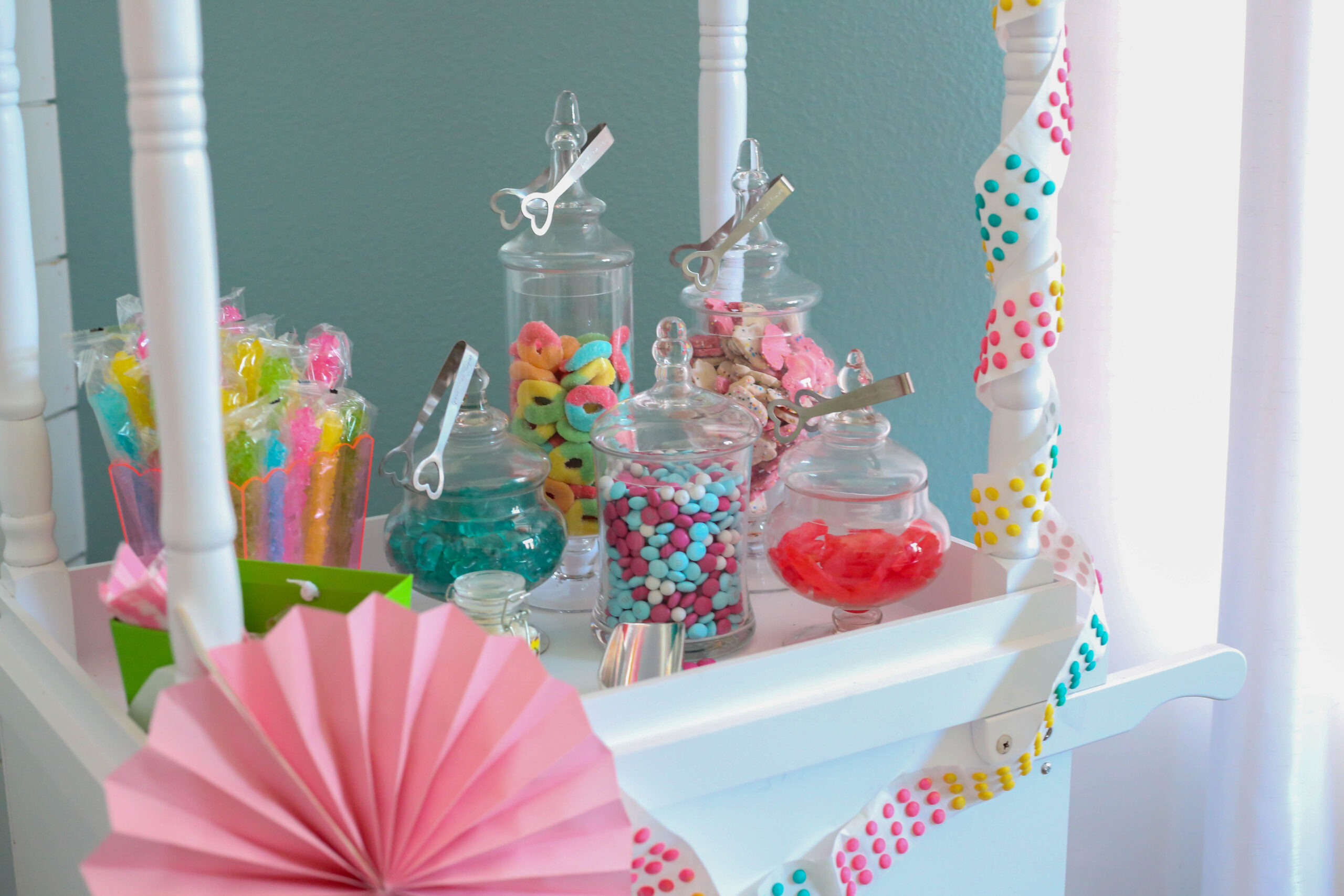 Heart shaped tongs are provided for each jar to keep things tidy. The cute tongs are labeled with the phrase, "Gimme Some Sugar".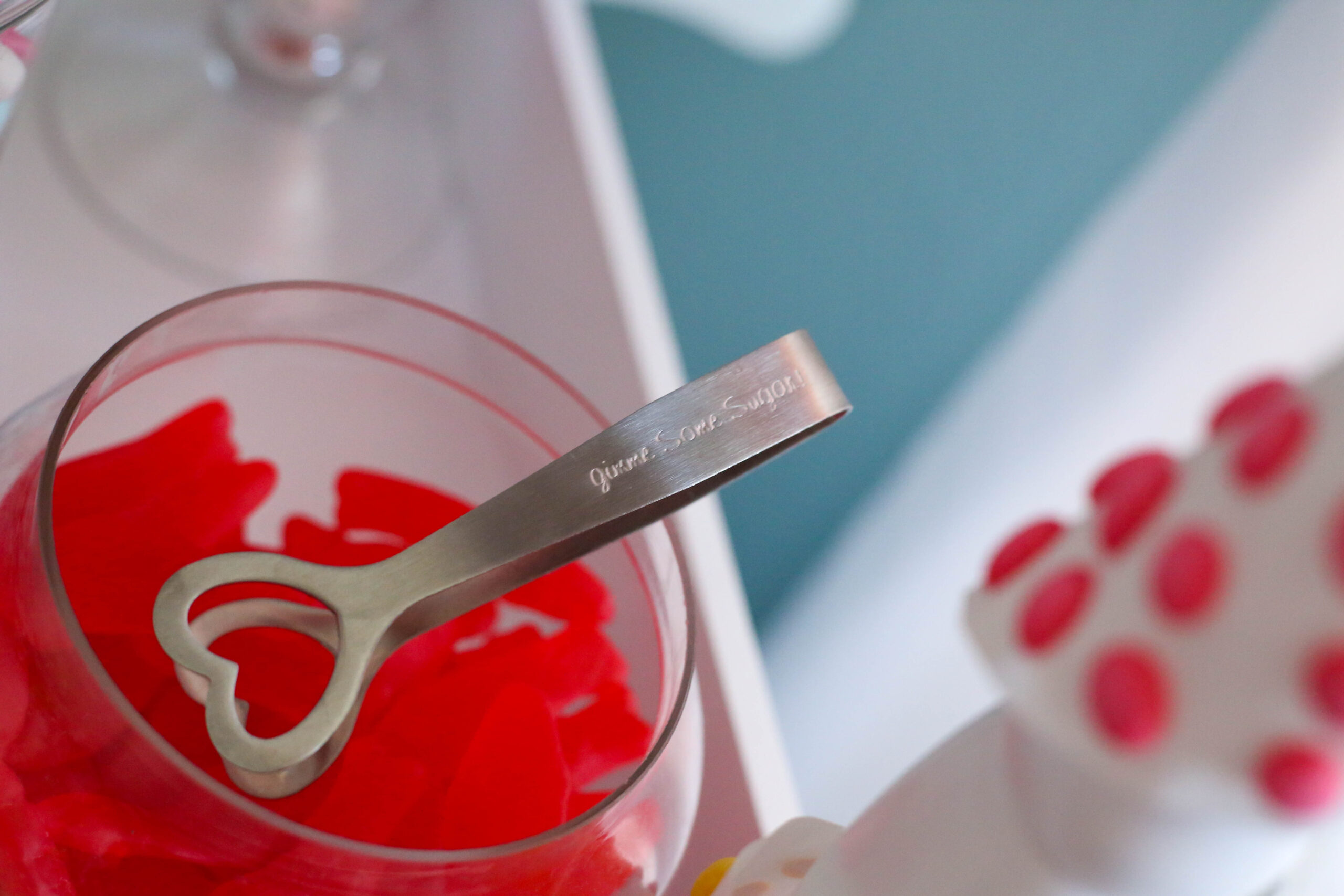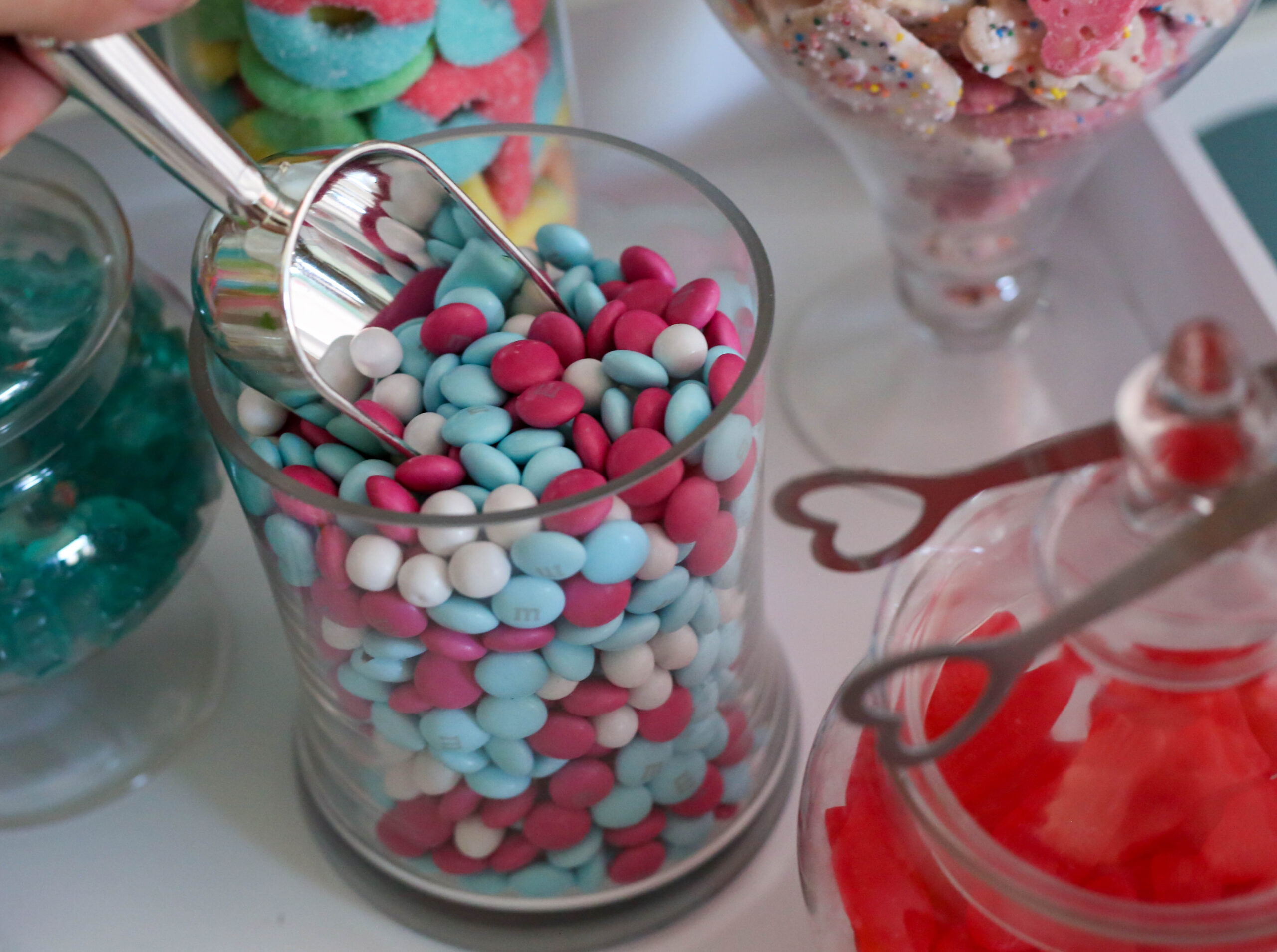 Parting is Such "Sweet" Sorrow
I think you'll agree, this party is pure sugar and sweets overload! I hope you've enjoyed taking a peek around this sweet and unique Rainbow Candy Land party theme with me!