Sponsored content; this post was created in collaboration with brand sponsors, in exchange for products and/or compensation provided to me. The spooky details, chilling craftiness and haunted account are all my own.
For centuries, fearsome fables and terrifying tales have been passed down, trembling voices have shared warnings about the perils of walking alone in the woods at night.
All Who Wander Are Not Lost… But, Some Don't Come Back
We've heard the stories. An innocent person goes for an evening walk in the woods, only to meet a perilous end. A distraction, a few missteps, and suddenly, they've strayed too far from the path, finding themselves lost in the haunted woods, never to be heard from again. We may never know what became of these unfortunate souls. Perhaps they succumbed to the elements, encountered a wild animal. Maybe they came face to face with something infinitely more nefarious, like this tiny, unassuming Haunted House in the Woods.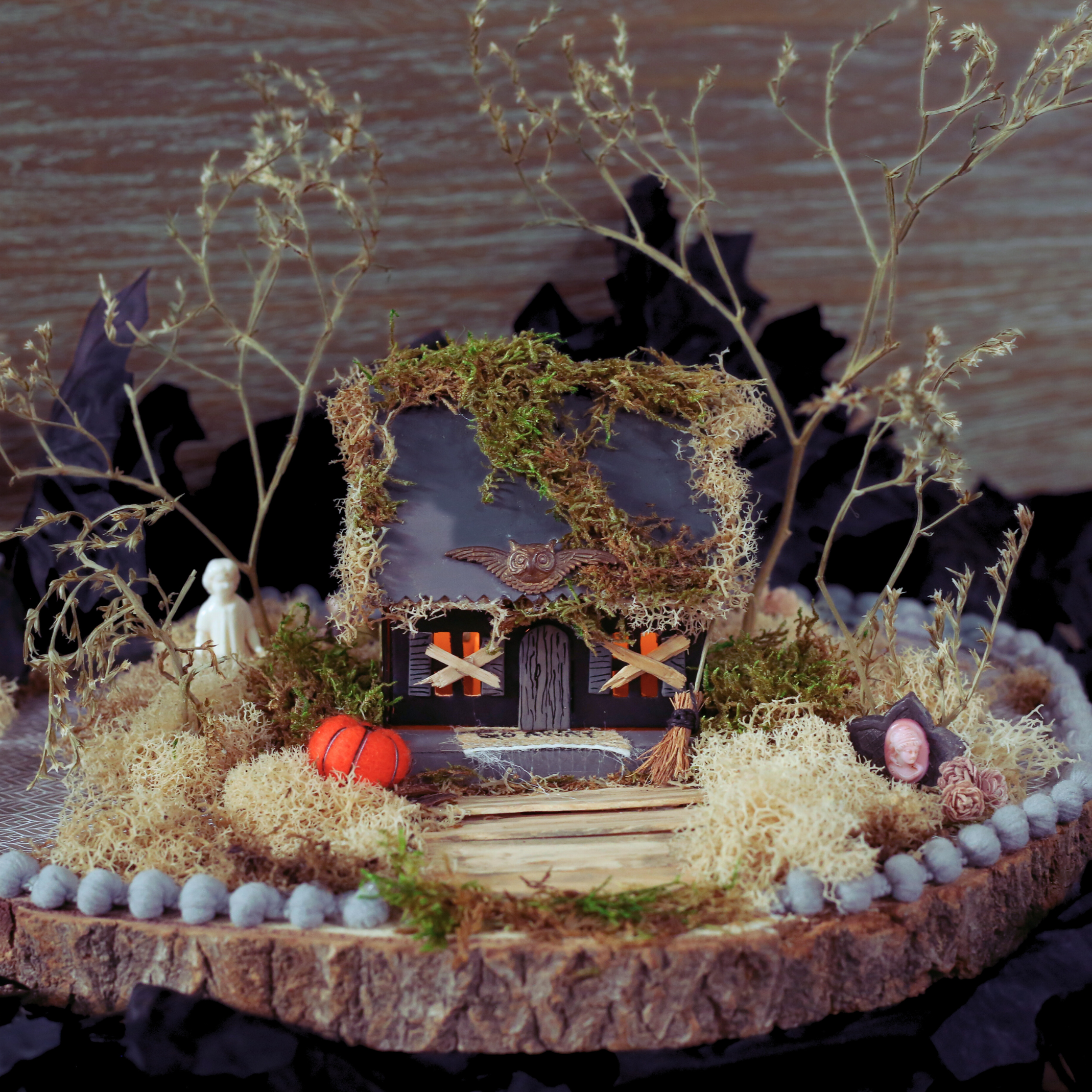 The dark and menacing little house sits atop a wood tree slice topped with a patterned paper in the perfect shade of gray. The small dwelling was crafted by me with matboard, then painted black. I added gray accents for the door and shutters, and used glue to attach it to the wood slice.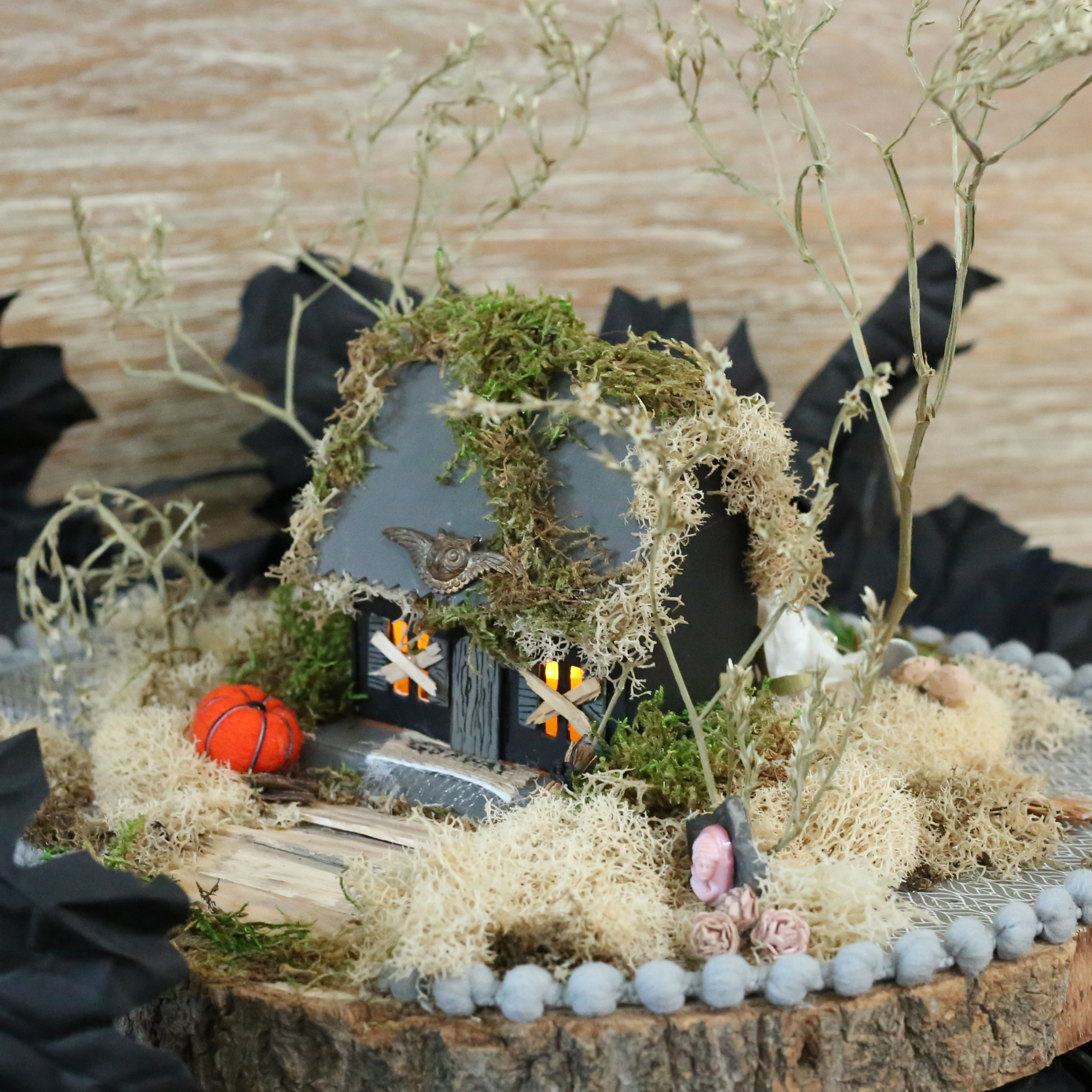 Quite a Dilapidated Dwelling
The rotting residence is surrounded by overgrown moss and skeletal trees. This place is in shambles, someone had better call the homeowner's association.
Actually, the neighbors don't seem to mind the state of the gruesome grounds at all. Rather, they seem to be enjoying a .. long rest. At least someone's left a little bouquet of flowers.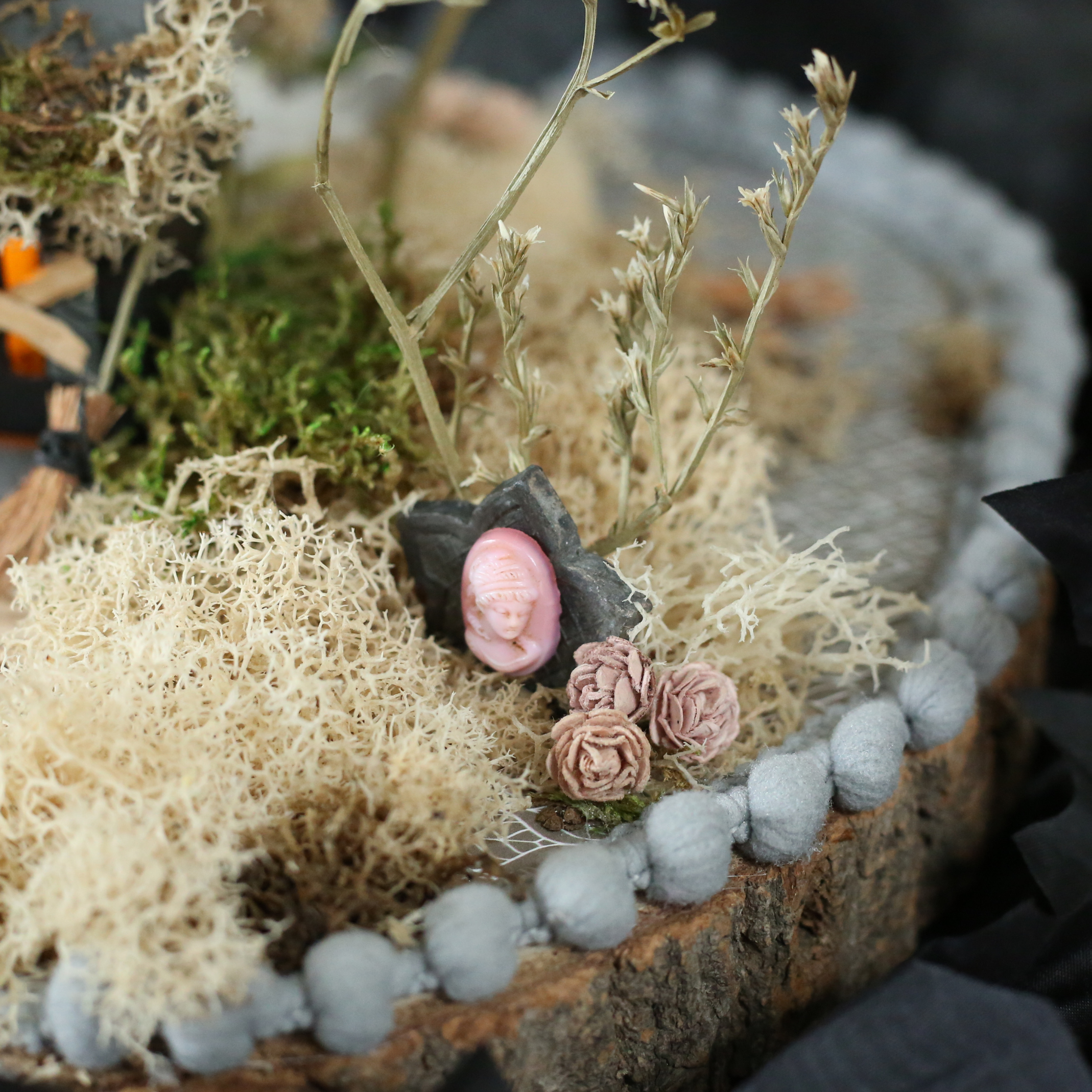 WHO's There?
The silence here is almost unbearable, where are the homeowners? Light emerges from inside the windows of the tiny and treacherous cottage, crafted from a small house shaped die cut. The roof is grown over with moss, and embellished with an old metal owl charm. Perhaps they're out bird watching?
Finally, there are signs of life! It appears that someone has been sweeping up, as evidenced by a small broom near the corner of the porch.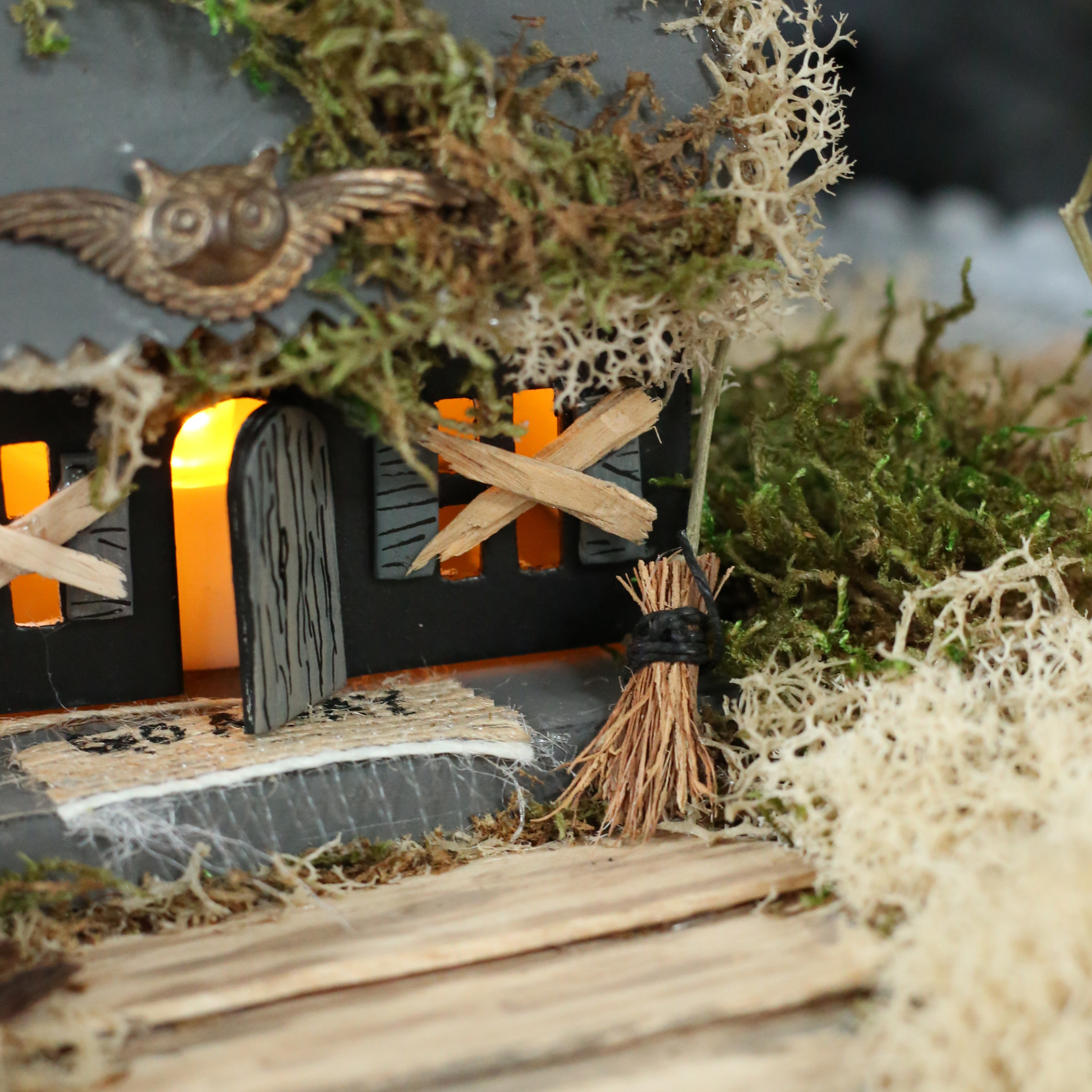 Perhaps a Little Witch Craft Would Help
The broom is just a little something I crafted from tree bark and a thin wood stem; things I found on a nature walk. A fresh felt pumpkin sits on the walkway. Speaking of the walkway, it's another little crafty creation. I fashioned it from popsicle sticks, breaking them to create rough ends. I then added some details with a bit of brown paint.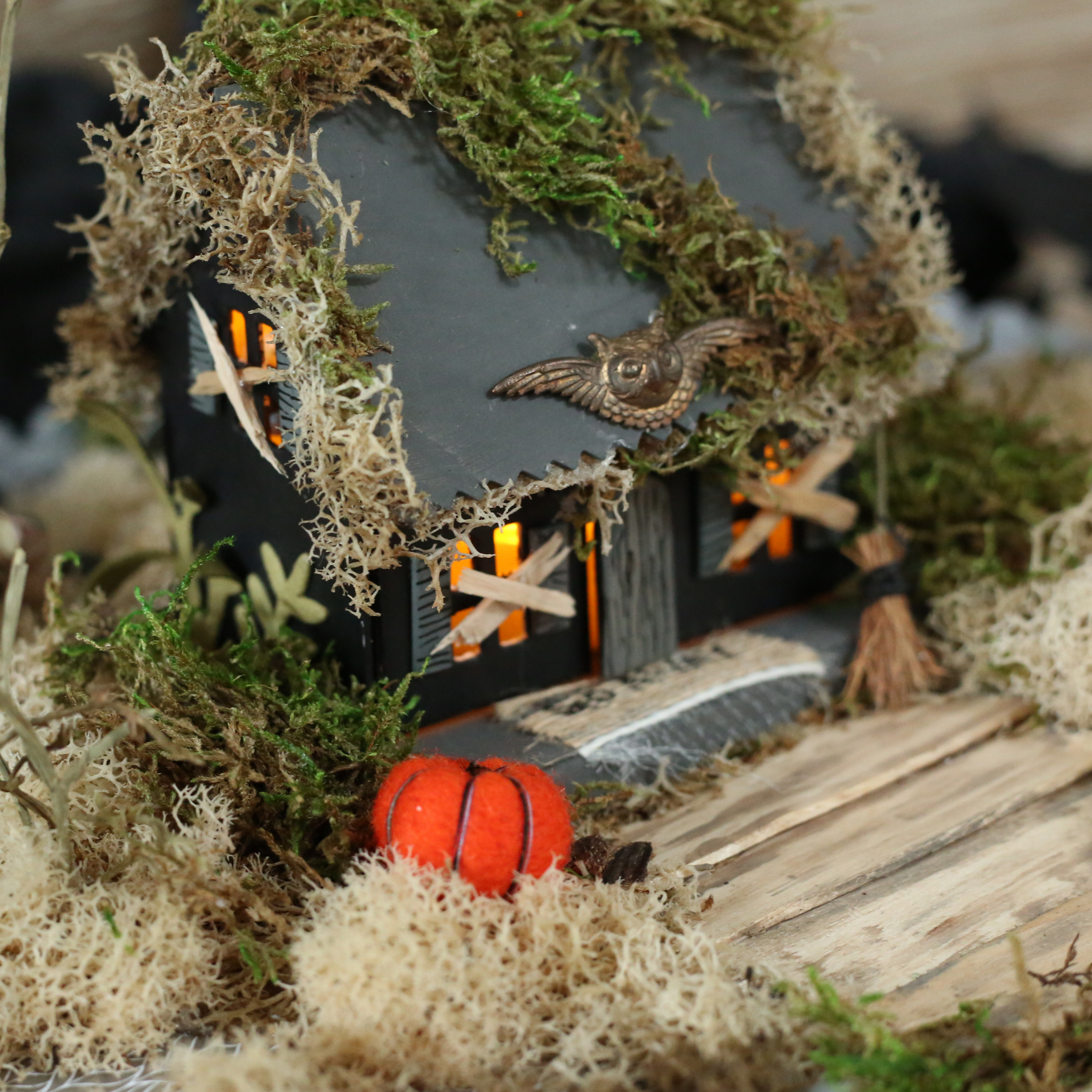 The Welcome Wagon Seems to Have Dearly Departed
Upon closer inspection, things aren't quite as friendly as they seem. Despite the glow of candlelight showing through the boarded up windows from inside, the tiny Halloween home's doormat bears a less than welcoming message, "GO AWAY". Goodness. That's off-putting.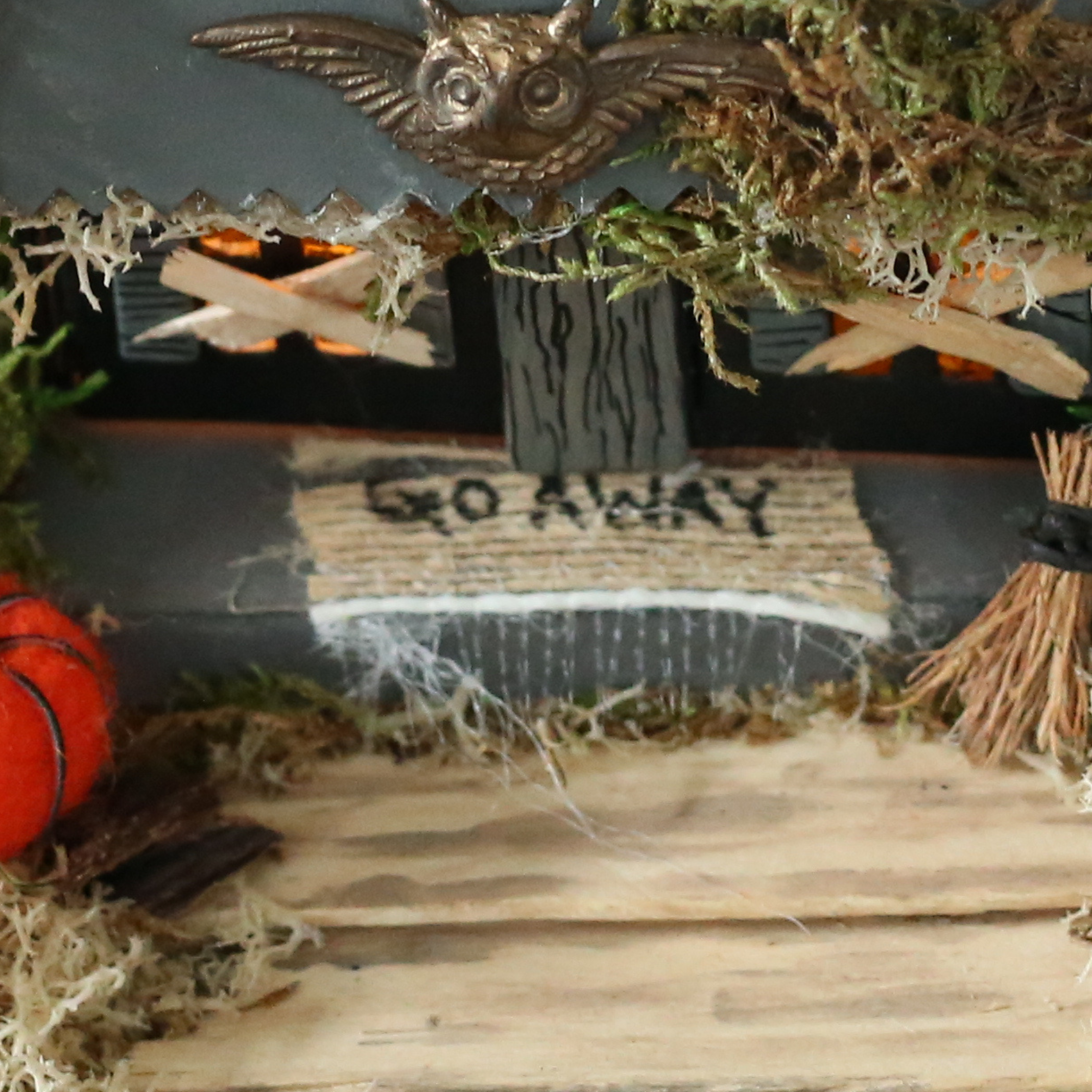 Oh, Hello There
Perhaps a look around back will lead us to some clues about the inhabitants of this eerie abode. On the way, I wonder if you'd like a quick story while we wander? I heard there's a legend about a youngster who disappeared near here. Sadly, her remains were never found.
I wonder if the little girl walking around the backyard knows anything about her? We shouldn't approach her without talking to the adults first. My, isn't she a pale little thing!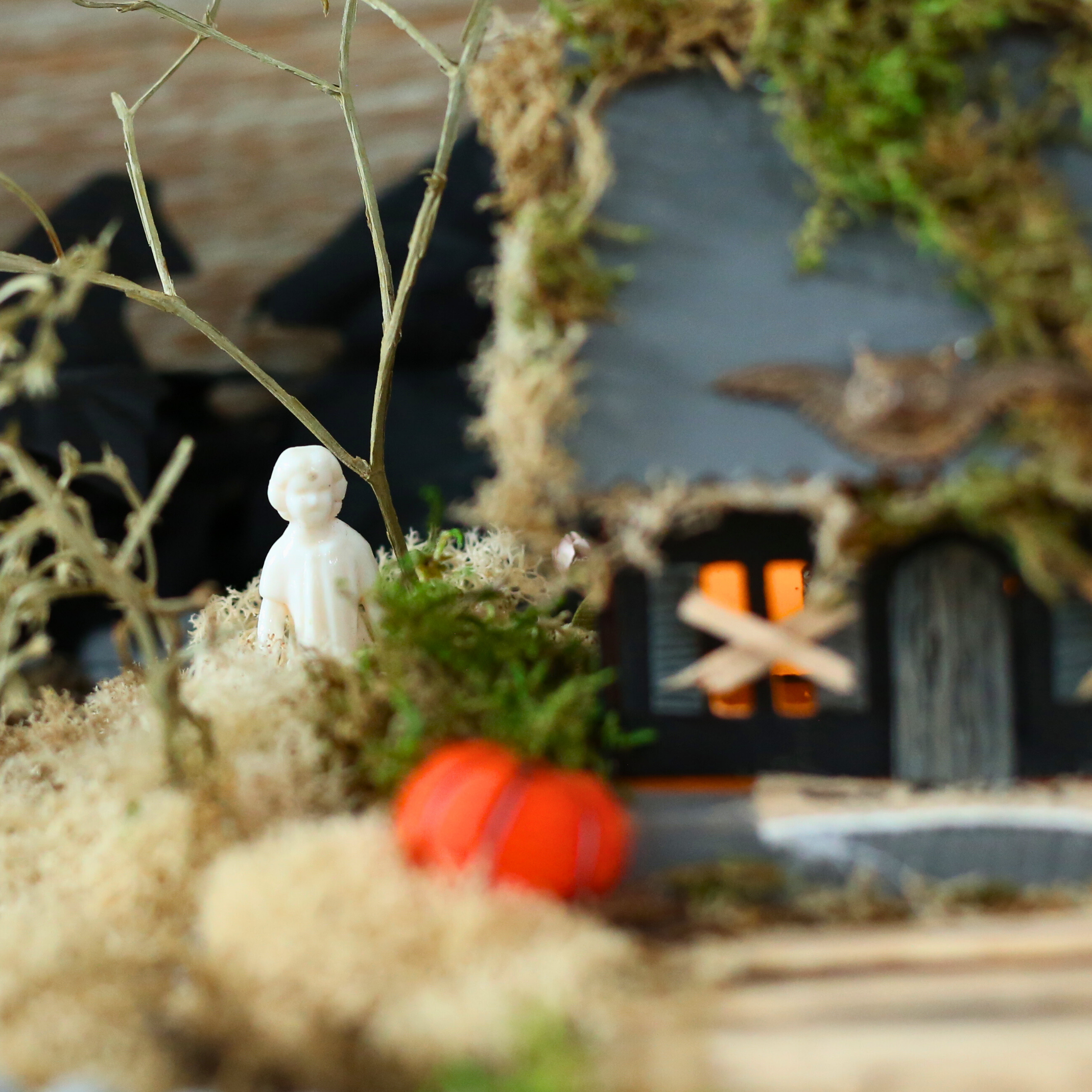 A Supernatural Surprise
A dreadful discovery is made as the back of the property comes into view. A grinning ghost rattles his chains, as he floats eerily above a large collection of tombstones, each inscribed with the name of an unfortunate traveler who lost their way in these woods. These funny grave names were made from matboard, painted and detailed with a fine line paint pen.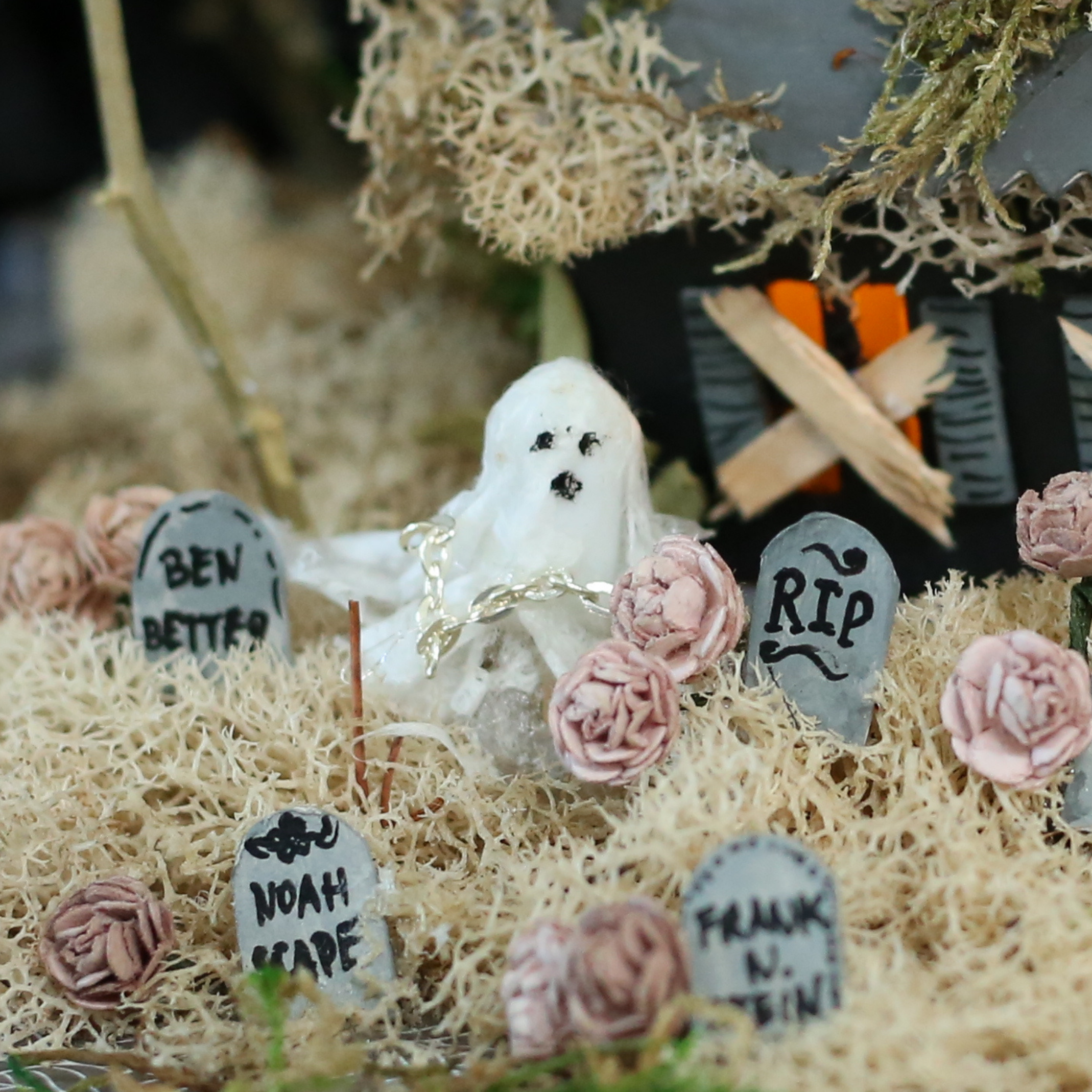 Another One Bites the Dust
We may never know how many lost travelers wandered into these woods and have never been accounted for. At least someone visits and leaves flowers for these poor souls.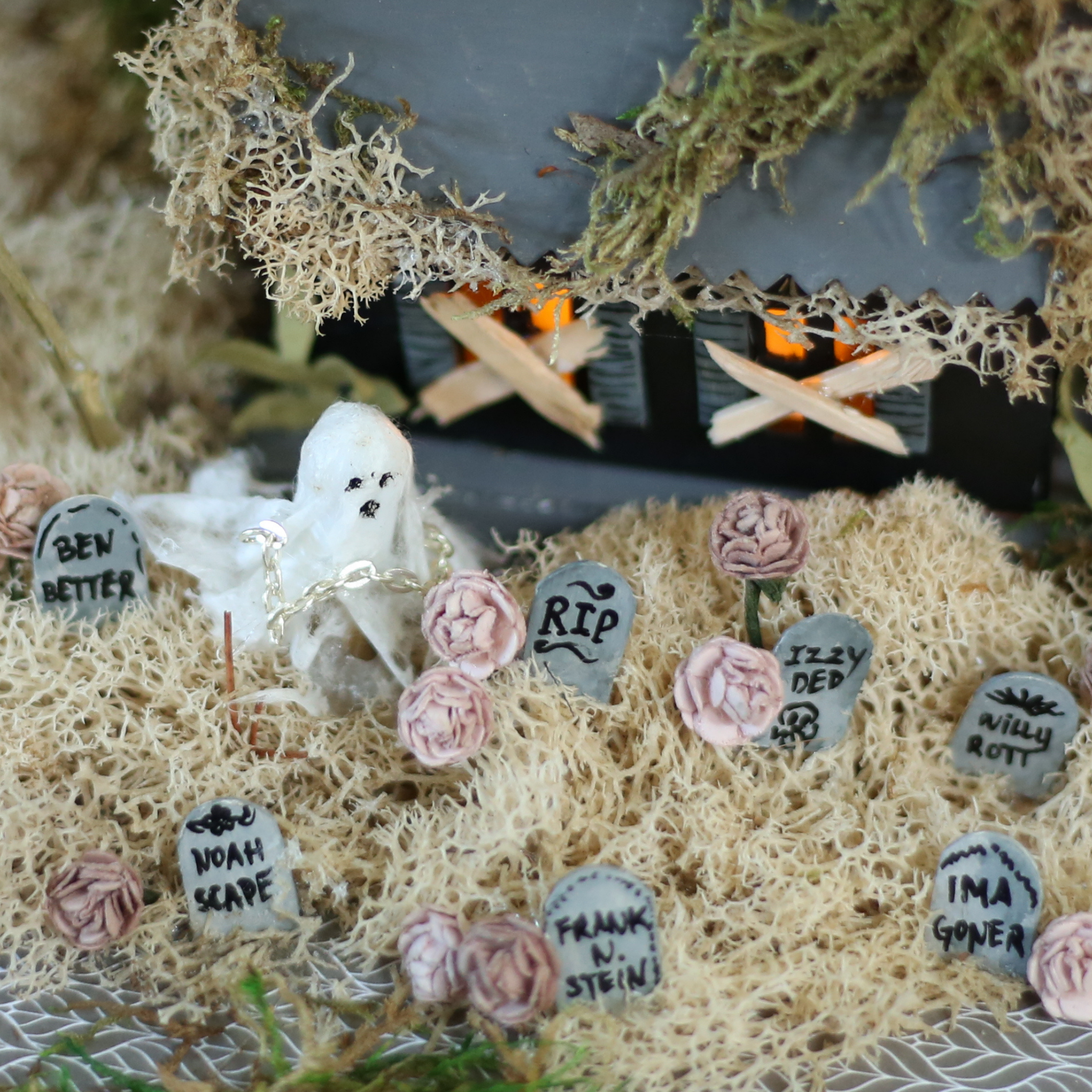 Ever Get That Feeling.. You're Being Watched?
Peering into a side window of the house, an ominous sensation chills one to the bone. Do you ever get the feeling you're being watched?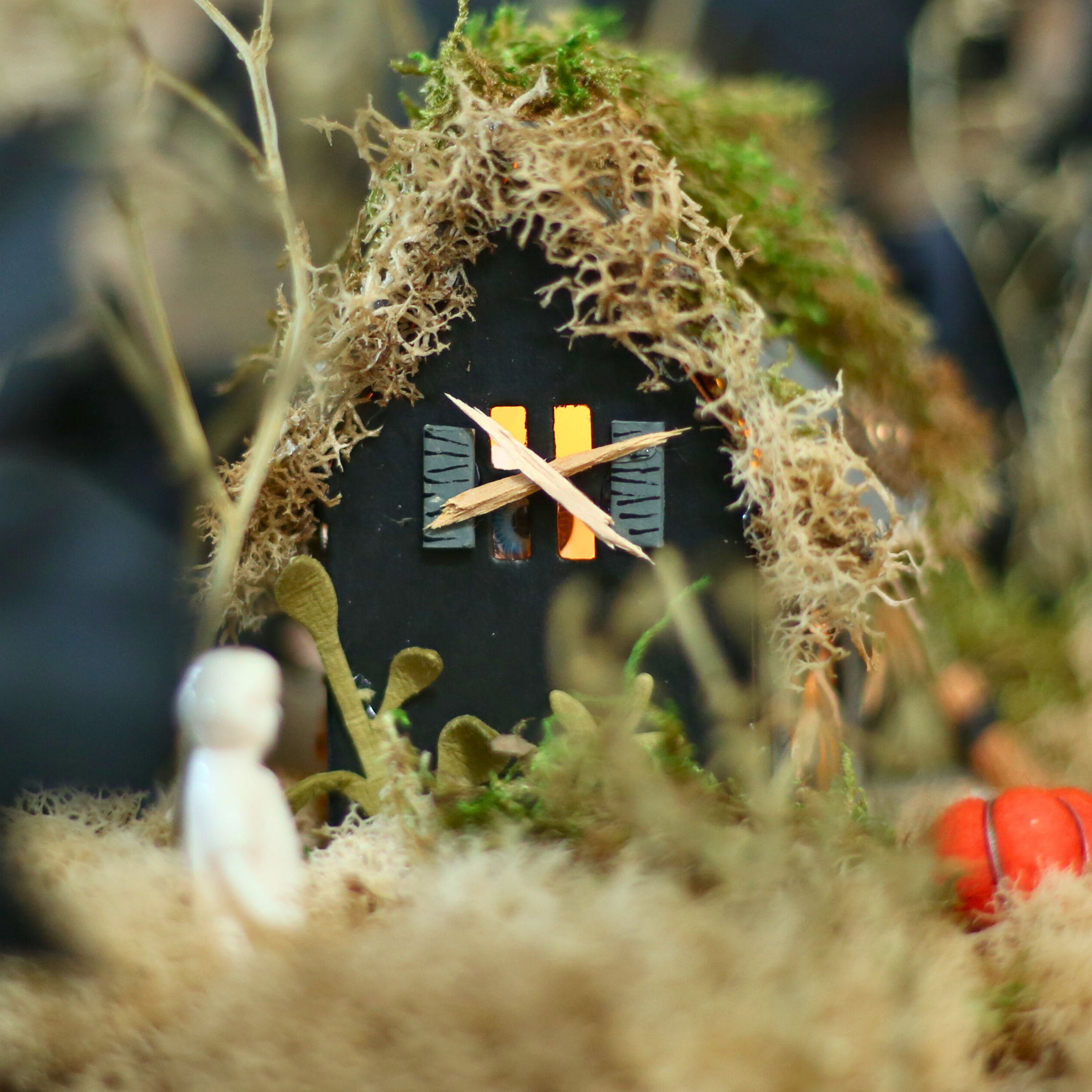 The End Is Near
Perhaps it would be best to try to find the way back to the path.. before falling prey to… an unfortunate fate.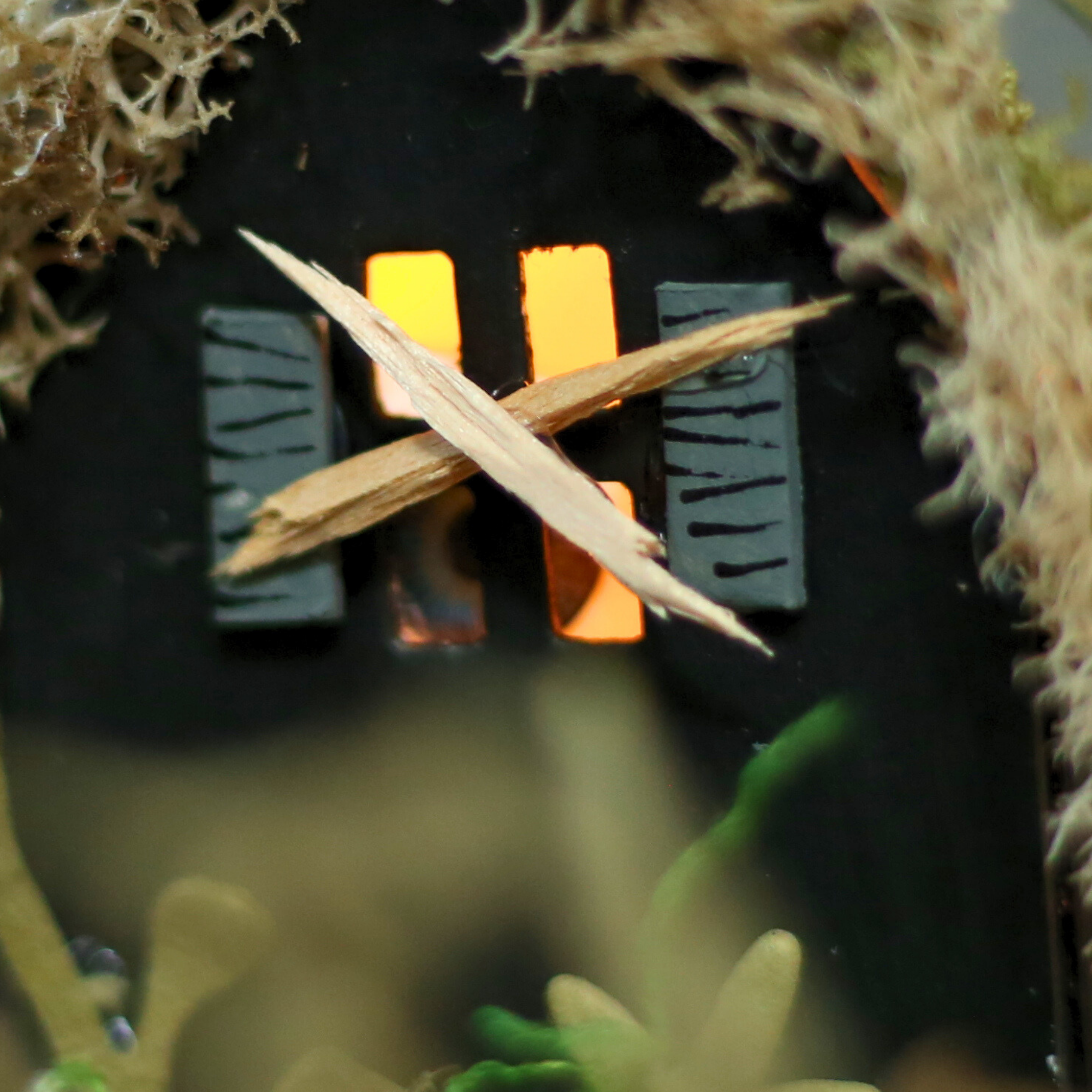 That was a close one! So glad we had each other.
If you love Halloween as much as I do, please take a peek at BeWitching Bash, it's a HUGE Halloween Creativity Festival that takes place online, not a haunted woods in sight!
It takes place 9/23/23, and is a guaranteed scream!