Chinese New Year is a joyous celebration that signifies the end of winter, and the beginning of the springtime season, as well as new beginnings in all aspects of life. Chinese New Year is based on the lunar calendar, and is also sometimes referred to as Lunar New Year. This year, the holiday falls on February 12, and the symbolic animal of the year is the ox.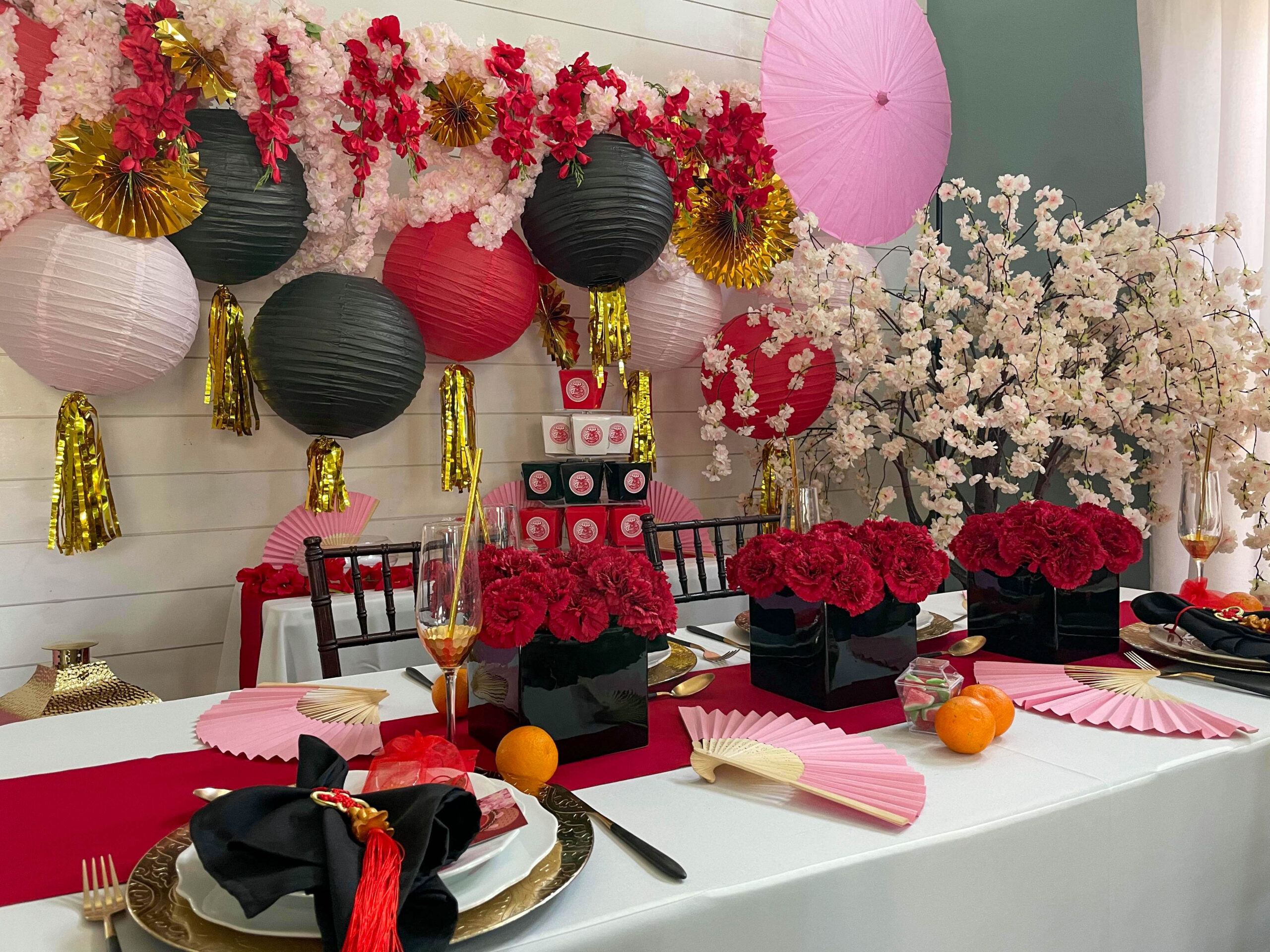 This post was created in partnership with Portofino, International, products and/or compensation have been provided to me for this design.
The Chinese New Year celebration includes many customs and traditions that are filled with special meaning; these span generations and are an important party of Chinese culture. Many people are surprised to learn that Chinese New Year lasts much longer than just one day! A large family gathering and meal are held to signify the beginning of the celebratory season.  A thorough house cleaning is also performed, to sweep away any misfortune, and to clear the path for incoming wealth and good luck in the coming year. Hanging decorations like paper lanterns, and those that have themes of good fortune, happiness, health and prosperity are popular to display. Red and gold are always included in the colors for this special time, and are considered especially lucky.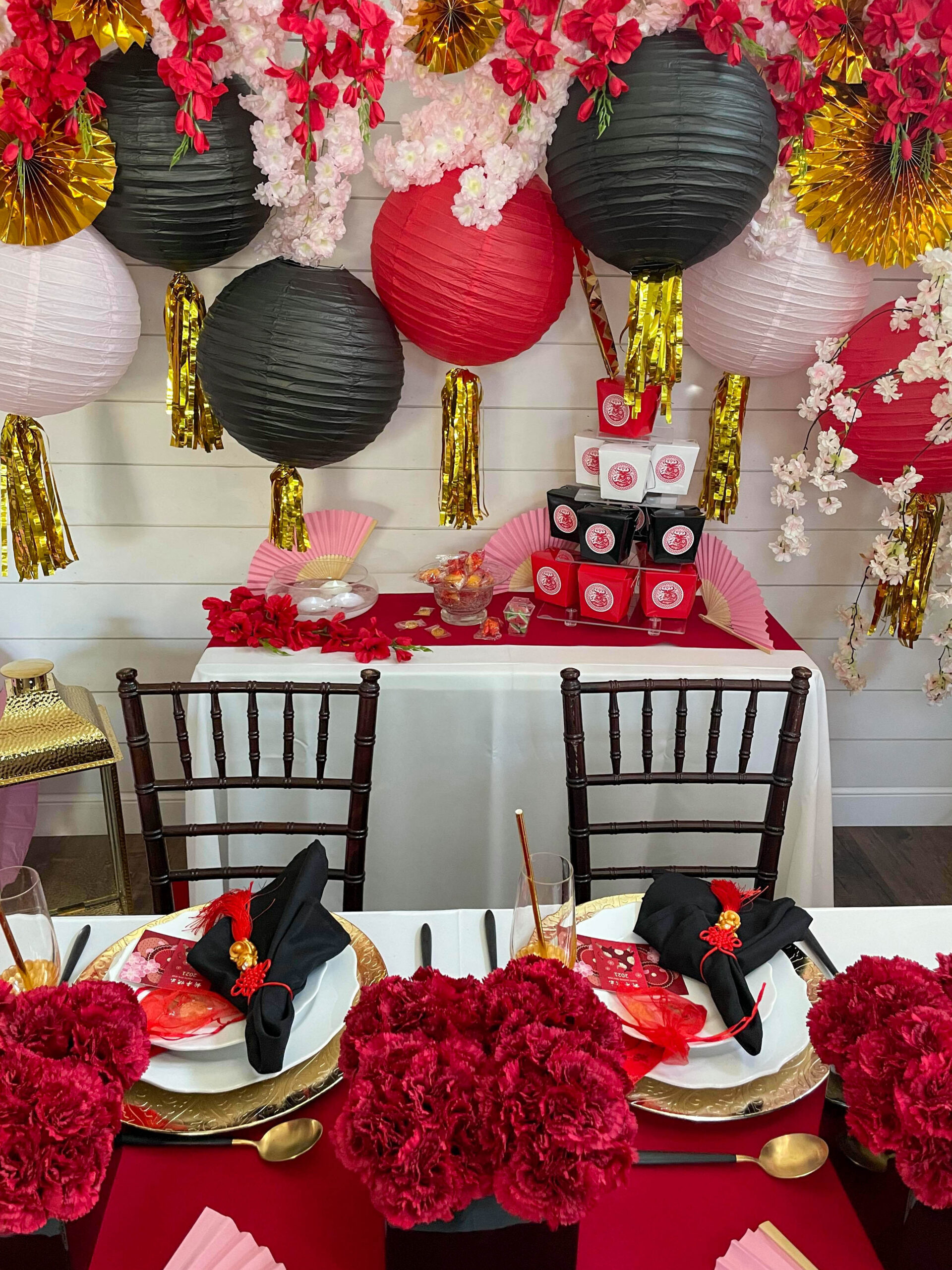 For the backdrop of this party design, large hanging paper lanterns in black, red and light pink were hung at varying heights, and gold tassels were tied to each one. Shining metallic gold paper fans were also suspended, and add a glamorous aspect to the design. Soft pink cherry blossom branches and red floral sprays were hooked over the backdrop structure, concealing it, and adding fullness.  Cherry blossoms are the first trees to bloom in the spring in China, and so they are a popular choice for Chinese New Year decorations. The soft pink against the other colors in this design is my favorite part. Pink paper parasols accent each corner of the backdrop display, and are lovely for taking on a stroll outdoors after the event. (I love to keep mine handy for trips to the outdoor flea market and farmer's market!)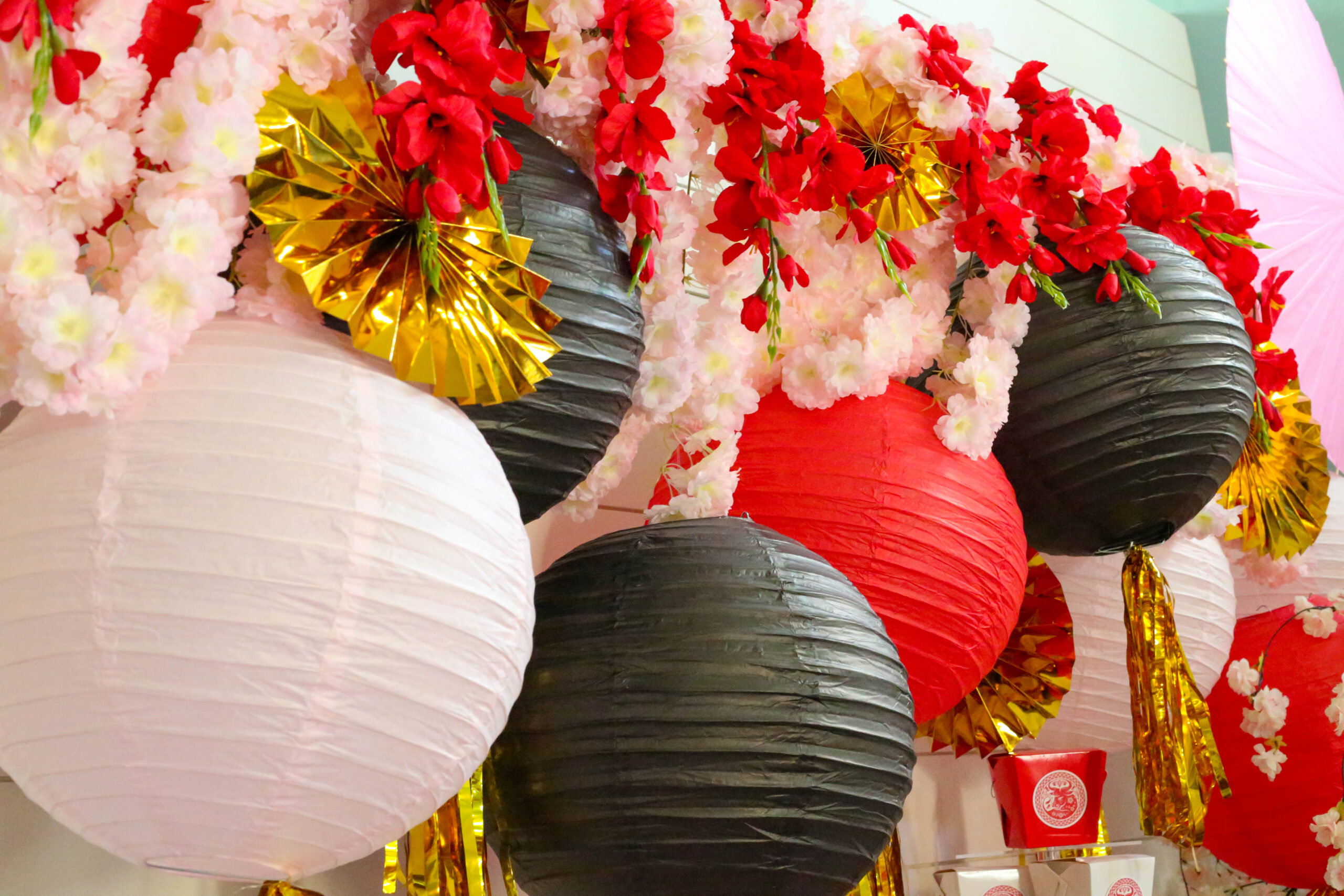 The table is set with a crisp white linen, overlaid with a rich red table runner. Pink paper fans stand out against the traditional colors and tie in the cherry blossoms from the backdrop.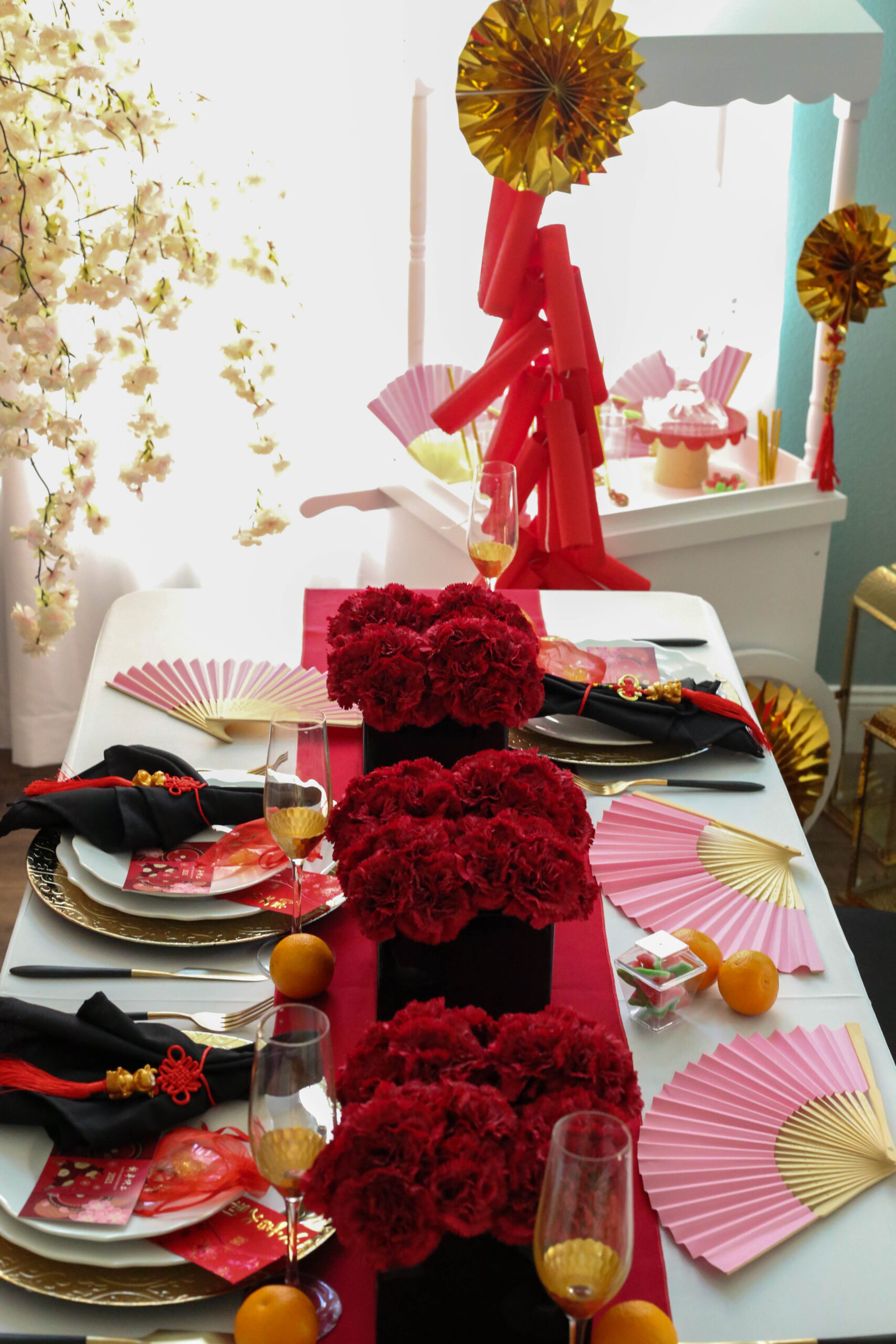 At each place setting, an ornate gold charger with intricate scrollwork detail is the base for the place settings. This is then set with white china, black napkins and modern flatware in black and gold.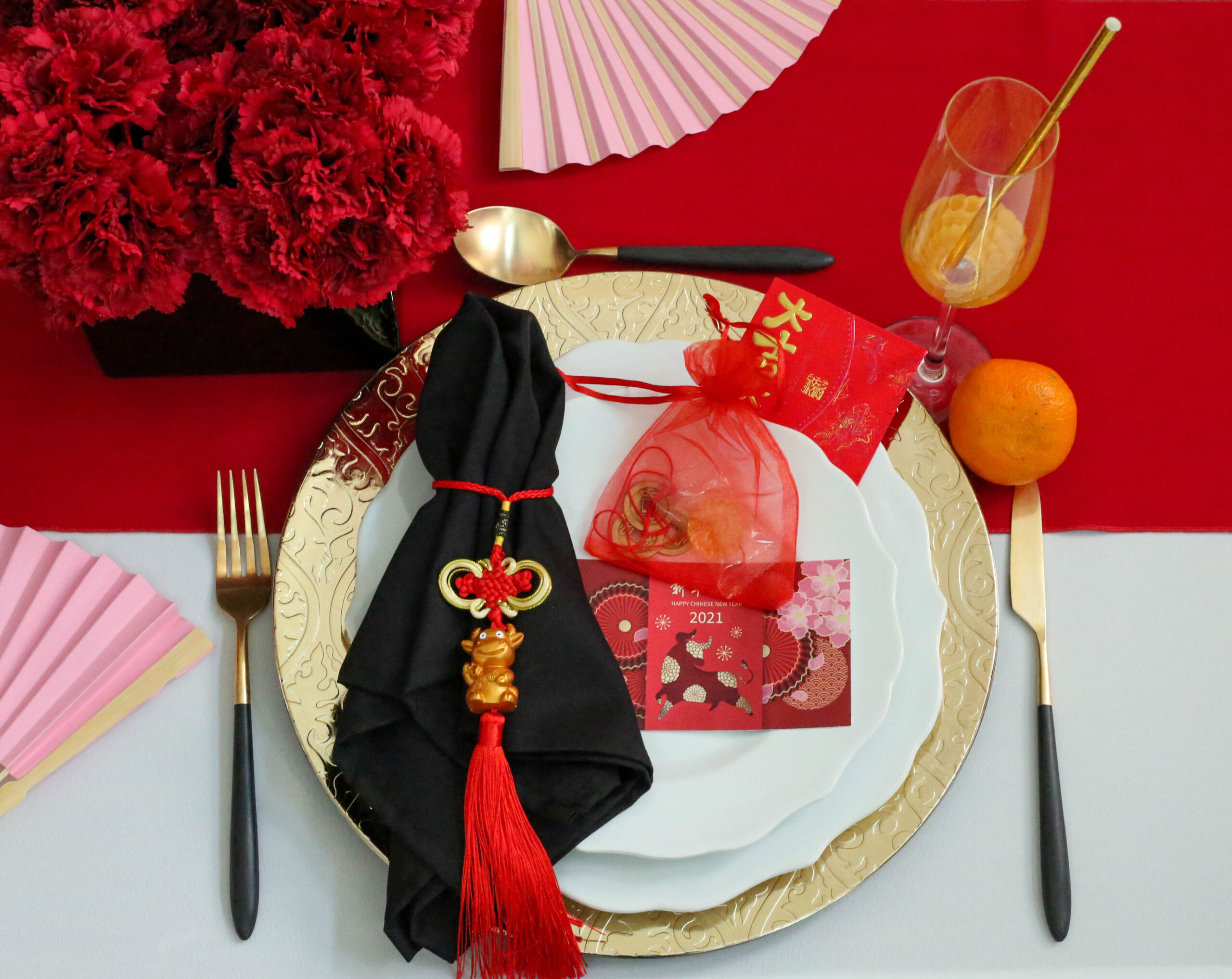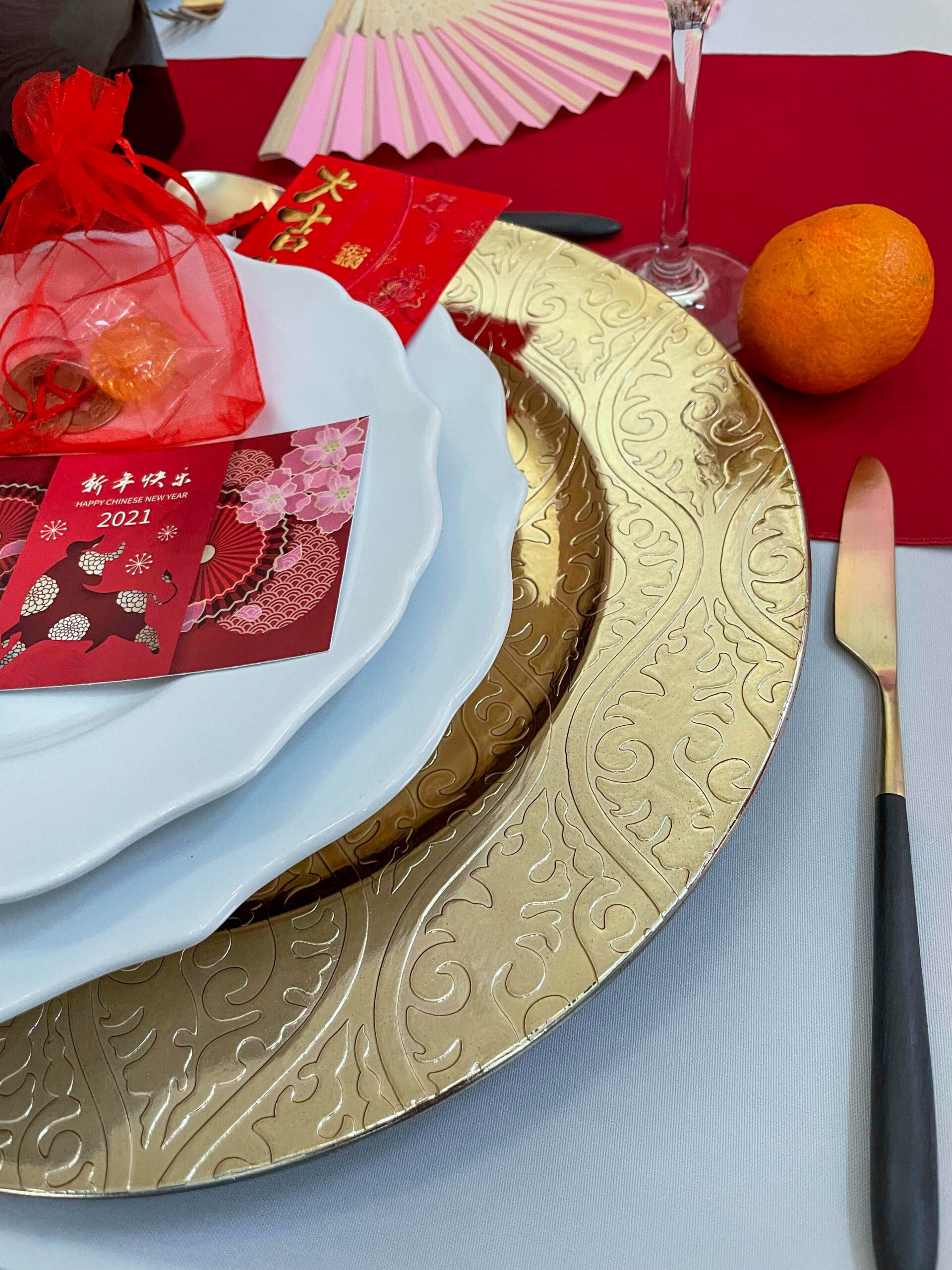 Black cube vases stand out beautifully in contrast, and are filled with robust clusters of faux red carnations. The flowers are so lifelike, it's hard to believe they're faux!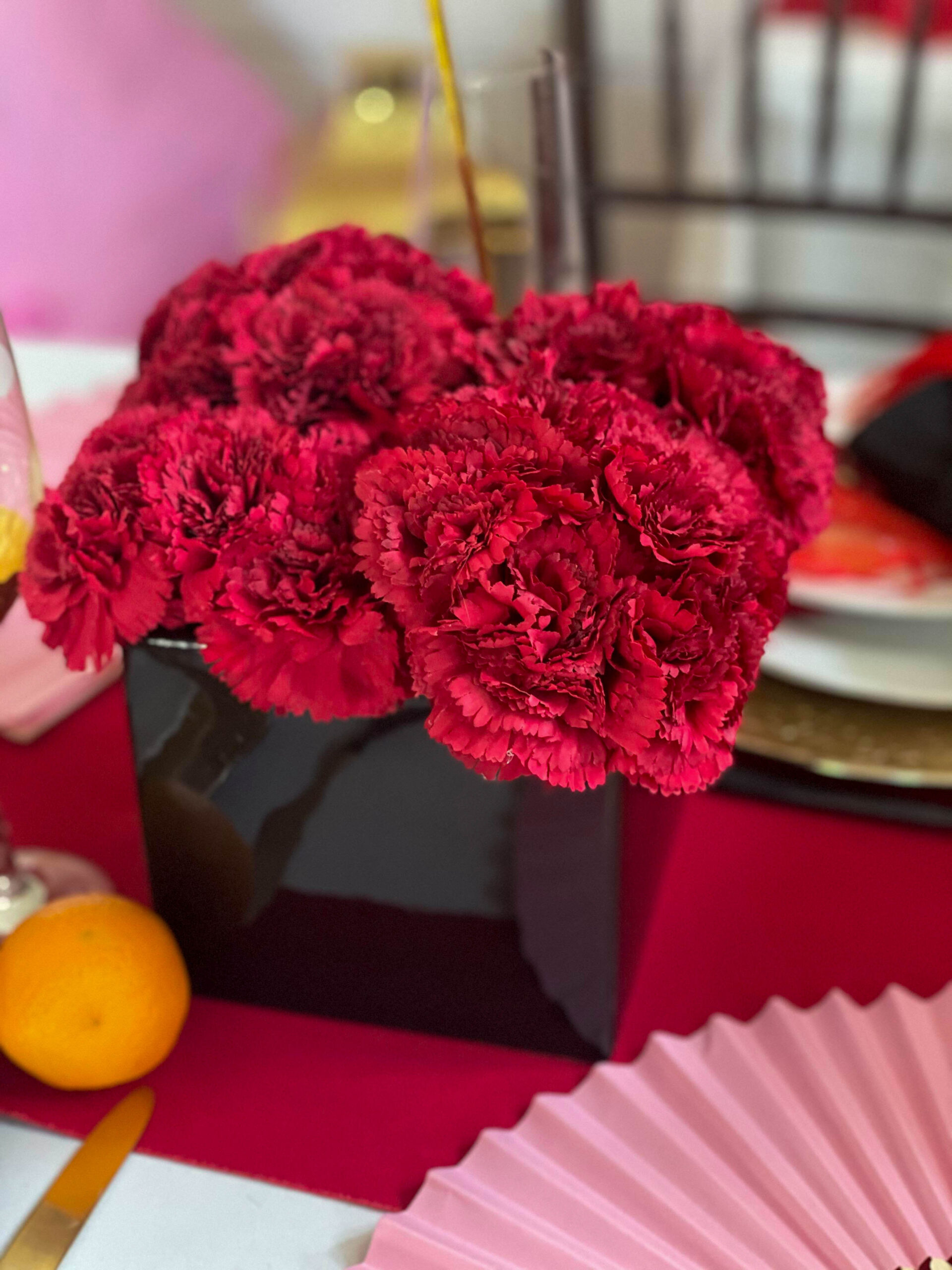 For each guest, a red organza favor bag is filled with a traditional lucky coin bracelet and a sweet flower shaped honey candy, which symbolizes the sweet words that each person intends to share for the year. Paper cuts are another popular Chinese tradition, and each place setting features a custom card to signify the year of the Ox. The traditional colors and pink cherry blossoms add another level of beauty to the design. Tangerines are also considered lucky in Chinese culture; the gift of tangerines or oranges is considered to mean the abundance of happiness and prosperity.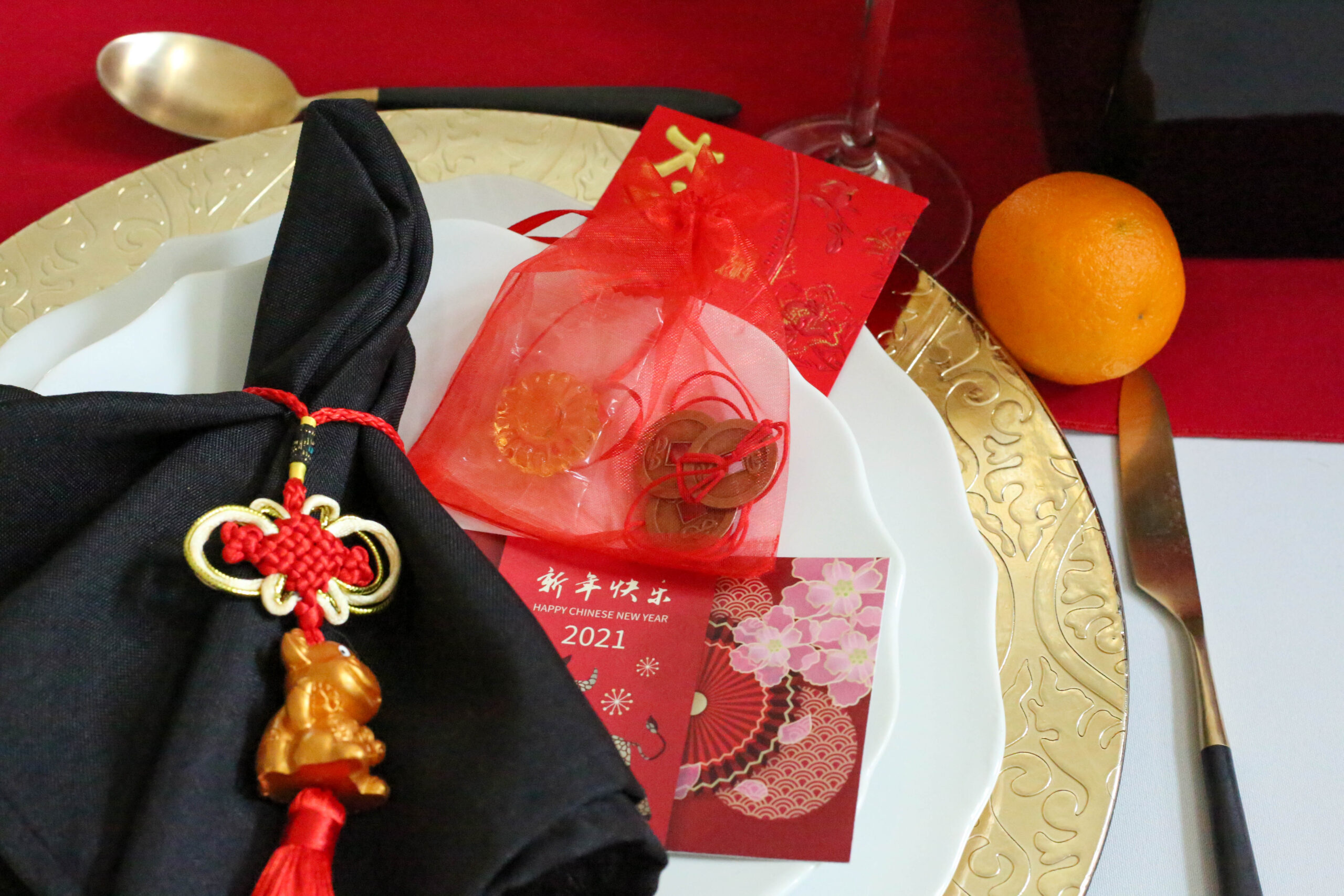 Hanging decor with lucky red and gold colors and small Ox figures were used to hold the black napkins, and are another lovely take home item for guests to enjoy.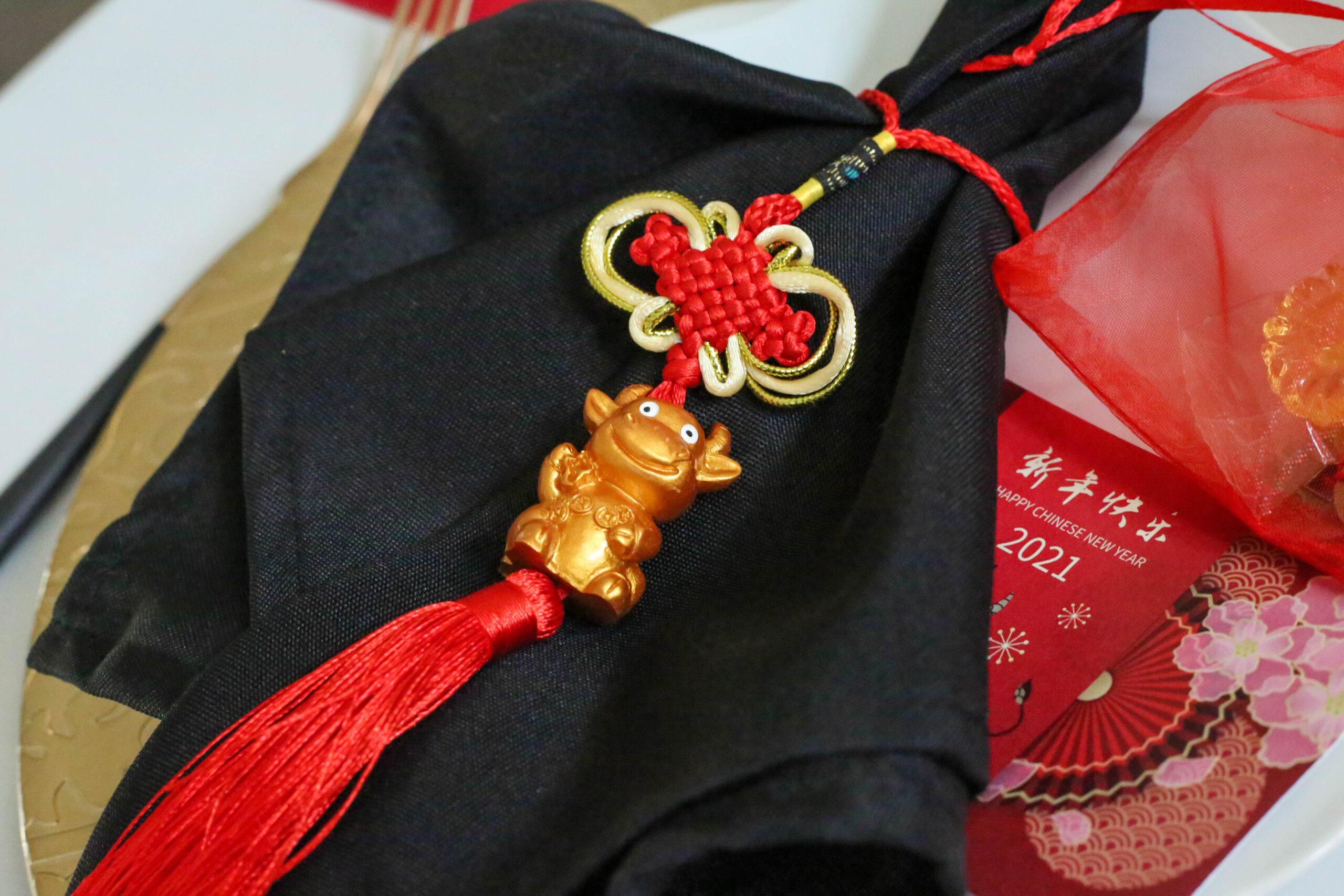 Red money envelopes are another very important aspect of celebrating Chinese New Year, as they are believed to bring about prosperity and good fortune. These are typically gifted to children and junior family members who are unmarried. Red money envelopes may contain a few dollars, or several hundred. The dollar amounts given hold significance; only even numbers of dollars are given, avoiding the number four, which is associated with death. The number eight is a favorite and is considered extra lucky. (It's one of my lucky numbers, so I have to say, it's true!)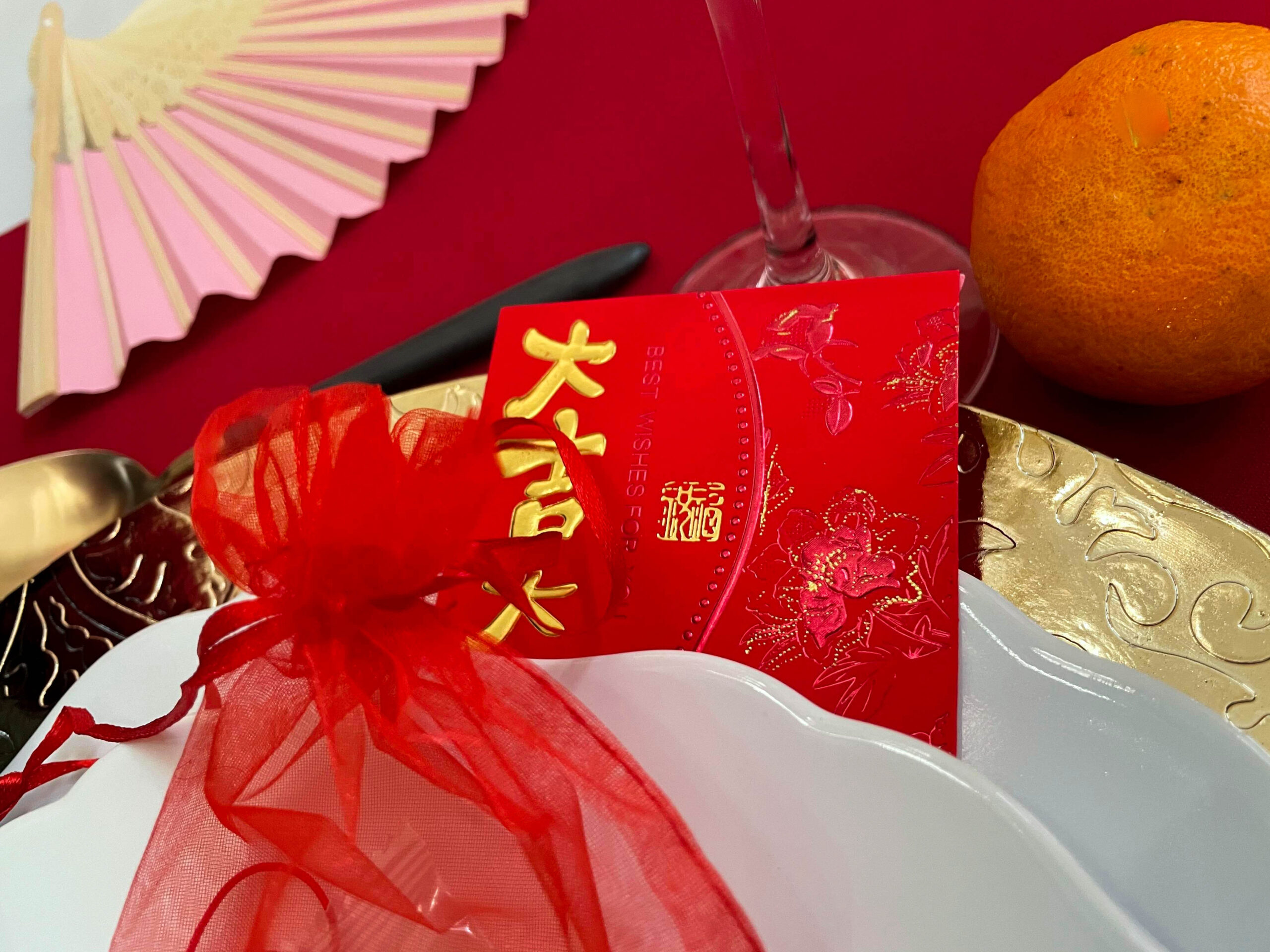 Behind the main dining table, a smaller table is set with favors and more traditional Chinese New Year decorations. A low glass vase holds water and white floating candles in a bed of cherry blossom stems.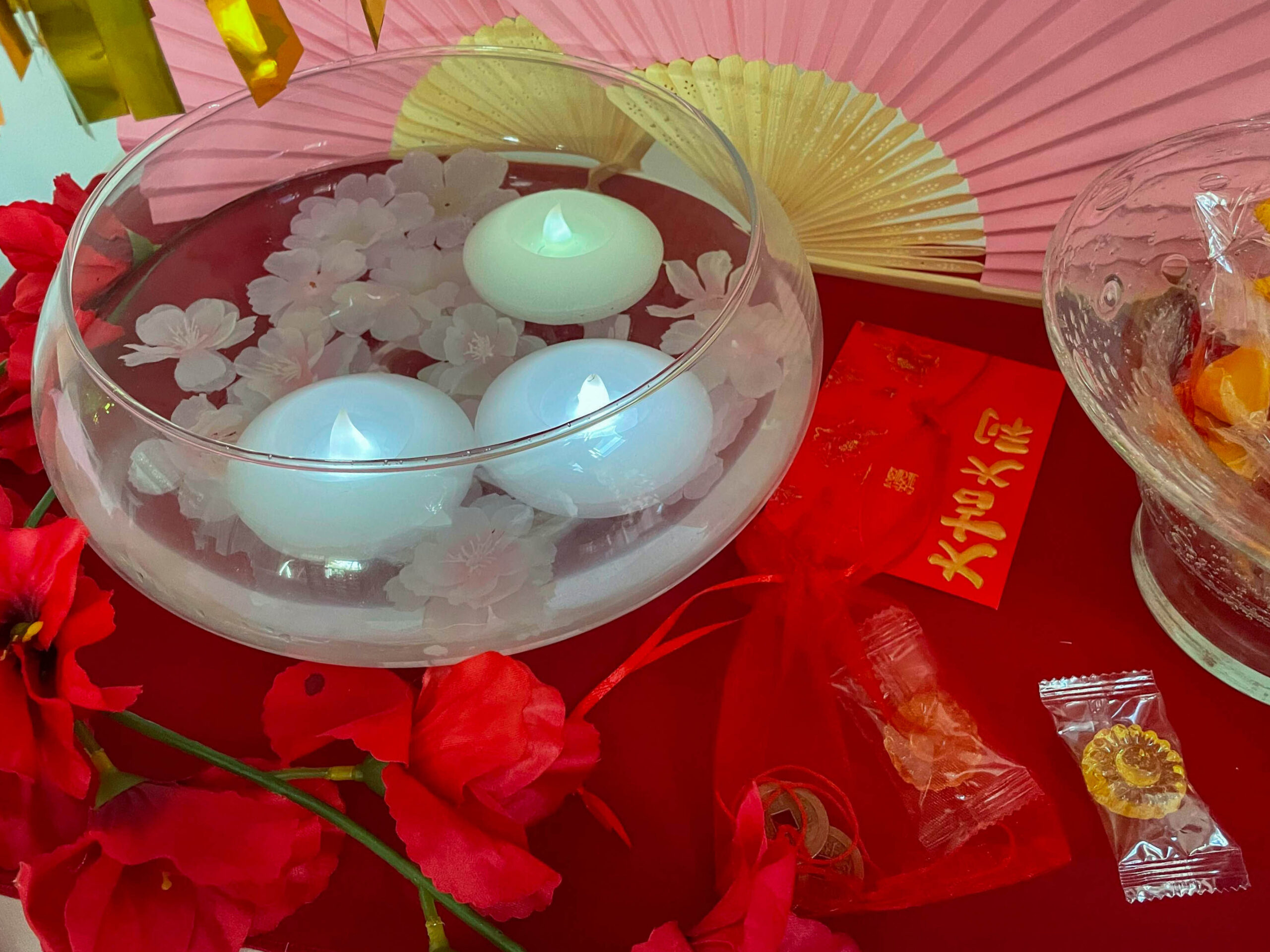 Traditional Chinese takeout boxes are decorated with a custom printable for the year of the Ox, and are displayed on an acrylic tiered dessert stand that perfectly accommodates their size. Each takeout box is filled with tangerines, fortune cookies, honey candy and other delightful treats for enjoying after the party.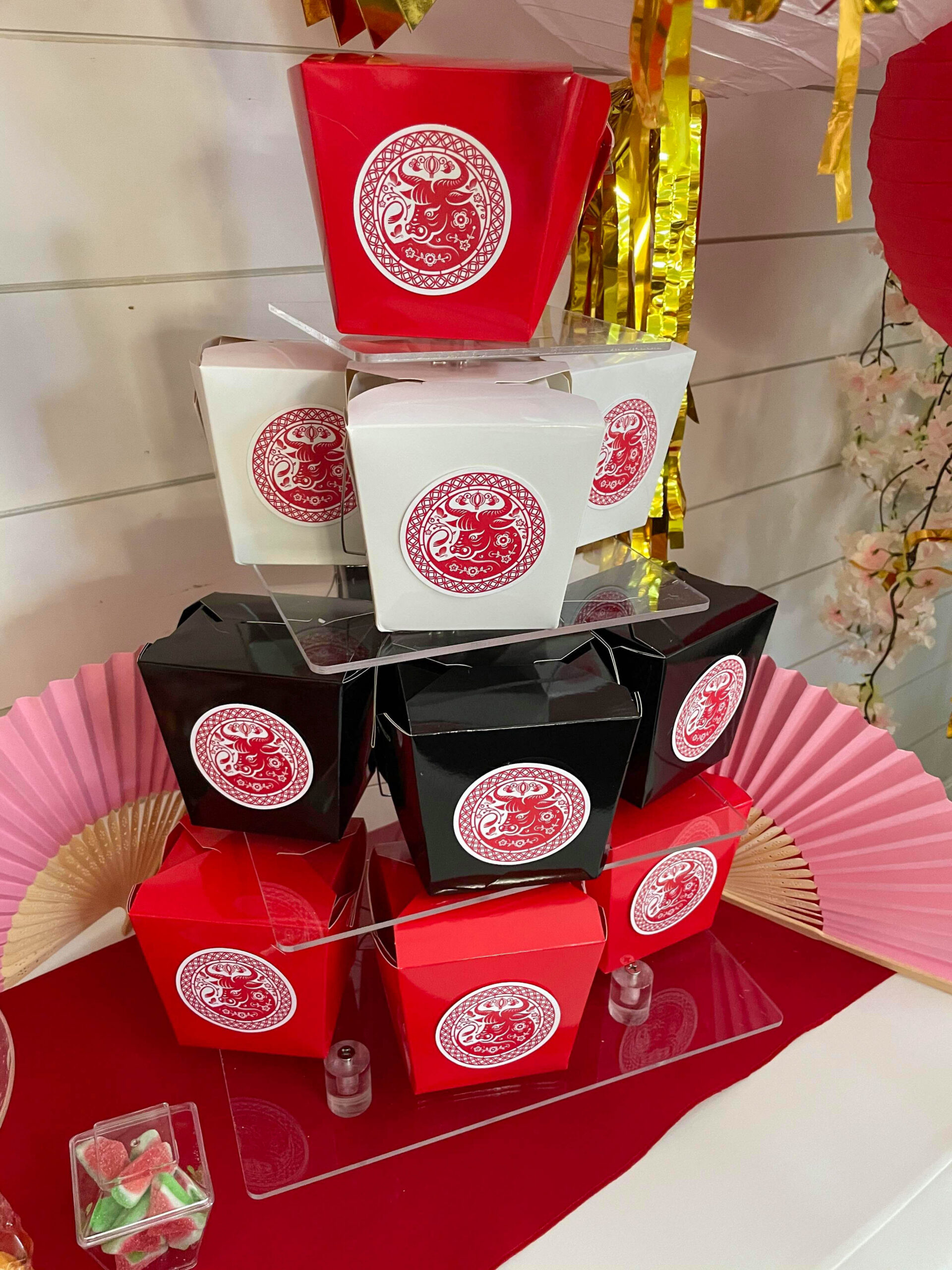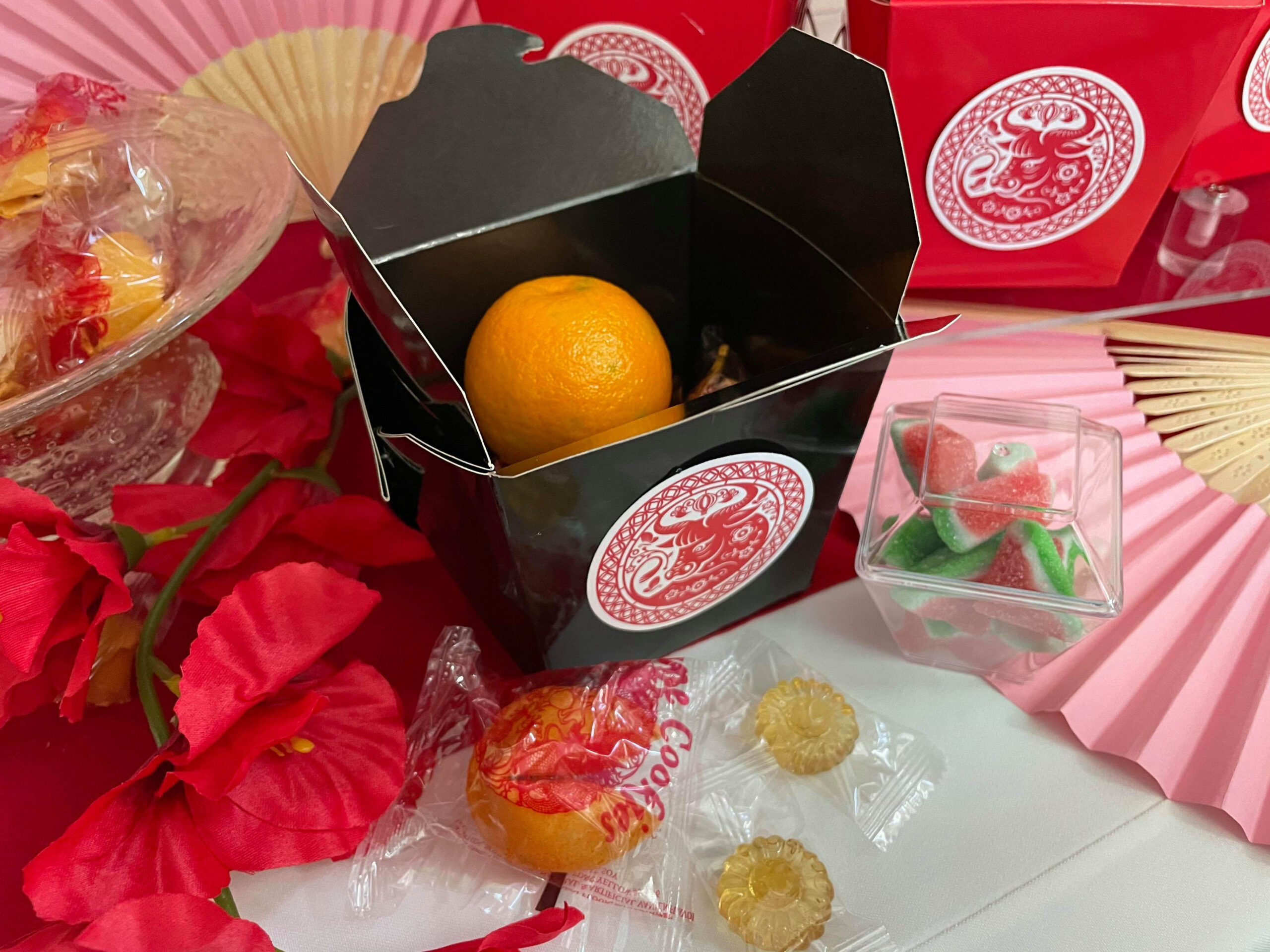 Lighting firecrackers to ward off evil spirits is another integral part of the festivities. These giant firecrackers were created using clear plastic cake tubes and red crepe paper; I then strung them together and hung the long strand from a darling white wooden cart, styled as a tea cart with service for six guests. Hammered gold lanterns accent the cart, and can also be used to display items or candles. A stunning cherry blossom tree is an eye catching focal point, and can be used for photos as a standalone item, as well.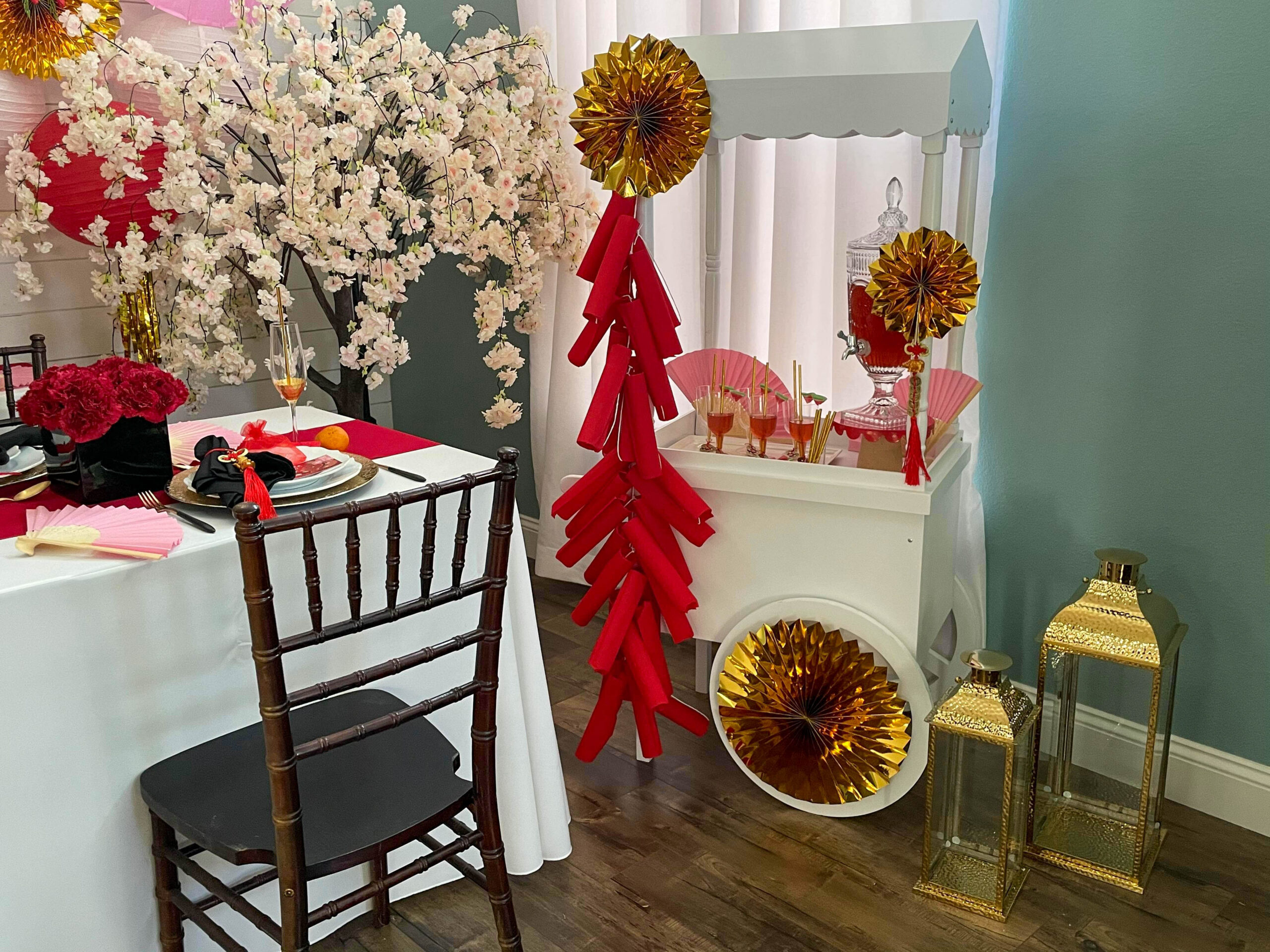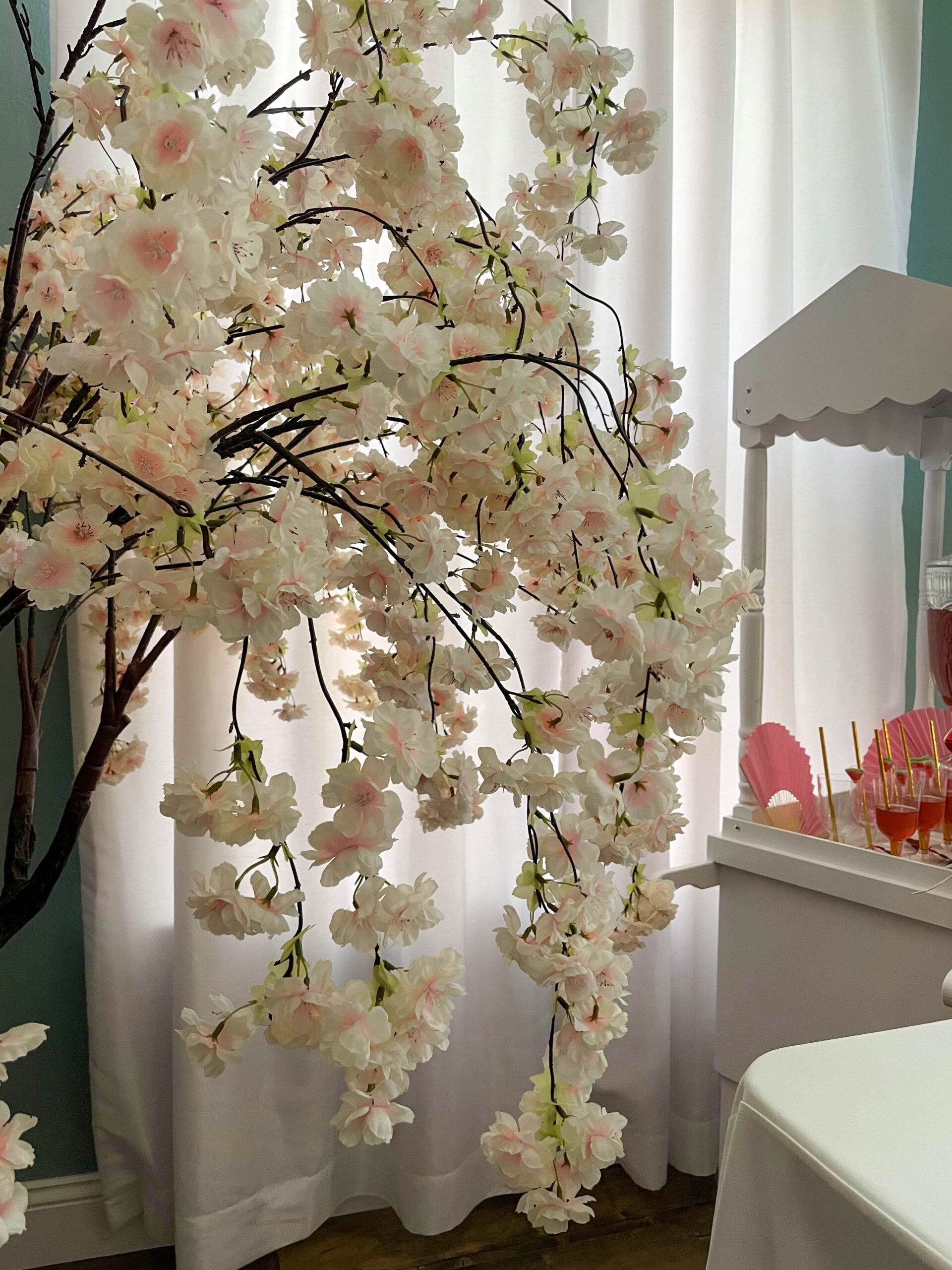 A crystal beverage decanter is set on a red pedestal; it's filled with green tea infused with fresh and fruity watermelon. Disposable stemmed glasses are accented with lucky gold coin ties. Small plastic containers hold extra straws and candy.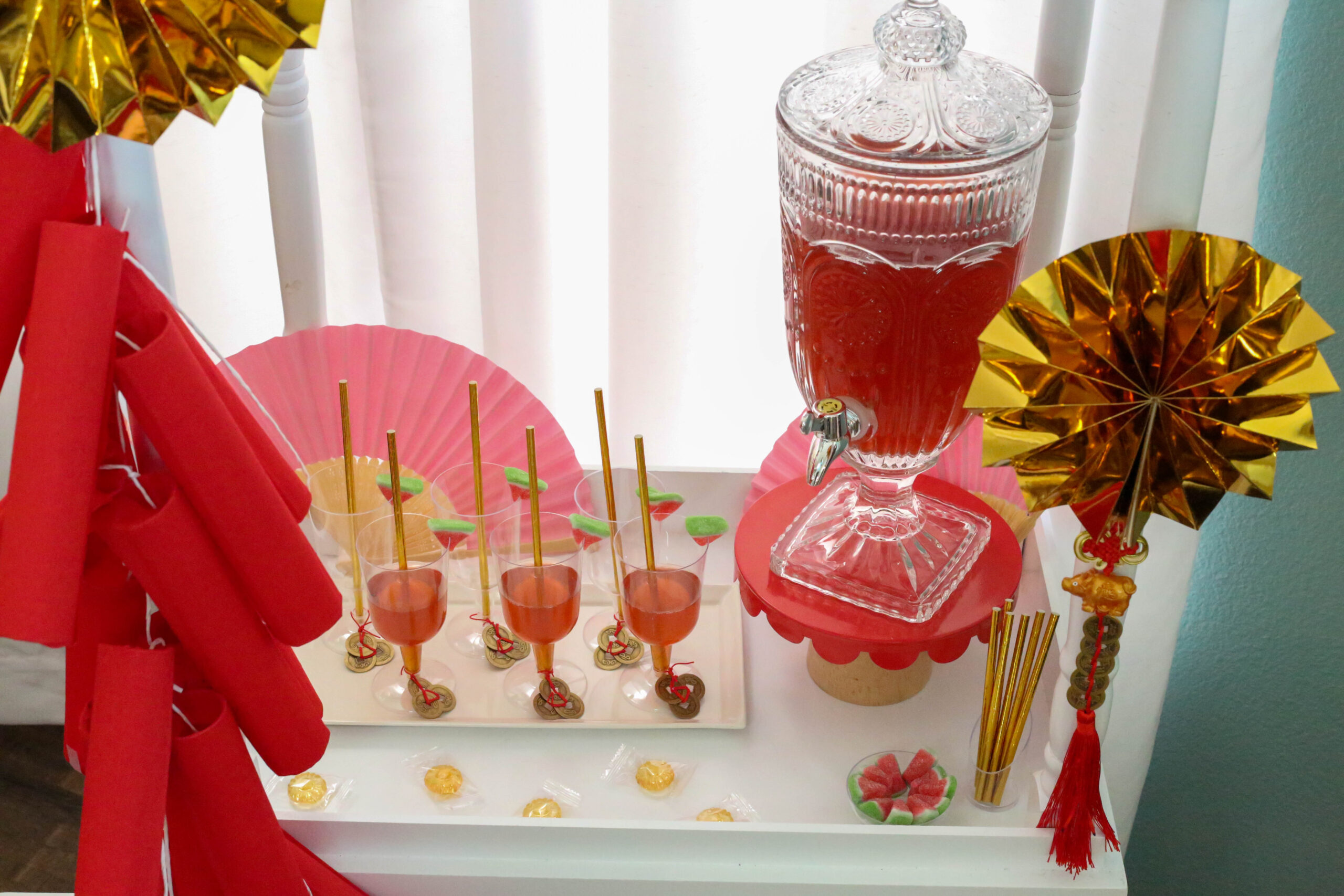 On the rim of each glass is placed a sugar coated watermelon candy garnish. Each glass is then accented with a gold paper straw, perfect for sipping this sweet twist on a traditional beverage. (It really is delicious!)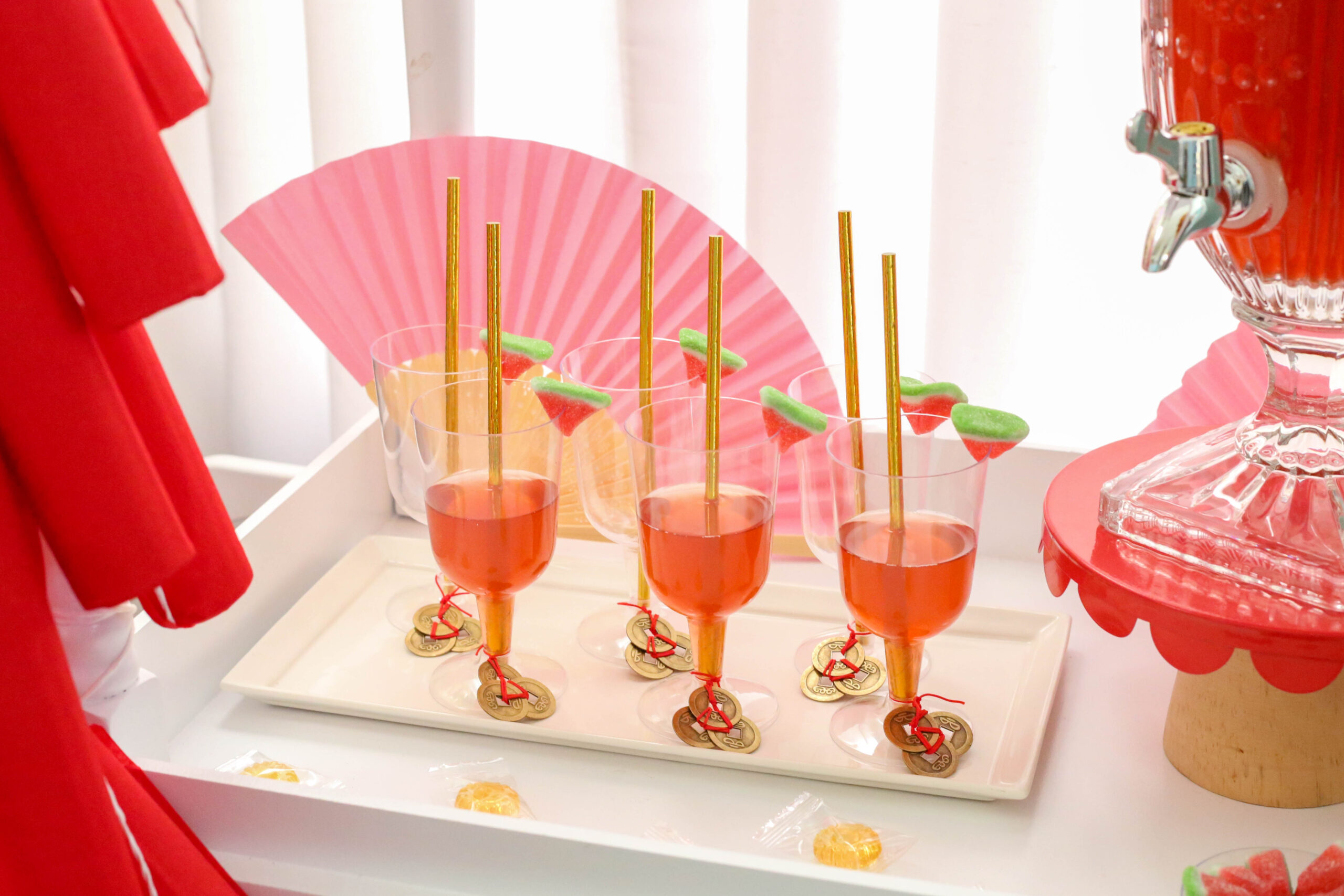 With all these beautiful event decor pieces from Portofino International, you can create the Chinese New Year party of your dreams.