Summer days are made for hanging out on the front porch and enjoying a cold beverage while chatting with the neighbors, and watching the kids play. Spruce up your summer porch decor with a vintage Americana themed patriotic porch, and a very inviting treat station for the kids on your street.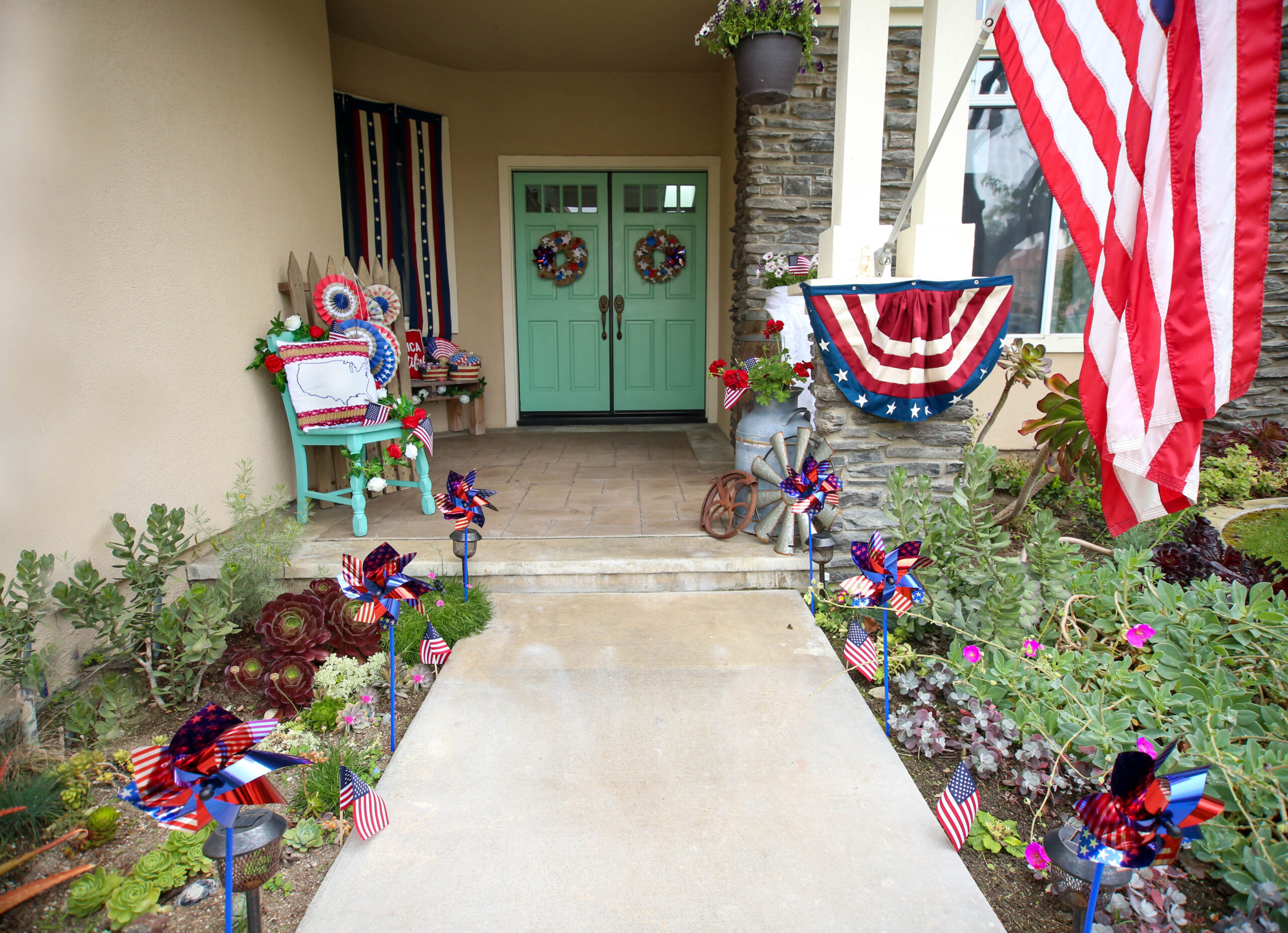 This long walkway to our front door provides extra opportunity to add decor. Giant patriotic pinwheels are spaced about two feet apart, with a small American flag placed between them.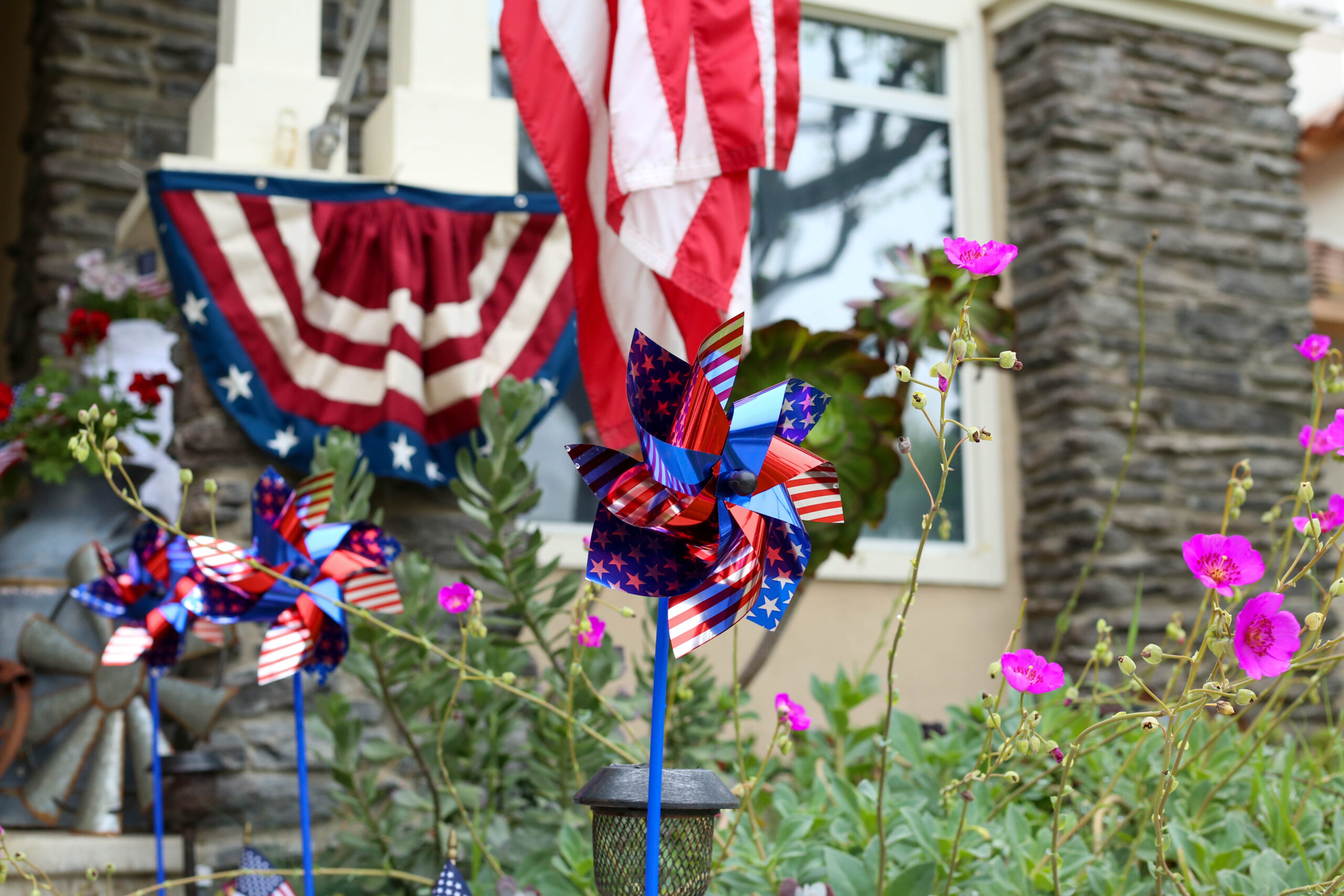 Upon reaching the porch, a vintage milk can holds a burst of bright red geraniums. More small flags are added as decorative accent, and a galvanized wheel and an old pulley I found at a flea market are leaned, just so, against the milk can.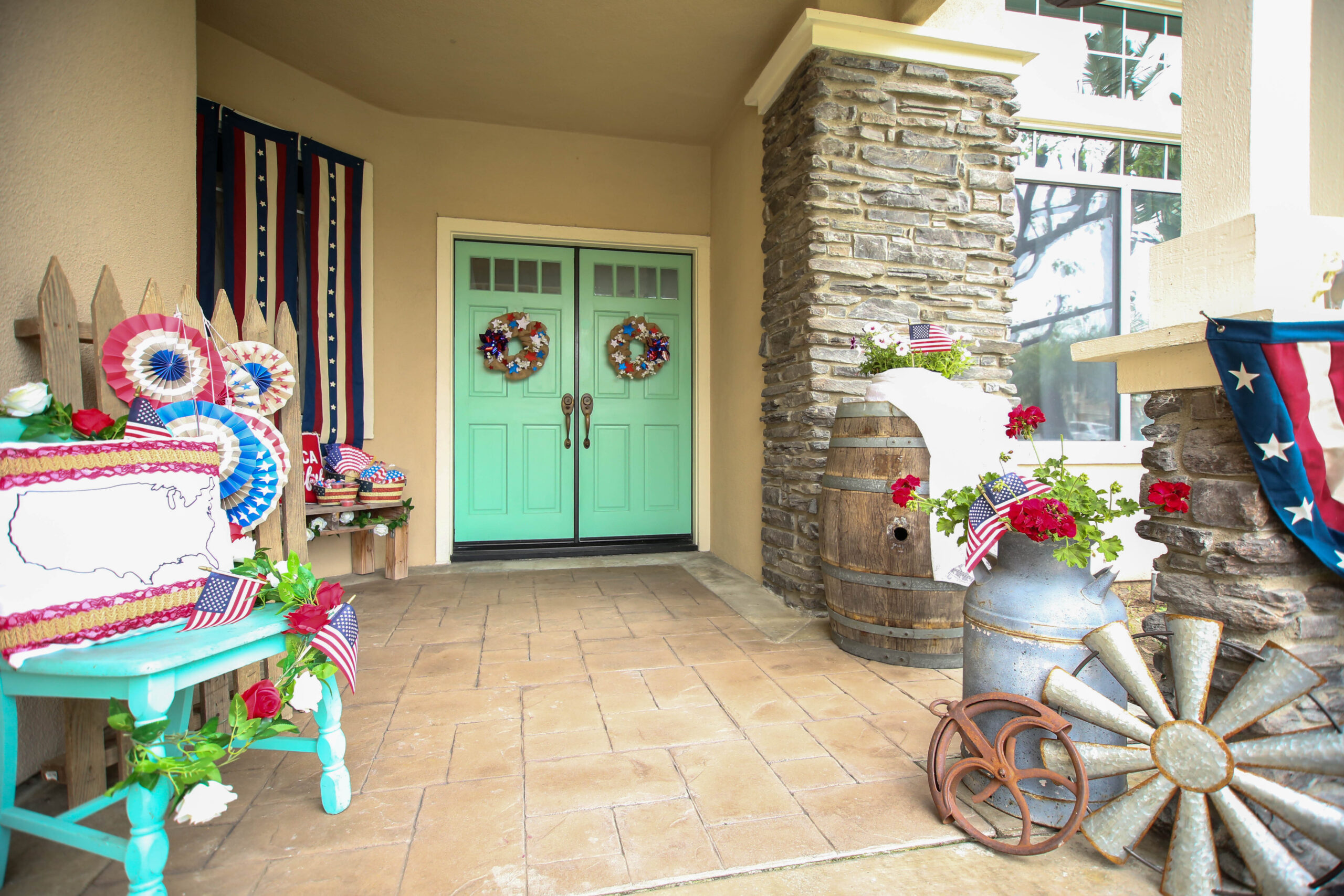 The fabric Americana bunting hung on the post really adds a crisp touch to this patriotic front porch.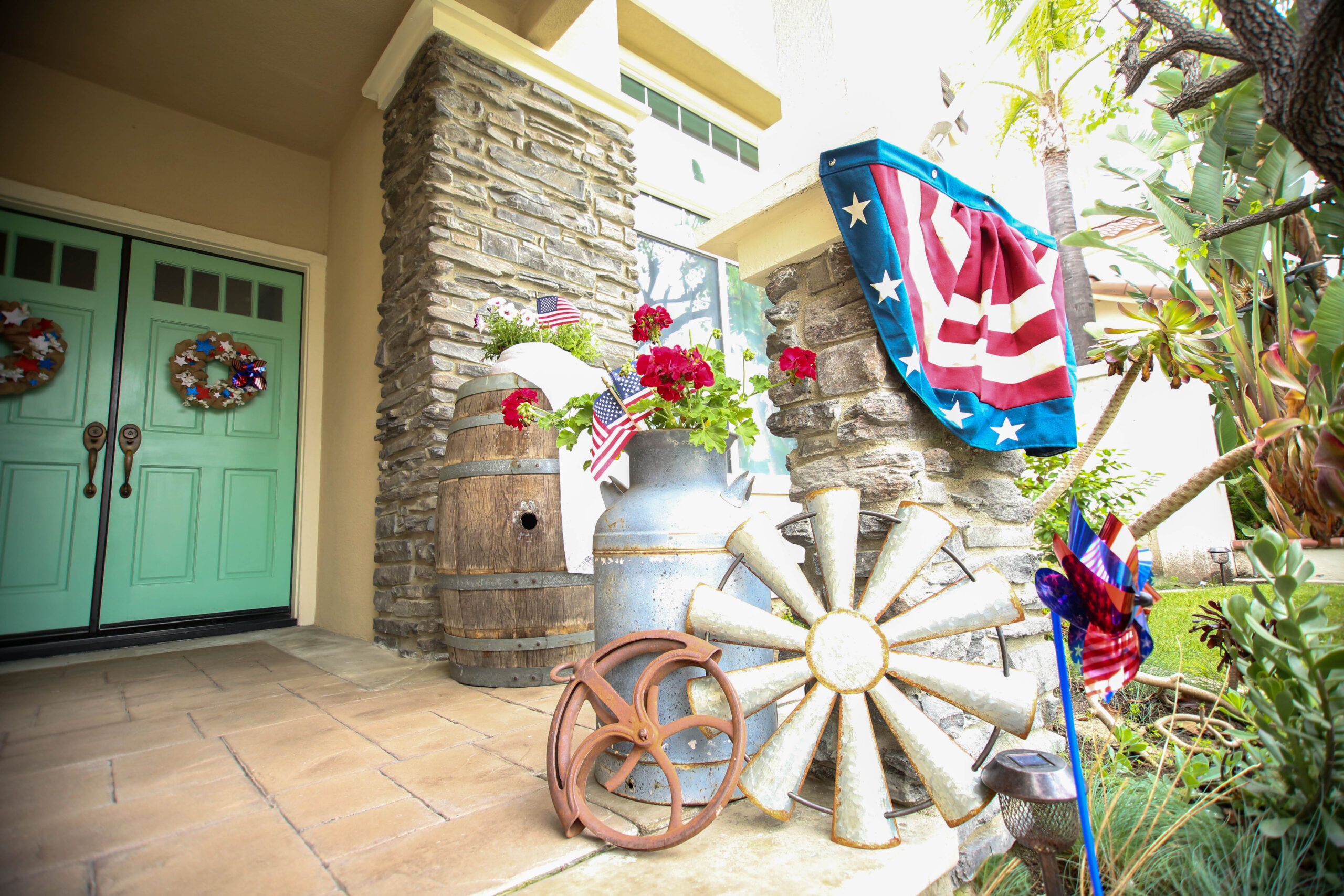 A white pillow with an outline of the United States is decorated with lace and jute braid trim. I used Mod Podge for Fabric to create this boutique look very inexpensively. Get the tutorial here. Red and white rose garlands are intertwined, then small American flags are tucked into the winding flowers and laid over a vintage chair in a punch of bold aqua paint. Patriotic hanging fans are strung together in a layered cluster of varying lengths, and hung on an old section of wood gate.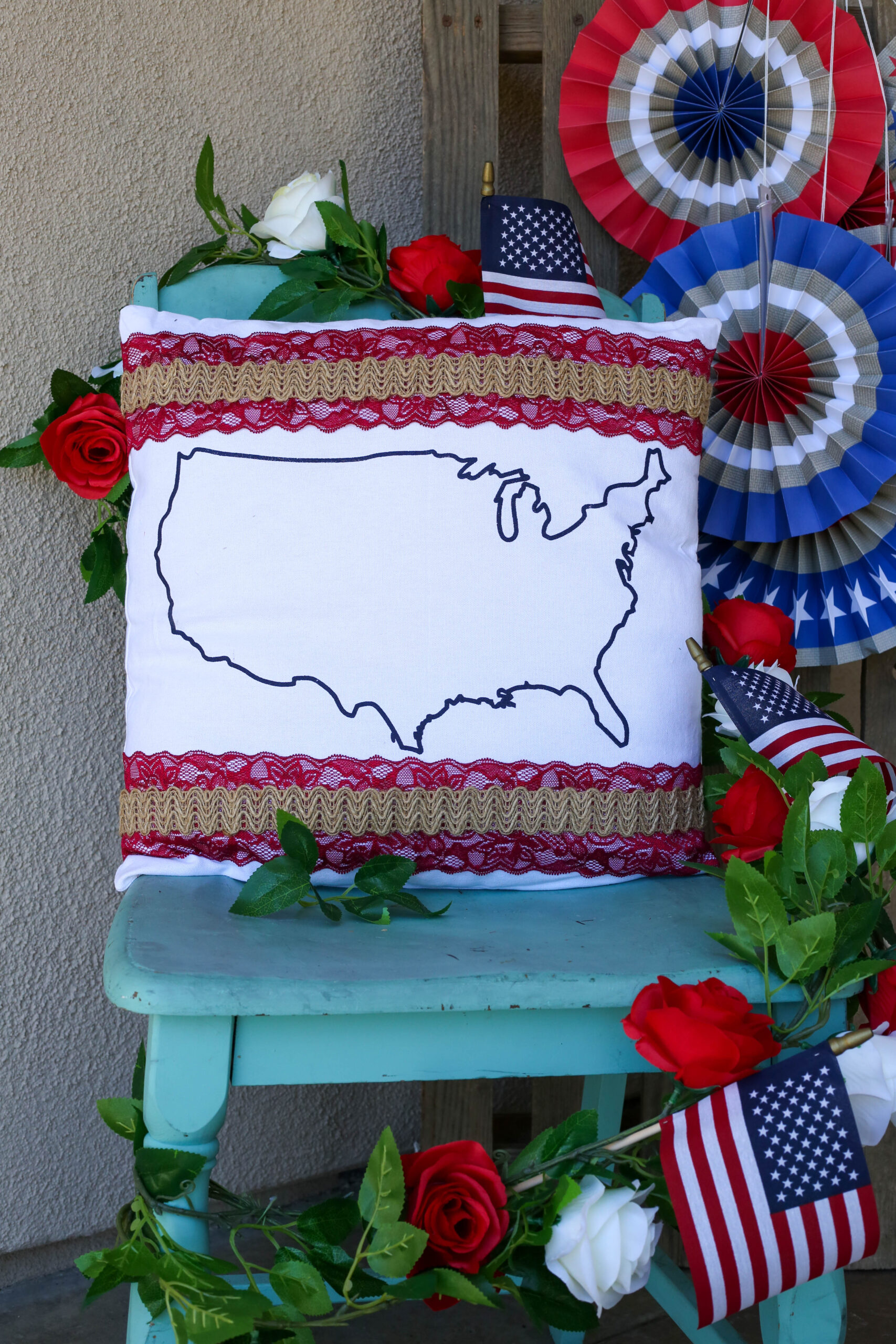 Near the front door, another small vignette greets visitors. Three vintage Americana pillar buntings are hung in front of a window, creating a clean-lined backdrop for a neighborly treat station.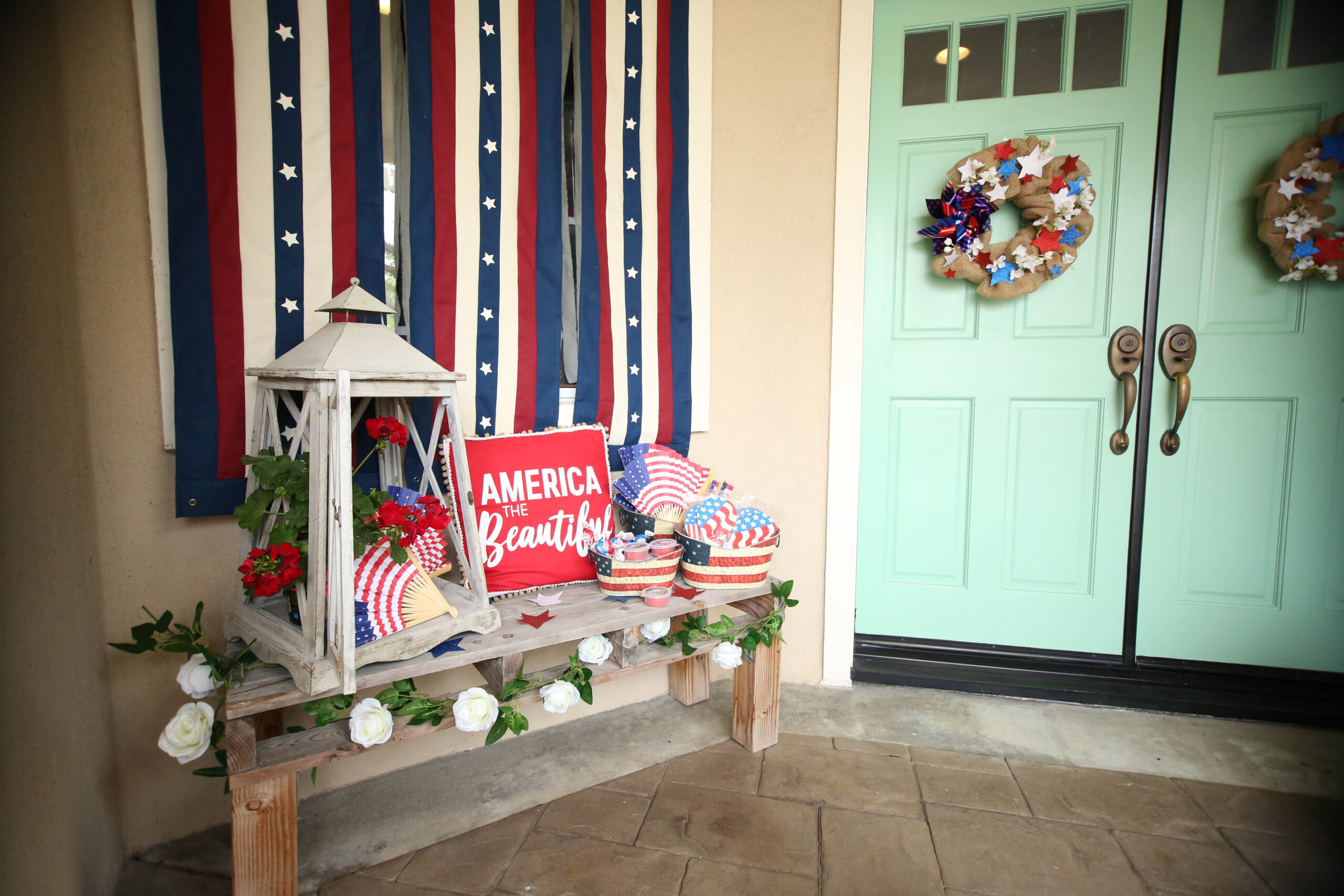 Burlap wreaths are decorated with giant pinwheels and patriotic glittered stars. The video on how to create these was so much fun to make, and can be maneuvered for other holidays by changing up the colors and embellishments.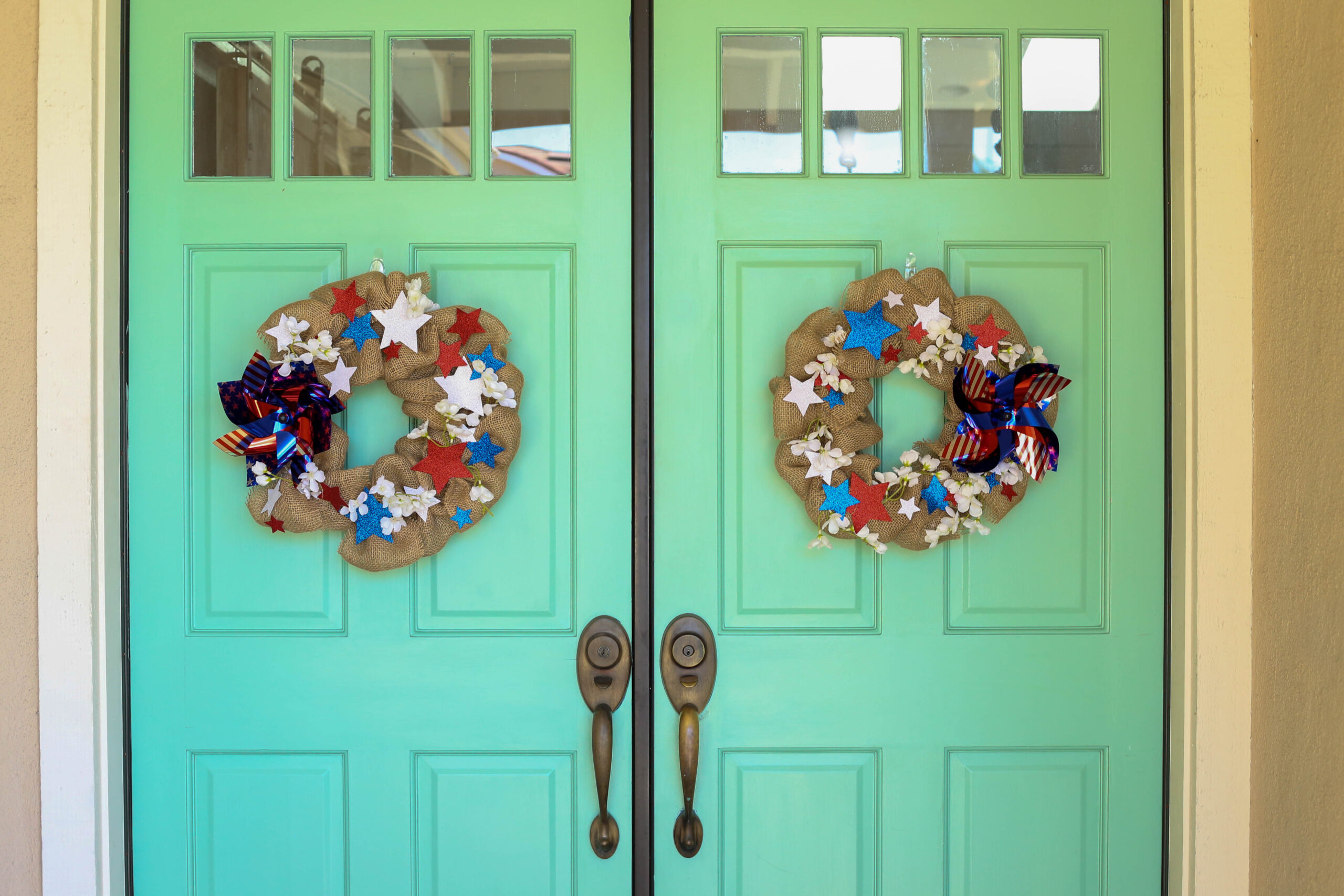 But back to that treat station. Neighbor kids are in for a fun surprise when they visit. Practicing safe social distancing will prevent us from having a traditional block party this year, so instead, I created a "stop and shop" treat station with a little something for everyone.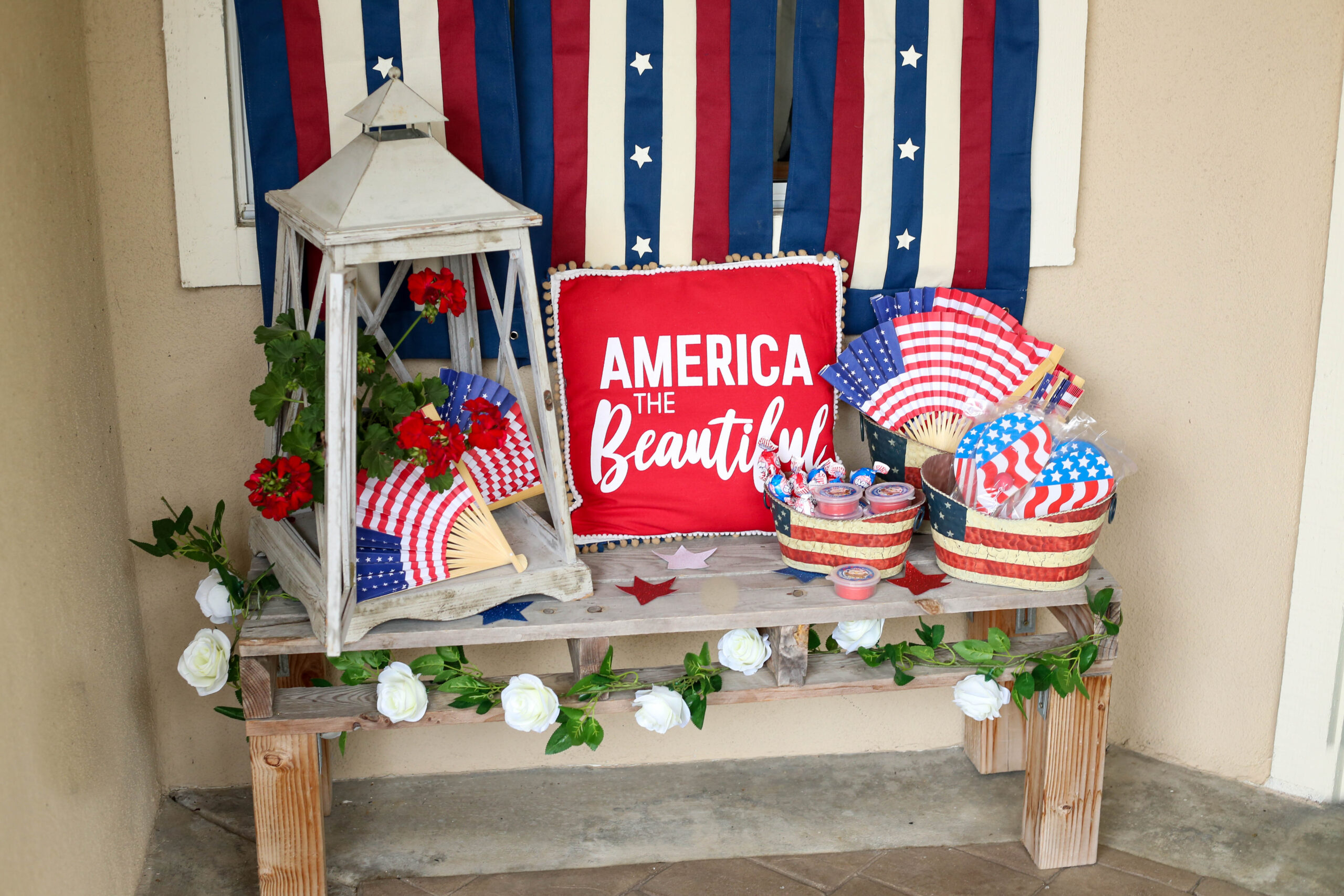 Nestled into vintage patriotic tubs (you get three sizes in the set), I placed American flag hand fans, which are perfect for keeping cool on a hot day. Patriotic paddle ball sets are out for the taking, and we hope a few friendly competitions might break out! Tasty patriotic Blow Pops in red, white and blue wrappers will be especially appreciated by some of our sweet friends.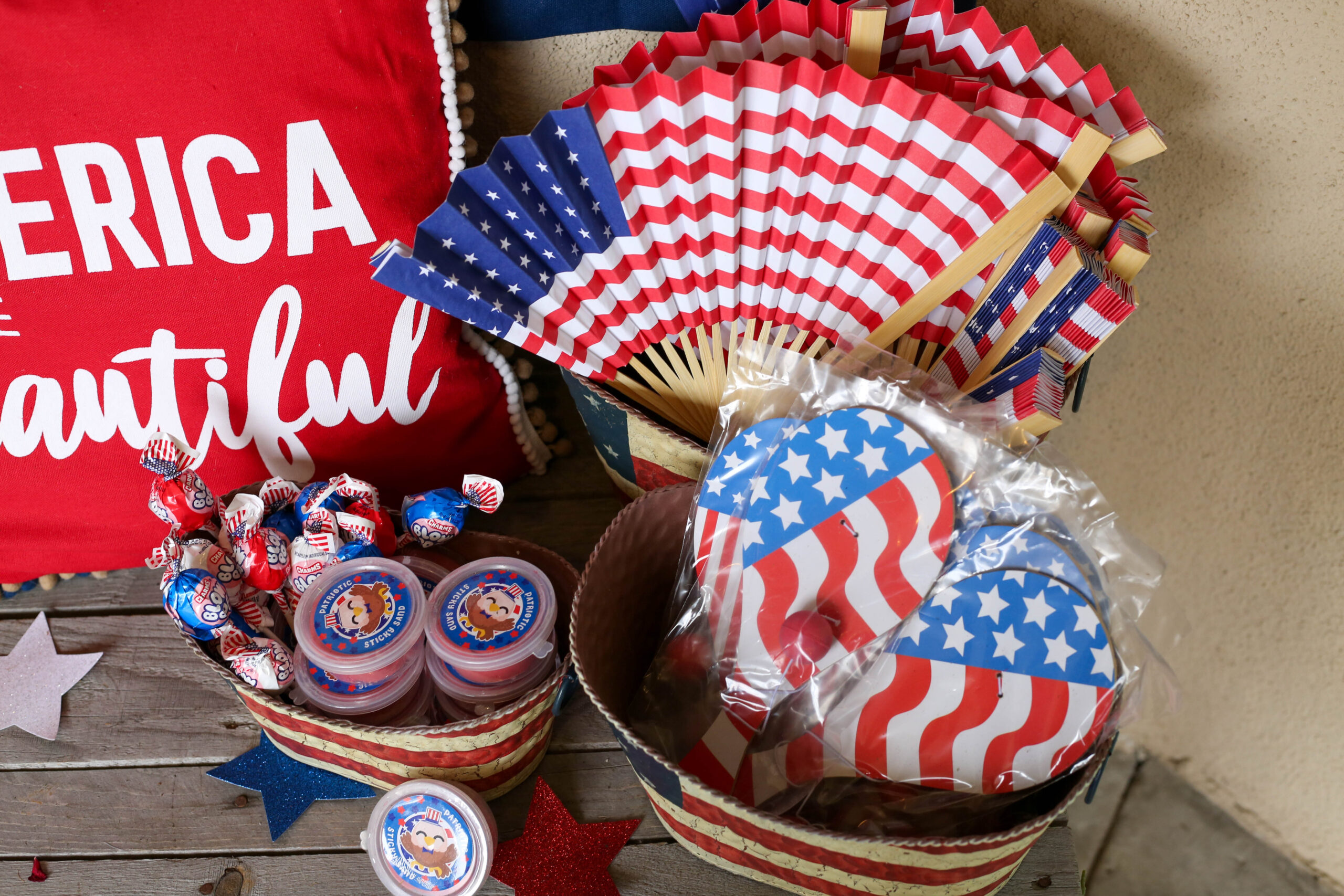 What's ooey, gooey and red all over? Kinetic sand, in a cute patriotic owl container. Kids will be entertained stretching, squishing and shaping this fun and wacky stuff.
In addition to the first pillow I created, a second pillow came in the set. This bold red pillow reads, "America the Beautiful". I trimmed the pillow with a quick-fix method that you can copy if you like, by clicking here. I love the touch of taupe, it blends in nicely with the burlap wreaths and the weathered wood accents I have out as front porch decor.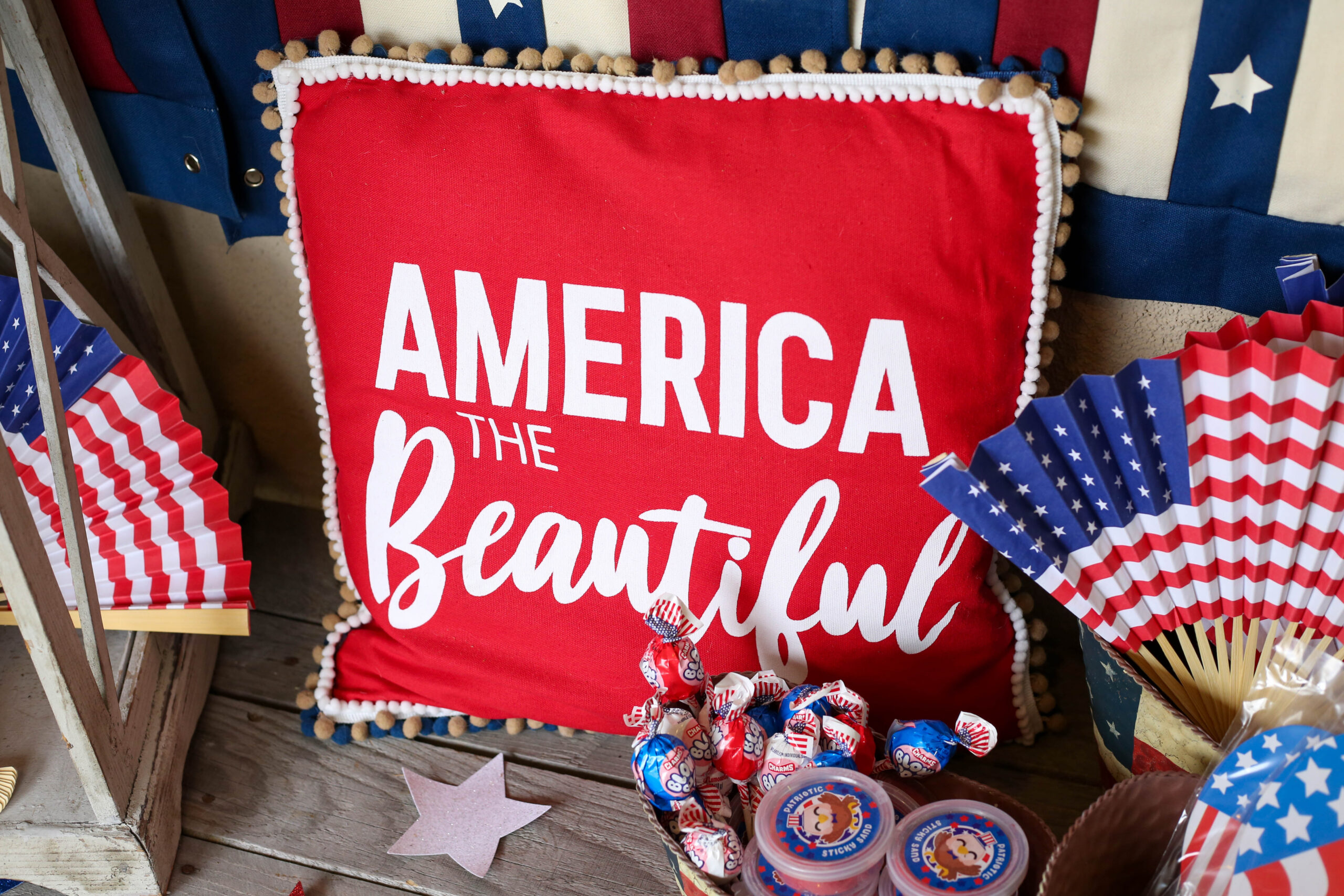 I hope you've enjoyed these patriotic decorating ideas. I love creating a Fourth of July front porch, and look forward to the return of the block party! Til then, stay safe, and celebrate everything.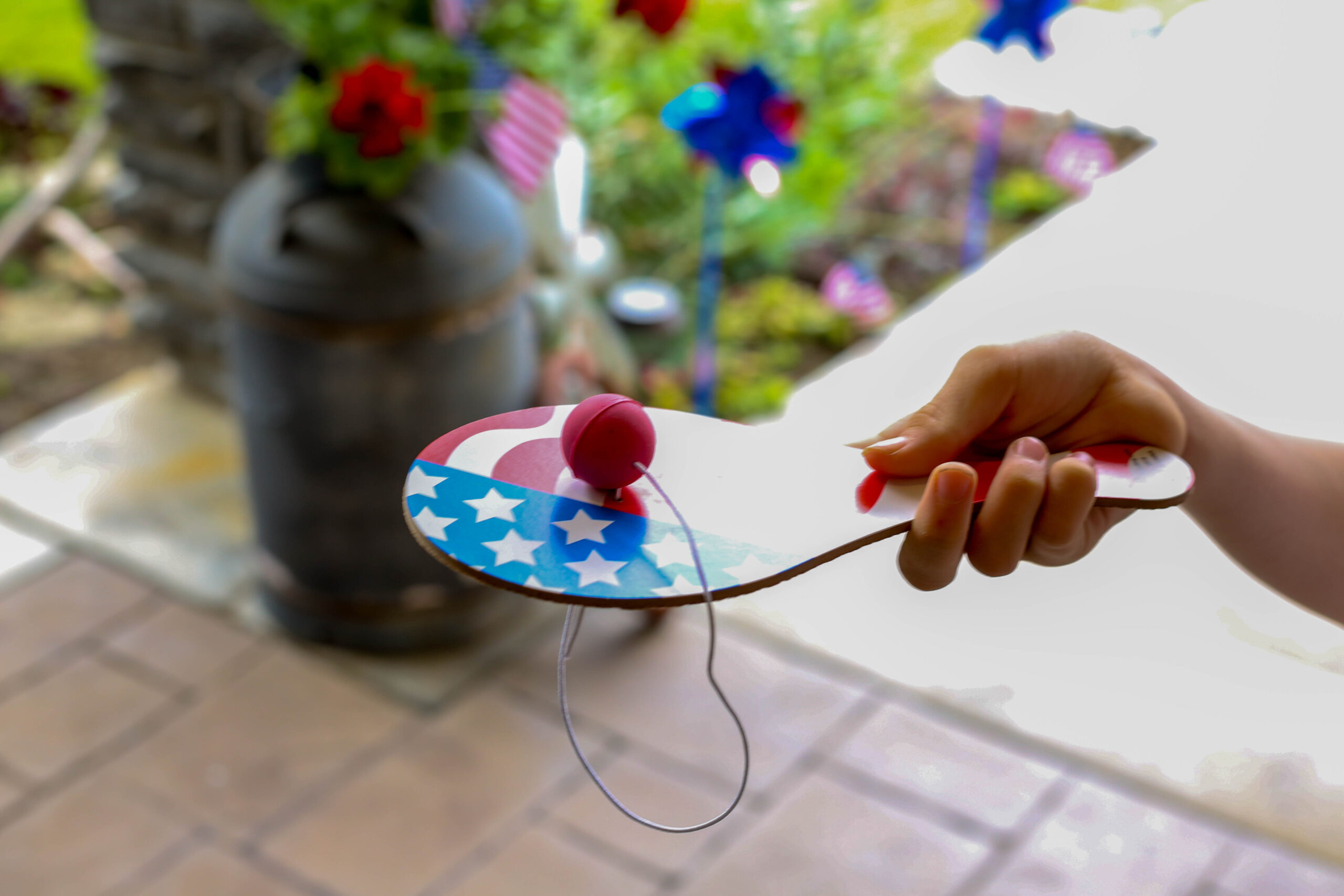 This post was sponsored by Oriental Trading Company, supplies to create this design were provided to me at no cost. The ideas and opinions expressed are, as always, my own.