Summertime is coming and I've been buzzing about, sprucing up my front porch for sunny days. Now, more than ever, I think it's important to display a little cheer and curbside appeal through the exterior of our homes to keep the spirits of our community up.
Decorating for the Fourth of July is one way I can spread a little cheer to our neighborhood. As part of my porch design, I like to incorporate comfy and inviting spots to have a seat and stay a while. This cute vintage chair is topped with a patriotic pillow that I've decked out in trims.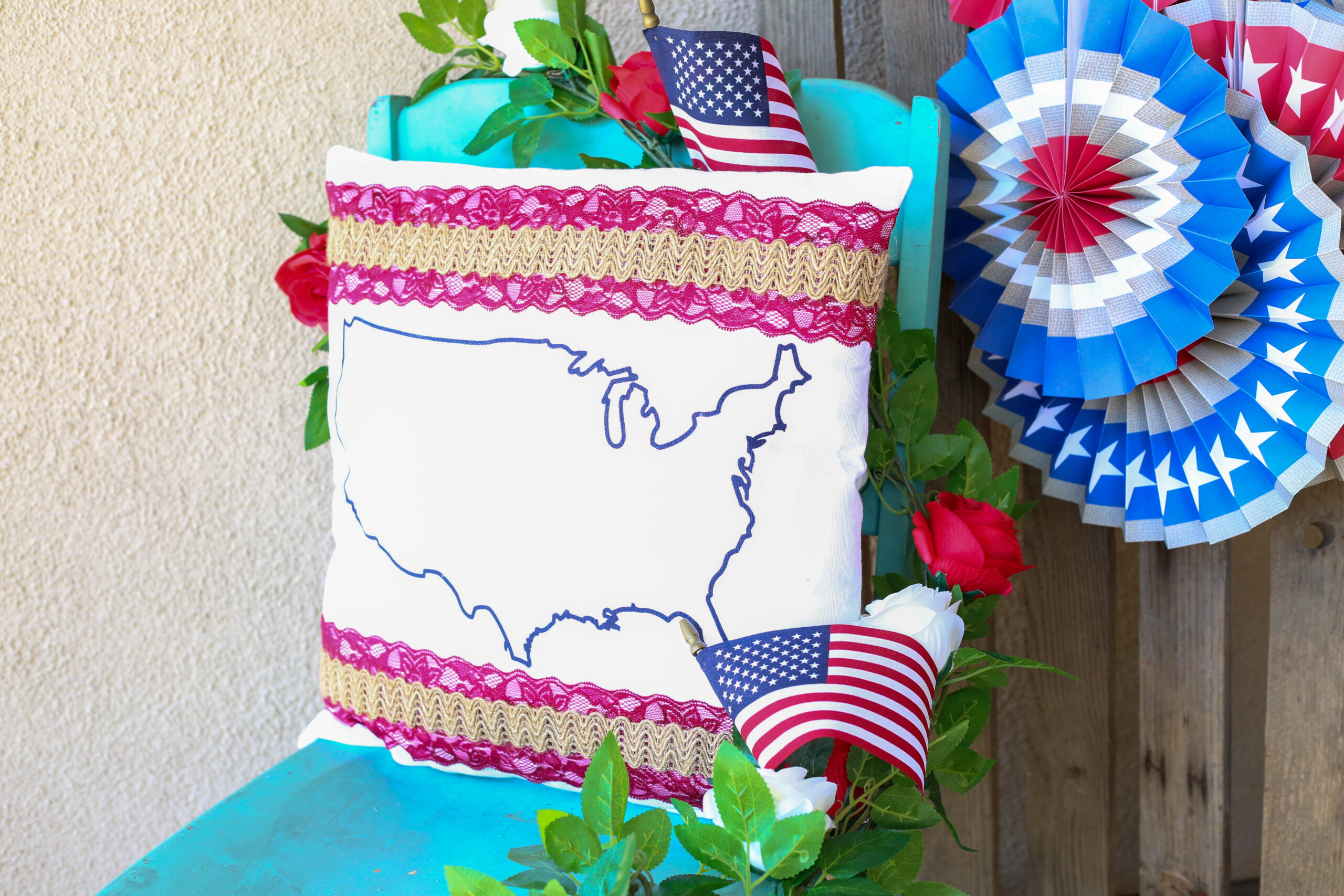 Typically I'd stitch this trim to the pillow, but I thought this year, let's try something new. Enter Mod Podge Fabric!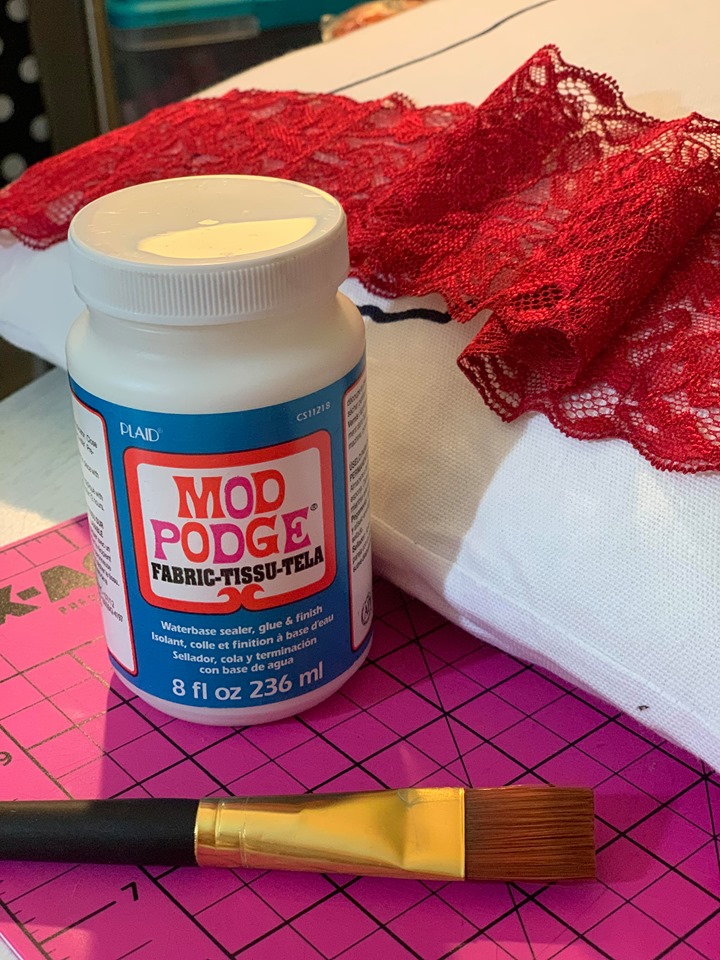 For the sake of transparency I'm going to admit, I had never tried this product before, so it felt a little risky. Glue and delicate lace felt like it could go very wrong, but I'm pleased to share that it went OH SO RIGHT!
Materials: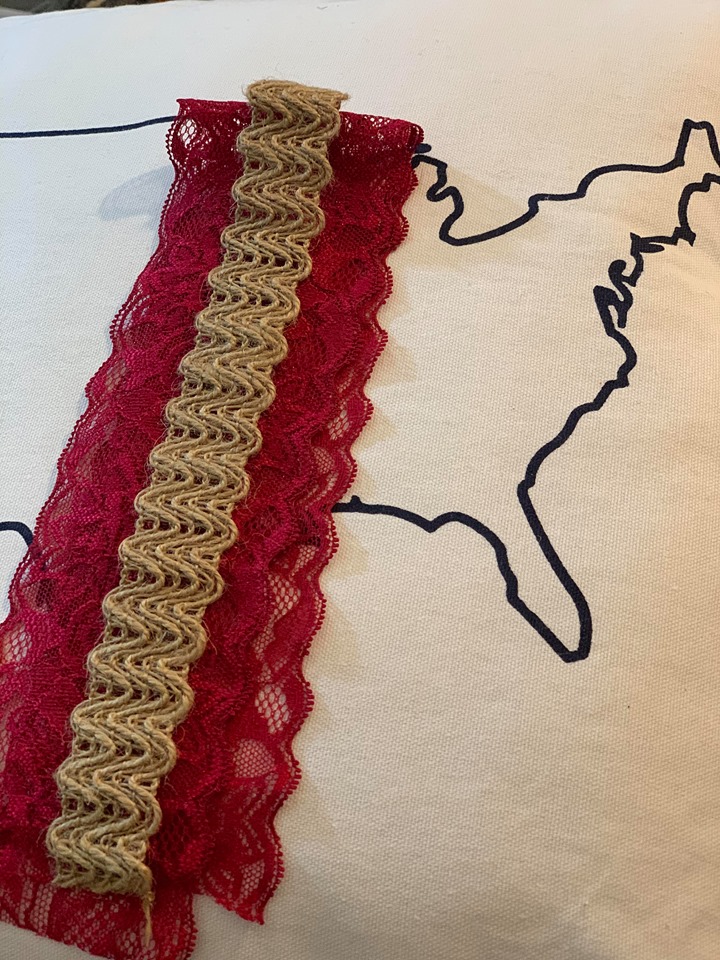 Here's how I did it from start to finish:
I started by protecting my work surface, then placed the stretch lace face down, and began to apply the Mod Podge for Fabric with a wide paintbrush.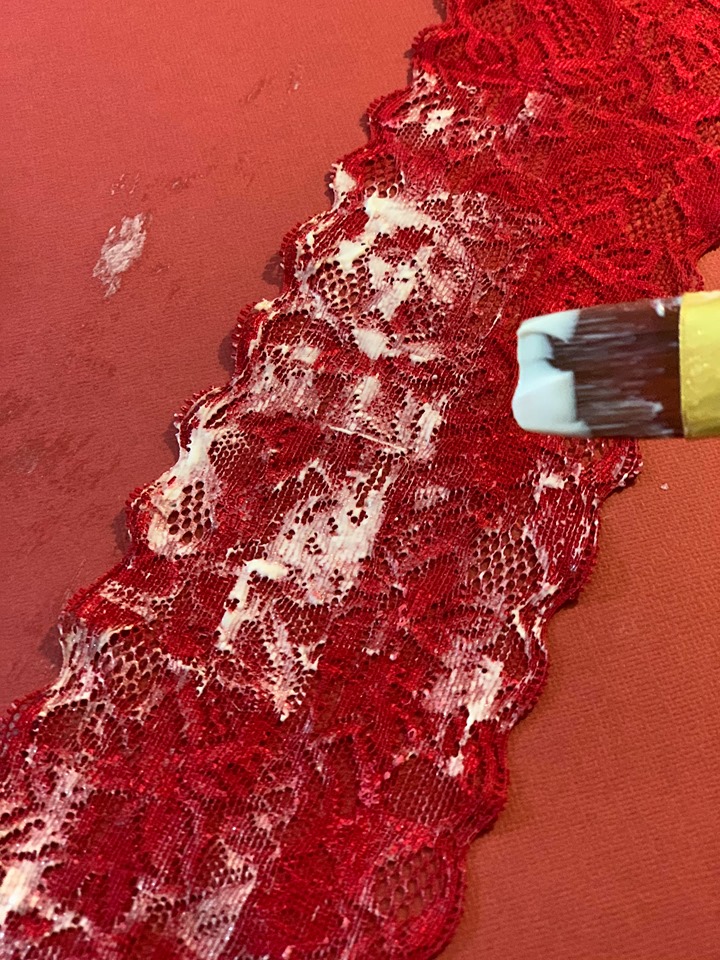 This is the part of the project where I started to question my life choices, particularly the choice to apply wet glue directly to delicate lace. Undeterred, I decided to keep going. Never give up on your dreams.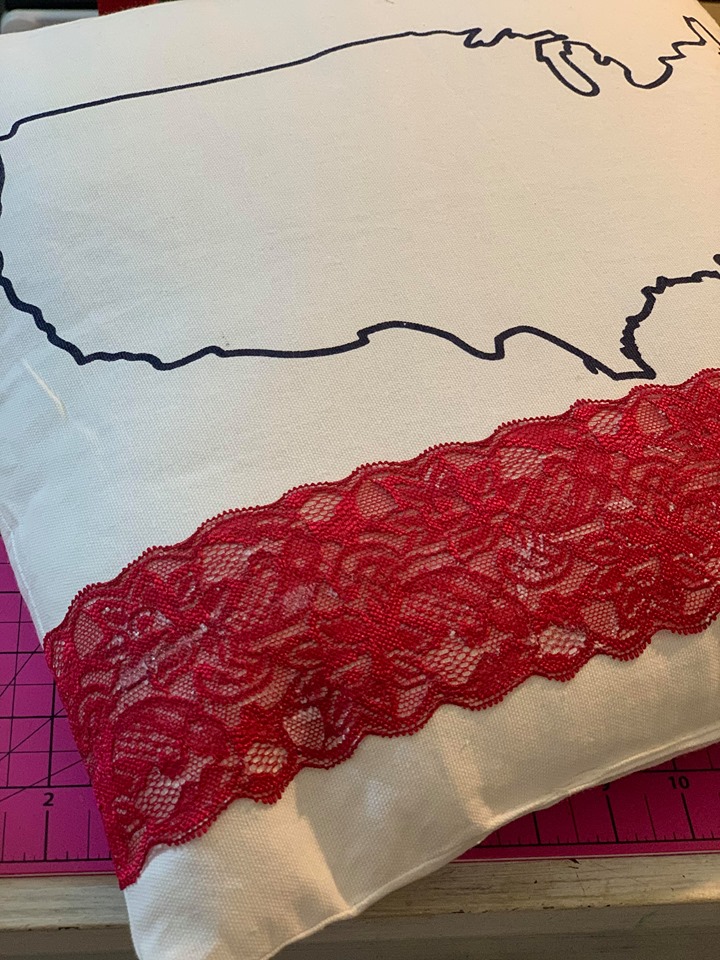 I gently aligned the lace and laid it down onto the fabric surface of the pillow. A few swipes of the brush and the lace MELDED to the fabric like they were made for one another. Angels popped out and sang. It was a whole moment. I placed a second length of lace across the top of the pillow, quite pleased with the progress, and feeling confident again that this would be a pretty project. The angels agreed.
The next step was to add the woven braid jute trim. For this step you could use hot glue or a fabric adhesive like Beacon Fabric Tac. Simply center the burlap colored trim along the center of the lace and adhere securely. Allow the project to dry overnight.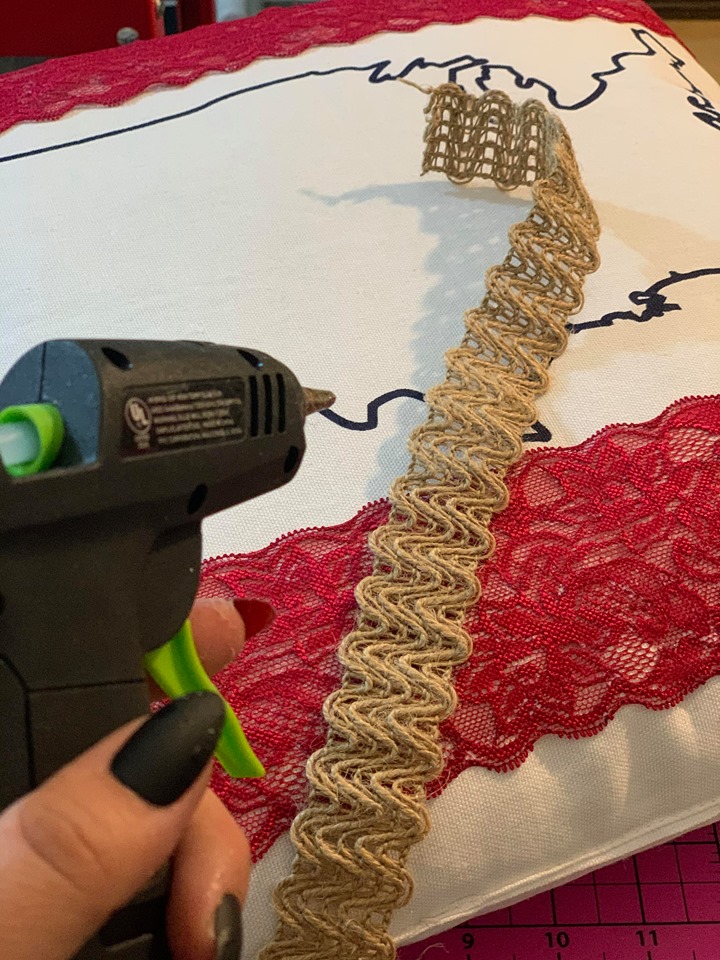 Once the lace and braided trim were dry, it was time to place the finished patriotic pillow into my front porch design. The completed pillow really turned out SO cute!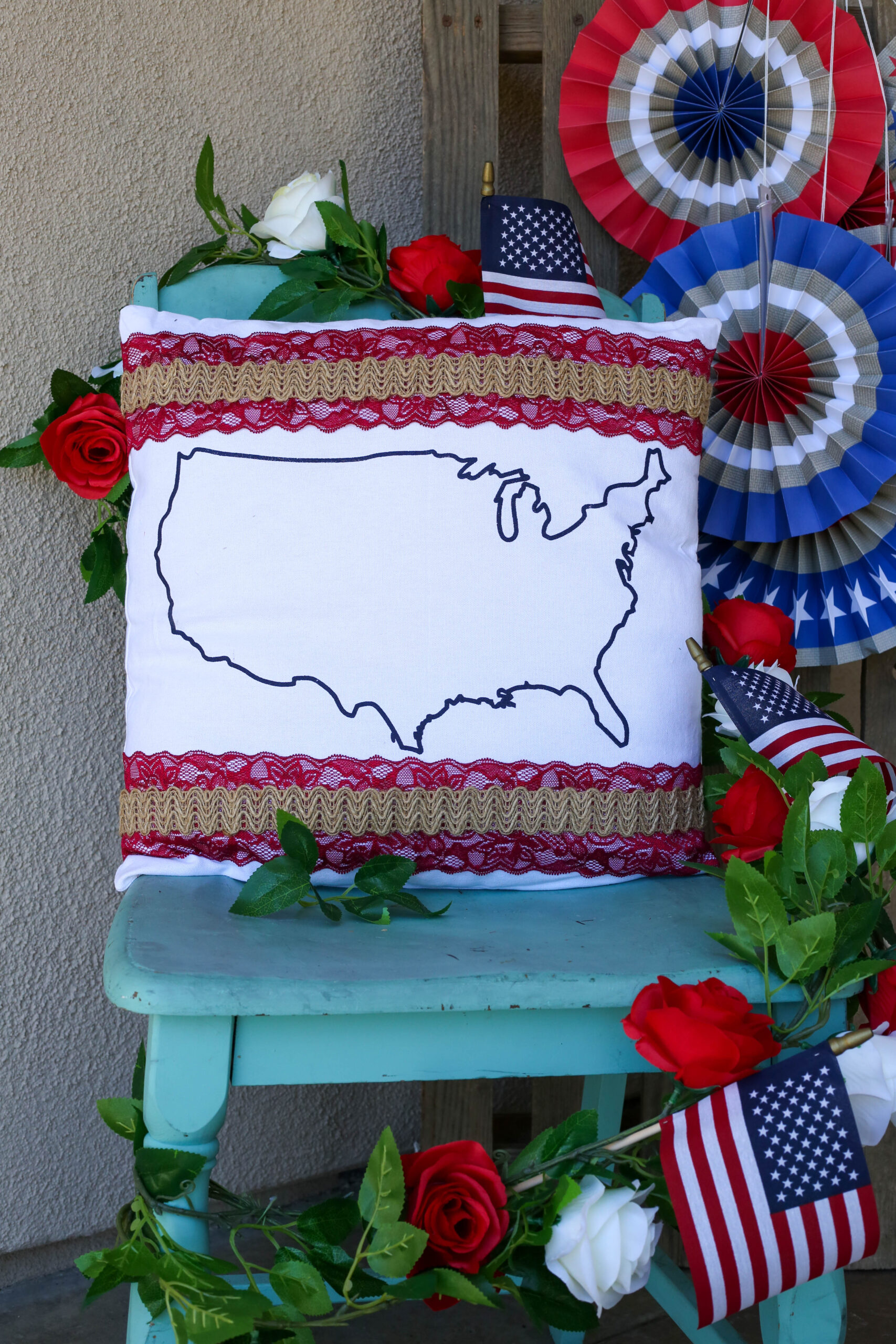 This patriotic pillow looks just like it came from an expensive boutique; I hope you think so too! It was so fast, simple and inexpensive to make, I'll be doing new pillows every season!
This post was created in partnership with the Designer Crafts Connection linky party, for more fun decoupage projects, click here!