Never fear, trick or treaters! This cheerful witch is very friendly, and would make a wonderful addition to your home on an ornament stand, or displayed on a Halloween Tree.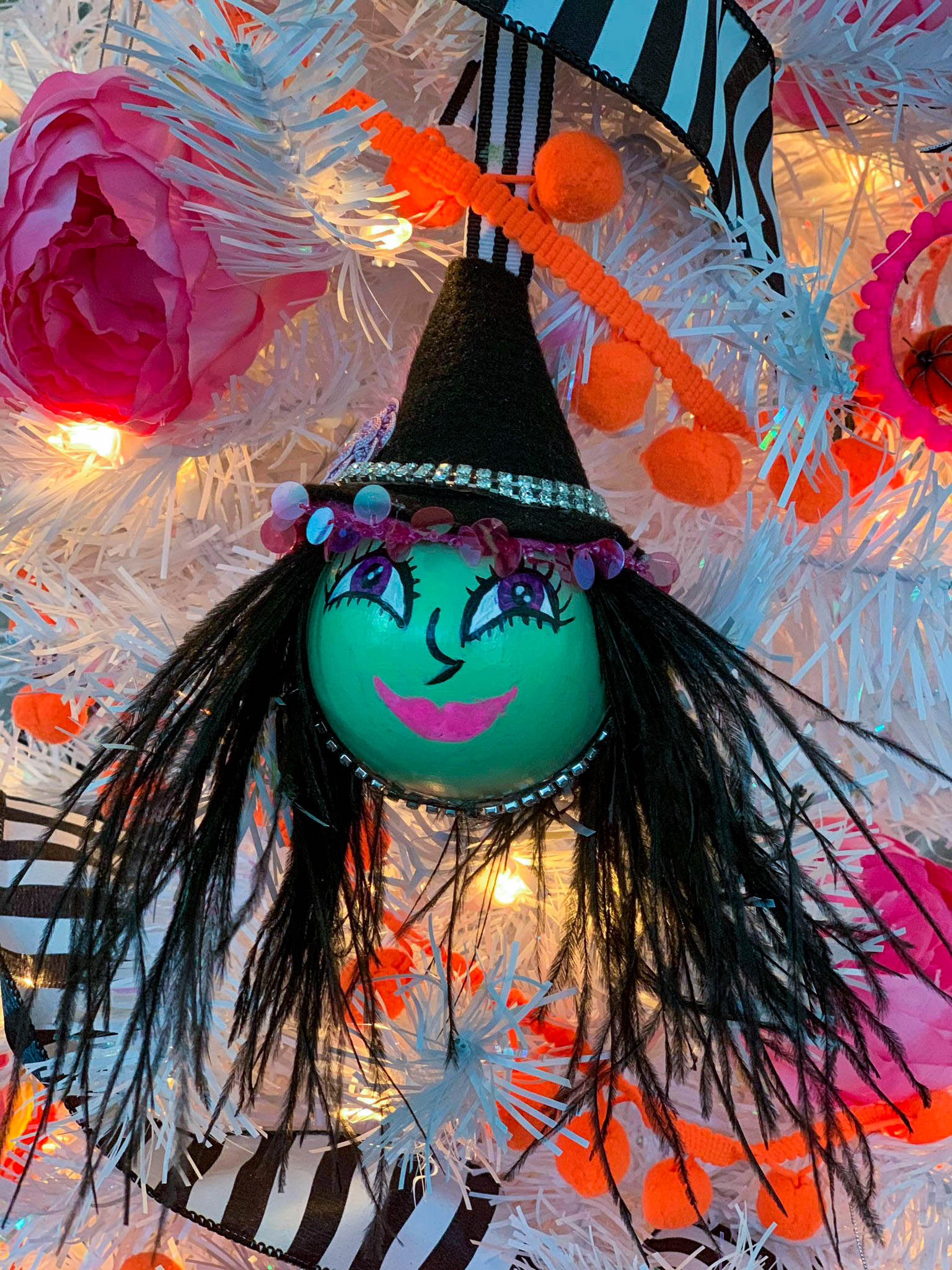 Paints for this project were provided to me by Plaid Crafts, and the trims used are from Trims by the Yard. These sponsored products were provided to me with brand compliments, so that I could bring this cute design your way!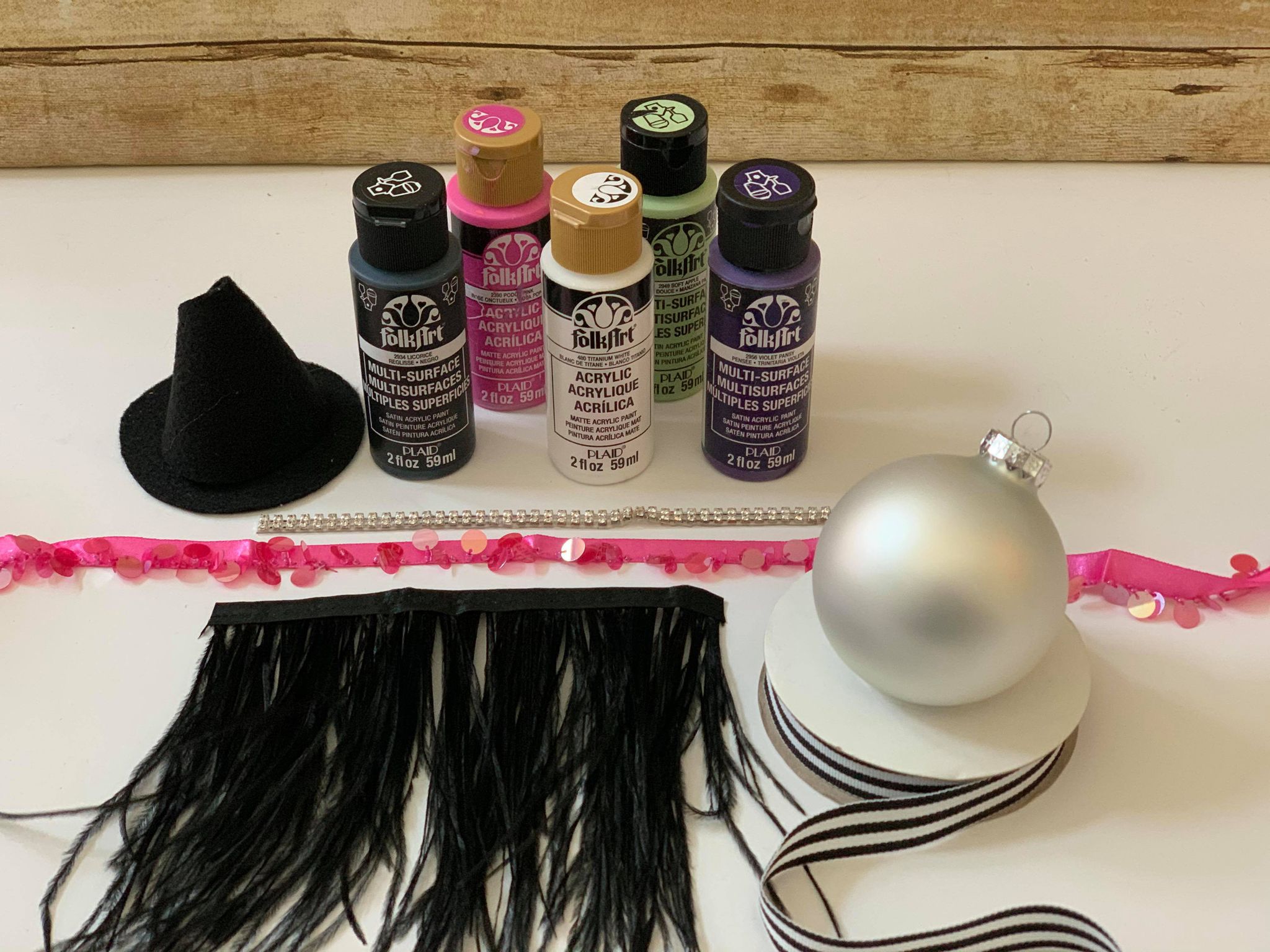 Here's What You'll Need:
FolkArt Acrylic Paints in;
One three inch glass ball ornament
Six inches of Black Ostrich Feather Trim
Felt Witch Hat
Ribbon to hang
Step 1
Paint one half of the ball ornament with Soft Apple Paint, and the other half with Licorice. Allow to dry.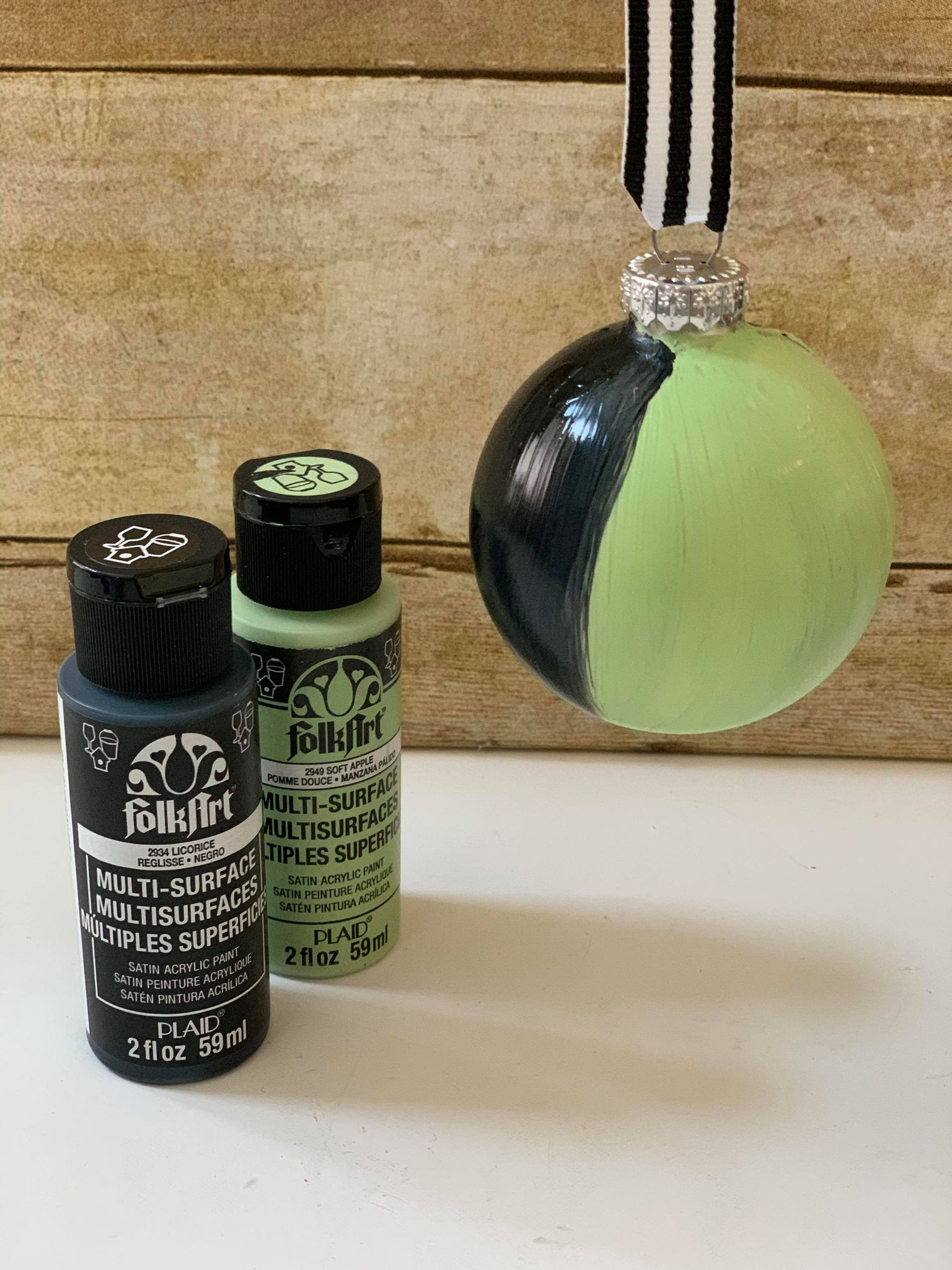 Step 2
Use a pen to lightly trace the facial features onto the green side of the ornament, as shown. You can make this as unique as you like!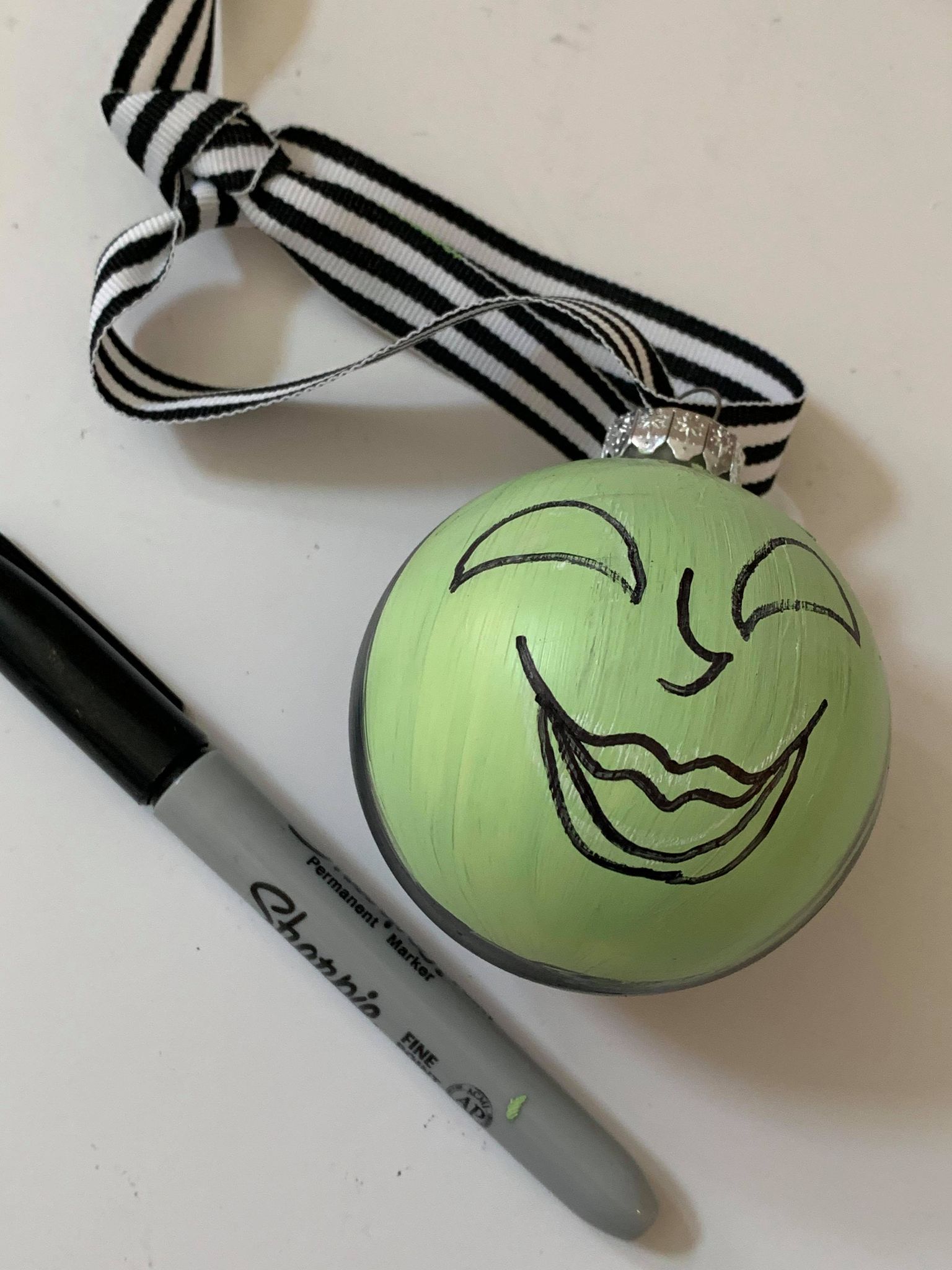 Step 3
Fill in the whites of the eyes with Titanium White paint. You'll be going over the edges again later, so don't worry if you paint on the line, for now.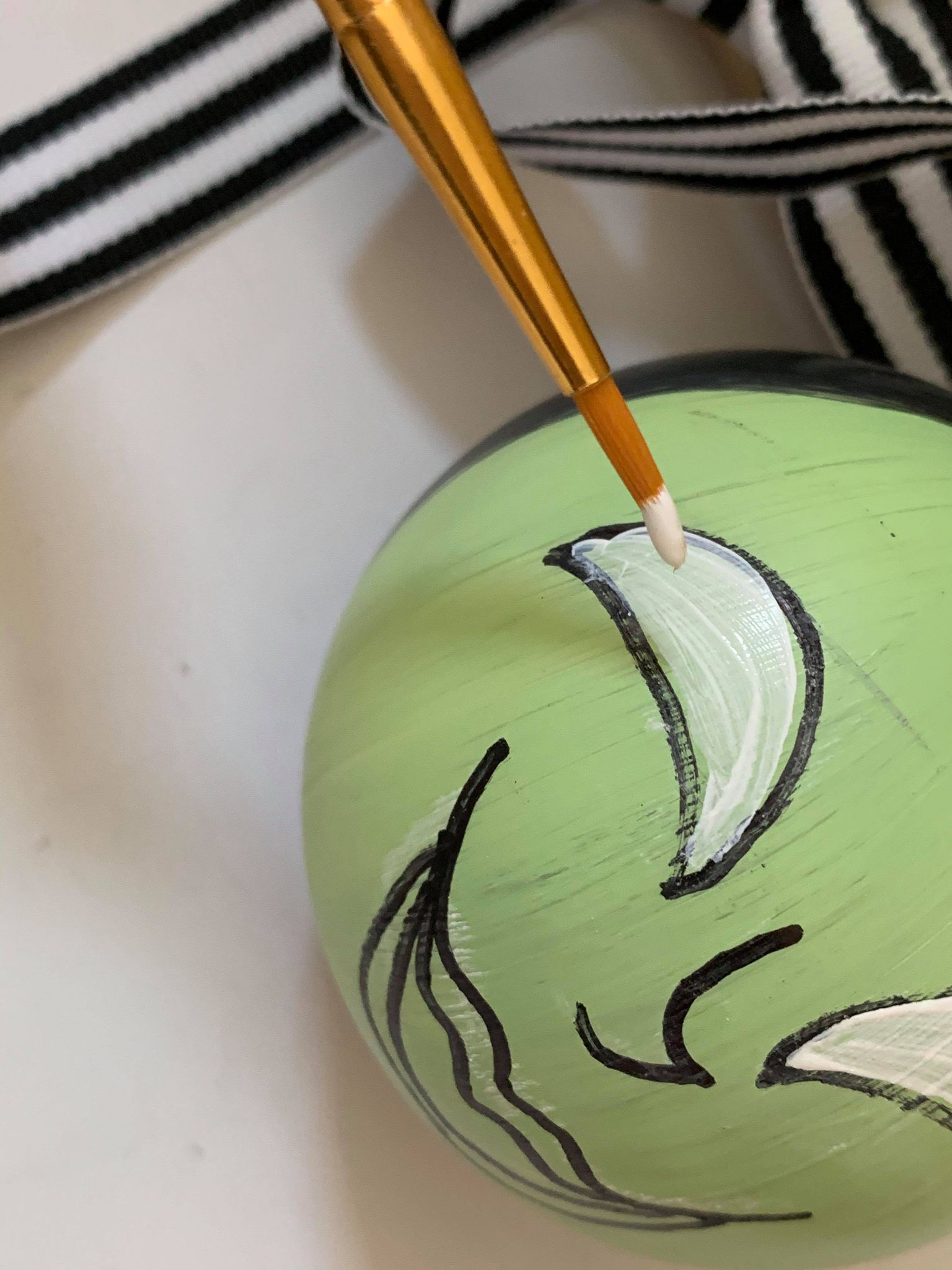 Step 4
Add details, like sparkling eyes, painted in Violet Pansy with accents of Podge Pink and Titanium White. Licorice is just the jet black shade needed to finish lining the eyes and adding a generous fringe of lashes. I like to set my ornament in a champagne flute to dry. You can see here I decided on a new shape for the mouth of my witch, so I just painted over it.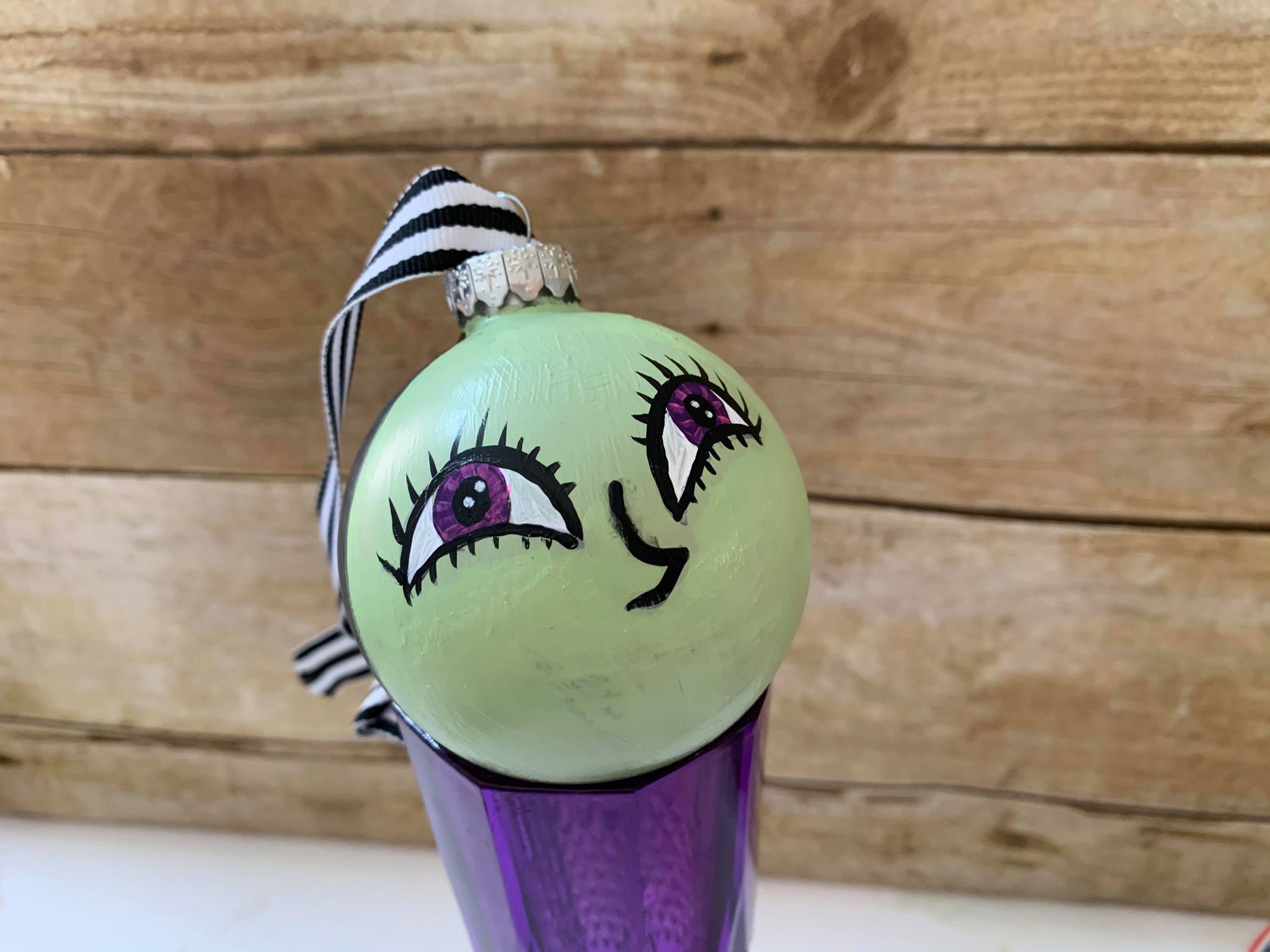 Step 5
Use hot glue to apply the black ostrich feather trim around the back of the head, stopping before you extend onto the face.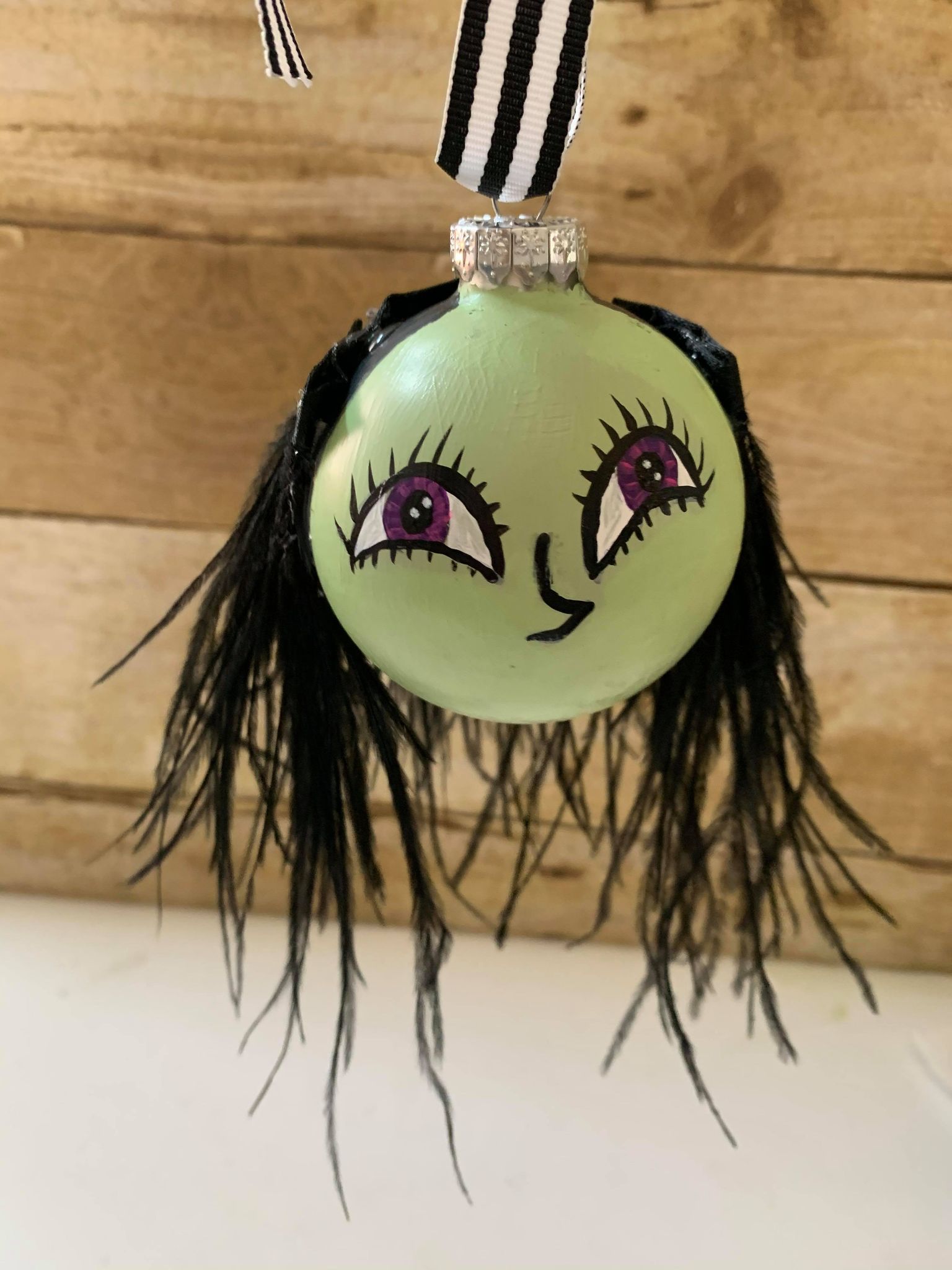 Step 6
Glue the pink pailette trim around the underside of the felt witch hat. The shimmering pailettes have a slightly iridescent sheen that gives this a fancy look!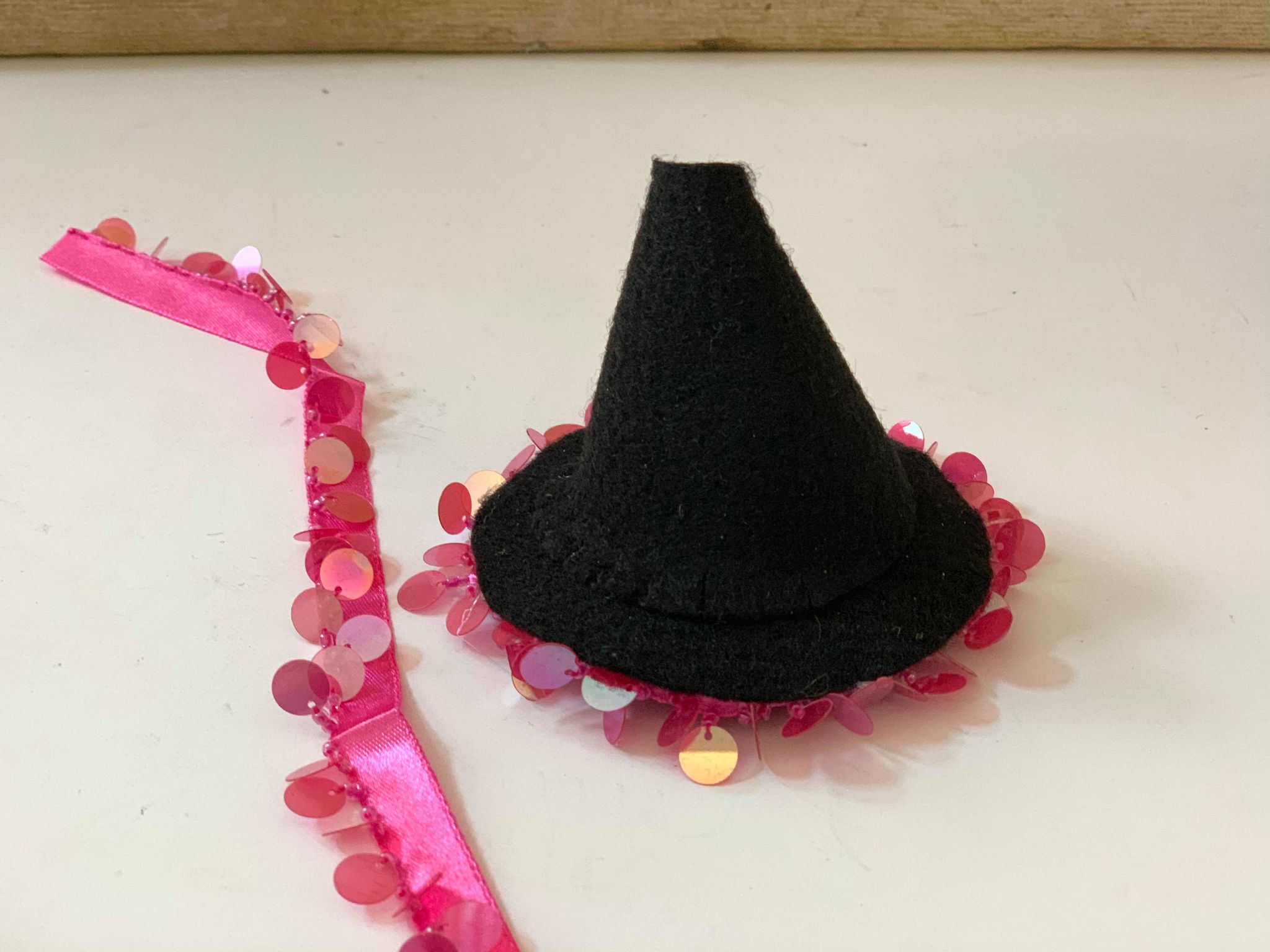 Add a couple of feathers and some sequins to jazz it up!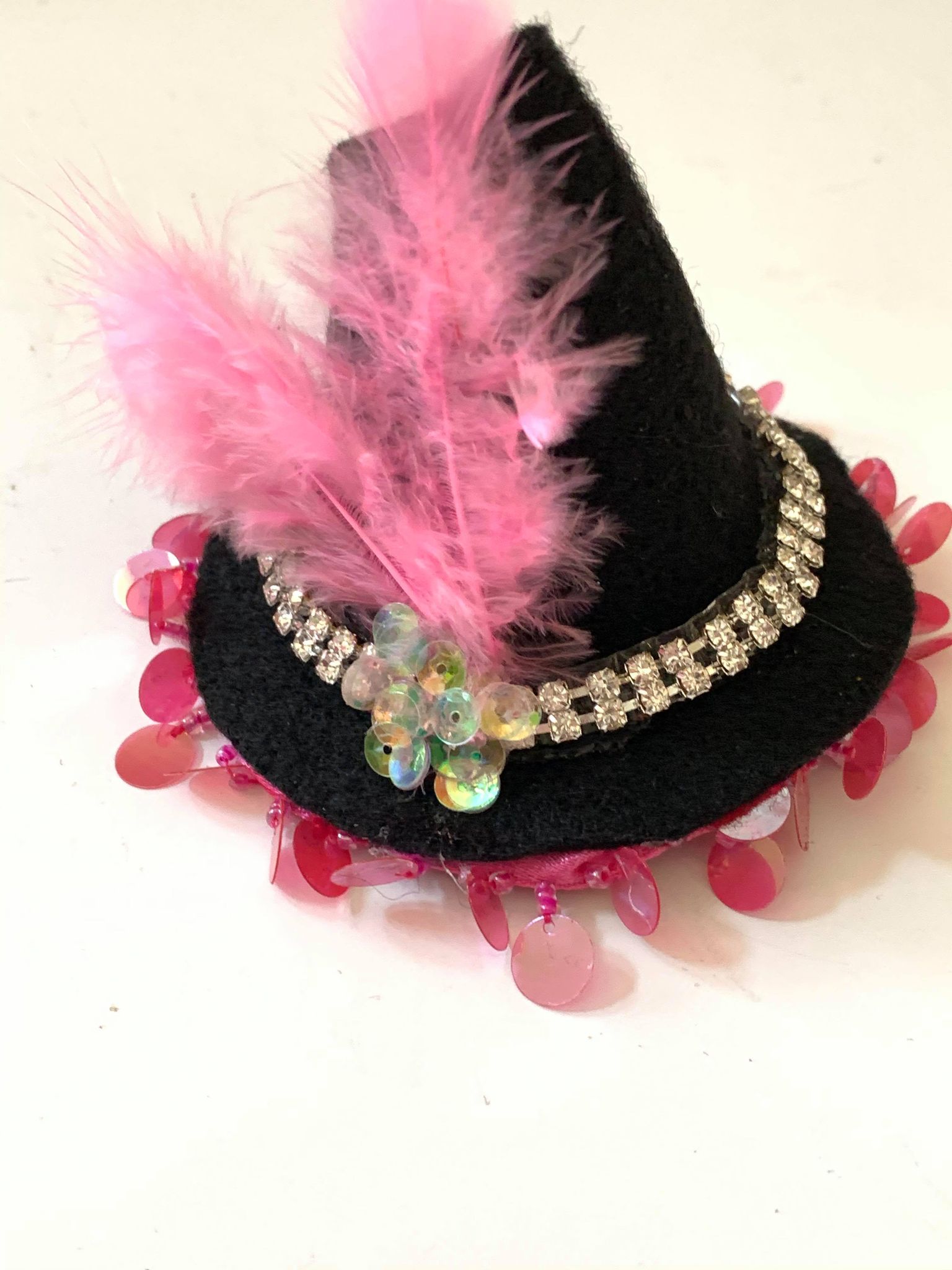 Step 7
Run ribbon through the ornament holder, and through the top of the witch hat. Tie a small knot, leaving an open center so the ornament can be hung. Try it on a hanging ornament stand as a single piece of Halloween decor for the home, or create a few more and make a Halloween Tree!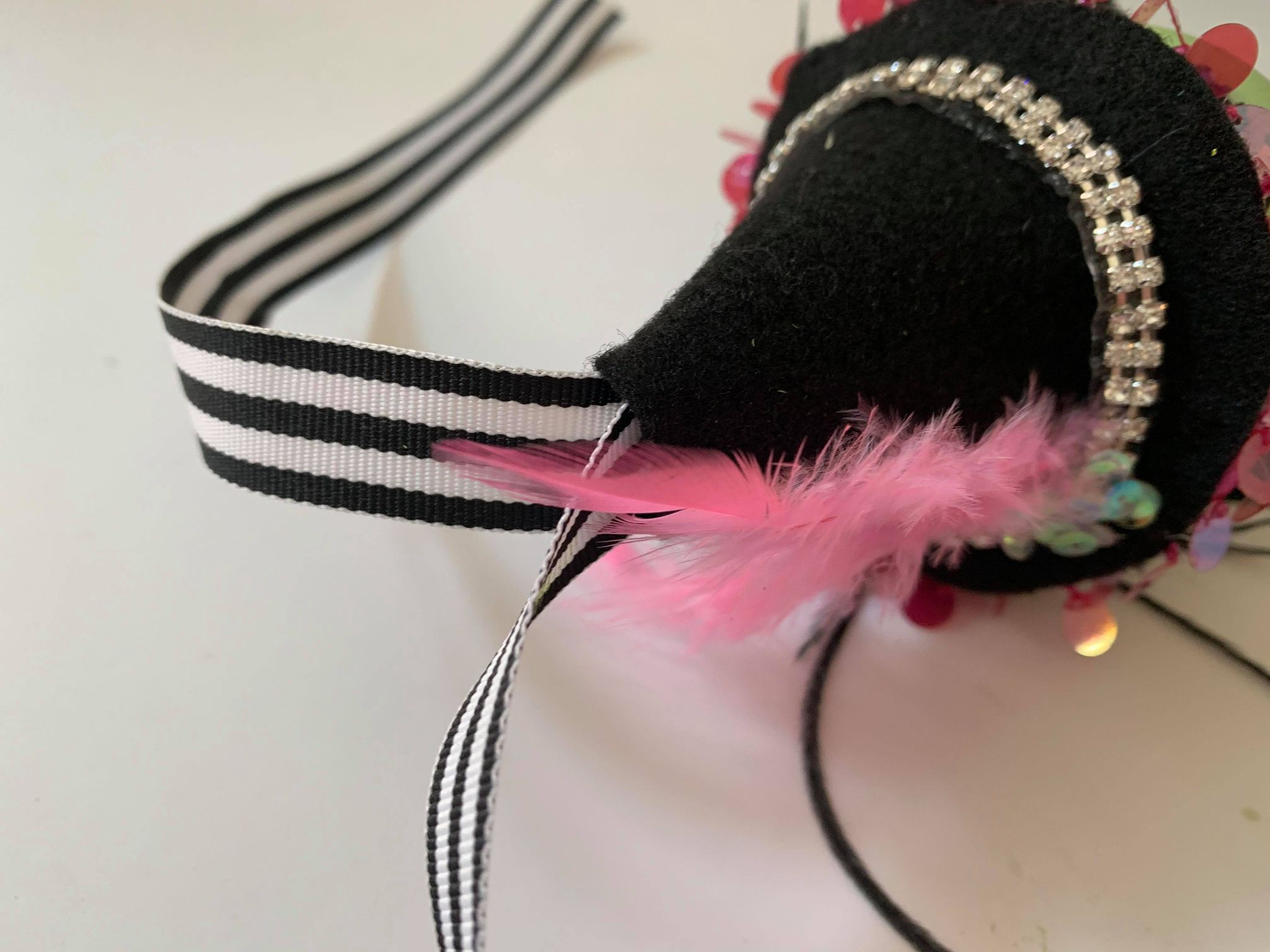 Step 9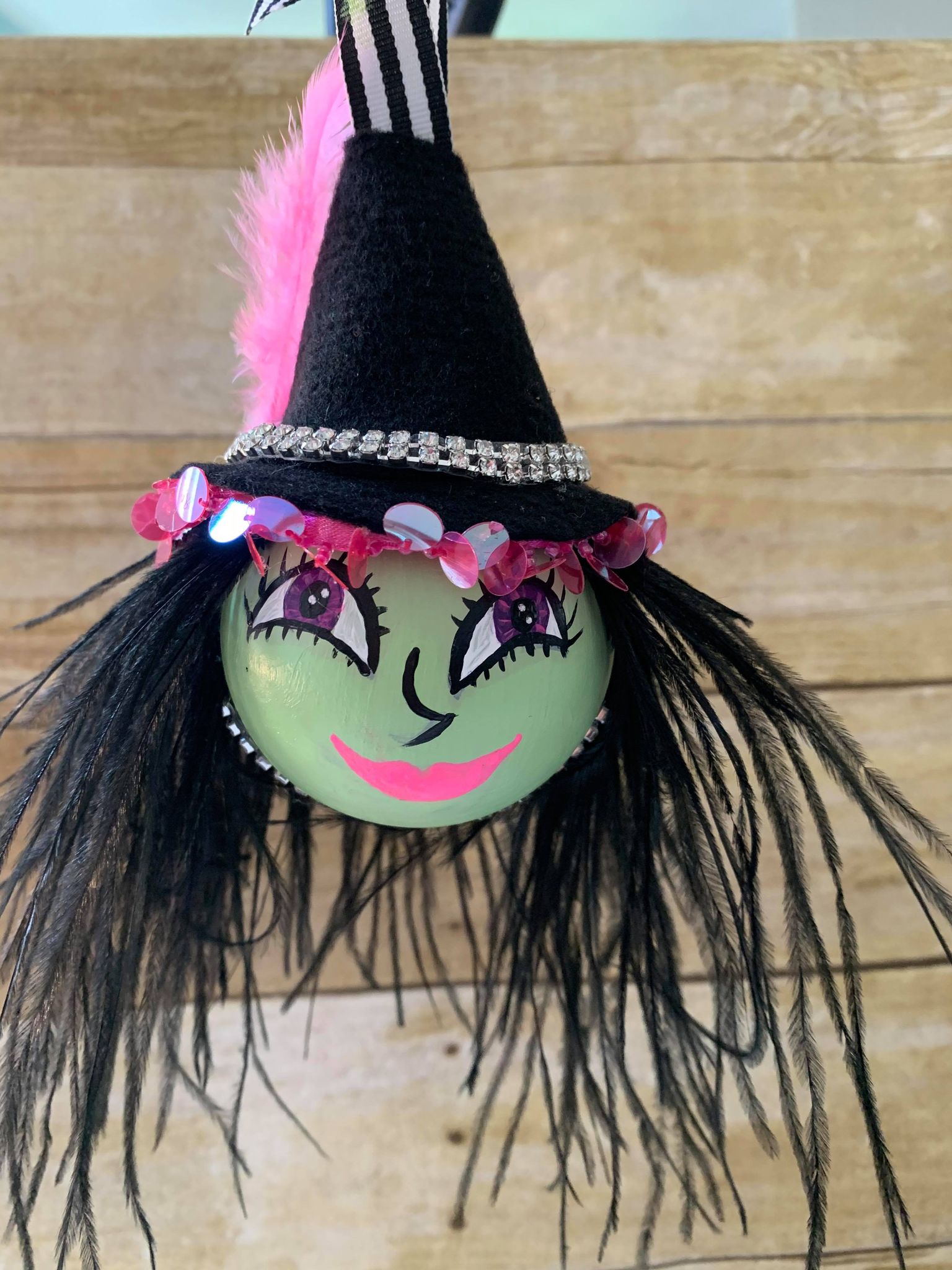 Add a little glue under the brim of the hat to keep the hat securely on your happy witch's head. Paint on a smile in Podge Pink, and add a little rhinestone trim to conceal the visible line between the black and green paints, which looks like a sparkly necklace.