It's my pleasure to bring you a look at this beautiful party, with a theme of Maleficent and Aurora, the Sleeping Beauty, in an enchanted forest. My clients are avid Disney lovers, and also have a sultry, dark side that they wished to have reflected in their event's decor. Their beautiful baby girl will be named Aurora, so this Maleficent and Sleeping Beauty theme held a particularly special meaning to them.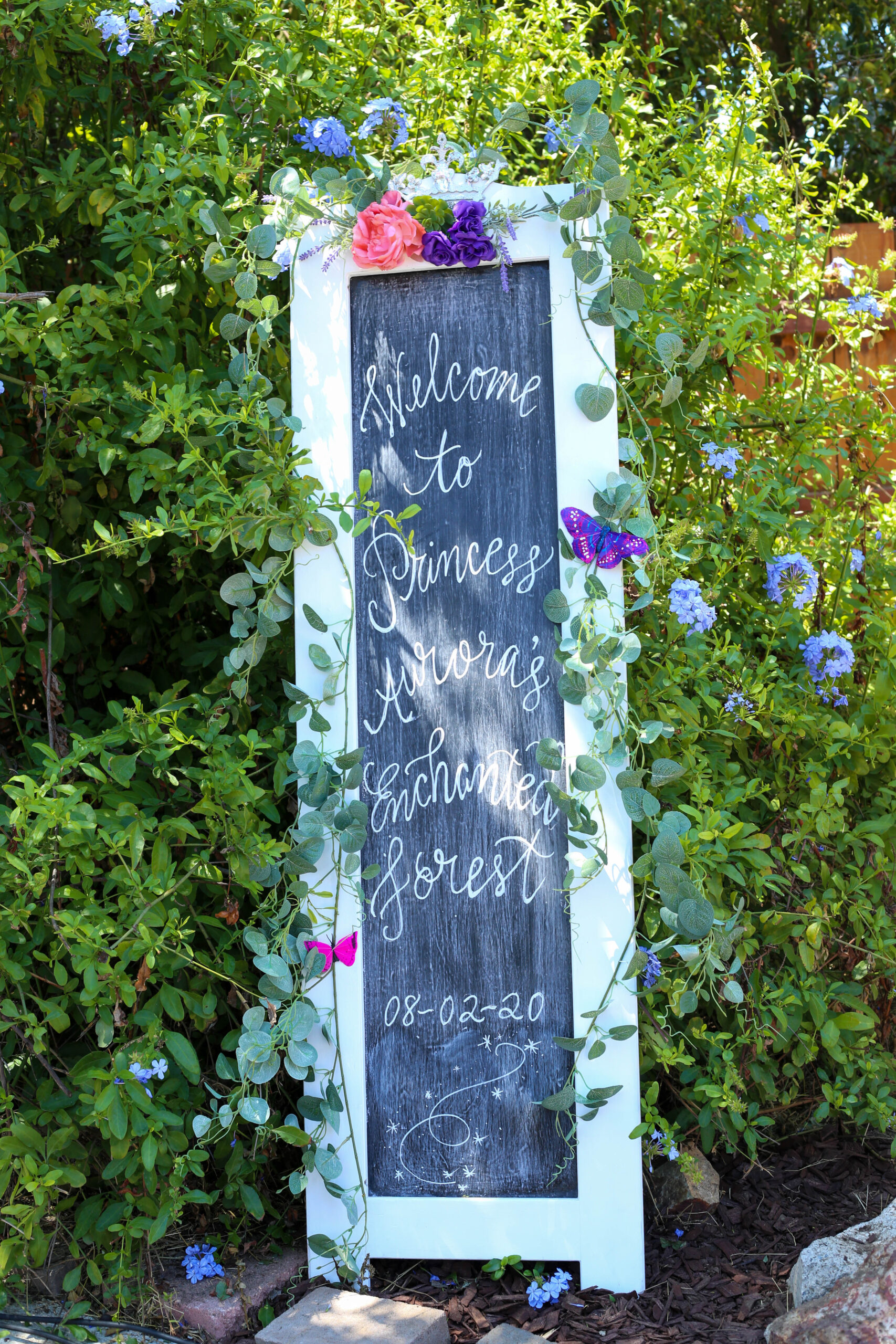 HEAR YE, HEAR YE
The couple wished to create an environment for the party that would allow guests to mingle, while exercising best practices for social distancing and mask wearing. I had fun creating this cute rhyme on a chalkboard, which was the first thing guests would encounter upon entering little Beasty's "palace grounds".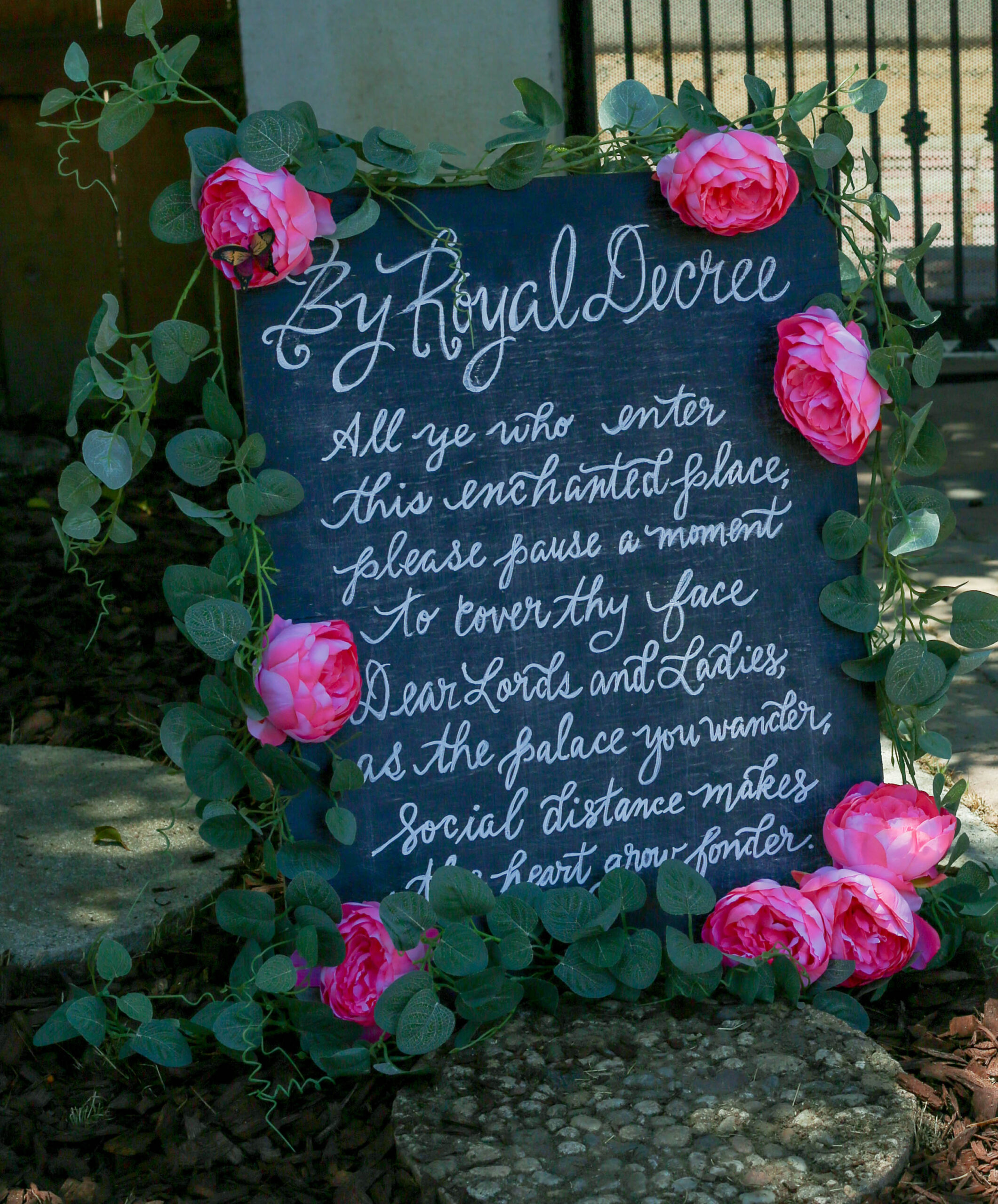 A DECADENT FOCAL POINT
As guests entered the party, they were met with a stunning sight, a towering tree, dripping with white orchids, situated above a luxurious rattan peacock chair with a white fur cushion, and a thick black wrought iron candelabra dressed with pillar candles, flowers and willow branches.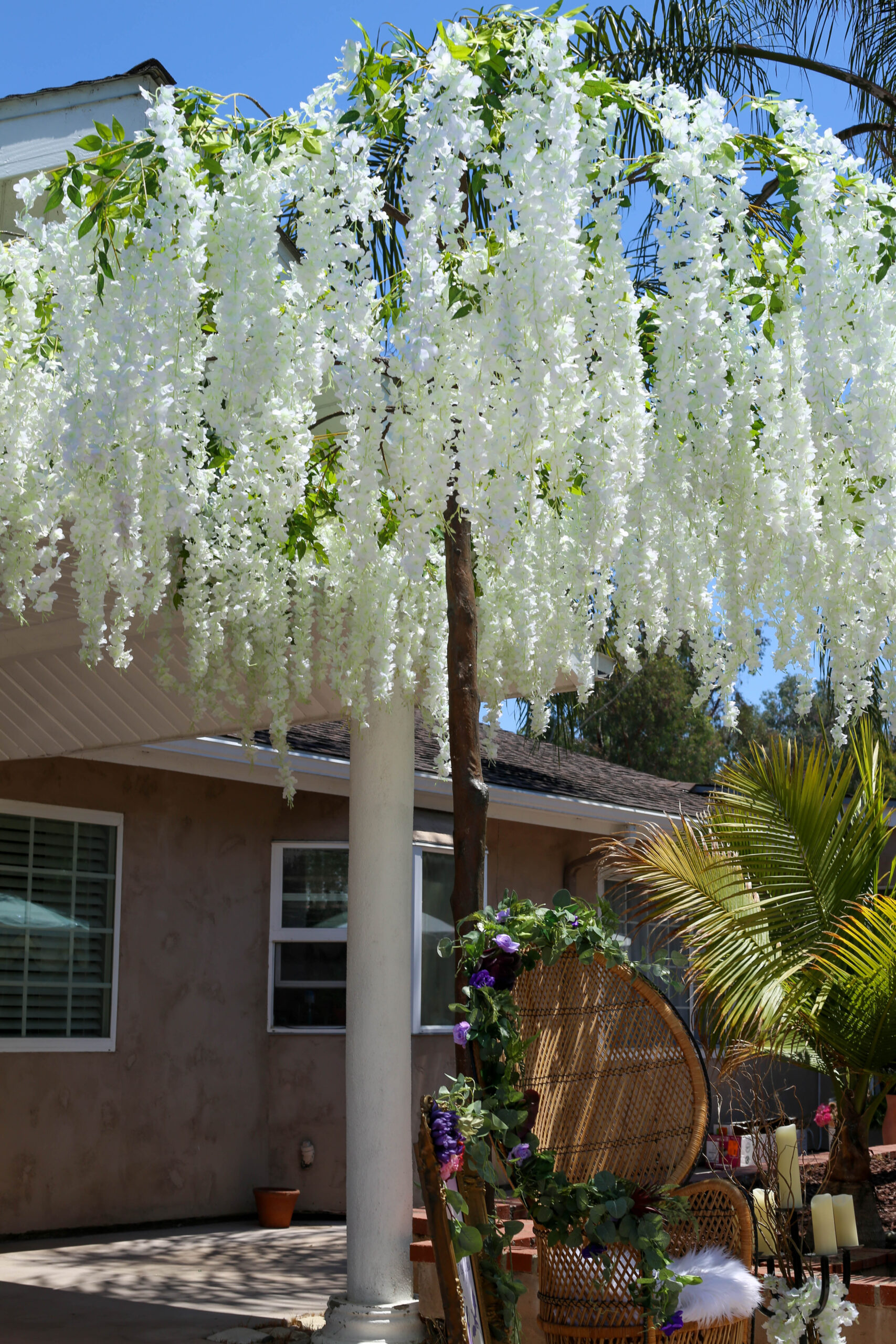 This would be where my client, the lovely mother to be, would be seated for gift opening within view of all the fine lords and ladies of the land. A beautiful vine of eucalyptus and fern was draped to cascade down the side of the chair, and embellished with deep purple succulents and purple and lavender roses.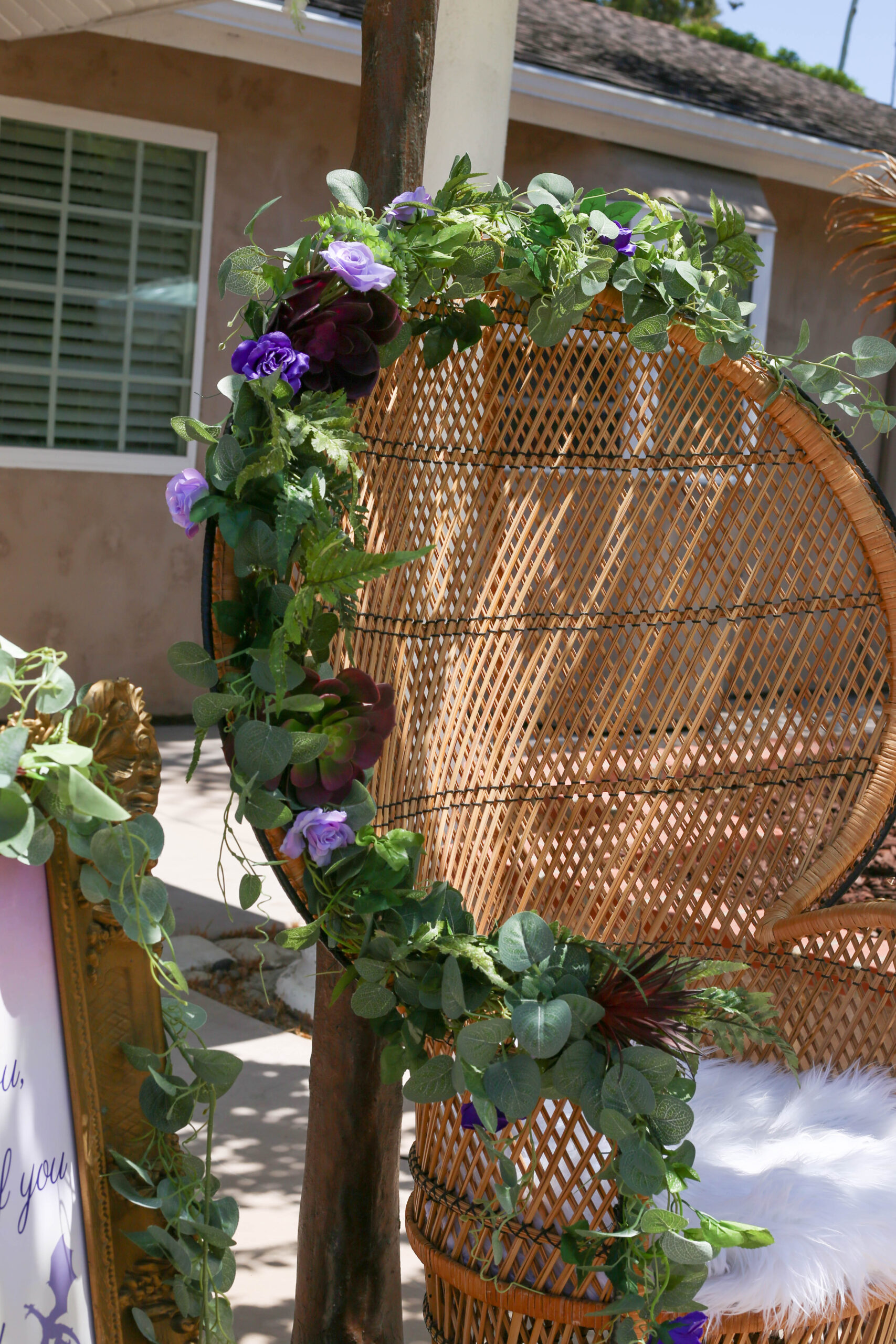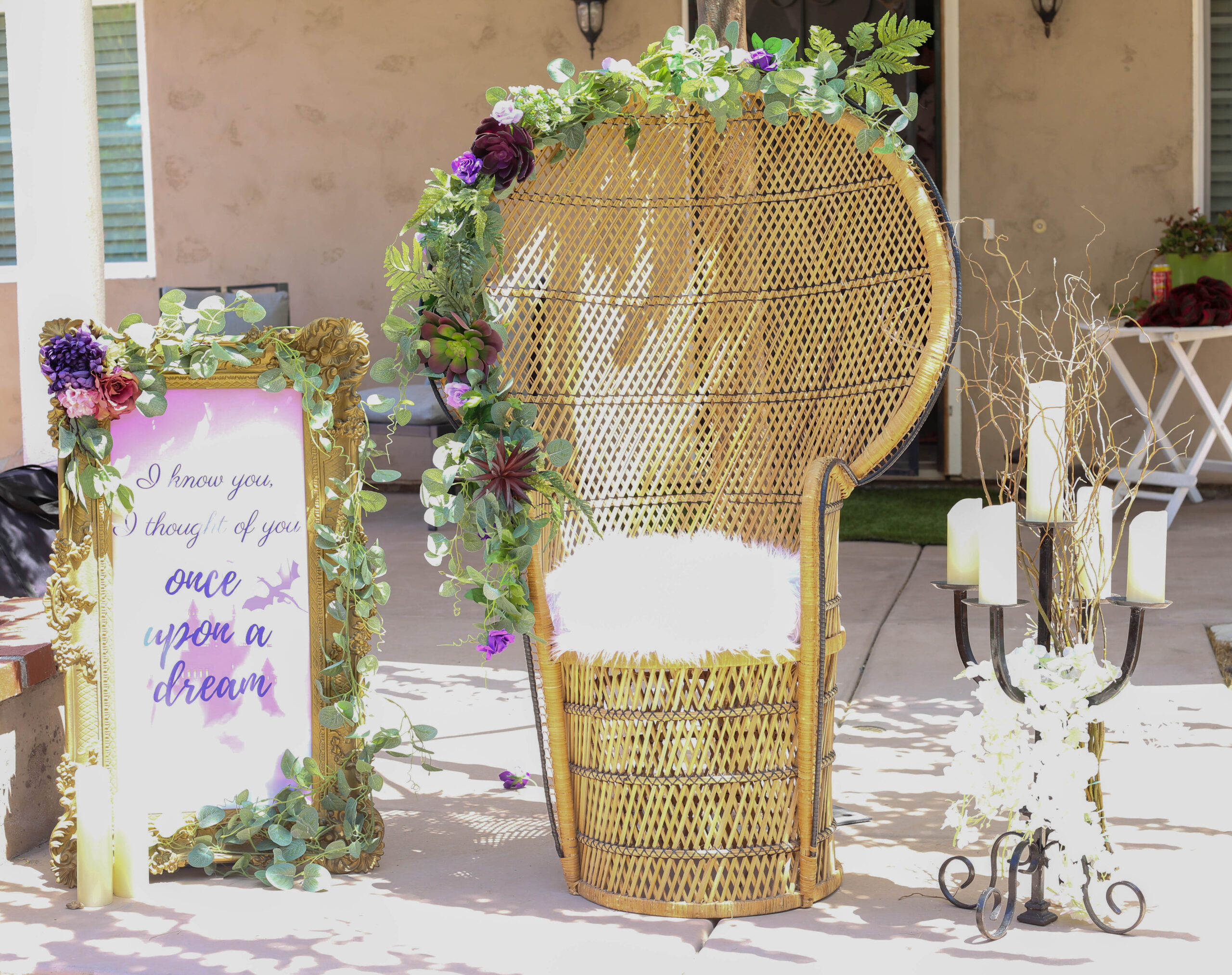 THE LAY OF THE ROYAL LAND
Tables were laid with light pink linens, then topped with custom created centerpieces. Each centerpiece was created with pink Sweet Unique roses and lavender Ocean Song roses. White umbrellas were peppered throughout the environment, reminiscent of similar umbrellas on Disneyland's iconic Main Street at Carnation Cafe.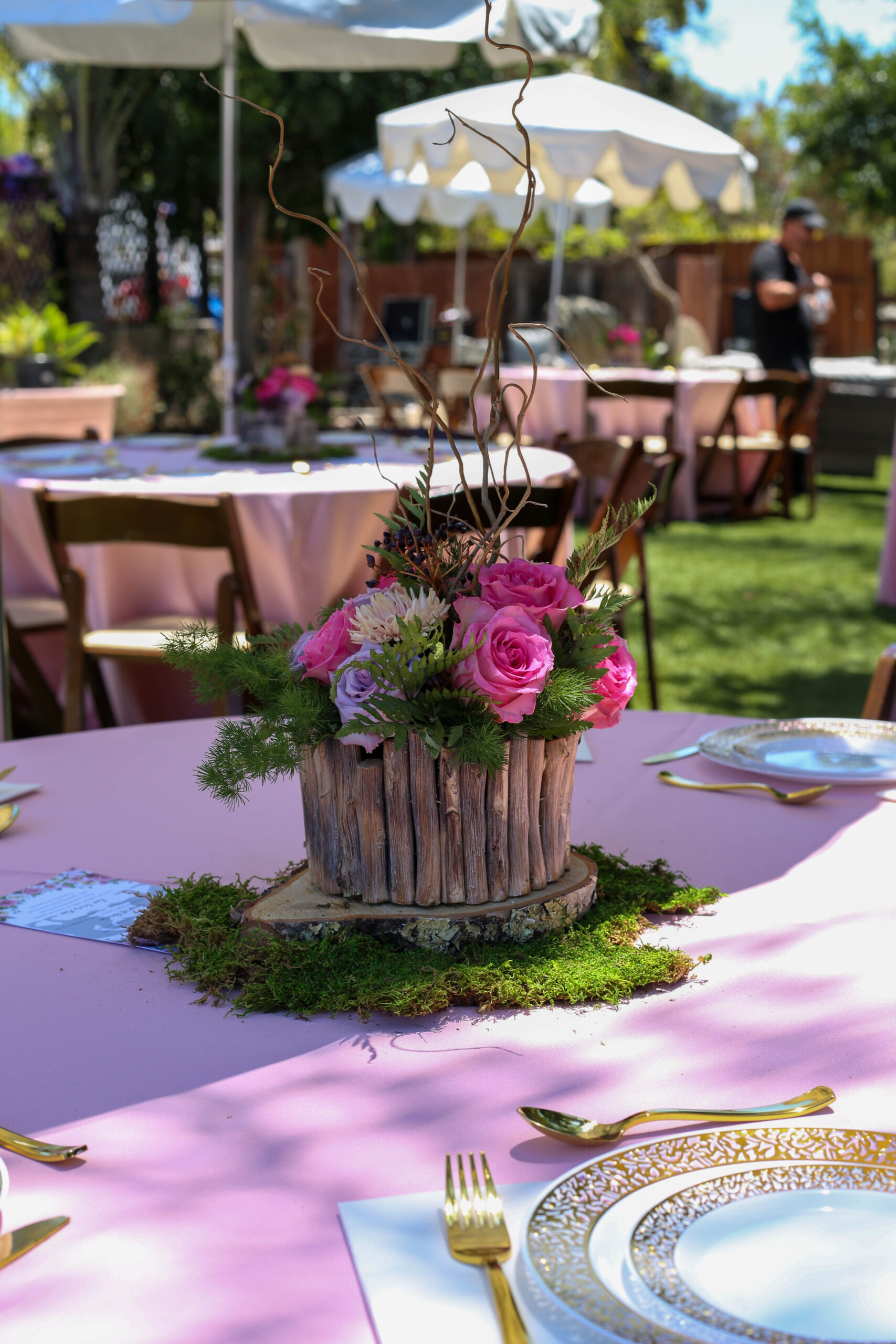 The robust floral arrangements also contained a stunning mix of mesmerizing purple hydrangea, deep eggplant colored viburnum berries, clover, peachy asters, and forest-like greenery of fern and trachelium. To add to Maleficent's enchanted forest theme, natural dried mushroom and some curly willow branches were added to each arrangement. The centerpieces were placed atop real moss and a birch tree slice.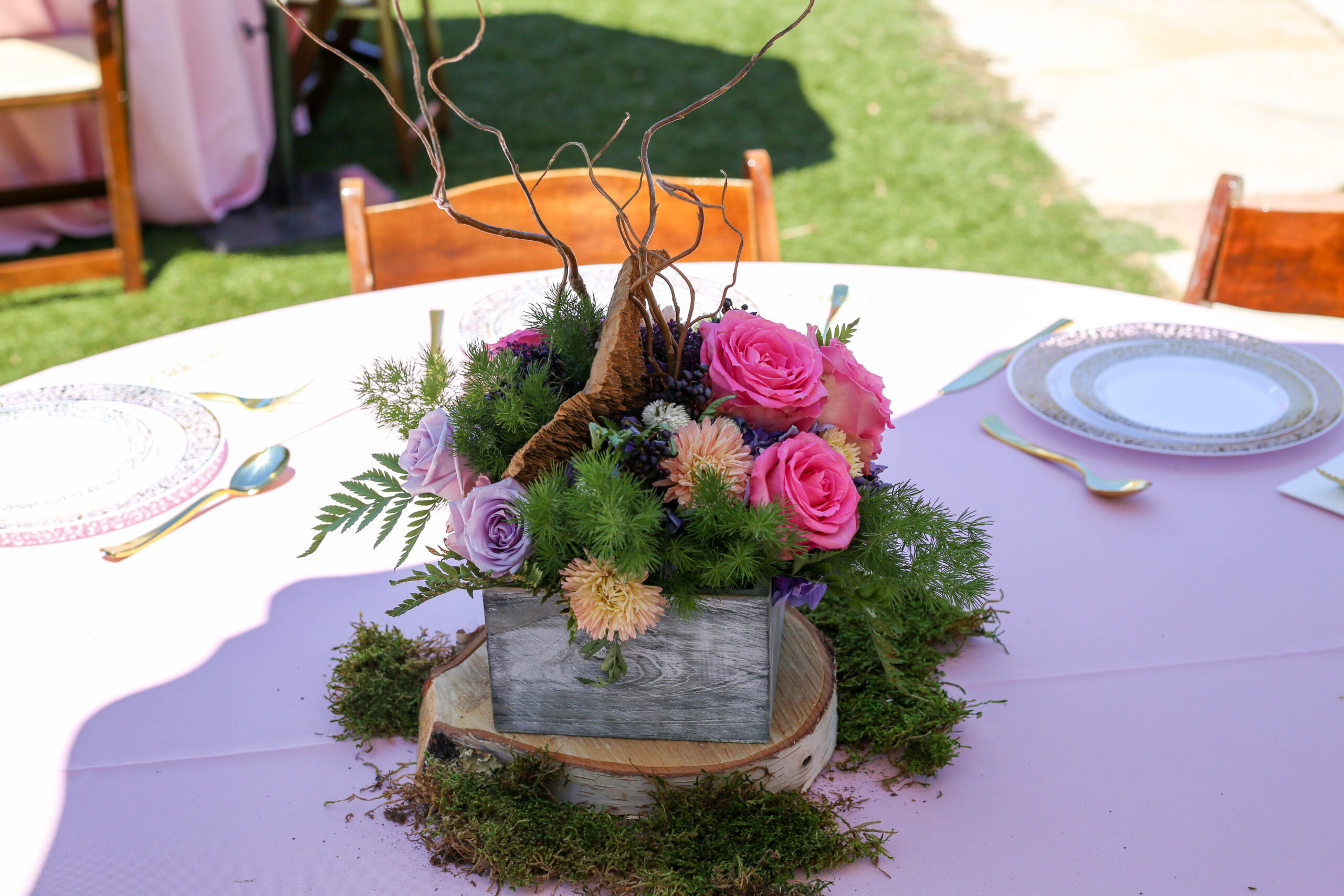 On other tables, the Maleficent inspired florals were displayed in tarnished vintage teapots, for a dazzling effect.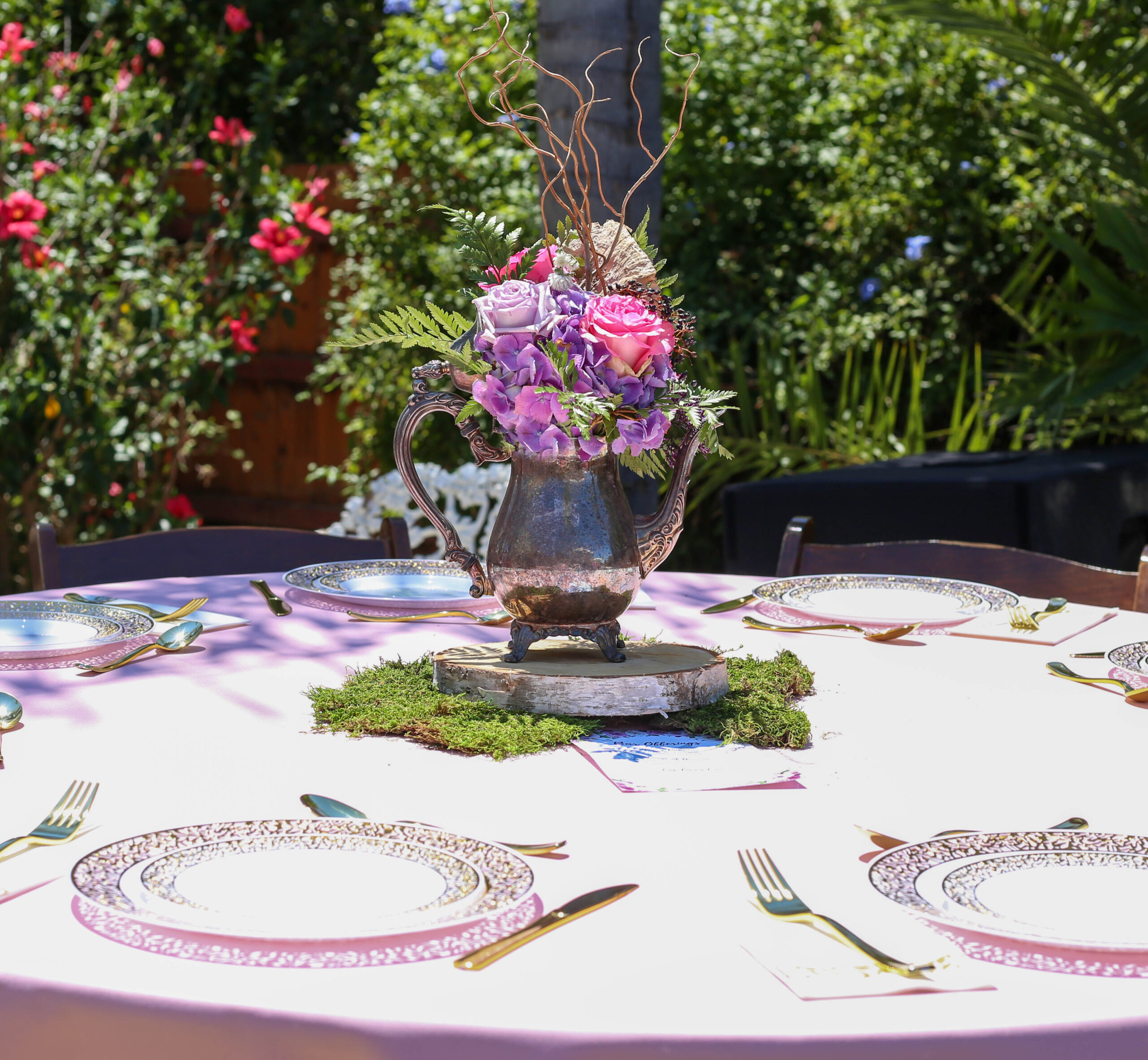 Place settings were simple but elegant, with white plates edged in a gold bramble design, and coordinating gold flatware.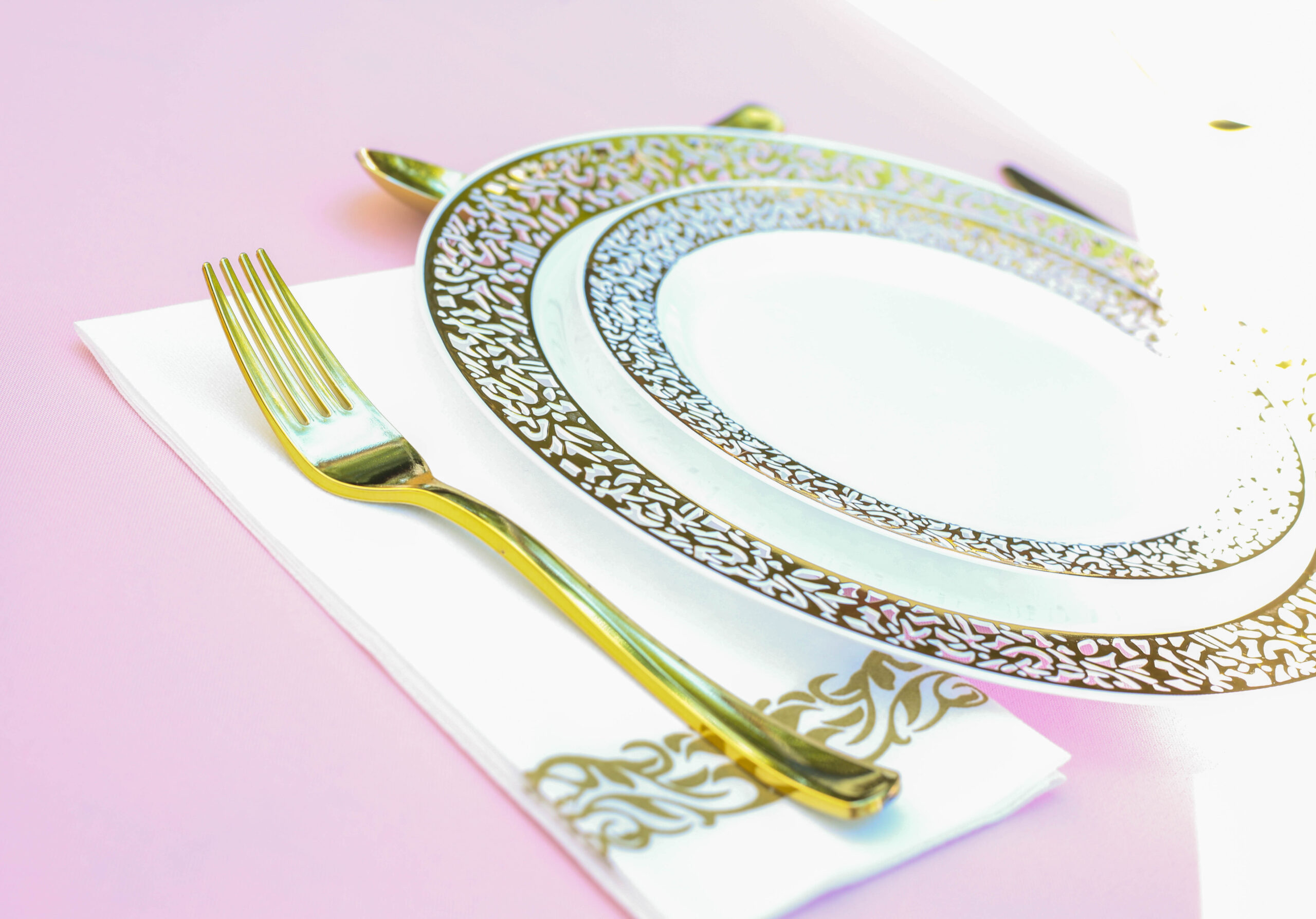 I created this custom beverage menu graphic to coordinate with the party, and one was placed at each table. The silhouette of the dragons in the background was a favorite element of my clients.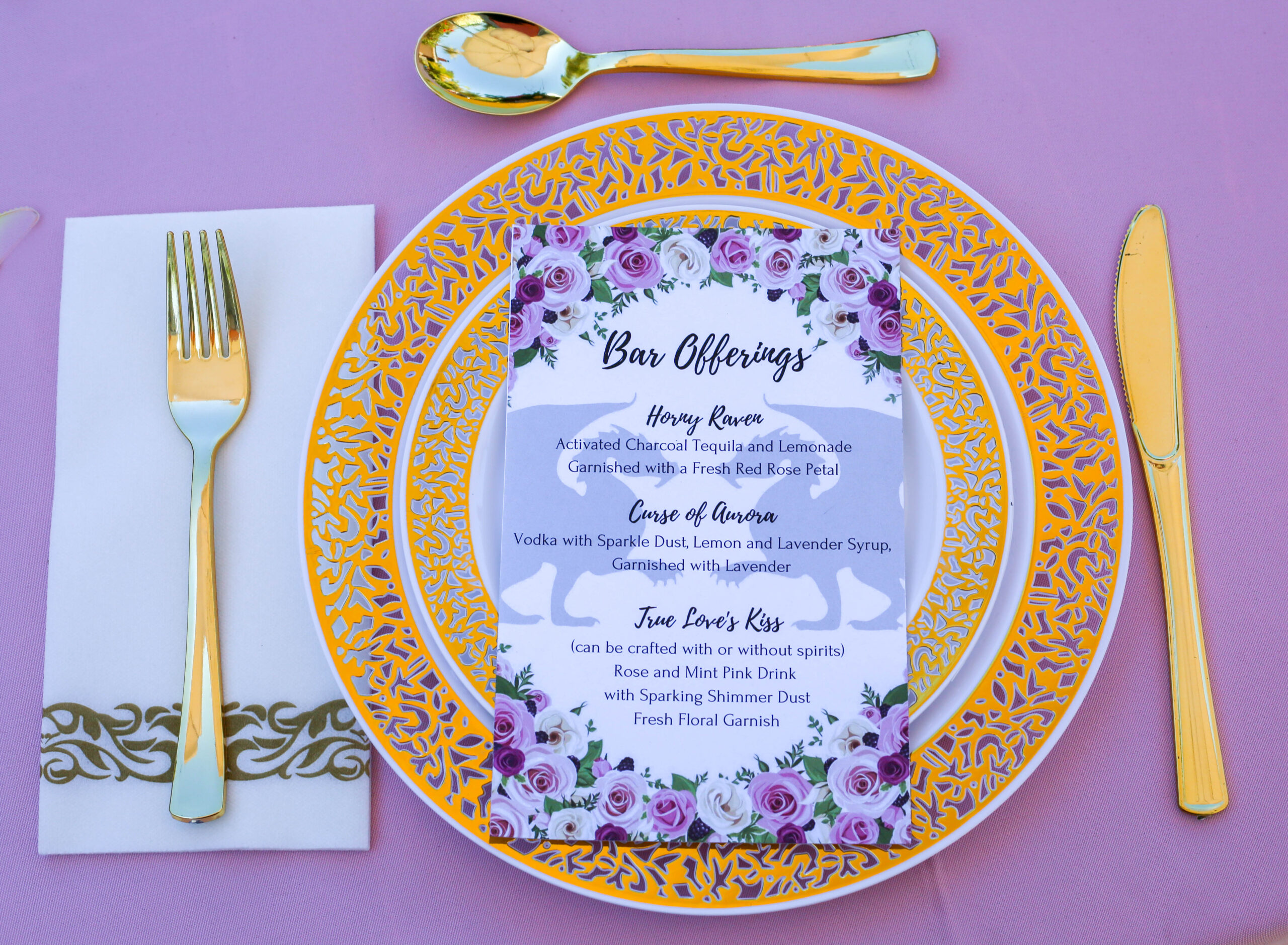 UNIQUE AND IMPACTFUL DECORATIVE TOUCHES
I also placed several cocktail tables around the environment of the party, so that people could stand and mingle as they enjoyed their beverages and food, which was prepared and served on site. These Maleficent horn centerpieces were so much fun to create, and feature a plethora of woodland flowers, leaves, moss, and butterflies. I especially love the way the lavender sprigs are arranged, and how the horns shimmer in the sunlight.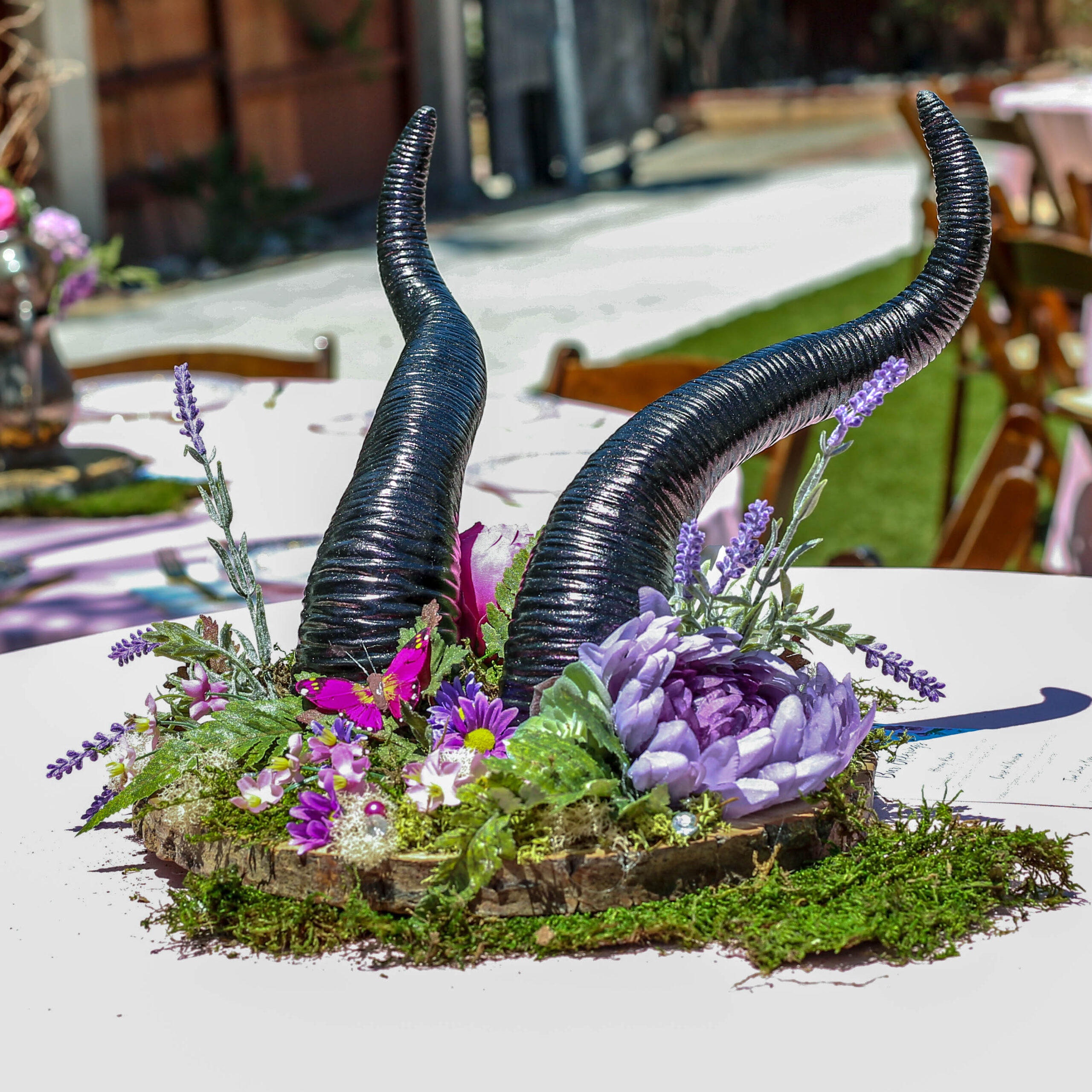 At the bar, another pretty menu board was displayed on an easel. Guests enjoyed the detailed descriptions of each libation, as well as the clever names, curated by my client herself.
HOSTESS GIFTS FIT FOR ROYALTY
On a nearby table, a space sat open, ready for the cake to arrive. Carefully arranged succulents and lavender candles, (hand made by the talented mother to be), were displayed creatively on tiered cake stands and tarnished silver display pieces. In my imagination, this is exactly how Maleficent herself would create this table.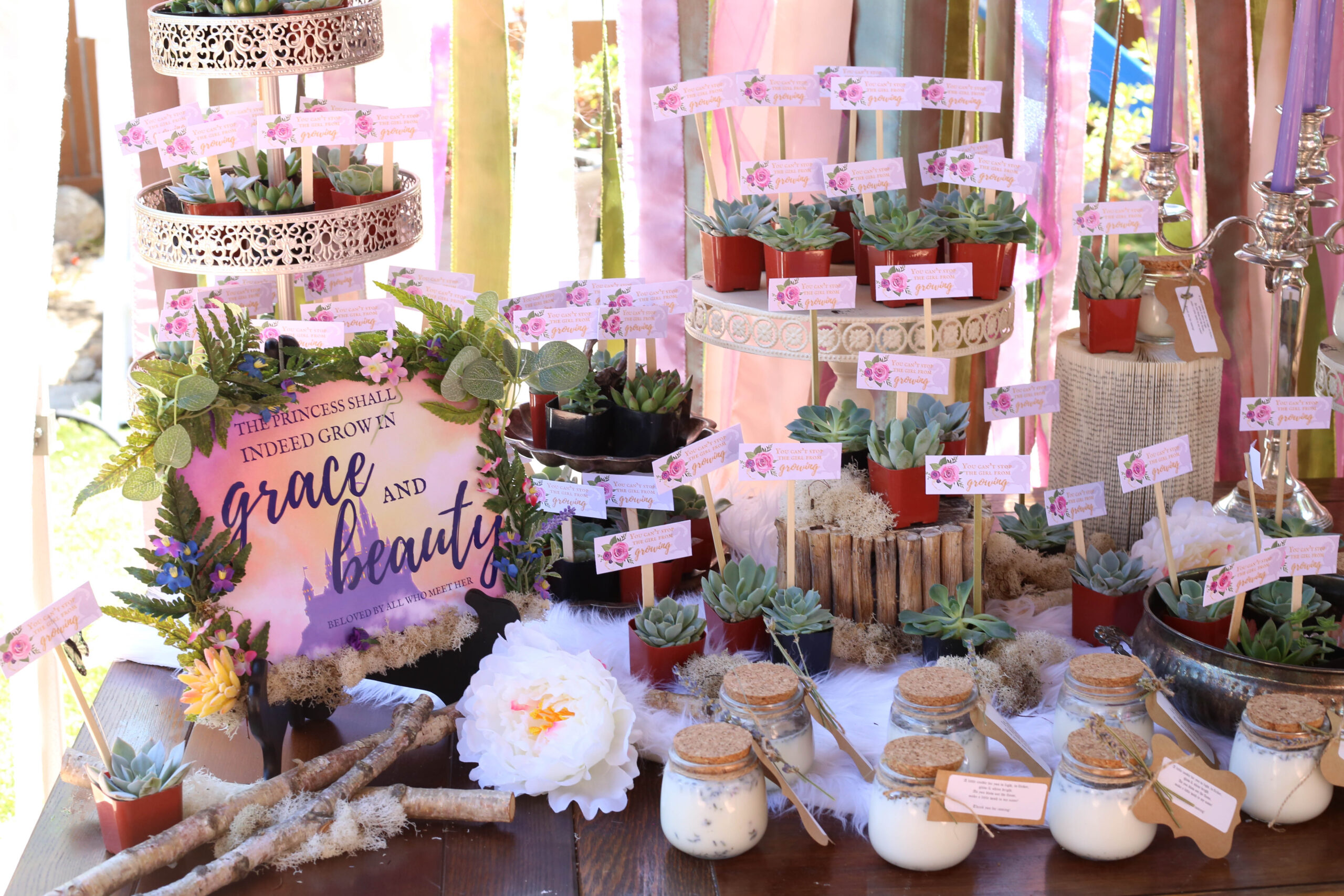 A five arm silver candelabra held dripping lavender colored taper candles. A hand torn taffeta backdrop graced the table and filtered the light through beautifully. My clients chose a beautiful day to honor the impending arrival of their daughter, Aurora.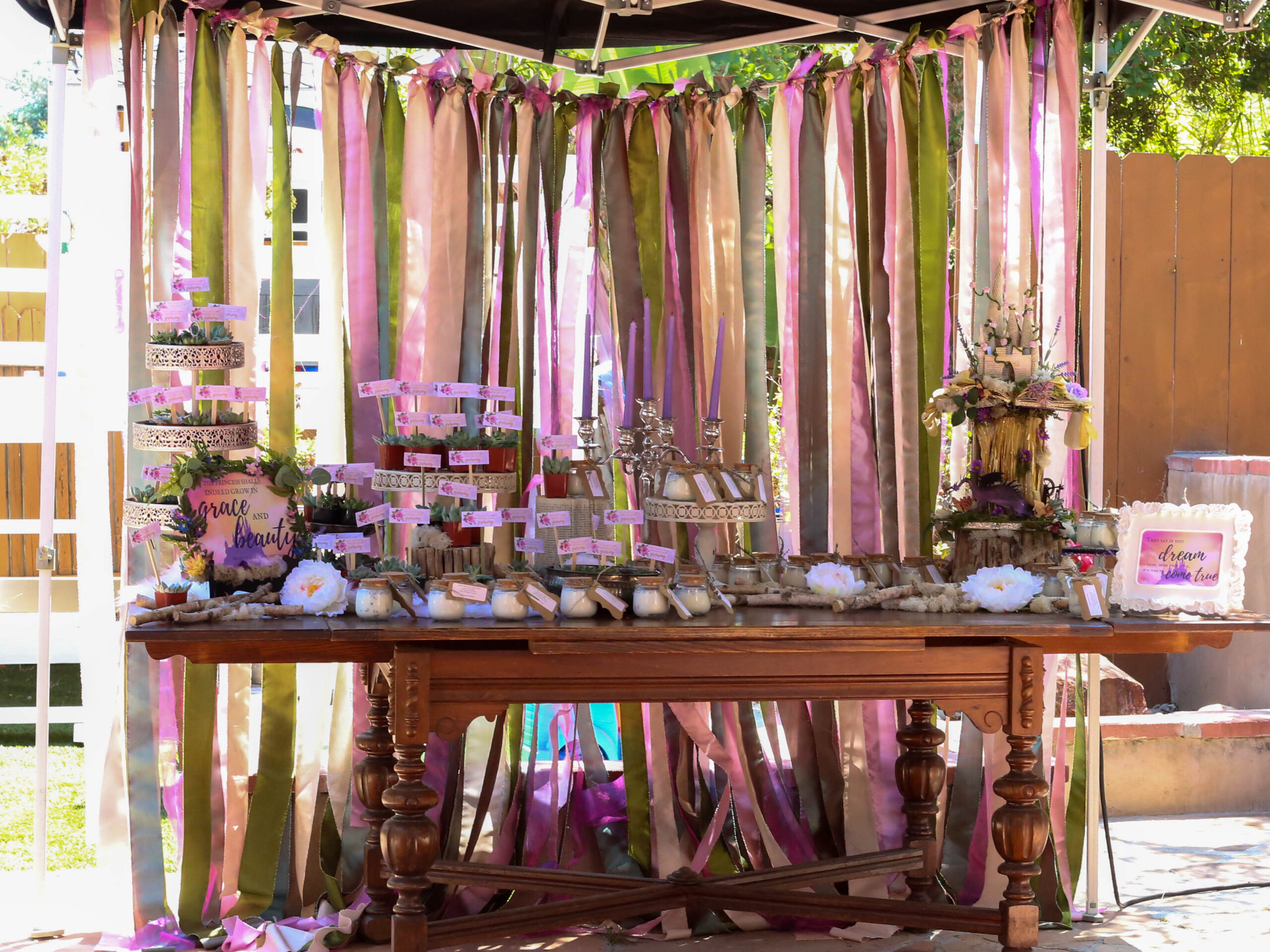 Custom graphics were created for the signage and favor tags, which were also hand detailed with glitter. I was so impressed with my client's creative favors. She created these beautiful candles in glass jars, adorned with sprigs of dried lavender and a sweet personal message.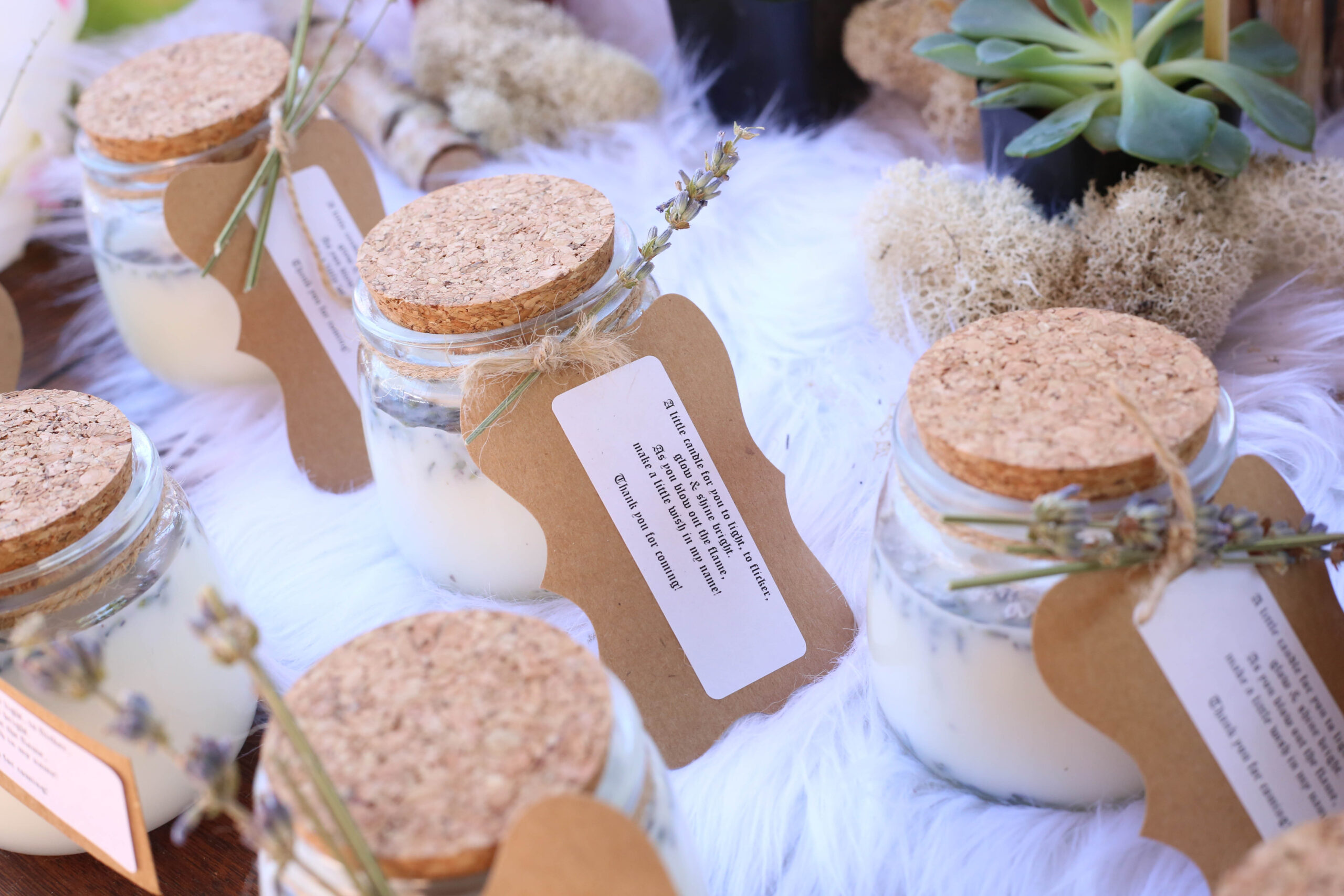 ONCE UPON A DREAM
At the other end of the the table, the "piece de resistance", a towering castle art piece, crafted from books and paper with miniature details. I thoroughly enjoyed creating this decadent Maleficent and forest inspired castle for my clients, who will keep it to display in their daughter's nursery. The castle on top is crafted from book pages and adorned with vines and tiny paper flowers. The moss around the base of the castle glitters with gems and pearls. The hand curled and distressed pages are glittered, as well. Can you find the richly colored butterfly perched in the pages? There are three in the piece, one for each member of this beautiful family.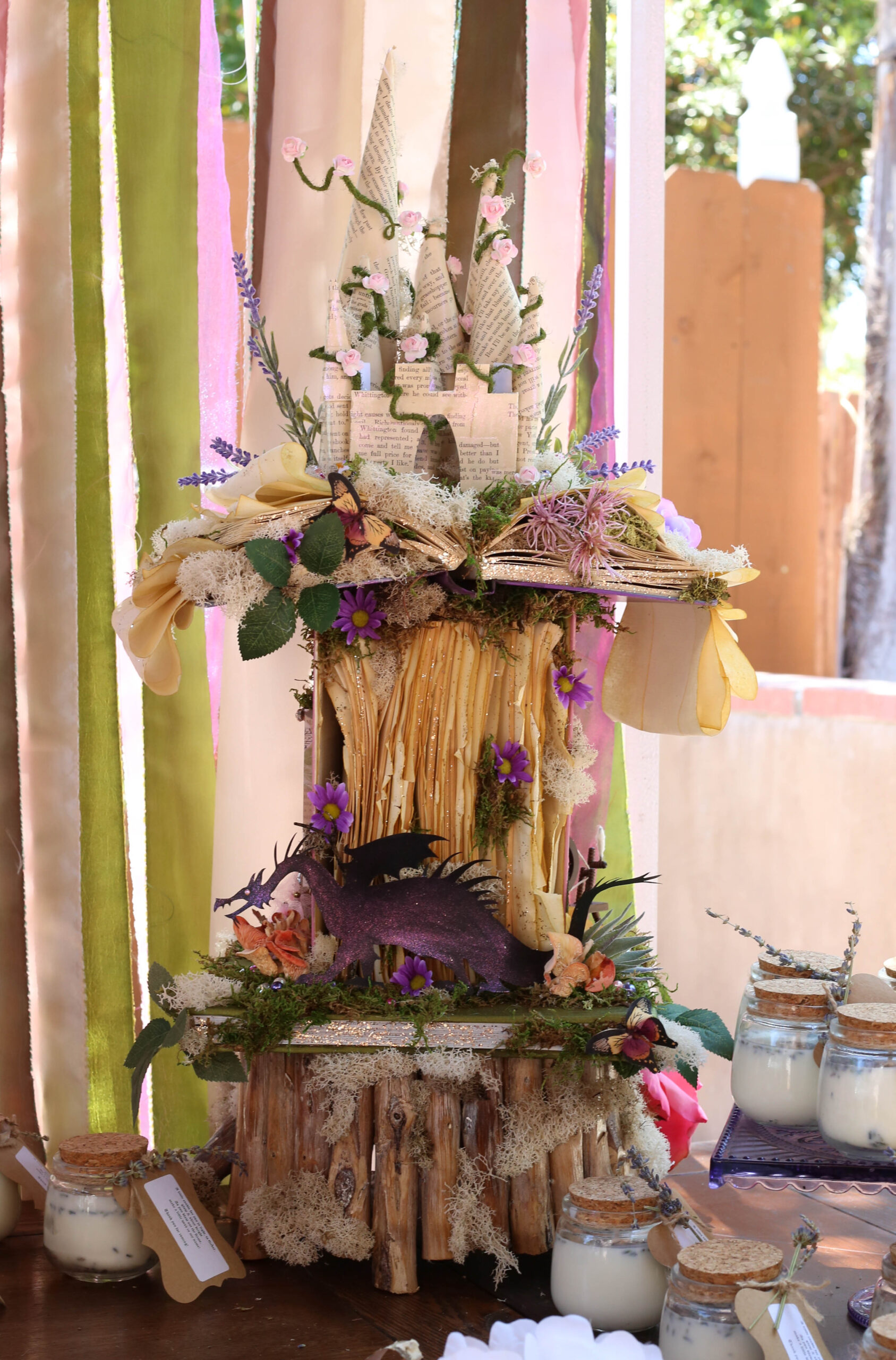 It has details on every side, including a tiny and very intricately made spinning wheel.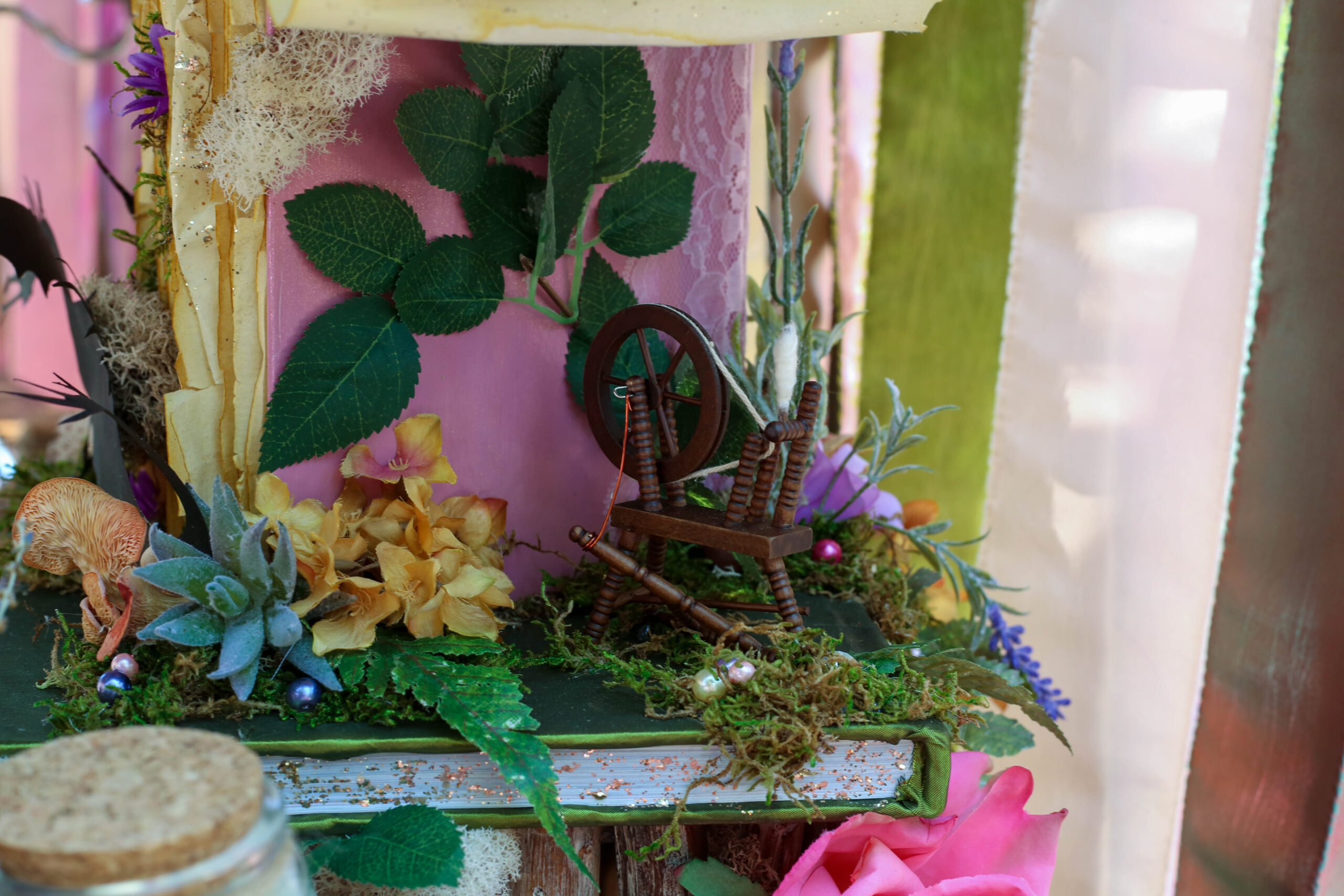 CAKE ARTISTRY RIGHT OUT OF THE MOVIES
The cake was another spectacular sight to behold. This towering confection was created by the mother to be's dear friend, Sarah Seavey, and appears to have been plucked directly from the movie, Sleeping Beauty, and placed on a table for some very lucky guests. I love the adorable candles and the way the broom is holding up this delectable cake!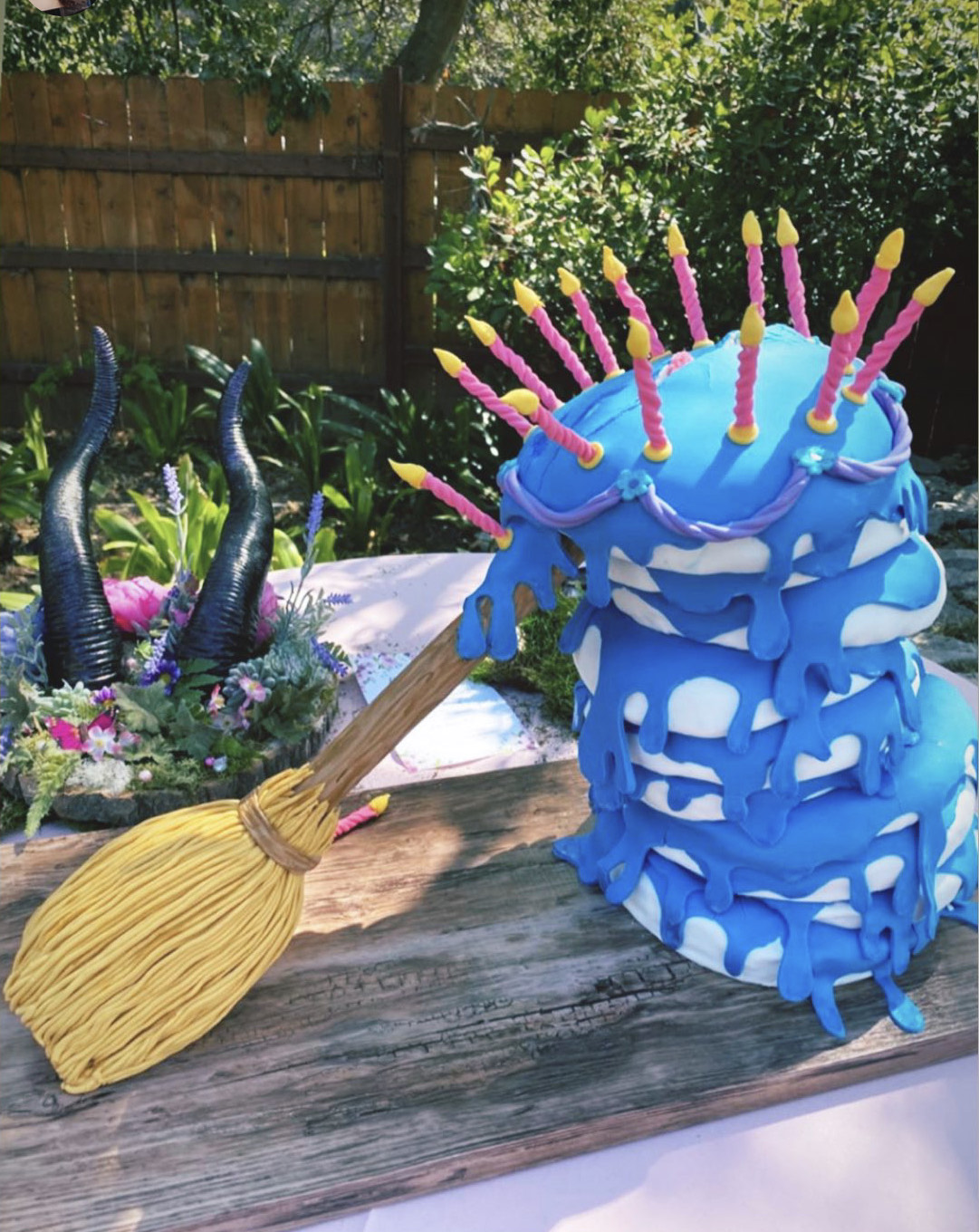 FOR THE ROYALS TO SEE AND BE SEEN
Guests were invited to strike the most royal of poses, beneath a romantic arch of eucalyptus and white roses, which was backed by a heavy silver velvet drape. Talk about the royal treatment! During the event, my creative clients had a fog machine running behind this pretty setup. What a dreamy photo spot! The graphic I created is beautifully set in an ornate gold frame adorned with forest flowers, and suspended from the arch. It bears the famous words from the Disney song, "I know you, I though of you once upon a dream".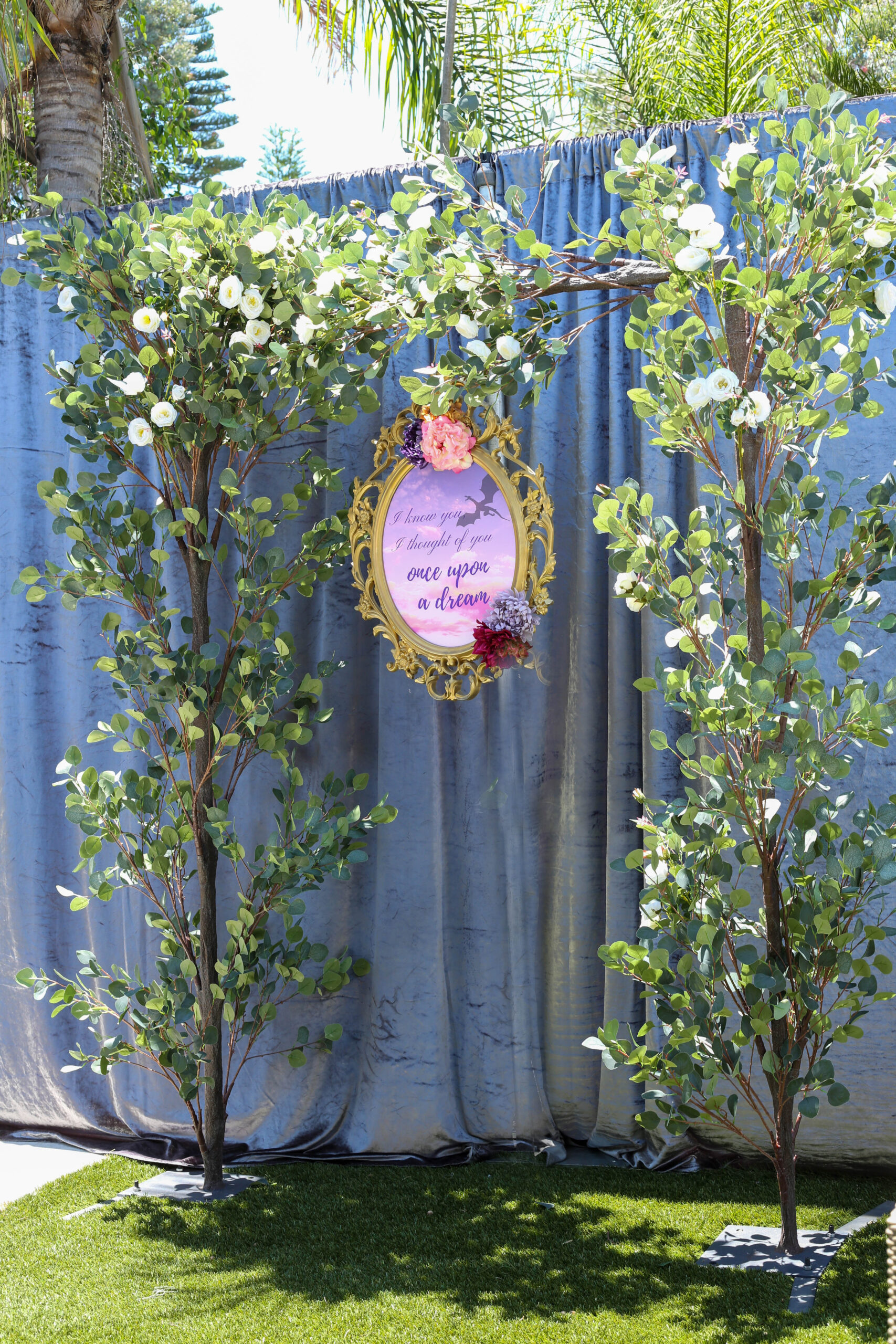 My clients enjoyed their Disney inspired event so much, and there was one more surprise, which was even news to me! This beautiful couple became engaged at the party. And yes, we are already excitedly talking about the wedding. A fairy tale ending, if ever there was.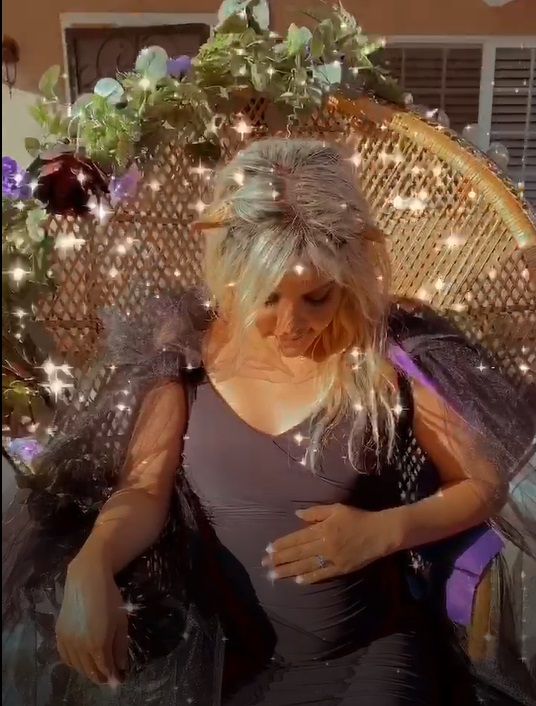 Special thanks to