Enter a bewitching Fortune Teller's parlor for a creepy chic Halloween party, that will have you seeing stars! Take a peek into the future as you gaze into the depths of a foggy mirror, hung on a spellbinding backdrop draped with rich and sumptuous textiles and starry gossamer. I've painted up a bookshelf in a bold blue shade, and it's brimming with creepy curiosities like glimmering crystals, sinister looking bottles, and mysterious objects collected from storied travels around the globe. I've created this chic fortune teller themed Halloween party for you this year, the post is sponsored by Plaid Crafts. I have received products and/or compensation for the concepts and one of a kind Halloween craft ideas using Plaid and Folk Art paints and products that  you're about to see.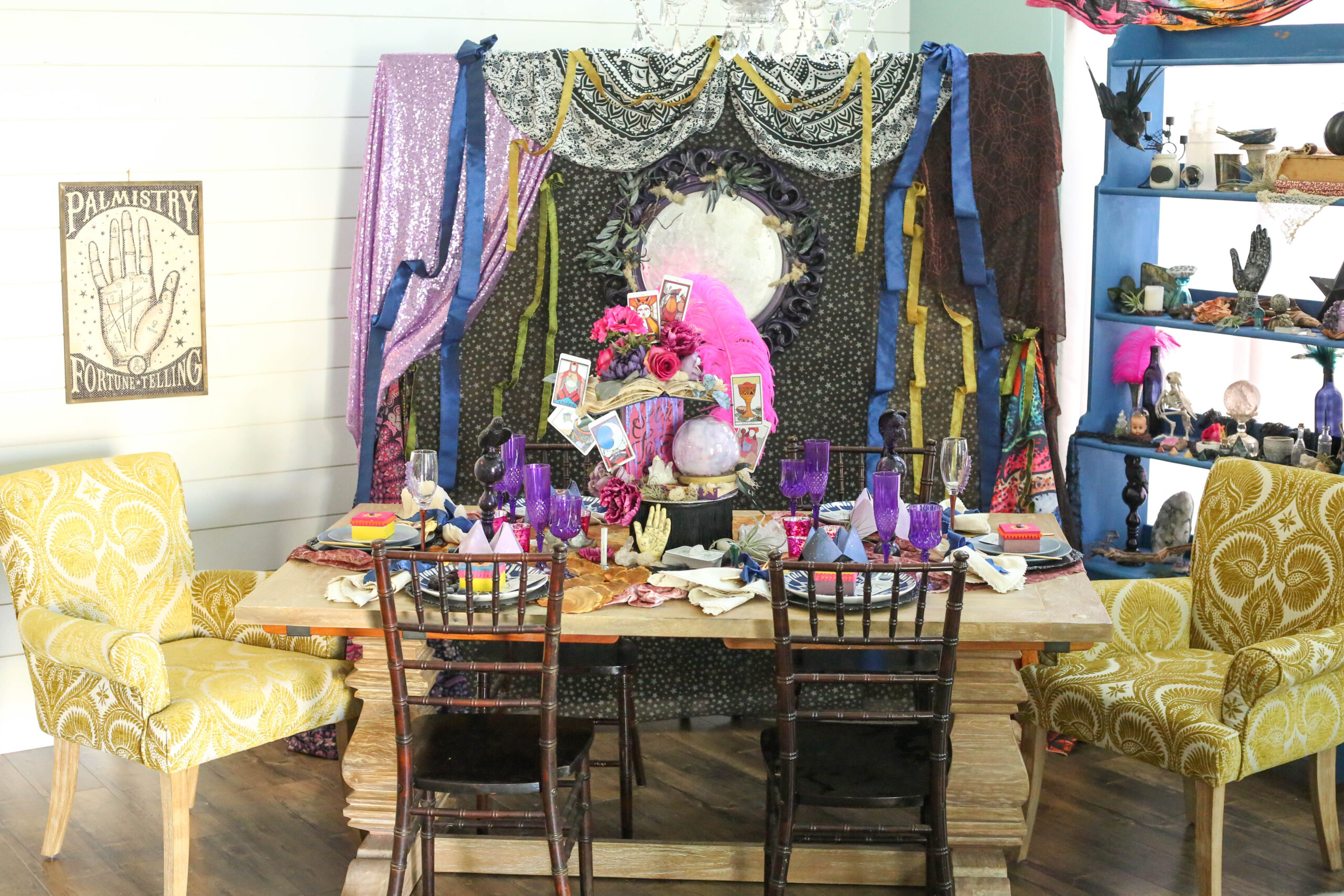 What the Future Holds
I placed bold chartreuse patterned chairs flanking the head and foot of the table. At the the remaining seats, I placed fruitwood Chiavari chairs. Presiding over the festivities, an elegant centerpiece towers over the table, it's comprised of painted spell and potion books, loaded with crystals, flowers, and details galore.
Sit for a Spell
The painted spellbooks I created are actually old thrifted hard back books, transformed using a variety of Plaid FX Paint and FolkArt One Decor Paint, then stacked and embellished with moss, crystals, faux flowers and tarot cards. Using the end of a paintbrush, I hand curled the edges of the pages and held them in place using Mod Podge and a brush, moss and hot glue.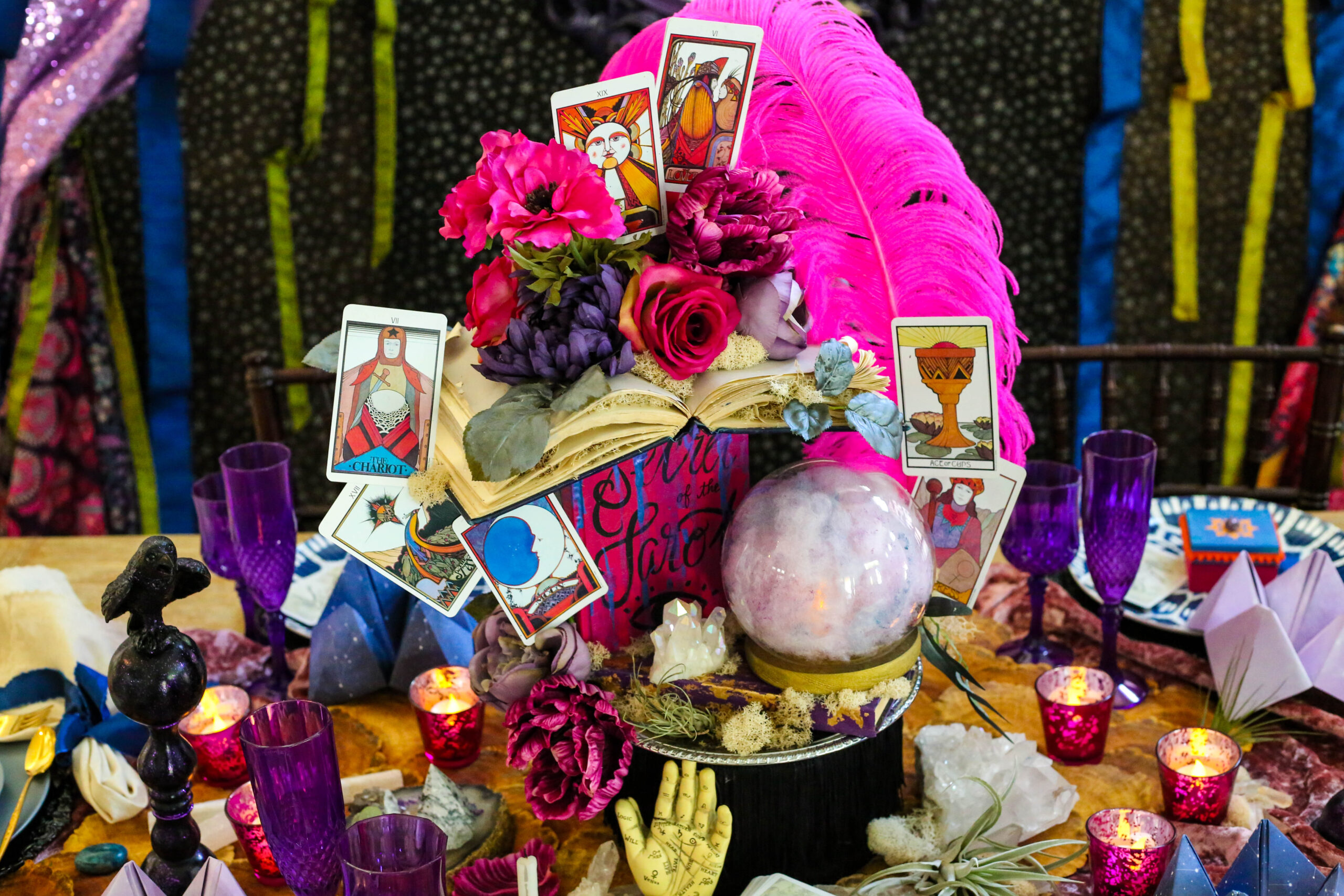 Gaze into a Mesmerizing Crystal Ball
The crystal ball is crafted from a glass globe I sourced online; it holds a flickering LED votive light, and is filled with fluffy poly fill that I dipped in assorted colors of ColorShift paint, then dried to light pastel hues, creating the look of a nebulous, glowing crystal ball. The wood base of the crystal ball is painted with Treasure Gold paint.I  love how it picks up on the purple painted spell book at the base of the centerpiece, where the addition of gold leafing, applied with Mod Podge, creates beautiful shine.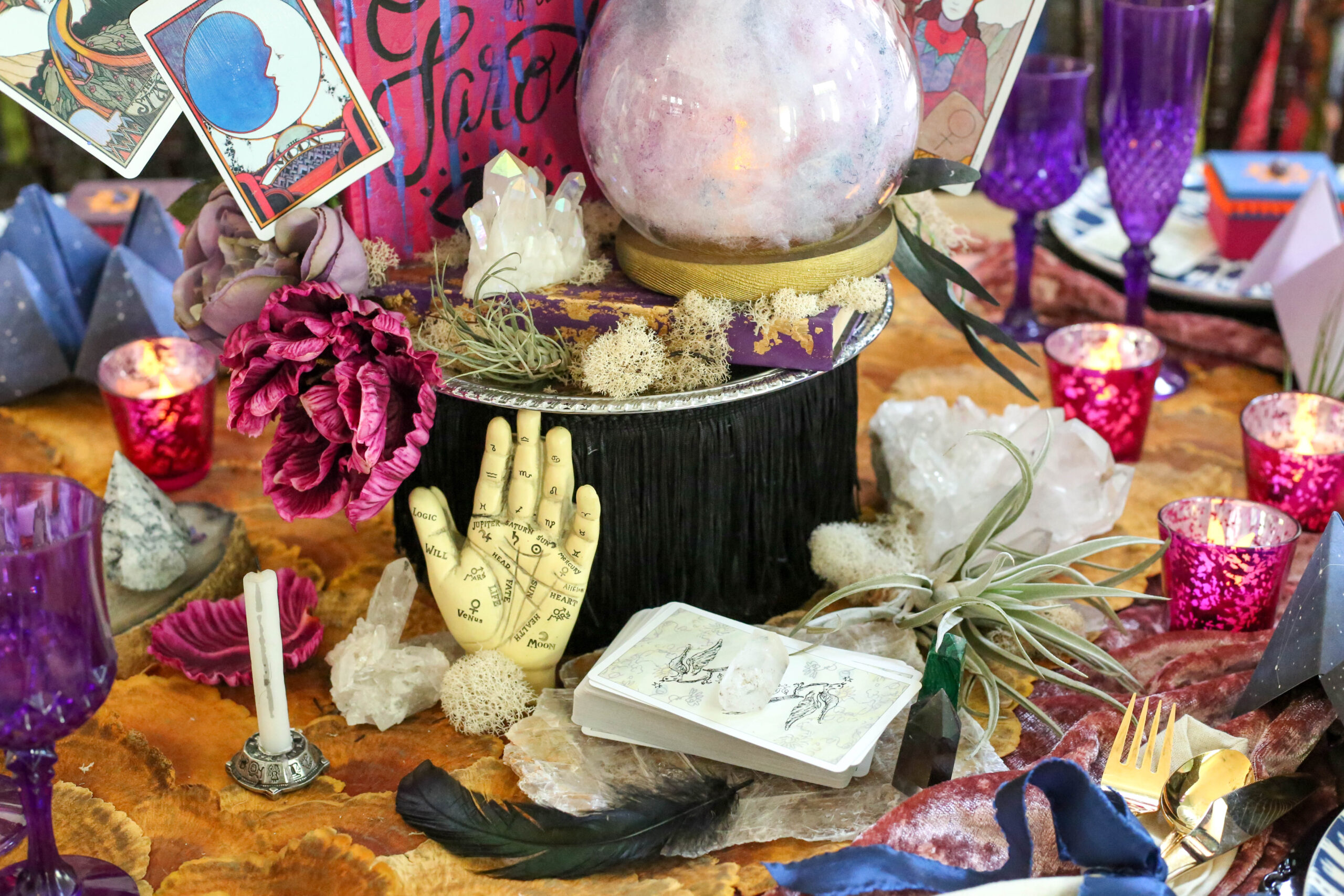 I tucked an iridescent angel aura crystal, an air plant and some reindeer moss into the base.  The standing book is one that I hand painted using Folk Art One Decor Paint in Cranberry Cocktail, and is entitled, "Secrets of the Tarot".  As you can see, it's positively dripping with secrets and mysteries, (and Color Shift paint in Blue Flash). Tarot Cards, more moss, and leaves painted with Brushed Metal paint in Silver top off the decadent look. I popped a billowing fuchsia ostrich feather into the side of the spectacular Halloween centerpiece.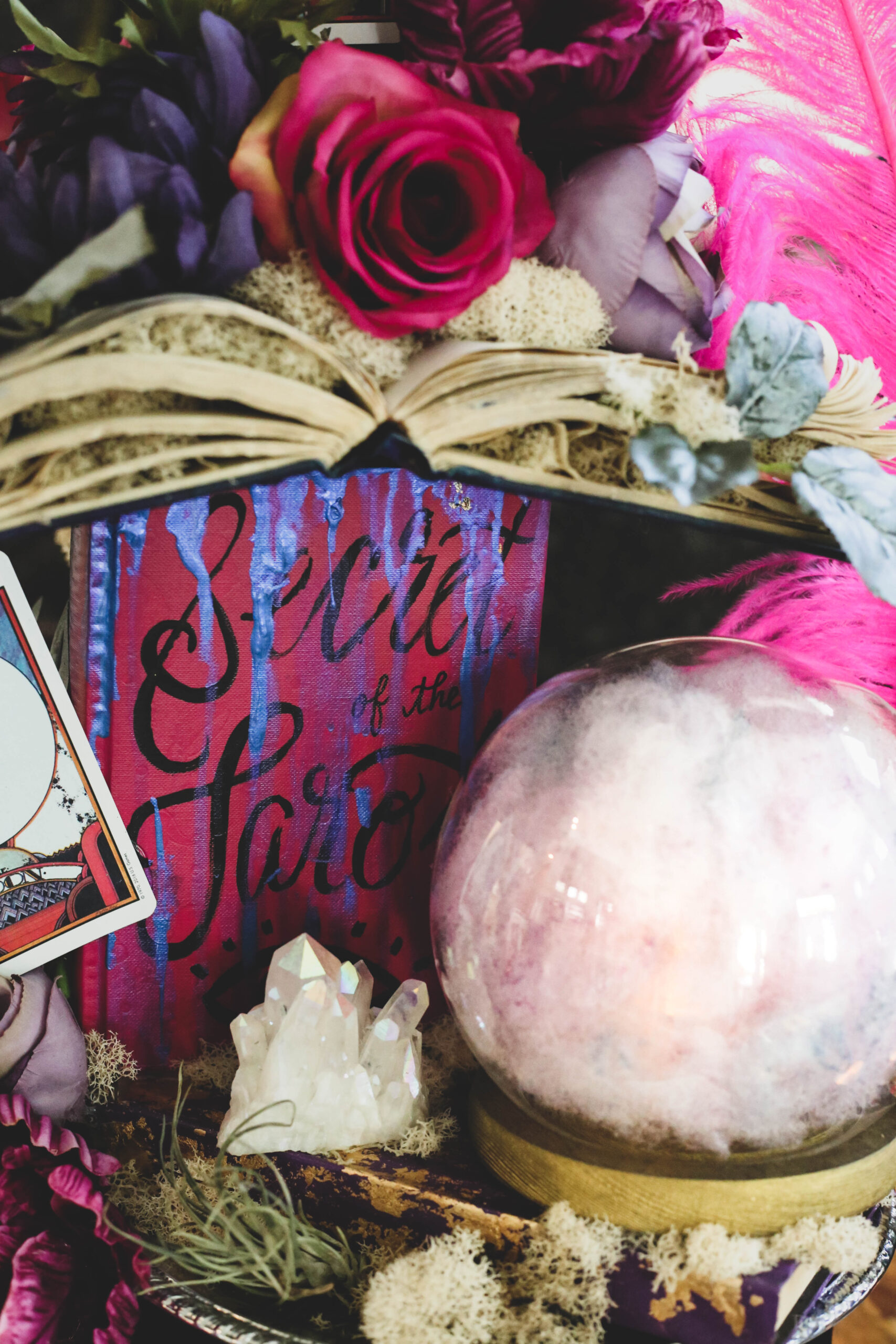 Creepy Details Abound
Do you spy with your little eye a very creepy addition to the back of this Halloween centerpiece?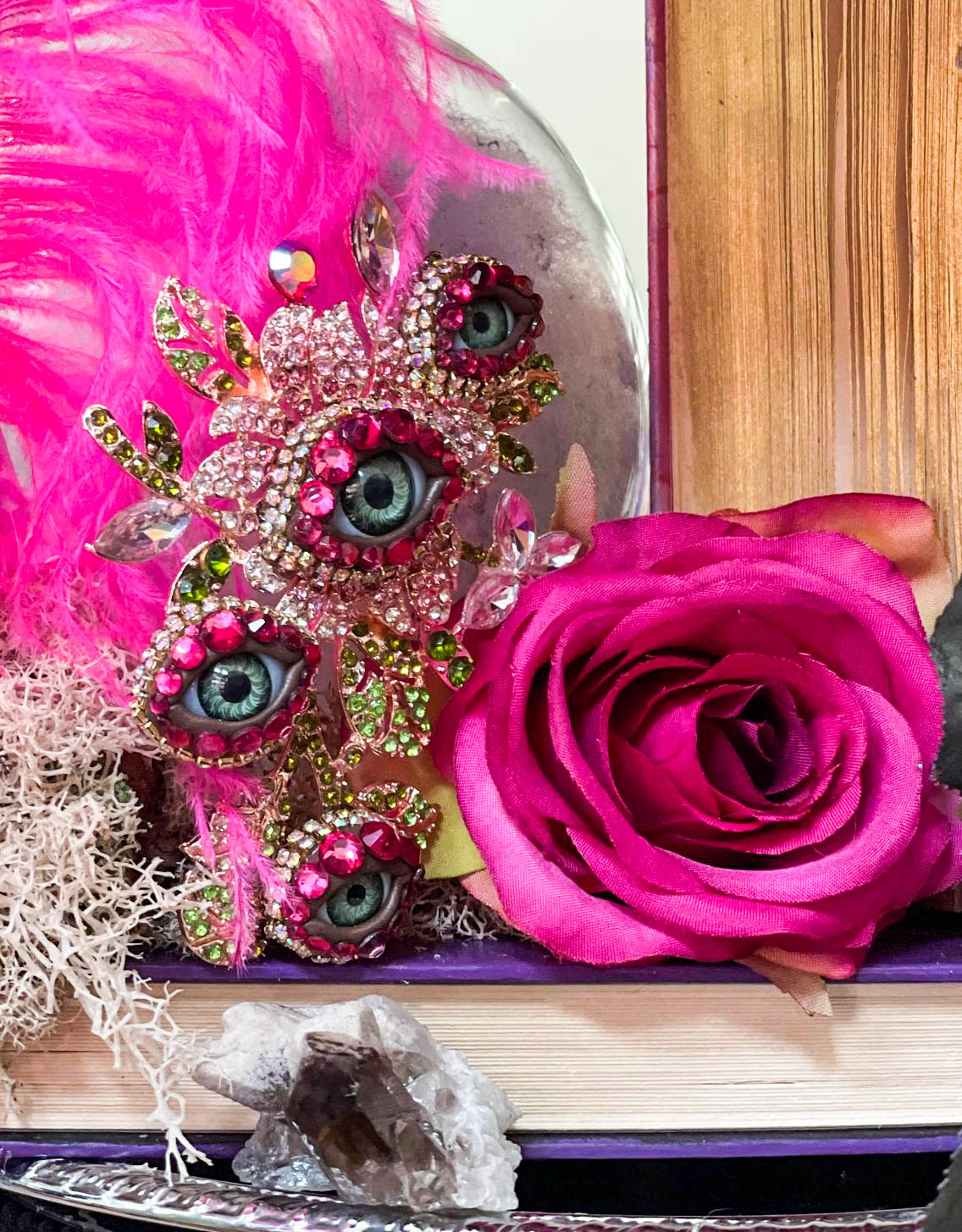 Lustrous Touches for the Table
Screeching a Halloween greeting to guests, this eerie raven table decoration was created by first painting the resin piece with a base coat of black Apple Barrel Black acrylic craft paint, then coating it with Dragonfly Glaze. I'm in love with this amazing product, the shimmer effect adds a dazzling touch to this elaborate fortune teller tablescape. Magenta mercury glass votive holders flicker to illuminate the spooky art with candle light. I hand selected some crystals to place throughout the length of the table. Not only are they beautiful, but crystals make lovely conversation starters and take home favors.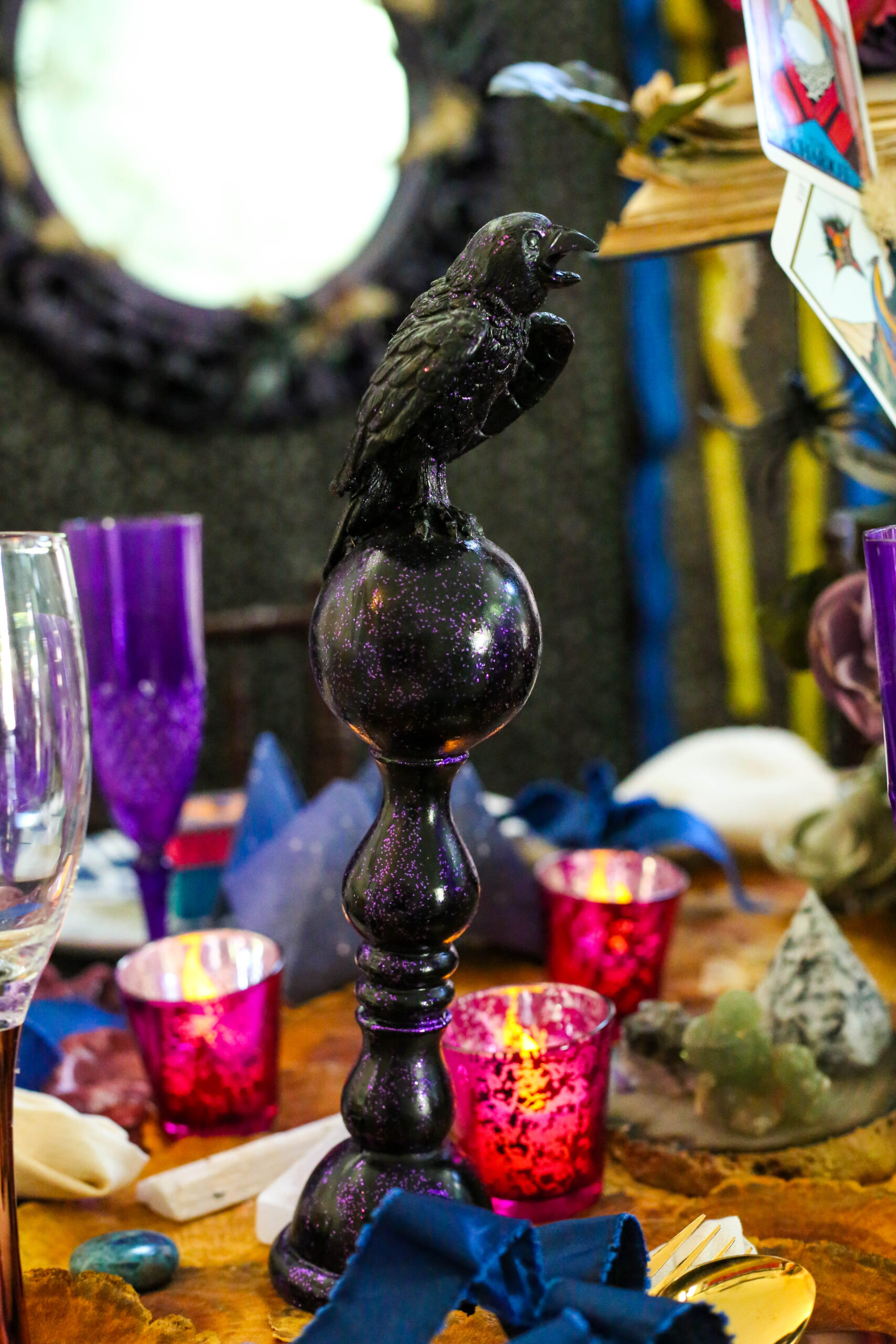 Decadent Boho Chic Fortune Teller Place Settings
I'd been waiting for just the right occasion to pull out these Schumacher dinner plates in a brilliant blue bohemian motif. I placed them on black vintage chargers at each place setting. Mixing colors, textures and patterns extravagantly is the order of the day when decorating for a fortune teller theme.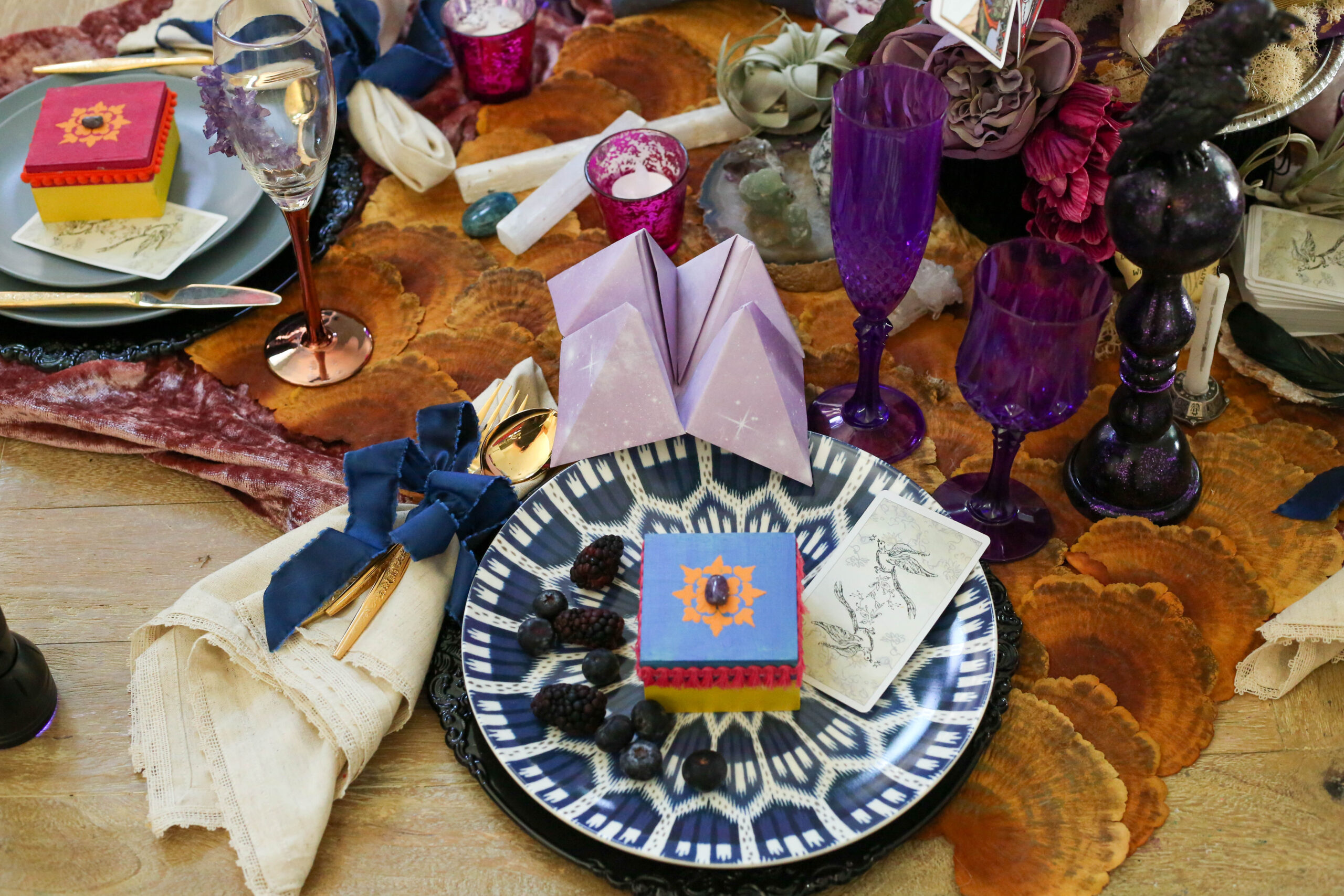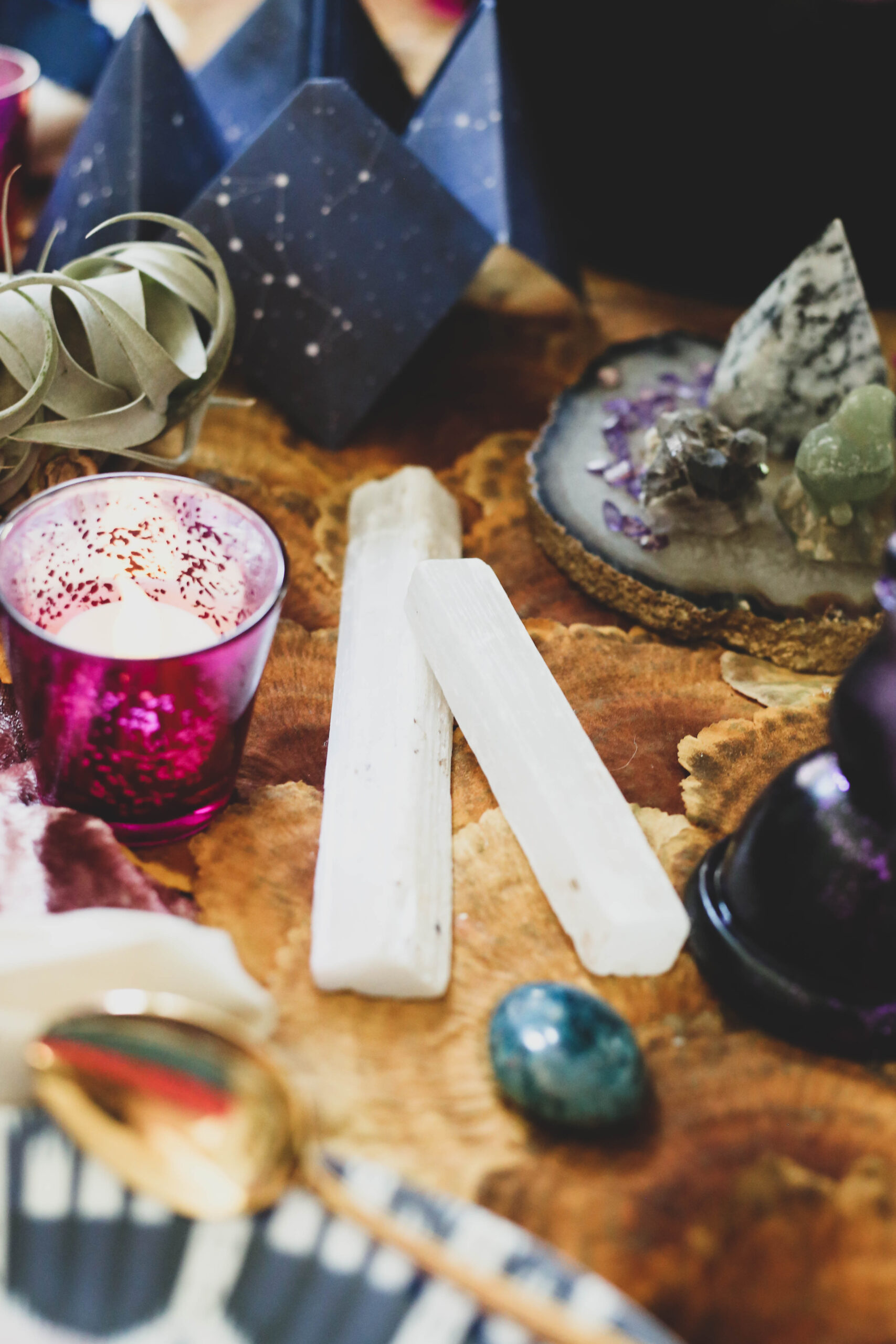 Some vintage goldware from my personal collection is tied with midnight blue hand torn taffeta ribbons and natural linen napkins edged in delicate lace trim.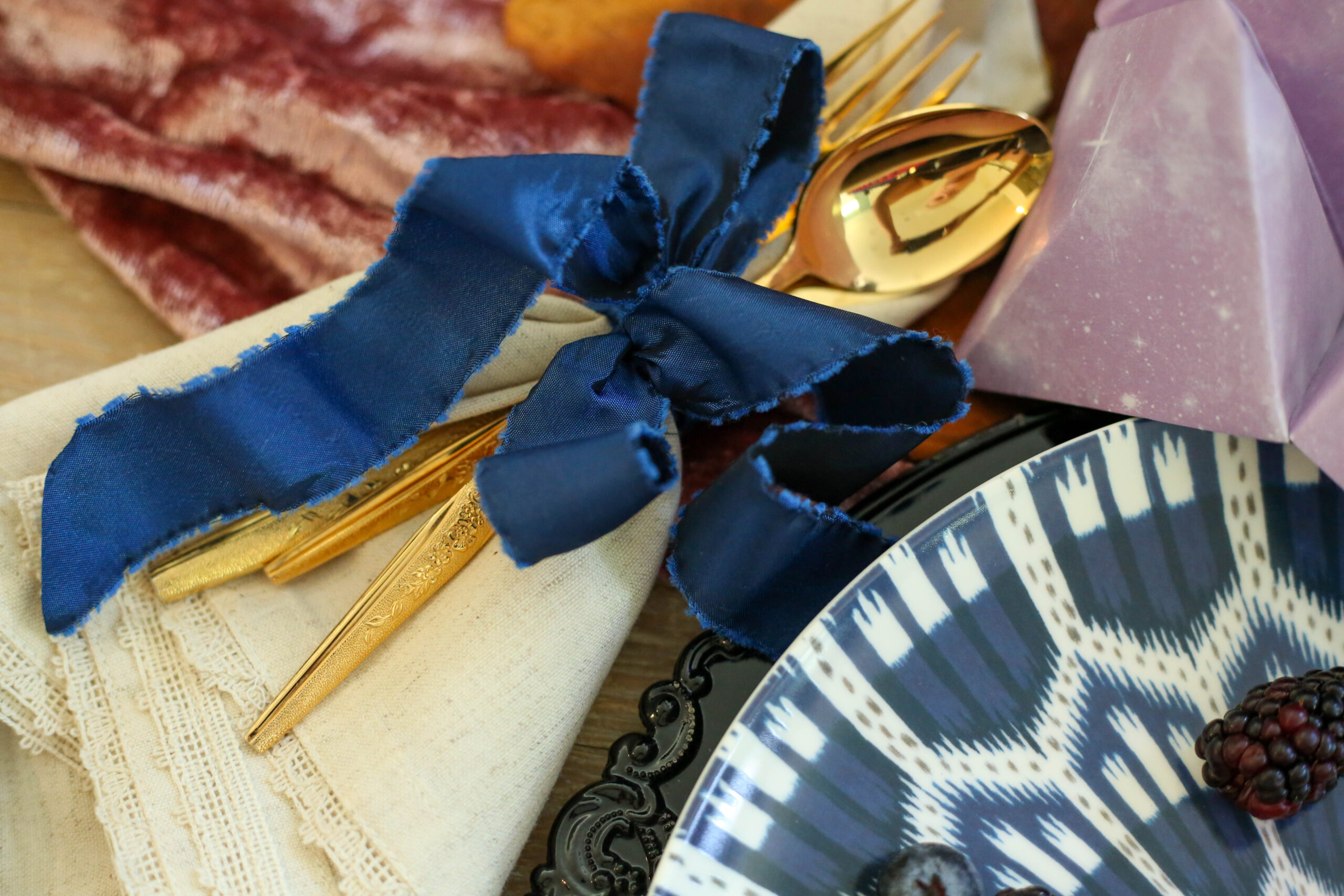 Hand Painted Embossed Favor Boxes
When hosting a fortune teller party with all this dazzle, a coordinating party favor is a must. I created some Hand painted wood boxes and embossed them with a decorative floral embellishment using Plaid Design Creme and a stencil. Once dry, I added fringe and pom pom trims. I adhered a small charoite crystal to the top of each box. Each fancy fortune teller favor is placed on top of the plates, a tarot card for each guest has been  drawn, and is tucked into the side.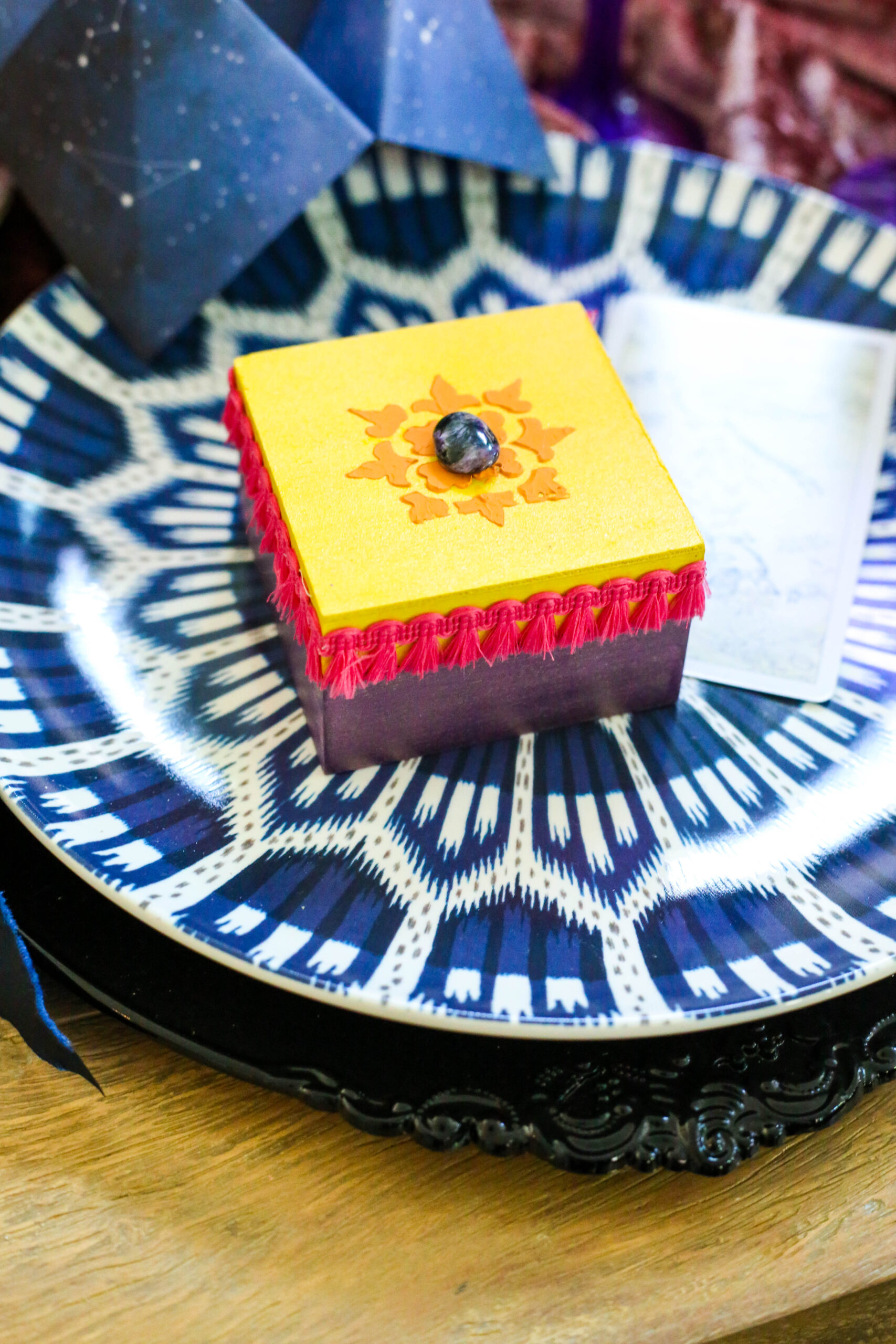 I painted the inside of each box as well. They're luxuriously filled with moss and crystals for each guest to take home.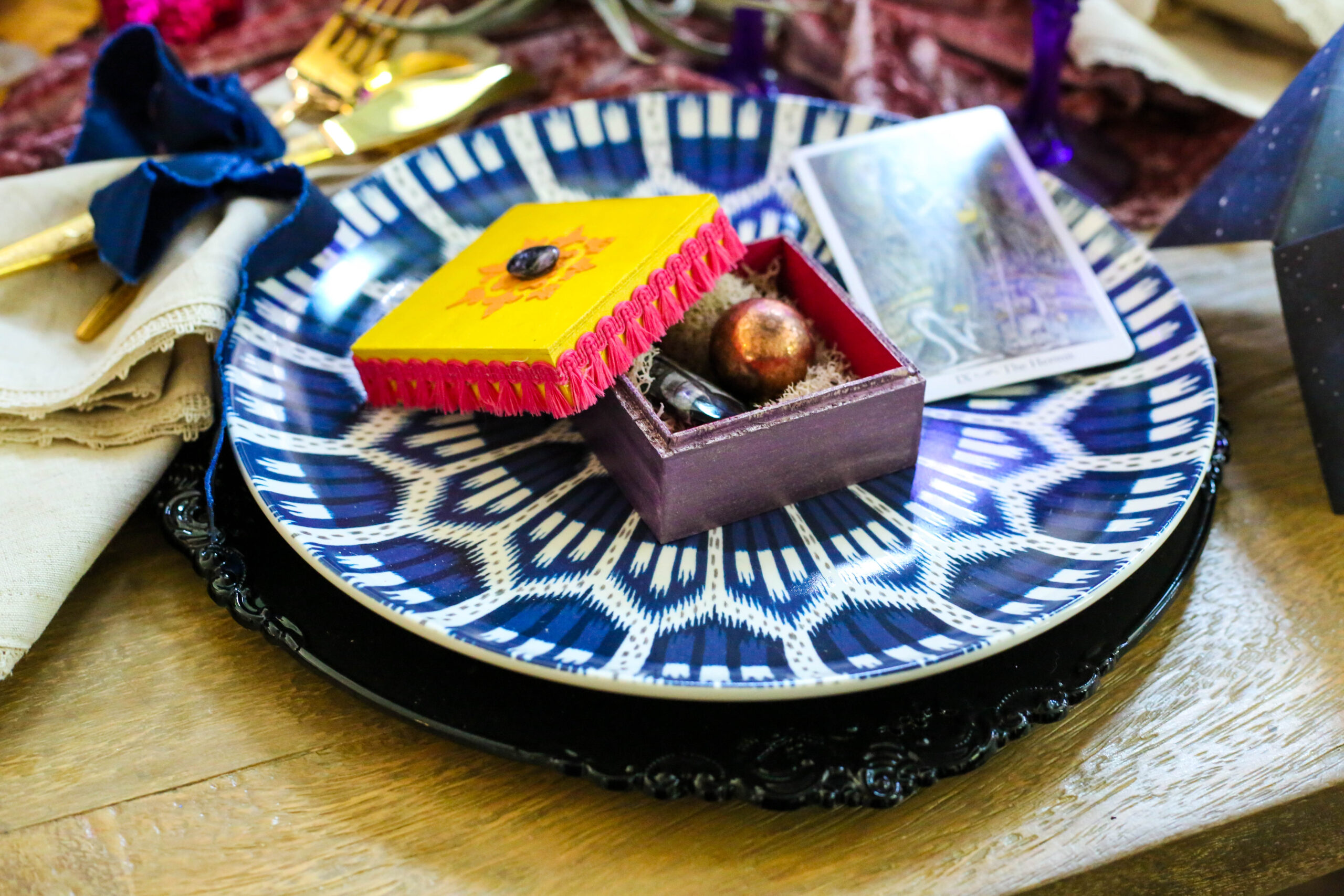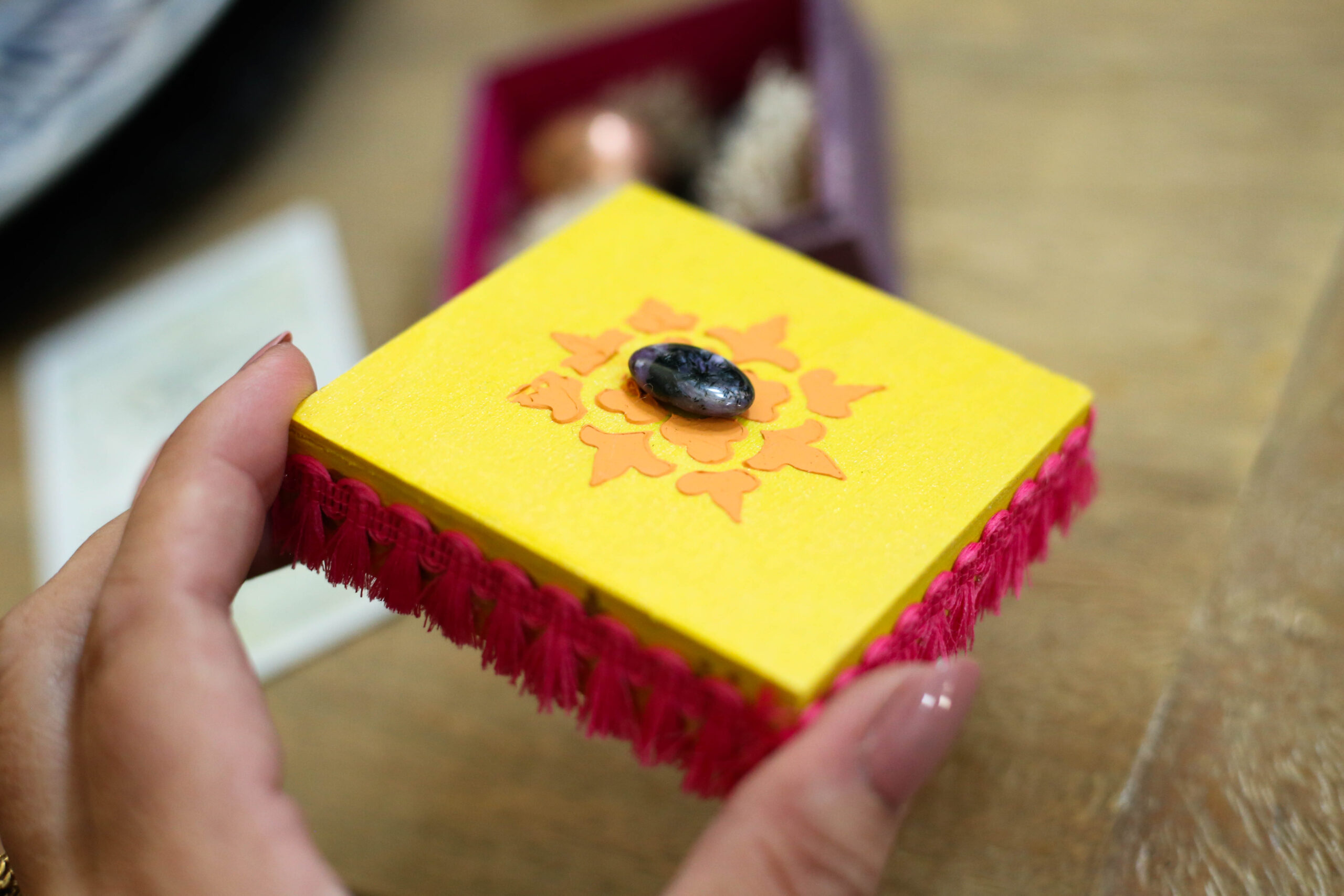 Geode Champagne Glasses
I love to serving up a spooky sip at my Halloween parties. A signature Halloween cocktail for a fortune teller party demands an appropriately decadent vessel. My Geode Champagne Glasses are encrusted with a cascade of shimmering amethyst crystals. The shards catch the light and sparkle brilliantly, but did you notice? These are fabulously faux! You won't believe how these amethyst geode beauties were created.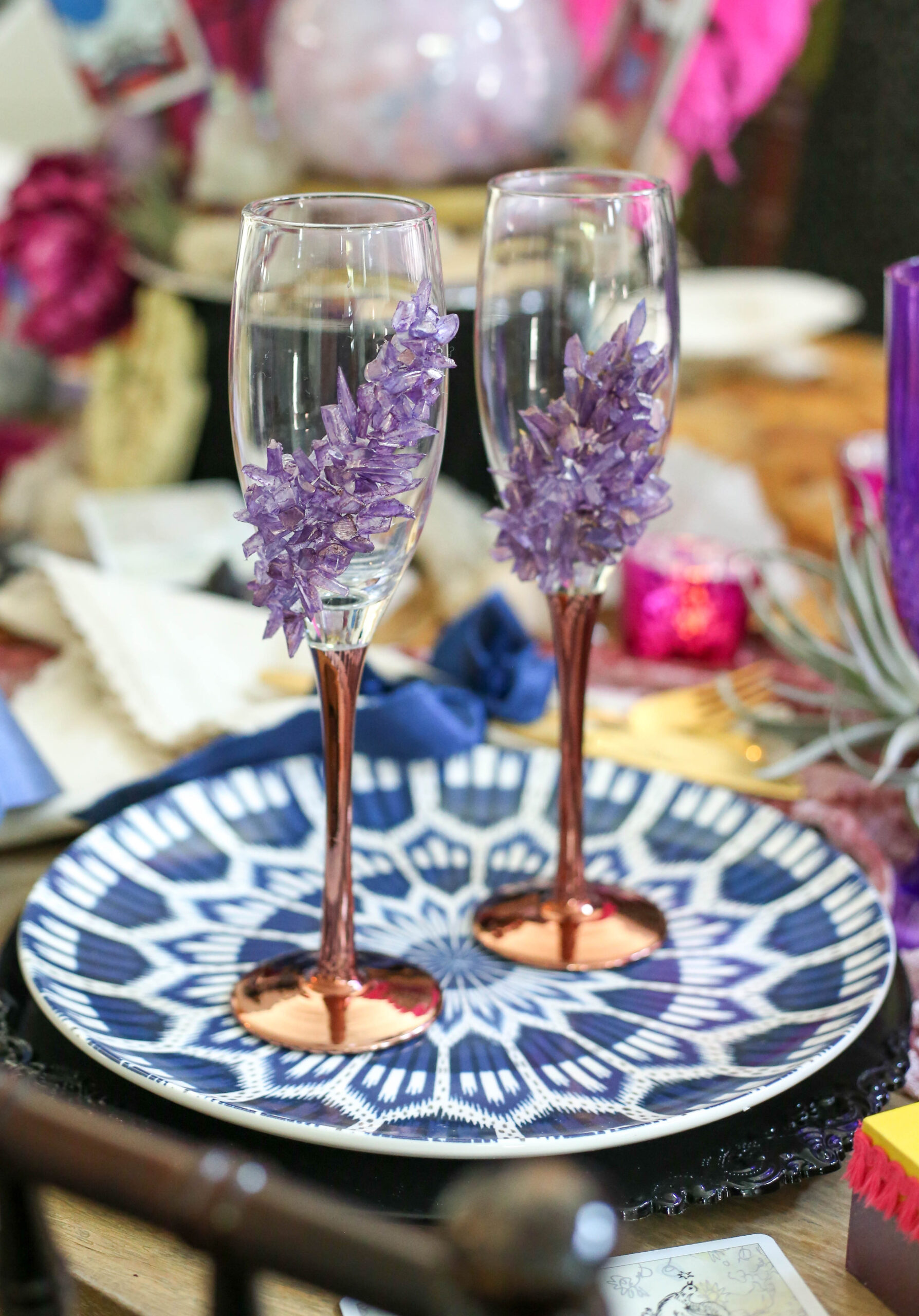 Layer on the Color Texture and Pattern
Setting the table was so much fun, with this theme you can pick and choose from a variety of brightly hued items, and they meld together beautifully. Purple hued patterned wine and champagne glasses are a favorite of mine to use at Halloween. I placed them around the table for guests to enjoy a variety of Halloween "potions". I had a lot of fun making folded paper fortune tellers with zodiac themed scrapbook paper, and these are intentionally left blank; they're for guests to decorate and customize with their own lucky numbers, words of intention and other unique ideas.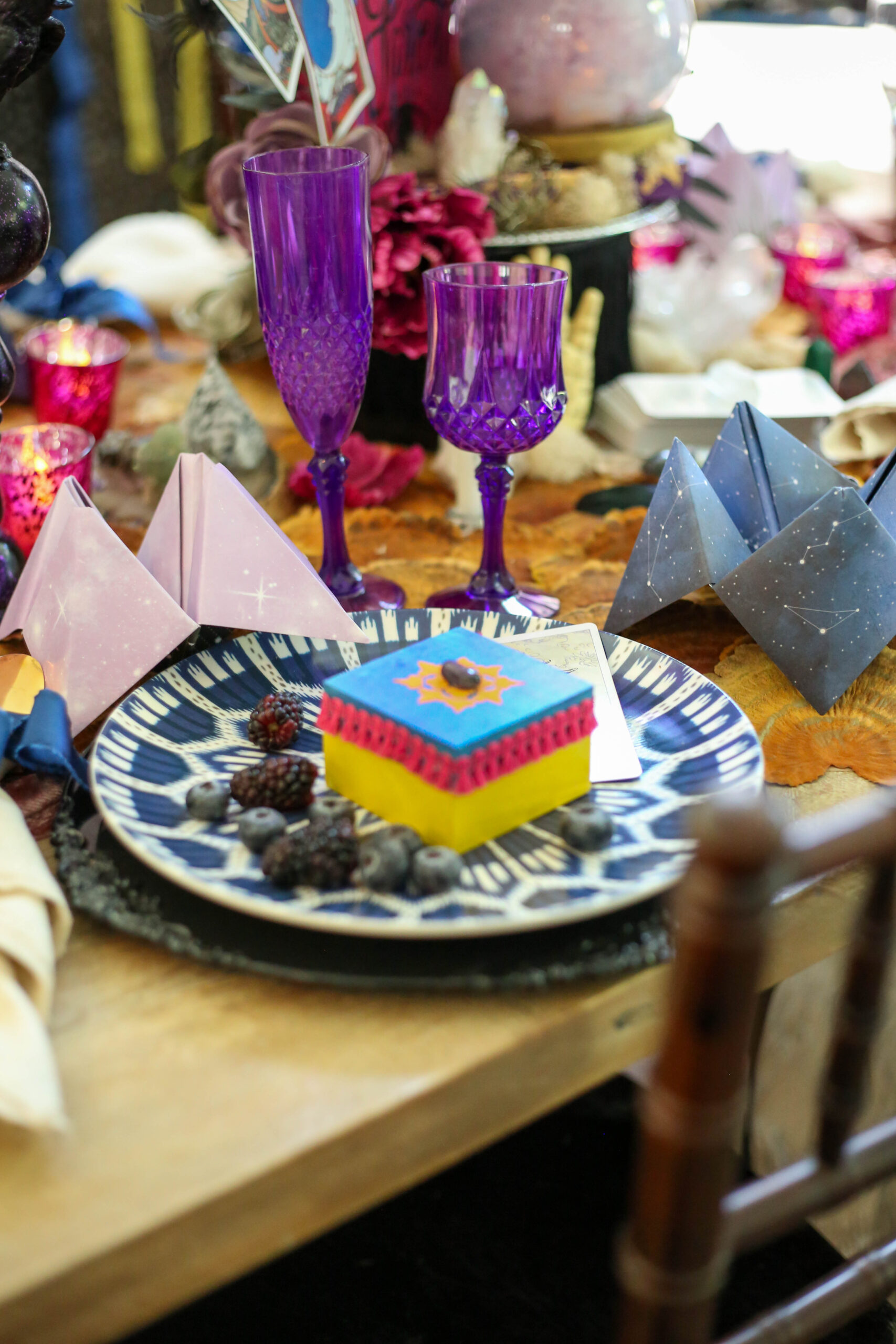 Curioser and Curioser
This old bookshelf came to the party with a new lease on life; I painted the wood piece in a bold hue of brilliant blue Folk Art Home Decor Chalk paint. Now it's a Fortune Teller's shelf of curiosities, and a fun place for guests to stop and browse the fun items on display.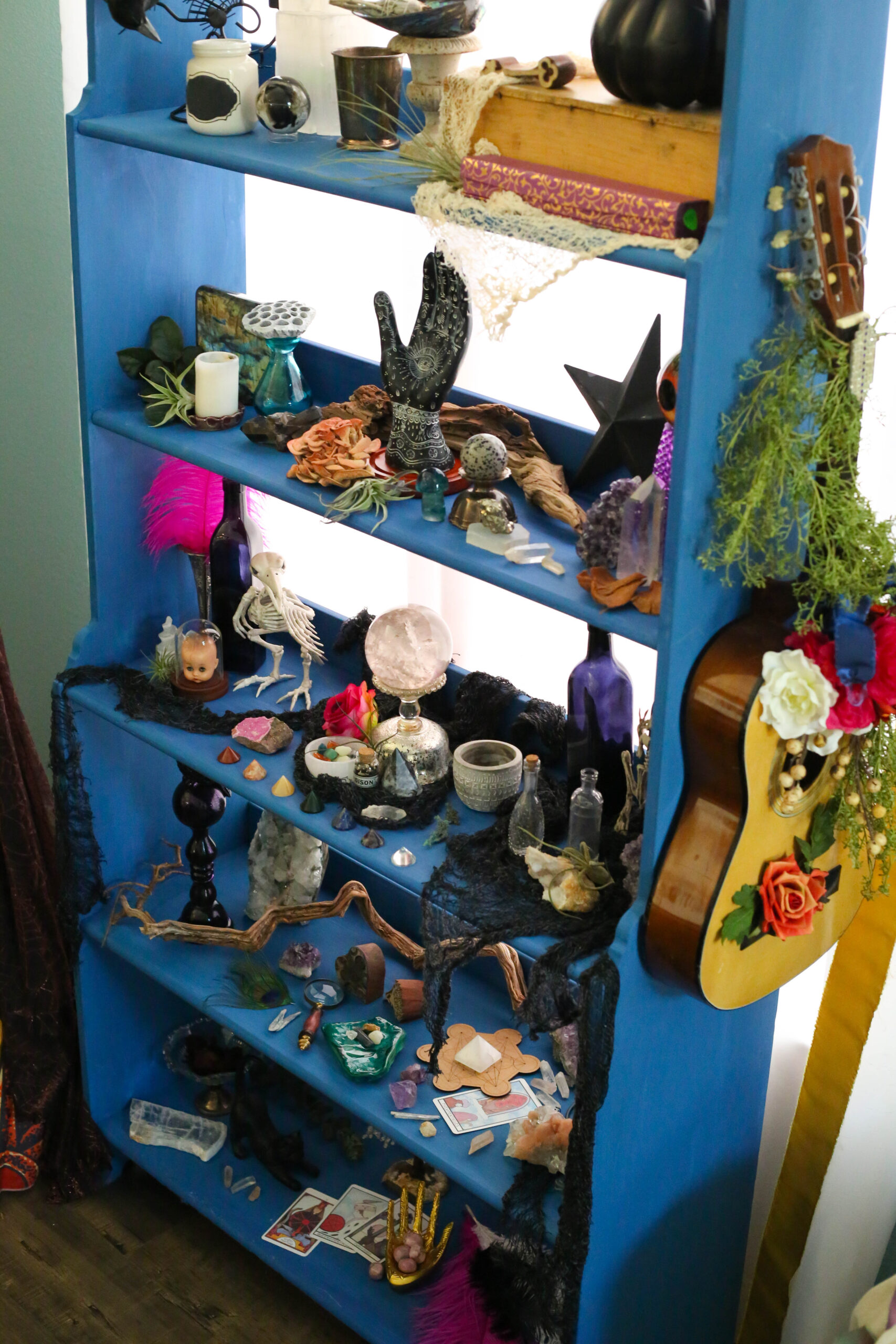 I like to create little viewing areas within my parties to carry the theme. For this fortune teller theme, I added in details like a smokey quartz crystal ball, small colorful crystals, and creepy fabric. It's such a fun way to engage your guests. Each shelf should have a different look, mix natural items like feathers, crystals and greenery with tarot cards and props like books, bottles and other objects. Search your house for items that will fit the theme and get creative!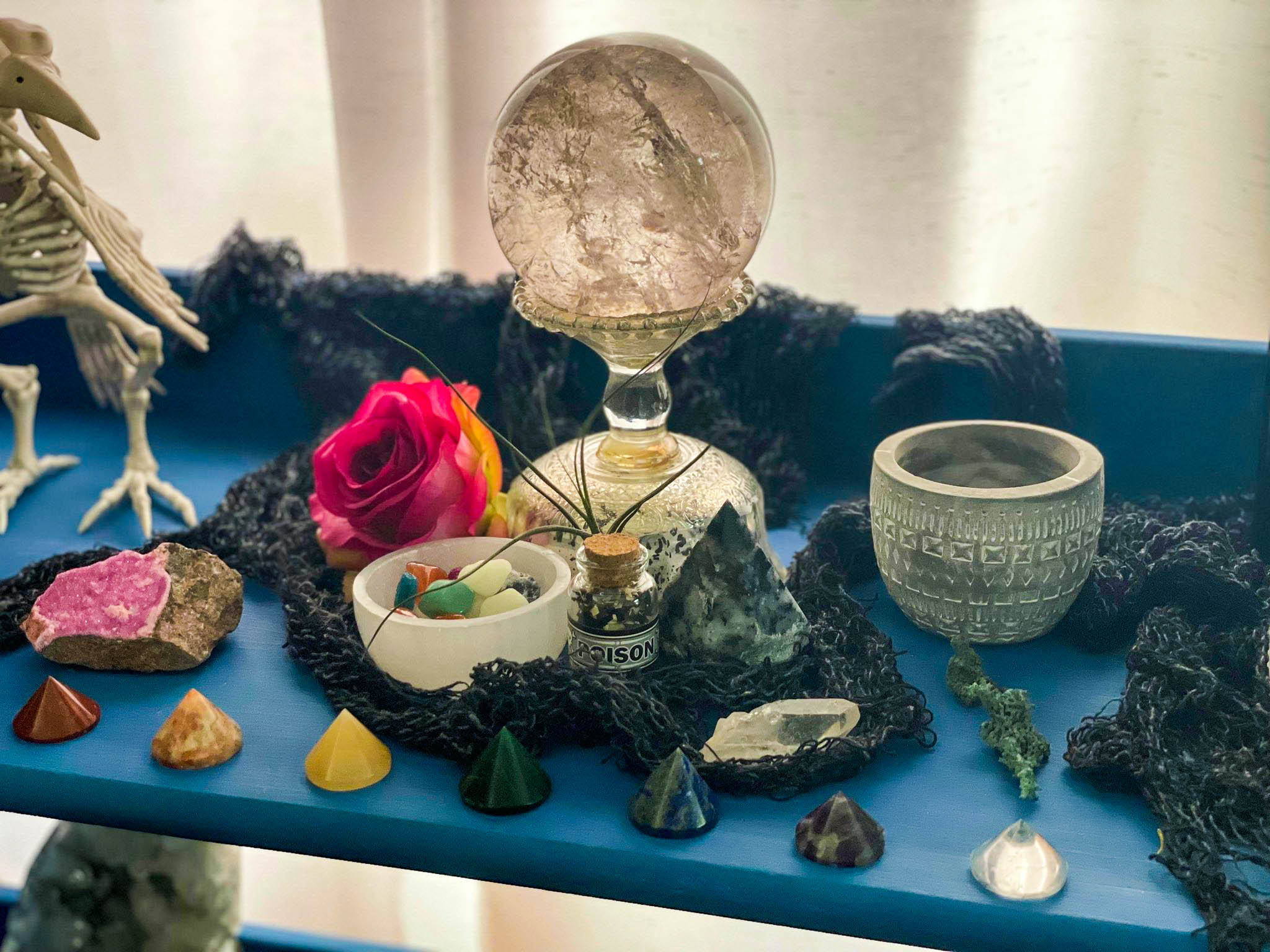 Some of my favorite creepy details are this detached creepy doll head under glass and a raven skeleton. Don't you think they add just the right amount of Halloween drama to this spellbinding look?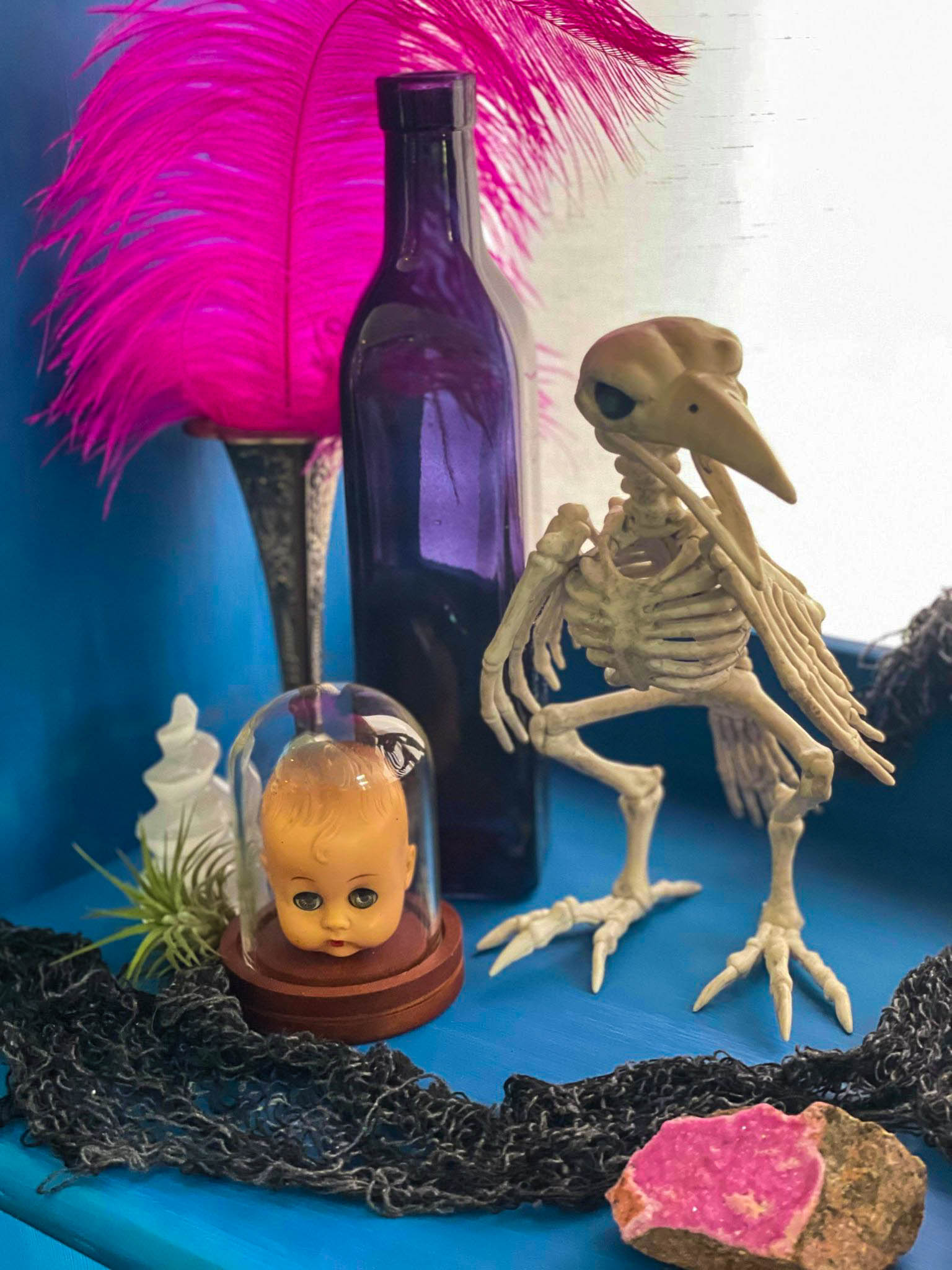 I placed a magnifying glass and some assorted objects for guests to explore. The assortment stands out beautifully against the chalk painted shelves.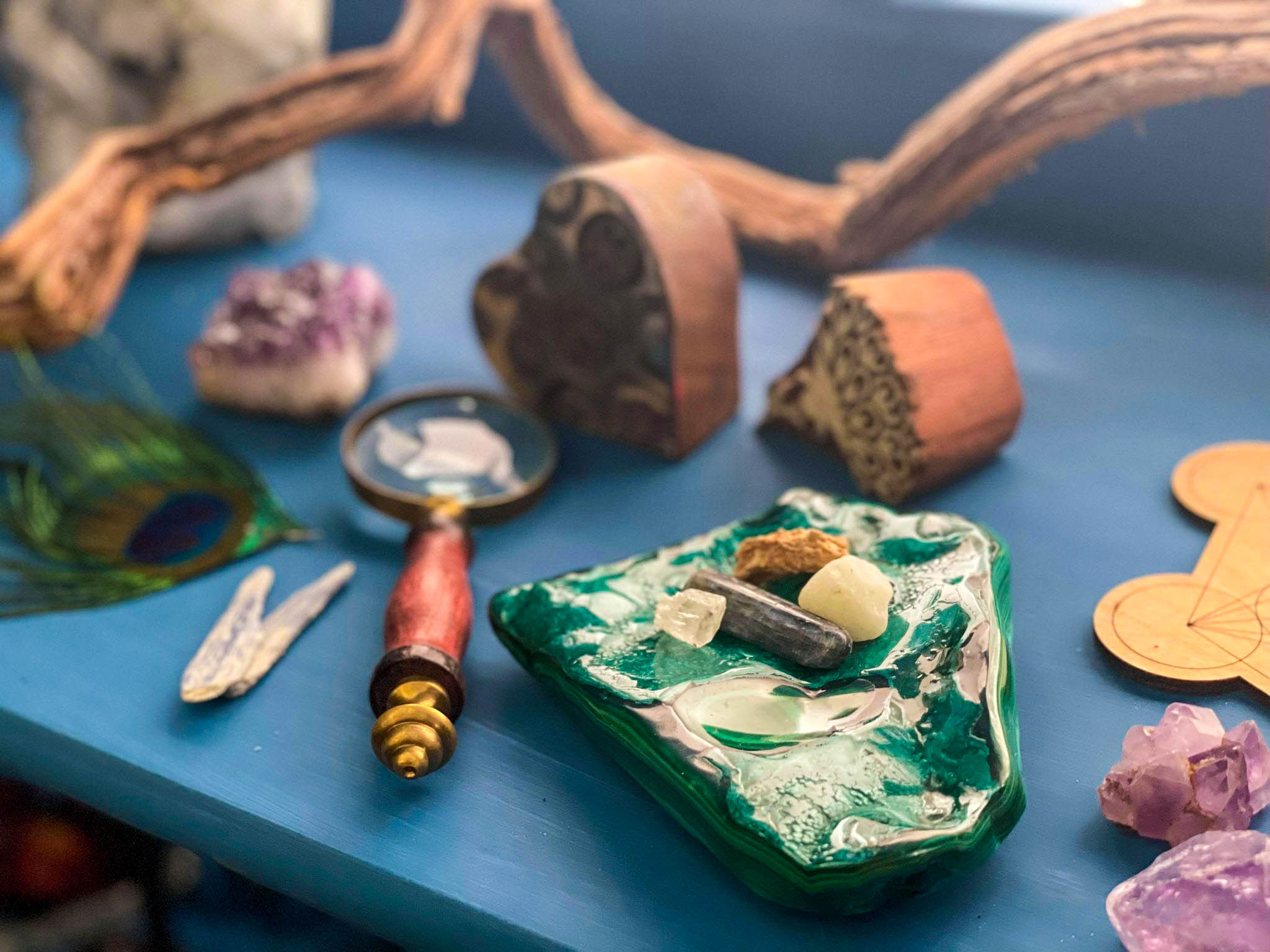 Nearby, I set a small table, styled with a vintage jewelry head draped in taffeta strips. The table is laid with a moon shaped tray and a spread of tarot cards and crystals.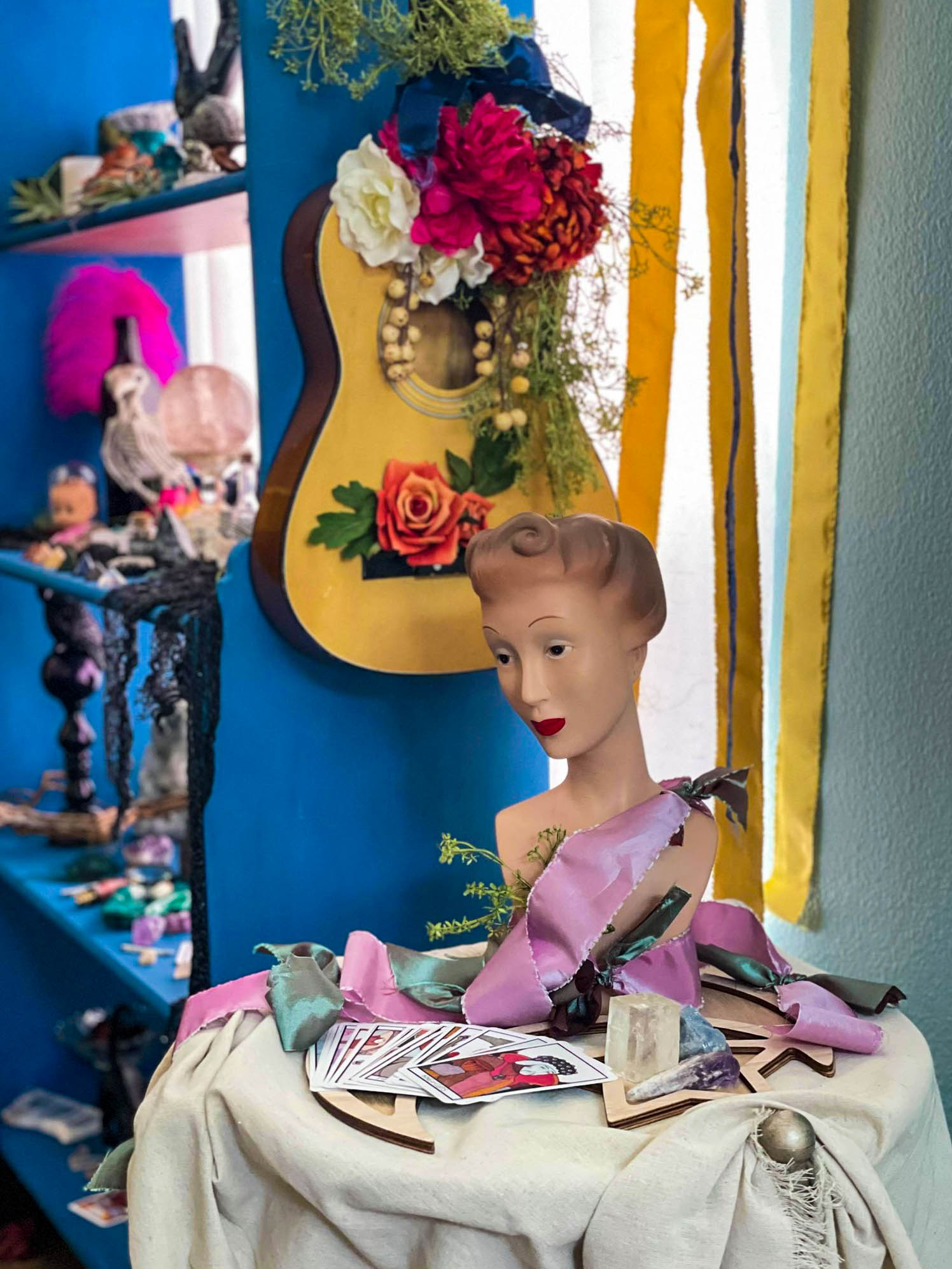 Everything Old is New Again
This old guitar had been hanging around in the garage a while. I cleaned it up, crowned it with some giant floral blooms and a garland of greenery. Taffeta strips in the theme colors are also hung from the window adding to the robust, layered look.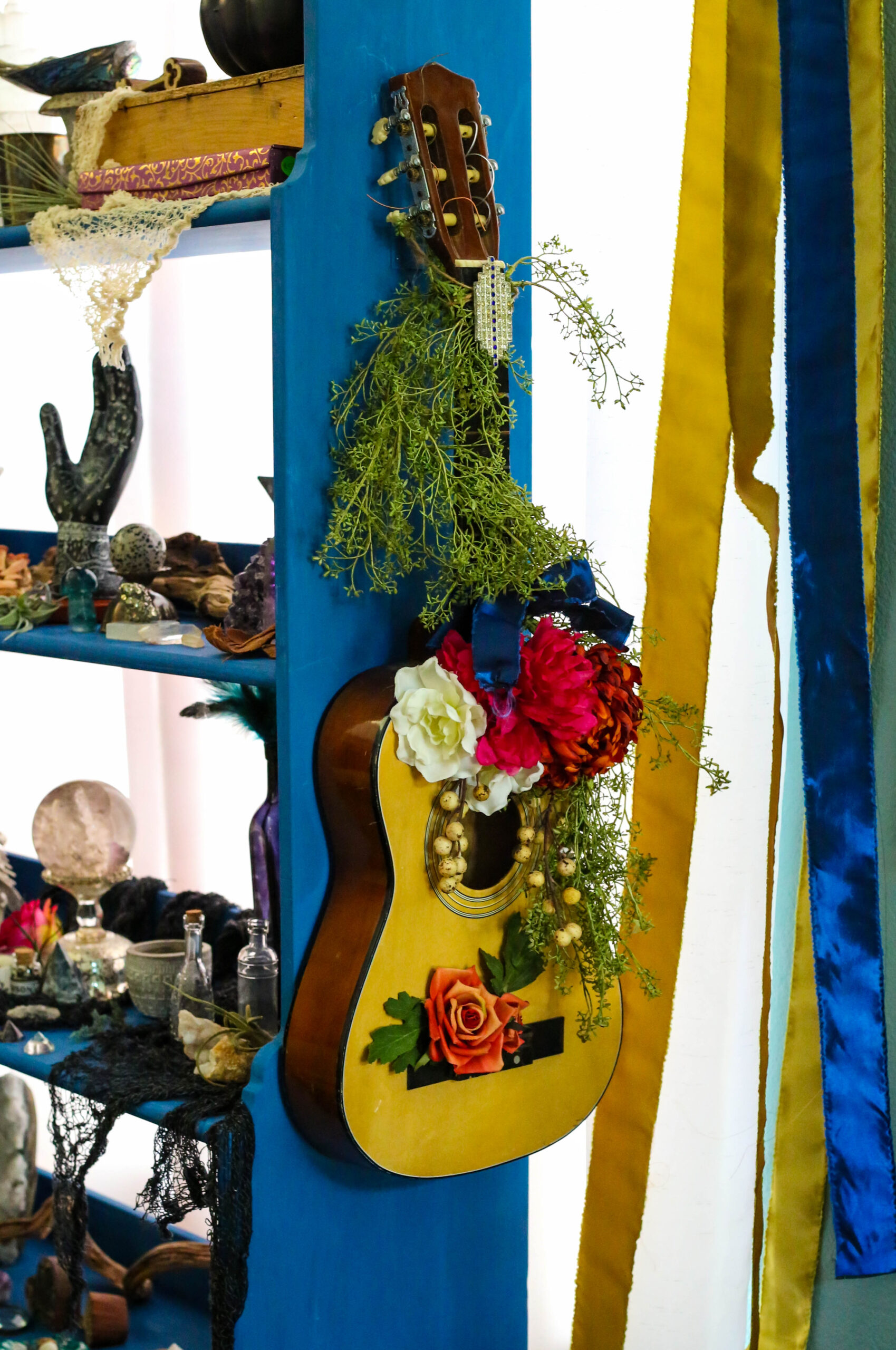 Gaze Into the Future, If You Dare
The aged and clouded surface of this creepy chic mirror isn't the only disconcerting thing about it. It's crawling with creepy, iridescent bugs painted with Brushed FolkArt Brushed Metal Paint in Brushed Dark Gray. But look more closely, if you're brave enough. There's something…very haunting about this malevolent mirror, twisted in graveyard greenery and moss.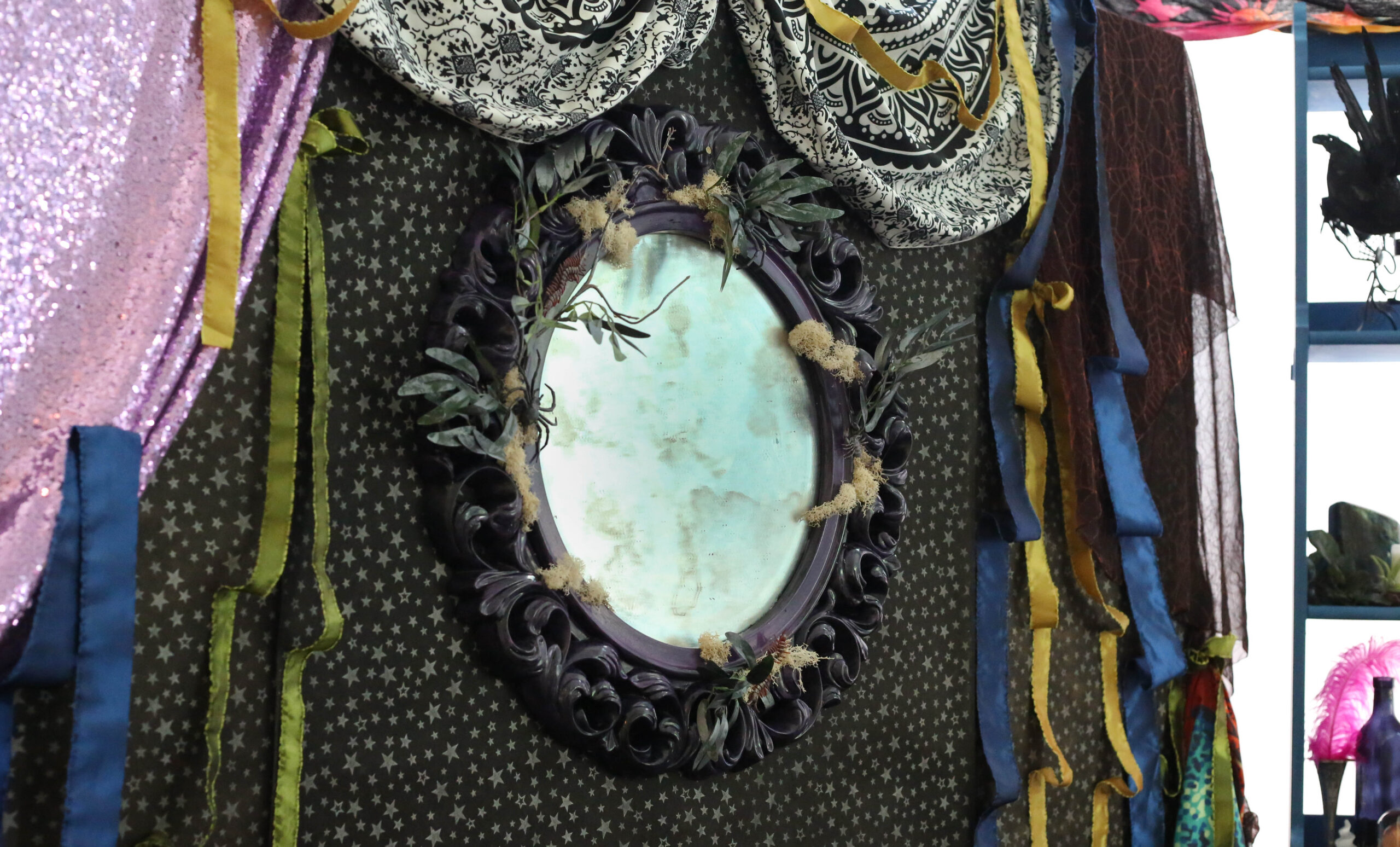 The Glow Up
If you had a strange feeling about this supernatural looking glass, you were right: it holds an astonishing secret. Under the glow of a black light, a scream-worthy hidden view is revealed. See how I created this incredible special effect with this Haunted Mirror DIY using Black Light Mod Podge. The black light also picks up on the beautifully finished frame, painted with Plaid FX paint in Malevolent, then covered in a generous coating of Dragonfly Glaze in Full Spectrum.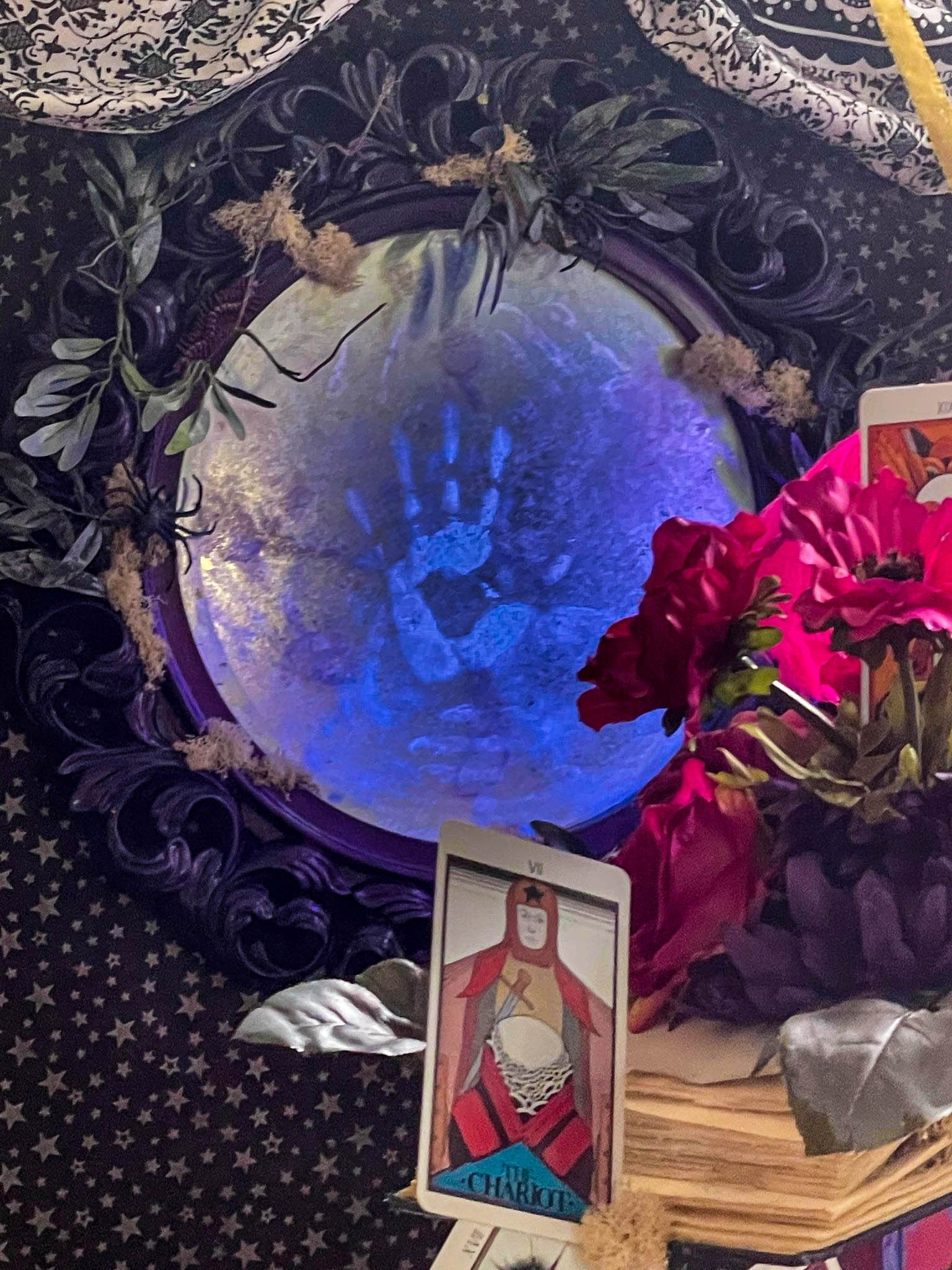 I also brushed the tarot cards in the centerpiece with Black Light Mod Podge. By changing the lighting to black light, this party takes on an entirely new look and feel!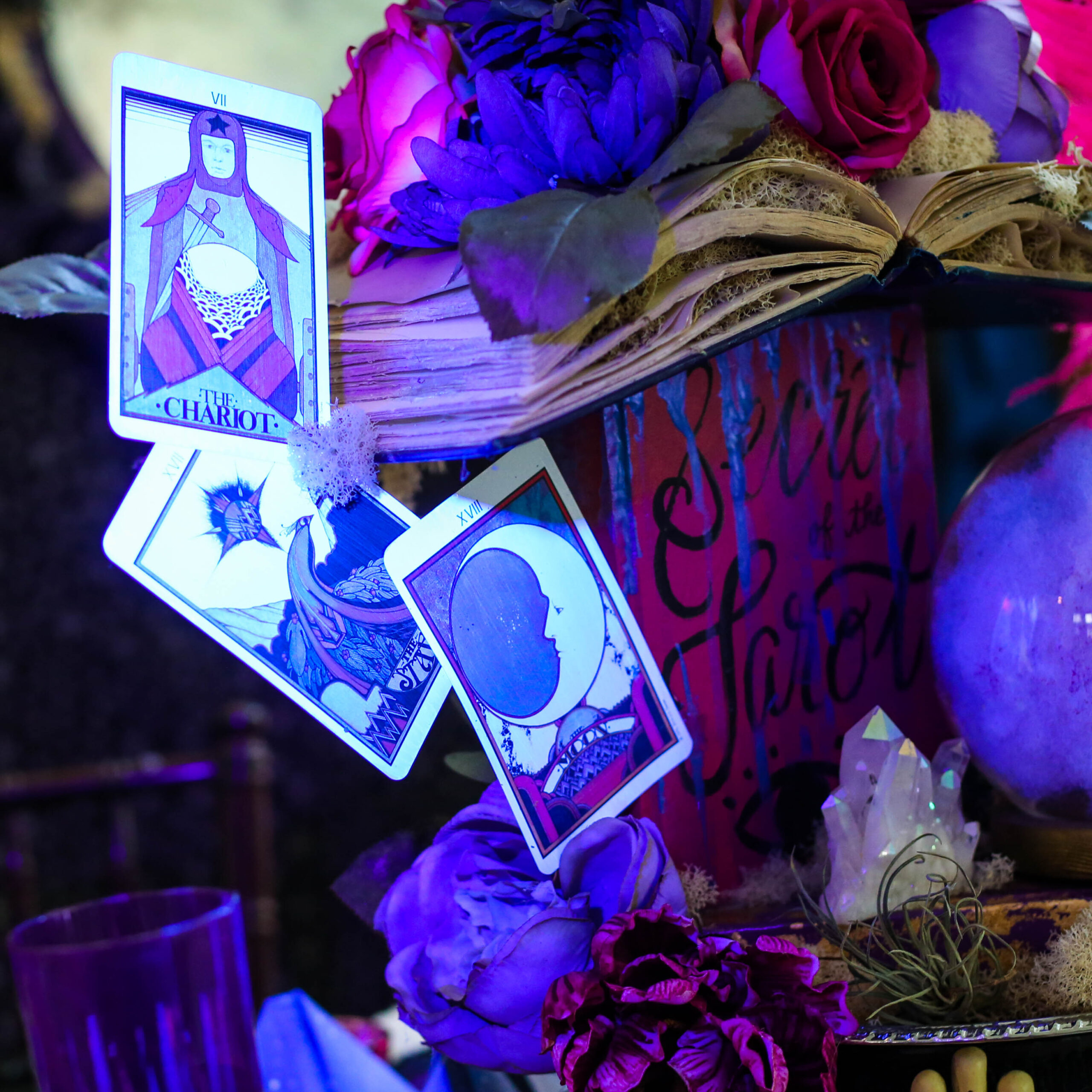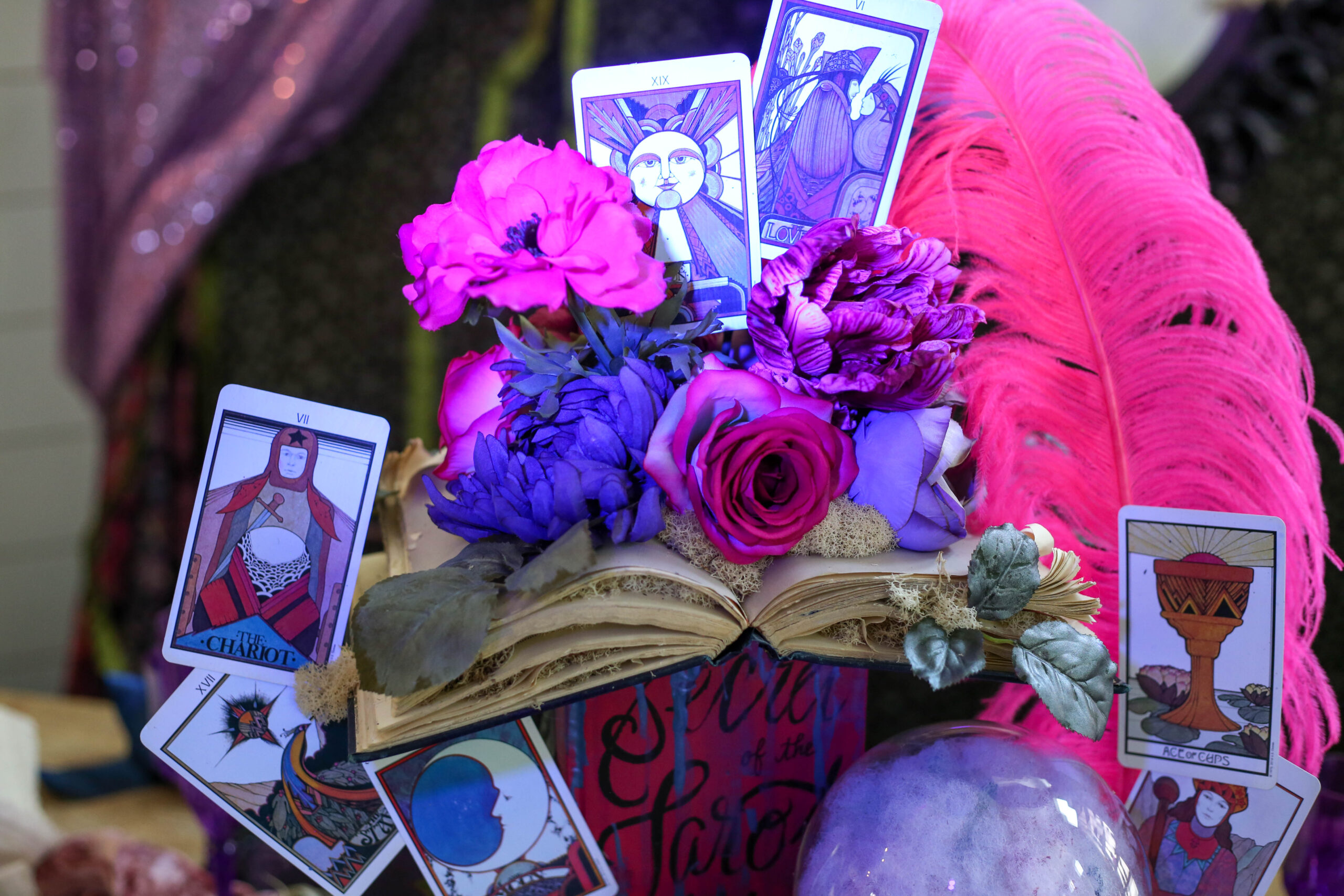 Hope You've Had a Ball
Your ethereal friends from this realm and beyond will adore this elegant Fortune Teller Halloween theme. Thanks ever so much my darlings for stopping by this supernatural soiree. Off with me now, fortunes to read, crystals to cleanse. Hope you've had a BALL!