An ornate framed mirror grabbed at a garage sale gets a spooky makeover. By adding layers of paint and black light effects, it's transformed into something quite haunted! Display this eerie Haunted Mirror with Black Light Effect at a Fortune Teller Party or any Halloween party. The hidden scare is revealed by the glow of a black light, revealing the clear imprint of many hands trying to escape the depths of this supernatural looking glass.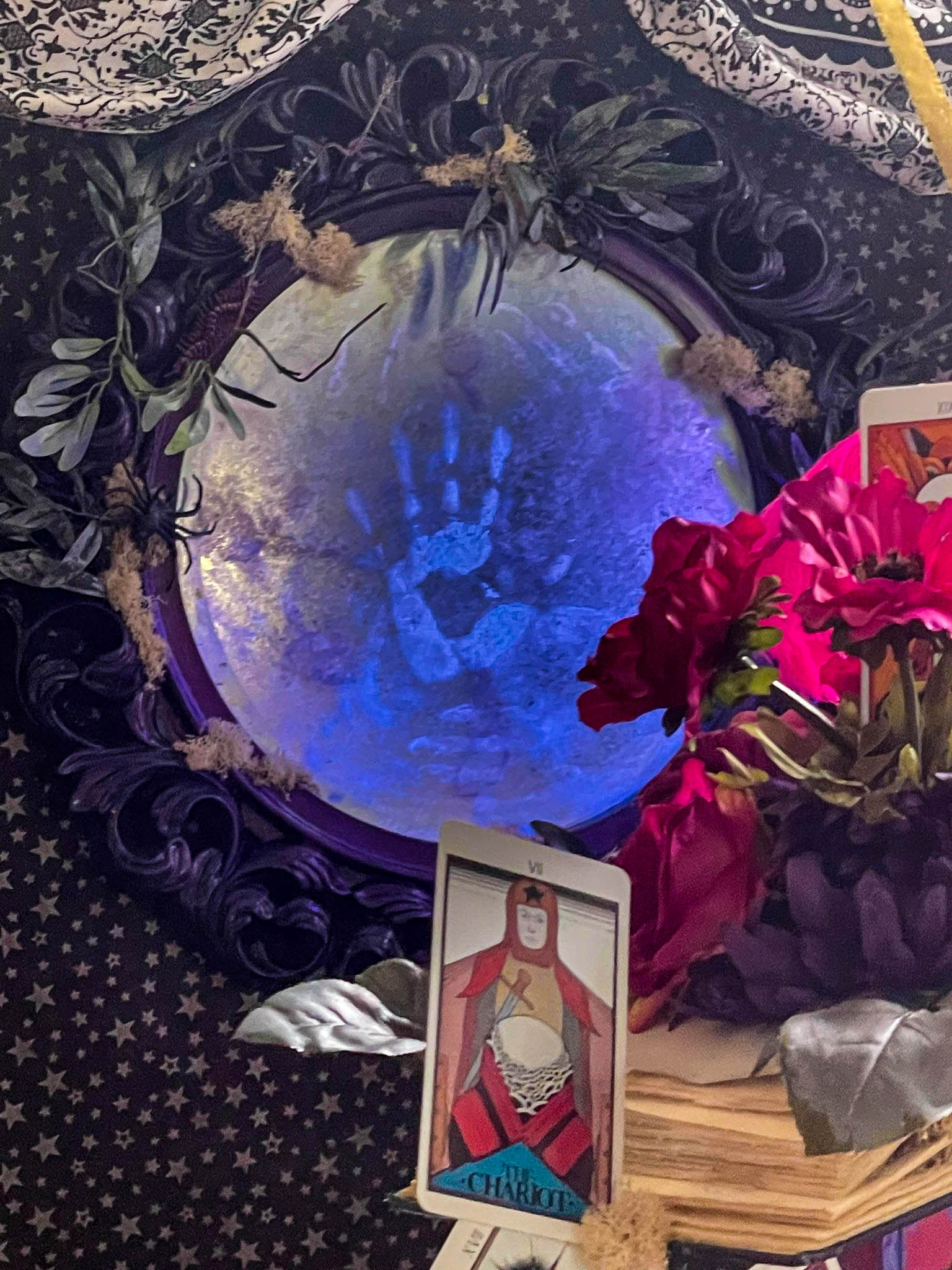 Here's What You'll Need:
Framed Mirror
Inexpensive Greenery Garland
Reindeer Moss
Plastic Spiders and Bugs
Black Light
Hot Glue
Step One
Paint the surface of the mirror's frame with Plaid FX Paint in Malevolent. Since the frame of my mirror was black, I wasn't worried about the base color showing through. If you like the base coat of your mirror's frame, this step should be a quick one!
Step Two
Once the purple coat has dried and you like the way it looks, add a generous coating of FolkArt Dragonfly Glaze in Full Spectrum Shift to the surface of the frame. This adds a subtle shimmer and iridescence that is spectacular for creating cool Halloween crafts that look store-bought.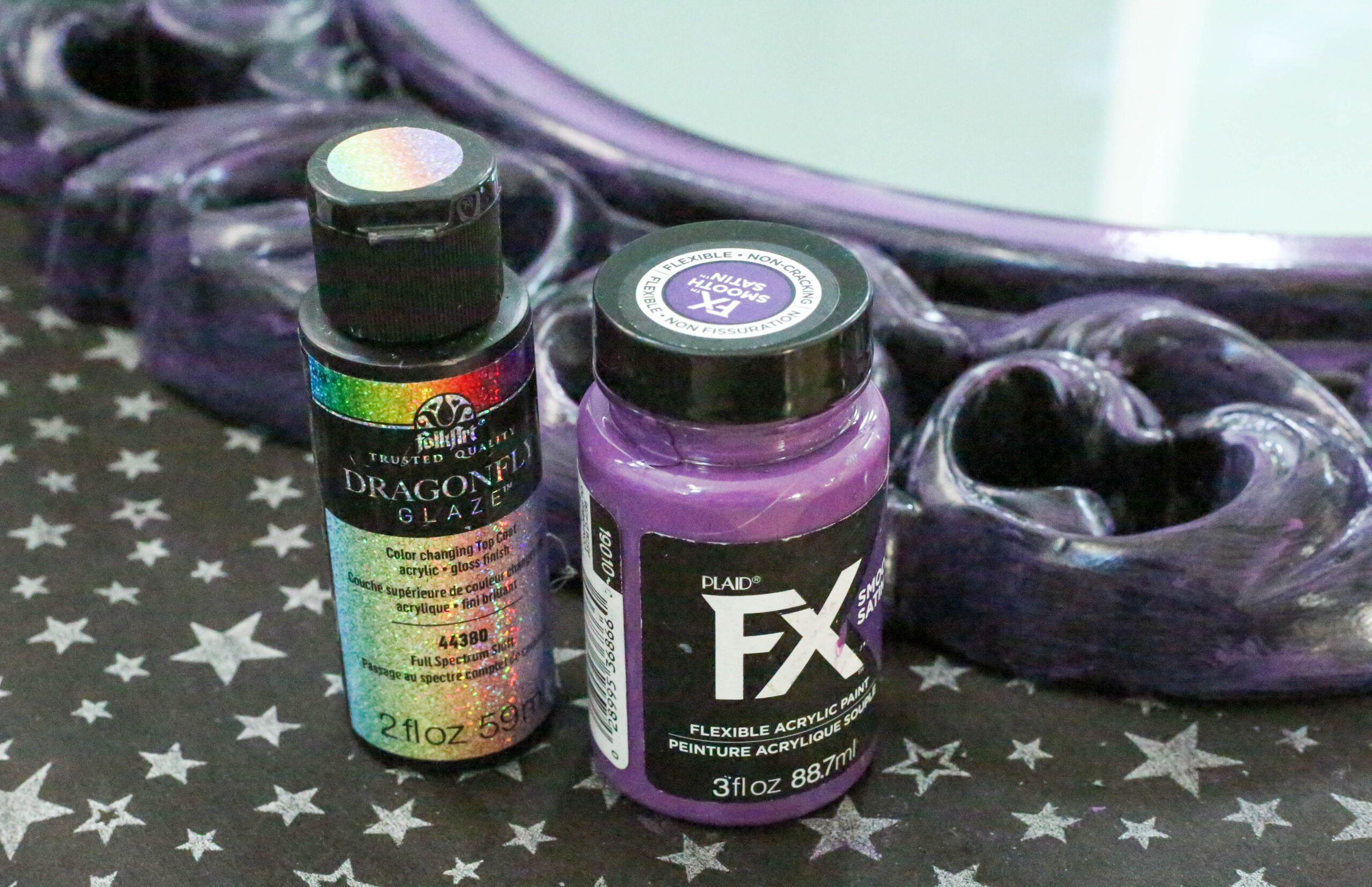 Step Three
Use a paintbrush to stipple FolkArt Brushed Metal paint in Brushed Dark Gray onto the surface of the mirror. The goal is to create an aged effect of mottled, hazy areas on the mirror.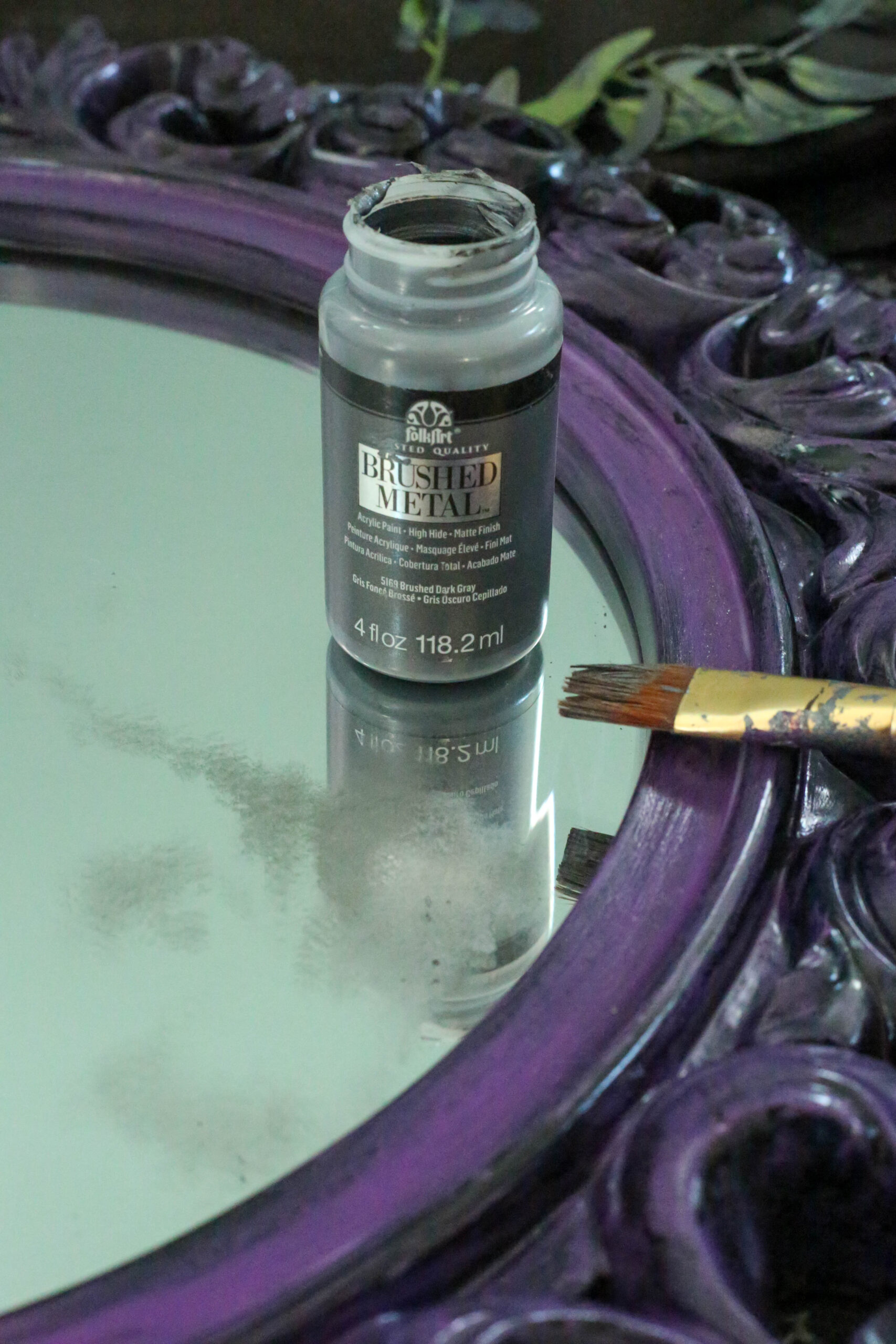 Step Four
Warning: super cool effects ahead! Use a brush to apply a generous coat of Mod Podge Black Light to the palm of your hand. Yes, that's right! Don't be shy about it either, this is for the sake of cool Halloween decor! Brush it on, and plant your hand firmly in the center of the mirror. Turn on your black light to check the application has transferred cleanly. You can use a brush dipped in water to clean up the edges if you like, but I find an imperfect print to be just as terrifying. Use more Mod Podge Black Light to add partial finger and handprints around the perimeter of the mirror too. Under the glow of a black light, this will give the impression of MANY hands trying to escape the confines of the mirror.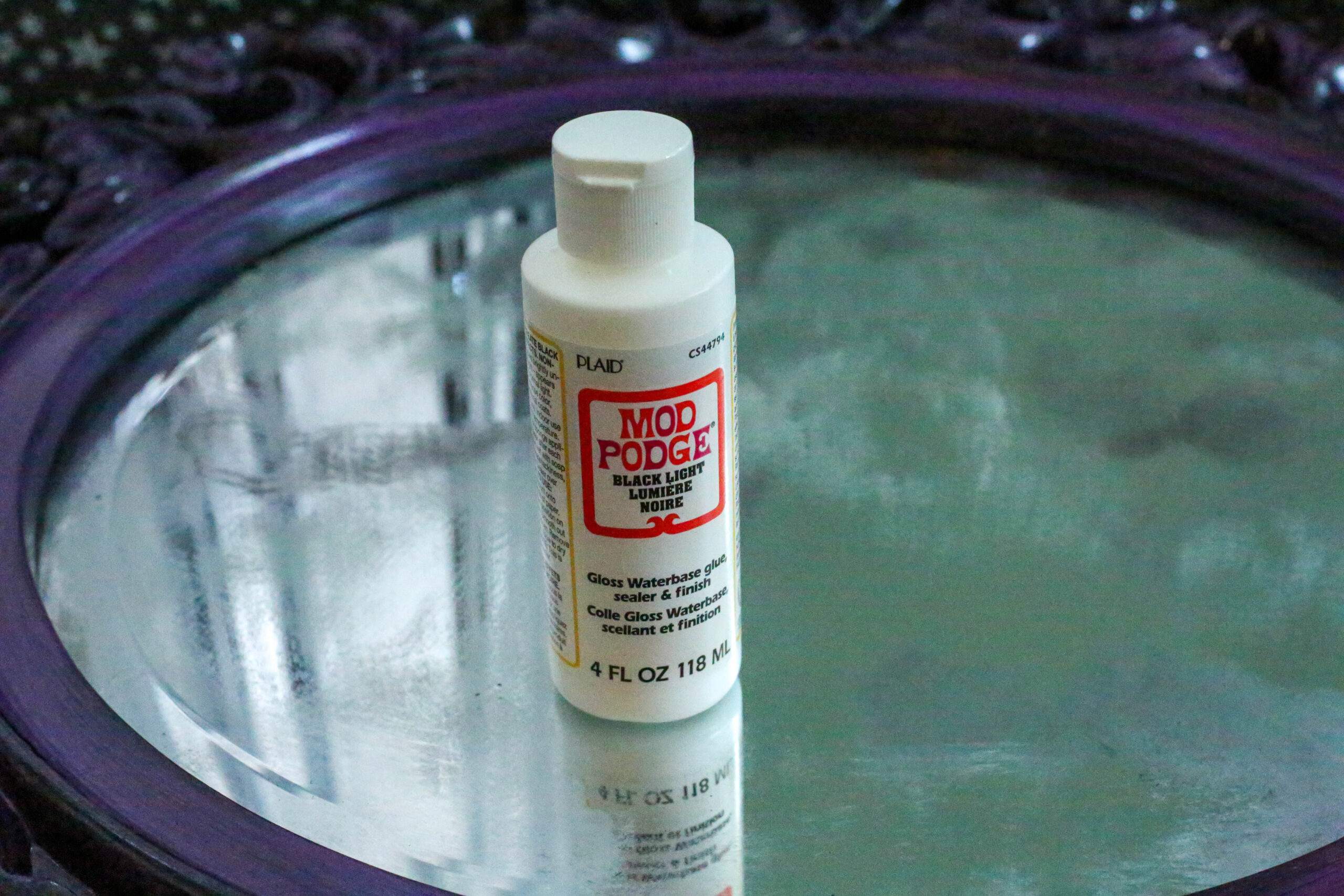 Step Five
Give your greenery garland a dousing of Brushed Metal Paint in Brushed Dark Gray for a creepy graveyard effect. Brush it onto your plastic bugs and spiders too. Then, glue the painted garland and creepy crawly things around the perimeter of the mirror with some reindeer moss.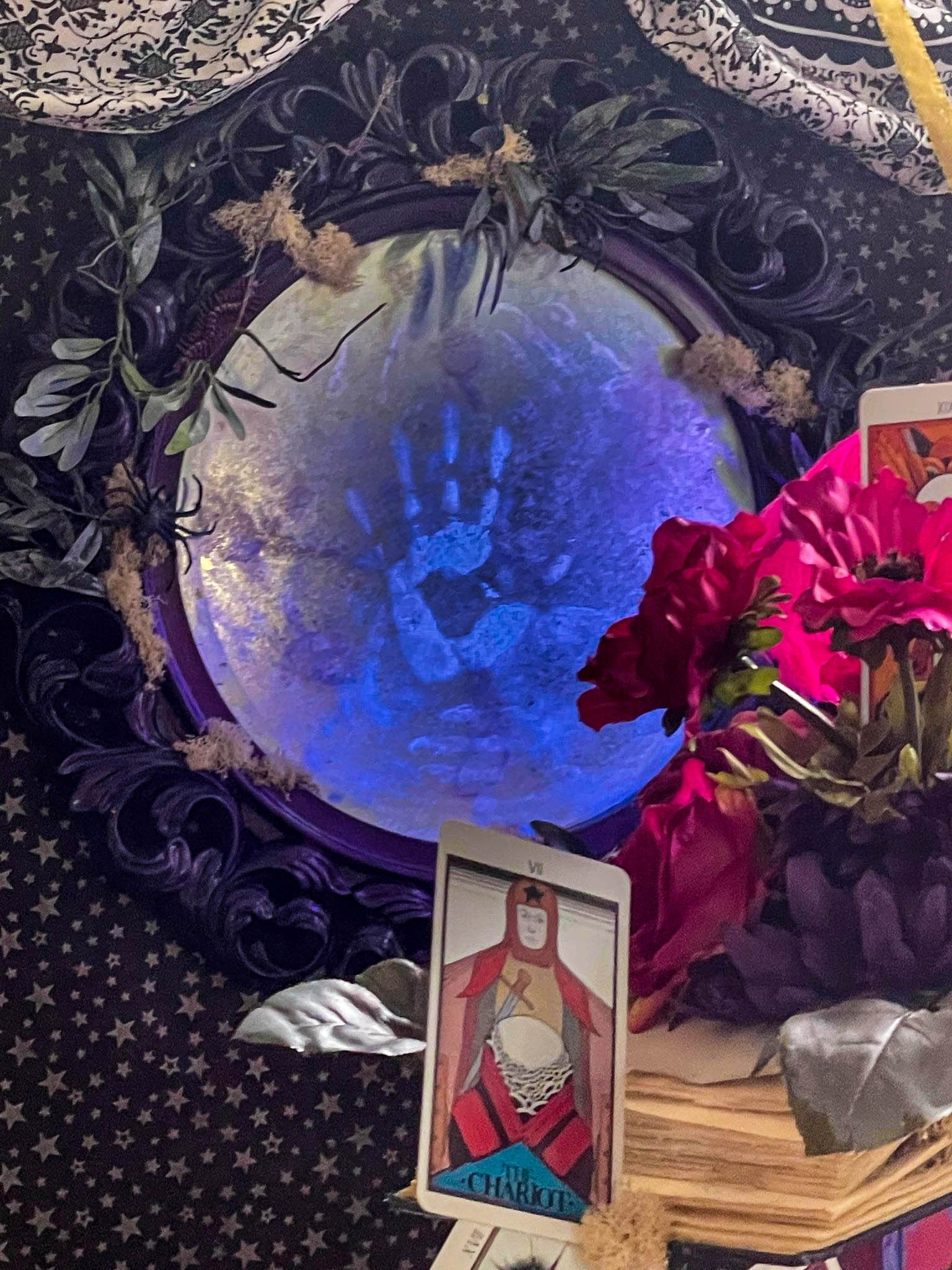 This Mod Podge Black Light is spectacular for creating unique Halloween crafts with surprise effects. I brushed it onto some of my other Fortune Teller Party elements as well, and just love how it changes up the look and feel of my Halloween party!