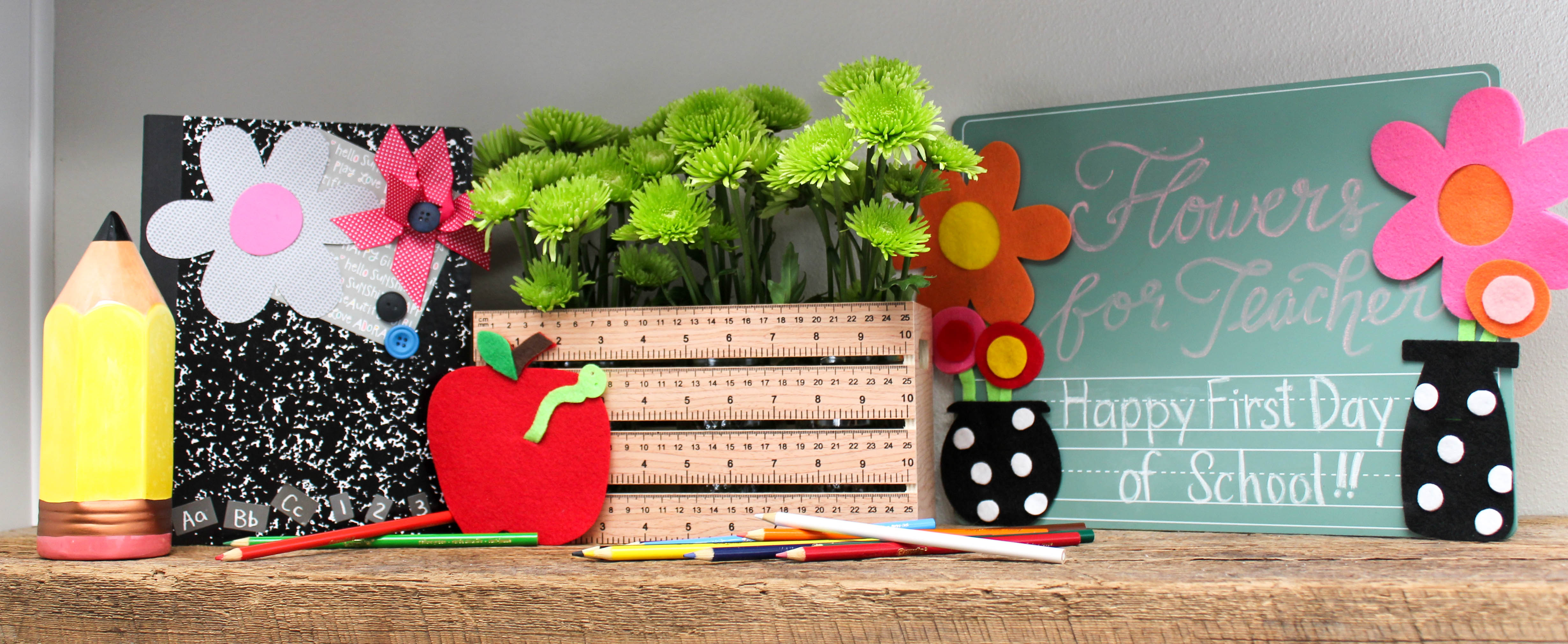 School days are back in session, and as usual, we're in a whirlwind of preparation. Between shopping for school supplies, scoping out all the latest fall fashions, and getting ready to set our alarms just a bit earlier, coming up with a cute way to greet the teacher on the first day of school was, admittedly, not at the top of my lengthy to do list.  But, a quick trip to Target and some darling Sizzix dies, designed by Laura Kelly, gave me tons of inspiration, and in no time at all, I whipped up not one, but THREE cool gifts for our new special teacher. I can't wait to share them with you!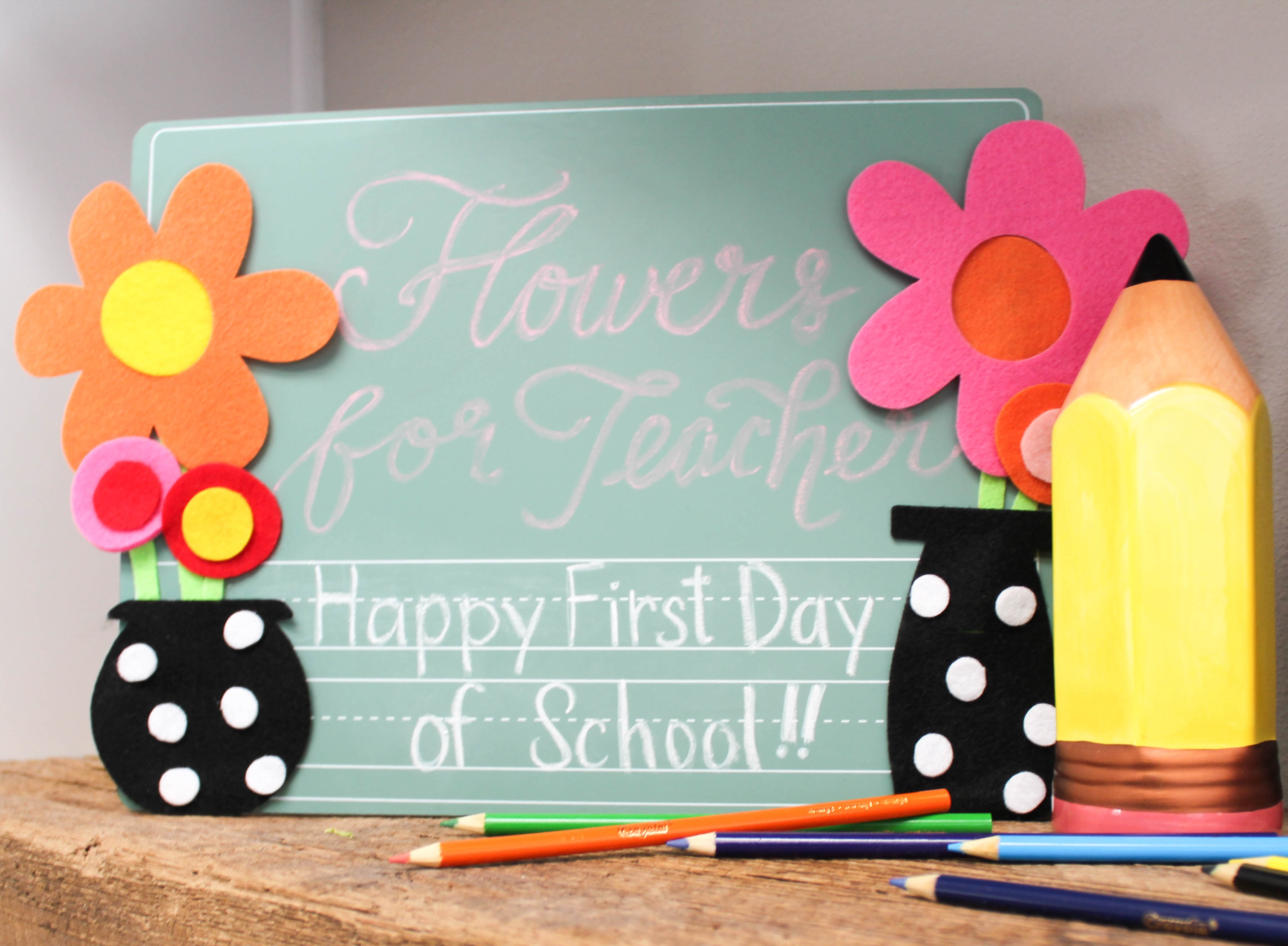 "Flowers for Teacher" Charming Chalkboard
I found this chalkboard in the dollar spot at Target; isn't it perfect for a school themed gift? It even came with a package of assorted chalks, which was very handy. I created these cute flower pots using squares of black felt from Kunin Felt, and the Jar and Fishbowl dies from Laura Kelly. Laura has this thing for polka dots, so I added a generous sprinkling to the vases in her honor. I love how they turned out.

The large felt flowers were cut using Laura's Big Flower die, and the smaller ones are made from using just the centers with a smaller circle, from a pack of Laura's Polka Dots. I think our new teacher is going to love displaying this bright, sunny sign in her classroom.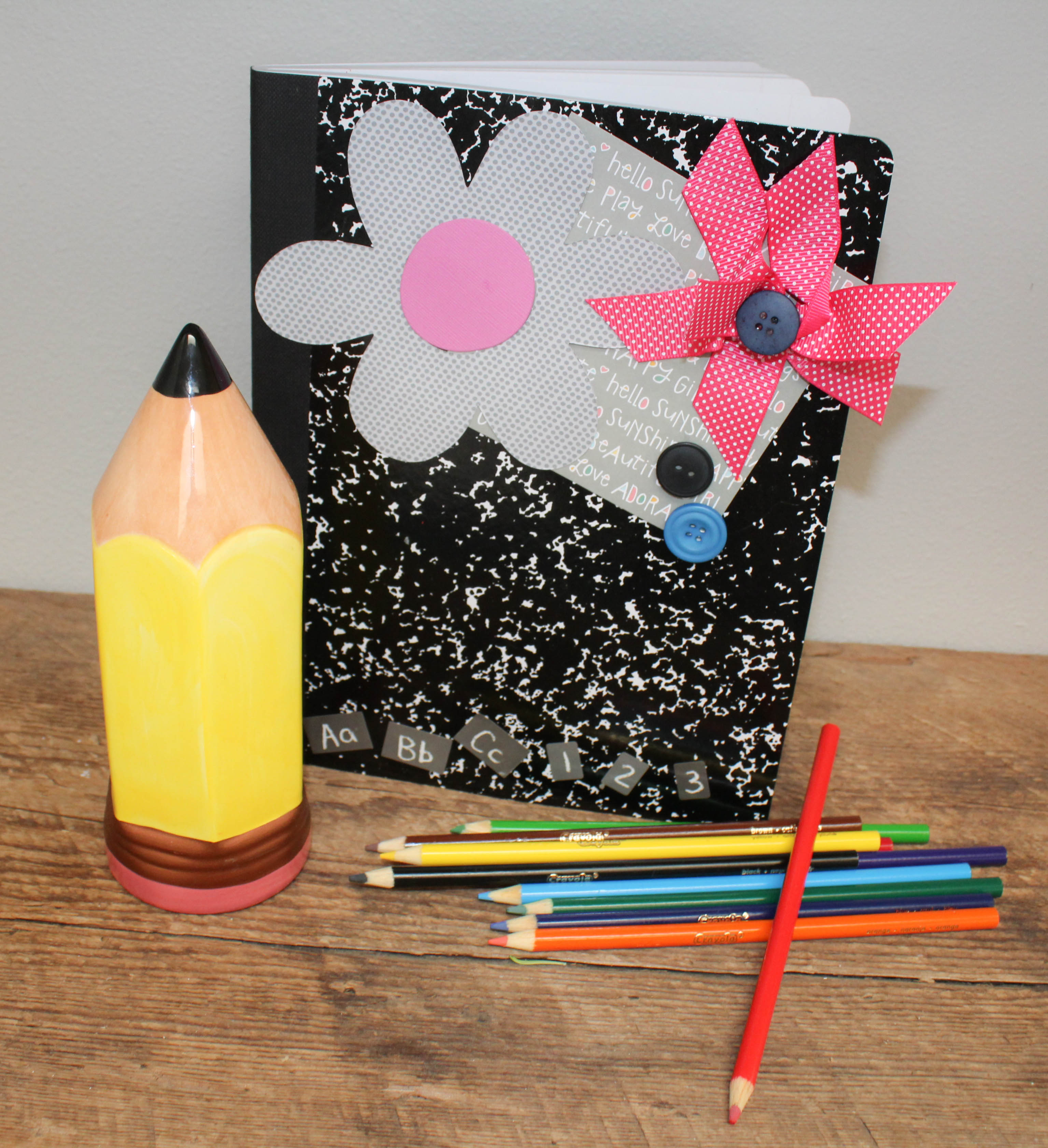 Cool and Crafty Composition Book
Nostalgic and practical, composition books take me back in time, to when I was learning to write. They come in tons of colors now, but classic black is still my favorite. I used Laura's Big Flower Die to cut contrasting colors of Kunin Felt for the flower petals and the center, and then layered them onto the book with some ribbon scraps and buttons. The result is a totally customized comp book that's as useful as it is adorable! Being the busy bee that I am, I love that Laura sells all the supplies to make this in a quick and easy kit, which  you can order here.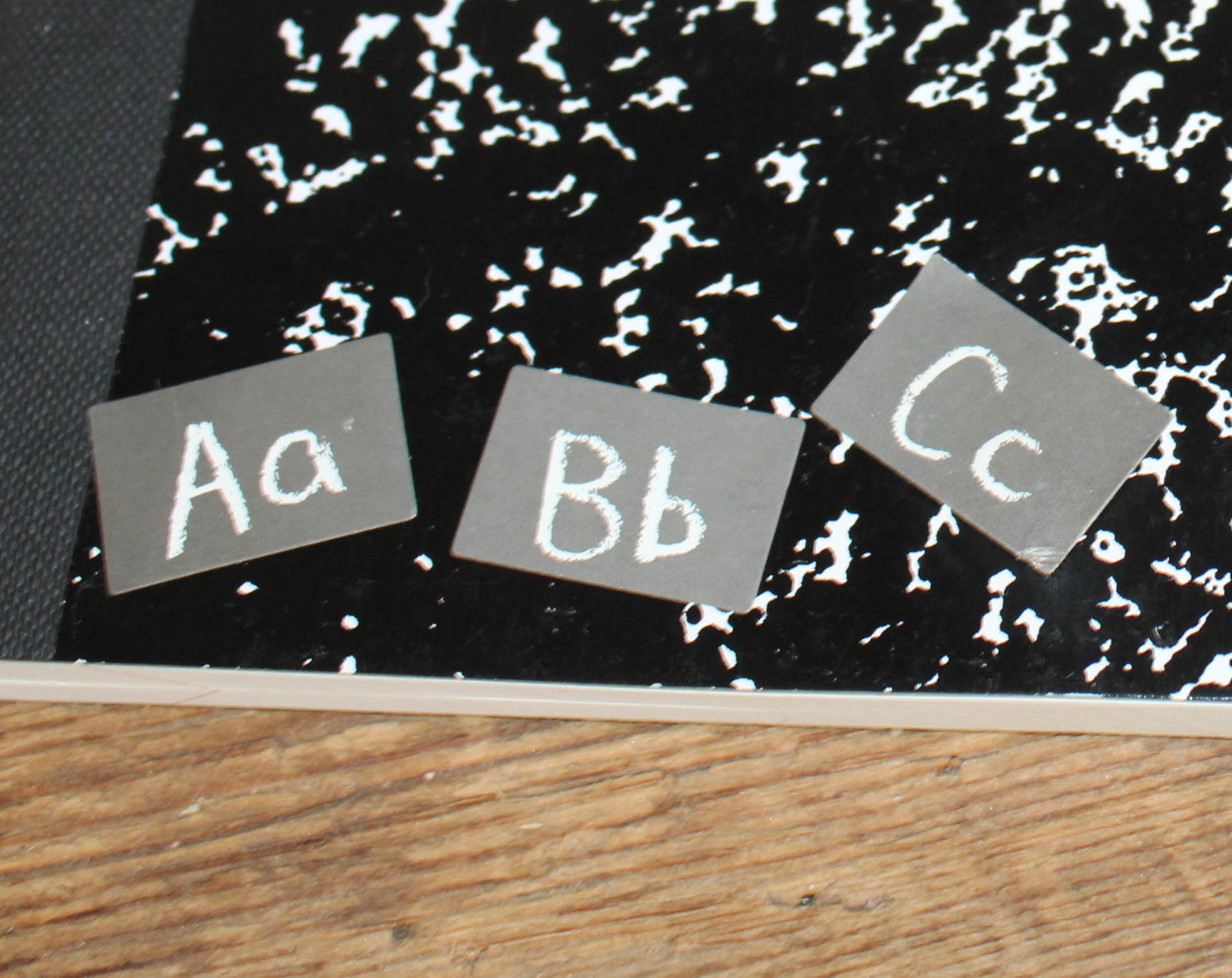 Cute chalkboard alphabet stickers added a whimsical touch to the bottom of the front cover. The list-maker in me is thinking, "I might just have to make another one of these for me!"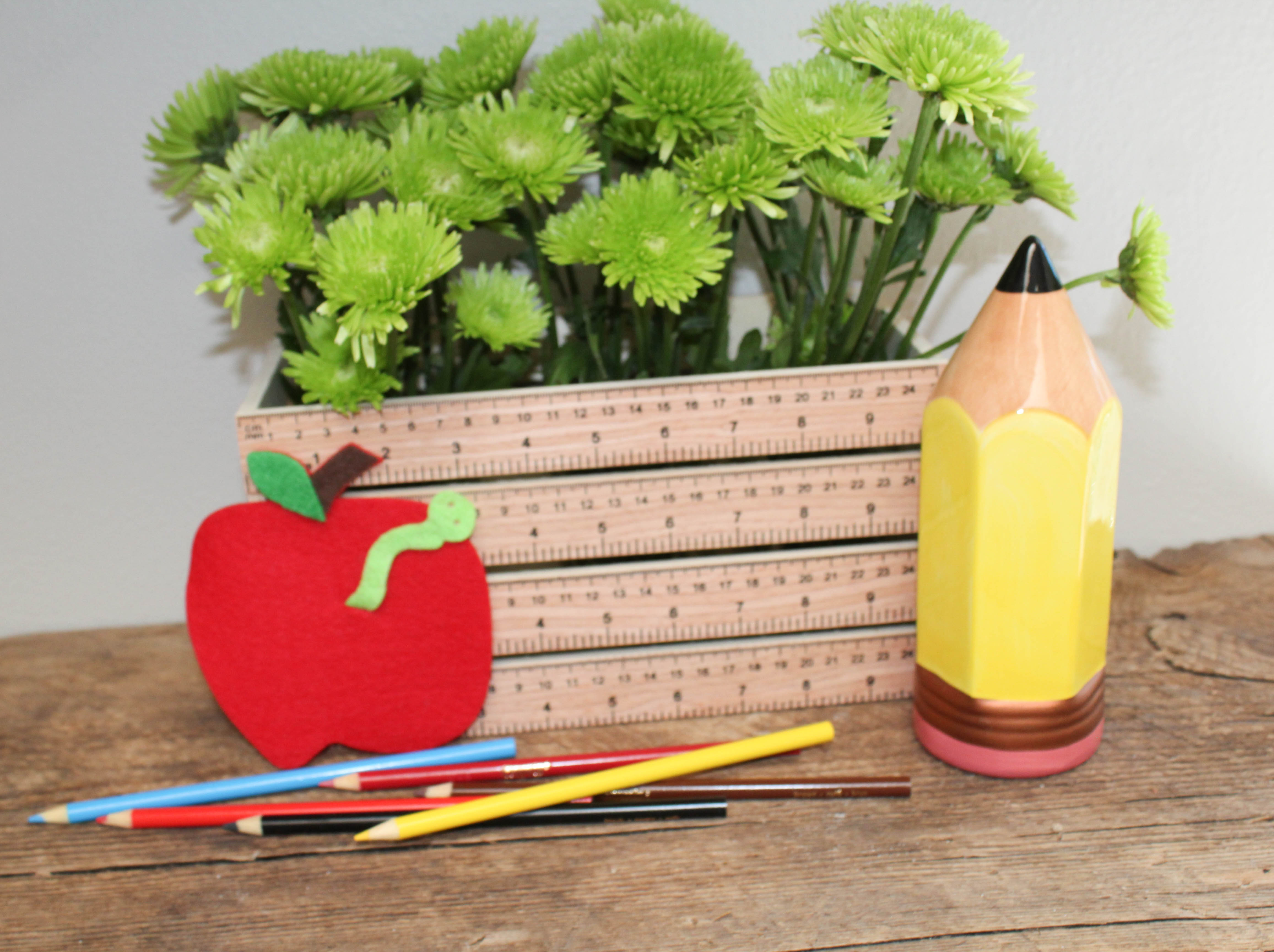 An Apple For The Teacher Flower Crate
Another lucky seasonal find at Target was this neat little wood crate with slats made from rulers. On its own, it was decorative enough, but more is more, so of course I embellished it! Laura's Big Apple Die worked perfectly for creating a large red apple, and the cute wiggly worm was made using her Terrarium die. I just made a small slit in the apple with scissors to create the impression that the worm is crawling out of the apple, and adhered it to the front of the crate with hot glue. The felt from Kunin Felt is extra thick and sturdy, so my apple won't go rotten. I used three small jelly jars inside the crate to display fresh flowers. This one is sure to be a big hit with the teacher, since it's such a darling presentation that turns into valuable classroom storage when the flowers are gone.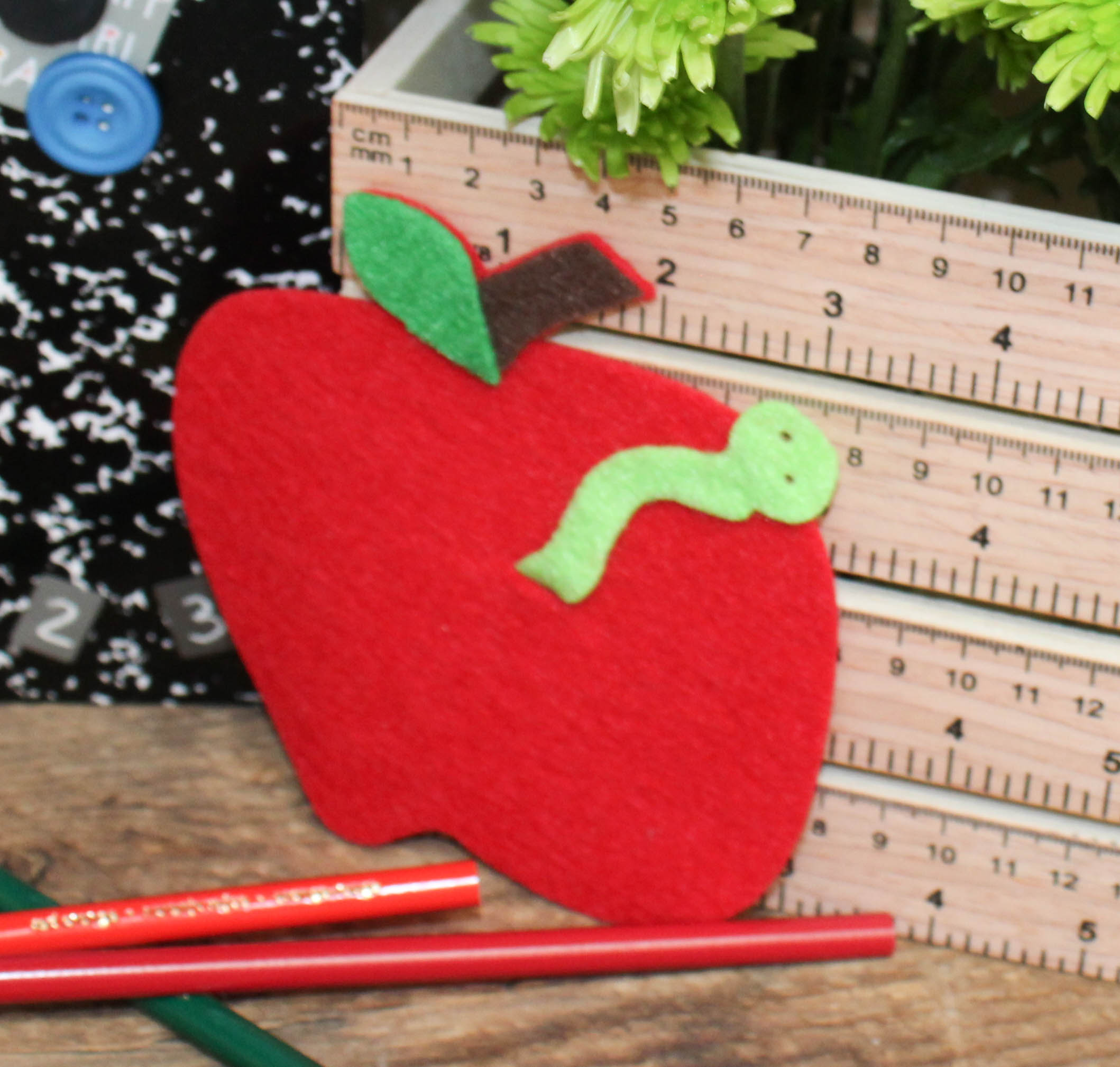 But really, did you ever see such a cute worm?
Hope you've enjoyed these quick and creative ideas for teacher gifts for the first day of school, or any time of year! Until next time, remember to Celebrate Everything!
Disclaimer: Some of the products used to create the designs pictured were provided at no cost; however, the designs, images and opinions provided are solely those of Ritzy Parties, Inc.  Christie Troxell is an official member of the Laura Kelly Design Team.