Fall holidays are the perfect opportunity to create a unique fall tablescape for family and friends. In this look, you'll see how rustic elements like wood and burlap were paired with ivory and fall tones of pumpkin, red, brown and green. Metallic gold accents provide just a hint of glamour.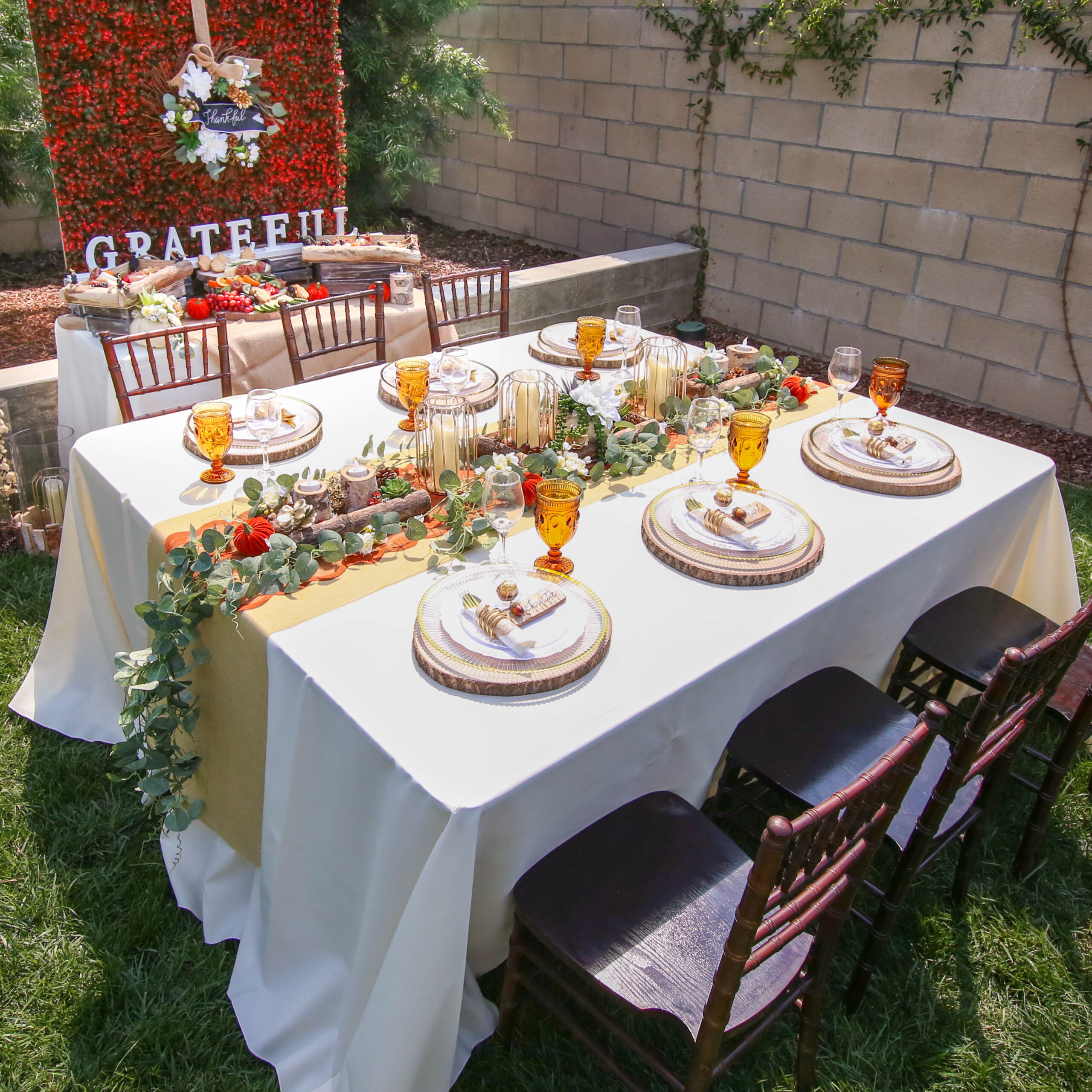 To create this extra large table, I used two six foot tables, draped each in a soft ivory linen, and pushed them together. Rolled burlap was arranged to conceal the divide between the tables. I topped the rolled burlap with yet another layer, a pumpkin orange lace runner. Fruitwood Chiavari chairs are placed for each guest; their dark tone creates a pretty contrast against the light linens, and ties in the rustic pieces.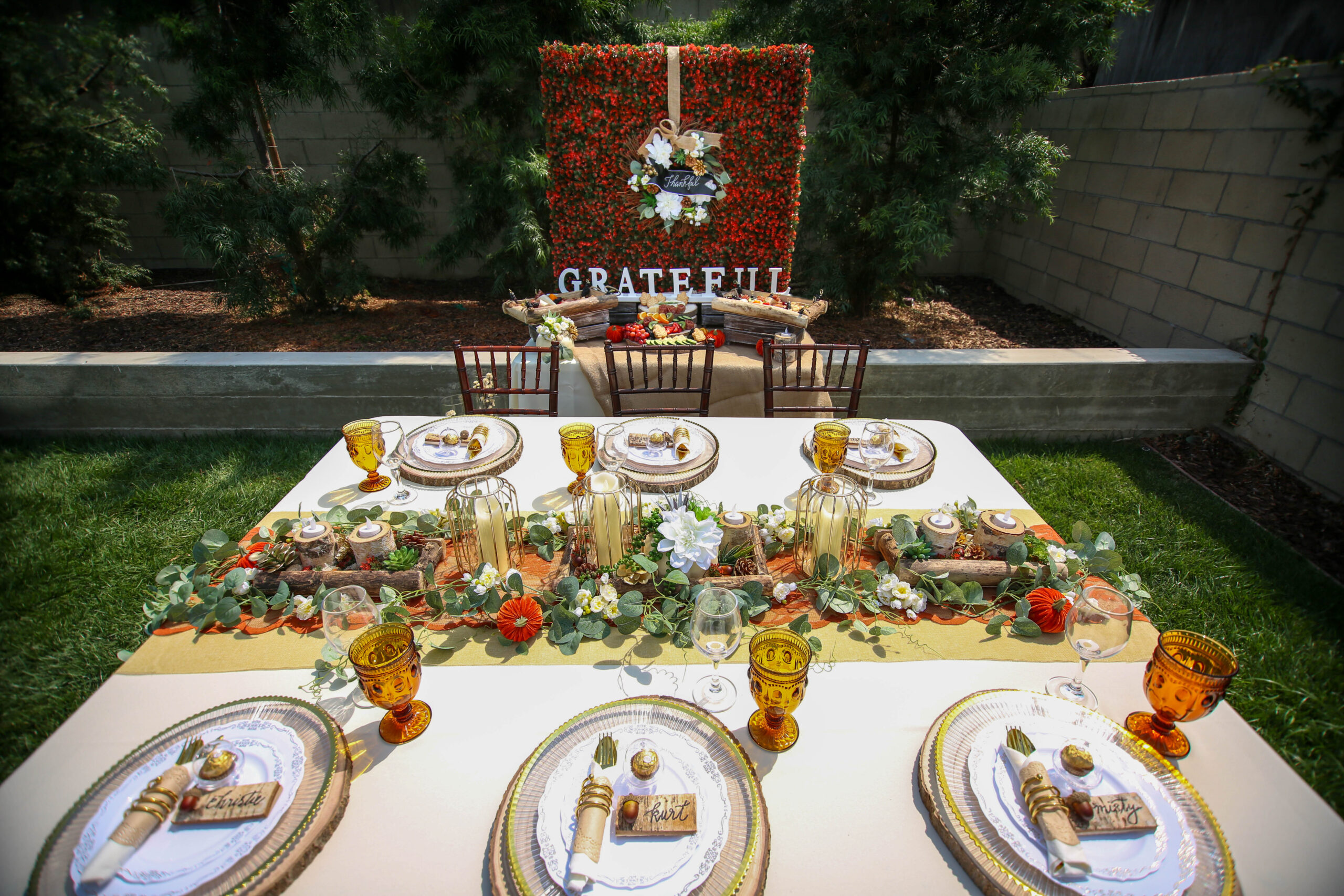 The centerpiece consists of three rustic containers, gold cage candle holders with vanilla colored pillar candles that are battery operated, and lots of eucalyptus greenery garland and flowers. These items were arranged on top of the rustic layers of textile.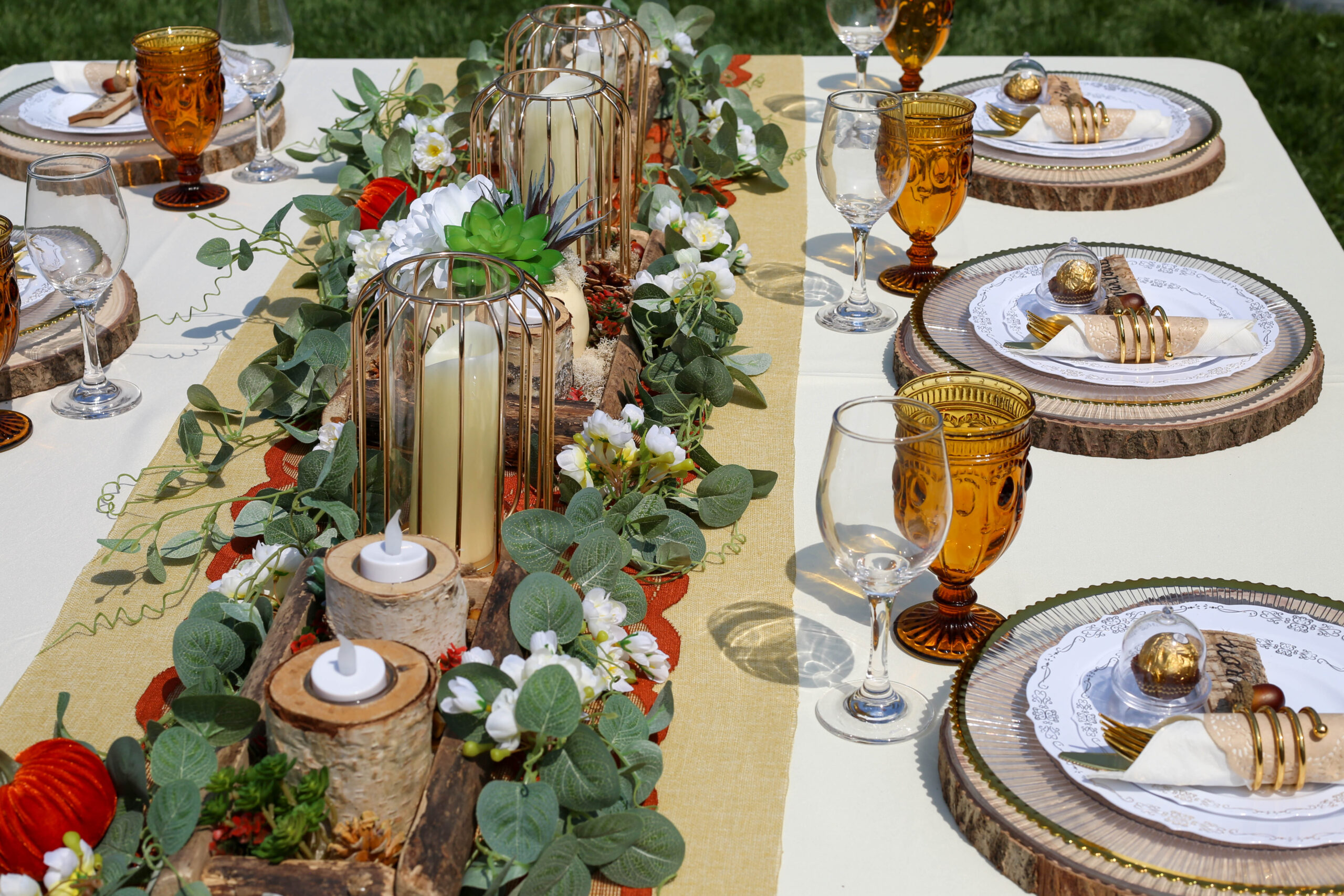 Each rustic wood container is a cornucopia of decorative fun! Assorted succulents gave this rustic design a touch of modern flair that I just love. I even painted a few of them gold; the effect is smashing. The two end centerpieces hold birch wrapped tea light holders, which stand prettily, elevated above a bed of reindeer moss and autumn treasures, like real pine cones and acorns.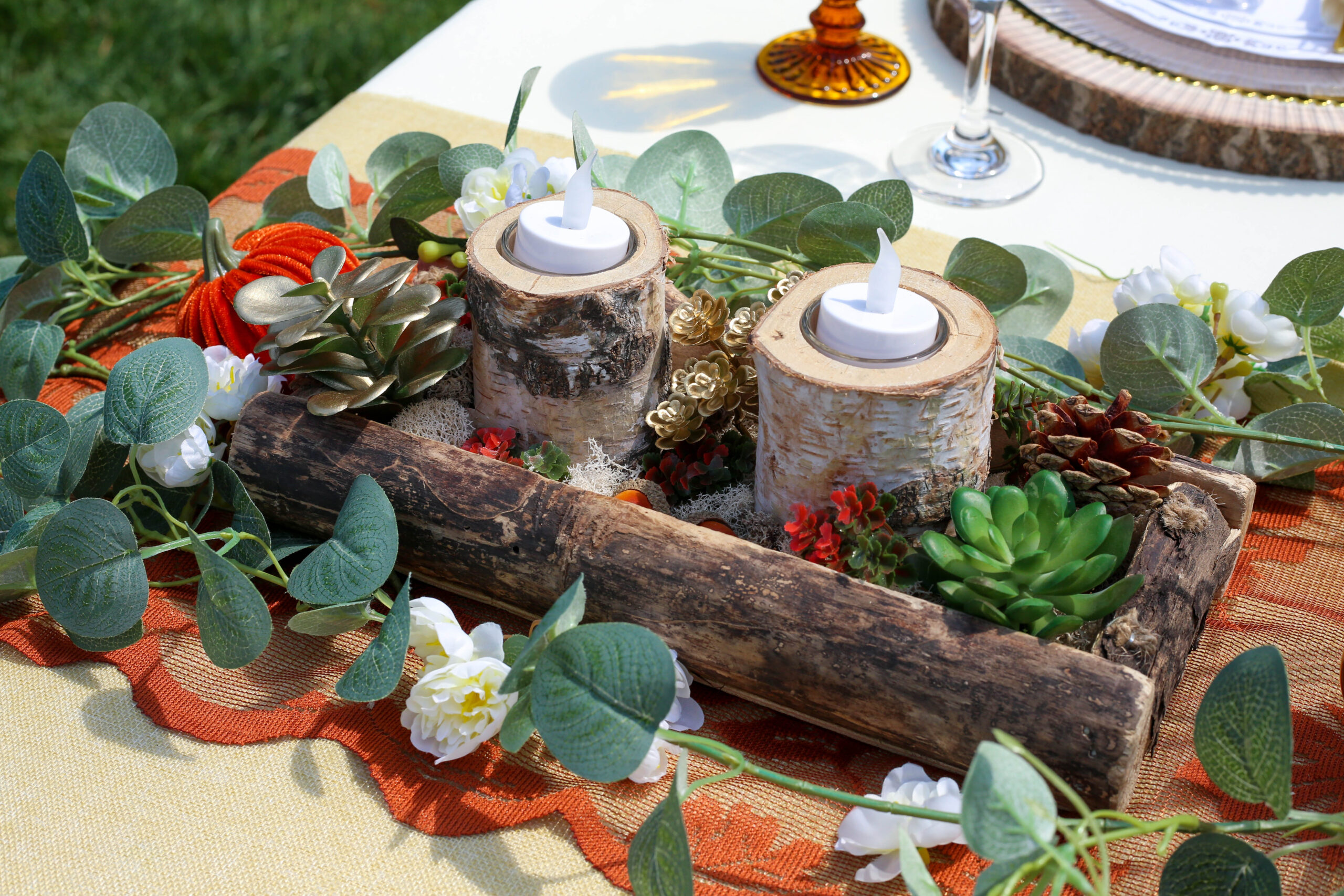 Gold cage style candle holders are so beautiful, I loved using them both in the rustic boxes, and also directly on the lace runner. Battery operated pillar candles and tealights are another favorite item for holiday decorating of all kinds, and velvet miniature pumpkins add a rich dose of color amid these neutral fall tones.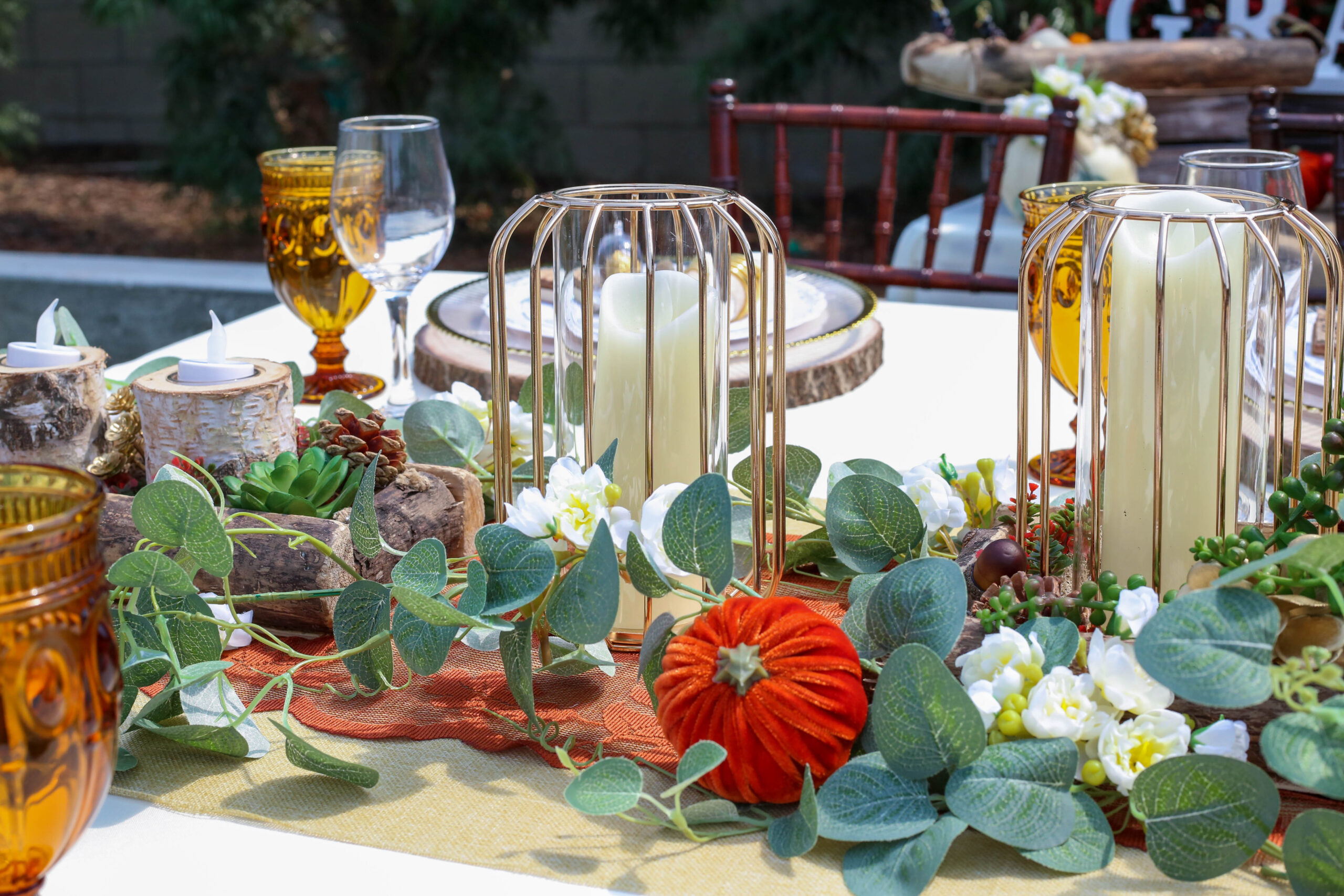 I created the eucalyptus garlands using multiple vines of faux eucalyptus, then added in trimmed sprigs of their small white garden roses here and there. I gracefully intertwined the full, leafy garland together as it draped off the table, for a decadent feel.
Place settings continue the neutral Thanksgiving theme, and begin fifteen inch wood slices. These are beautifully crafted, and are all of equal height. They elevated the plastic, (yes, plastic!) chargers just off the table, creating beautiful dimension.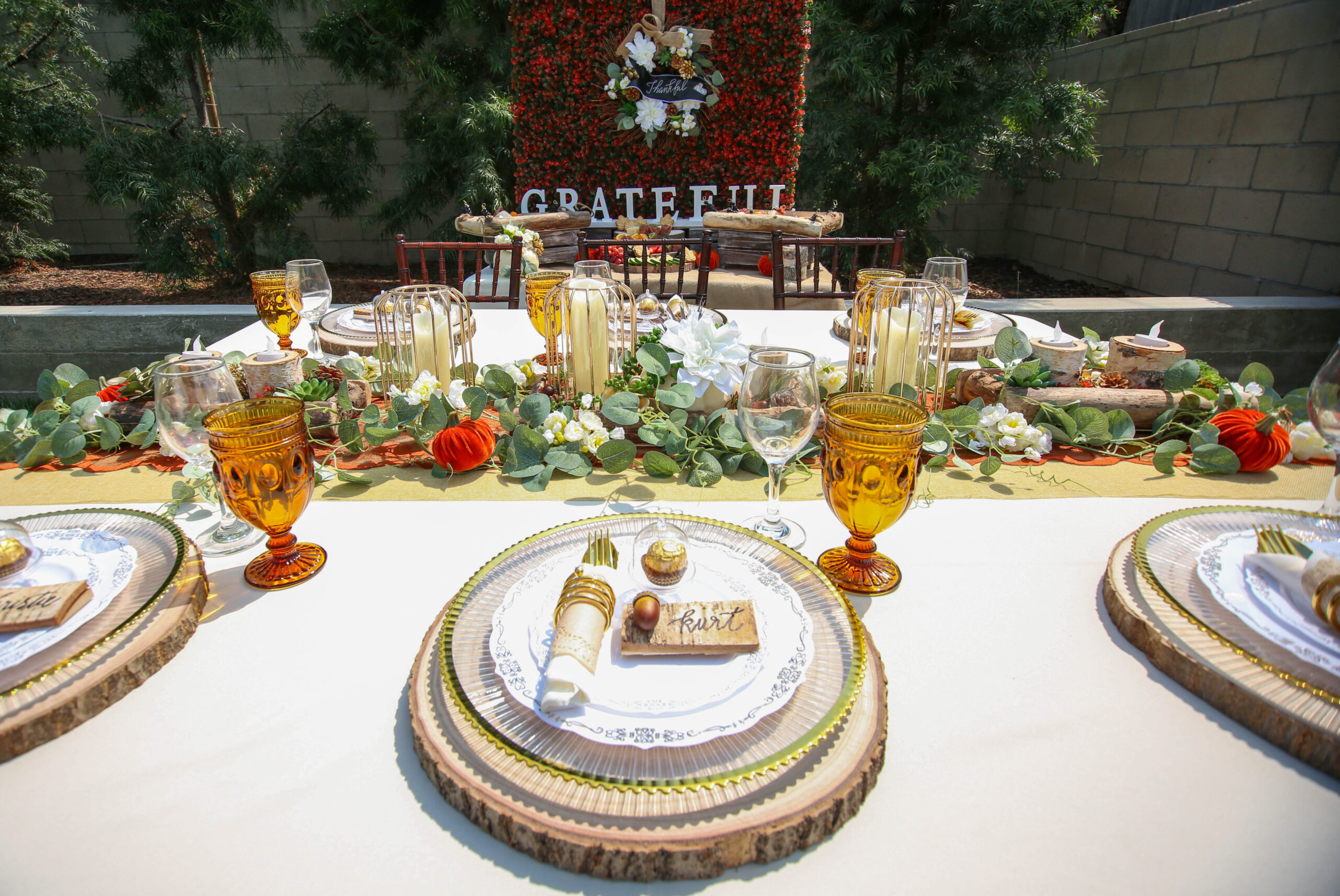 Hosting a well designed event doesn't need to end in a big cleanup effort. Savvy holiday hostesses opt for elegant disposable dinnerware like these vintage style plates, which are embossed with delicate gold detail. Gleaming gold disposable flatware bundles are rolled in napkins and small kraft doilies, and held perfectly in place with gold napkin rings. Elegant pedestal candy stands with domed lids are another of my favorite small personal touches. Inside, I placed a chocolate truffle that's a favorite among my family.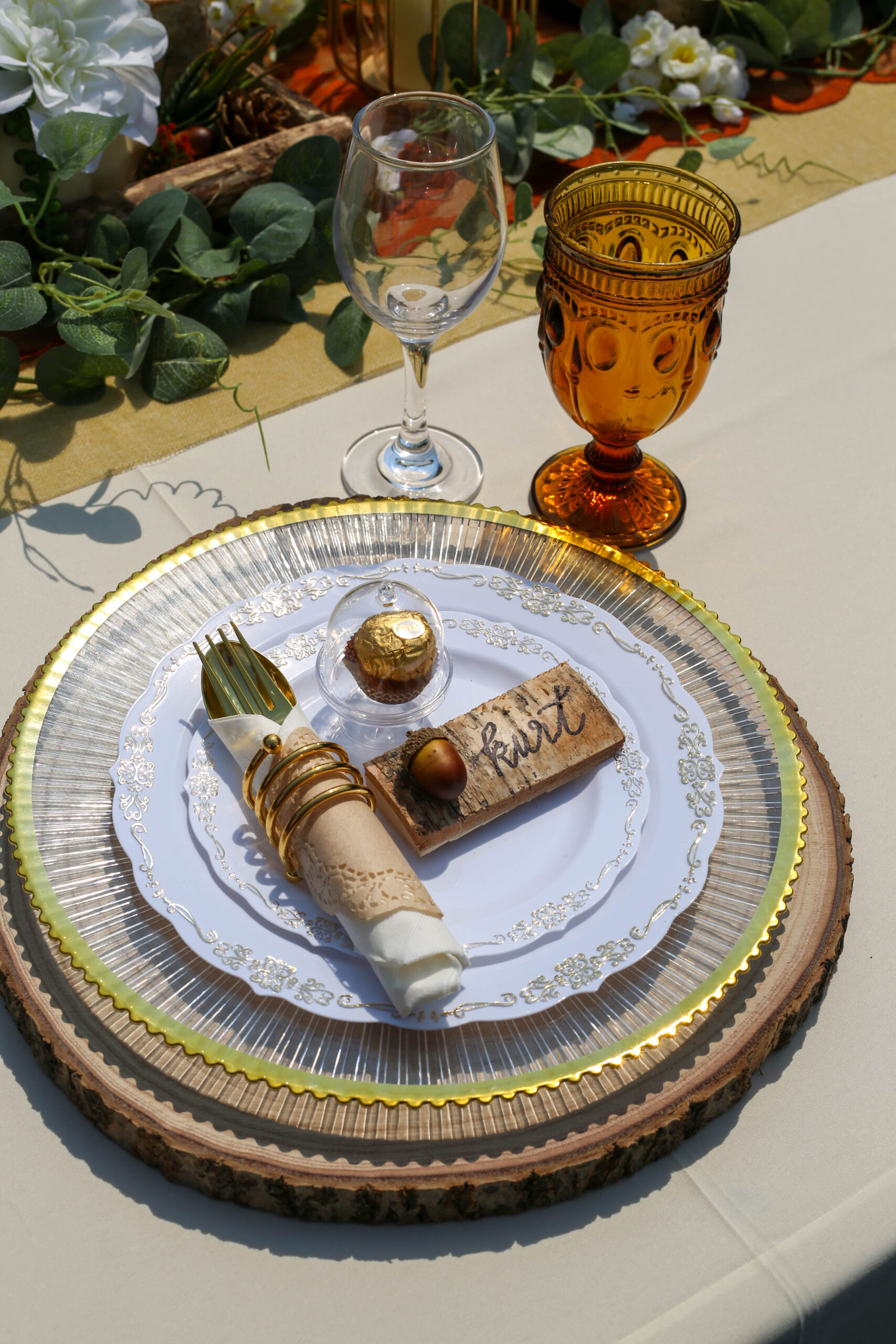 Vintage amber goblets were a special design decision that I just love; and, a set of wine glasses are perfect to have on hand for holidays, or whenever you'll be hosting a large group and want to have a set of coordinating wine glasses for entertaining.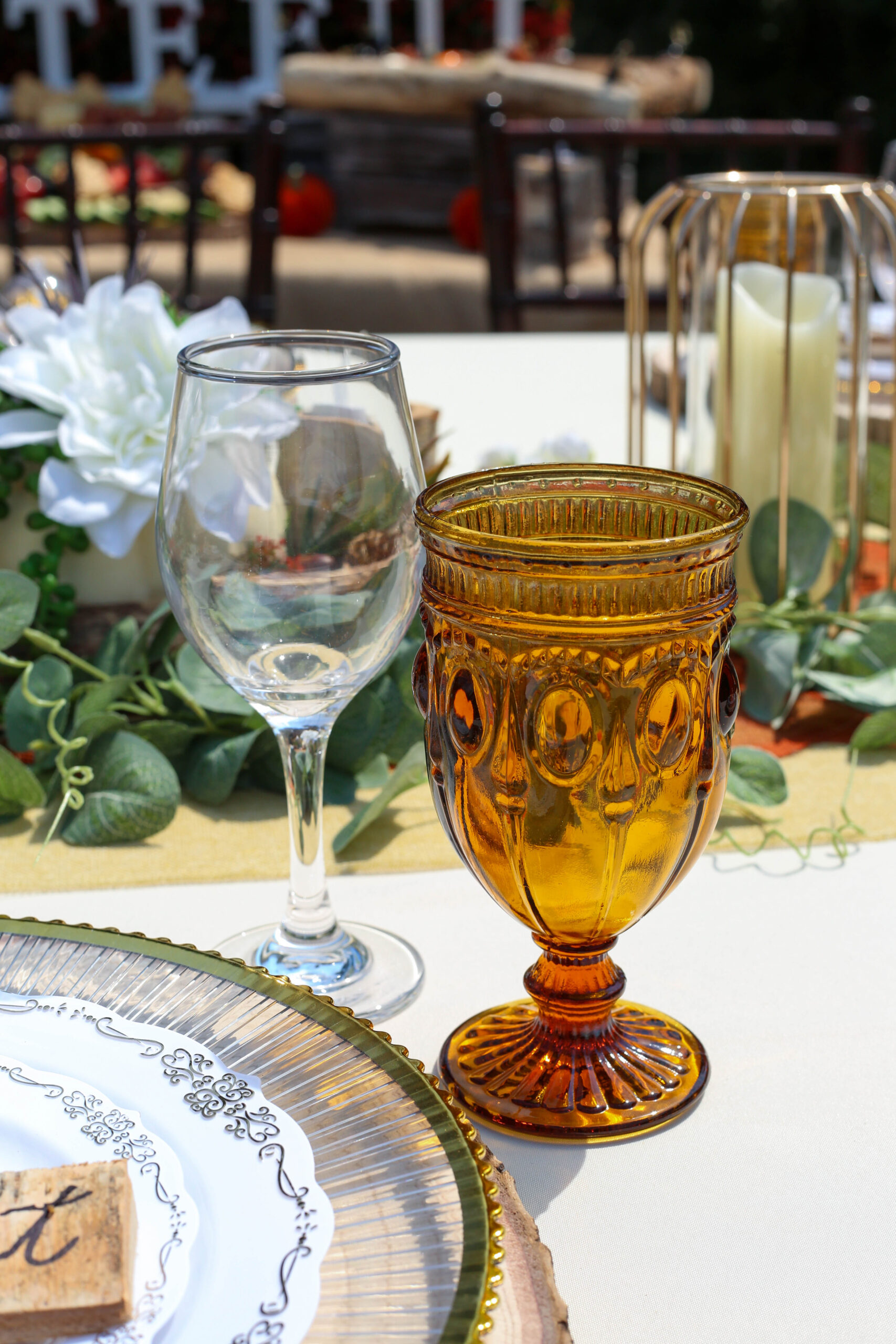 Place cards are crafted from birch bark wood wrap, trimmed into sections, and inscribed in calligraphy with the names of each guest. An acorn is adhered to the place card, which is a tiny detail that is sure to be remembered. I love how this looks like it could have been found on the forest floor on a fall day.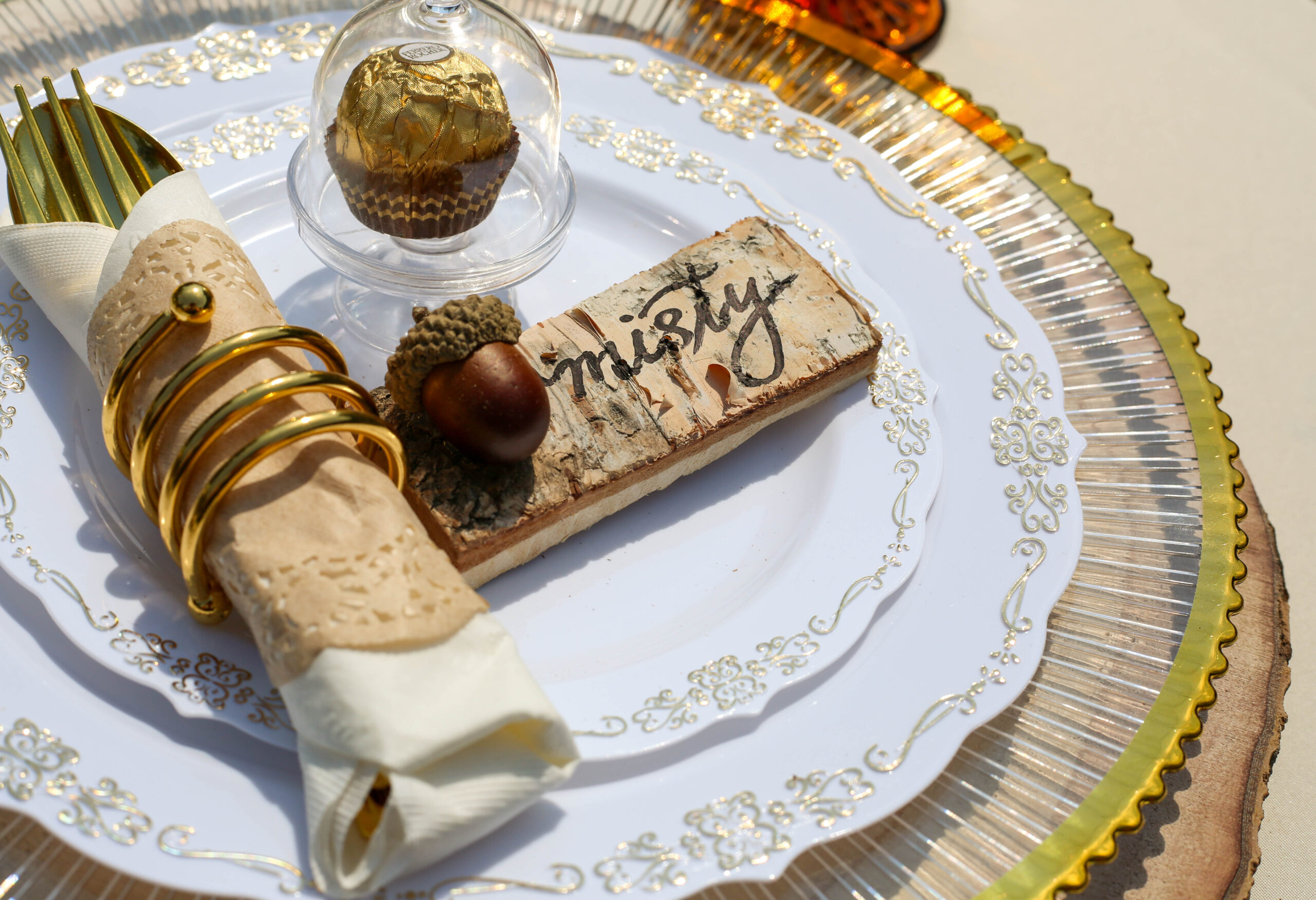 The focal point for this beautiful fall table is a stunning backdrop wall of red and green grass foliage. The material looks alive, and is drenched in rich, autumnal color  anchoring the entire look beautifully.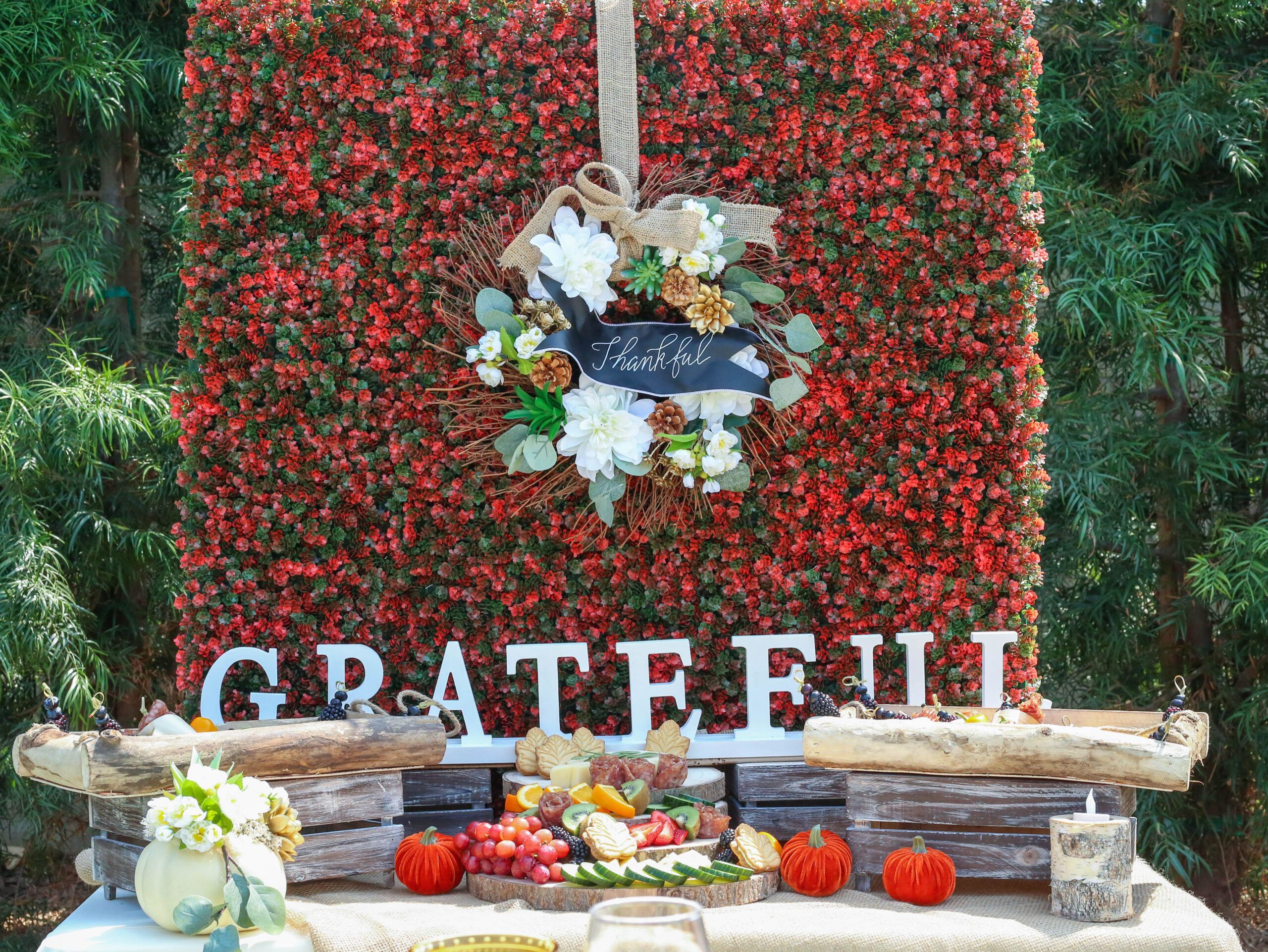 A twig wreath stands out against the eye-catching backdrop, and is decorated with greenery, succulents and flowers, then adorned with a section of chalkboard ribbon that says, "Thankful", scripted in chalk pen. The wreath is centered and hung with a length of burlap ribbon. I especially love the gold succulents that give this pretty fall wreath a bit of modern appeal, and the way this pretty wreath stands out against the grass wall.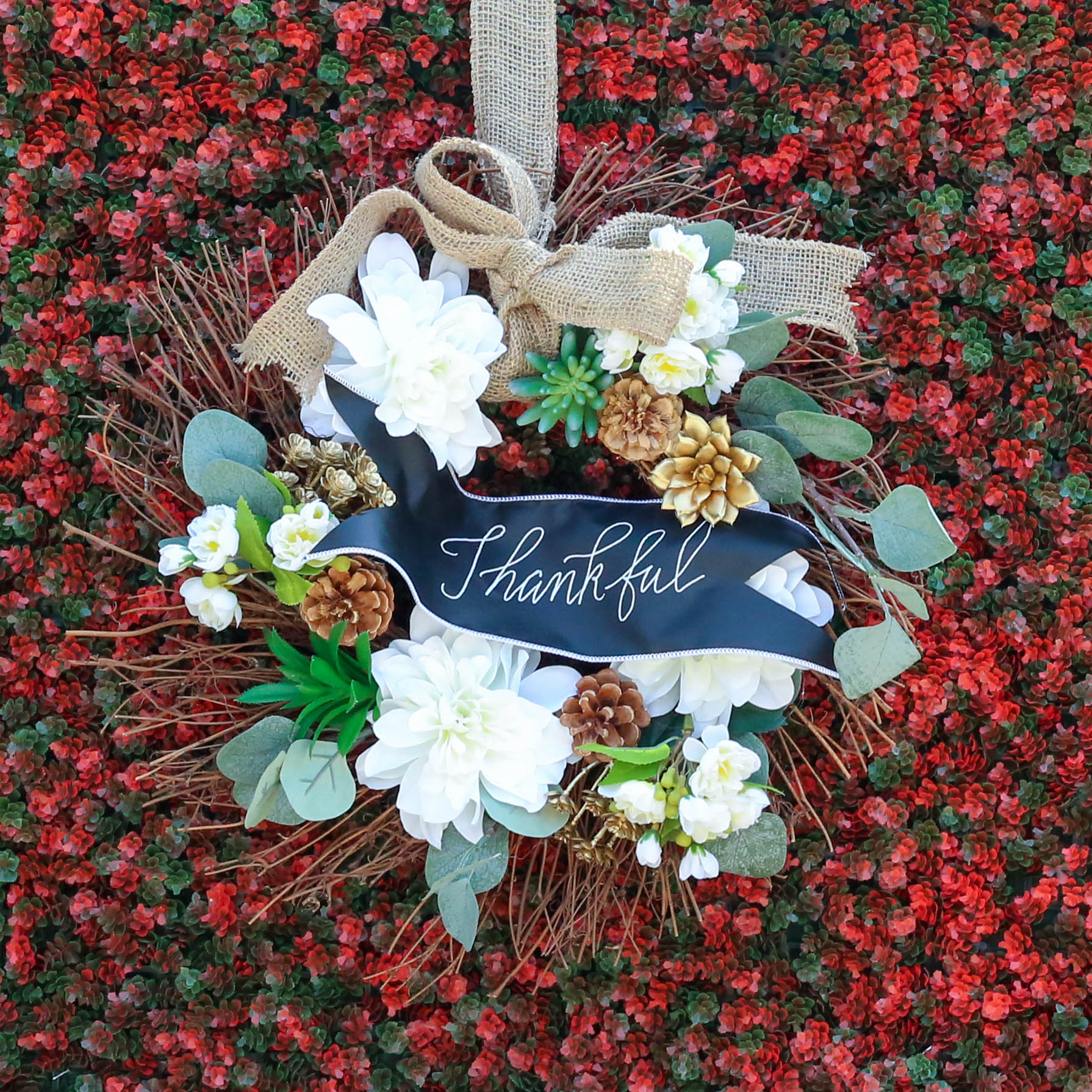 White wood letters in stands from Portofino spell the word, "Grateful", and grace a table that has been laid with an ivory linen, a burlap topper, and a robust and beautiful charcuterie display, created by Maribel of Charcuterie Express 2Go. Portofino's rustic wood crates provided elevation for their rustic wood containers. These are the same containers as used in the centerpiece. The versatility of many of these pieces make them fantastic choices for your entertaining stash.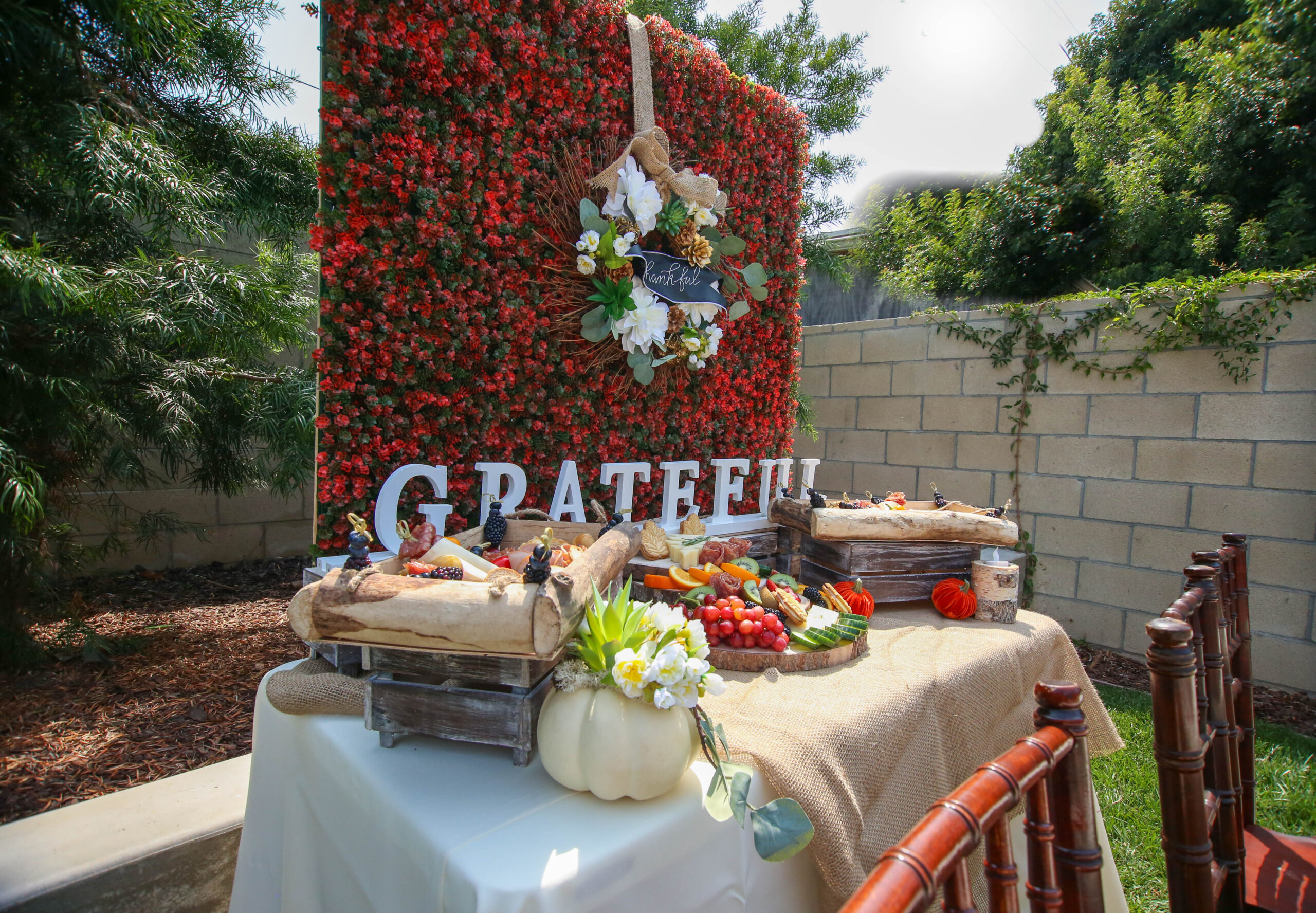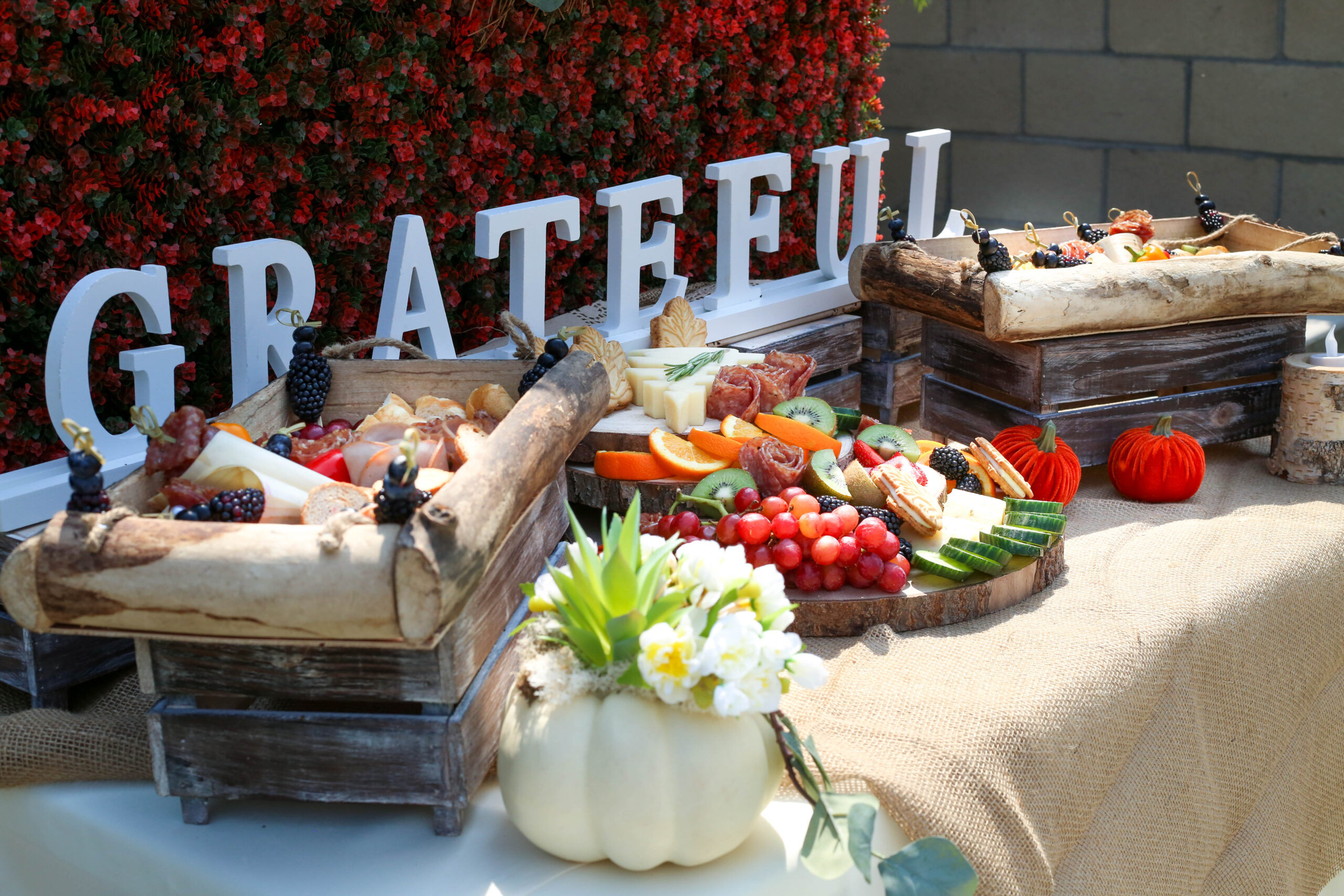 A beautiful holiday appetizer station like this, abundant with hand selected meats, cheeses, fruits, veggies and fun touches like fall leaf cookies, is sure to disappear quickly when your hungry crew arrives.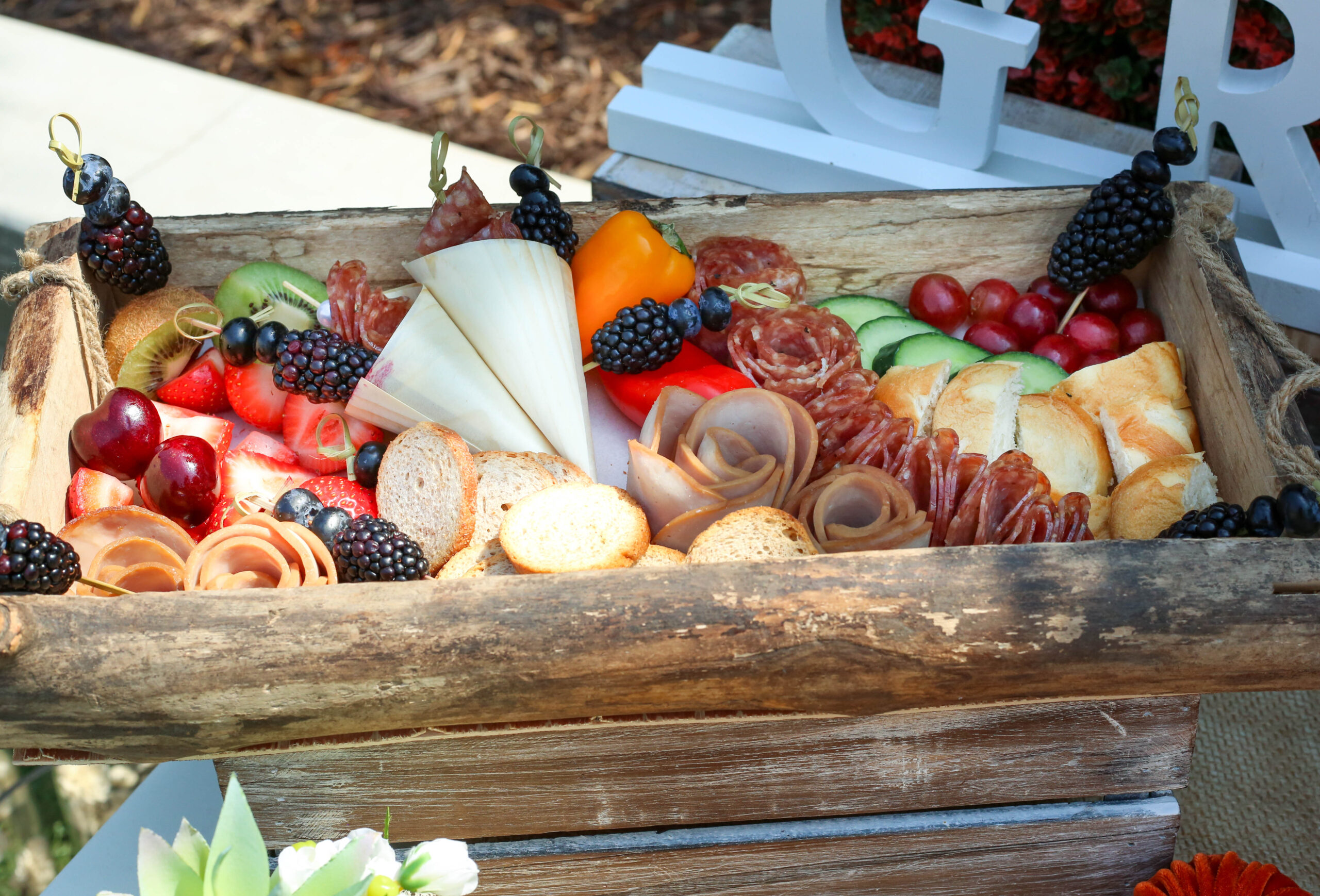 When preparing for holiday celebrations, I really like to make sure there's a little something to see in every corner. Next to the charcuterie display, there was a perfect spot to add a bit of decor, to continue this pretty rustic fall theme right to the floor. Tall glass vases in assorted sizes were made stable with brown faux rock filler. This gave the perfect base for creamy white gaura stems with dark stems, and another of the gold cage candle holders and pillar candle, these ones in a larger size. I wrapped the base of one of the vases with wood wrap, to tie in more of the rustic look. This well coordinated trio turned out so pretty, and their neutral shade works with a variety of home decor styles. I'd leave them out in my home for the whole fall season!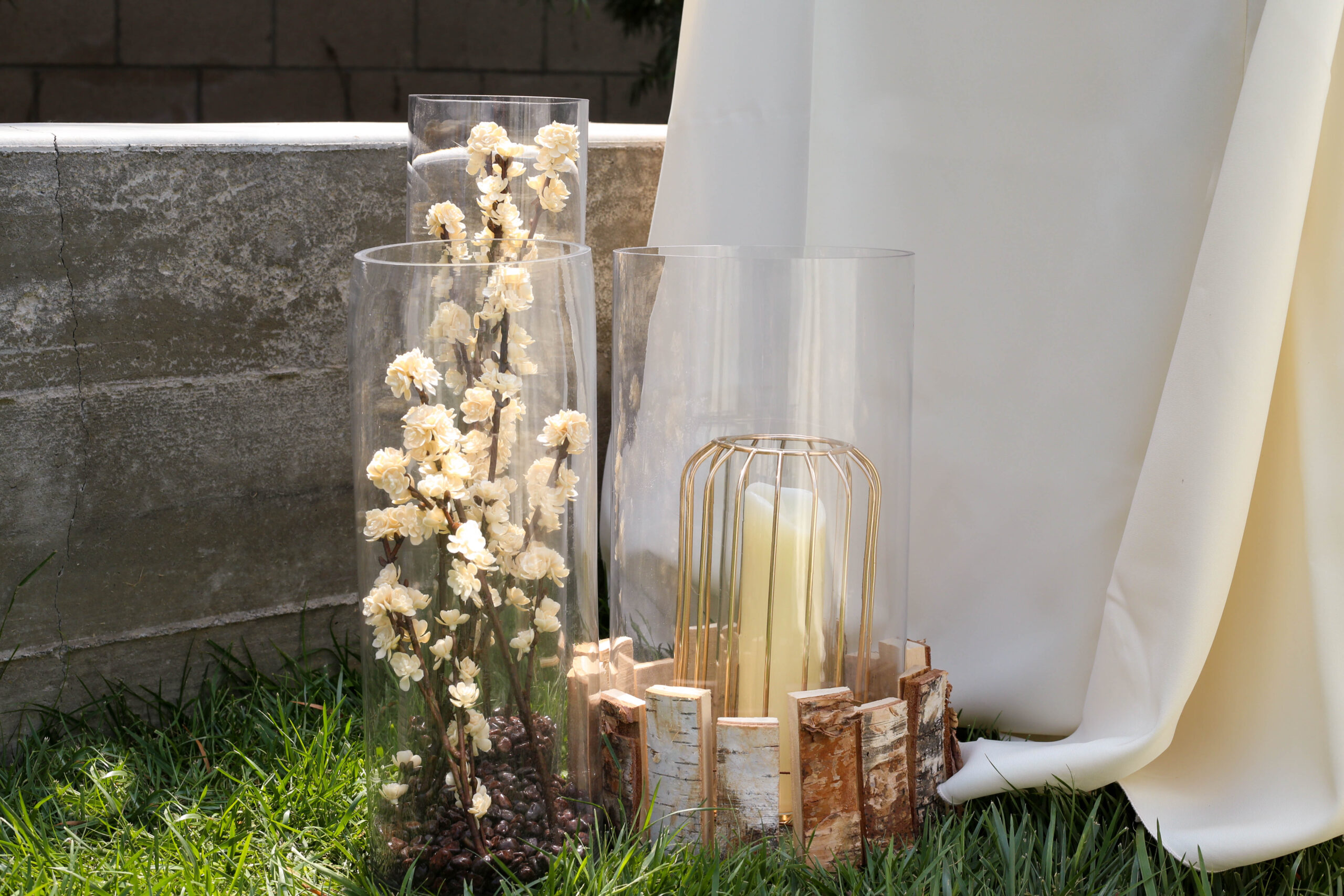 I'm very thankful that you stopped by to gather a little fall inspiration in this unique rustic table for the coming season. I love this idea for Thanksgiving, or to keep elements of it up in your dining area and home decor all season long.