Creating a fresh and festive wreath for Fall is a favorite tradition; this year I decided to play with my color palette a bit, to incorporate my favorite pieces of Talavera painted pottery from Mexico. This wreath reflects the colors from my pieces, as well as fall touches like plaid ribbon, sunflowers and oak leaves.
This fall wreath is lovely inside the home, or displayed on your front door. It's also a lovely hostess gift that can be left up all season long. I love the combination of greenery and flowers, as well as the natural elements, like pampas grass and gourds.
Here's What You'll Need:
White Washed Grapevine Wreath
Eucalyptus Greenery
Magnolia Leaf greenery
24″ Pampas Grass Stems
Royal Blue Hydrangeas
Red Garden Rose Branches
Sunflower Bunch
African Daisies in Ivory
Plaid Wired Ribbon
Assorted Loose Oak Leaves
Decorative Miniature Gourds, painted to your liking
Hot Glue Gun and Glue Sticks
Chenille Stem
Step One
Begin by trimming stems of eucalyptus, adding a bit of hot glue to the end, and inserting into a white washed twig wreath. The wreath is layered in a way that provides lots of places to tuck leaves and things to create a lush, full wreath. Continue adding leaves, ensuring that they are all pointed in the same direction, as shown.
Step Two
Add trimmed sprigs of magnolia leaves to the wreath. For this design I used three. I like the contrast of the silvery green of the eucalyptus and the fresher green of the magnolia leaves.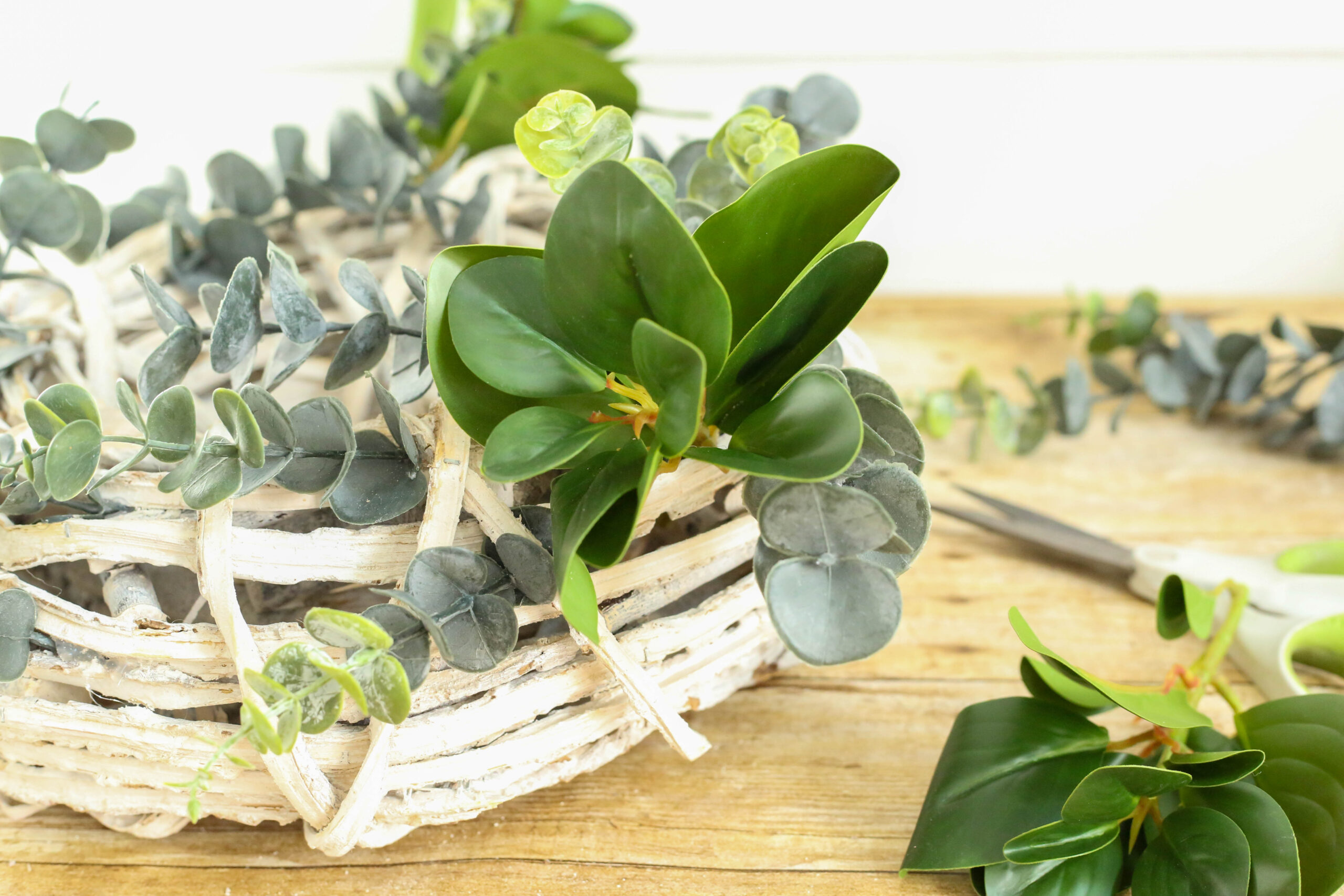 Step Three
Trim up some stems of 24″ pampas grass, and tuck them into the wreath, following the same spiraling pattern as in the previous steps. You can add as much or as little as you like.  I love the natural look of this high quality pampas grass.
Step Four
It's time to add flowers. I love these gorgeous blue hydrangeas from Portofino, International. Their sunflowers are gorgeous, too! I added three of each to the wreath. I then added in ivory African daisies and a few gourds that I painted with acrylic paint to carry the color theme. Last, light orange oak leaves are glued into the wreath, sending the message of this being a Fall decor item. You can see the wreath is getting nice and full at this point.
Step Five
Add in the red garden roses, and create a looped bow from plaid wired ribbon.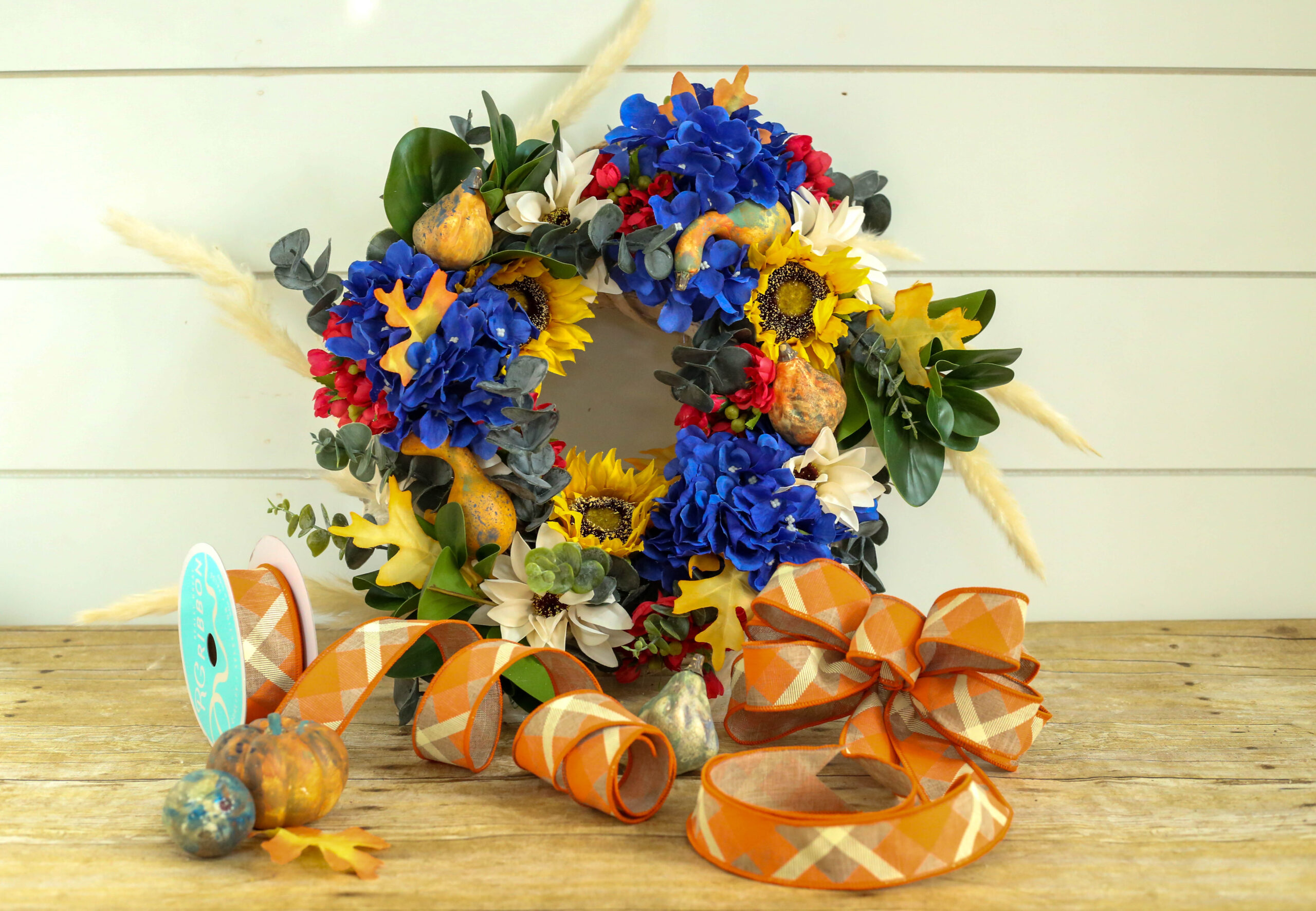 The finished wreath is lush and robust, filled with detail and tons of fall color. Hang it above a decorated mantle or buffet table, or display on your front door for festive curb appeal.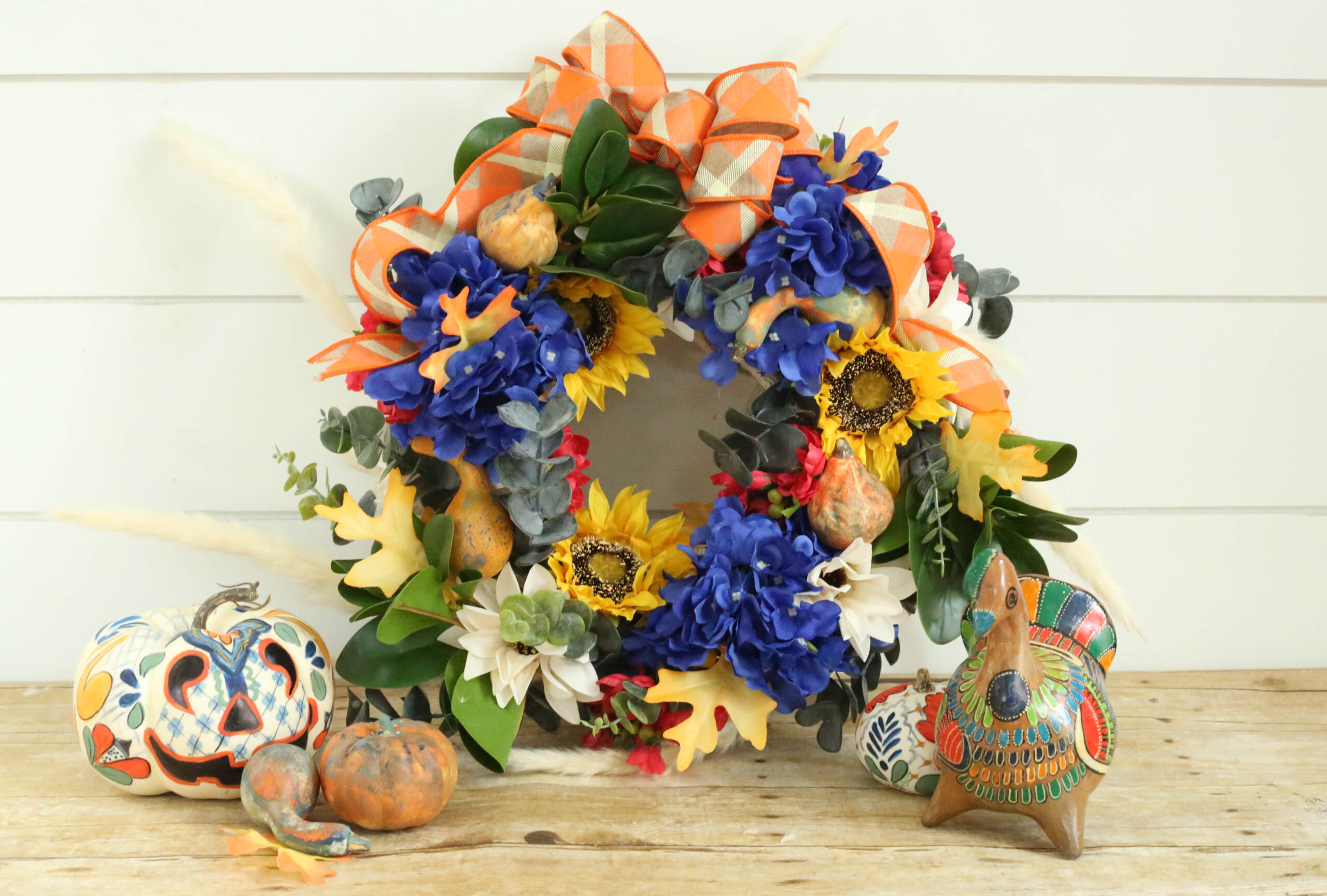 Be sure to take a look at the hand painted Talavera Pumpkins and Gourds, as well as the complete Talavera Pottery Inspired Thanksgiving Display.