Looking for a unique bridal shower idea that's cool and fun in the summer sun? Look no further than this Tropical Popsicle bridal shower.

Get Colorful
A bold palette of hot pink, coral, mint green and light blue mix beautifully to really emphasize the summery feel. Tropical leaves and fresh flowers also lend to the easy and breezy look of this tropically sensational bridal shower and soiree.
Let's Get This Party Poppin'
The cute and trendy popsicle shape is the basis for lots of fun decor in this creative party theme; it just screams summer! A thirst quenching popsicle bar is set up for guests with lots of ice and homemade fruity popsicle concoctions, featuring your favorite summer flavors like berry and watermelon. Peach and Prosecco frozen pops will help you and your gal pals beat the summer heat, and stay stylish while doing so! Their sweet and fruity flavor is sure to be a crowd pleasing party element!

Fringe Benefits
Decorate with a hip, boldly colored fringe banner. you'll never guess how we crafted this up! You'll be obsessed with how gorgeous this looks as a photo backdrop, or behind a fun popsicle bar, as seen here.
Design in Some Date Night Shenanigans
Interactive guest stations are a popular option for injecting an element of fun into gatherings like bridal showers. You can solicit your guests for date ideas with this cute set of mason jars and popsicle sticks, set up with pens and ask your friends and family to get creative with the suggestions. It's fun to read them out when you're opening gifts, to let everyone participate in hearing all the creative and silly ideas you've collected.
Pop Your Color
Popsicle favor boxes are filled with fruity erasers for a calorie free treat your guests will love! They also add a delightful pop of color to the table.
Decorate with a hip, boldly colored fringe banner. you'll never guess how we crafted this up!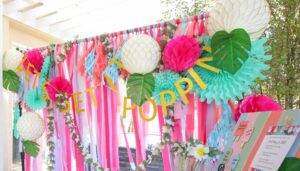 Craft Up Some Popsicle Goodies
This free custom paper printable of a popsicle box is yours for the making when you select this cute summer party idea. Fill them with paper shred and candy, or a secret message, like, "Will you be my bridesmaid?"
When it comes to summer parties, this tropical popsicle theme is a surefire hit. Serve it up indoors or out, and have fun celebrating everything!