Need to plan a party on the fly? Don't fret, you've got this! For this fun New Year's themed party, I've partnered with Evite® as a member of their Influencer Team to bring you some of my favorite tips and tricks for putting together a last minute shindig that wows! This post is sponsored by Evite® but the opinions, designs and concepts are, as always, my own.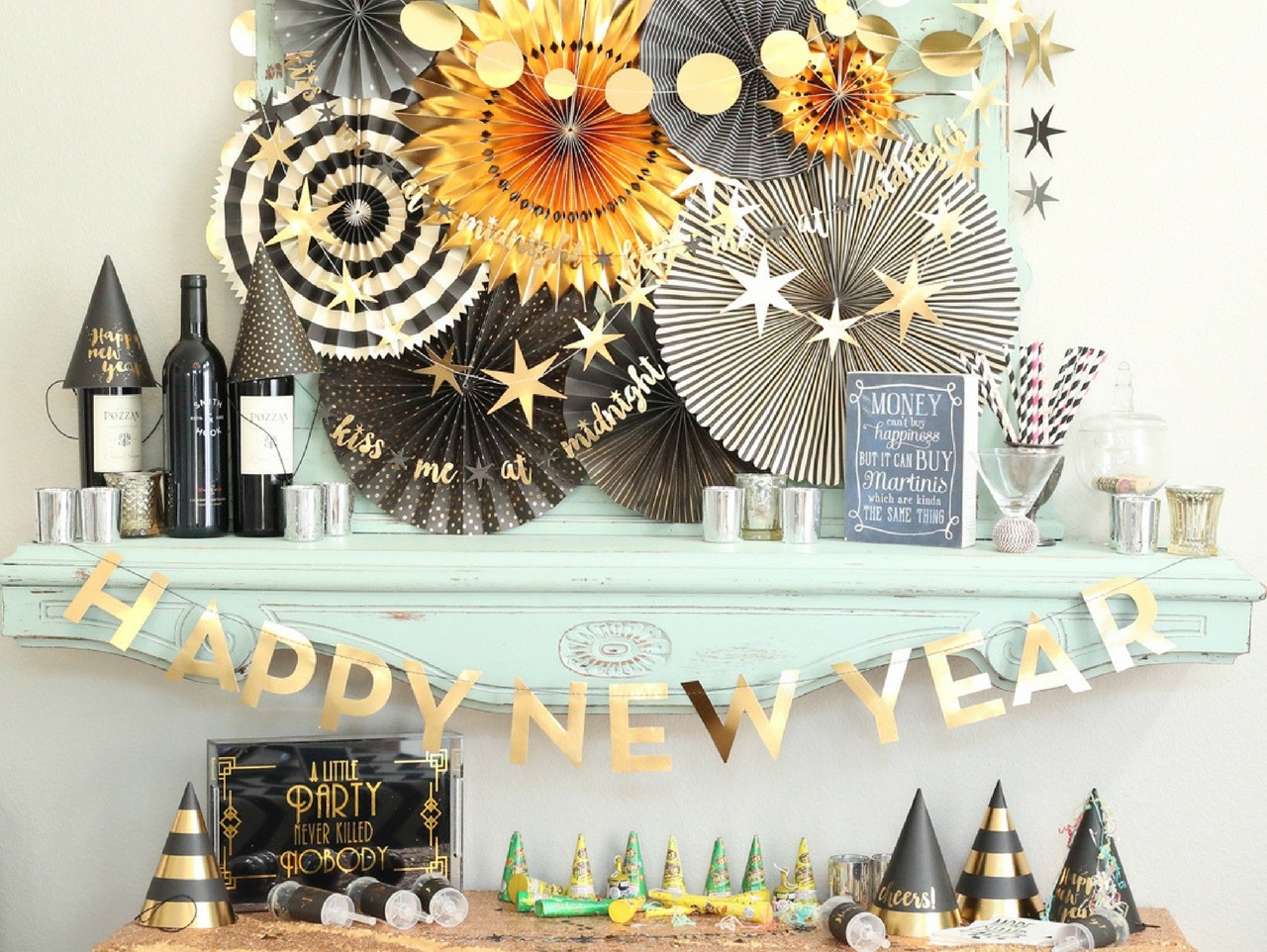 Now, let's get this party started!
PLANNING
Select an Invitation to Set the Stage
Choosing an invitation for a party on the fly is a breeze with Evite®; there are so many festive and beautiful designs to choose from! This black background with vibrant confetti is my favorite pick. I love how the gold glitter lettering enhances the look. Letting your invitation from Evite® set the party theme is a fantastic time saver!

Make the Most of Your Social Networks
Tap into your social media contacts to choose friends to invite. Invite the usual crowd but be sure to mix in a few new additions to keep things fresh and exciting. Don't have an email address? No problem! Use the Evite mobile app featuring text invites from Evite® for super speedy sending of party details.
You can also share the link to your party invitation on social media using Evite® without having to send emails. Send Evite® invitations via text message for super speedy sending of party details. You can select guests right from your phone contacts on Evite's mobile app.
Prepping
Speed cleaning tips
When putting together a party on the fly, the name of the game is efficiency! Clean visible surfaces to be free from handprints, shine up glass and tidy toilet rooms. Don't sweat the small stuff, just run a quick broom over the floor, fluff the pillows and light some candles. Boarding pets is a good idea if you'll be having a crowd.
Add a Holiday Helper
Enlist the help of party partner; it's a surefire way to ensure last minute party success. Adding a Co-Host is a new feature on Evite®. A Co-Host can do all the things a host can do, including invite more guests, send messages to guests, and manage the invitation. He or she can also lend a hand in the kitchen!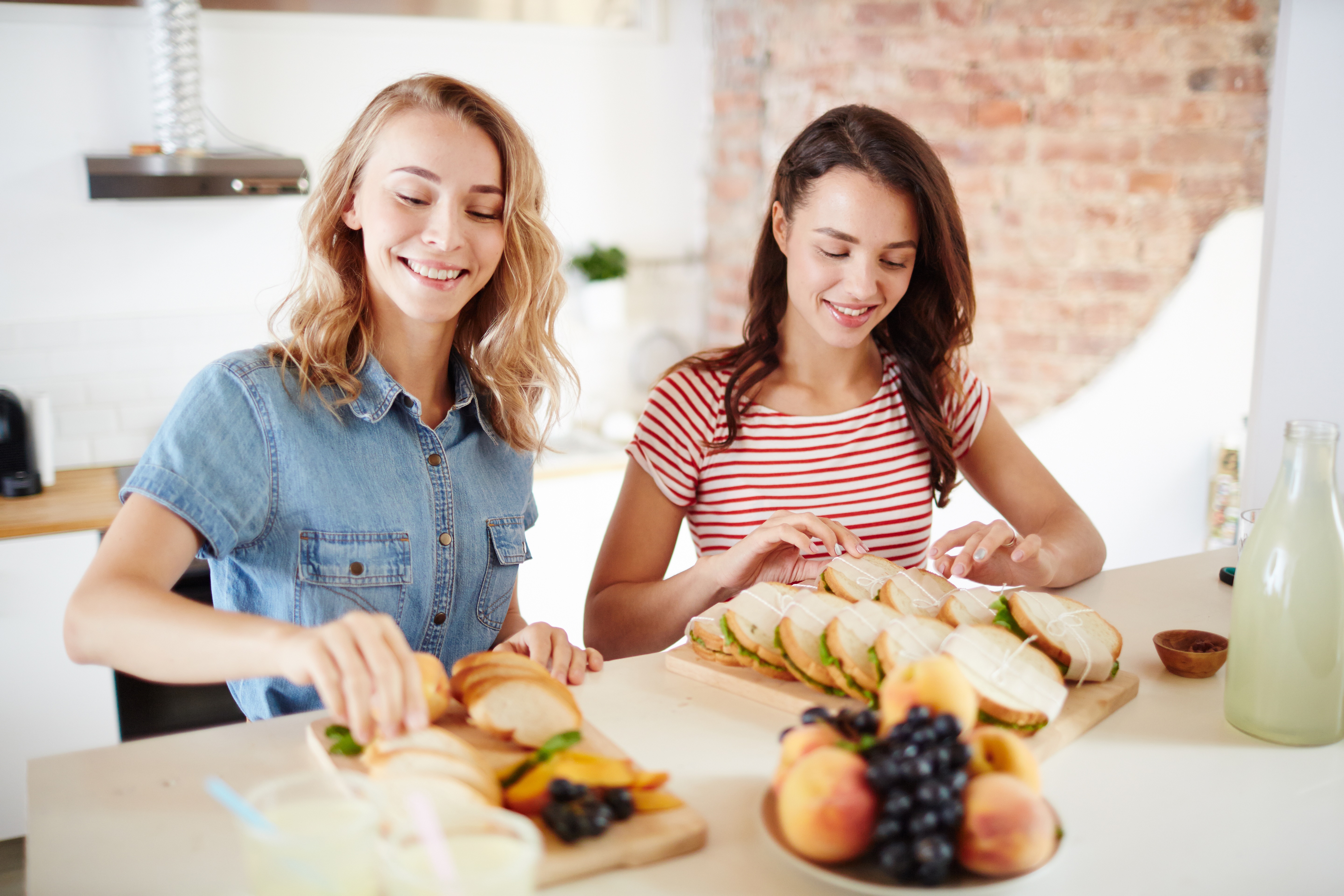 FOOD AND BEVERAGE
Take Advantage of Technology with Grocery Delivery
Using online grocery shopping with front door delivery is a smart and savvy hostess trick that will save time and effort. Services such as Amazon Fresh make it easy for putting together a tasty meal plan for a party on the fly with fresh ingredients.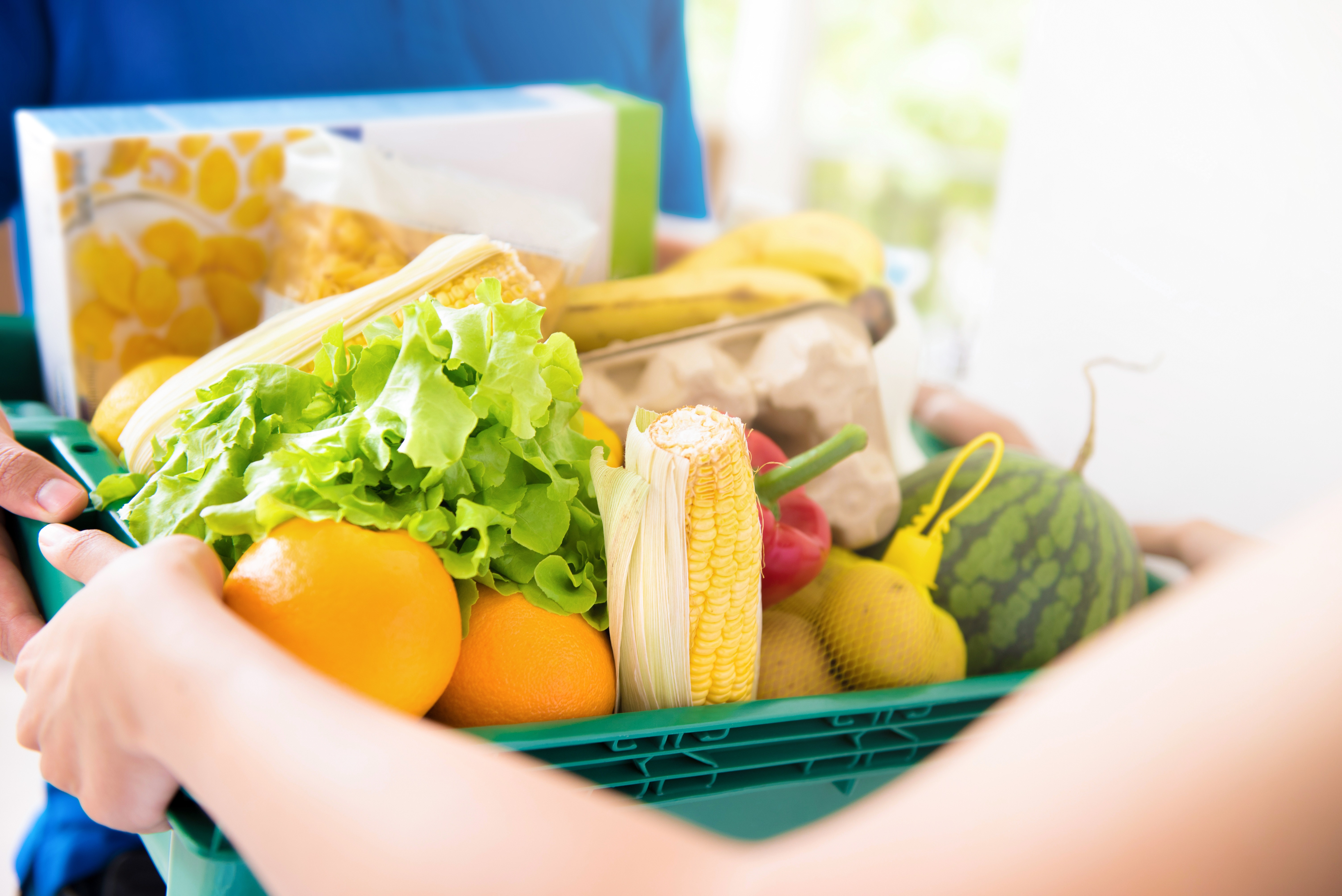 Ask Guests to Pitch In
Creating a fabulous party on the fly doesn't mean you have to do all the work. Ask guests to bring a dish or an item that will contribute to the party. Having everyone bring a taste of their favorite food or beverage adds interest and flavor, and cuts down on your kitchen time so you can focus on the important things, like champagne!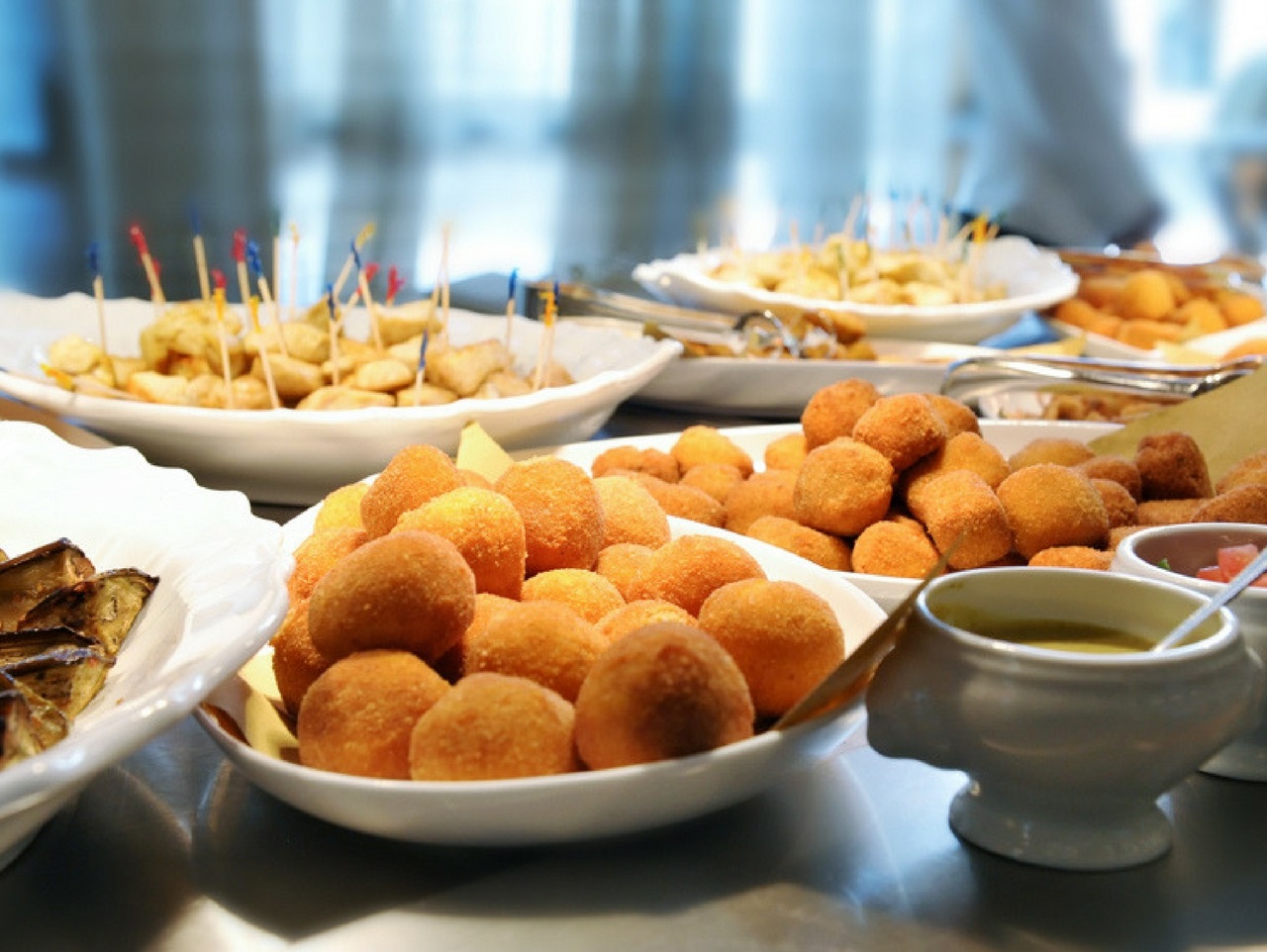 Want to keep a little more control over who brings what? Using Evite® you can easily create a "What to Bring List", that will be shared with guests, and fulfilled with Amazon. What could be easier than that!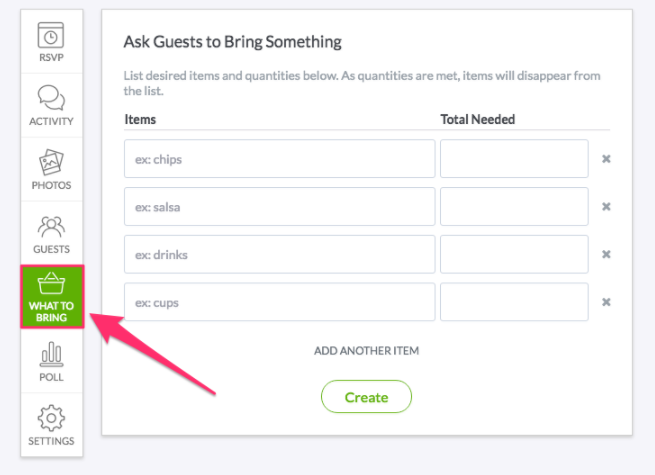 There's an App for That
Stick to a menu of small bites, including easily portable foods and heat and serve prepared foods to minimize your need to be in the kitchen, when you should be socializing. An elegant cheese platter is easy to dress up with fruits of the season such as figs and berries. Get extra fancy with the addition of chocolates, honey, olives and nuts. Be sure to have a variety of crackers and flatbreads available for scooping.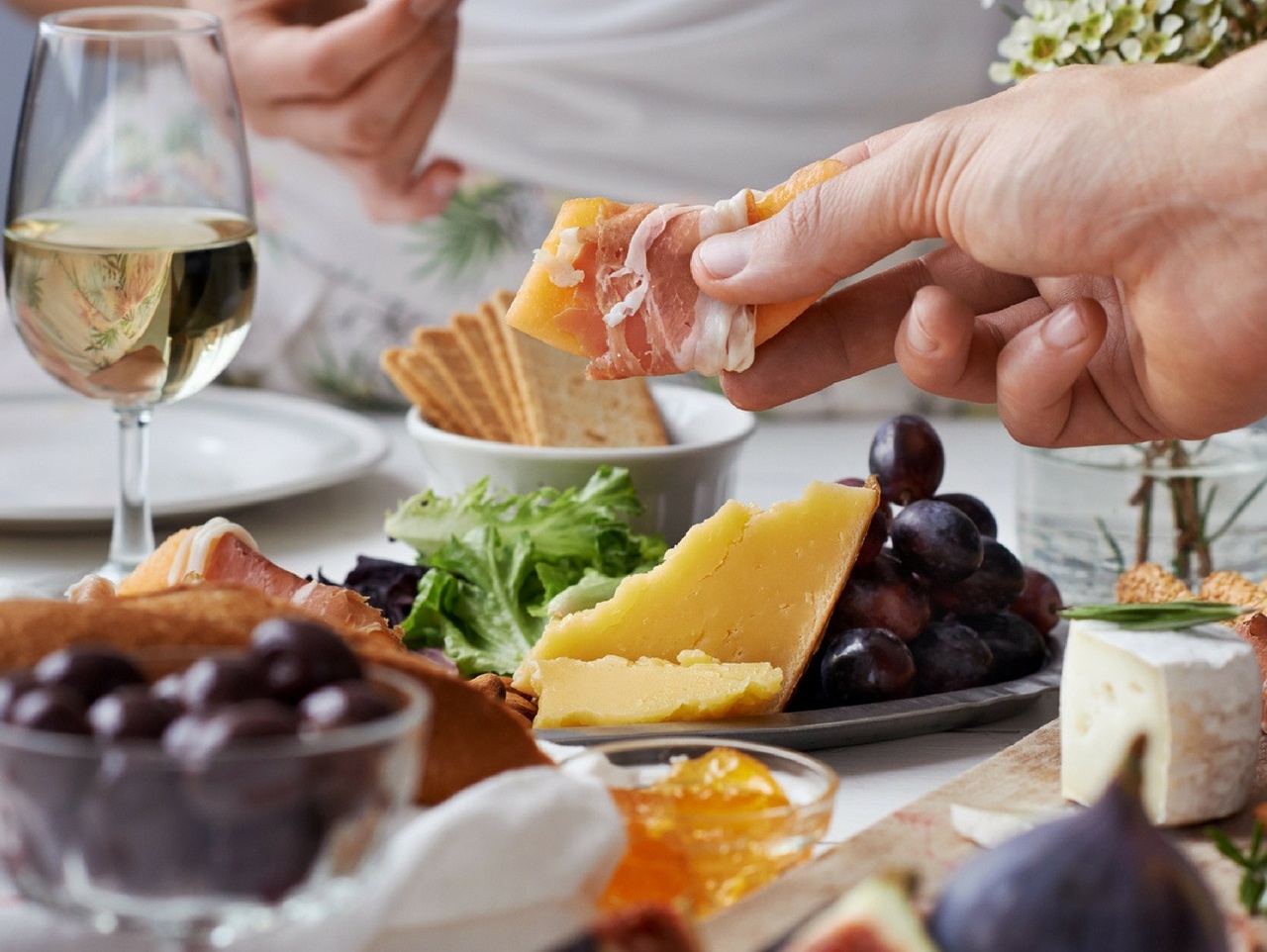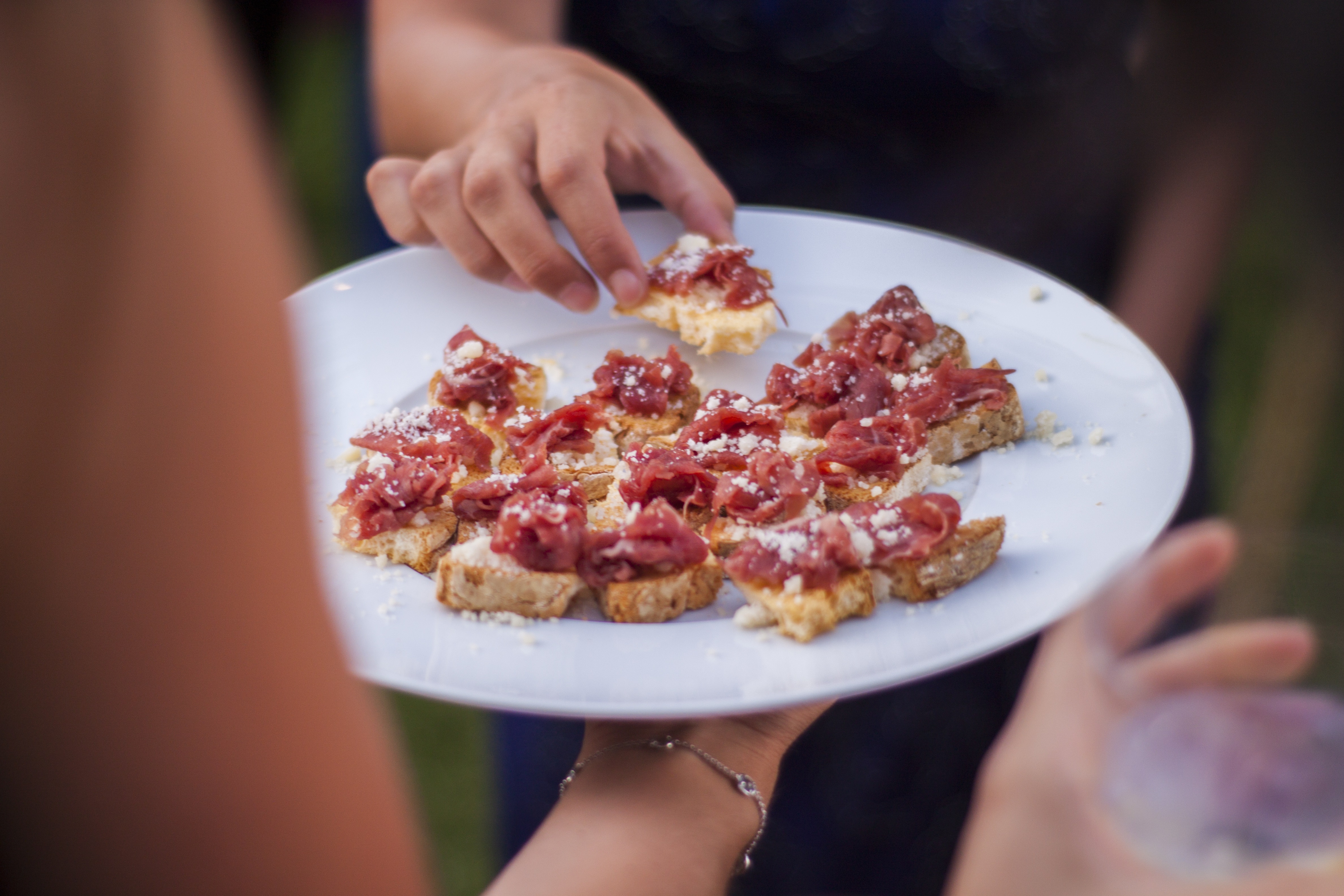 Create a Beverage Mixing Station
Set up a simple mixing station that's fast and easy on the budget for a last minute party. Offer champagne and a spirit such as vodka on ice and place them alongside mixers such as orange juice, tea, cranberry juice, lemonade and assorted soft drinks, fruit slices and garnishes for a hassle free bar that offers lots of options for mixing up some fun! Not sure how much to get? Check out this handy Drink Calculator; it's a fantastic resource for figuring out just what you'll need.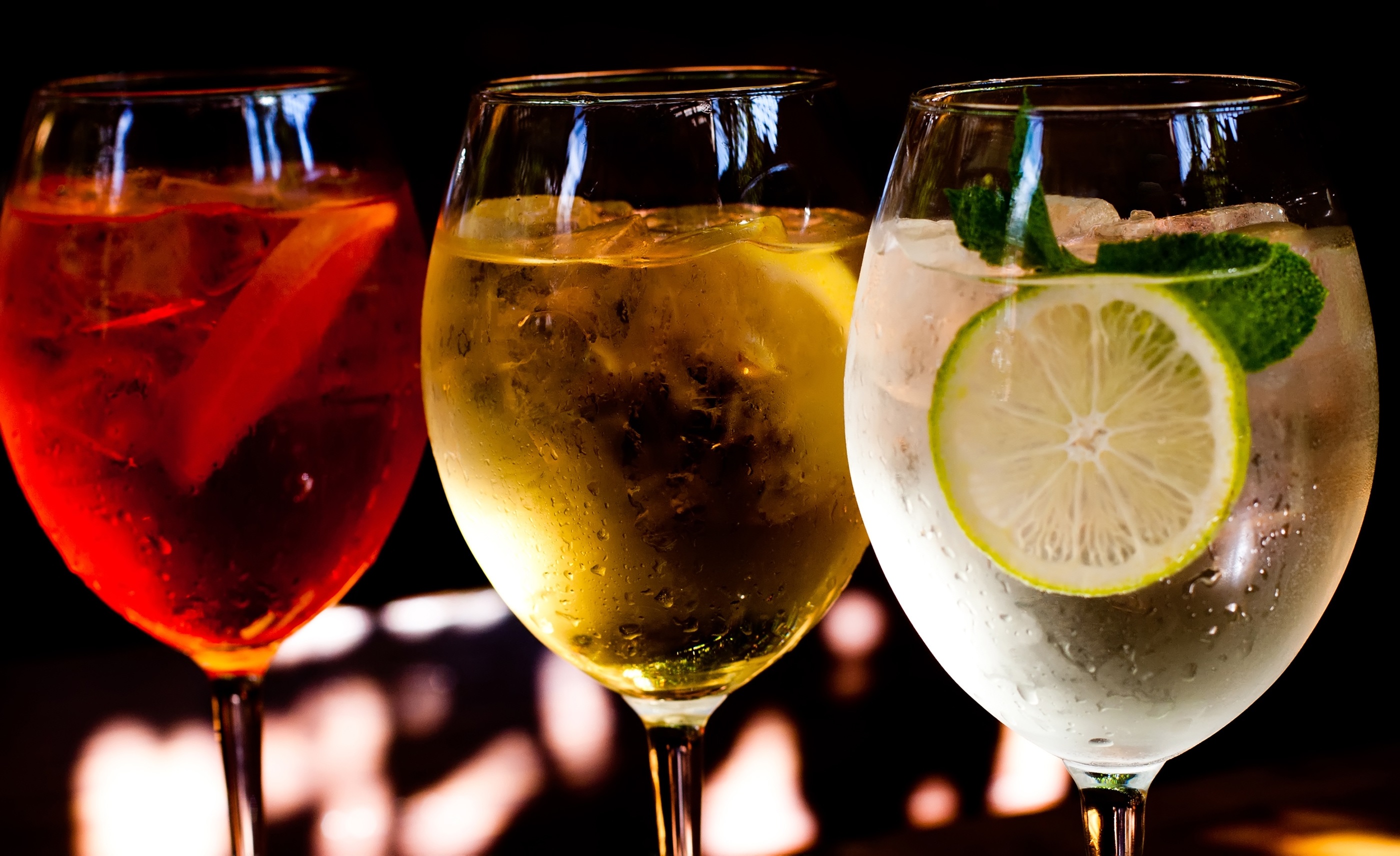 Decorating
Coordinate Your Decor
Organize a color palette taking cues from your Evite® invitation, which sets the tone for the event. (Remember that stunning black, coral, green and gold invite that was my favorite?) One of my favorite money saving tricks is to use upholstery fabric as a table linen. It comes in incredible patterns and even better, comes on a roll, eliminating the need to bust out the iron for formal table linen. A pashmina sourced from your own closet in an accent color like this emerald green makes a clever, unexpected table runner that adds depth to your design.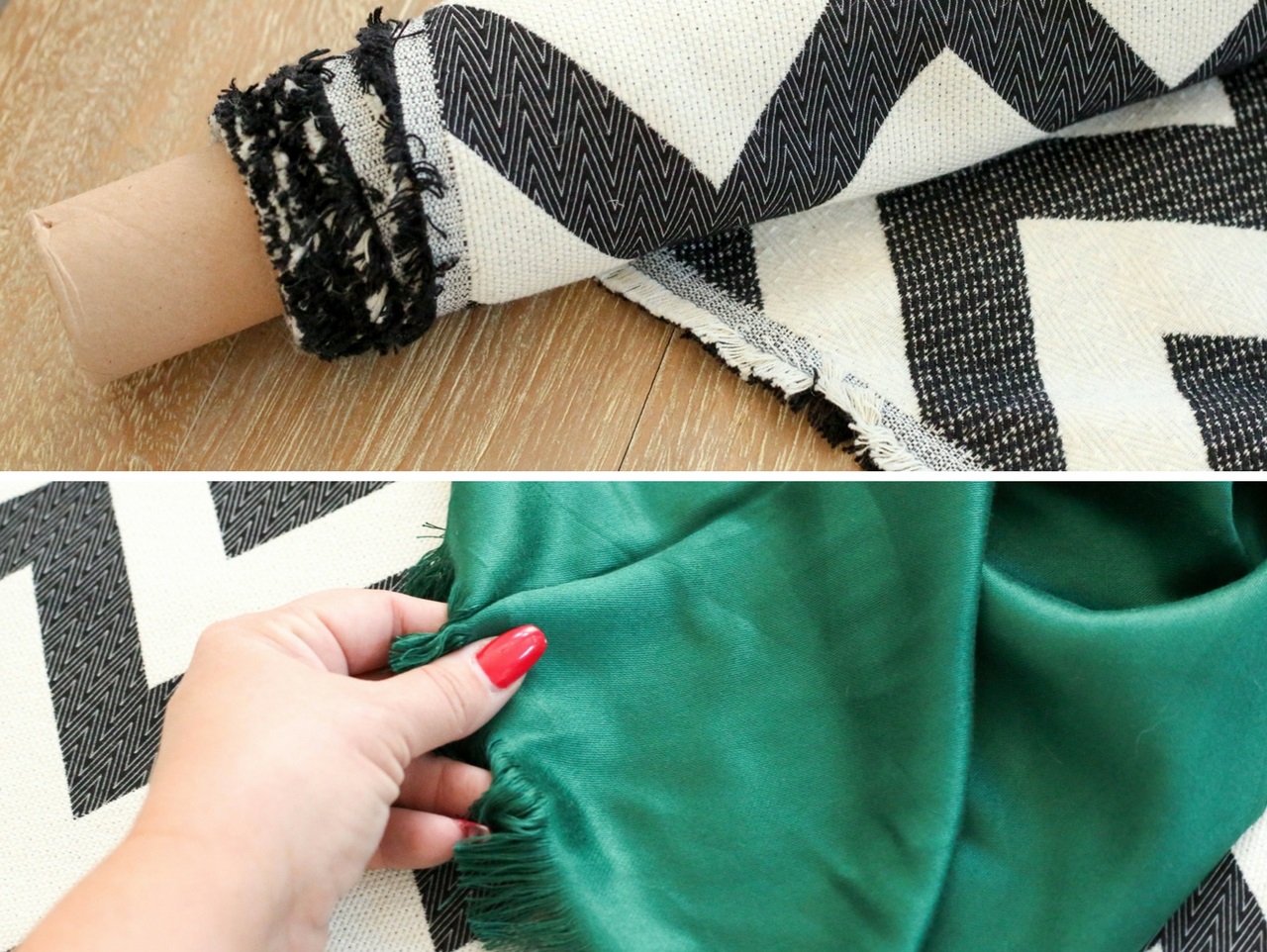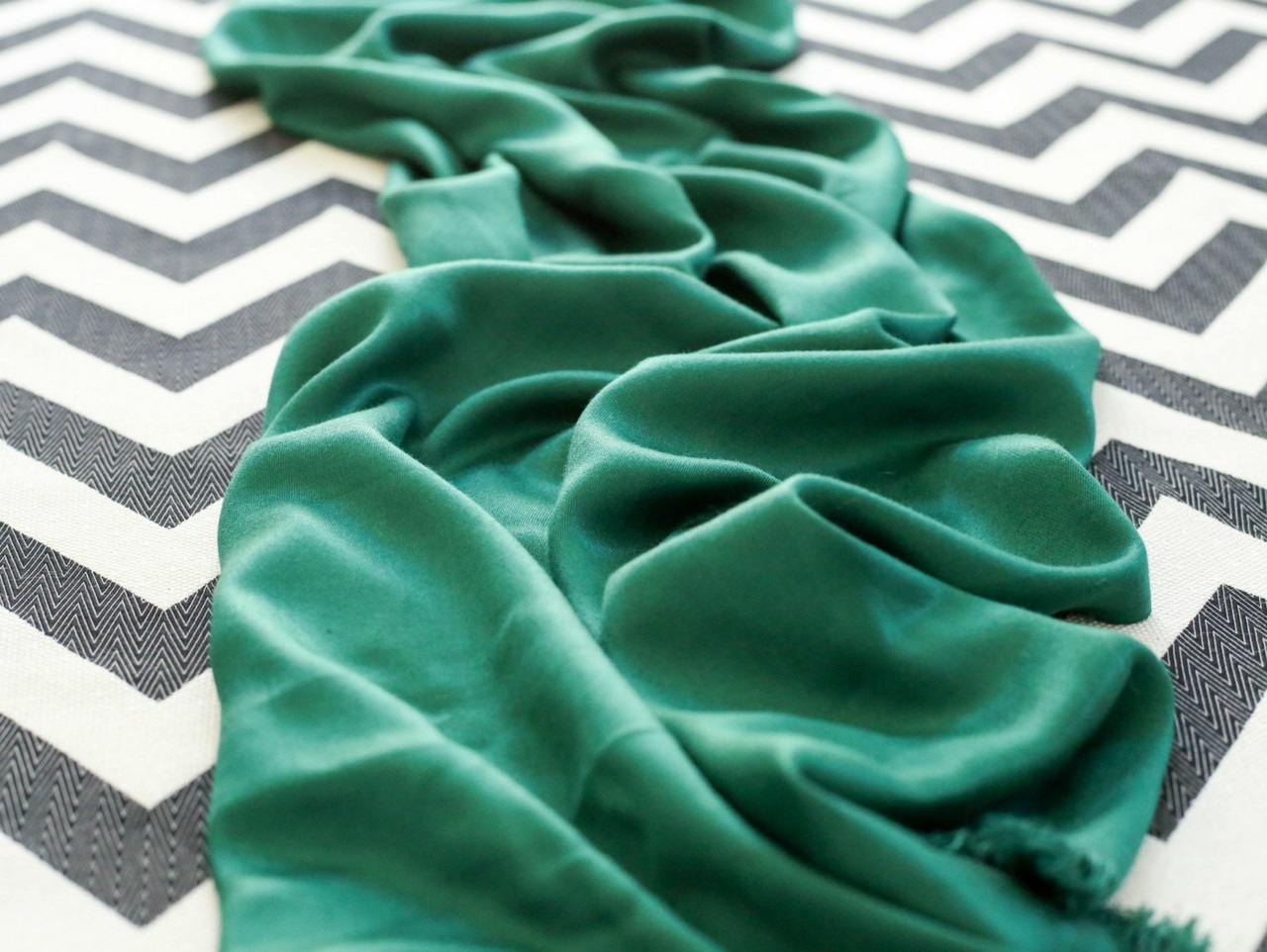 Create a Quick and Easy Decorative Focal Point
Darling party products are just a click away, like this glamorous paper decor kit from My Mind's Eye. The decorating set comes with all you need to create a high impact focal point, including paper fans, garlands, confetti poppers, and party hats. Layer the fans and garlands for a rich, celebratory look that's perfect for snapping selfies in front of. Don't forget the party poppers!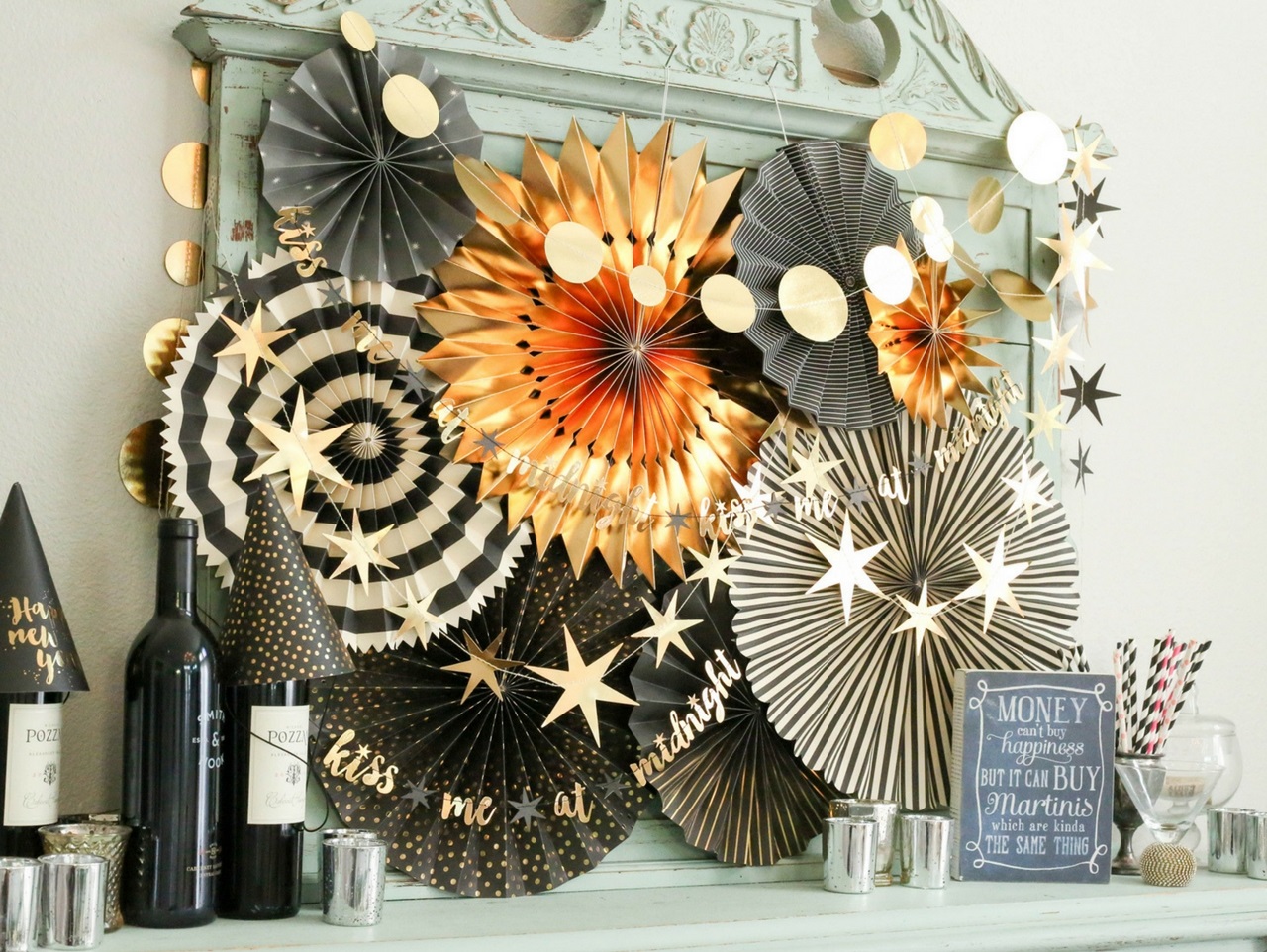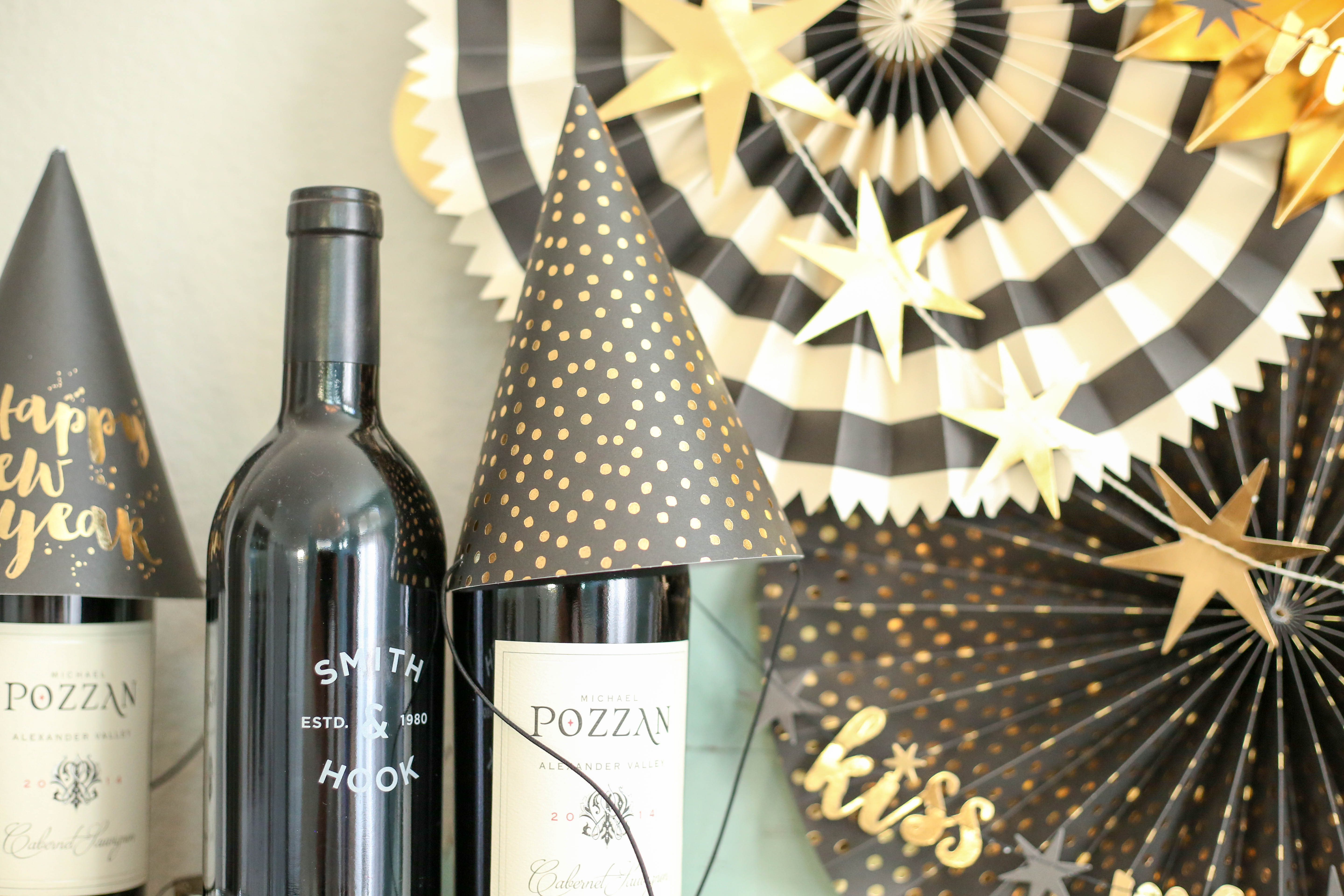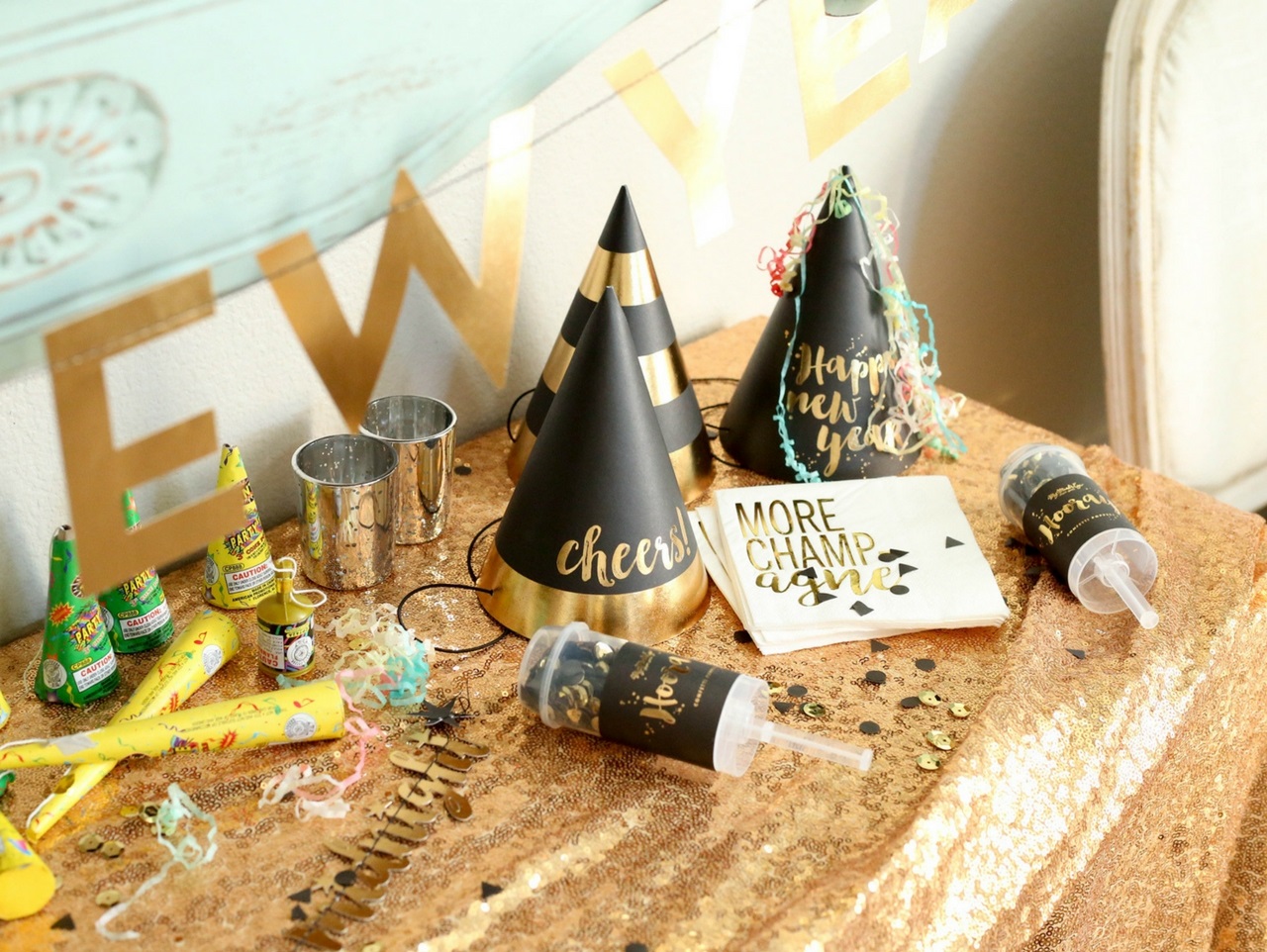 Blow Up Some Festive Decor for Your Party on the Fly
Marbled balloons paired with solids and confetti balloons are another fast, inexpensive way to add elegant flair to a party on the fly. Use metallic strings and allow them to float to the ceiling for instant drama and visual interest.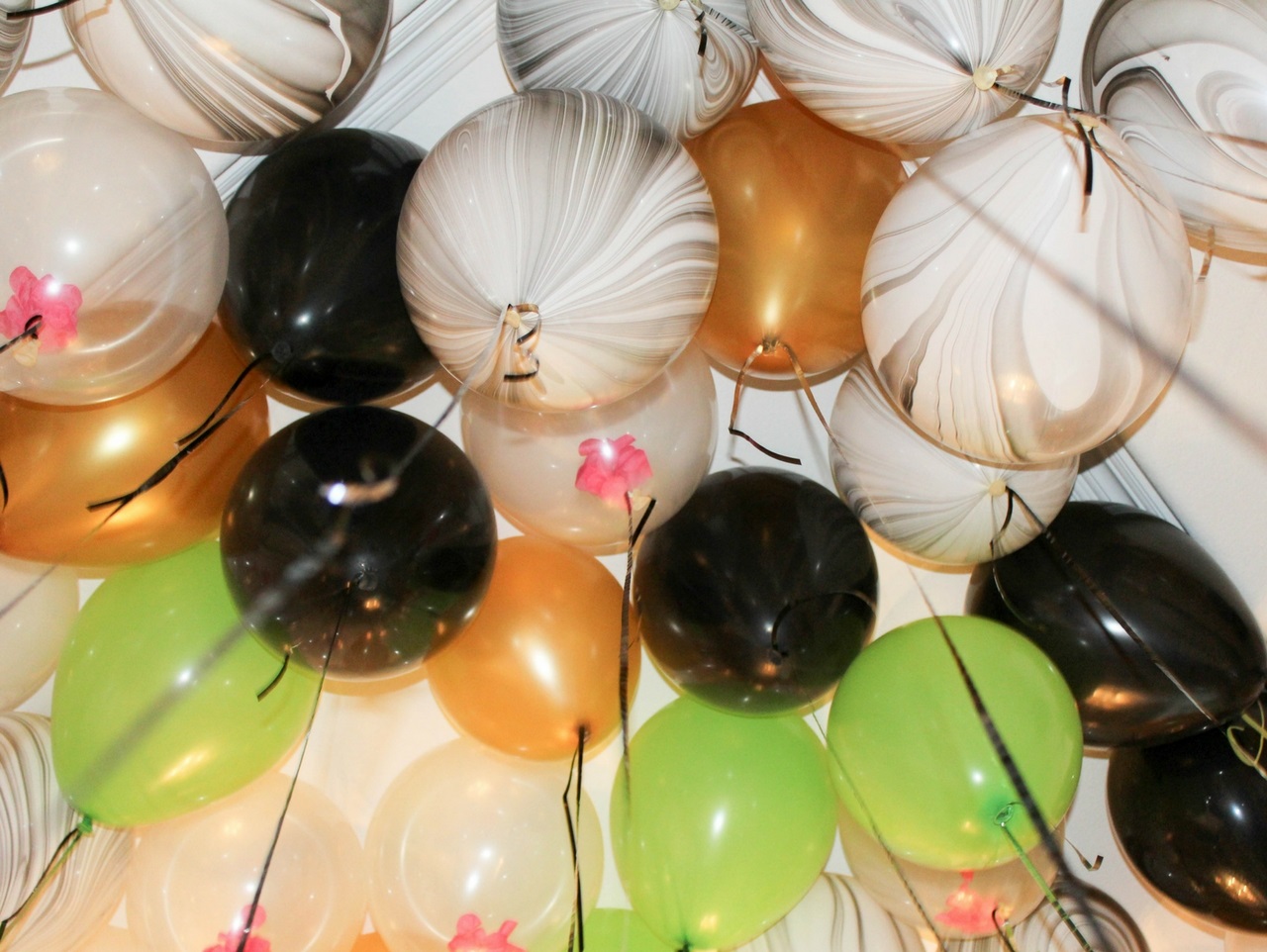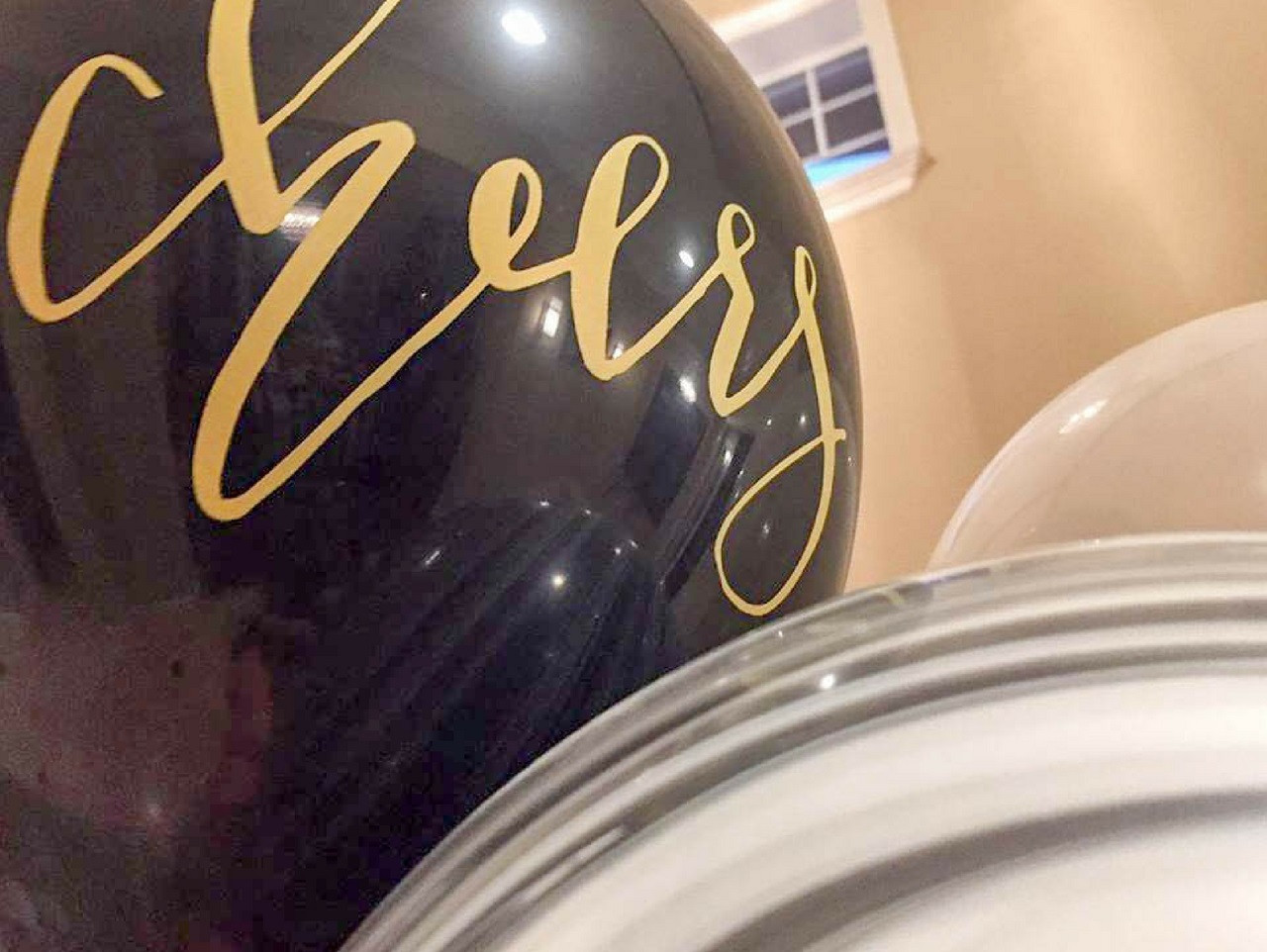 Disposable Tableware is Your Friend
There are many disposable tableware options available these days. These black and gold rimmed dinner and dessert plates are a party planning staple, as they coordinate well with almost any theme! Pair them with gold disposable cutlery and cute themed napkins for a high end look that is quick and easy to clean up after partying the night away. (Trust me, your morning self will thank me.)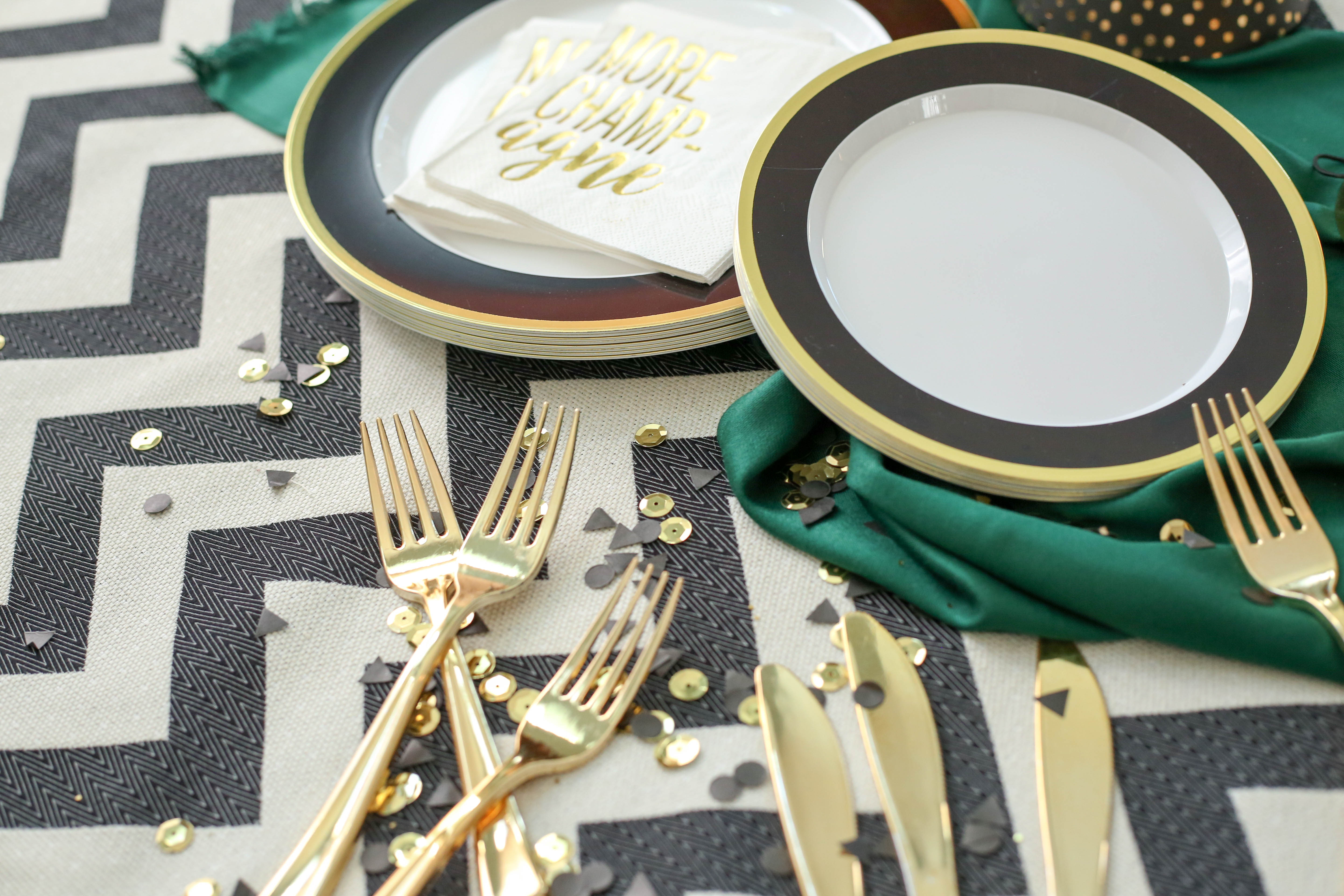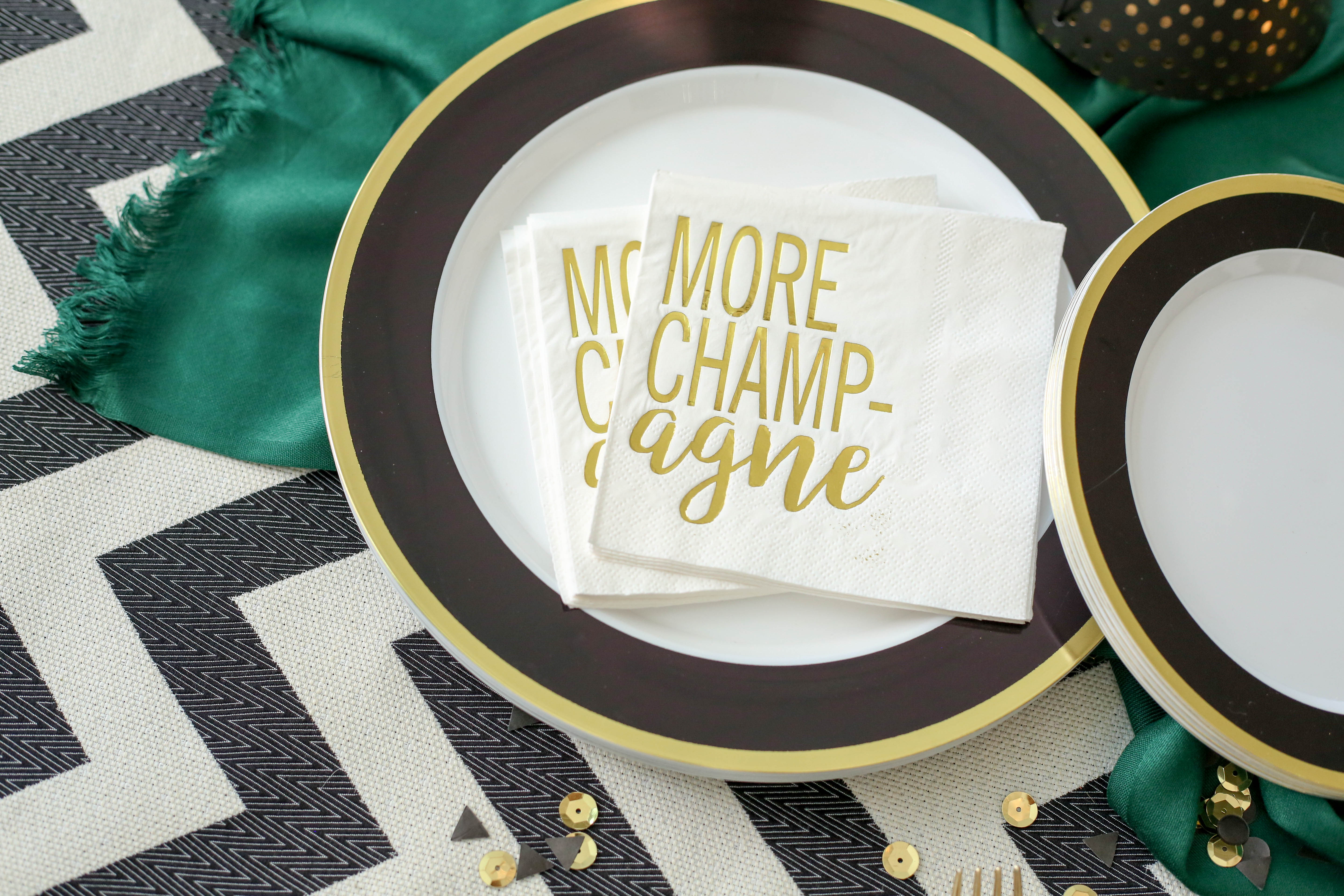 Add a Personal Touch
If your handwriting is nice, add hand lettered labels to your food platters. (You can also print them, if your calligraphy isn't quite as pro as you'd like it to be.) Fresh flowers are another lovely touch and make nice parting gifts.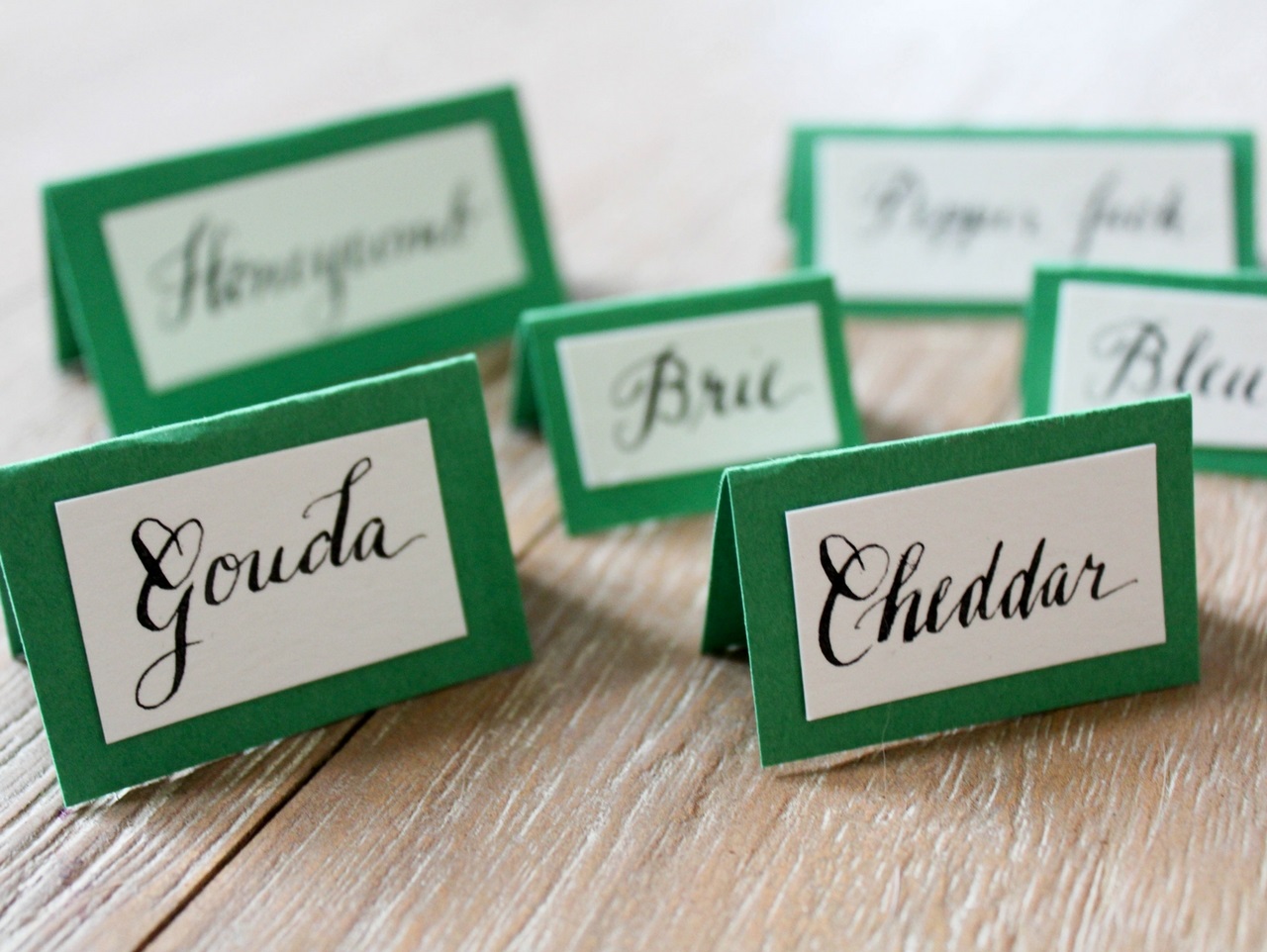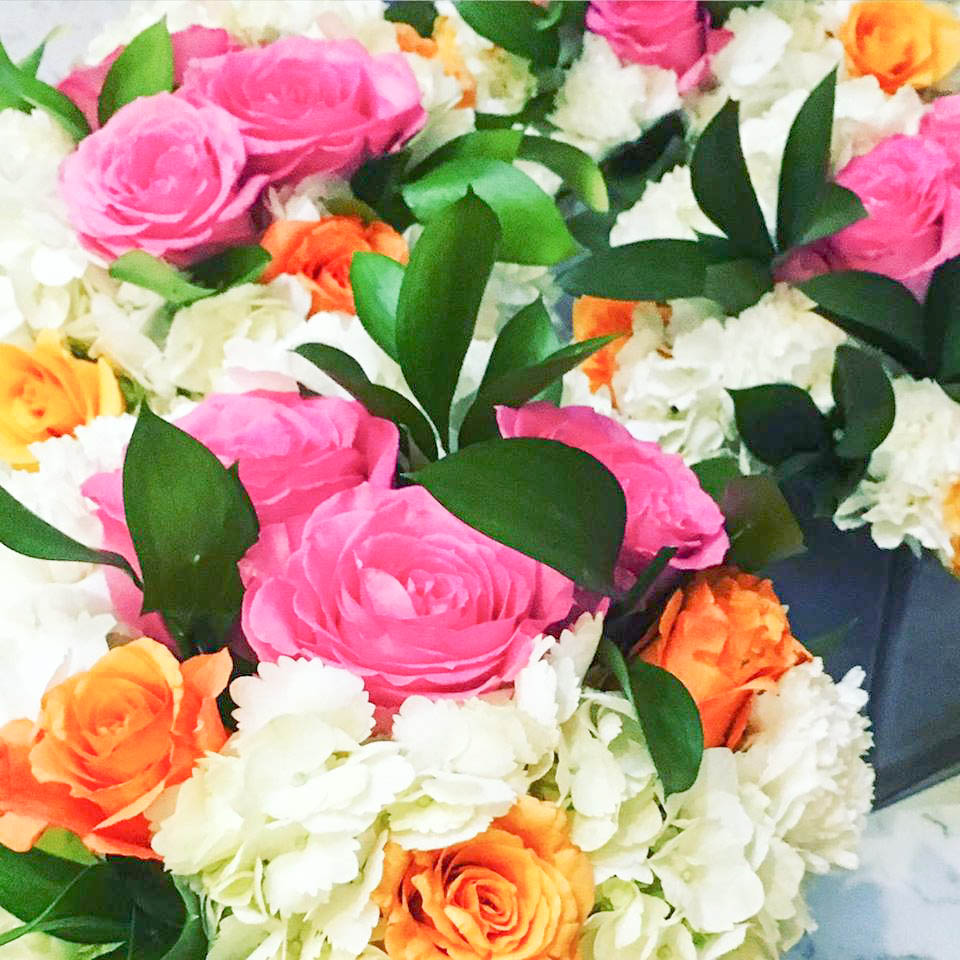 Make your home comfortable for your guests by creating flow in the rooms where the party will take place.  This includes moving furniture, draping utilitarian items, and using what you have in unexpected ways. A mirror can become a serving tray; a pitcher can become a vase. Create small conversation areas throughout the party space and keep the food and bar in a centralized place to avoid crowding the kitchen.
ENTERTAINMENT
Selfie Station
Set up a fun backdrop for snapping selfies and photos at your party, and let the good times roll!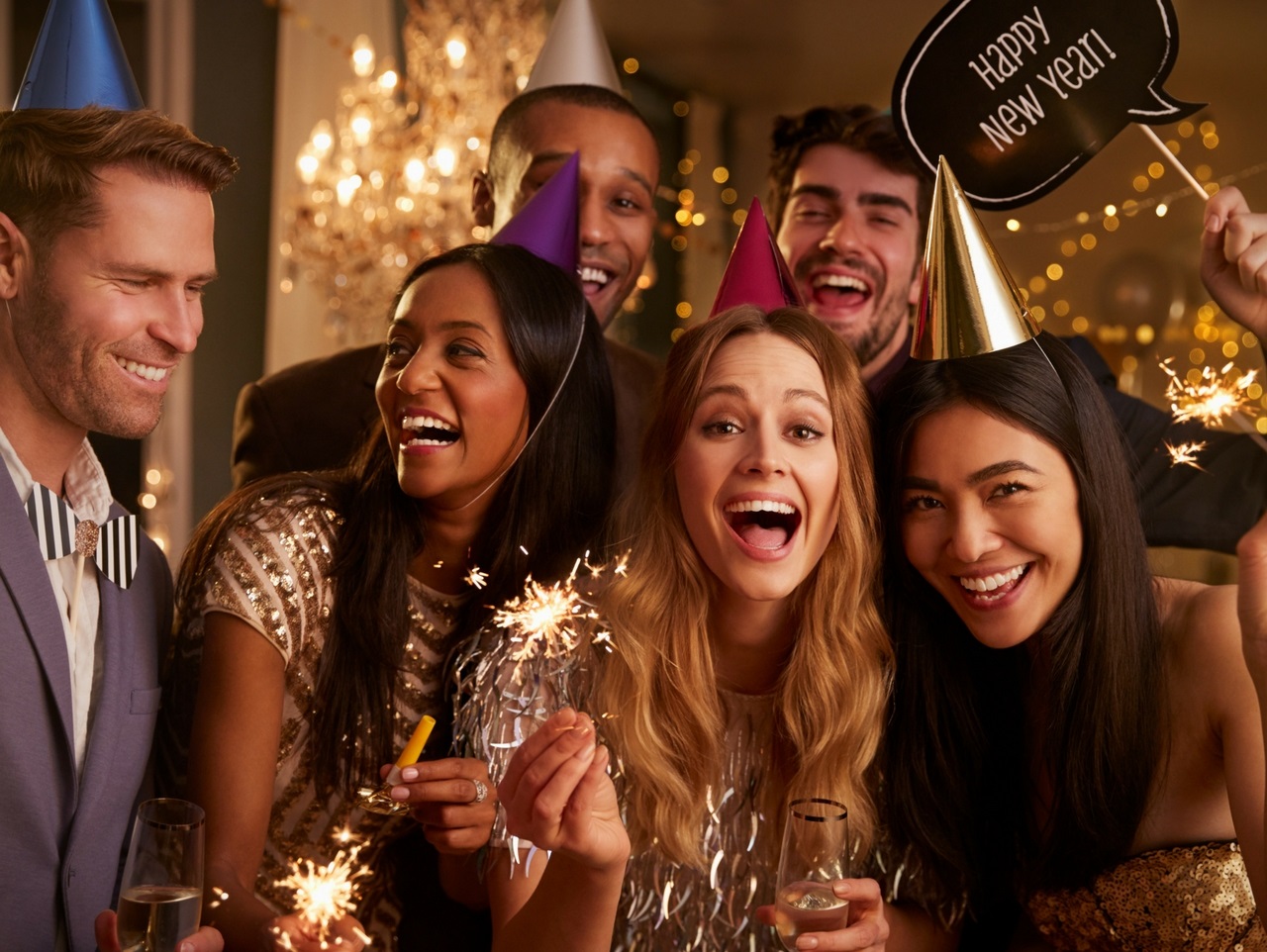 Send Them Off With a Proper Send Off
Party favors run the gamut when it comes to expense and style, but for a New Year's Eve party on the fly, nothing beats the classic simplicity of a confetti popper. These glamorous "Hooray" poppers are from My Minds Eye, and come in a variety of colors and shapes. Use one to sprinkle a little confetti around the party before guests arrive, too!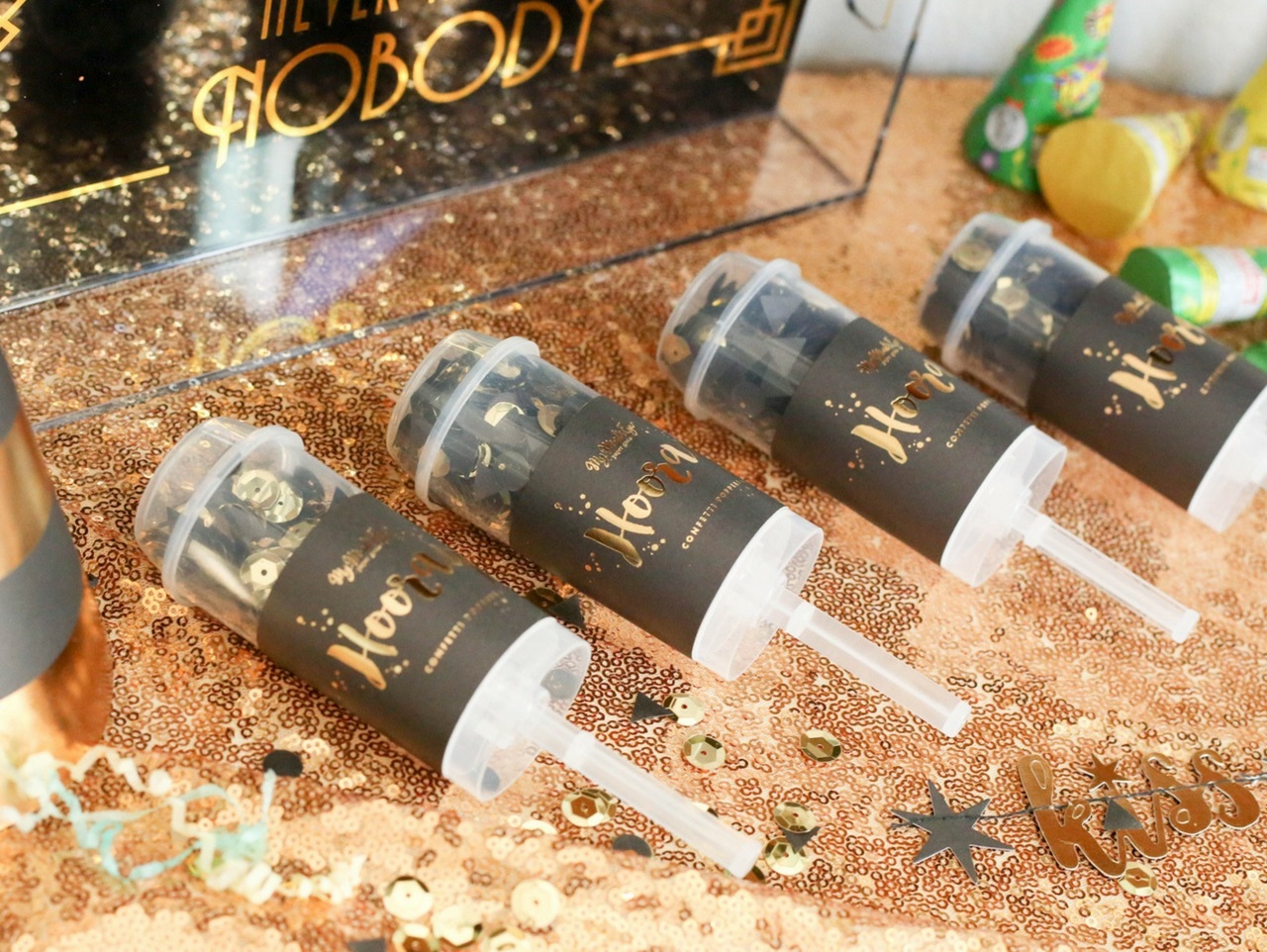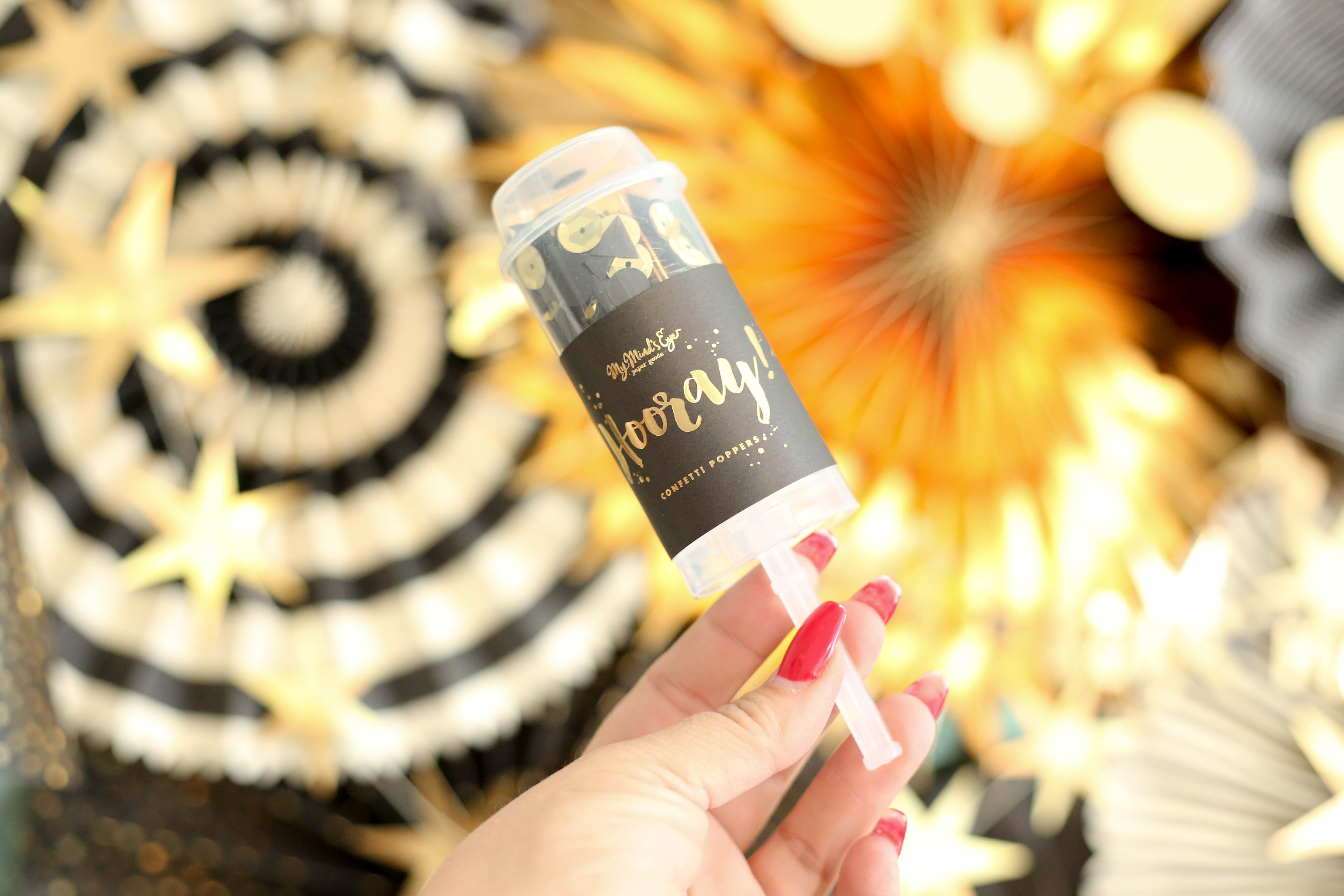 Don't Forget the Thank You Notes
Sending out a thank you note after a successful soiree is a wonderful way to keep the good vibes going and let guests know how much you appreciate them. Evite® makes it easy to send thank you notes. After your event ends, you will be sent an email with a link to free thank you notes you can send to your guests. You can write your own thank you messages; craft a general message on the first step, or write personalized messages for individual guests on the last step. Tell them thanks for coming to your party, or for bringing gifts or contributions.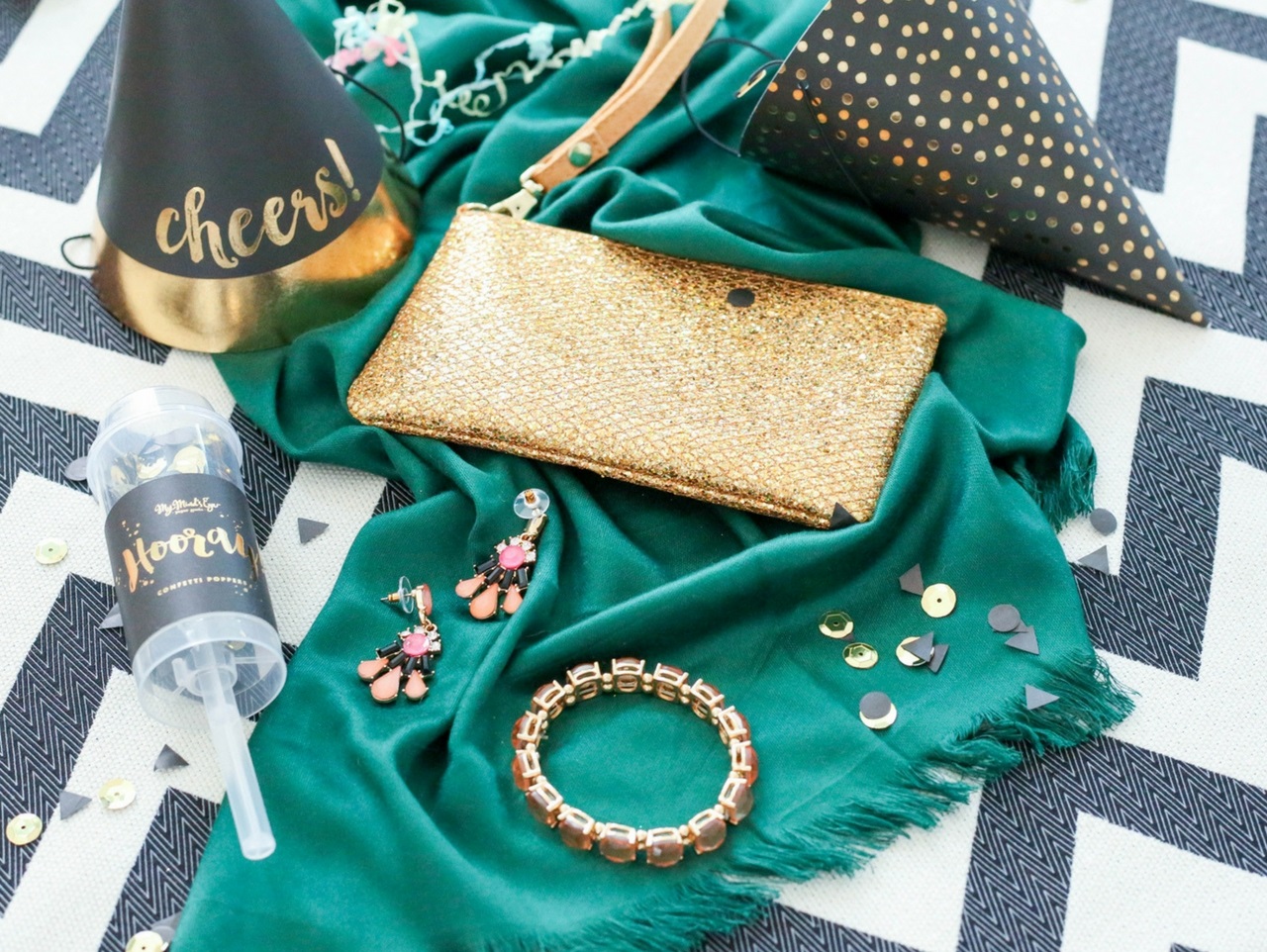 You can also decorate your thank you cards with the best photos from your party. (It's easy when all you have to do is choose your favorites from the ones uploaded to your invitation.) Lastly, add that finishing touch by choosing the theme that goes best with your photos and party. There are so many themes, from festive to simple, for you to choose from. Then, send them off to show your appreciation!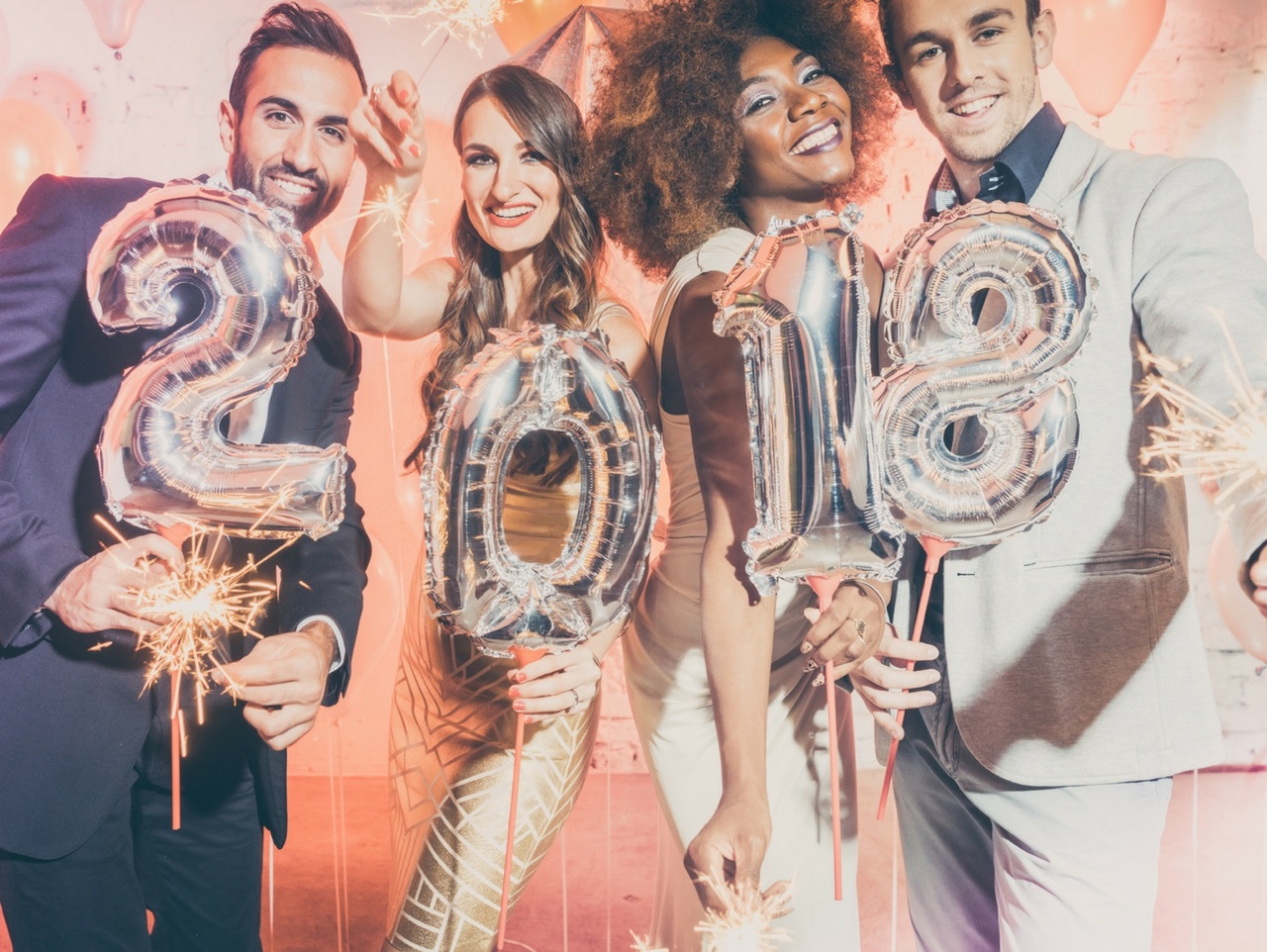 Happy party planning, and remember to Celebrate Everything!