I'm a professional designer for The Bakers Party Shop, and received the products seen below with their generous compliments, to create this project just for you. The content and images, as always, are original, authentic designs brought to you by Ritzy Parties, Inc.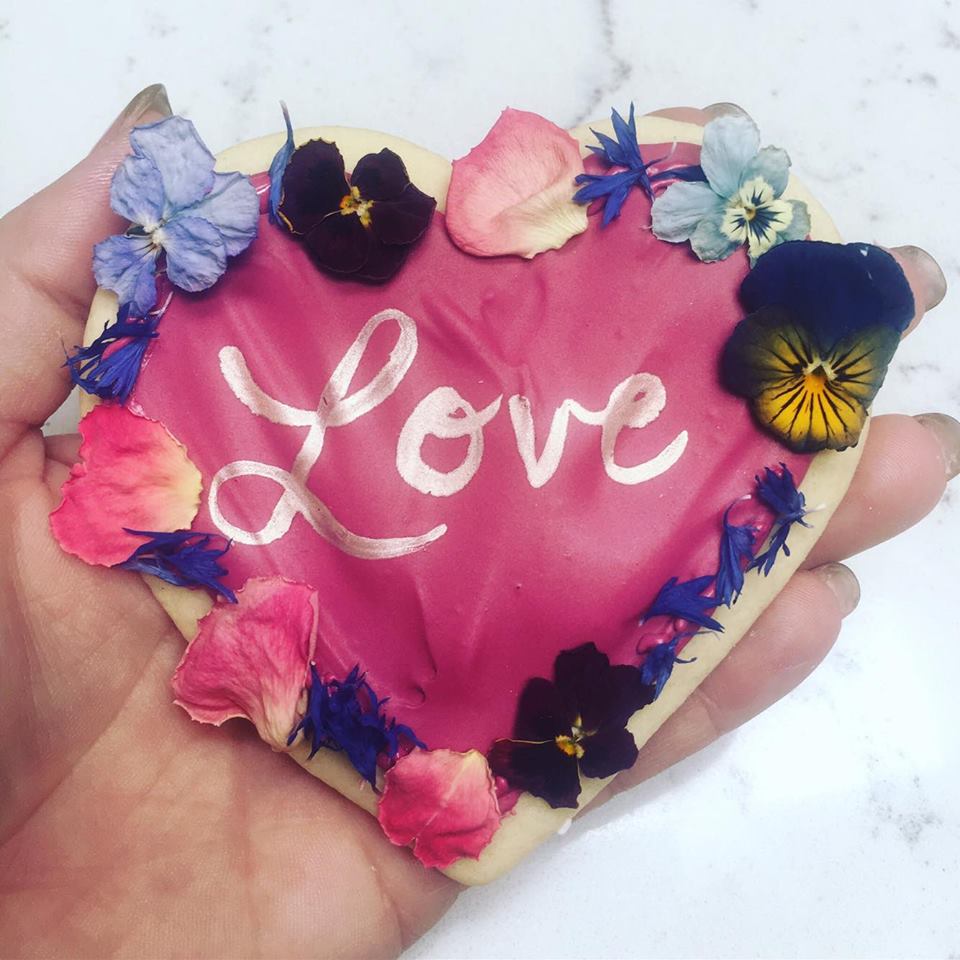 As an event planner, it's vital to have my finger on the pulse of the hottest trends in weddings, parties and celebrations. One of my favorite developments in the luxury dessert realm in recent years is hand painted confections. New strides in edible ink technology have made it possible for skilled dessert artisans to hand paint patterns and imagery right onto icing, creating beautiful watercolor effects, and even hand lettered script.
Thanks to my friends at The Bakers Party Shop, I had a chance to try my hand with a really fun new product by Sweet Sticks; it's a complete line of Edible Paints in solids and metallic shades. These were so much fun to play with, and the final effects are nothing short of stunning! I've been creating hand lettered calligraphy pieces for several years now, and learned the technique with a pointed pen and ink, the type that requires the user to dip the pen into the ink every few letter strokes. Admittedly, having this skill definitely helped with my final results, but if you have a steady hand and decent handwriting, you can do this!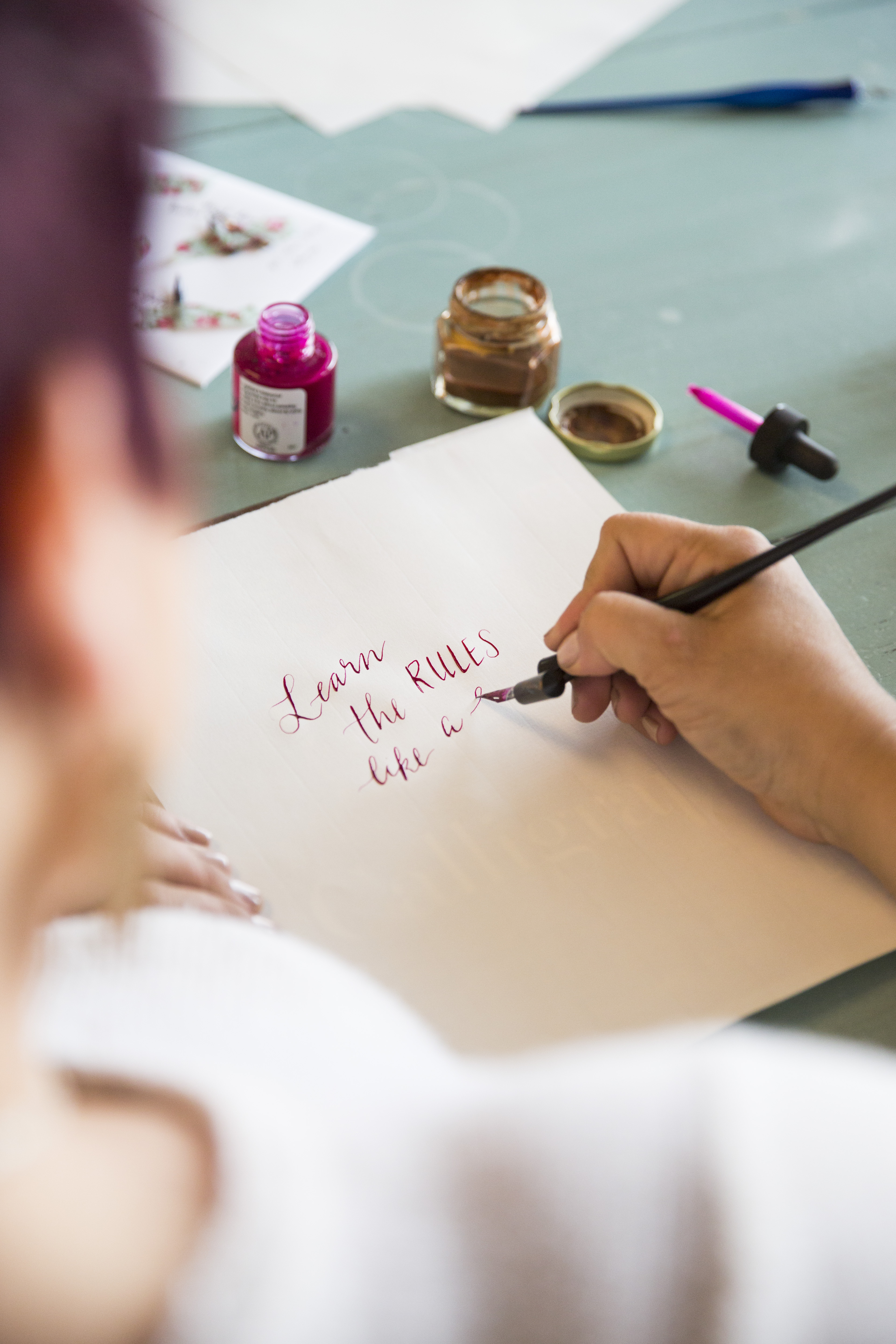 I used an incredible set of brushes, (also provided by Bakers Party Shop), they're very fine tipped, foodsafe brushes made by Geraldine's Paintbrushes. The set of 6 brushes comes in a variety of sizes, for achieving different effects and line thickness. I selected a number 8 and a number 12 brush to create the fine script I had in mind. The Edible Art decorative paints by Sweet Sticks are incredible.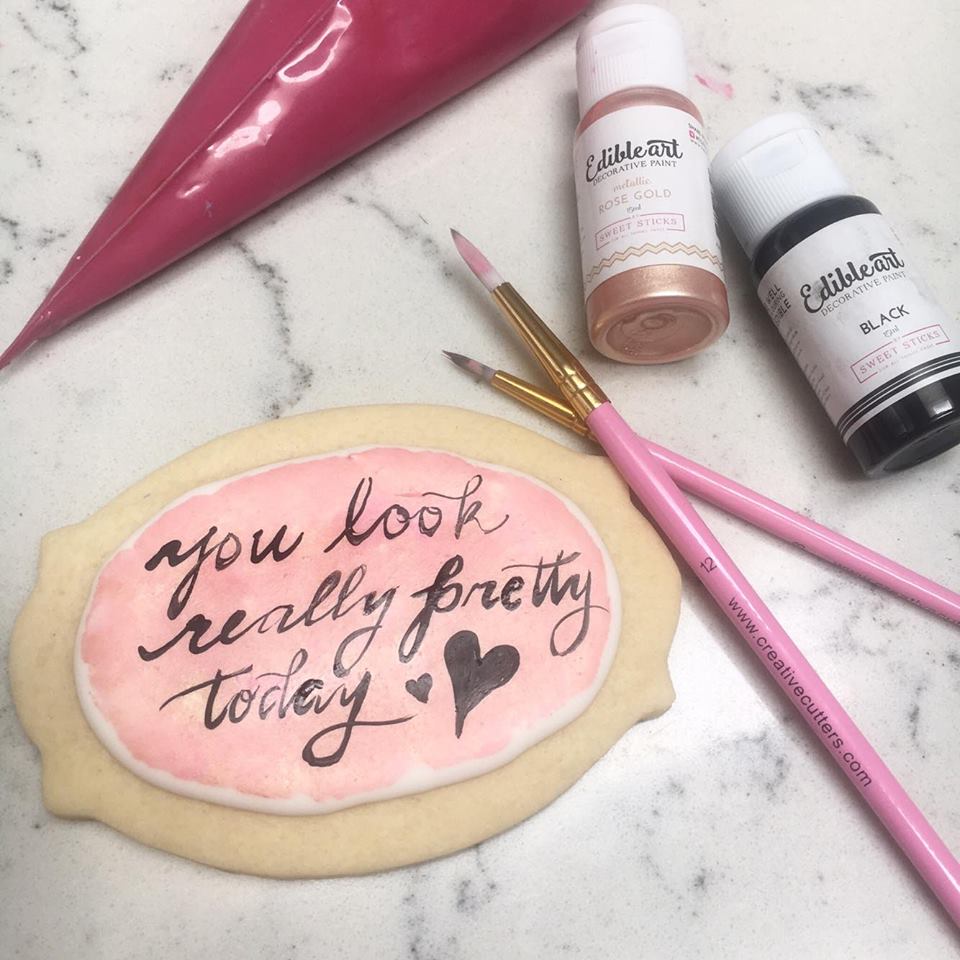 I'd selected four colors, Gun Metal Grey, Pastel Pink, Black, and my favorite, Rose Gold. I'm amazed at the quality of these edible paints, they're so easy to work with!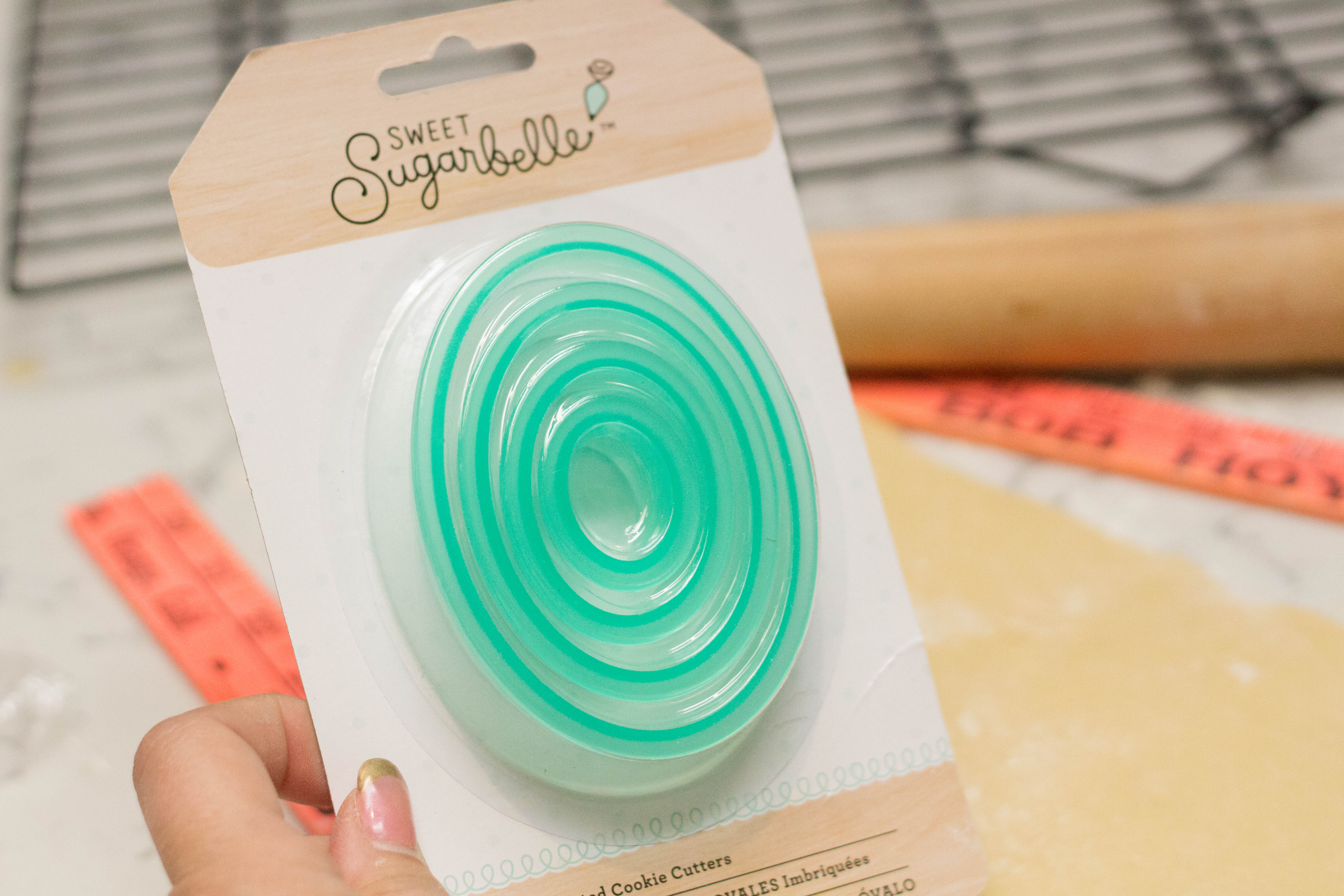 I baked up a batch of sugar cookies, and then iced them with colorflow icing, allowing it to set. This would become my canvas. The results were spectacular! I painted on the colors using the pink and rose gold, then added script in black. I also added in some edible flower petals from one of my favorite shops, Floating Petals Confetti.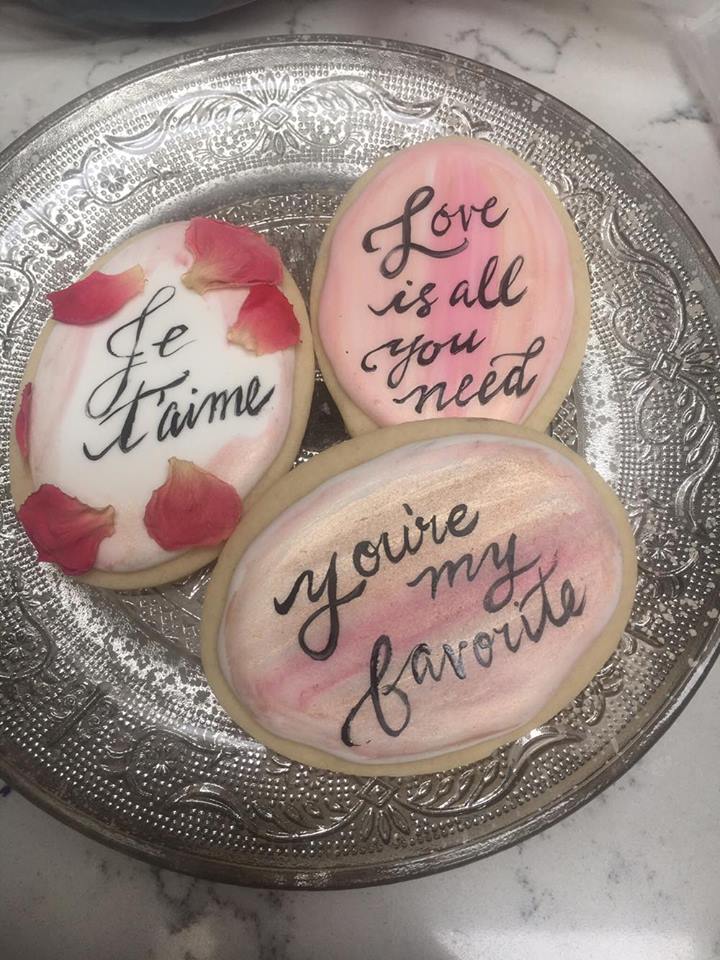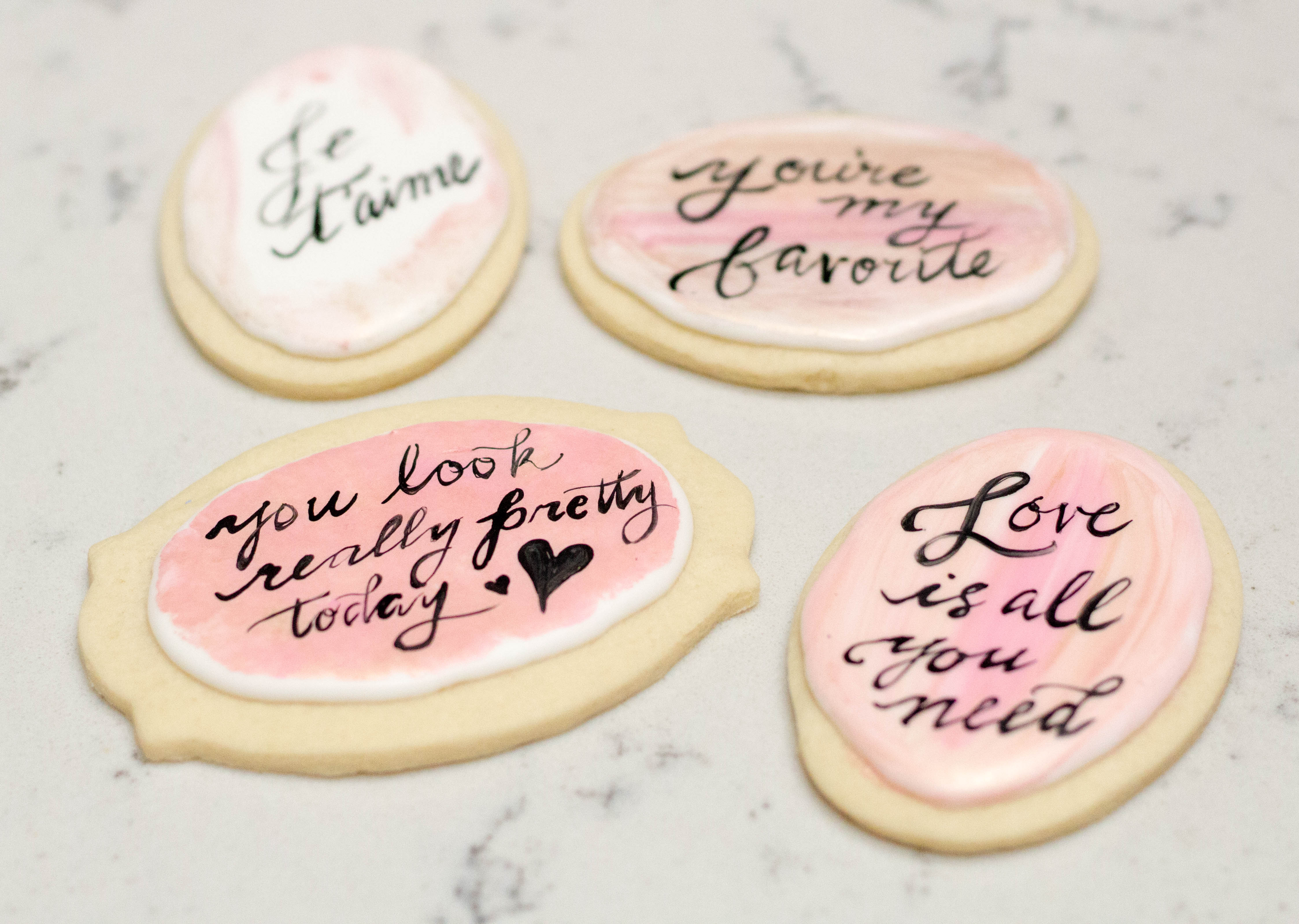 I tried another set, with bolder colors this time. You can see how the Rose Gold metallic edible paint stands out in beautiful contrast against even dark icing colors. It's great for creating script, and for highlighting areas you want to bring attention to; so elegant.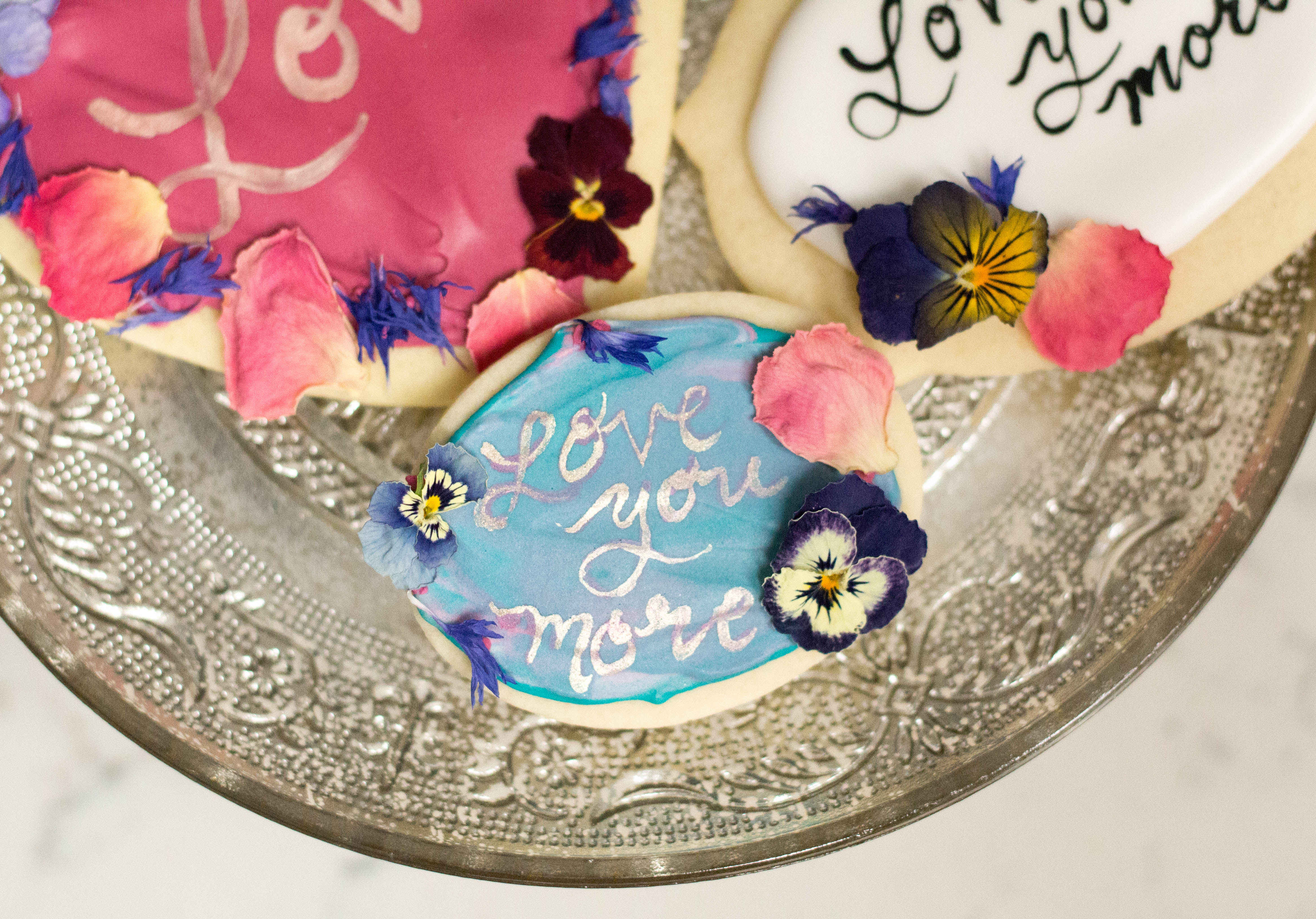 Edible paints on cookies is a fantastic way to add elegance and high design to your Valentine's Day cookie designs. Head over to The Bakers Party Shop for these, and so many more amazing products for all your sugar crafting and baking needs.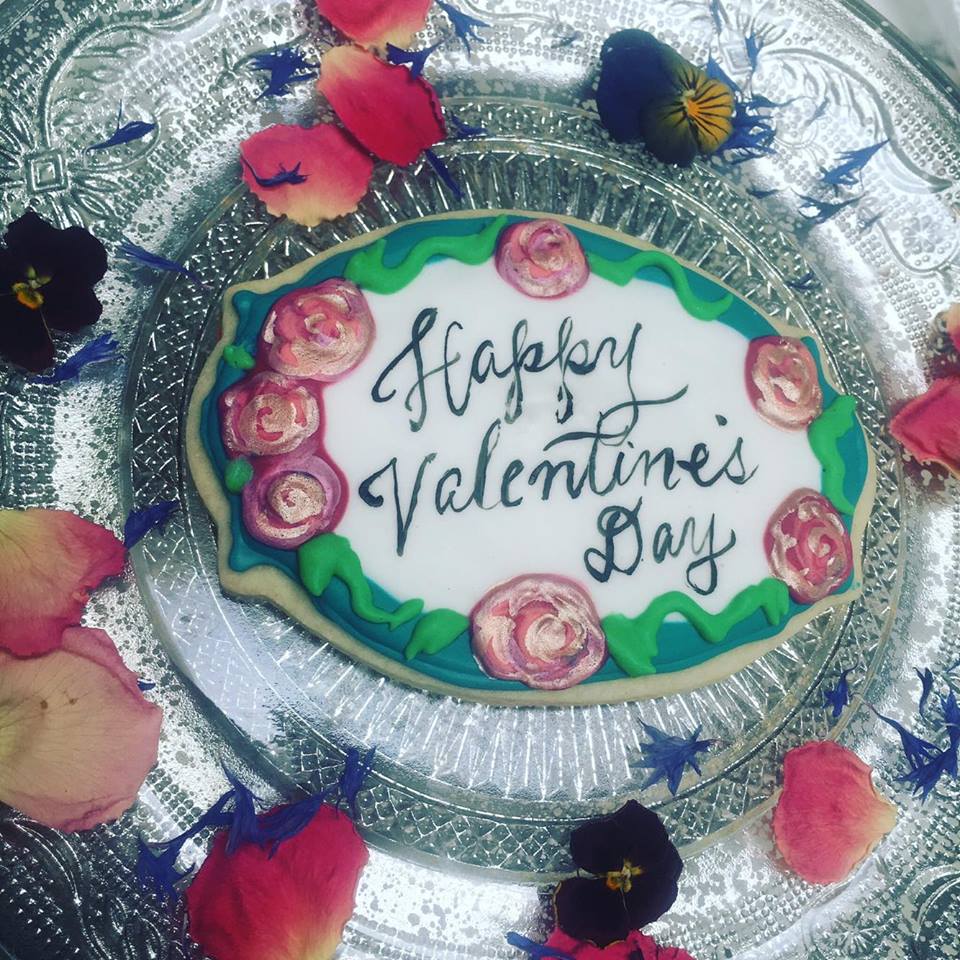 If you liked these, you'll love these cute "Better Together" cookie sets for Valentine's Day!