Burlap and lace are a match made in wedding heaven; the casual and rugged texture of burlap is an elegant counterpart to the sophistication and femininity of lace, making the pairing a perfect choice for wedding décor. It's an effortless, romantic aesthetic that's also easy on the budget. As an event designer, I love blending burlap and lace décor with vintage furnishings and tableware. The look is nothing short of stunning in an outdoor or country setting.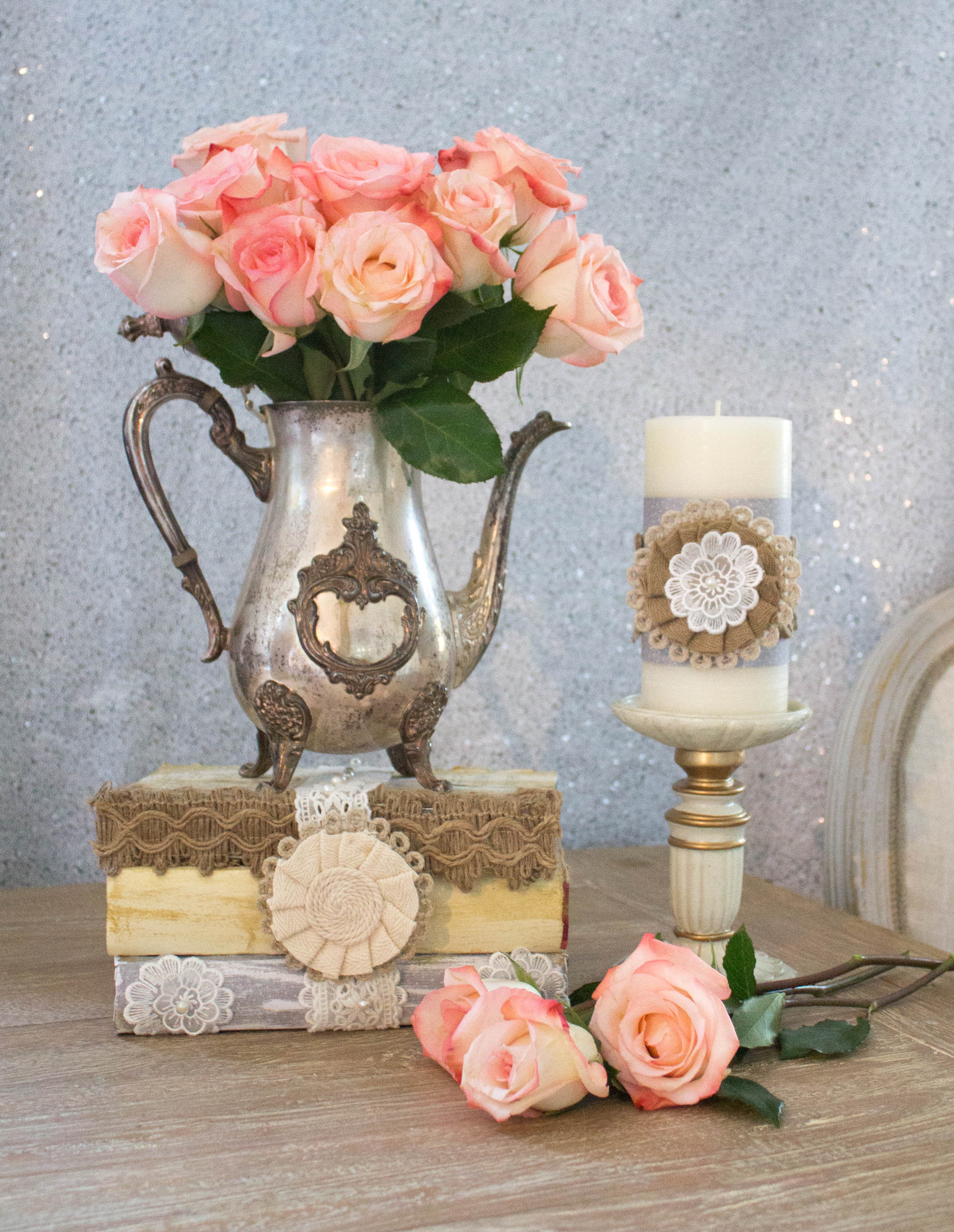 In this tutorial, beautiful natural burlap and lace trims from Expo International take center stage in a vintage styled centerpiece, fashioned from thrifted books, a vintage teapot and a pillar candle.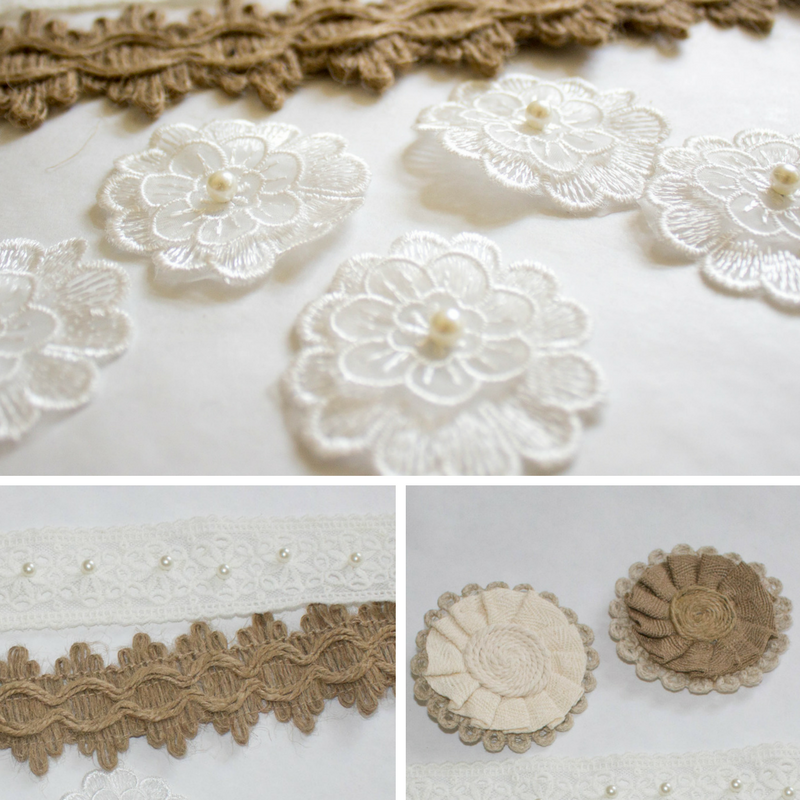 What You'll Need: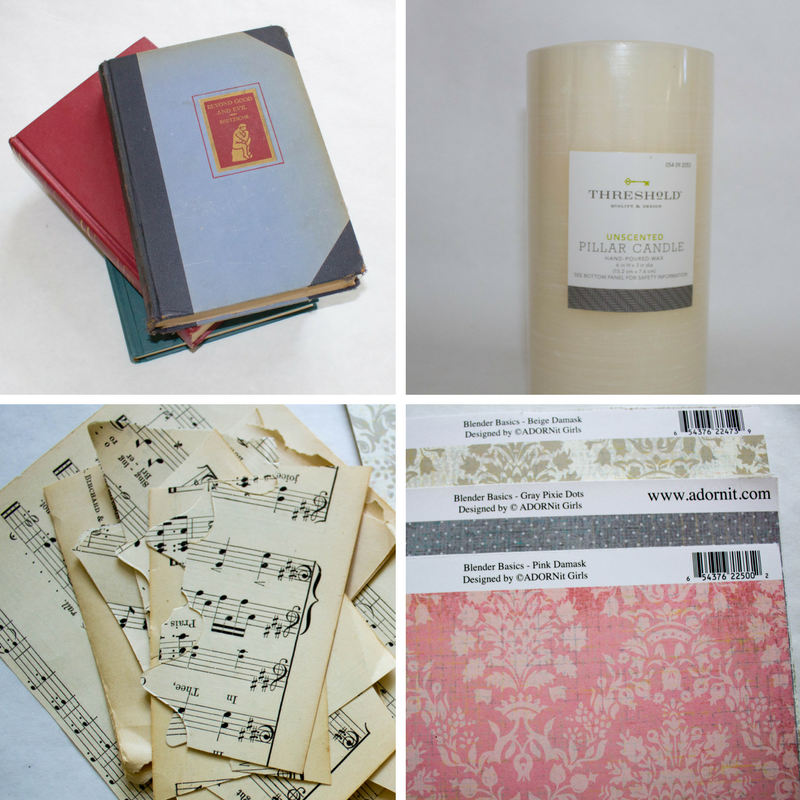 Other Materials:
Vintage Sheet Music Scraps
Ivory Pillar Candle
Three similarly sized hard cover books, approximately 8"x 6 x 2"
Cardstock paper, we used shades of pink, grey and ivory from AdornIt
Glue
Scissors
Matte Gold Acrylic Paint and Paintbrush
Vintage teapot or mason jar, and fresh flowers of your choice
Step 1
Trim one variety of scrapbook paper to fit over the cover of a book, and adhere well with glue. Allow to dry.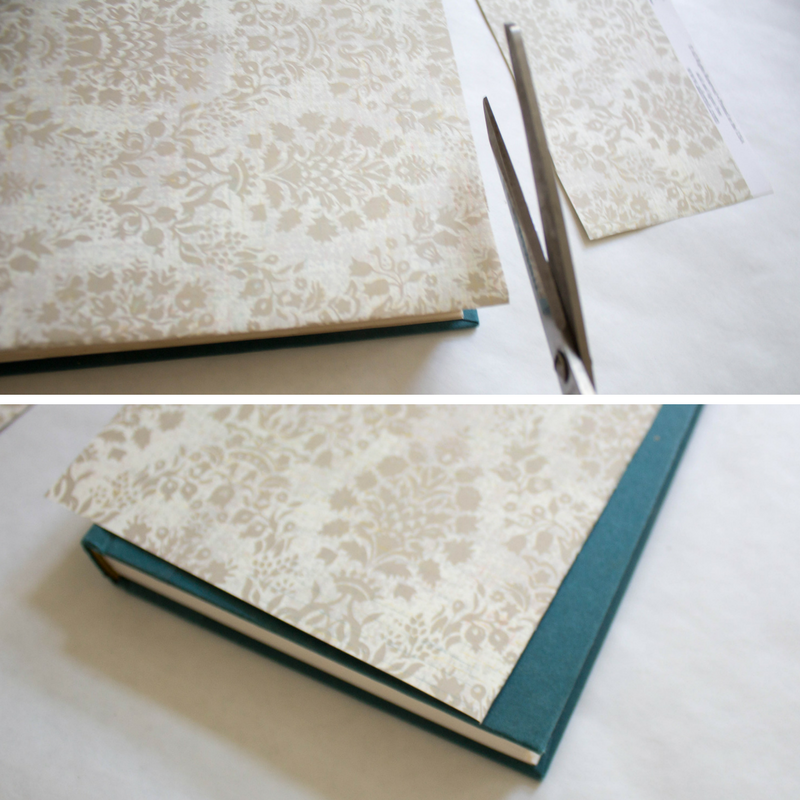 Step 2
Add scraps of vintage music paper to the cover in a random arrangement, and adhere with glue. Using a paintbrush, dry brush around the edges of the book and the scraps with matte gold acrylic paint.  Sand the edges with rough sandpaper to distress the paper and book edges, as shown.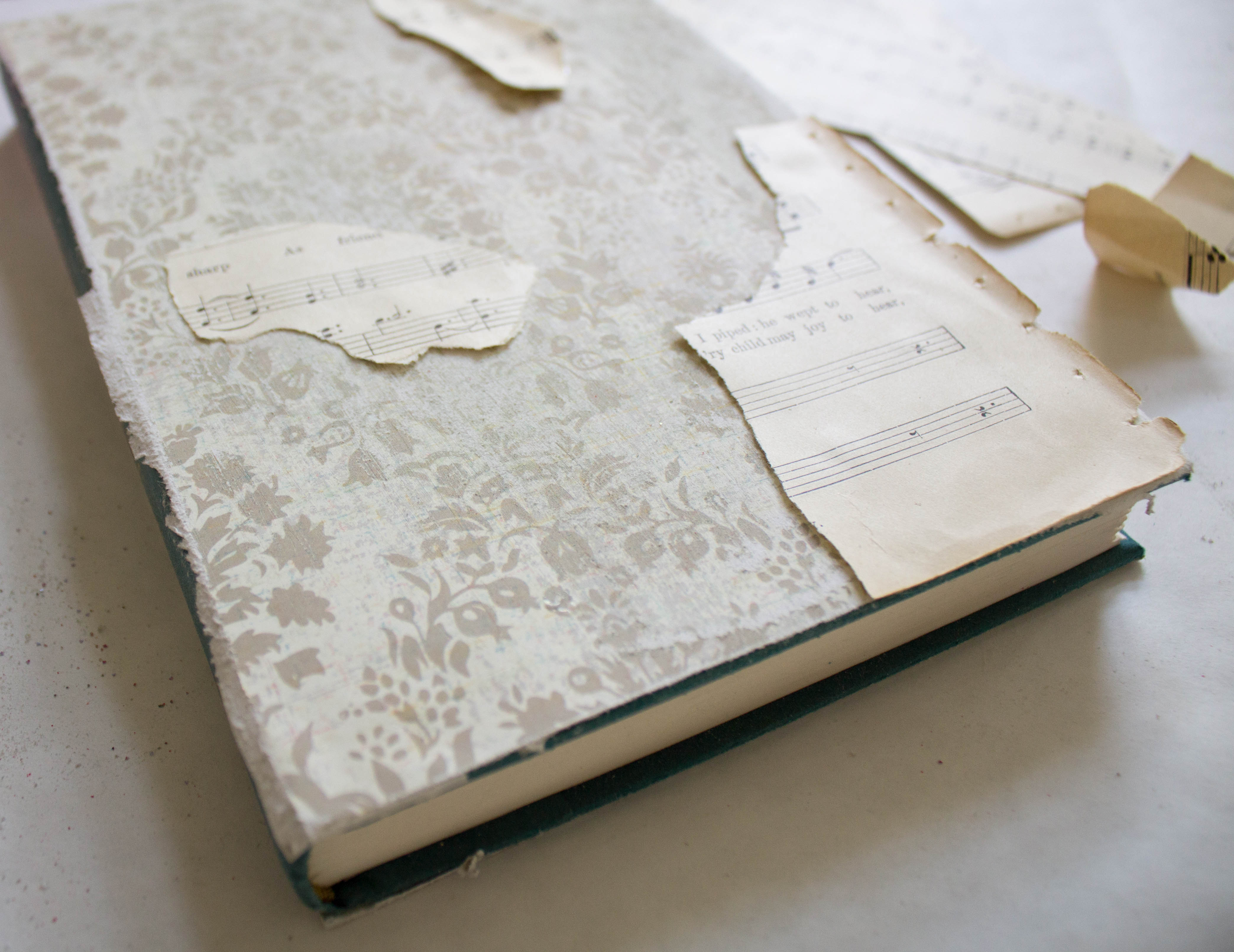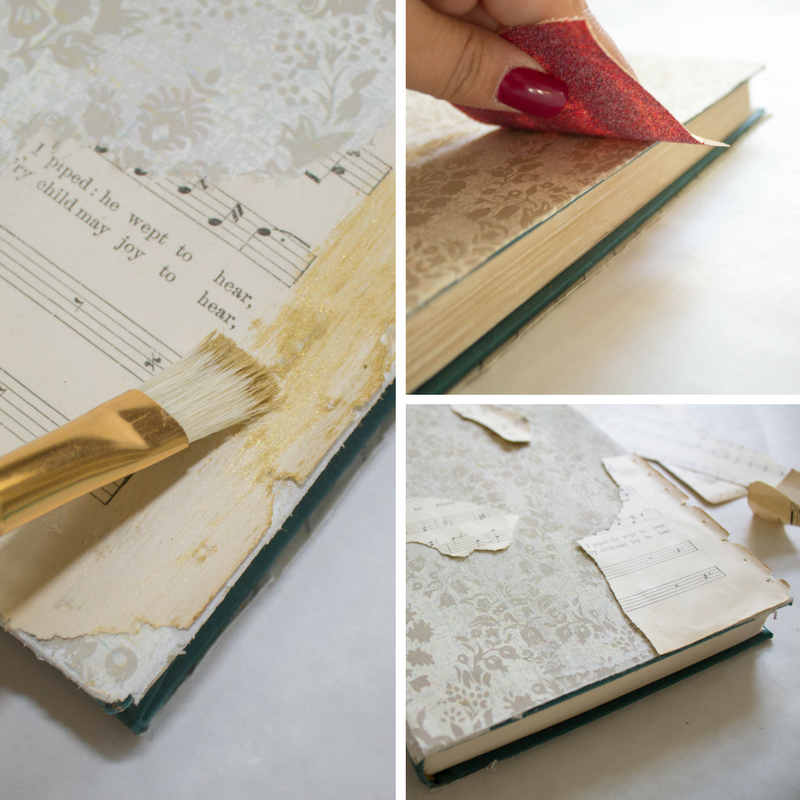 Step 3
Apply a bead of glue to the binding of the book, and add a length of Isla Natural Woven Braid Trim, vertically, following the line of the book. Repeat this on the binding and back cover and allow to dry.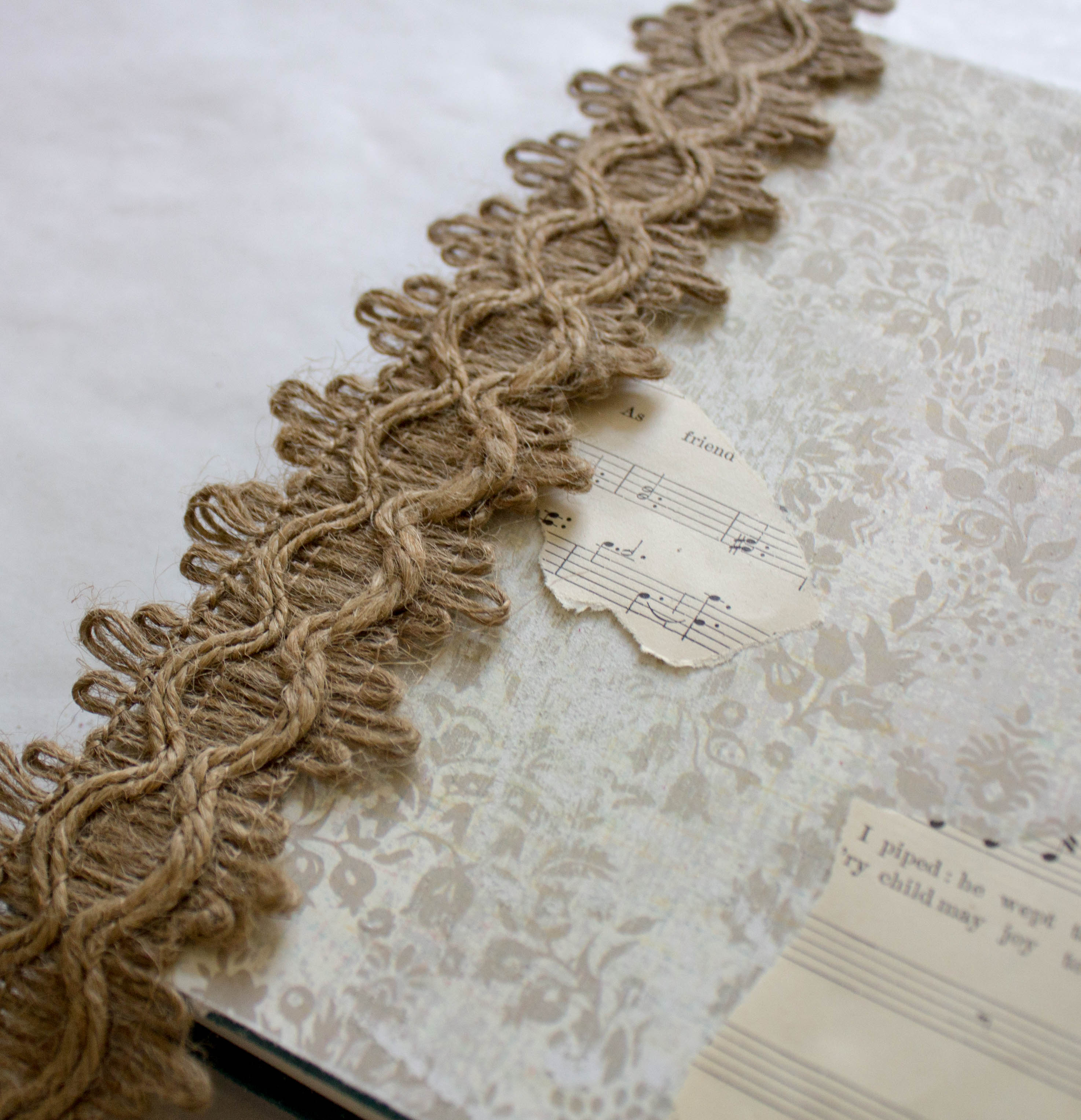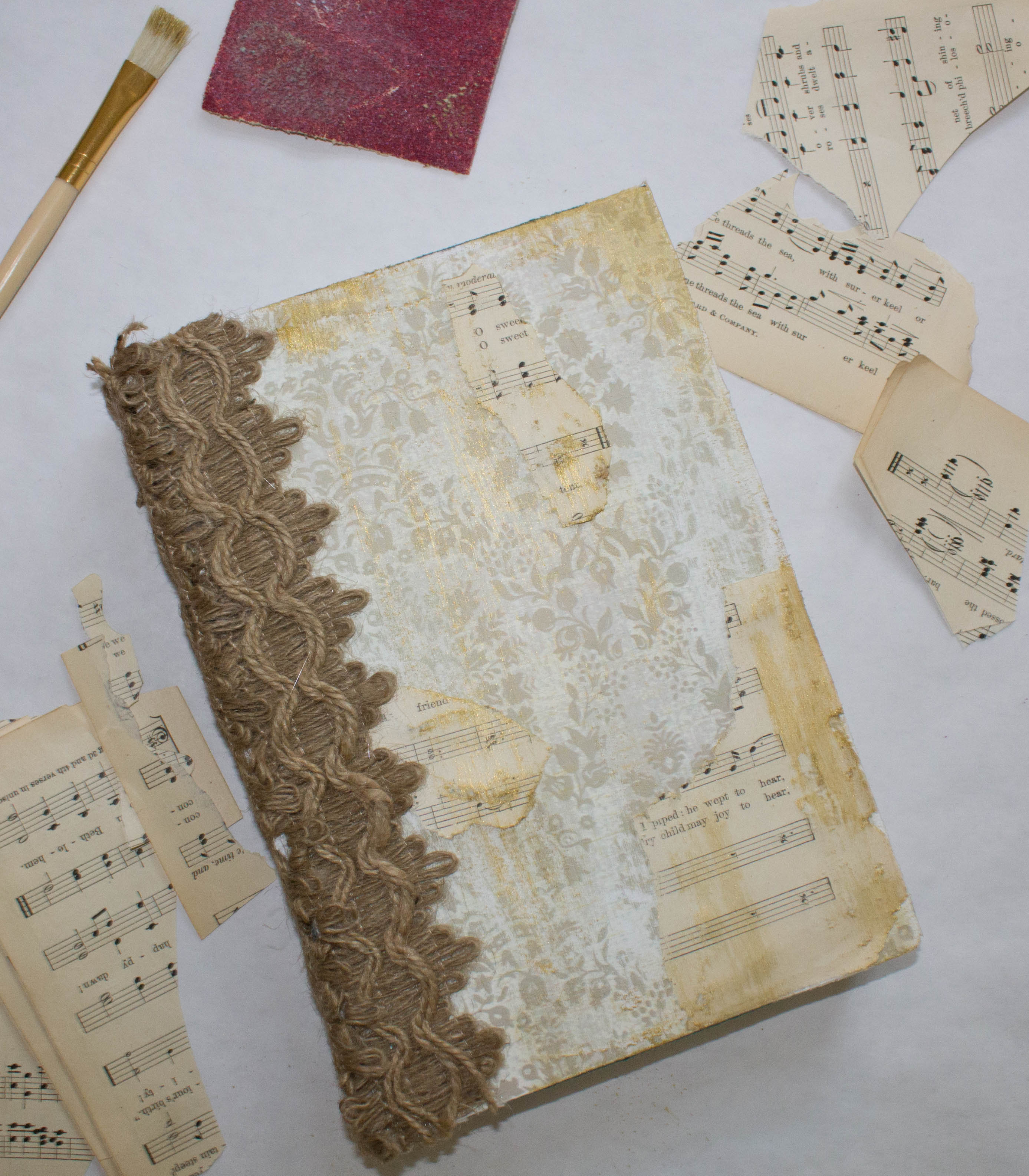 Step 4
Repeat the covering process with the other two books. Change up the variety of trims used on each book. In this image, we used scissors to trim apart three marigolds from Eartha Embroidered Marigold Trim, and glued them to the book binding.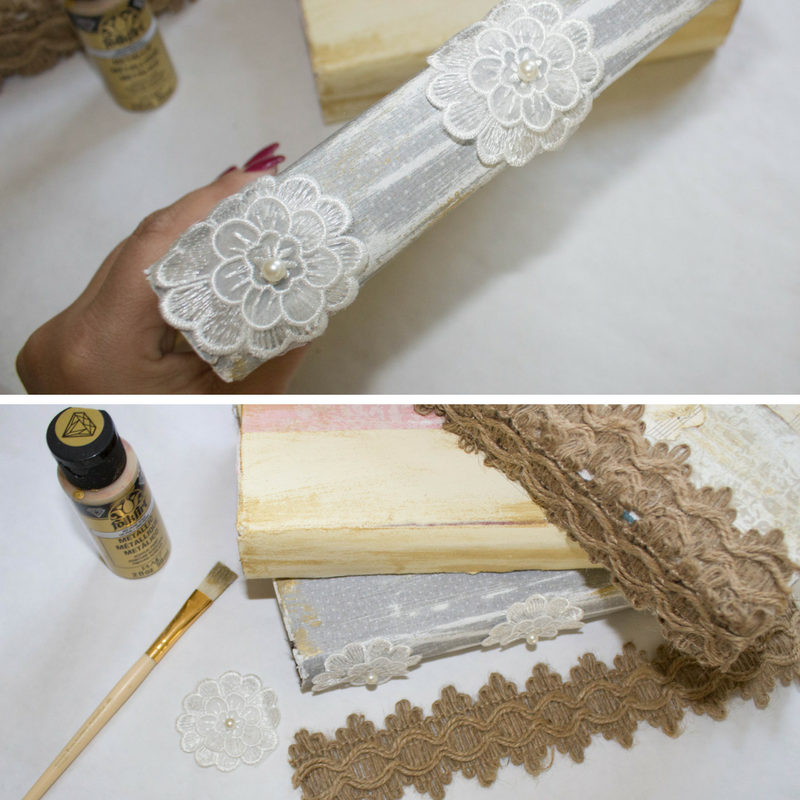 Step 5
Wrap a length of Vintage Small Daisy with Pearl Lace Trim around the entire stack of books, and secure underneath the stack with glue, as shown. A pearl or two may need to be clipped out of the trim, to allow the stack of books to sit level on a flat surface.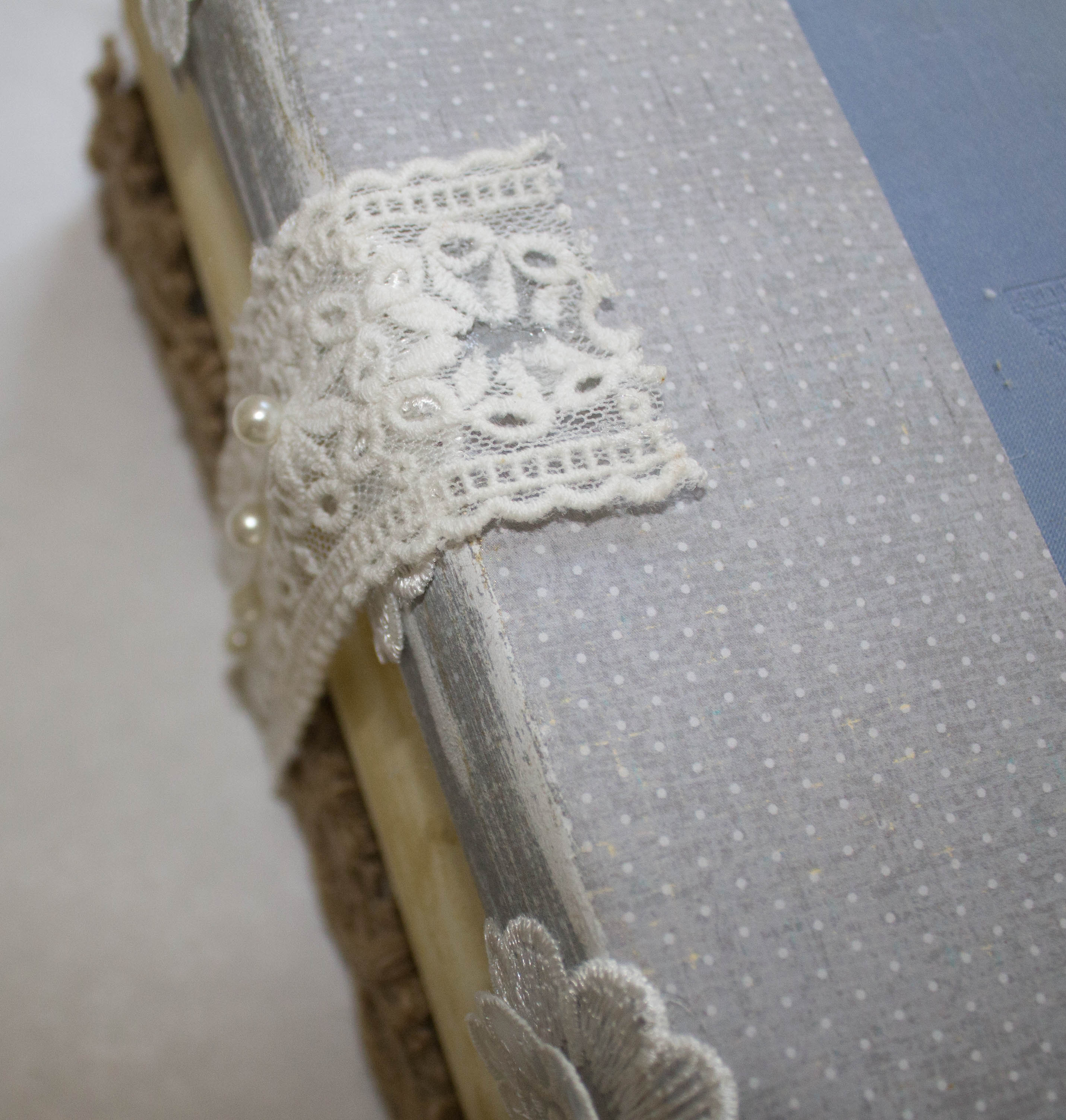 I added a Braided Hemp Loop Round Applique in Ivory to the front of the stack, as an embellishment. It gives the piece a finished look, and was simple to apply, as the applique came ready made with both a pin closure and a clip closure on the back.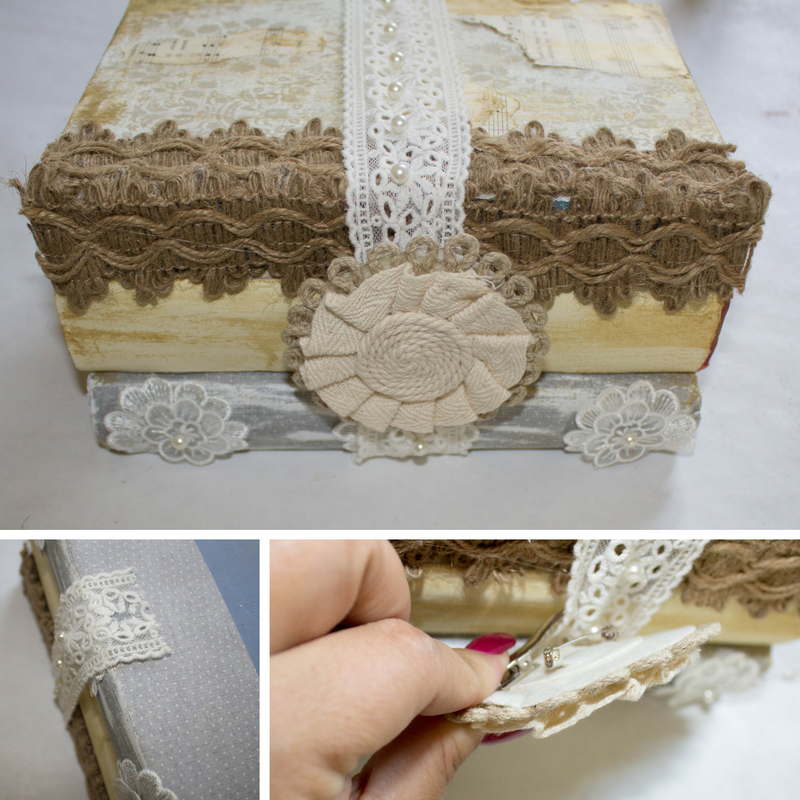 Step 6
Trim one of the coordinating scrap book papers so that it can wrap around the width of the ivory pillar candle, leaving some of the candle exposed above and below the wrap. Over this, I layered a length of the Isla Natural Woven Braid Trim, and glued in place. A natural colored Braided Hemp Loop Round Applique was glued to the front center of the candle, and topped off with one marigold from the Eartha Embroidered Marigold Trim The completed candle coordinates perfectly with the book centerpiece.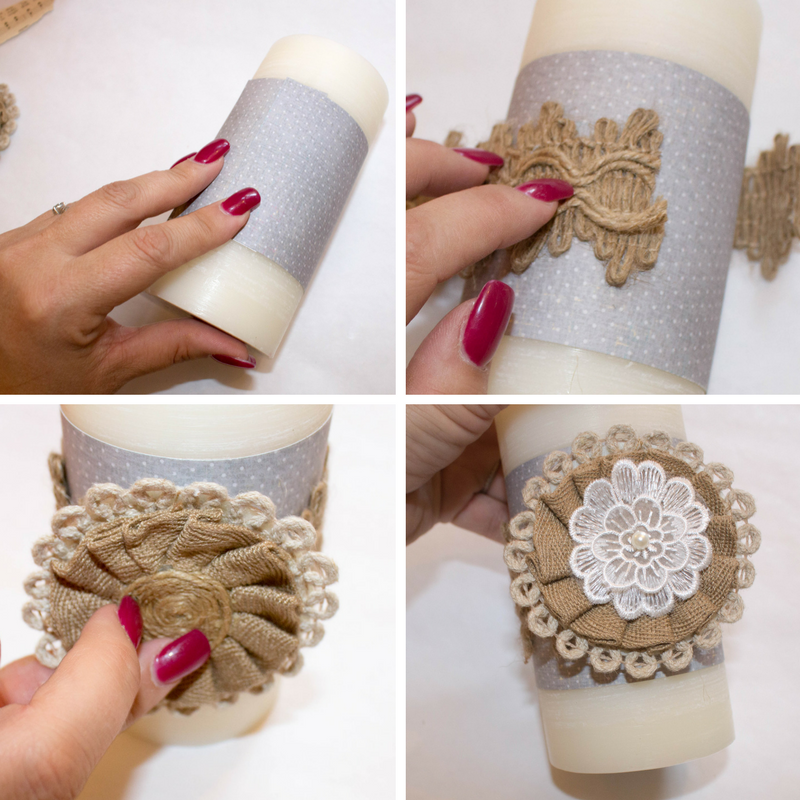 The finished pieces come to life when paired with a vintage teapot from my collection, and an ivory candlestick. I trimmed fresh roses in a soft peachy pink shade; their beauty is in their simplicity. The overall look is clean, elegant, and sophisticated.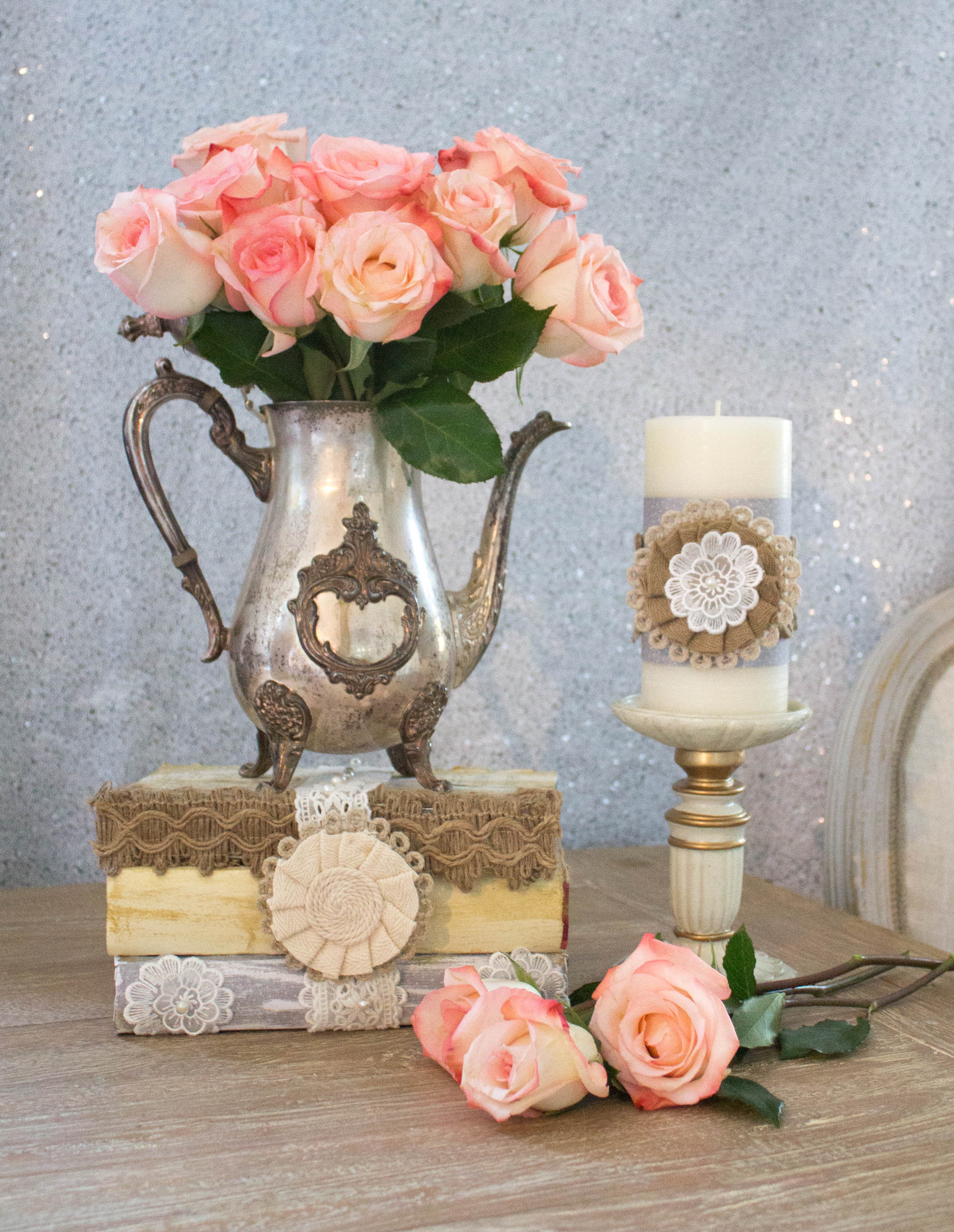 The romantic, vintage styled combination of burlap and lace in weddings is here to stay. From table runners to bouquet wraps, in treat bags for wedding favors, and as embellishments for vases and decorative accents, it's easy to DIY your wedding by incorporating this highly popular design look into any aspect of your wedding décor.