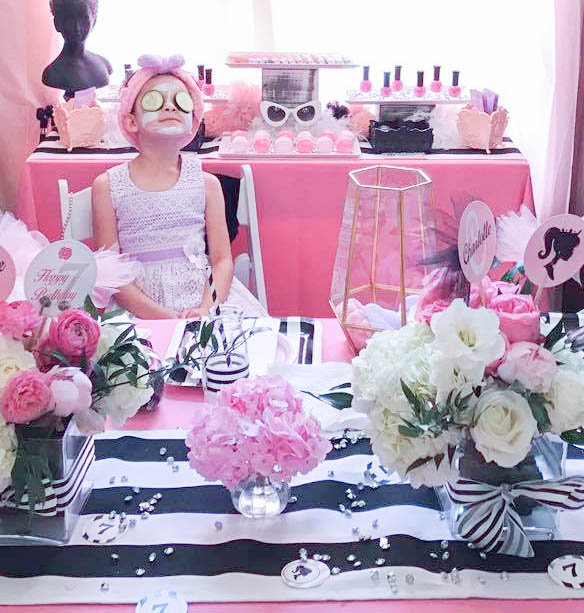 Glamour and sparkle with some pampering and a perfectly pink palette are the main elements in this decadent Barbie themed birthday party. From delicate pink draping and handmade tulle pom pom decor, to a table set with lavish floral arrangements and crisp black and white striped table runners, it's a young girl's dream birthday party come to life. Join us as we celebrate in high fashion, there's even a surprise guest you won't want to miss!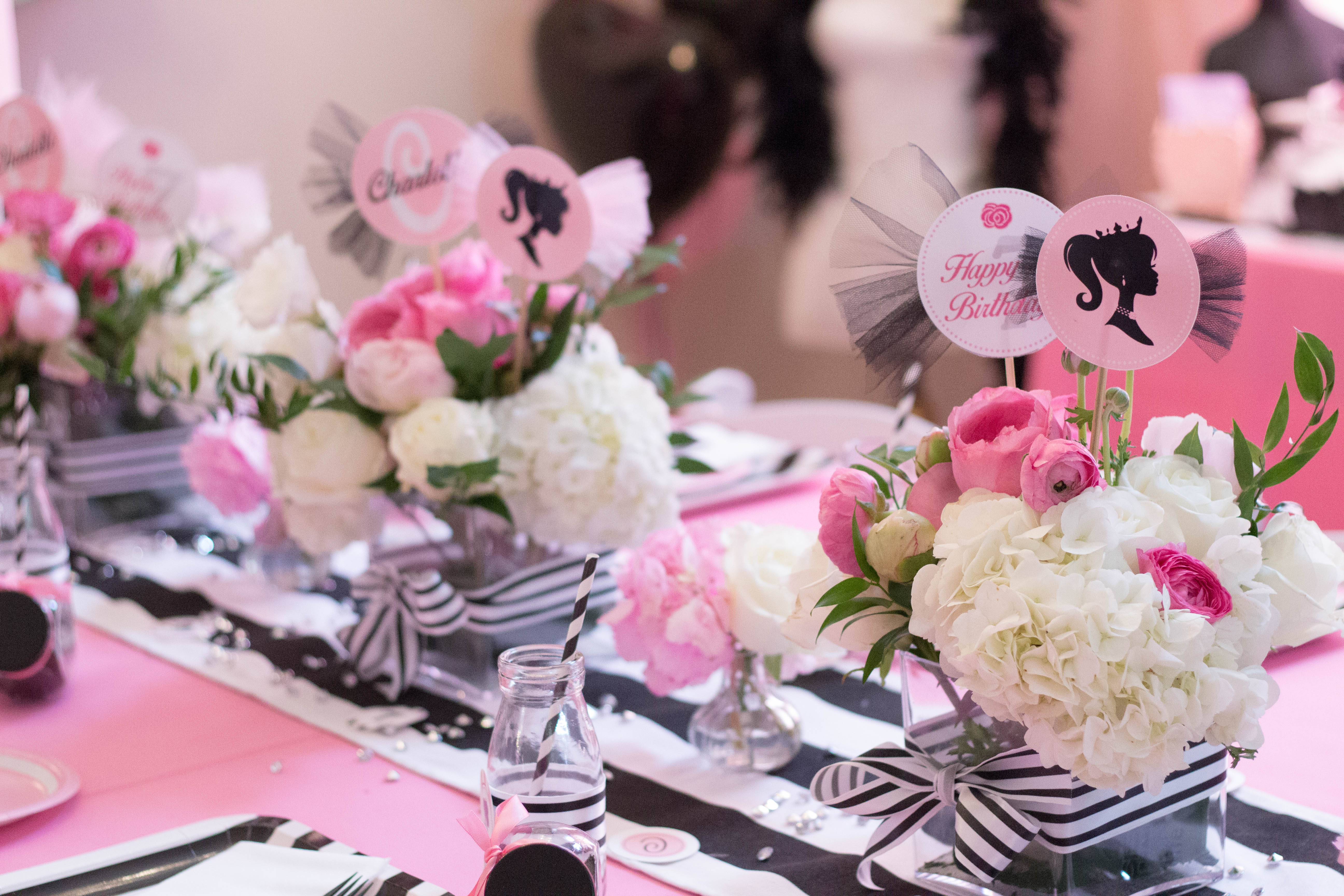 A Barbie theme is a popular request for a girl's birthday party, and what better spin on this classic idea than to add some glamorous spa enhancements? Party guests were invited to dress up in their most fun fashions, and join in the glamour and excitement of the day.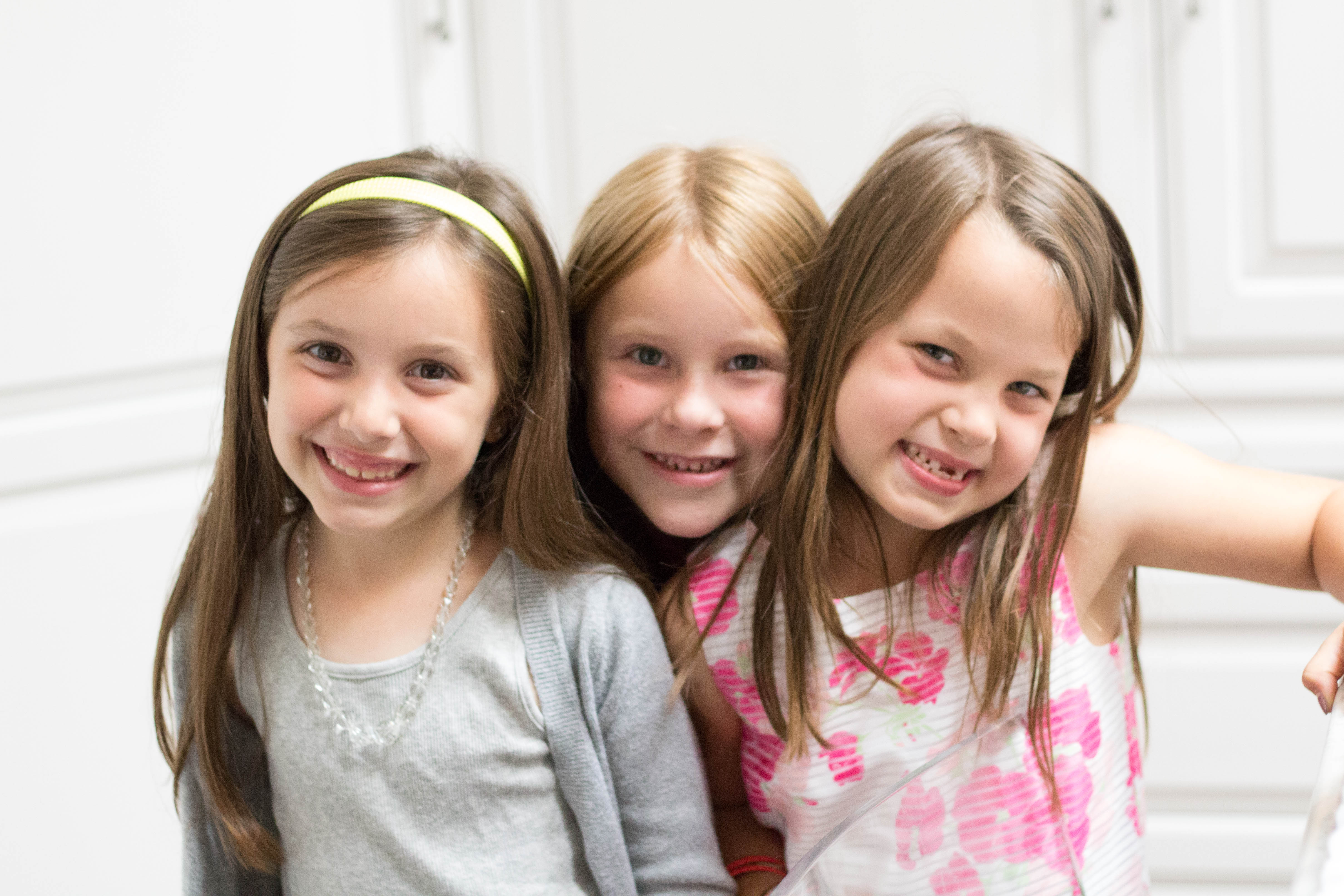 Tables were set with candy pink tablecloths, topped with Black Striped Table Runners in a long line. These were decorated with gorgeous flower arrangements, placed in Square Glass Vases and decorated with coordinating Black White Striped Satin Ribbon.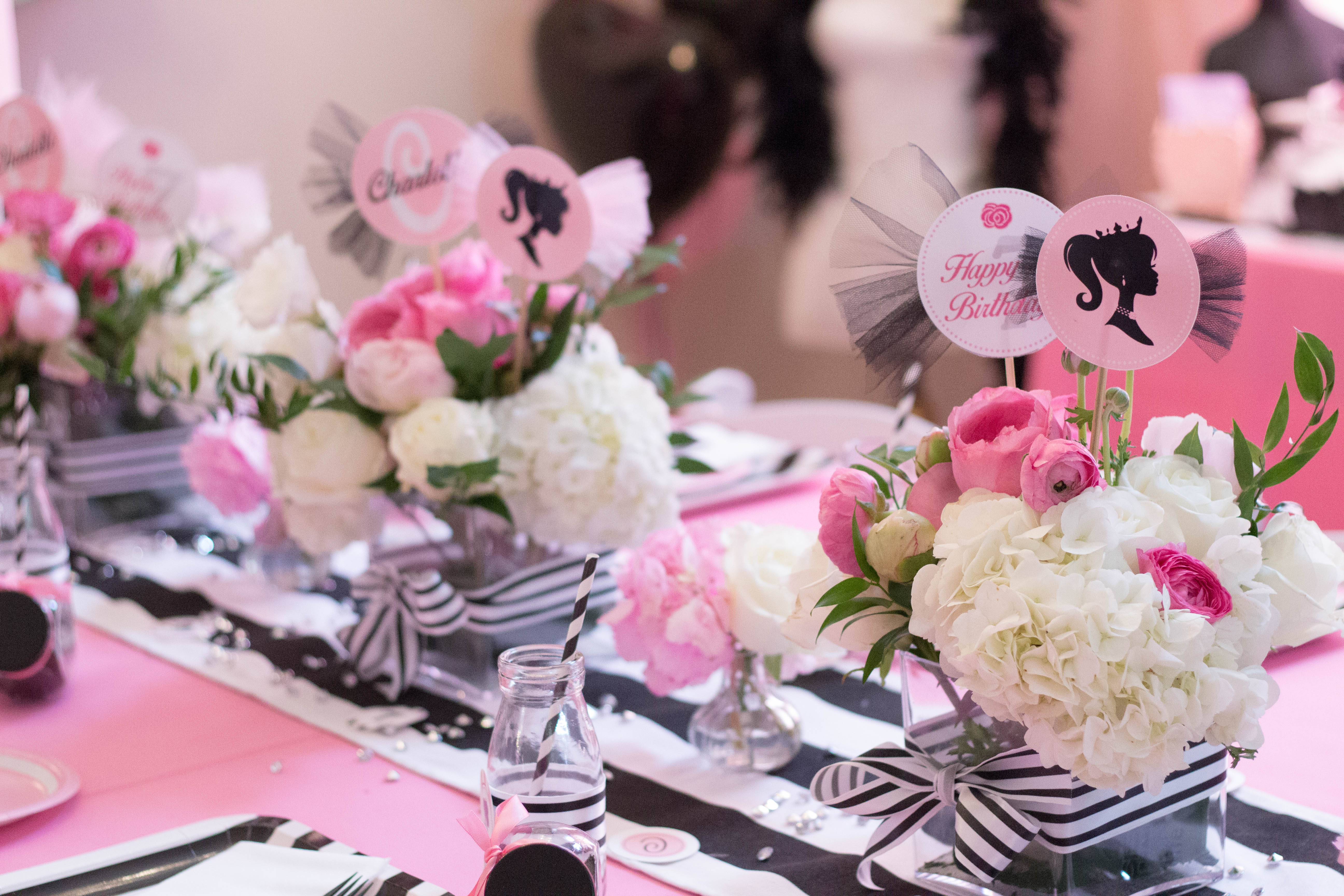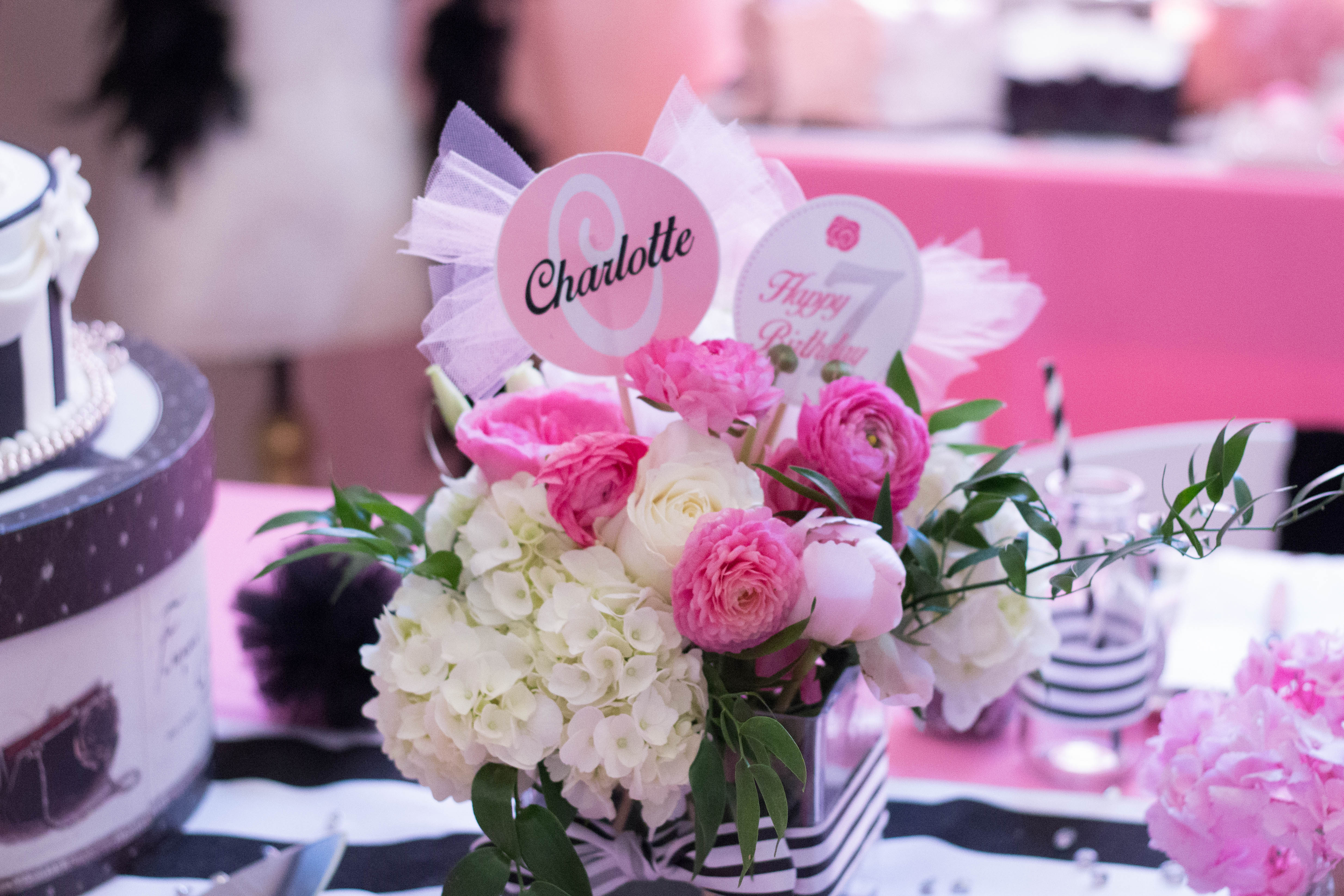 There was even a floral arrangement displayed in a Barbie Car!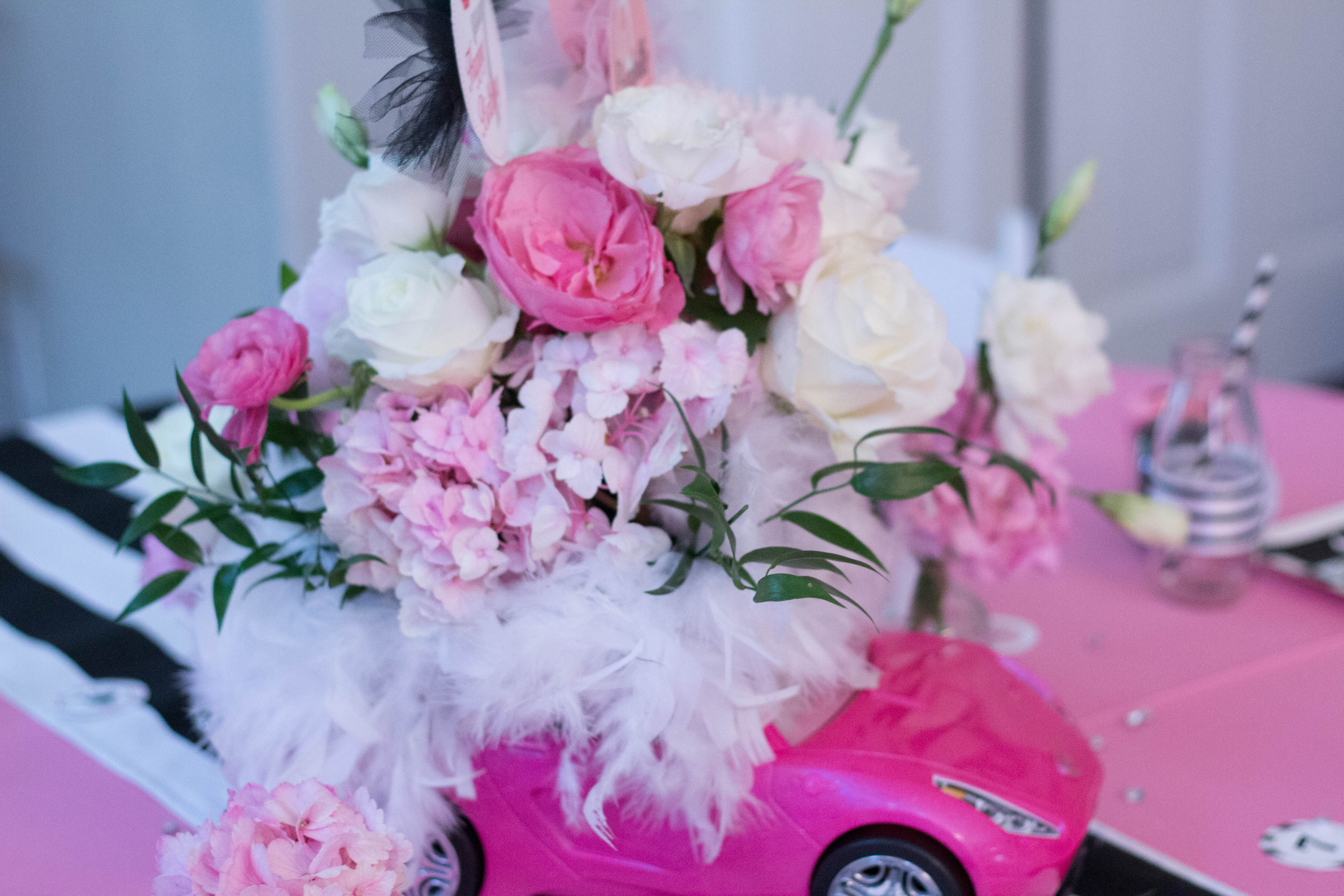 Each table setting consisted of a Candy Pink Dessert Plate paired with a Black Striped Dinner Plate. Black Plastic Forks were tied with ribbon into coordinating napkins, and each guest received a Glass Milk Bottle with a paper straw, and a prettily embellished Round Favor Jar filled with delectable Black Foil Wrapped Hershey Kisses.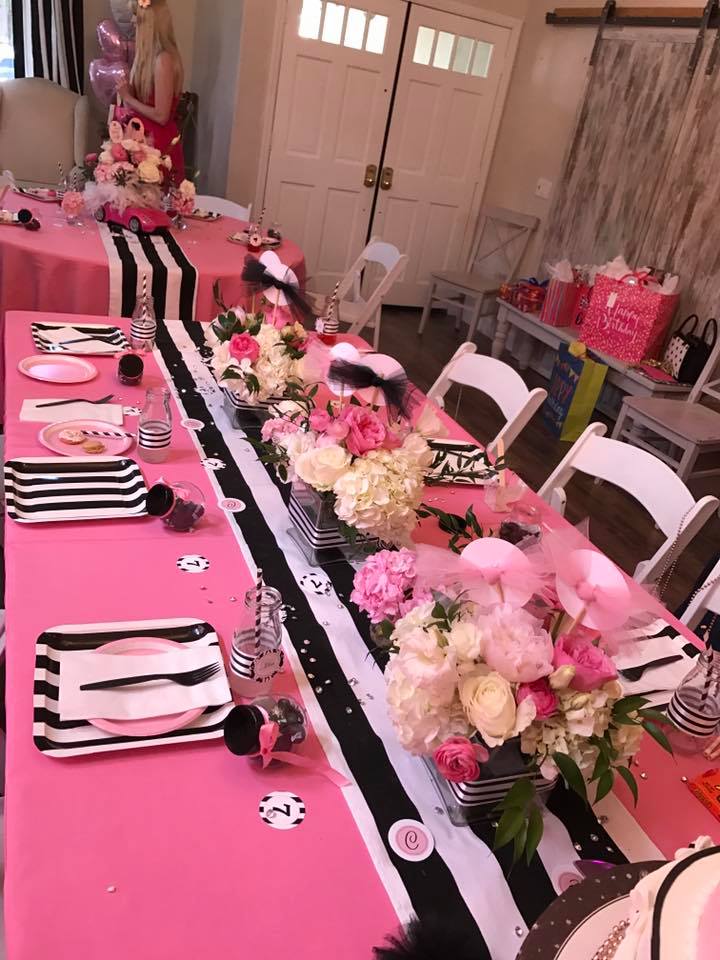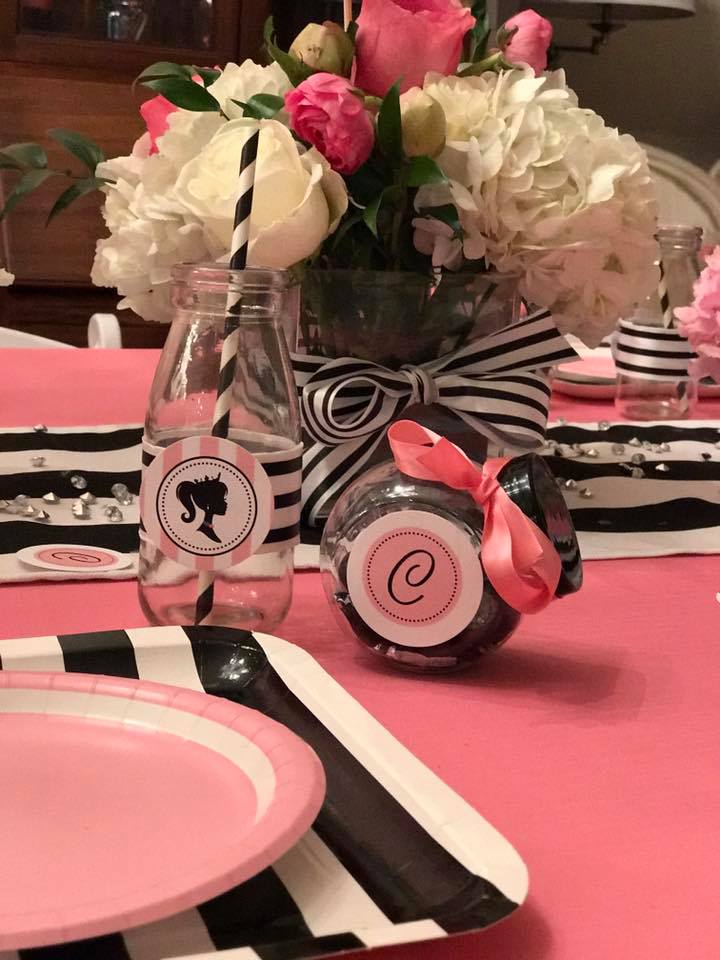 A Spa Favor Station was set up for the party guests to wander through, starting first with a fluffy pink head wrap on the mantle.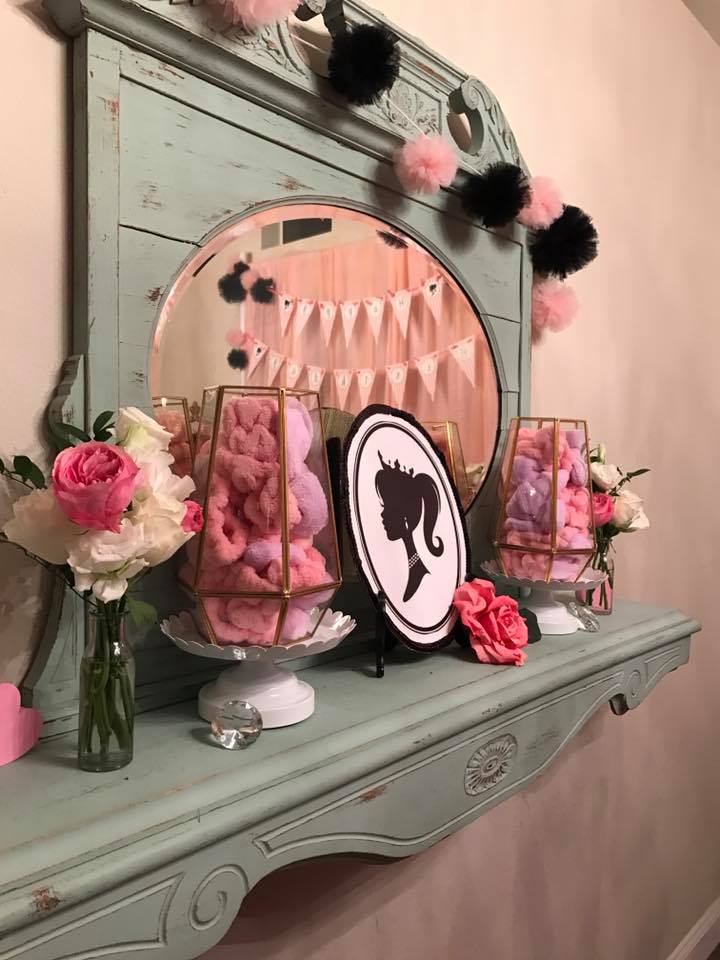 Each spa "customer" received a mud mask and cucumbers for the eyes, to start the festivities off with relaxation.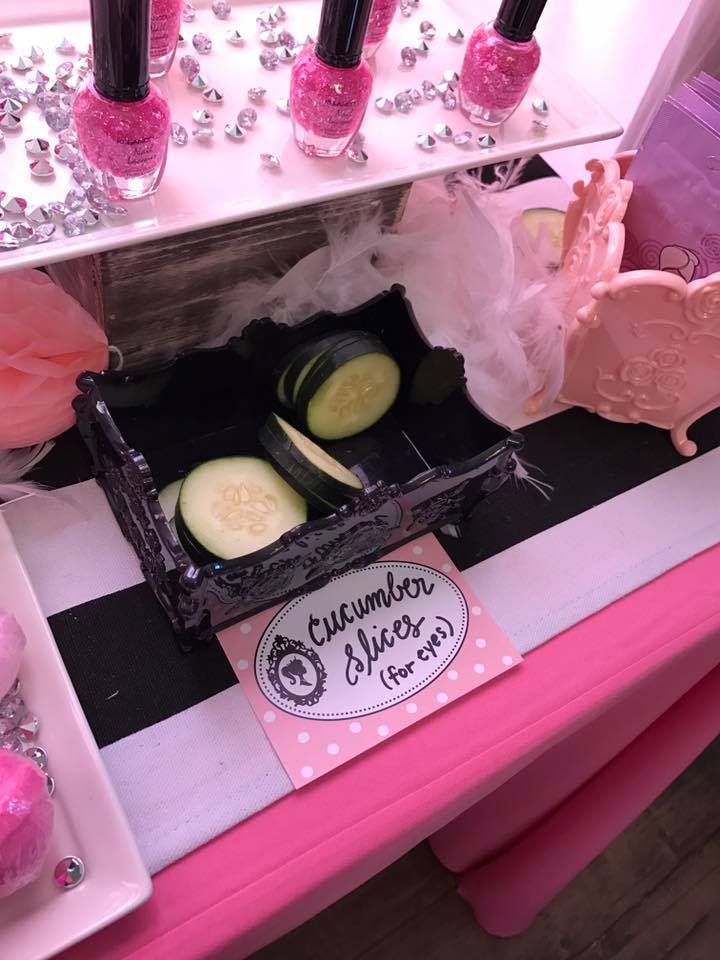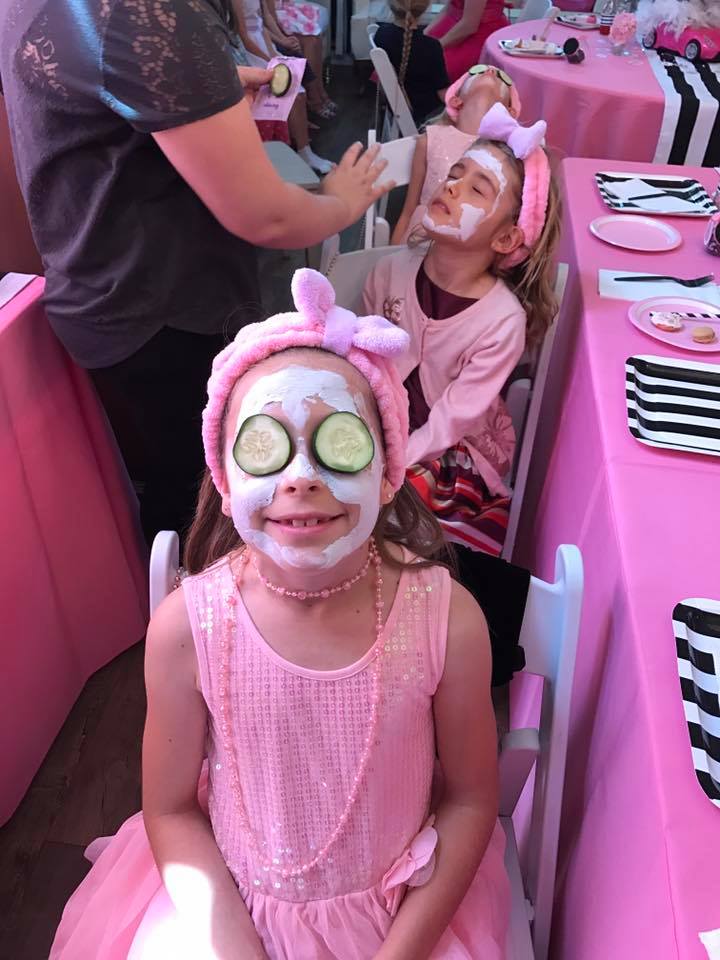 Treats could be picked up along the way, including a glittery nail polish, a shimmering lip gloss, and a fizzing bath bomb. These were laid on Long White Trays with Mini Diamond Table Tossers, and the table was draped with a White Chandelle Boa.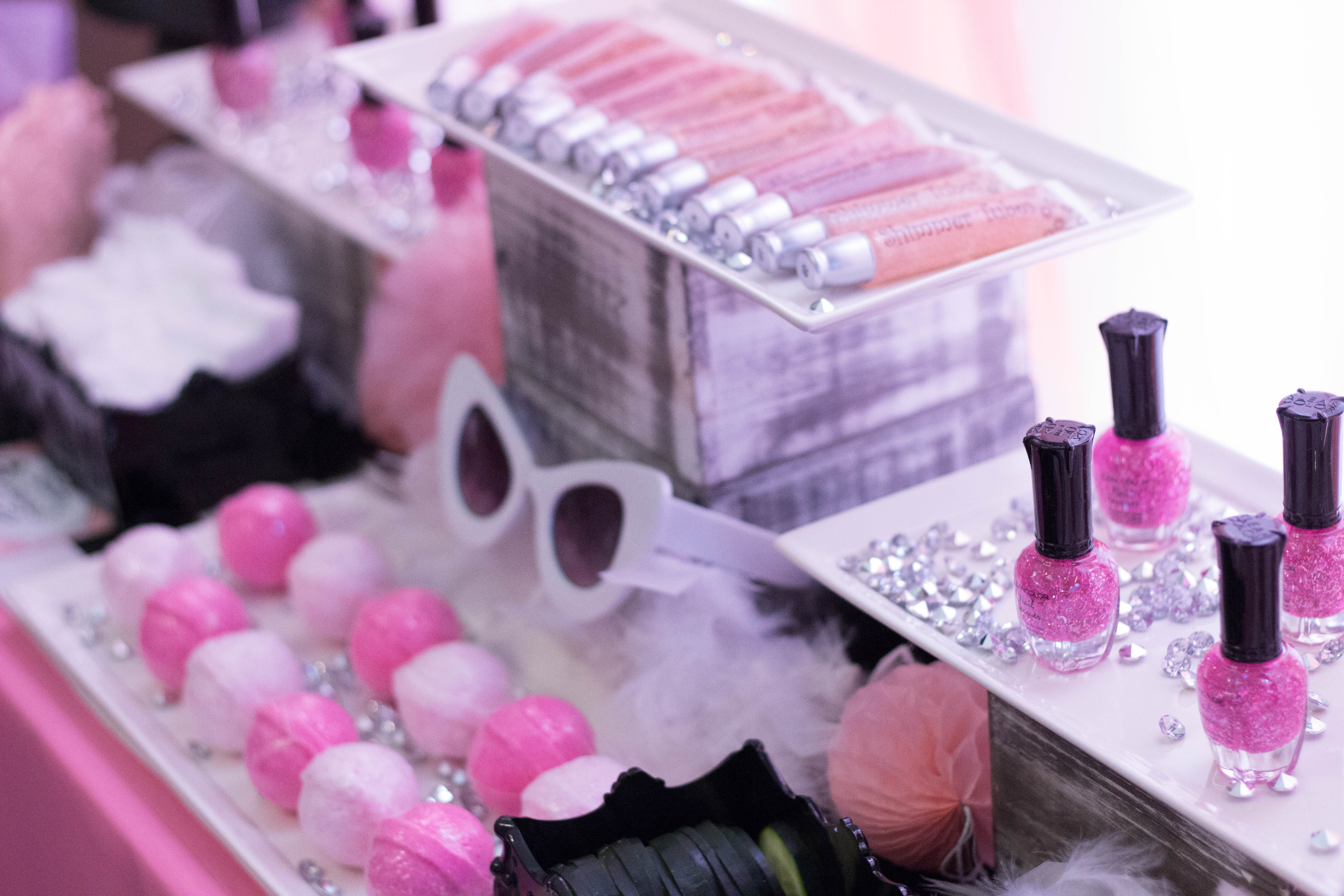 The cake was a stunning creation by Cakes By Queens. A birthday Barbie doll appeared to be jumping right out of the cake, which was accented with fondant curls and tulle pom poms on wood skewers. The cake was the focal point of the highly decorated table.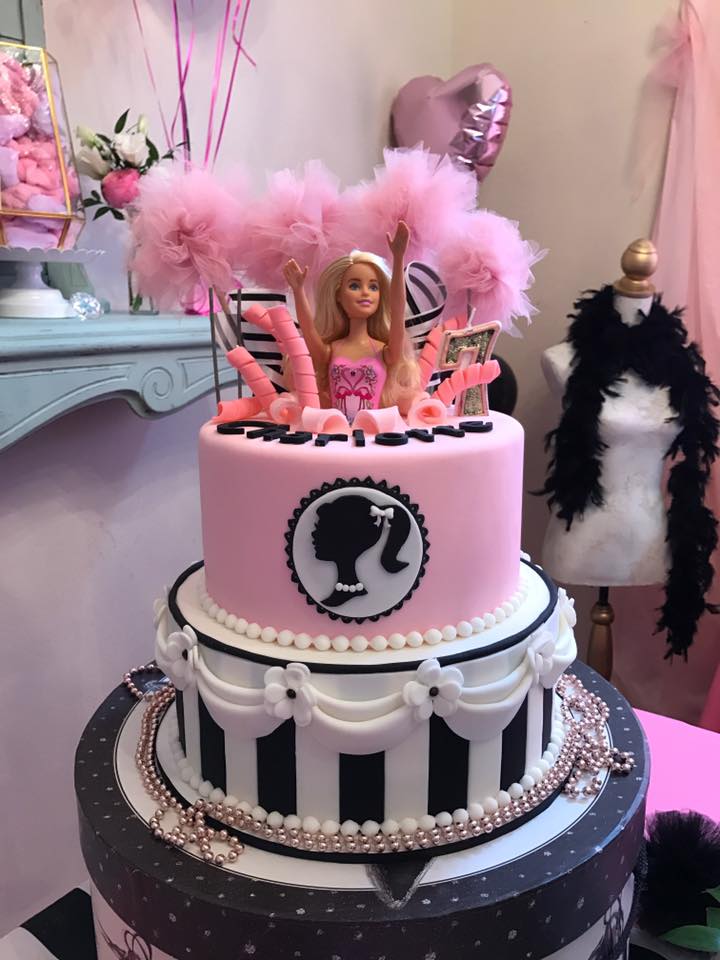 In the adjacent kitchen, more fun was waiting! A buffet of fancy foods and beverages awaited party guests, including "Va-Va Veggies, Chocolated Dipped Strawberries, (with sprinkles from Bakers Party Shop, of course!), fancy marshmallows on sticks and French Macarons, were among some of the tasty treats.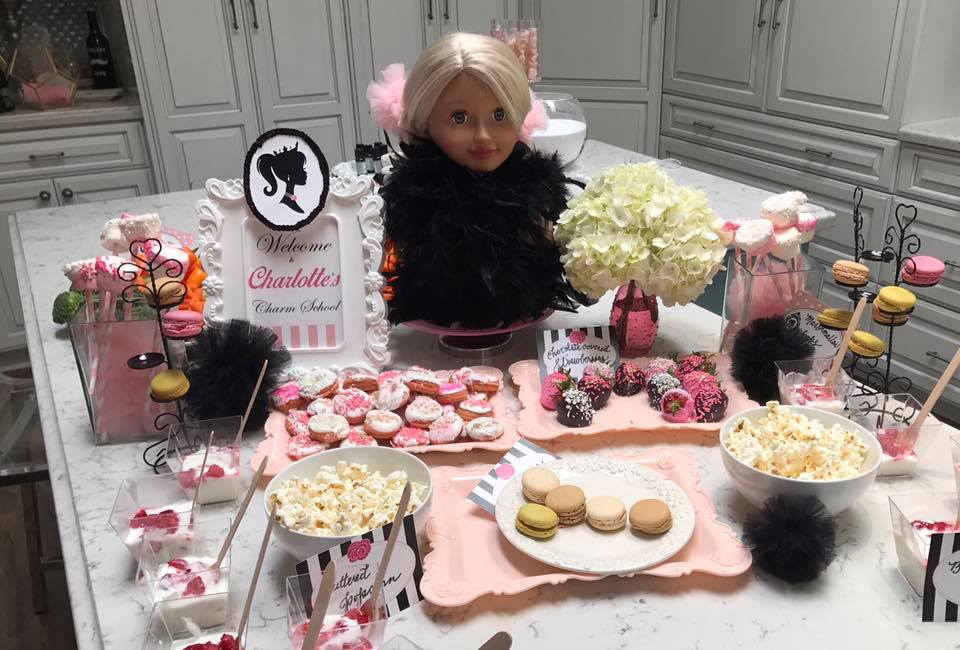 Sparkle Berry Punch and Posh Pink Lemonade were not only delicious and thirst quenching, but their pink shades perfectly matched the party!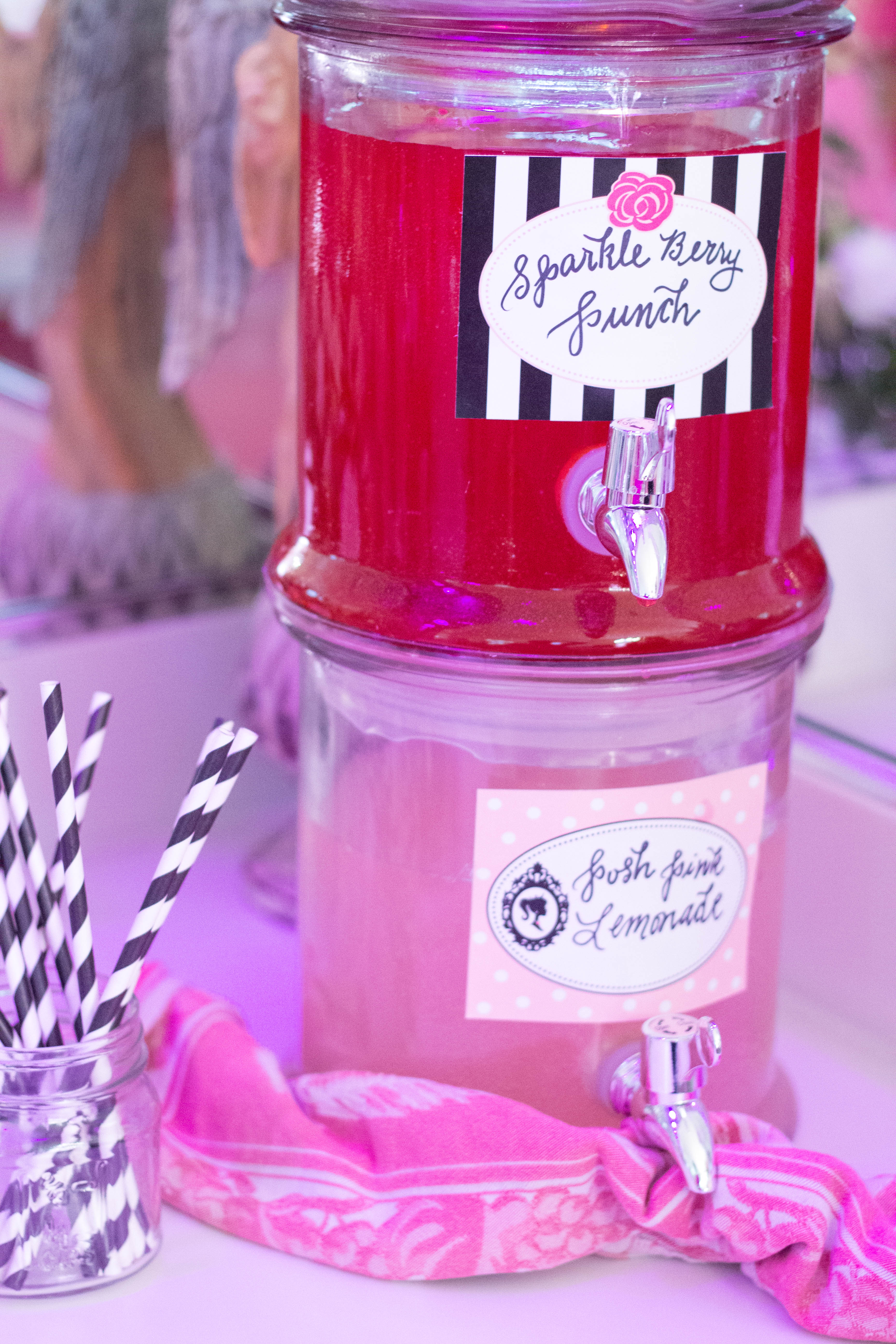 After sampling some treats, guests of this glamorous get together were invited to gather at a DIY Bath Bomb Making Activity Station.  All the goodies needed to make lovely scented bath bombs were provided and each guest was able to select personalized colors and scents for the fizzing creations.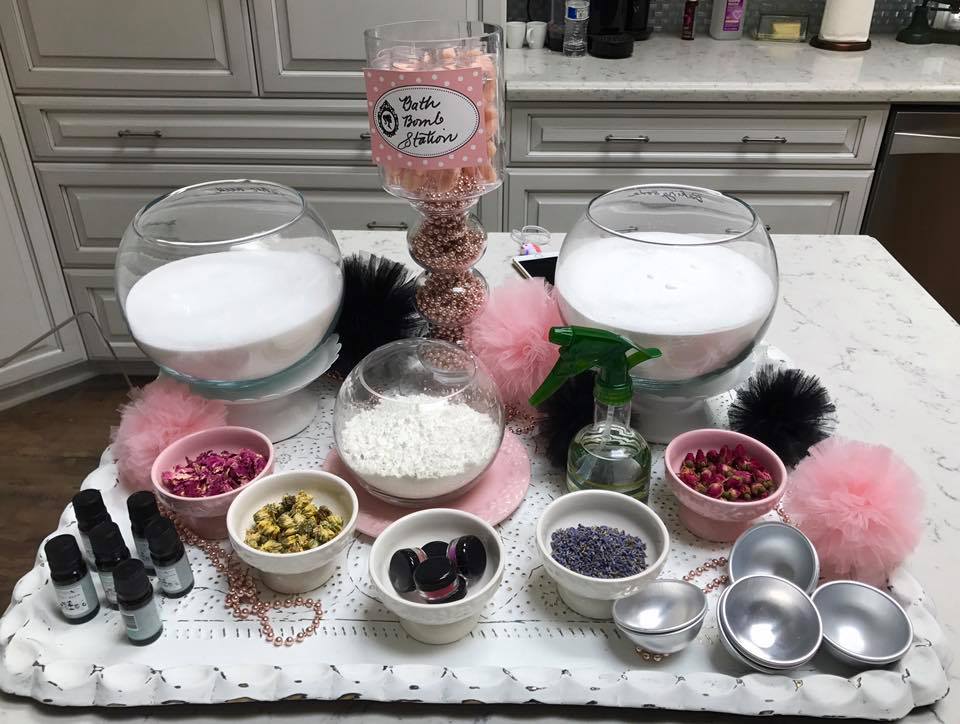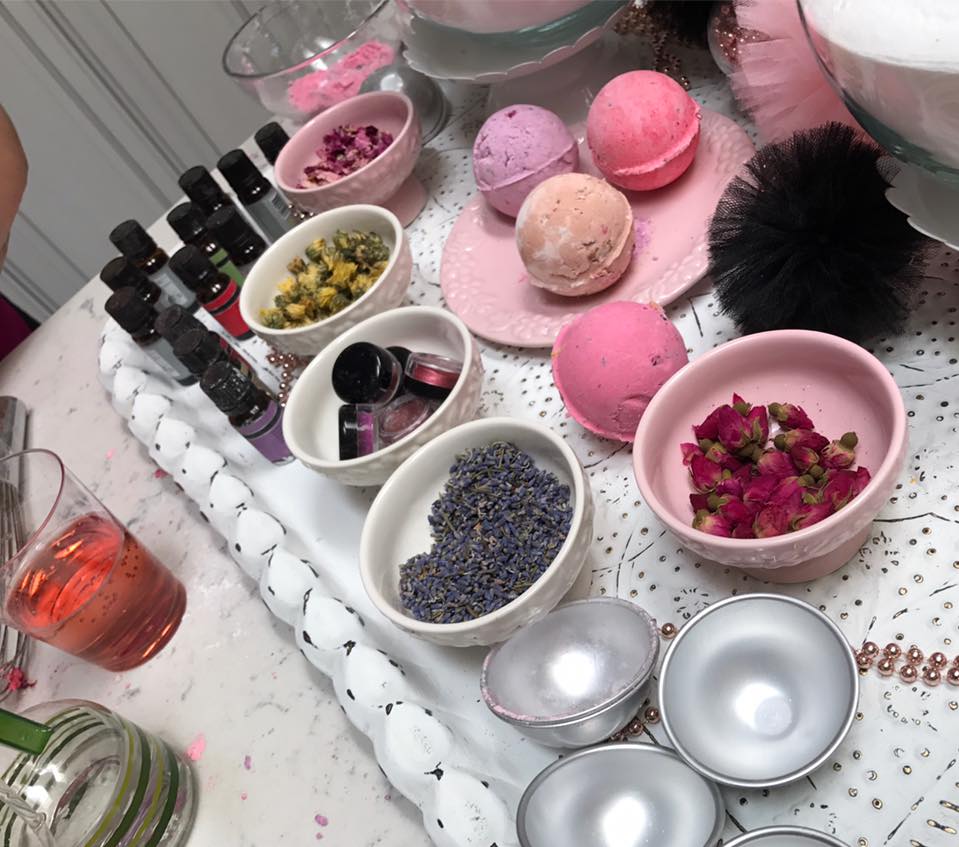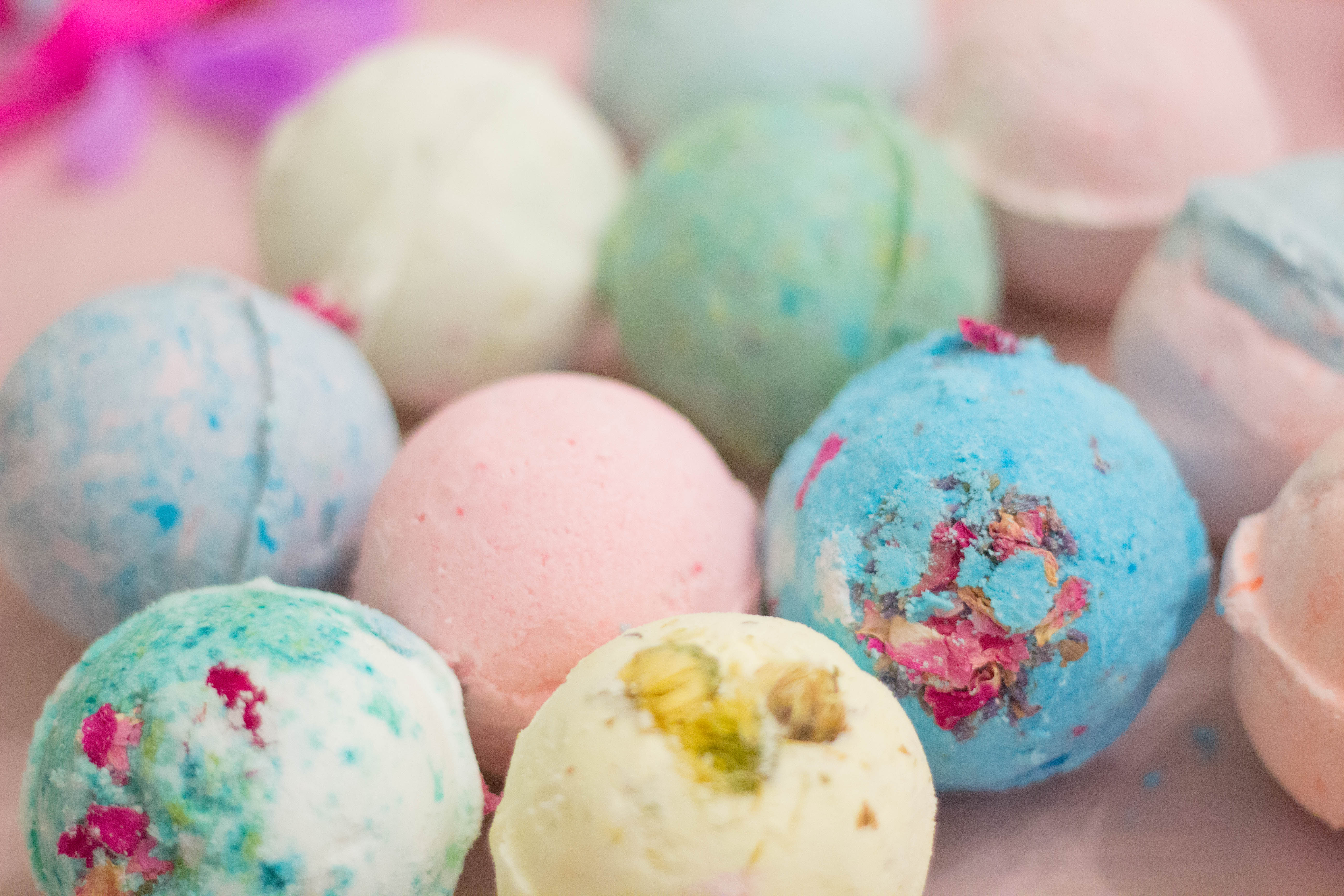 Of course, for a party like this one, a glamorous guest is a must. Party goers were not disappointed; there were shrieks of delight when the doorbell rang, and Barbie herself appeared to give an etiquette lesson and apply makeup to the guests!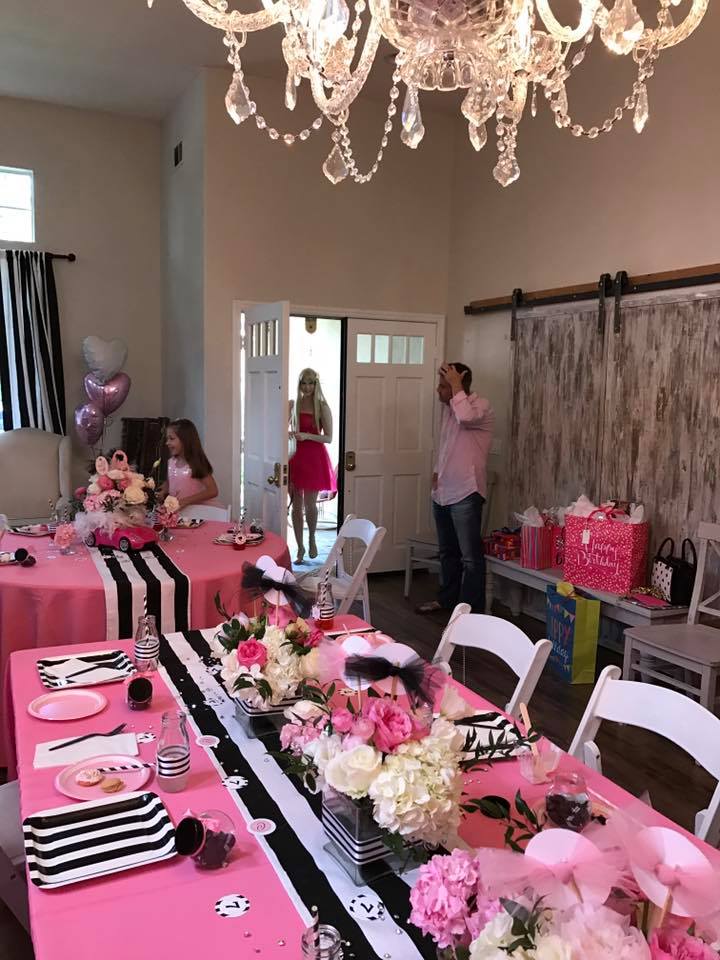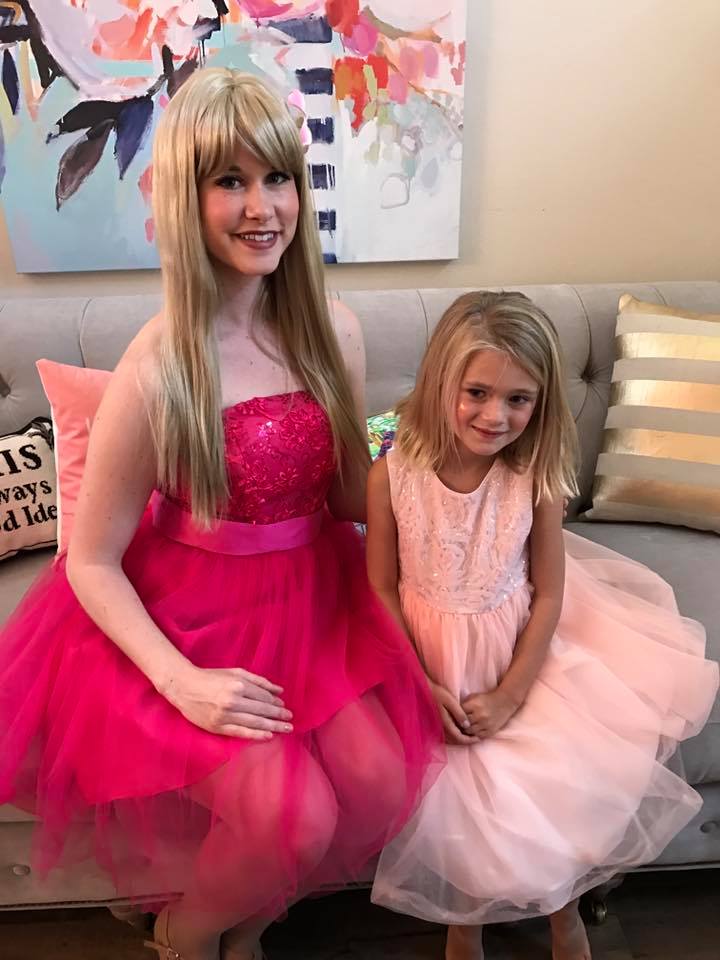 She stayed for the fun, and even helped the birthday girl with a birthday song, and blowing out the number seven candle!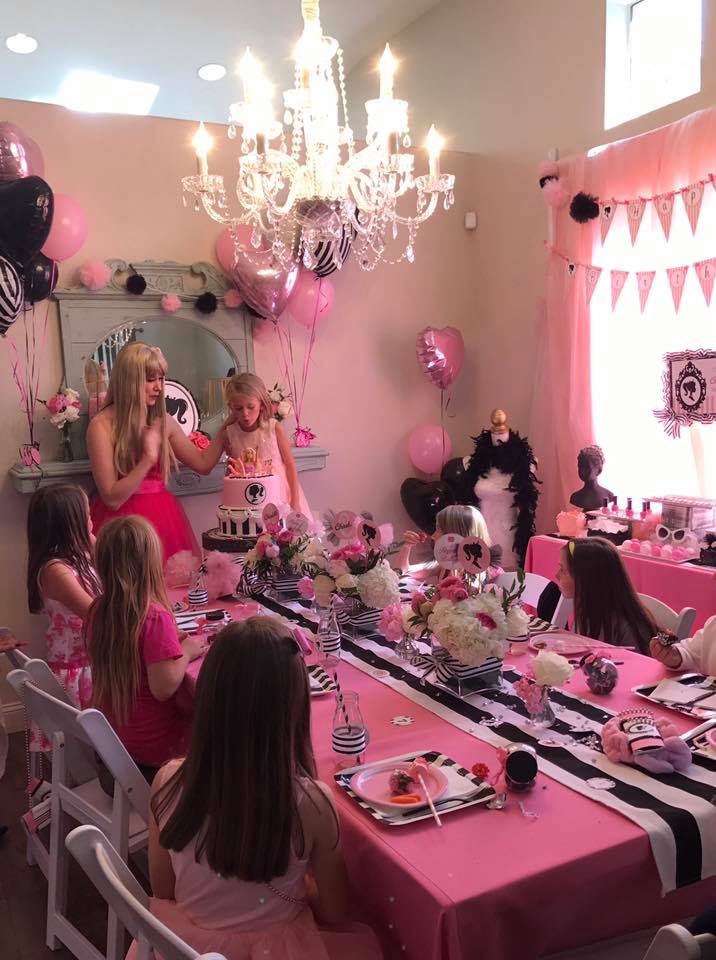 Everyone had a wonderful time getting glamorous at this perfectly pink birthday party. Hope you enjoyed taking a peek at all my fun creations!