Fall is a season to celebrate for so many reasons; from the crisp weather to the changing colors of the leaves, Halloween and Thanksgiving and of course, home decorating for all of these occasions!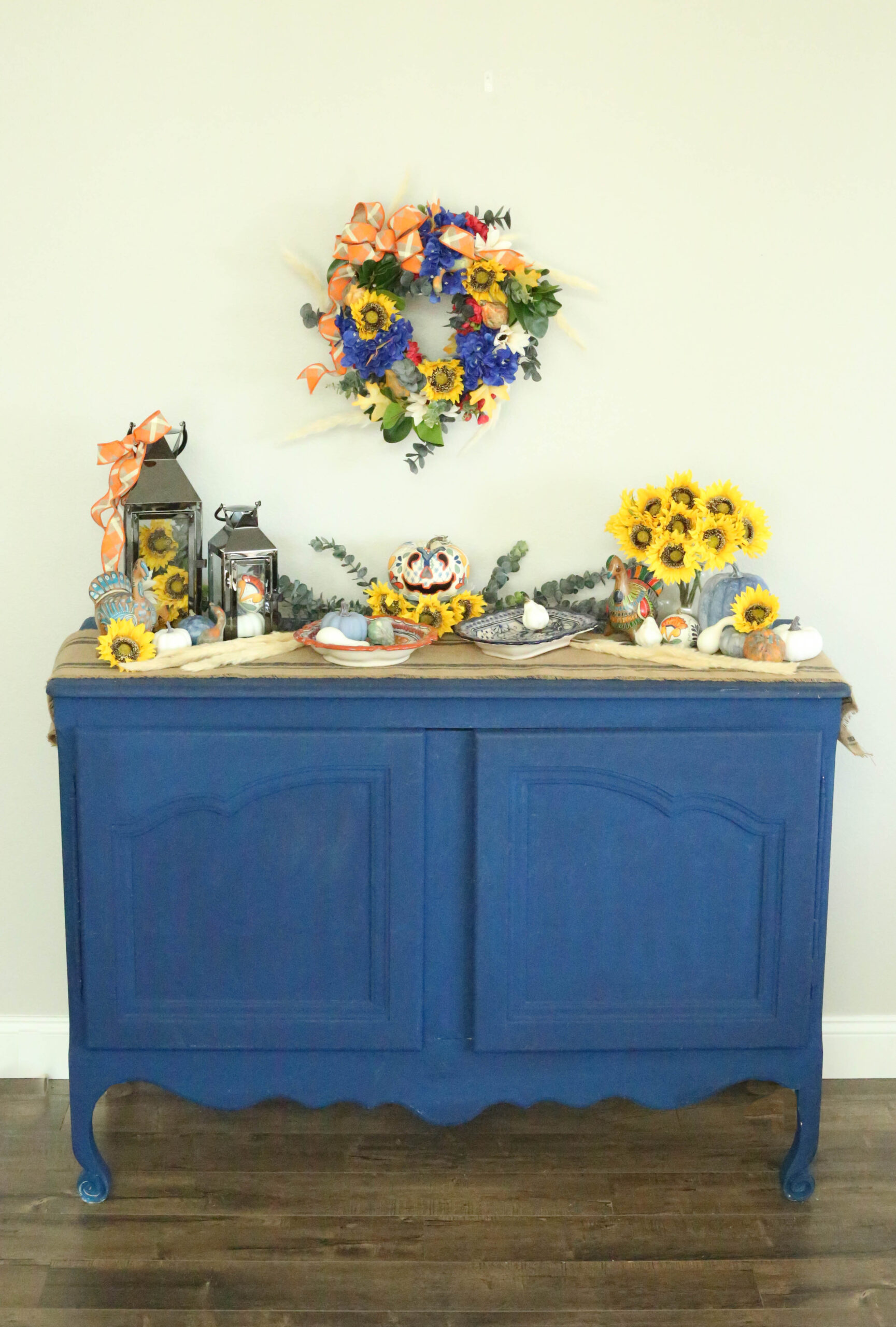 Last summer, we spent some time in Mexico, where I fell in love with vibrantly painted and intricately detailed Talavera pottery. The gorgeous Mexican pottery was the basis for this look, and the pieces I brought home with me, in dark blue and pumpkin colors, pair perfectly with fall colors. You can use this color palette to create a vibrant and engaging decorative Fall display for your home, or for a special event. I even painted a white craft pumpkin to coordinate with the dishes, and arranged faux eucalyptus around the base, along with faux sunflowers. They add such a cheerful, lively feeling to the fall tones.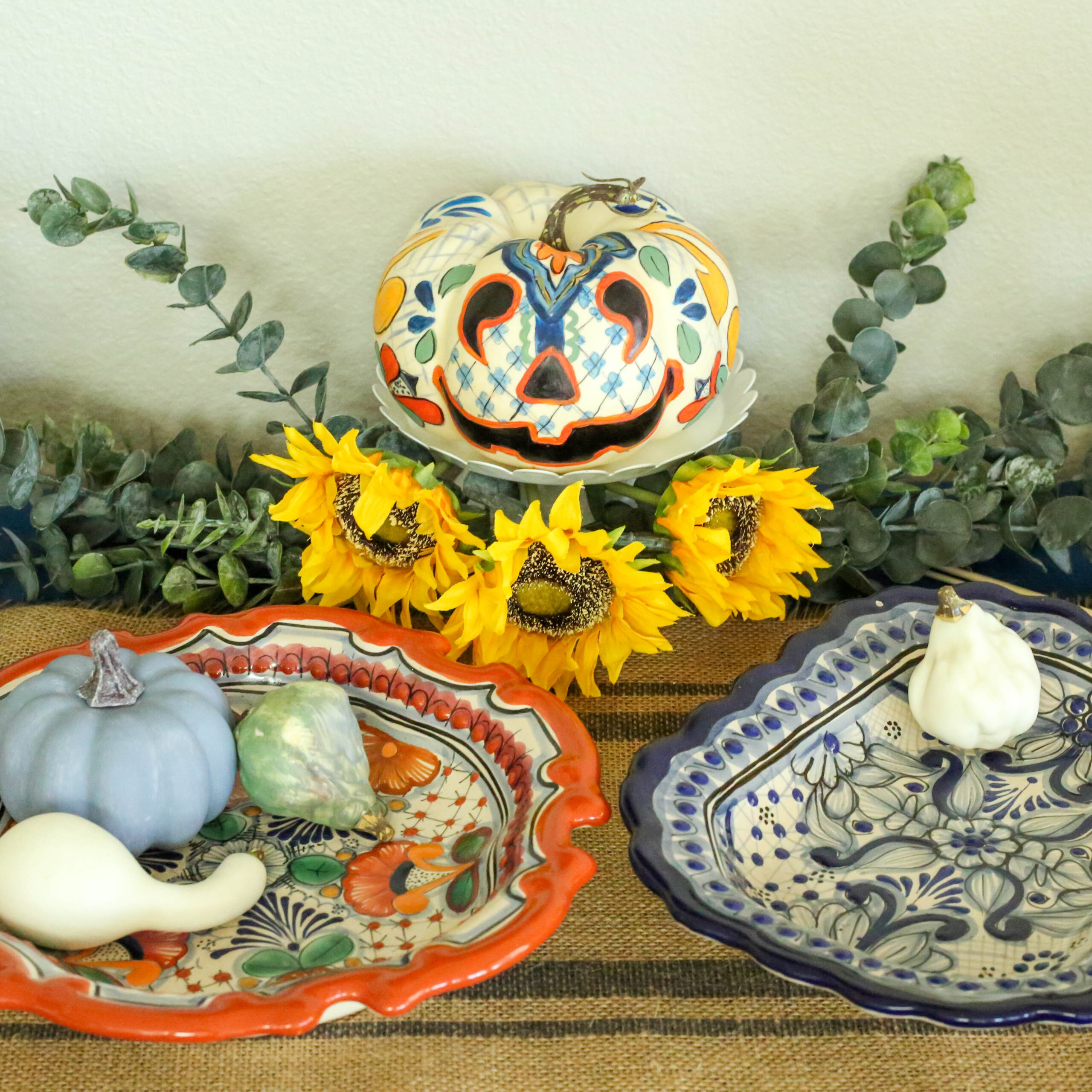 A burlap runner with vintage stripe was placed on my cobalt blue buffet table. The runner reminds me of a coffee sack; do you think there's a resemblance? I love the vibrant addition of this rich blue shade with traditional Fall colors; it's unexpected, and works beautifully with this elegant design with rustic touches.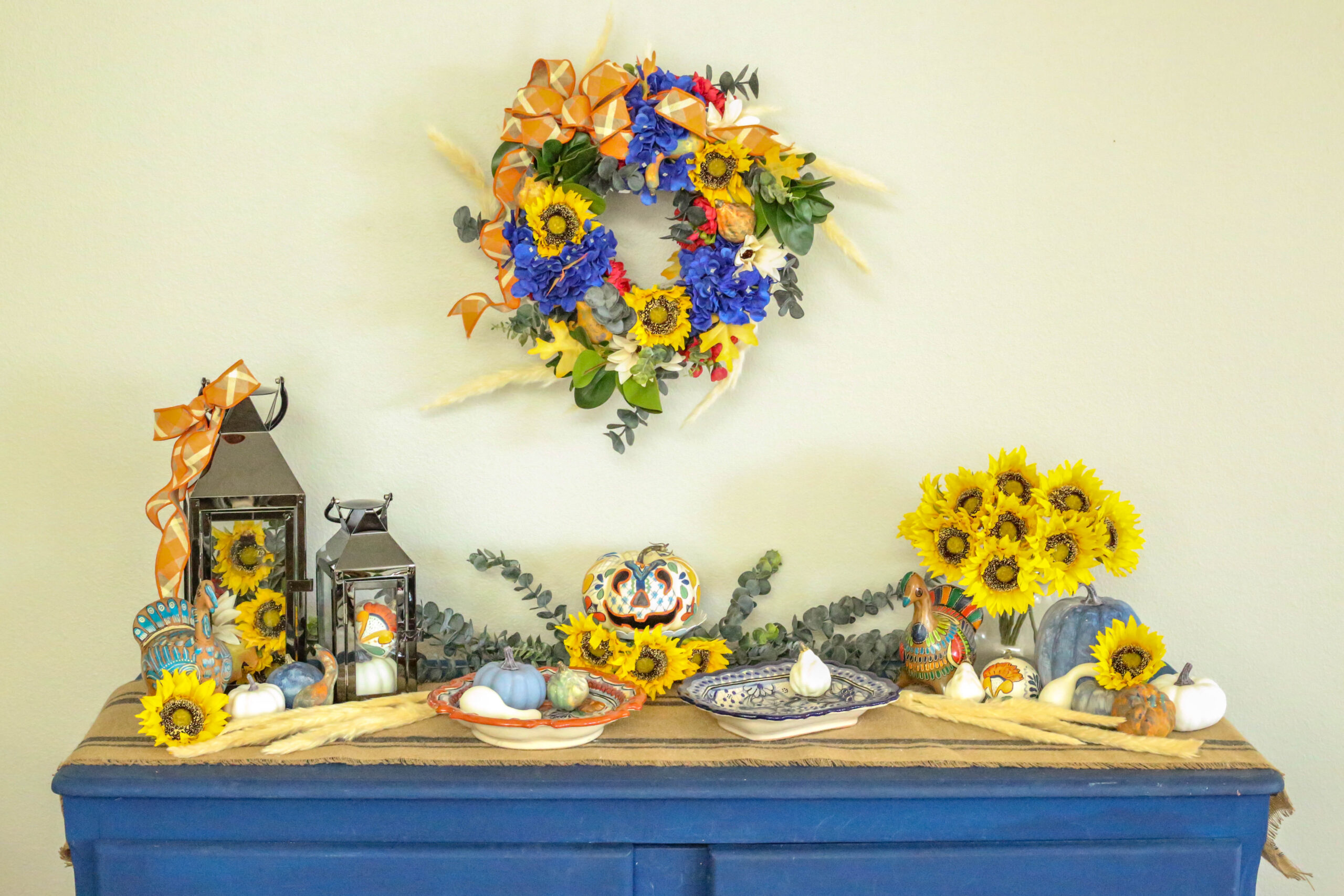 This Fall Floral Wreath is a stunning accent for hanging above your decorative display, or anywhere you want to add a cheerful, seasonal touch. I used Portofino's white natural grapevine wreath and filled it with blue hydrangeas, red garden roses, sunflowers, African daisies, eucalyptus, magnolia leaves, and small sprigs of pampas grass. Fall leaves were tucked into the wreath, and white gourds were painted to resemble the design on the pottery. Pumpkin colored wired plaid ribbon is fashioned into a multi looped bow and offset as a final touch. Get the step by step instructions with photos here.
Black mirror finish lanterns from Portofino were filled with more of the decadent florals and painted gourds. Sprigs of pampas grass were tucked in to fill empty spots in the display, lending to its robust finished look. Plaid ribbon accents the larger piece, to carry the theme and pattern. These gorgeous lanterns come in a set of three, are very sturdy and high quality, and can even be suspended. They are stunning filled with pillar candles and used year-round.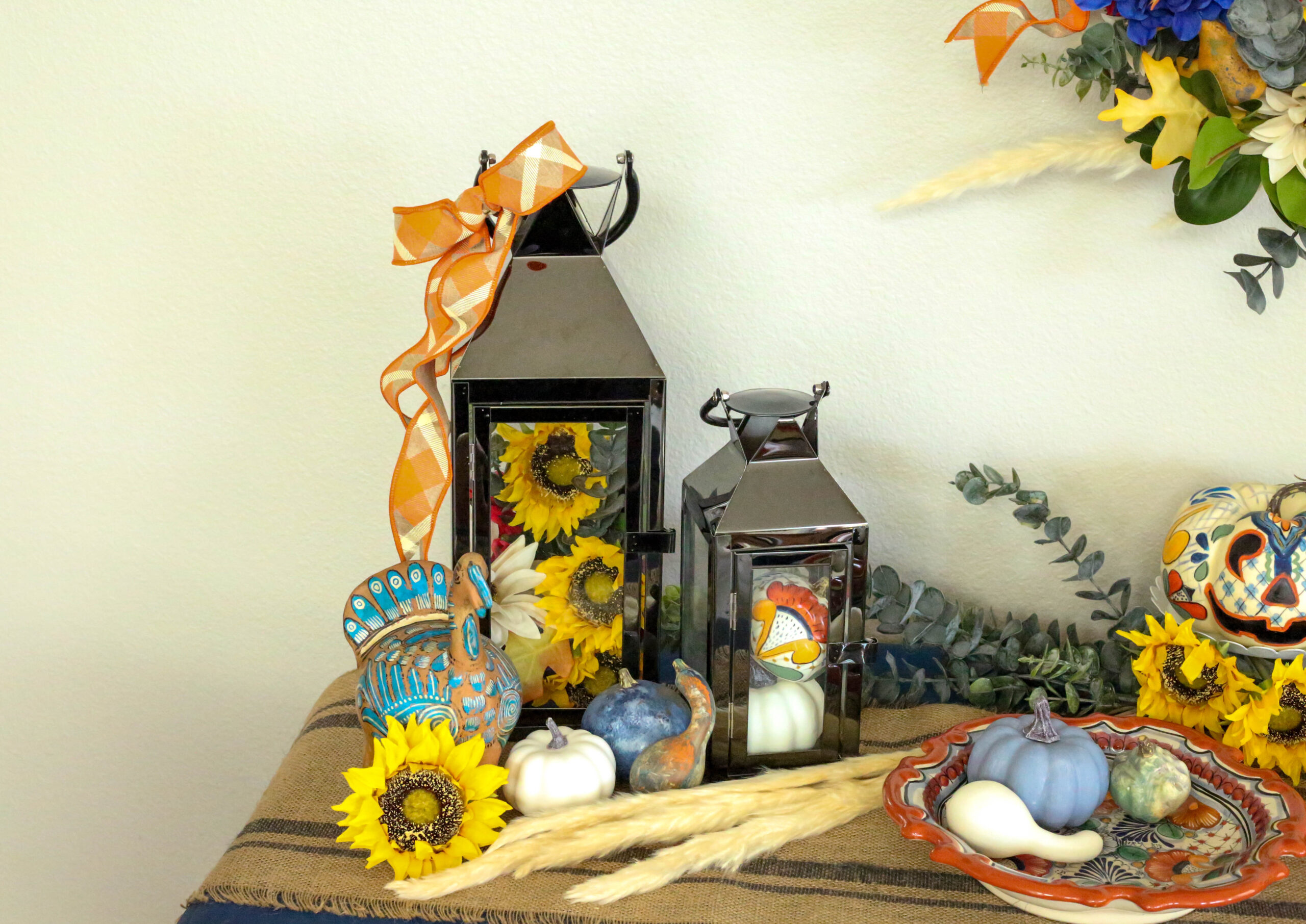 In the center of the display, I placed the pottery pieces. My grinning painted pumpkin approves!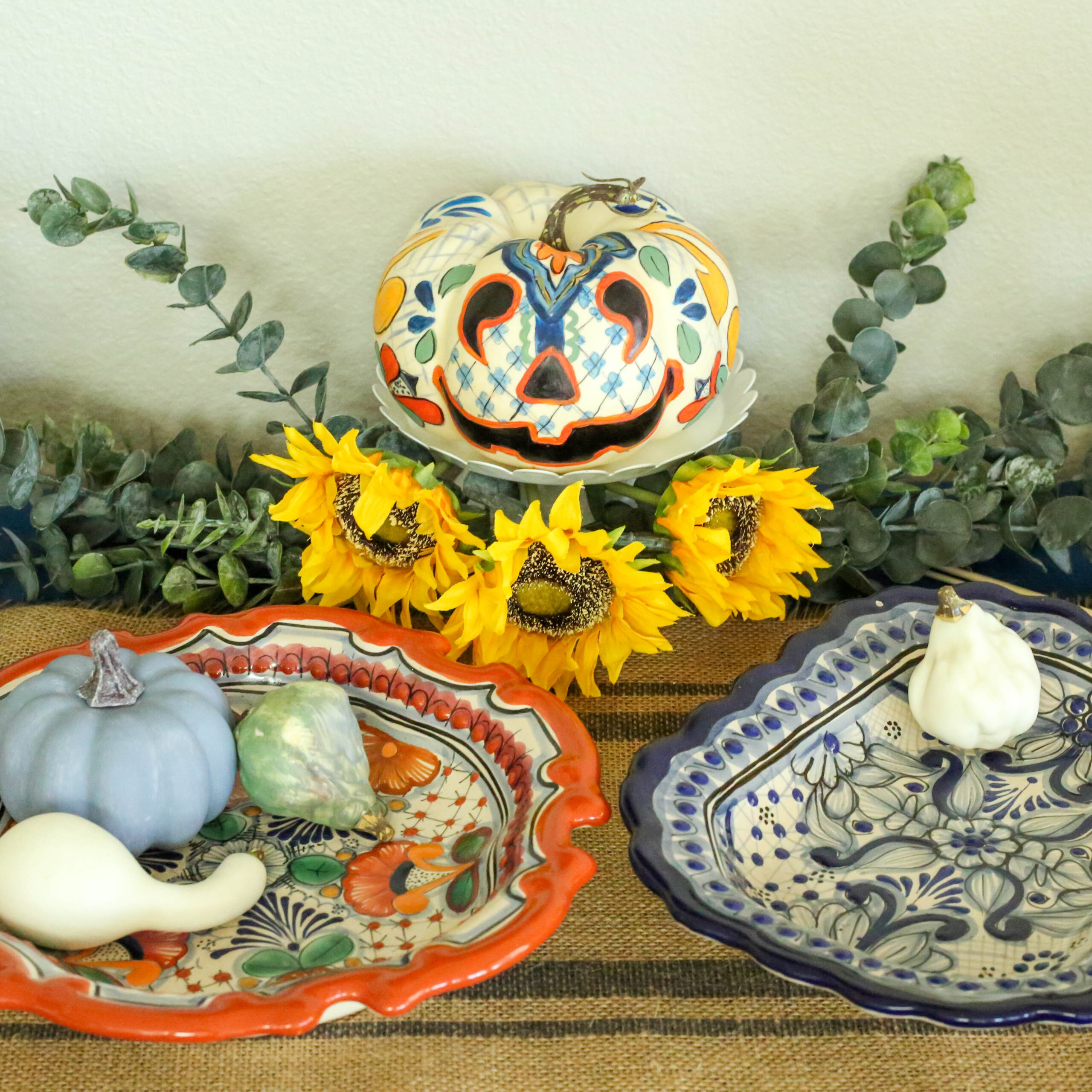 To balance the height on the other side of the buffet table, a vase of sunflowers is nestled among more beautiful pottery, pampas grass and gourds. These come in a bunch of one dozen beautiful blooms. The contrast of the sunflower petals against the blue and sage green tones in this design is so pretty, don't you think?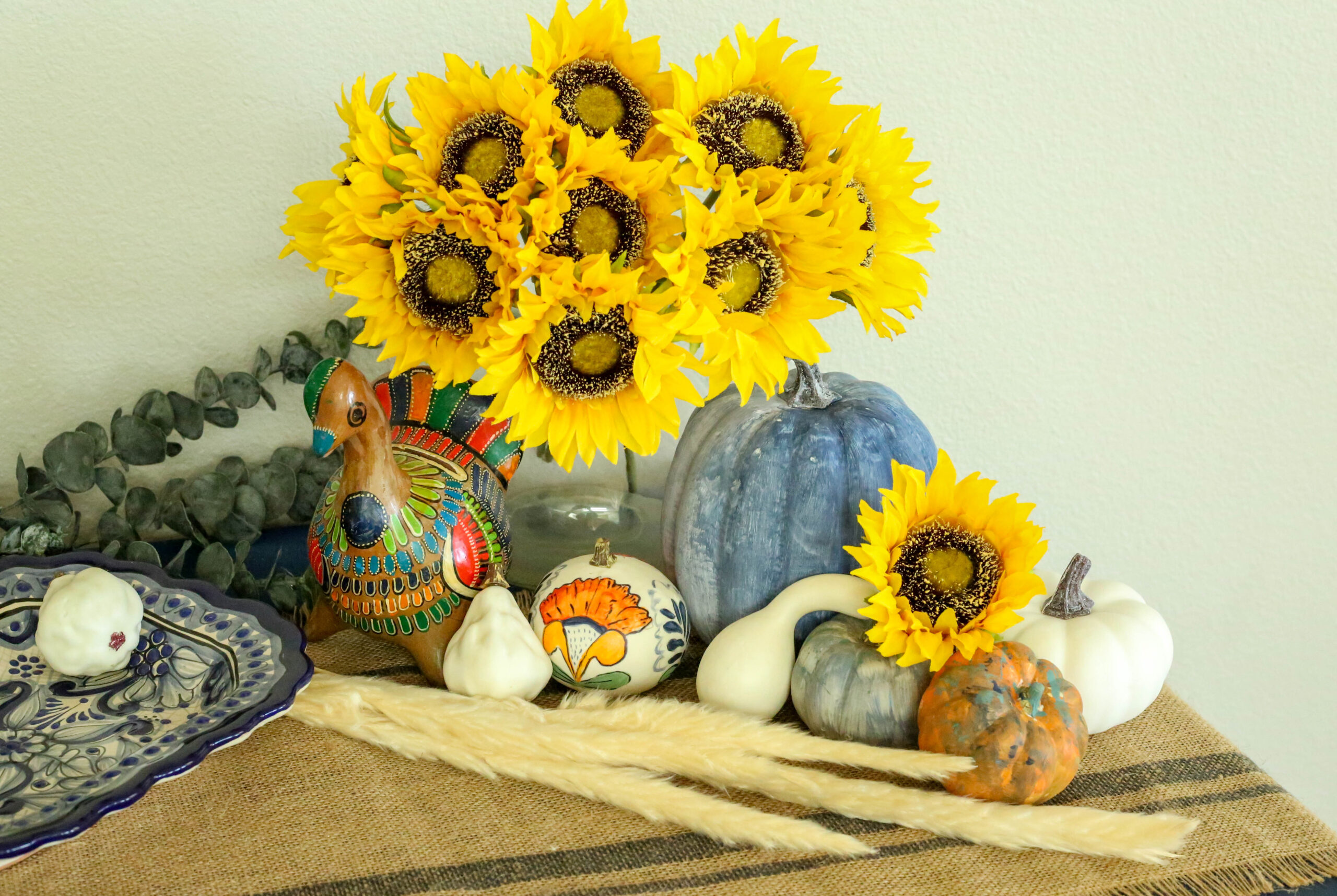 I hope you've enjoyed this peek at my fall decorating ideas with a little Latin flair. Don't forget to check out the Fall Floral Wreath tutorial, and learn to create your own Talavera Inspired Painted Gourds.