This year for Easter, the family had a taste for a lemon dessert, and this Lemon Sour Cream Pie really hit the mark! This delicious pie has a flaky crust, custardy lemony filling and whipped cream topping made by hand. It's easy to follow the simple steps, and these ingredients can be found at almost all grocery stores. Enjoy this delicious recipe during spring or any time of year.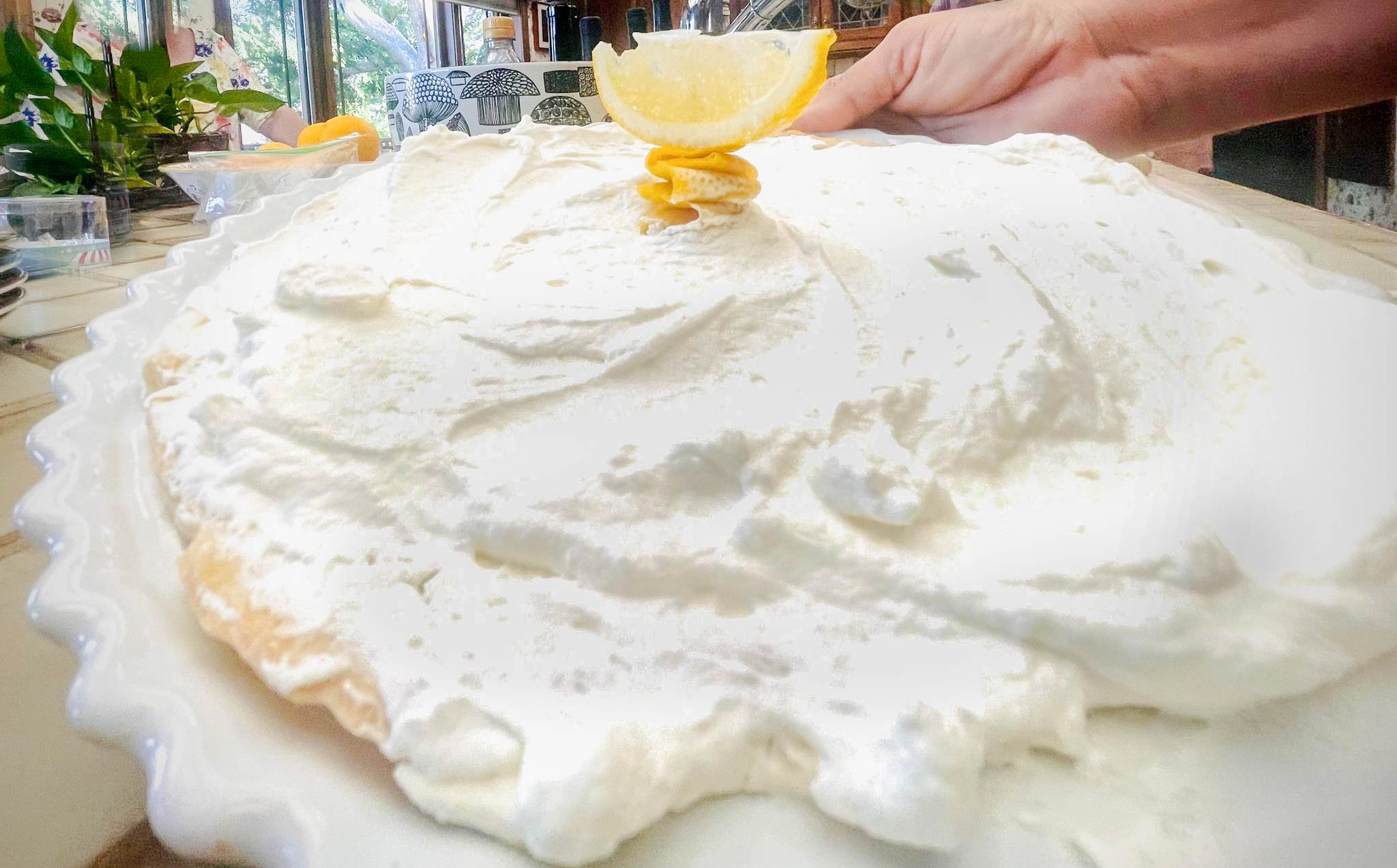 Prep Time: 20 Minutes   |   Bake Time: 18-20 Minutes   |   Cooling Time: 2 hours
Ingredients
1 Pie Crust (For this recipe I used Pilsbury brand)
Filling:
1 Cup Sugar
3 3/4 Tablespoons Cornstarch
1 Cup Milk
1/2 Cup Fresh Lemon Juice
3 Egg Yolks, lightly beaten
1/4 Cup Melted Butter
2 Teaspoons Finely Grated Lemon Zest
1 Cup Sour Cream
Whipped Cream Topping:
2 Cups Heavy Whipping Cream
1/3 Cup Sugar
Instructions
Step One
Bake the pie crust according to the package instructions. I have sadly never dedicated myself to the fine art of making my own pie crust, but I'm going to tell you a secret: no one has ever complained. Nor did they complain that my crust was a little lopsided on the finished pie. Nothing a multitude of whipped cream can't cover.
Step Two
Crack and separate eggs, save the whites for another use if you like. The yolks go in a small bowl; beat slightly to liquify, and set aside. In a large saucepan, combine sugar and cornstarch. Whisk in the milk and the lemon juice until they are well combined. Place saucepan over medium high heat, and whisk constantly while cooking until the mixture thickens and bubbles. Reduce the heat to low and continue to cook for two additional minutes.
Step Three
Use the whisk to transfer a bit of the hot mixture to the egg yolks, to bring them to a similar temperature, before folding them into the mixture. Bring the heat back up and continue constantly stirring the mixture until it reaches a mild boil. Cook for two more minutes and remove heat. Add the melted butter and grated lemon zest and allow to cool for approximately 30 minutes before transferring to the refrigerator to cool down the rest of the way. This should take about two to three hours, and they will be the longest hours of your life as you endure the heavenly lemon pie smell that will now be wafting through your kitchen.
Step Four
When the mixture has cooled, stir the sour cream in and combine well. Pour the entire contents of the saucepan into the pre-baked pie crust, and spread evenly with a spatula. Of course, once you're done with this step it's optional to lick the scraper. I say go for it.
Step Five
Whip the cream by adding heavy whipping cream and the 1/3 cup sugar to a mixer bowl and using a whipping attachment to whip the cream into stiff peaks. Careful not to whip it too long or you'll have some sweet whipped butter! Spread the whipped cream generously over the top of the pie and garnish with a little curled lemon peel and a slice of lemon wedge.